December 2020 – Our Place in Heaven Now
November 2020 – Our New Life with Christ in God
October 2020 – Our Father – Part II
September 2020 – Our Father – Part I
January 2019 – The Second Revelation
December 2018 – The Merry-Go-Round
November 2018 – Notes on the Wheel of Fire
October 2018 – A Different Way of Healing
September 2018 – Receiving A Family Mantle
August 2018 – Side Two Of The Father's Mantle
July 2018 – A Mantle From The Holy Spirit – Side Notes
June 2018 – A Surprise Gift
May 2018 – Notes on the Betrothal Garment and the Crown
April 2018 – Receiving The Spiritual Of A Natural
March 2018 – Living Patchwork Quilt
February 2018 – The Under Secretary To Truth
January 2018 – Seeing Our Heavenly Father
December 2017 – The Final Attack
November 2017 – The Filthy Vortex
October 2017 – Notes For My First Visit To The Second Heaven
September 2017 – Prepare For The Ride Of Your Life
August 2017 – (He Will) "Wear Down The Saints"
July 2017 – False Doctrine Or (All The Pretty Little Liars)
June 2017 – Calibrating Christ Within
May 2017 – The Angel Gratitude
April 2017 – For There The Lord Commanded The Blessings (Psalms 133:3)
March 2017 – Does the Lord Use Angels To Help Move Us Forward?
February 2017 – Static Eraser
January 2017 – Standing On The Promises
December 2016 – The Risk of Love
November 2016 – Forgiveness
October 2016 – God Teaching One On One
September 2016 – Side Notes For: Do Angels Teach Angels?
August 2016 – When I Am Weak Then I Am Strong
July 2016 – Notes On The Angel You Who Hear Prayer
June 2016 – The Witches' Destruction Of Our Home And God's Salvation
May 2016 – The Unseen Spiritual Phenomena
April 2016 – The Angel Elijah's Teaching
March 2016 – Notes for the Teaching on All Time is Present Above
February 2016 – God's Show And Tell
January 2016 – Notes for the Teaching on Starting the New Year Right
December 2015 – How Does He Teach The Young?
November 2015 – Notes For The Teaching On Paradise
October 2015 – Notes For The Revelation Of The Angel Of Obedience
September 2015 – The Gift – Side Notes
August 2015 – Bob Jones' Interpretation Of The Dream Of June 30th, 1995
July 2015 – Bob Jones On The Root Of Bitterness
June 2015 – Interpretation Of The Vision Of June 28
May 2015 – The First Of The Transcriptions: Bob Jones
April 2015 – Teaching On The Mountain Of Spices
March 2015 – Looking At Something In A Different Way
February 2015 – The Picnic
January 2015 – Notes On Sense And Nonsense
December 2014 – Revelations Concerning Crystal Clear
November 2014 – A New Day For Angels Also
October 2014 – Angels As Signposts
September 2014 – Teaching By Seeing
August 2014 – Angels Helping Angels
July 2014 – And What Of His Heart's Desire?
June 2014 – Revelation Feeds Revelation
May 2014 – All Creatures Great And Small
April 2014 – Teaching On Future Duties
March 2014 – The Journey From Salvation To An Intimate Walk With Christ
February 2014 – A Different Way Of Teaching
January 2014 – Other Ways Of Teaching
December 2020
Our Place in Heaven Now
Concerning those disciples who had followed Jesus on earth, He said: "If I go and prepare a place for you, I will come again and receive you to Myself, that where I am, there you may be also" (John 14:3). In verse 2, Jesus had said, "In My Father's house [His Being in Heaven] are many dwelling places."
The places that Jesus would be preparing for these disciples were within His Father, where the Son makes His home and where their inner person of Spirit and heart has been abiding since they received Christ on earth. We know this because John 1:18 says that the Son is "in the bosom of the Father," which means that Jesus' heavenly abode is within the Father's heart. Though the Son travels widely, He returns to His Father's heart as His home. In John 17:24, Jesus prays to His Father, "Father, I desire that they also, whom You have given Me, be with Me where I am, so that they may see My glory…" which is the radiance of the Father's goodness in the Son.
In John 12:26, Jesus told His disciples, "If anyone serves Me, he must follow Me; and where I am, there My servant will be also; if anyone serves Me, the Father will honor him."
We also know that Jesus lives within the Father from Hebrews 12:22-24, which also describes the city and throne of God in the present Heaven:
22 "But you have come to Mount Zion and to the city of the living God, the heavenly Jerusalem, and to myriads of angels, 23 to the general assembly and church of the firstborn who are enrolled in heaven, and to God, the Judge of all, and to the spirits of the righteous made perfect, 24 and to Jesus, the mediator of a new covenant, and to the sprinkled blood, which speaks better than the blood of Abel."
This is the dwelling place within the Father God that Jesus promised His disciples in John 14:2-3 that where He is, there they may be also.
The blood must reach into the farthest depths of Heaven – which is the heart of God. The full extent of the payment must be made into the deepest and most private depths of all – It is not there to cleanse God. It is there to pay the complete price to God.
Christ Jesus carries the spirits of all believers on earth who have been joined to Him as one spirit. For "the one who joins himself to the Lord is one spirit with Him" (1 Cor. 6:17).
When each such believer dies on earth, that one is given a spiritual body in Heaven until the time of the general resurrection when all believers in Heaven and believers who are alive on earth at that time will be given resurrected bodies like Christ's. Paul said: "For our citizenship is in Heaven, from which also we eagerly wait for a Savior, the Lord Jesus Christ; who will transform the body of our humble state into conformity with the body of His glory" (Philippians 3:20-21).
THE BRETHREN ABOVE
The believers in Heaven are generally:
1) Those who have emptied themselves of their fleshly soul life and allowed Jesus to replace those areas of their souls with Christ Himself.
2) Those who, on earth, did not crucify the fleshly parts of their souls.
Those in the first category are taken to live within the Father. The second are granted to live in three places:
a) In the beautifully wooded garden in Heaven generally called Paradise. It comprises the outer border of Heaven; (Rev. 2:7) or
b) In the beautiful personal homes within the city called the heavenly Jerusalem; (Heb. 12:22) or
c) To live a great deal of their time on the large, luminous floor before the throne called the sea of glass; (Rev. 4:6; 15:2-2).
ONE OF THE GREATEST PROMISES ABOUT GOD
The Lord Jesus made a magnificent promise to His disciples on the night before He was crucified:
"… I have made Your name [the Father's spirit nature and heart character] known to them [His disciples], and will make it known [in the future, so that the love with which You [the Father] loved Me may be in them, and I in them" (John 17:26).
Disciples are promised here two awesome pledges by Jesus:
1) They will receive the same love from the Father that He has for the Son in them; and
2) There will be no end to the new revelation of the Father, which Jesus in Heaven will continue to share with them there. Furthermore, each new disclosure of His Father will be deeper and more glorious than the previous ones. New depths within the Father will be opened to our brethren in Heaven by these revelations – which are part of those which Jesus referred to in John 16:12: "I have many more things to say to you, [the disciples] but you cannot bear them now."
November 2020
Our New Life with Christ in God
IN HEAVEN NOW
"For [the old] you have died [with Christ on His cross] and your [new] life is hidden with Christ in God" (Col. 3:3).
Jesus takes our place on earth so that we may share His place in the Father in Heaven (John 15:4-7).
BEING BORN AGAIN
Just how are we born again? We are born again when we not only believe the ministry of the Holy Spirit (who reveals the truth of the scriptures about the Son of God); but also repent of our sins, and ask Christ Jesus to forgive us and to come into our hearts and be our life. Amazing.
Our Heavenly Father hears us and commissions the Holy Spirit to implant the Son's spirit and His spiritual heart [the seat of character] into the new inner person within the believer on earth. (1 Cor. 3:6-7 & Eph. 3:16-19.)
This implantation of Jesus' spirit and new heart revives the new believer's comatose spirit and replaces the believer's old heart that is dead toward God (Eze. 36:26-27).
The Lord states in Ezekiel what He will do and how He will do it.
Ezekiel 36:25: "Then I will sprinkle clean water on you, and you will be clean; I will cleanse you from all your filthiness and from all your idols." 26 Moreover, I will give you a new heart and put a new spirit within you; and I will remove the heart of stone from your flesh and give you a heart of flesh. 27 "I will put My Spirit within you and cause you to walk in My statutes, and you will be careful to observe My ordinances.
OUR NEW SPIRIT
Why the Son's spirit? Because the Son died for our sins, in order to take the penalty for those sins – which was death. He was both man and God, thereby fulfilling the requirement for the death of "man." Not only did He take our place in the punishment of death, but when He rose from that death, He became (what they call) the "step down God." Like a frequency voltage converter. The spiritual power given to us needed to be stepped down if we were to receive it. We could not contain all the spiritual voltage of the Father. The Lord says in Ezekiel 36:25 that it is His Spirit. Therefore, because He is both Man and God, we may receive it.
OUR NEW HEART
The Lord does not wake up the old hard heart. He replaces it. He gives us a new heart … one that is tender toward our Heavenly Father.
THE NEW INNER PERSON
The new inner person of spirit and heart in the believer is now to live in two places at the same time, since the believer is now joined to Christ who lives both in the believer on earth and in Heaven with the believer within the Father.
"For you have died and your life is hidden with Christ in God" (Col. 3:3).
God, the Holy Trinity, can be both in Heaven and on earth at the same time, and so can the believer's inner person who is joined to God. Our renewed human spirits indwelt by Christ's spirit are also able to be in more than one place at a time on earth.
Jesus described this initial gift of being born again in these words:
"Abide in Me, [in Heaven] and I in you [on earth] … he who abides [hidden] in Me [above] and I in him, he bears much fruit, for apart from Me you can do nothing."
If one is truly born again of God, the sure sign of this new life is the believer's heart's desire to be hidden, so that Christ alone in the believer will bring forth the character of the Father.
OTHERS
Another glorious ministry the Lord imparts to us is the love of other people just as Jesus loves us. For our renewed spirits abide hidden with Him in God the Father in Heaven, so the Holy Trinity may abide in us on earth. The translation of the believer's inner person into Heaven is a major reason for the born-again person to display Christ only on earth.
We are to share the oneness between the Father and the Son. Jesus prayed for this four times on the night before He was crucified (John 17:11, 21, 22, 23).
"That they may all be one; even as You, Father, are in Me and I in You, that they also may be in Us, so that the world may believe that You sent Me" John 17:23.
And, the most important part of sharing the oneness in God is one divine love.
Another reason for self-denial by the believer on earth is that we have no true and righteous soul life in the flesh; only that soul life which comes from the Father through Jesus. Our old soulish nature is not of God but of the flesh which is sin tainted (Rom. 6:6 & John 8:44).
Therefore the old saying in church is true. Full salvation is both completed in Christ and is also a process. When born again your spirit is saved. Your soul (mind, will and emotions) is being saved and your body will be saved. The saying goes:
"I am saved
I am being saved and
I will be saved."
Your body will not be fully saved until you receive your new body in Heaven. Your spirit is saved when you accept Christ. However, the "flesh" of the soul must be replaced bit by bit with Christ. The "flesh" of the soul life must be replaced by the work of the cross in our lives. That is the reason the Word tells us that we can lose our soul life if we continue living our lives in the flesh (Rom. 8:13). The work of the cross in our lives is a process that begins when we are saved and continues until we finish our lives on earth.
OUR HIDDENNESS WITHIN GOD
The believer's abiding in Heaven or "hidden with Christ in God" involves not displaying our natural or fleshly selves on earth. God takes our place on earth that we may share His place in Heaven now. God gives no grace for us to exhibit our own soul life, for it has been forever removed from the plan of God since Jesus' resurrection and ascension into Heaven as the one person of the new human race.
"By abolishing in His flesh the enmity, which is the Law of commandments contained in ordinances, so that in Himself He might make the two into one new man, thus establishing peace, and might reconcile them both in one body to God through the cross, by it having put to death the enmity" (Eph. 2:15-16).
We are fully satisfied when all is of God within us. Christ Jesus is meant to come forth effortlessly in all circumstances. We do not know at this time what the unique combination of the virtues and personality traits of Christ Jesus that will be implanted into each of us when we are resurrected. But we know that we shall be distinctly like Him forever.
"When Christ, who is our life, is revealed, then you also will be revealed with Him in glory" (Col. 3:4).
"Beloved, now we are children of God, and it has not appeared as yet what we will be. We know that when He appears, we will be like Him, because we will see Him just as He is" (1 John 3:2).
—————– TO BE CONTINUED —————–
October 2020
Our Father – Part II
We will continue the revelation of God our Father as revealed on earth through Jesus Christ and the Holy Spirit.
SPEAKING TO MOSES
"…The Lord [GOD] used to speak to Moses face to face, just as a man speaks to his friend…" (Ex. 33:11).
Their fellowship was so intimate that God "…Came down in a pillar of cloud and stood at the doorway of the tent, and He called Aaron and Miriam. When they had both come forward,
6 He said,
'Hear now My words:
If there is a prophet among you,
I, the LORD, shall make Myself known to him in a vision.
I shall speak with him in a dream.
7 Not so, with My servant Moses,
He is faithful in all My household;
8 With him I speak mouth to mouth,
Even openly, and not in dark sayings,
And he beholds the form of the LORD'" (Num. 12:5-8).
The Hebrew word for "Lord" in the Old Testament is "Yahweh," God the Father's proper name. The Hebrew word for "God" is "Elohim."
GOD OUR FATHER INSTRUCTING
God our Father spoke to Abraham on at least two occasions (Gen. 12:1-3). To His "friend," He gave great promises:
1 "Now the LORD said to Abram,
'Go forth from your country,
And from your relatives
And from your father's house,
To the land which I will show you;
2 And I will make you a great nation,
And I will bless you,
And make your name great;
And so you shall be a blessing;
3 And I will bless those who bless you,
And the one who curses you I will curse.
And in you all the families of the earth will be blessed'" (Gen. 12:1-3).
These are mighty blessings indeed but notice that they are earthbound. On the other hand, we have been given a place in a heavenly kingdom among our Father's children. We are actually joined to and inhabited by the great triune God. He is both in us and with us.
He also established His covenant with Abraham in (Gen. 17:1-22) – a mighty promise which foreshadowed the most prominent of His covenants established in the blood of His only begotten Son, Jesus – very God and very man.
A third time our Father appeared to Abraham, this time with two angels (Gen. 18:1).
He appeared and spoke to Isaac twice (Gen. 26:2 & 24).
God also came forth and spoke to Jacob in a dream (Gen. 28:12-15), and then a second time to bless him (Gen. 35:9-13). At times, the Lord God's glory – the brilliant majesty of His love and presence, would appear to His people (Ex. 16:10; 24:16-17 & Num. 14:10).
David, in his Psalms, often wrote of the nearness and presence of God. God was his "refuge," "abiding place," "stronghold," "salvation," and "fortress." Many times, he wrote words similar to: "I have set the LORD continually before me" (Ps. 16:8). David spoke to God personally in 71 different psalms.
WITH OUR FATHER FOR EVERMORE
"For you have died and your life is hidden with Christ in God" (Col. 3:3). The full meaning is: "For you have died [with the old human race in Christ's death on the cross] and your [new] life is hidden with Christ in God [in Heaven]."
"When Christ, who is our life, is revealed, then you also will be revealed with Him in glory" (Col. 3:4).
"…We know that when He appears, we will be like Him…" (1 John 3:2).
These statements set forth the primary reasons for disciples of Christ to refrain from displaying their own "fleshly" selves on earth. The old human race was terminated (in the plan of God) when Jesus breathed His last breath on the cross. He became the new human race at His resurrection. At our new birth into Him, our renewed spirits and hearts were taken into Heaven to abide, hidden there with Jesus in the Father until we receive our resurrected bodies. The spirit of Jesus in us is able to be in Heaven and on earth at the same time, and because our spirits and hearts are joined to His, it allows us to be one with Him in Heaven and on earth (1 Cor. 6:17). Therefore, we who are in Christ are forevermore joined to our Heavenly Father. Praise Him.
September 2020
Our Father – Part I
There is an eternal gospel that is being proclaimed in these latter days of this present earth, John the apostle said, "And I saw another angel flying in midheaven, having an eternal gospel to preach to those who live on the earth, and to every nation and tribe and tongue and people; and he said with a loud voice, 'Fear God, and give Him glory, because the hour of His judgment has come; worship Him who made the heaven and the earth and sea and springs of waters'" (Rev. 14:6-7).
The eternal gospel is one that will be declared forever also on the new Earth joined to the new Heaven (Rev. 21:1-4).
ABOUT OUR FATHER
All of the "goodness" we know, is about our Father God, for He alone of the Holy Trinity has been revealed to mankind on earth. The Son of God and the Holy Spirit have always made known the Father rather than themselves. Jesus said, "…No one knows who the Son is except the Father, and who the Father is except the Son, and anyone to whom the Son wills to reveal Him" (Luke 10:22).
"But when He, the [Holy] Spirit of truth, comes, He will guide you into all the truth; for He will not speak on His own initiative, but whatever He hears, He will speak; and He will disclose to you what is to come" (John 16:13).
Therefore, there is only one disclosure of the three divine Persons of the Trinity on the present earth, and that is of the Father alone. All the goodness in the love that Jesus manifests on the earth and in the centuries that followed, were of the Father Himself.
"IN THE BEGINNING…"
"The glorious gospel of the blessed God" our Father, began on earth with the first man and woman (1 Tim. 1:11). The Bible begins in chapter one of Genesis with the Father as the central figure, the Creator. All of scripture is a revelation of God the Father in His self-sacrificial love. The heart of the eternal gospel is the awesome reality of His goodness and love in His coming down, time after time, from Heaven to be with His children throughout their history on earth.
OUR FATHER IN THE FIRST ACCOUNT OF CREATION
"Then God [the Father] said, 'Let Us make man in Our image, according to Our likeness'" (Gen. 1:26). "Our image" is what God the Father and the Son look like outwardly. "Our likeness" is how the Father, Son and Holy Spirit are alike inwardly. A major part of this inner resemblance of the three Persons of the Holy Trinity is the same inner-life of the spirit and heart.
In the second and third chapters of Genesis, the Father [Yahweh] walks and fellowships with Adam and Eve in the garden (Gen. 3:8). From the beginning of the human race, the Father has desired to have His children on earth close to Him.
The Holy Spirit was the first Person on the scene (Gen. 1:2). The eternal life of God's Son was represented by the Tree of Life in the middle of the garden of Eden (Gen. 2:9). Also growing in the garden was the "Tree of the Knowledge of Good and Evil" representing merely human understanding in the soul life of mind, emotions and will. These trees represent the same foundational choice by all humans. God did not create human beings to manifest either human good or evil, but as His children, to show forth the Person of the Father through His Son by the Holy Spirit. This is what it means to be a child of God. It is the choice between human reason or revelation concerning the life of God's Son.
Some believers try to eat from both trees which cancels out all of the fruit, and they remain undernourished.
The Father's coming to earth in person to be with His first two human children was also a prophecy of God in a future, renewed Heaven coming down to a renewed Earth, which will take the place of the old Heaven and Earth. In this final Heaven on a final Earth, Our Father God will reign with His Son forever in the midst of His children and the angelic host (Rev. 22:3-4).
From eternity past, the spirits of Adam and Eve had been foreknown by God – "Just as He chose us in Him [Jesus] before the foundation of the world, that we would be holy and blameless before Him…" (Eph. 1:4).
After they sinned, the Father spoke the gospel of His Son's coming victory over sin, Satan and death to them on earth, and they believed His word: "He [Jesus] shall bruise you [Satan] on the head, And you [Satan] shall bruise him on the heel" (Gen. 3:15).
Adam witnessed to his faith in God's word by naming his wife Eve, a word meaning "life," as the mother of all who would come after, including the Seed, Christ Jesus, who would be our salvation (Gen. 3:20).
Our Father God forgave them and clothed them in the skin of innocent animals as a sign of their salvation in the coming sacrifice of His Son on the cross (Gen. 3:21). [Remember that after His death He went down to Sheol and preached the gospel to those who had lived before His death (paying the price for mankind's original and subsequent sins), so that everyone would be given the opportunity to receive salvation through Jesus Christ.]
It was also a sign of the future grace after His Son's resurrection and ascension – for believers to be clothed with Christ (Gal. 3:27).
The glory of the Father's goodness is such that the Son and the Holy Spirit initiate nothing of their own in word or deed but manifest only one life and Person – that of the Father (John 8:28 and 16:13).
PUT ON THE NEW SELF
When we believe unto salvation, we are exhorted to "Put on the new self, which in the likeness of God [the Father] has been created in righteousness and holiness of the truth" (Eph. 4:24). (Also Col. 3:8.) Note that this is not a better human self but the self-life "in the likeness of God."
Throughout the Old Testament our Father God sought those who would "Walk humbly with our God," (Micah 6:8) i.e. to walk in His presence and ways. He found such a one in Enoch who lived continually with God on earth for three hundred years and then was carried bodily into Heaven (Gen. 5:22-24). It may be that God could not bear to have him be as distant as earth any longer, and therefore, brought him closer.
Others in the Old Testament who walked on earth with our Father God were: Noah (Gen. 6:9); Abraham (Gen. 17:1, 24:40); Isaac (Gen. 48:15); Samuel (1 Sam. 2:35); Moses with Joshua (Ex. 33:11); Levi (Mal. 2:6); and King Josiah (2 Chr. 34:31).
THE GREAT LONGING OF OUR HEAVENLY FATHER
Our Father's deepest yearning is to have children among whom He would walk and have His dwelling, and who would walk with Him (Lev. 26:11-12).
Part II of Our Father next month
(Continuing the Great Longing of God)
January 2019
The Second Revelation
Once in Moravian Falls, the second revelation given to me concerned prayer and the angels stationed here. It also showed angels from far and wide coming to carry prayer to those in need.
VISION: 1997
Moravian Falls, NC (Friday AM)
As I prayed this morning, the angelic beings here on this mountain began to congregate and circle the cabin.
They seemed excited – activated by the prayers I was praying in tongues.
There seemed to be hundreds and perhaps even thousands – not only those here but the angelic beings coming from over the mountains in all directions – joining those here in their circular flight.
My hands were together in prayer. The hands together seem to be an unbroken circle – like making a connection that multiplies the power.
As I prayed it was as though sparks or orts of light were released upward… released in some way by the prayers.
These sparks or orts of light – like fire flies were caught in the hands of angel after angel.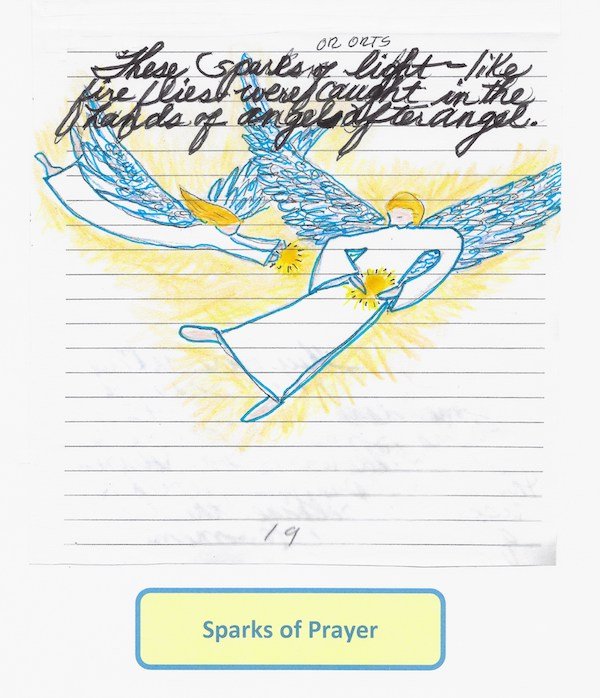 These sparks or orts of light were cupped within their hands. Immediately they flew in the direction from which they came.
They were taking the light to share in some dark areas. Perhaps that which was of God was released through the prayers. These prayers would be used to extend the light of Jesus Christ to someone for salvation or healing, etc.
The longer I prayed the more sparks or orts flew upward and the more were carried by the angels to other areas… each spark or ort cupped within the angel's hands.
From Webster's Unabridged Dictionary:
SPARK – a small glowing piece of matter especially one thrown off by a fire or a small discharge from an electric current.
ORT – a scrap of food left from the larger meal.
I felt as though these prayers were serving the purposes of God for His glory.
Jesus flew to me:
"Come," He said.
I rose to meet Him.
He took me to His nest on earth and showed me the view.
"From here, Anna."
Prayers Carrying the Light
The second vision from the Lord after we arrived in Moravian Falls, concerned part of our duties to Him on earth: prayer. Here the Lord shows that the prayers from this location will be carried by angels to those in need.
We ask ourselves if that doesn't happen everywhere? Yes, of course it does. But there are certain locations on earth that allow us to be right in the center of God's will for us… (Moses being called up on the mountain to receive the tablets from God, etc.
I will give you a modern-day instance of placing someone in a location to benefit the lives of others.
BOB JONES IN FLORIDA
After living many years in Independence, Missouri, the Lord had Bob sell his home and move to Florida. He really did not know people there and the home he found was way out from town. Few people were living out there.
Since he was miles out and connected with no particular group, he visited many congregations and became friends with pastors of many denominations and ethnic backgrounds. Because his mantle came from a holy, African man, he always felt at home in African-American churches.
THE TIME ARRIVES
When the national election for president began their campaigns, Bob Jones prophesied that the Lord was giving America a "burning bush" (for the race was between Al Gore and George Bush).
The panhandle of Florida leaned heavily Democratic. However, because of Bob Jones' personal relationship with the area pastors and their belief in his prophetic word about George Bush (especially the African American Churches) they voted for Bush.
THE REPORT
It was reported by most of the media that Bush won that election because of the vote in the Panhandle. Basically, they reported that it was the African American vote in the Florida Panhandle that won that particular election.
God called Bob Jones into the Panhandle of Florida for His purposes.
BEING A WITNESS
My husband and I were present to witness it all… and were amazed. It was obvious that He had moved Bob Jones into Florida to put His hand on that national election.
CALLED
Being called to Moravian Falls or any other location is the same. I will speak of this location because it is one I know. Moravian Falls may be "out in the boonies" as they say, but God has a mighty work He wishes to accomplish here. Therefore, each person needs to be called.
Also, one may be called for only part of the time. My husband was such a one. He went to the top and prayed five or six hours a day for God's will to be done on Prayer Mountain. He is now with the Lord – but he had a part. Others may buy and maintain the land for a period of time. They have their part. As Paul said in 1 Cor 3:6-7:
6. I have planted, Apollos watered; but God gave the increase.
7. So then neither is he that planteth any thing, neither he that watereth; but God that giveth the increase.
After all, we serve the Lord. It is His business we are about. His will be done – not ours.
HIS CHARACTER
Also, it is our Lord's character that we are called to show. If in all of our labors for Him, we cannot also show forth His character we are laboring in the flesh… and works of the flesh will be burned up.
THE NEST
When the Lord said "from here" in the vision, He was saying that I was to live in a place of intimacy with Him (the nest) up high (which is above the "flesh").
December 2018
The Merry-Go-Round
SECOND TRAINING WHEELS VISION
The second most common and often the earliest of the revelations is of riding a White Horse.
Bob Jones would say that the "white horse" symbolized a new move of the Holy Spirit – (I suppose that can be personal as well as national or international.) Always, it is the Holy Spirit revealing the Lord Jesus.
THE TRAJECTORY
This revelation showed the prophetic trajectory of my future life. I only understood this as I looked back at the vision. A couple of months after "breaking through" as Bob Jones called it the Lord was plainly showing me how I would serve Him from then on and my relationship to Him and with Him.
VISION FEBRUARY 20, 1995
I watched it as we passed and even twisted my head around to watch it as long as I could.
I remembered from my childhood that with great effort, some could catch the ring. If you did catch the golden ring, you got a free ride. I fixed my eyes upon the ring as soon as it came into view. Then standing in the stirrups and holding to the pole on which the horse was suspended, I r-e-a-c-h-e-d for the golden ring.
I caught it.
"What does this mean?" I questioned out loud.
TRANSFORMED
Suddenly, the horse became a large living, white horse. It jumped off the merry-go-round and began to smoothly and powerfully climb toward the sun. I was not afraid, but I did wonder where we were going.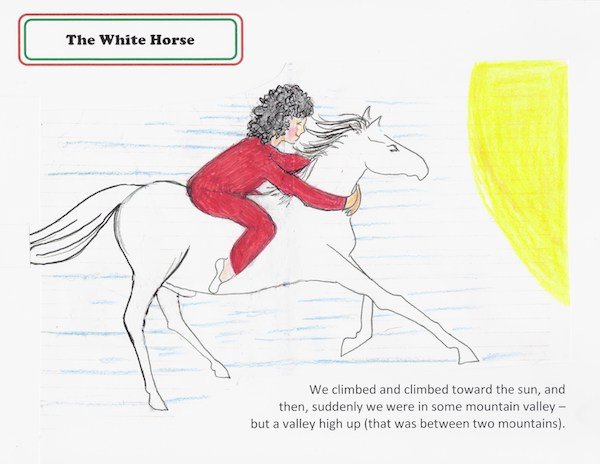 THE HIGH VALLEY
There was a waterfall of sparkling, cold mountain water which flowed into a stream.
The horse stopped by the mountain stream. I dismounted as he began to drink. I looked around. No one was in sight.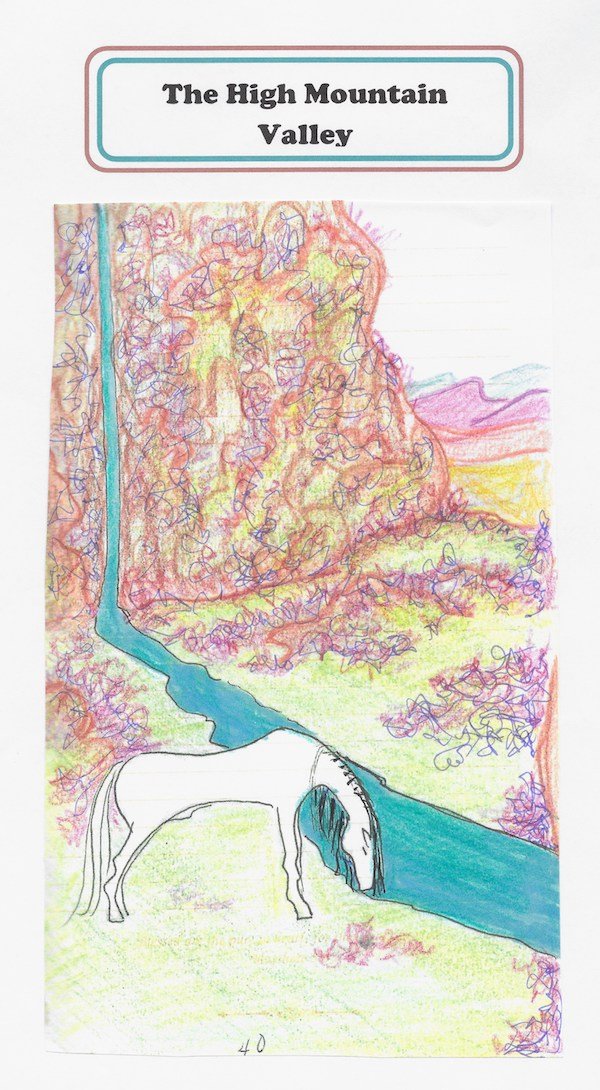 The air was cool and sharp. I could see clearly for miles and miles. I filled my lungs with the clean, pure air and looked around. Lavender flowers, like heather were growing from the sheer mountainside. Except for the sound of the water, all was very quiet, clean and pure.
I didn't know why I was there, but it was as though the horse knew this high mountain valley well and was at home there.
---
This is a simple vision, but oh so important to the one who receives it.
November 2018
Notes on the Wheel of Fire
The Wheel of Fire – Side Notes
The ring of gold represents being wed to Christ. The ring of fire is a symbol of the process of sanctification that includes sharing Christ's sufferings (Phil. 3:10). Not all Christians want to participate in this aspect of union with Him.
The first biblical example of calamus meaning moral uprightness was God saying, "Do what is right in His [God's] sight" (Exod. 15:26).
In the Song of Solomon, cinnamon grows in the locked garden that Jesus calls "my sister, my bride" (Song of Sol. 4:12-14).
A wall is used to separate and protect that which it encloses.
The skin of Moses's face also shone from being in the presence of God and His glory (Exod. 34:29-30, 35).
The divine light was made visible in Jesus when He was transfigured. His whiteness was beyond any earthly whiteness (Mark 9:3).
God invites all people to draw near to Him (Matt. 11:28).
The Wheel of Fire – Foot Notes
1. The heavenly host adores God for His mercy, praises Him for His goodness, and worships Him for His holiness as the "wholly Other" of all beings. None of the heavenly ones are more glorious in the burning holiness of worship than the seraphim stationed above the throne (Isa. 6:1-3). They are clothed with awesome fire as witnesses to the absolute purity of the holiness of God that is His alone. Only holiness can exist in such consuming flame. Therefore, the singing of these seraphim is the sweetest and purest known outside of God.
2. Voices from Heaven that are heard on Earth, especially God's, may at times sound different from earthly voices (Ezek. 43:2; Rev. 1:10, 15).
3. Divine love is "the very flame of the Lord." It is unquenchable and imparted only by grace. The Lord's disciples are to set the intense flame of Jesus's love as a seal over their hearts (Song of Sol. 8:6-7). His love sustains each one while undergoing the burning away of all fleshly idolatry in body and soul (Song of Sol. 8:6; Matt. 3:11-12).
4. The divine fire is for all disciples who will count their old self dead in order to fully embrace God's purposes. They seek the reality of abiding in spirit "with Christ in God [the Father]" where they were placed by the new birth (Col. 3:1-3). The baptism with the Holy Spirit and fire that Jesus gives will burn away the chaff that is not of Christ in them (Matt. 3:11-12; Dan. 12:10). One is then drawn closer to the heart of the Father and learns to live in the consuming fire of His love (Deut. 4:24, 36; Ps. 50:3; Dan. 7:9-10).
5. A seraph touched the prophet Isaiah's lips with a burning coal (Isa. 6:6-7). God chose his mouth to be purified because control by the Spirit of one's tongue is the key to God's control of the whole body (James 3:2, 6). "No one [human being] can tame the tongue" (James 3:8). Christ Jesus alone has the authority (the right) and power "to subject all things to Himself" (including the tongue) (Matt. 28:18; Phil. 3:21).
6. The Hebrew word for the spice calamus means "a stalk or reed." It is translated "right or upright" in Scripture. Christ Jesus alone is upright or righteous in His Father's eyes (2 Cor. 5:21; Rom. 10:3-4).
7. The primary root of the word cinnamon means "emitting an odor." The new heart of each Christian is a fragrant garden, enclosed and set apart for Christ alone. It is to be formed in the image of the heart of the Lord Jesus that is undivided in His consecration unto the Father (2 Chron. 16:9; Luke 10:22).
8. God spoke this message through an angel: "Jerusalem will be inhabited without walls… For I," declares the Lord, "will be a wall of fire around her, and I will be the glory in her midst" (Zech. 2:4-5).
The fire of God is a manifestation of the purity of His holiness (Lev. 10:1-3). The seraphim's song proclaimed that God would be a wall of fire to those being trained in holiness. The Holy Spirit would be the separation and protection for them around their hearts, their minds and their feet (their conduct or walk) (Phil.4:6-7; Gal. 5:25).
9. "Jesus took with Him Peter and James and John his brother, and brought them up on a high mountain by themselves. And He was transfigured before them; and His face shone like the sun, and His garments became as white as light" (Matt. 17:1-2; Rev. 1:16; 10:1).
A heavenly messenger prophesied to the prophet Daniel about the last days: "Those who have insight will shine brightly like the brightness of the expanse of heaven, and those who lead the many to righteousness, like the stars forever and ever" (Dan. 12:3).
Jesus said that at the end of the age, "The righteous will shine forth as the sun in the kingdom of their Father" (Matt. 13:43).
10. Christians "see" (perceive) the true reality of the deceptive world system with the eyes of their new hearts first (Col. 2:8). Paul prayed for the Ephesians that "the eyes of your heart may be enlightened, so that you will know what is the hope of His calling, what are the riches of the glory of His inheritance in the saints, and what is the surpassing greatness of His power toward us who believe" (Eph. 1:18-19).
11. Jesus promised the overcoming Christians of the church in Philadelphia to be made pillars (given permanent places) in the temple of God. For He said, they "will not go out from it any more" (Rev. 3:12).
12. The zeal of Christ's love for His Father ("Your house") consumed Him (John 2:17). Such love "surpasses [human] knowledge." It is beyond comprehension (Eph. 3:19).
13. Pure nard is a very costly spice (John 12:3). The word nard (spikenard in the King James Version) is from the Hebrew root meaning "light."
The figure of the Father is visible in Heaven by the pure, uncreated light of His nature (1 John 1:5).
14. Eternal Life is offered freely to any who will receive and grow up into Christ (John 3:16). Many may accept the invitation (Matt. 22:10). But the "worries and riches and pleasures of this life" hinder the forming of Christ in some of them (Luke 8:14).
Important announcement in the Personal Section.
November 2018 – Personal Section
October 2018
A Different Way of Healing
In each of the sections: Angels, Personal and Teaching, I am showing you three different means used by our great God for healing. Our Lord is miraculous and so are His ways.
A HEALING
This experience occurred only two months after the heavens opened for me. Therefore, it is a "young" revelation. You will be able to see the growth in one year of recording the revelations. The longer you exercise a gift, the greater the growth. The Vale of Promises came about one year after the Lord began to give me these experiences.
Exactly what the angels gave me to eat and drink, I have no idea. But they cured me of the flu.
I am going to show you this revelation right from my journal of February 18, 1995 (which was a Saturday).
The silver ball that told a "type" of time, as a sundial might in a Victorian garden, was solid silver – not crystal. My art work leaves something to be desired.
On this Saturday, in Florida, I had the flu and therefore returned to my bed to take aspirin and drink juices and chicken broth. For that reason, the revelation took place at 3:00 p.m. in the afternoon. Here, then, is a healing brought by spirits and angels in heaven:
VISION: FEBRUARY 18, 1995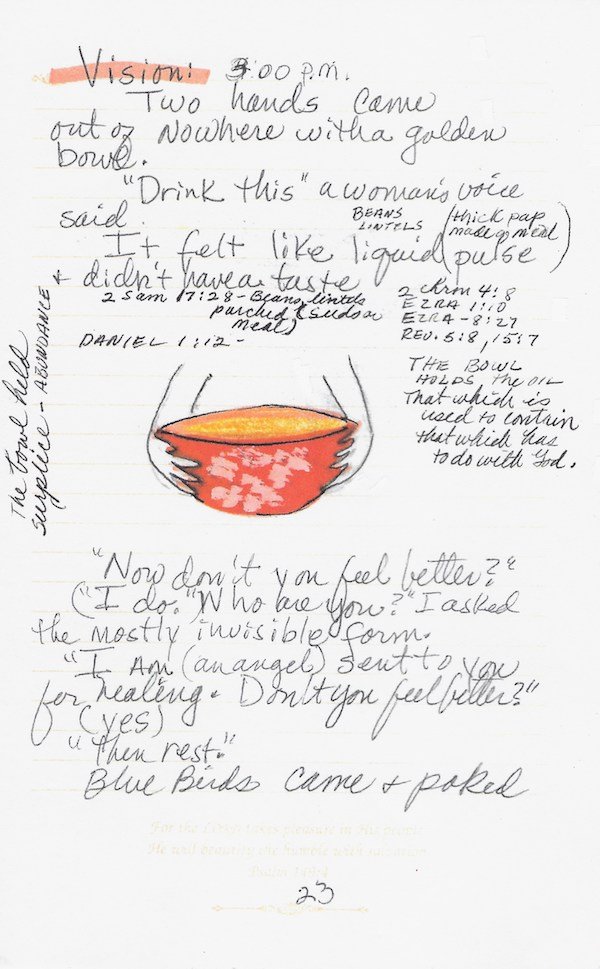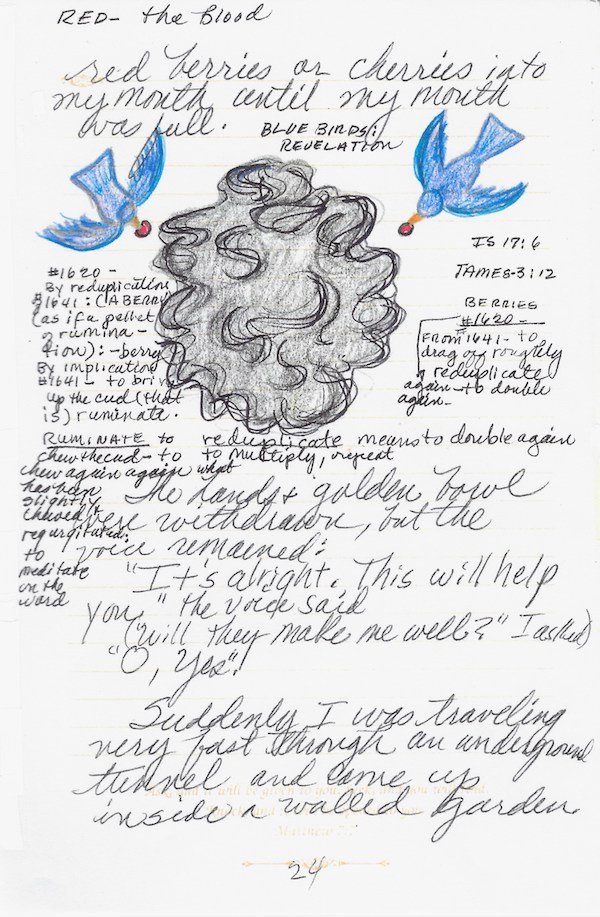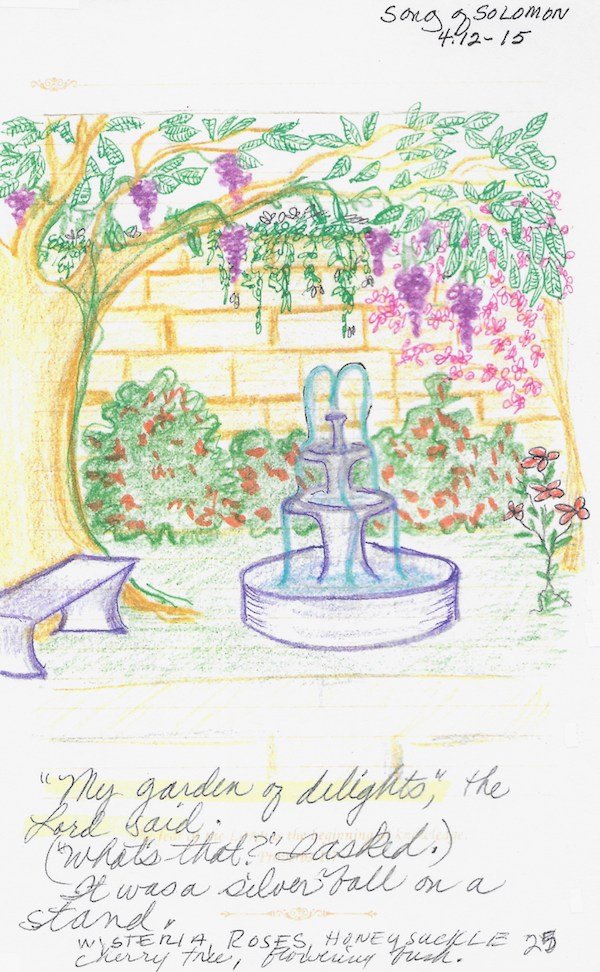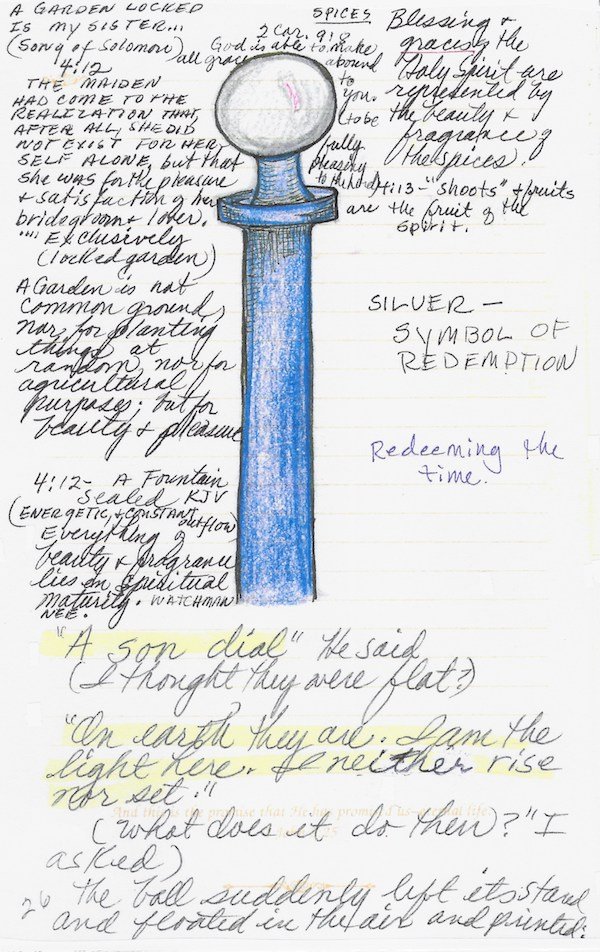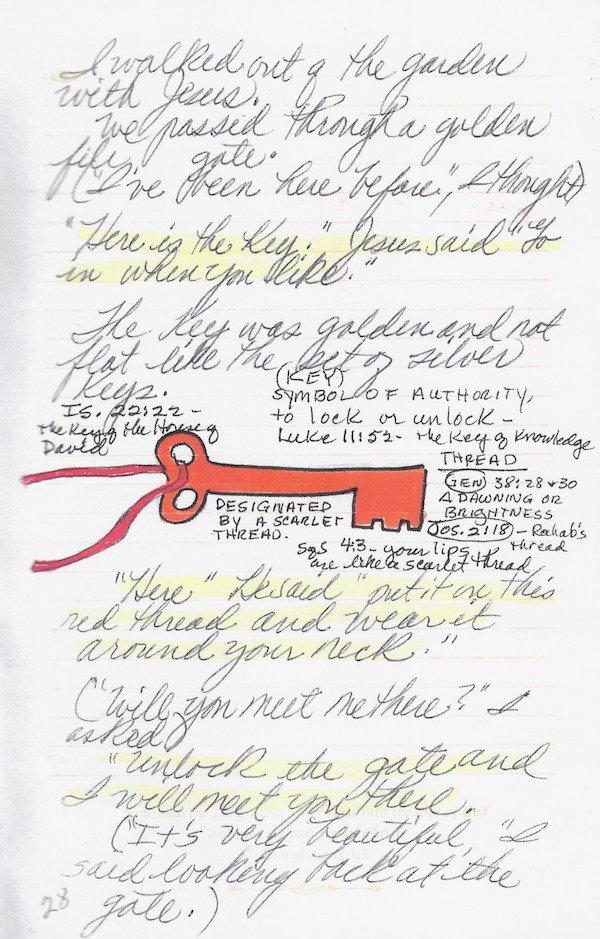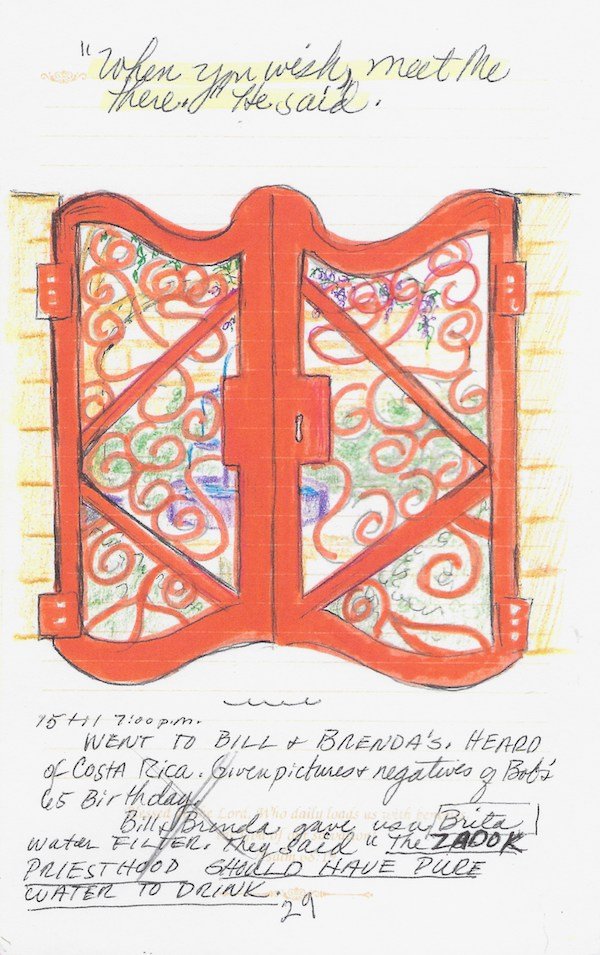 September 2018
Receiving A Family Mantle:
The Mantle Of Lieutenant General George Perry Rains
The Lord wished me to have a mantle from my own family line. He chose my Great Uncle Doc, this was a name I gave my great uncle while growing up. "Uncle Doc" because he was a doctor.
I was the last baby he delivered. I remember his great generosity to the Baptist Church, of which he was a member – and having Thanksgiving at his home that was a block away from the home I grew up in.
He and his wife, my great aunt, had no children but were exceedingly kind to all of the children in our family. I remember well that he gave a whole, large building to the First Baptist Church in my home town.
His doctor's office was over a building right down town. This made it possible for people at work in the town to drop in for an appointment. Amazingly, he never charged for these appointments. A receptionist was near the entrance. If you wished to pay something for his medical services, you could give a little something to that receptionist. He had a generous heart towards all people.
He and my grandfather, his brother, were two of the quietest and kindest men I have ever known. Since he had no children, the Lord was kind enough to pass his mantle to me… for which I am truly grateful.
LIEUTENANT GENERAL GEORGE PERRY RAINS
(1872 – 1955)
This description is from the Historical Archives of Texas.
George Perry Rains, physician and soldier, son of Mercer and Nancy Texas Rains, was born in Marshall, Texas on September 18, 1872. He received his early education at Mrs. Maulding's Private School and at Marvin Chapel. He subsequently attended the University of Texas, where he received his A.B. degree in 1891 and his M.D. in 1895. After an internship at John Sealy Hospital in Galveston, he studied medicine at the University of Pennsylvania and received a second M.D. degree in 1897. He returned to Marshall and served for a time as a surgeon at Texas and Pacific Hospital before entering private practice. On April 26, 1899, he married Norma Pitts. On December 31, 1890, Rains enlisted as a private in the Marshall Light Infantry. He served on the Mexican border in the years before World War I.
In 1917 before America entered the First World War, a secret communiqué from the German government to the Mexican government was intercepted and decoded, then read on the floor of the United States Congress. In it the German government pledged to the Mexican government to give them Texas if Mexico would invade Texas. After the decoded message was read on the floor of Congress, a vote was taken to go to war with Germany. General Rains was a commanding officer on the Texas/Mexican border. It was said that he rode a white horse while commanding the troops.
In that war, he was a colonel in the Third Texas Infantry, the commanding officer in the Thirty-sixth Military Police, and commanding officer in the Sixty-first Pioneer Infantry.
He was commanding officer at Camp Sheridan, Alabama from February to April 1919. He subsequently was in command of the 144th Infantry Regiment, the Seventy-second Infantry Brigade and the Thirty-sixth Infantry Division. On September 1, 1936 he retired from the National Guard with the rank of lieutenant general and was made honorary life president of the Thirty-sixth Division. He served as the chairman of the board of Marshall National Bank, vice president of Memorial Hospital Board, trustee of East Texas Baptist College and director of Marshall and Sabine Railroad. He was an honorary member of the Texas Medical Association, a member of the Military Surgeons Association, and a director of Kahn Memorial Hospital and the Harrison County Red Cross. In 1937 he was president of Harrison County Medical Society. He was a member of the Marshall City Commission and the Rotary Club. He was a deacon of the 1st Baptist Church of Marshall. He died in Marshall on September 19, 1955, and was buried at Greenwood Cemetery. In 1970 the Texas Historical Commission placed a marker at his grave.
Please go to the Personal Section.
September 2018 Personal Section
August 2018
Side Two Of The Father's Mantle
Mantle # 4
(Continued from the Angel Section.)
Suddenly, the angels turned the robe inside out – there displaying another garment entirely. The Father's mantle was double. This side was a drab camel skin – probably as John the Baptist wore in the desert.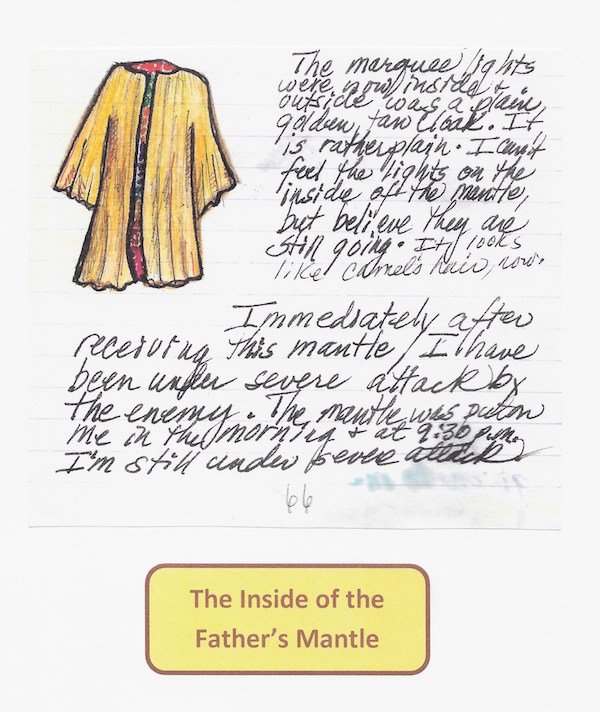 I was helped into the double mantle. This drab cloak completely covered everything I was wearing. The cloak left me looking like a wandering vagrant. (It is funny what you think about in times like these. I found myself grateful that the skins did not smell like goat.)
At first, I thought it strange that the ruler of the universe would wear such a drab garment. Then it came to me that our Heavenly Father was as Jesus showed Him to be – humble. Of course – of course, I understood not only the reason for wearing it but also, I understood more about my Heavenly Father's character. This revelation made me even more grateful to be allowed to wear the mantle – honored and blessed really. Our glorious Father was humble and if I wished to draw near to Him, how desperately did I need to put on the humility of Christ.
I asked the Father: "Are those marquee lights still going?"
"Yes," He answered with a chuckle, "the bulbs are still giving light. The marquees are rolling. Yet they are but a picture of the true light within. The outside now looks like camel's hair. Study to see who was thus dressed.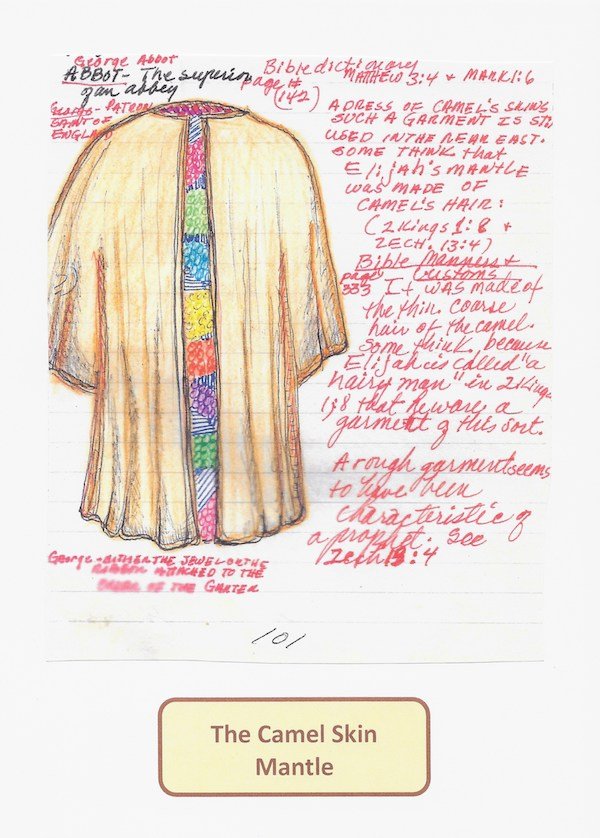 Turn to the Personal Section to find out how these particular two mantles have changed the life of one of God's children.
August 2018 – Personal Section
July 2018;
A Mantle From The Holy Spirit -Side Notes
The sword is the living, moving, powerful, Spirit-energized Word of God concerning Christ Jesus that reveals the true condition of our spiritual hearts (Heb. 4:12-13). It is truth as it is in Jesus, and it overcomes the lies of the enemy (Eph. 4:21; 6:17; Rev. 12:11).
The sword of God's Word in our hearts can be wielded by the Spirit through our actions (hands) or spoken by the Spirit through our mouths (Matt. 10:19-20; Col. 3:17). That Word wars against the enemy and strengthens the brethren (Rom. 12:21; Eph. 6:17-19; Col. 3:16; Rev. 2:16).
The whirlwind is a visible representation of the powerful moving of the Holy Spirit as on the Day of Pentecost "like a violent, rushing wind" (Acts 2:2). The Greek word for wind in John 3:8 is the same word that is translated "Spirit" in the New testament.
A strong ankle is needed to walk well. A spiritual walk is behavior that rests upon supernatural faith in and manifestation of the Lord Jesus in love (John 6:29; 15:5; Eph. 5:2). Only the Holy Spirit can bring this forth (Gal 5:16). He strengthens us to be able to allow Christ to be and do this in His strength (Phil. 4:13).
FOOT NOTES
1. Scripture describes cherubim with one, two, or four faces (Ezek. 1:10; 41:18; Rev. 4:7). In the vision of a new temple, there were cherubim with the faces of a man and of a lion carved on the walls
(Ezek. 41:19). The Lord Jesus is "the Lion that is from the tribe of Judah" (Rev. 5:5).
2. The sword of God's Word is empowered by the Holy Spirit who takes that which is of Christ Jesus and discloses it to those who are one with Him (John 16:14; 1 Cor. 6:17).
3. There are many books that God the Holy Spirit has written personally (Exod. 32:32; Dan. 7:10) with His fiery-red pen and golden ink. Examples are the Book of Life (Rev. 20:12), the book of the days ordained for each person (Ps. 139:16), the book of our tears (Ps. 56:8), the book of those recorded for life in Jerusalem (Isa. 4:3), and a book of remembrance of those who fear God and esteem His name (Mal. 3:16).
4. "The Spirit of truth . . . proceeds from the Father" through the Son (John 15:26.) "The Spirit of truth . . . will not speak on His own initiative, but whatever He hears, He will speak" (John 16:13).
5. The Spirit of truth as it is in Jesus sets us free (John 8:31-32): from bondage to sin (Rom. 6:12-14), self (Rom. 6:6), and the world (Gal. 6:14); from oppression (Isa. 10:27); from the prison of darkness (Ps.107:10-14); from sickness (Luke 13:16); from the Law (Gal. 5:1-4); and from death (John 11:25-26).
6. The two large pillars supporting the roof over the porch of the temple that Solomon built were named Jachin, "He establishes", and Boaz, "In Him is strength" (1 Kings 7:15, 21). In the spiritual sense, the pillars stood guard at the entrance to the holy place, as cherubim also guarded the entrance to the Garden of Eden (Gen. 3:24).
7. David, Solomon's father, said that God made him understand all the plan for the temple to be built, including the porch, "in writing by His [the Holy Spirit's] hand upon me" (1 Chron. 28:11, 19). The two cherubim named Jachin and Boaz are assigned to stand guard over the revelation of the words of God in writing by the inspiration of the Holy Spirit.
8. At times there is silence in Heaven, as when the seventh seal is broken, with the host there waiting to behold what God would do (Rev. 8:1). "It is good that [one] waits silently for the salvation of the LORD" (Lam. 3:26).
9. The hands of a believer represent the visible work (Matt. 5:16). The feet stand for the walk or conduct that is seen (2 Cor. 4:2). The head is the place of spoken thoughts (1 Cor. 2:11-13). The Holy Spirit reveals only Christ, not Himself, and He does the same thing in the believer.
10. A porpoise skin covering over the tabernacle in the wilderness hid its true purpose from the eyes of the world (Exod. 26:14).
11. Jesus as the Christ was hidden from recognition except by divine revelation (Luke 10:21). The believer's life is hidden in God (Col. 3:3), so that only Christ Jesus in him may be manifested (2 Cor. 4:10-11).
12. Jesus said that "whoever wishes to save his life [Greek psyche, the expression of his own soul] shall lose it [when he dies], and whoever loses his life [soul] for My sake [so as to express My soul], he is the one who will save it [for eternity]" (Luke 9:24).
13. Everyone in Heaven is without shoes, for all the ground there is holy (Acts 7:33).
14. Jesus rebuked those who justified themselves, seeking to be considered righteous in the sight of people (Luke 16:15) rather than before God, who alone is the One who declares us righteous in His Son (Rom. 8:33).
15. Part of the individual cross, which is continually offered to each believer, works the invisibility to others of one's self (Luke 14:27; Eph. 4:22).
16. An exposed heel means anything in one's walk (behavior) that makes one vulnerable to being wounded or tripped up by the enemy (Gen. 3:15; Matt. 18:7; 1 Cor. 3:3; 1 Pet. 5:8-10).
17. Nothing good dwells in or originates from our "flesh", the earthly person (Rom. 7:18). On the cross, God removed all spiritual life support to this old self (Rom. 6:6).
18. The functioning of the natural person can only produce spiritual death (Rom. 8:6, 13).
19. Jesus said, "I do not receive glory [honor or fame] from men . . . How can you believe [trust in God] when you receive [and trust in] glory from one another, and you do not seek the glory that is from the one and only God?" (John 5:41, 44). The rulers of His day "loved the approval of men rather than the approval of God" (John 12:43).
20. God maintains a sufficient degree of freedom in our will to enable us to choose for or against Him in every matter. He respects that freedom and waits for us to be willing. "Whosoever will, let him take the water of life freely" (Rev. 22:17, KJV).
21. "I do believe; help my unbelief," the father of the epileptic boy cried out to Jesus (Mark 9:24).
Please go to the Personal Section to gain a clearer understanding of how such a mantle affects the life of the one wearing it.
July 2018 – Personal Section
June 2018
A Surprise Gift
We now need to zoom forward to Rosh Hashanah of 1994.  We had, since going to Spokane in '90, helped bring together the pastors of the (then) seventy – two denominations in Kansas City for monthly prayer and mounted several city–wide repentance services and organized Kansas City's first "March For Jesus".  After our work in the city finished, we turned over all that had been established to the pastors of the city (collectively) and took a year off to pray.
My husband had promised the pastors of the city that we would return after a year so that he could fulfill that promise by giving a weeklong convocation on the cross of Christ.
YOM KIPPUR
So, we headed back to Kansas City for the weeklong convocation that started at Rosh Hashanah and ended right before Yom Kippur.  On Yom Kippur, we were starting to leave the city; but first, we stopped off for an open prayer meeting being held by the ministry of the friend we had accompanied to Spokane years before.  The prayer vigil was held in a sanctuary.
THE CHURCH
The sanctuary had once belonged to the Catholic Church as part of an extremely large convent.  Now the building was part of a rescue facility for unwed mothers; if they wanted to keep their babies or allow responsible families to adopt them.
The church building itself had a high vaulted ceiling, tall windows and an alcove in front where the altar had once stood – (now decommissioned as a Catholic sanctuary).  It was a large room, simple and clean.
The prayers had already begun when we arrived, therefore we sat toward the back of the room.  It was good to be among some of the friends we had made in Kansas City.  Wonderful to pray with them again.
SEEING THE LORD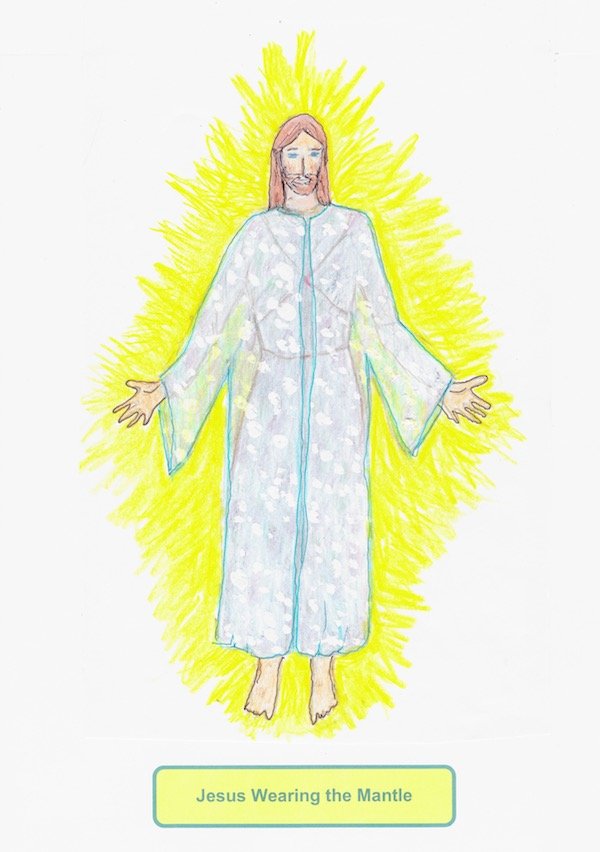 We had been there for only a few minutes when I saw the Lord, twenty-four feet high standing in the center of the vaulted alcove.  He was wearing that mantle I had seen being carried by the two angels in Spokane.  The cloak was shimmering with multicolor.  It was other worldly – gossamer.  Rays of light were streaming from the Lord.
"Oh," I said to myself, "that's where the mantle went, back to Jesus."  I thought: "It was His to begin with and it has returned to Him."
Suddenly, He fixed His eyes on me and said: "Look at Me."  His eyes were piercing and seemed nearer than the considerable distance between us.  He continued His piercing gaze.
SUDDENLY
Suddenly the cloak came through Him and traveled the distance from the alcove to the pew where I was standing.  It came around me.  Then He periscoped down to a normal size and began to move forward.  He passed into me and therefore into the cloak as well.  So, He was in me wearing the cloak.  It was so odd, for He was looking through my eye sockets.
Then He passed out of my body leaving the cloak and He went back to the alcove/altar site.  The cloak remained on me.  Once back at the alcove, He turned around and looked at me with the garment on me.  I could feel the garment on me, also I could see it.
This time He did not ask me as He had in Spokane the night before we went to the mantle's location.
I did not understand, but it was like the ancient Biblical rite of a covenant cloak given by a husband to His wife "to cover her".  It was, in some way, given to me as a sign of all the Lord was intending in future.  It was the first step that eventuated in the Formal Betrothal.
[Go to the Personal Section.]
June 2018 – Personal Section
May 2018
Notes on the Betrothal Garment and the Crown
The Embroidered Robe – Side notes
* In time past, the enemy must have argued successfully before God that he had legal right to have the garment of brotherly love.
* To be clothed in the Lord Jesus is to be beautiful in the eyes of the Father (Isa. 62:3; Zech. 9:16-17).
The Embroidered Robe – Footnotes
1. The radiance of the Father upon His throne is compared to the colors in a magnificent rainbow (Ezek. 1:28). The range of colors begins with dazzling white and moves through the full light spectrum (Rev. 4:3).
2. "So, as those who have been chosen of God, holy and beloved, put on a heart of compassion, kindness, humility, gentleness and patience" (Col. 3:12).
3. "Bearing with one another, and forgiving each other, whoever has a complaint against anyone, just as the Lord forgave you, so also should you" (Col. 3:13).
4. "Beyond all these things put on [divine] love, which is the perfect bond of unity" (which binds everything together in complete harmony) (Col. 3:14).
5. Satan, an expert legalist, primarily accuses believers before God of disobedience to the greatest commandment: to love God (Rev. 12:10; Job 1:9-11; Matt. 22:37). The devil can detect this sin by observing the lack of love between brethren. God's word says, "The one who does not love his brother whom he has seen, cannot love God whom he has not seen" (1 John 4:20).
The lack of love in the body of Christ has reached a point where there were few Christians who manifested Christ's love for all the saints (Col. 1:4).
6. The garment is intended by the words, "That Christ may dwell in your hearts through faith" (Eph. 3:17). His love is to fill our hearts and overflow into the soul capacity of our will. The will is to steadfastly choose to love others in His name – "to preserve the unity of the Spirit in the bond of peace" (Eph. 4:2-3).
The garment was lost through disobedience to the Lord in His church. It could only be recovered through obedience. Christ Jesus does not act on Earth by the Holy Spirit apart from some obedient member of His body. And the Lord Jesus gives the Holy Spirit to those who obey Him (Acts 5:32).
7. "You shall love the Lord your God with all your heart, and with all your soul, and with all your mind" (Matt. 22:37). It is not possible for human beings of themselves to love God (Rom. 3:11, 13-15). However, when a Christian embraces Christ Jesus as one's only life, He becomes the new inner garment of ever-increasing love for God and for others (Col. 3:4; Phil. 1:9; Eph. 1:15).
8. "Shepherd the church of God which He [Christ] purchased with His own blood" (Acts 20:28; Rev. 5:9).
"Then I [God] bathed you with water" (Ezek. 16:9-10; Eph. 5:26).
"You shall make holy garments for Aaron your brother, for glory and for beauty" (Exod. 28:2; Ps. 29:2, NKJV).
"My soul will exult in my God; for He has clothed me with garments of salvation, He has wrapped me with a robe of righteousness" (Isa. 61:10).
9. Jesus says here that the whole of our being is to be saved – body, soul, heart, and spirit. "For the word of God is living and active and sharper than any two-edged sword, and piercing as far as the division of soul and spirit, of both joints and marrow [the body], and able to judge the thoughts and intentions of the heart" (Heb. 4:12; 1 Thess. 5:23).
God alone is righteous. This means that the divine nature is perfectly just (fair and impartial) and right (true and upright).
Human beings were created "that we might become the righteousness of God in Christ Jesus" (2 Cor. 5:21). Christians put on the new inner self (heart and spirit) that God created and that is becoming like Christ "in righteousness and holiness of the truth" (Eph. 4:24; Col. 3:10).
10. Christ Jesus is the head (Eph. 4:15). Christians are members of His body. We are part of Him and of each other (1 Cor. 12:27; Rom 12:5). This means that a person who is in covenant with the Lord Jesus is also in covenant with all other believers. All Christians are "members [of Christ's body] belonging to one another" (Eph. 4:25, WUEST)
The Crown – Side notes
* The number twenty-four signifies delegated authority in the heavenly realm (Rev. 4:4).
* There is an old saying about brides: "Something old, something new; something borrowed, something blue."
* The Hebrew word for the spice henna is translated "camphire" in the New King James Version. It is the same Hebrew word for "ransom" (Song of Sol. 4:13; Isa. 43:3). A bride in the Middle East applies the spice as a paste to her hands and feet on the night before her wedding.
The Crown – Footnotes
1. The Father promises the crown of eternal life to those who persevere under trails and hold fast to their love for God and His children to the end (Rev. 2:10; James 1:12). Also, in Revelation 3:10-11, Jesus appears to refer to the crown of life for the same reasons.
2. The blue color of sapphires represents heaven in the Bible.
3. "Speaking the truth in love, we are to grow up in all aspects into Him who is the head, even Christ" (Eph. 4:15). The manifestation of Christ involves "always carrying about in the body the dying of Jesus, that the life of Jesus also may be manifested in our body. For we who live are constantly being delivered over to death for Jesus' sake, so that the life of Jesus also may be manifested in our mortal flesh" (2 Cor. 4:10-11).
4. Jesus provided something old in the recovered covenant garment. Later He wrote His new name on my forehead. Now the Father allows me to borrow the crown of life for the coming ceremony. He adds to it twenty-four blue sapphires.
5. The Bible calls angels in the third heaven "stars" (Rev. 1:20; 12:4). The Father designates twenty-four angels to accompany this wearer of the crown of life in heaven.
6. For Christians the hands (work) and the feet (conduct) are to give forth the sweet fragrance of Christ's sacrifice on the cross as our ransom for sin (Eph. 5:2; 1 Tim. 2:6).
7. The union between the Father and the Son is complete and total (John 10:30). They will be satisfied with nothing less than that for those who are "heirs of God and fellow-heirs with Christ" (Rom. 8:17). Jesus prayed, "As Thou, Father, art in Me and I in Thee, that they also may be in Us… that they also may be perfected in unity [with Us]" (John 17:21, 23).
Return to the August 2021 Personal Section
April 2018
Receiving The Spiritual Of A Natural
1 Corinthians 15:46
"However, the spiritual is not first, but the natural, then the spiritual."
Mainly, this verse refers to mankind first being a natural (or fleshly) person then becoming a spiritual one. But in the root word from (#5590) in the concordance "thing" is also mentioned. It is this meaning to which the angel refers.
The prayer group that had been praying many years for the Lord's will to be manifested on Prayer Mountain and for those that make their way to the top, years earlier had received a physical token of transferred authority. We received it together (so that not one of us would mistake the gesture to be personal only). Still, we were unclear as to the full meaning of this "natural" and the extent of the authority it represented.
The Lord, wishing to assist us with these extremely important questions, sent an angel to clarify… and not just any angel, but the first angel I had seen on the top of Prayer Mountain.
RECEIVING THE AUTHORITY AND THE ANOINTING
2014 – (4 years ago)
The Angel Victory stood before me. He wore a silver robe that looked for all the world like liquid mercury. He was blazing with light. I had seen him on the ridge many years ago. He spoke:
"Even as the heathen King Ahasuerus was moved upon to look into the Book of Chronicles of his Kingdom and found there Mordecai's service to him and to his realm – I have moved upon you to open the chronicles of the ridge in order to see with better understanding my words to you nine years ago. Nine. How many times did the prophet strike the ground?"
"Nine," I answered.
"You have wondered about the number nine, have you not?"
"I have."
"It has been nine years since I appeared to you. Twenty-nine years since the prophet called the people to come from the north, south, east and west."
"Now, Anna, the years have been accomplished for you (which implied a corporate 'you' such as those of the prayer group) to be endowed with your further calling. You said that you would receive me. Will you be strong and very courageous? Will you embrace your further calling?"
"What is that calling?"
The angel continued: "To keep the fires burning on the altar of incense of prayers rising into the nostrils of God Almighty."
"For what purpose?" I asked the angel.
"For the purposes God Himself will reveal – purpose by purpose – immediate and changing purpose by immediate and changing purpose… guided by the nod of His head… guided by the glance of His eye," the angel said.
"Here," the angel Victory said "the scepter has been given to you. First the natural, then the spiritual. The natural was extended to you by the one who held it. Now, I victory, have been commissioned to give to you the spiritual of that natural."
He reached out to me holding a short, (probably 12 to 15 inches long) golden scepter. I reached out my hand and took it. It had some weight to it.
"What is it?" I asked.
"Seek and you will find," the angel said and vanished.
---
CORPORATE BLESSINGS AND ANOINTINGS
I had in the past received spiritual tokens to cement the validity of physical markers in my life. However, these were always personal. I had never been the one who received for a group… a corporate anointing… a corporate blessing.
Honestly, I had not thought about such an occurrence. What would it mean? How would it be exercised or used or experienced?
Since the Lord has me stepping out onto thin air often – I run to the Word to confirm or deny spiritual experiences. If the Lord has "done it before" – showing it in the Word, then I know He can "do it again". I hope I am not so vain as to believe that I alone have been singled out to have such experiences.
Were there corporate anointings and blessings? Well yes – the famous blessing is in Numbers 6:22 – 27 to be placed on all the children of Israel:
22 Then the LORD spoke to Moses, saying,
23 "Speak to Aaron and to his sons, saying, 'Thus you shall bless the sons of Israel. You shall say to them:
24 The LORD bless you, and keep you;
25 The LORD make His face shine on you, And be gracious to you;
26 The LORD lift up His countenance on you, And give you peace.'
27 "So they shall invoke My name on the sons of Israel, and I then will bless them."
What about the anointing? Does the Bible give us an example? It does. Exodus 28:41 –
"You shall put them on Aaron your brother and on his sons with him; and you shall anoint them and ordain them and consecrate them, that they may serve Me as priests."
The Lord had honored the prayer group by giving to us the authority in prayer for this little mount. The physical token had come from the one who owns the physical acreage and the validation of its meaning and scope of its authority (given in the sign of Esther) from the throne of God. Only God Almighty can give such authority on Prayer Mountain.
Now remember, I and the group had been praying for years before the angel brought the scepter to us. I believe it was bestowed because of length of time in prayer, faithfulness, and a desire to hold to purity. Honestly, we were thrilled to be given additional authority and anointing in order to pray for all of you… and to seek God's will for Prayer Mountain and His timing to fulfill His will.
That is one "spiritual" given by God Himself to confirm a "physical" handed to us some time before.
I am showing you the moment of the transfer of the authority and with it the anointing.
Look for the same in your life. Usually He surprises you with such "spiritual upgrades". You are going along serving as you have always served and you receive a "suddenly". It's glorious.
March 2018
Living Patchwork Quilt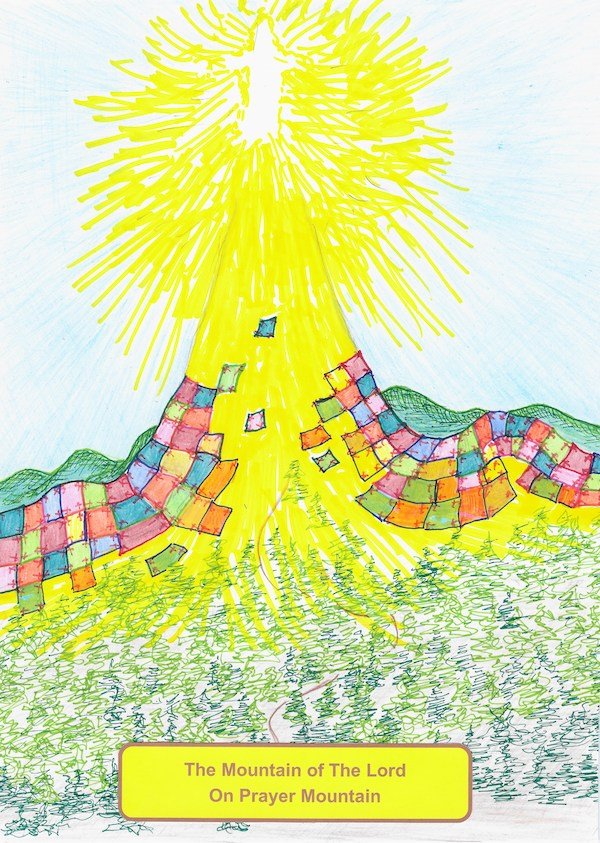 August 6th, 2006: Sunday
When walking up toward the gazebo, I saw a patchwork quilt laid out all over the land on Prayer Mountain. Its patches were bright primary colors: intense yellow, bright red, electric blue like a patchwork quilt for a child's room. In each square a living picture was playing. Each held a story or stories.
These stories were playing at the same time. But not all of the pictures were of people. Some were of the fauna on the mount: squirrels, birds, etc. Their stories were being told also.
Every so often, another patch was added to the quilt and began to play its story within its little square. The squares were many colors and sown together with a heavy, red thread – which later all felt represented the blood of Jesus. There was a joy and childlikeness about this quilt.
I thought to myself that the whole earth is full of His glory.
Suddenly a mountain shot up from the top of this ridge. I heard a voice say: "The mountain of the Lord will be chief among the mountains. He will rise and all will fall before Him."
I asked: "What does mean?"
The voice answered "Prepare!"
---
This revelation was one of the most delightful and instructive of the visions shared with me by the Lord on Prayer Mountain. On the surface it was like a never-ending story (because it was growing daily.)
Those within the vision included First Nation peoples, Pioneers, birds, bears, rabbits, etc. Moravians, people groups from other lands and a massive – a monumental number of angels.
It was like a "Living Memory Quilt." It played out the stories of all those who had come to Prayer Mountain… so that, if you have visited, you are also a part of this "living history" – a Memory Quilt.
Suddenly I realized that I was being recorded… that what I did in this place was significant (even if I thought I was alone.) I realized that, by being here, I was part of God's testimony about His land and Himself. I was not only part of the witness of His faithfulness to this land but to the Moravians and to all His God-fearing children who have prayed for Him to be glorified by establishing a righteous work on that ridge.
How long had He been declaring His intentions over this land? Who knows – probably from the beginning. This ridge had already been pruned and tested. A group of PhD's from Tennessee were here on this little mount: they were surveying the top. My husband and I went out to greet them (and in true country fashion – find out what they were doing.) I asked why the land had so little soil on the mountain and one of our visitors told us that the mountain had worn down. "The Brushy Mountains," he told us "was one of the oldest mountain ranges in the world." Over the many, many years the mountain had worn down from a peek which could have been as high as the Himalayas to, now, one of the humblest of land rises.
In the eyes of the world, being "less" high is also "less" desirable – usually – lowly – insignificant – but I felt the Father was preparing it. He was making it ready to receive His presence and His glory in His time… like the manger that received the Baby Jesus – the now, lowly ridge could and would receive the Father's glory.
Even as the sounds of our praises and prayers are reverberating throughout the universe – on and on – forever proclaiming His wonderful name now I realized that all we do in His name is being recorded whether we realize it or not and all is present before Him to be seen again – it is a testimony to His faithfulness and a spiritual record that is being played before the great cloud of witnesses and the angels… a glorious Living Quilt.
ASSURING HIS CHILDREN
But the most important part of the vision came at the end with a proclamation and a promise.
Right at the end, a mountain shot up from the midst of the quilt. It has been prophesied by many reputable seers that our Heavenly Father will be manifested on the ridge – there to meet with and minister Himself to His children. (He has come down before – as when He came down and ate with the 70 elders on the mountain when the children of Israel were in the desert.)
We need Him again in this tangible way in order that His children may know Him better.
The amazing last part of that vision is a restating and a re-pledging of those prophetic promises.
He is coming and we have been told that we have a part to play: "prepare."
February 2018
The Under Secretary Of Truth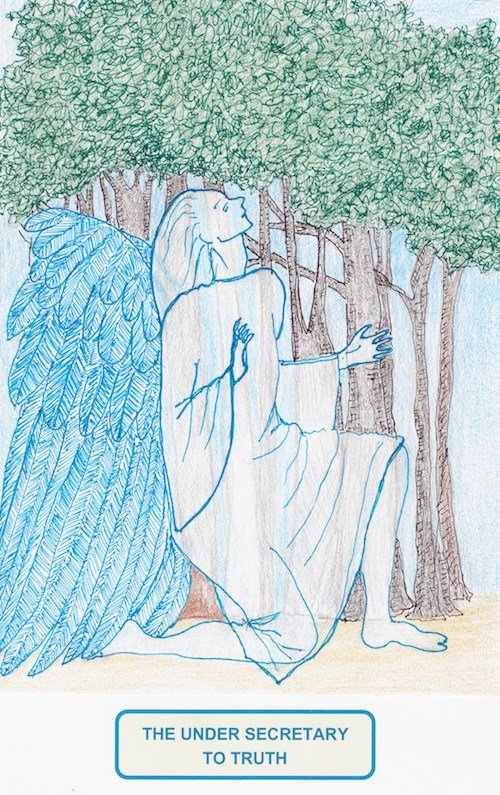 THE UNDER SECRETARY TO TRUTH
June 29, 2006: Thursday – Vision:
An angel about 25 feet high appeared. He was translucent. I could see right through him. He bowed at the waist to greet me. Then he knelt as though acknowledging that he was reporting for duty. I respected his time with the Lord. When he rose, he faced me.
I addressed him: "May I ask your name?"
"I am an UNDERSECRETARY TO TRUTH." I remembered that Jesus said that He was Truth. I then supposed that there are angels that serve as secretaries (like in the president's cabinet). This must be an angel that serves under the secretaries – one that could be assigned to a location and remain in that location during the assignment. I did not know for sure, however.
"Do you come with authority from Truth Himself?" I asked.
"I do," he continued, "You have prayed that all that will be brought forth here will be in love and fellowship. But a spirit of truth is also needed for the transparency required to conduct His power." [It seemed that he was suggesting that truth was a conductor of power. However, I felt that I had known several Christian leaders with "power" that I could not also testify to their personal character as it related to "truth". * But if the angel was relating my own personal desire to see the truth joined to God's power on
this ridge… well, he was right. There was a great desire within me to see God's ways prevail from the beginning to the completion of one of His purposes – uncorrupted.]
He continued: "He who is Truth has sent me to this location in order that His power may have safe passage and drive home, truly "hitting-the-mark". The path of light will lead many to knowing the One who is Truth. I speak, not from myself, but from the One who sent me to you."
---
* "Power" is a gift given by God. As the word says in Romans 11:29: "the gifts and the calling of God are irrevocable." Therefore, at times the gift will reside within a Christian that is soulish or fleshly. That person uses the gift, but the gift does not change the person's character. Character is replacing our fleshly mind, emotions and will with Christ. That, of course, is a "work of the cross".
A person may have a large ministry or hold authority in a church but still not be maturing in his or her character. This has been one of the greatest stumbling blocks for the body of Christ. When we are younger in Christ we believe that those God-given gifts MUST be springing from a person who has the mind, emotions and will of Christ. They must be embracing the cross and have been rewarded with these glorious gifts that help so many people. The fact that this is not true, may be the most difficult "pill for us to swallow" as we ourselves, mature. It doesn't seem "right" somehow. Our human mind believes righteousness and the gifts should go together as they do in Jesus. How could God allow the unrighteous to use His gifts? – not only use them, but swindle, cheat, make millions there-by living a life of wealth and ease, all due to God's "gifts"?
I certainly am not wise enough to answer that age-old question. But I do know our Heavenly Father. He keeps His word. If he has assigned certain
gifts to certain people, He will give those gifts to certain people with the hope that they will be used to benefit His children in their time of need. The gifts are blessings that pass through the person to those in need. No one owns God's gifts.
WHAT IS OUR HEAVENLY FATHER SEEKING?
You never read in the word that our Heavenly Father is looking for the gifts in anyone. NO – He is looking for the character of Christ.
Character and gifts are two different things.
Gifts are given – as the name implies.
Character is a replacing of our fleshly souls (mind, emotions and will) with Christ. Not with His characteristics, but with Christ Himself. In other words, we do not act like Him, He replaces the fleshly parts of our souls with Himself – just like at salvation we ask Jesus to come into our heart and be our life.
The transformation of the soul is accomplished by "embracing the cross". What in the world does that mean? It is sort of "Christianize" for the work of the Holy Spirit within us. The Holy Spirit orchestrates a series of tests in our lives. We are unable to test ourselves nor even to arrange the time of the tests. The Holy Spirit must accomplish all of this. [Sometimes, also, we must take certain tests (presented in various ways) over and over again.]
We must pass our tests even as Jesus passed His tests in the wilderness. Like Jesus we must choose God over our "flesh" and we pass that particular test.
Now, what does this do? It was difficult to tell with Jesus' tests because He was uncorrupted by sin. But when He came out of the desert, He came in the power of the Spirit. But for us, our soul has been sullied by sin. We do not tidy up our souls. All parts of the soul must be replaced by
Christ. [We only do this over a lifetime (usually). Some only allow a little of their souls to be exchanged for Christ.]
But this "work of the cross" (called that because it is painful most of the time) determines our placement in His millennial and future work.
Jesus passed the tests originally and now He passes them again through us, if we allow Him. He is all in all. Finally, only Christ passes over (and we in Him) into the Heavenly Kingdom.
GIFTS AND CHARACTER
The word says to seek spiritual gifts (in order to bless many in the name of the Lord.) But live your life to fulfill the high calling in Christ Jesus. (Philippians 3:14) "I press on toward the goal for the prize of the upward call of God in Christ Jesus."
For the eventual House of Prayer on Prayer Mountain, (I was musing at the time of the vision that) I hoped to see a work of the Lord accomplished by those with gifts and character – thereby to see it raised up unsullied and clean. (That of course should be the desire of any and all wishing to establish houses of prayer where ever they may be.) The universal truth for all should be that such a sacred trust must be established on a clean foundation: (Psalm 24:3-5) –
Who may ascend into the hill of the LORD?
And who may stand in His holy place?
He who has clean hands and a pure heart,
Who has not lifted up his soul to falsehood
And has not sworn deceitfully
He shall receive a blessing from the LORD
And righteousness from the God of his salvation.
January 2018
Seeing Our Heavenly Father
SIDE NOTES
The throne of God is resplendent with the most valuable of all: the divine character and virtues of the Father. These comprise His authority and that by which He rules. Righteousness and justice are the foundation of His throne (Ps. 97:2). He is righteous and just (Ps. 11:7; Zech. 9:9). He loves righteousness and justice (Ps 33:5) He works righteousness and justice (Ps. 99:4).
No human being can see the brightness of the glory of God's face and live through the experience (Exod. 33:20; 1 Tim. 6:16). Angels are able to behold His countenance (Matt. 18:10), and believers in their resurrected bodies will see His face (Rev. 22:4).
Christ Jesus is our hope of drawing near to God the Father and to dwell in Him with His Son even while we still walk the earth (1 Tim. 1:1; Heb. 7:19; John 17:21; Col. 3:3; Rev. 3:12).
One meaning of "waters" in Scripture is "peoples and multitudes and nations and tongues" (Rev. 17:15). Troubled waters symbolize heathen peoples in an uproar (2 Chron. 15:6).
God has ordained that the salvation of the Lord Jesus be carried out on Earth with the free consent and cooperation of those in the one body of His Son, those who have been made a part of the risen Christ (Eph. 1:22-23; 2:16; 3:10; 5:23, 25-27, 30).
The hope of returning to heaven, our true home, to know our true Father, our true Brother, and our true Friend, the Holy Spirit, lies deep within the new, human, spiritual heart (Ezek. 36:26; John 17:3; 2 Cor. 5:8; Phil. 1:23). The resurrected spirit of each believer is already there in Christ (1 Cor. 6:17; Eph. 2:5-6; John 12:26; 17:24).
There is nothing good and trustworthy dwelling in the natural state in which we were born, that is, in our "flesh," which hates God and refuses to obey Him (Rom. 1:30; 8:7). Christ Jesus is the only good and trustworthy thing in us, for He has been made all things for us from God (1 Cor. 1:30; Col 3:11).
In the end times, God's family will be restored to Him (Mal. 4:5-6; Eph. 3:14-15; Mark 9:12) from the captivity of a double heart (Ps. 12:2), so that they no longer go limping between two opinions (1 Kings 18:21, KJV).
The trumpets were blown in heaven on this occasion for one of the same reasons that the two silver trumpets in Israel were sounded to gather everyone together: to rejoice in worshiping God in His immediate presence (Num. 10:2-3, 10).
TEACHING NOTES
1. True gold, like every created thing in heaven, is transparent because it exists to be illumined by God's glory (Rev. 21:18, 21, 23).
2. Jesus said that His Father has a "form," a figure or shape that can be seen (John 5:37). Many people saw His bodily form: Moses alone (Num. 12:8) and again with all the leaders of Israel (Exod. 24:9-11). The body of the Son of God is like His Father's appearance, for the Son is in His image (2 Cor. 4:4: Phil. 2:6; Col. 2:9). Jesus said, "He who has seen Me has seen the Father" (John 14:9).
3. The divine light that is of God flashes through His garment in heaven like lightning as an indication of His awesome power (Rev. 4:5; 16:18). The power of the Lord Jesus on Earth also permeated His garment (Luke 8:43–46; 6:19).
4. The primary Hebrew word translated "to worship" literally means "to bow down," not a matter of words or feelings but an act of humbling oneself. An example is Moses in the presence of the glory of God's grace (Exod. 34:8). When the glory cloud of God filled the temple, none of the ministering priests were able to stand (1 Kings 8:10-11).
5. The same words translated "lap" in both Testaments are also translated "bosom". When one sits, the lap is almost the equivalent of the bosom. This represents the intimacy that the Son has "in the bosom of the Father" (John 1:18).
6. The Lord has made His disciples to be "a kingdom, priests to His God and Father" (Rev. 1:6). Priests are chosen and brought near to God to dwell in His courts (Ps. 65:4). God gave His covenant of peace to the Aaronic priesthood through Phinehas (Num. 25:11-13). The Melchizedek priesthood of those who have believed into Jesus includes a greater covenant of peace (Heb. 7:17, 24) Christ is their peace (Eph. 2:14).
7. He is "a hope both sure and steadfast and one which enters within the veil, where [He] has entered as a forerunner for us" (Heb. 6:19-20). Having entered within the veil in spirit, "we look not at the things which are seen, but at the things which are not seen" (2 Cor. 4:18). Our desires and minds are set on "things above, not on the things that are on earth" (Col. 3:2).
8. "Delight yourself in the LORD, and He will give you the desires of your heart" (Ps. 37:4). If we "[desist] from[our] own ways, from seeking our [own] pleasure, and speaking [our] own word, then [we] with take delight in the LORD" (Isa. 58:13-14). He will move us beyond the heights of the earth by drawing us after Him (Song of Sol. 1:4; John 6:44).
9. The Lord God dwelt within a dark cloud when He visited the Israelites at Mount Sinai (Exod. 19:9; Deut. 4:11; Ps. 18:9).
10. "[No one knows] who the Father is except the Son, and anyone to whom the Son wills to reveal Him" (Luke 10:22). "He who has seen Me has seen the Father," Jesus said (John 14:9).
11. Jesus said that there would be "dismay among nations, in the perplexity at the roaring of the sea and the waves, men fainting from fear and the expectation of the things which are coming upon the world" (Luke 21:25-26).
12. The more judgements of God come upon the earth at the end of the age, the more clearly His glory will appear upon His children. They will begin to "shine forth as the sun in the kingdom of their Father" (Matt. 13:43; Isa. 60:1-2).
13. "Open your mouth and eat what I am giving you" (Ezek. 2:8). "Thy words were found and I ate them; and Thy words became for me a joy and the delight of my heart" (Jer. 15:16). "Write in a book what you see… and the things which are, and the things which will take place after these things" (Rev. 1:11, 19). "Blessed is he who reads and those who hear the words [with understanding] … and heed the things which are written in it; for the time is near" (Rev. 1:3).
14. The word chancellor is from the Late Latin cancellarius, meaning a doorkeeper or a secretary to a king. God's chancellor is one who opens the door for others to come to know Him through a written record of proceedings in heaven and their substantiation by the Scriptures. As the risen Lord opened the minds of the eleven apostles and those who were with them to understand the things concerning Himself in all the Bible, now He is opening the mind of His church to deeper revelation of the Father's heart (Luke 24:27, 33, 45; John 16:12-13, 25).
15. God knew each of us in Christ before we were born into the world (Jer. 1:5; Ps. 139:16). "He chose us in Him before the foundation of the
world" and called us according to His purpose (Eph. 1:4; Rom. 8:29-30; Gal. 1:15).
16. Human wisdom and the reasonings of worldly thinkers are useless nonsense to God (1 Cor. 1:20; 3:20). "God has mainly chosen the foolish people… the weak… the lowly and despised, even those considered nonentities, in order to nullify those who think themselves to be somebodies – so that no one may boast before Him" (1 Cor. 1:27-29, paraphrased).
17. The Father delights in one He has called to fulfil His purposes because of the apportionment of the grace of His Son's character, life, and ministry that He chooses to allot to that person (Gal. 5:22-23; Rom. 12:3, 6; 1 Cor. 12:7, 11; Eph. 4:7, 15-16).
18. The Father has placed His entire trust in His Son, giving Him all authority to bring all creation to completion (John 3:35; Matt. 28:18; Eph. 1:22). The Son warrants this trust because He laid Himself aside from eternity out of love for His Father in order to fully obey and manifest His Father rather than Himself (Phil. 2:6-8; John 5:19, 30).
19. The natural expression of the earthly person in soul and body, called in Scripture "the old self" (Eph. 4:22; Col. 3:9) or "himself" (Matt. 16:24), must be denied and laid aside as worthless to God. The Holy Spirit will enable us to keep in incapacitated on the individual cross that He provides each of us; as Jesus bears His personal one (Matt. 16:24). The life of God in Christ alone is to be manifested in us (Eph. 4:24; 2 Cor. 4:10-11). The natural or old person cannot be changed, for it is hopelessly centered on itself rather than God. Christians change only by having more of Christ Jesus, the one new man, formed in them (Gal. 4:19; Eph. 2:15; 4:13).
20. God the Spirit causes believers to grow up together in all aspects into Christ (Col. 2:19; Eph. 4:15): in His salvation by the Scriptures (1 Pet.
2:2), in the grace of faith and love and of the knowledge of Him (2 Thess. 1:3; 2 Pet. 3:18), and in being fitted together into a holy temple in the Lord (Eph. 2:21).
21. The Father is unveiling more of His heart so His people may know that He has turned their heart back again (1 Kings 18:37) and that He has given them a heart to know and understand Him. (Deut. 29:4; Matt. 13:15) and that they may love Him with all their heart (Deut. 4:29).
22. Whirling wheels accompany certain cherubim (Ezek. 1:15-20; 10:13).
23. When God created the earth, the host of heaven "sang together and… shouted for joy" (Job 38:7; Rev. 12:4, "stars of heaven"; Job 1:6, "sons of God").
24. The Israelites usually used a trumpet made of a ram's horn called a shofar, the transliteration of the Hebrew shophar. One of the purposes of their blowing the shofar is the same as that for which it was blown now in heaven: to solemnly prepare everyone for a new revelation or act by God (Exod. 19:13; Josh. 6:5; Joel 2:15).
December 2017
The Final Attack
This battle had been so long and intense that one of our prayer warriors finally buckled and withdrew from the company of those of us in prayer. Nothing, it seemed, could persuade our friend to stand. As he buckled, he left the area. He confided that for him, he wanted his life to be simpler and gentler, living the type of Christian life that did not make him such a target of the enemy.
We began to realize that the "testings" were to not only cleanse the land but also to confirm those who were called to be here.
Although we were sad to lose him, we understood. Like seeing a fallen comrade on the field of battle, your heart goes out to your fellow prayer warrior but there is no condemnation – only sorrow that all of those who were called at first would not be together to celebrate the Lord's final victory.
BUT THE DEMONS REJOICED
When the enemy pulls one of God's children off course [let us hope it is only for a time] the demons celebrate. That happened in this battle. By hindering one of God's children, their glee was frenetic.
---
JULY 11, 2008: FRIDAY
Laughing demons were flying around, stopping now and then to rub up against each other – like animals that might put their scent on a tree.
You know, I have never seen demons actually be happy. These were overjoyed – delirious. They were celebrating, it seemed – but manically, feverishly, insanely. Yes, insanely, is the best way to describe their actions and the frenzy with which they persisted. They were taunting me; exulting in their celebration and – according to their attitude – rejoicing at the expense of God's children.
Suddenly a huge angel – as black as night – with clothing that billowed out from his body – (tattered, ragged, as though the garment had not been cleaned nor changed in thousands of years) –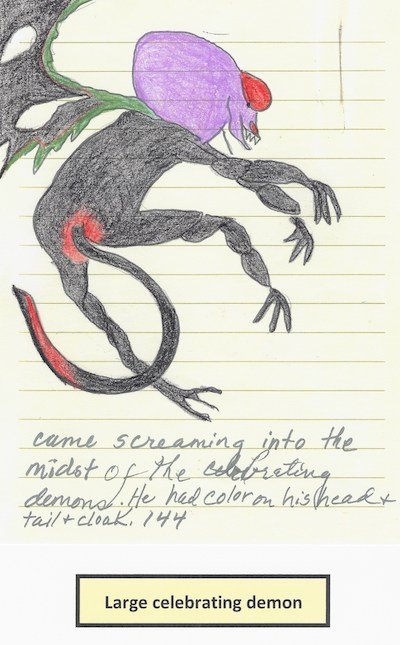 came screaming into the midst of the celebrating demons. He had color on his head, tail and cloak.
The sound he made was blood-curdling and cut through everything. It made me recoil.
The demons scattered like roaches scurrying away from light.
This demonic angel flew around dragging his filthy garment through the air – screaming, screaming, screaming. Oh Lord, it was dreadful.
"Father," I said, "in the name of Jesus, I ask that You rebuke this emissary from Hell."
"Punish him for daring to cross Your sacred land. Torment him for taunting your children and return him to his place of darkness away from this beacon of light – this place that You have established for Yourself. You have claimed this place. Pursue him. Drive Your arrows into him. Literally bring him to ruin. I ask this in Jesus name."
The large demon began to look like it was being pushed or thrust in the midsection by a rail – for time and time again, something invisible was ramming into his stomach, so that as he was punched backward, his legs came flying out in front of him as he received the blows. His arms, also swung to the front of his body and his face looked as though he had received the type of blow that – if so be he was human – would have knocked the breath out of him.
Again and again he received these bows – until he turned suddenly from facing the blows to trying to escape them.
He screamed in pain as he went.
"Oh Lord," I said, "thank You for helping us."
JULY 14, 2008: MONDAY
I could see faces looking down from above – watching. I believe that it was the great cloud of witnesses. The angels, also, were standing, watching us.
"Lord," I said, "help us to know Your ways. Lead us in Your path. Open all doors to Your understanding. Give us your heart in all of this."
"Also, Lord, would You be so kind as to take up, again, the building of the fortress that will surround (what would be the guest house and the ministry location)?"
The Lord answered: "Work will resume today on that fortress."
JULY 15, 2008: TUESDAY
Work has resumed on the fortress around the ministry house and what would eventually be the guest house. It seems as though the Lord has assigned additional workers for the labor is moving ahead at record speed.
The Lord, also, assigned more guards to protect the workers.
RELICS OF THE BATTLE
Have you seen stranded tanks rusting beside the road in war footage: relics left behind of old forgotten battles? The same phenomena exist in spiritual warfare, much to my amazement.
Buzzards circled within the dirty vortex – as if there were dead carcasses on the ground and crows perched in the bare trees near the top of Prayer Mountain. These are the same trees where the huge black cocoons are hanging.
Something is gestating within those cocoons. The cry of the crows is almost like a demonic lullaby – as though the crows are nurses watching over the cocoons. Very strange. They guard and train – even while the "what-ever-they-are" inside the cocoons are developing. The whole thing is eerie.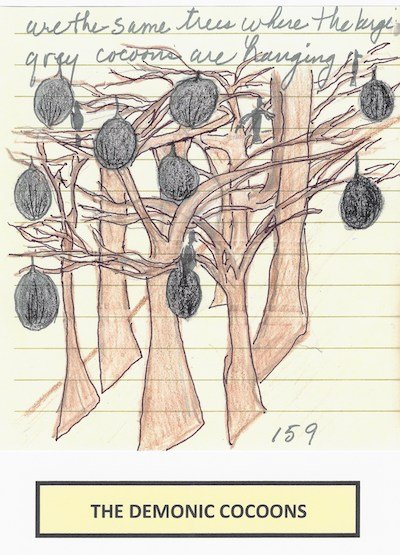 ---
THE FINAL OUTCOME
This spiritual battle was long and fierce. There were many wounded and many victories won. However, the dark sacks hanging in the trees were a
constant reminder of unfinished business – the final blow had not been struck. Without constant prayer, at any time those gloomy sacks could open, letting out God – knows – what.
November 2017
The Filthy Vortex
Just as there are glorious vortexes filled with angels and opened to the highest heaven; so are there filthy vortexes. As an open heaven is brought about by the union of God and man – so the filthy vortex that originates in the second heaven in Satan's headquarters – not only touches the ground but enters the ground – its desired destination. As angels travel the heavenly vortexes, demons travel the demonic ones.
I myself had never seen the opening of a dirty vortex. There had to be enough residual corruption in the land and atmosphere to warrant such an eventuality, though. That I did know.
The battle wasn't over.
---
TO BE CONTINUED
October 2017
Notes For My First Visit To The Second Heaven
SIDE NOTES
God's people are called sheep throughout the Bible, for they are utterly dependent upon the Lord, their Shepherd, for nourishment, discipline, and protection (John 10:9, 29).
The shepherd's staff represents the Lord's authority and power (Exod. 14:16; 17:9, 11; Ps. 23:4).
Satan's kingdom above – ground includes the earth's surface (1 John 5:19), the atmosphere above the earth (Eph. 2:2; 6:12), and his headquarters in a lower part of the heavenly realm or midheaven (Luke 10:18). All three of these areas are interconnected; whatever he controls in one area of his kingdom, he also controls in all the other areas.
The filthy, stagnant water is a pitiful imitation of the crystal-clear river of life in God's heaven (Rev 22:1).
The fleshly use of a Christian's tongue is demonic, whether he is cursing others or attempting to speak wisdom (James 3:6, 9, 15). When he speaks out of his earthly self, he seeks his own glory and so gives Satan the right to use him (John 7:18).
All is damp or watery because satanic creatures fear the coming flames of hell (Matt. 8:29; Luke 8:31). Jesus said that they are even tormented by dry places on earth (Matt. 12:43).
We are to walk before the Lord with nothing in our lives concealed from Him (Eph. 5:11-12). Everything is continually exposed to let His presence cleanse and transform all into His light (Eph. 5:13-14; 1 John 1:7).
A horn symbolizes the power of a king or kingdom for good or evil (Rev. 5:6; 12:3).
A time is coming when everything belonging to God that Satan has stolen will be released from his headquarters, then cleansed and restored to the highest heaven (Heb. 9:23; 2Pet. 3:12-13; Rev. 21:1,5).
The Father will signal the beginning of His judgement on all of Satan's host by raising His sword and by severing all that is His from the enemy (Deut. 32:41; Ps. 7:12; Heb. 12:26-27; Hag. 2:21-22; Zeph. 3:8).
Nothing that is not of God will be able to stand before His divine light, for "the powers of the heavens will be shaken" (Matt. 24:29; Isa. 34:4; Mark 4:22; Eph. 5:13).
A drone or monotonous tone in ritual incantation is used in some heathen worship to contact the power of the spirit world. The Lord expressly rejected the use of such mantras (Matt. 6:7).
Everything about the evil one and his kingdom is false and an imitation of the true (John 8:44). The true fire of God "burns up the chaff" in believers and ignites the new heart to become a living flame of love for God (Matt. 3:12; Song of Sol. 8:6). The false fire of the enemy merely torments and destroys (John 15:6; Rev. 9:17-18).
The devil is able to perform signs (miracles) and wonders (marvels) through his human servants on Earth. He did this, up to a certain point, through Jannes and Jambres, the magicians of Pharaoh's court. (Exod. 7:11-12,20-22; 8:5-7, 18; 2 Tim. 3:8). Simon the magician astonished the people of Samaria with his diabolical arts (Acts 8:9-11).
The fleshly church will "become a dwelling place of demons and a prison of every unclean spirit" (Rev. 18:2) when God completely withdraws the light of the Spirit from her (2 Thess. 2:7, 11).
FOOTNOTES
1. Jesus Christ is "Lord of all" (Acts 10:36) "by the exertion of the [resurrection] power that He has even to subject all things to Himself" (Phil.3:21; Eph. 1:22). He proclaims His lordship right in the midst of Satan's headquarters by the sheepfold where "no one [can] snatch… out of [His] hand" any believer whom Christ brings there (John 10:28). The Lord leads them in and out of this place of safety in the presence of their worst enemies (Ps. 23:5; John 10:3-4). He is the one and only door that leads to life (John 10:9), "who opens and no one will shut, and who shuts and no one opens" (Rev. 3:7).
2. The command post for the devil's worldwide organization of demons and fallen angels is in a lower sphere (Eph. 6:12; 3:10; Col. 2:15; 1 Cor. 15:24). God's throne is in the third or highest heaven (2 Cor. 12:2; Eph. 4:10). From his headquarters, Satan governs a wicked empire on Earth through lust, deception, and pride. The Bible calls this evil realm "the world" whenever it refers to the system of commerce, industry, finance, education, science, medicine, and law that makes man the measure of all things and omits God (1 John 2:15-16; James 4:4).
3. Porpoise skin is water repellent and so served as the outer covering on the tent or tabernacle (Exod. 26:14). Nothing of the sin and death in Satan's domain is to touch the feet of the believer! The shoes are red, a witness to the victory over the devil and his host won through the blood sacrifice of Christ on Calvary (Col. 2:15). The shed blood of the Lamb not only overcomes any accusations of the enemy, but it also cleanses from any possible defilement through being in his loathsome territory (Rev. 12:17; 1 John 1:9; 2 Cor. 7:1).
4. Sin and death have brought physical darkness to Satan's territory in the midheaven (Col. 1:13). Because of the vicious hatred there, the inhabitants also walk in spiritual darkness (1 John 2:11), the opposite of the love that enables one to abide in the Light of God (1 John 1:5; 2:10).
5. The sources of this torment are the areas of human soul life (mind, emotions, and will) on Earth that Satan and his demons control. Everyone is born with his soul faculties subject to the law of sin and death in his bodily members (Rom. 7:23), and hence he is dominated by "the [evil] spirit that is now working in the sons of disobedience" (Eph. 2:1-3). Satan therefore has a legal right to bring distress and suffering in every person's soul until that person believes in Christ Jesus. He is then joined to Him, submitting his soul faculties to the Lord as he begins to think, desire, and choose as He does. This is "the salvation of your souls" (Matt. 16:24-25; Luke 21:19; Heb. 10:39; James 1:21; 1 Pet. 1:9).
6. In Leviticus 11 and Deuteronomy 14, God separates the animal kingdom into two categories: the clean and the unclean. The clean animals were offered in sacrifice on the alter and used as food for His people. The unclean ones were not so acceptable. It would seem that Satan and his demons select many of these unclean animals to inhabit, as the legion of evil spirits asked Jesus to send them into the pigs (Mark 5:12-13). The hideous bodies of some demons are the result of living in an atmosphere of utter corruption apart from the light, life and love of God. There is a hierarchy of rank among demons. A sluglike animal represents the lowest order – those that crawl on their bellies (Gen. 3:14; Lev. 11:42).
7. The Father has so highly exalted the risen Christ "that at the name of Jesus every knee should bow, of those who are in heaven and on earth, and under the earth" (Phil. 2:10). "Every knee" includes every creature in Satan's domain, too.
8. The crocodile is an example of a reptile that the ancient Egyptians worshiped as a god. This culture often made idols of animals they feared, like serpents and lions. They considered the crocodile to have godlike qualities. It is also the only animal without a tongue, which the ancients considered godlike. Furthermore, it is almost impenetrable and seemingly afraid of nothing.
9. God has compassion on the suffering of His children (Exod. 3:7; Deut. 30:3) and is hurt by their unfaithfulness (Hos. 11:8; Mic. 6:3). In direct contrast, Satan and his demons find pleasure in defiling the children of God (Rom 1:32) and rejoice in their sins, which is the opposite of love (1 Cor. 13:6). The enemy host compounds hatred in their kingdom by taking delight in refusing to give any relief to those who are in pain (2 Tim. 3:3).
10. When we enjoy hearing of the fall of another into sin or slander each other or presume to pass judgement on the guilt of another, we are usurping God's place and are participating in Satan's sins (Rom. 14:10; James 4:11-12; Rev. 12:10). We are thereby withholding the blessing of God that we "were called" to give others (1 Pet. 3:9). We are even to "bless those who persecute [us]; bless and curse not" (Rom. 12:14). Christians have the great privilege of asking God for life for any brother or sister whom they see committing a sin (except sins for which the sinner deserves to die) (1 John 5:16).
11. The demons in Scripture found the presence of Jesus tormenting to them (Mark 5:7). "For everyone who does evil hates the light, and does not come to the light, lest his deeds should be exposed" (John 3:20). The true nature of "all things become[s] visible when they are exposed by the light" of God (Eph. 5:13). Since "God is light, and in Him there is no darkness at all," there can be no fellowship (but rather enmity) with Him for those who walk in darkness (1 John 1:5-6; Rom 8:7).
12. On one occasion thousands of demons who were in a person asked the Lord to send them into a herd of pigs so that they could go with the animals into the lake (Mark 5:12-13). The devil has long secured worship of himself on Earth with sacred trees and tree trunks or pillars called Asherim that represent female deities of fertility (Deut. 16:21-22). These tree trunks are dead, as are all idols (Hab. 2:18-19).
13. Snakes or serpents are a major symbol for Satan and his demons in Scripture (Rev. 12:9; Luke 10:19). One reason is that God cursed the serpent in the Garden of Eden because it was used by the devil to deceive Eve (Gen. 3:1, 14). Jesus said that Satan must maintain unity among those in his evil kingdom (Mark 3:24-26), a oneness built upon hatred of God and His creatures (John 15:25; Ps. 69:4).
14. All believers "were formerly darkness" before receiving the light of the nature of Christ Jesus within them (Eph. 5:8; 2 Cor. 4:6). Their old nature was darkness because they had grown into the image of their father, the devil (Matt. 13:38; John 8:41, 44; 1 John 3:8, 10). Remnants of their old, dark ways of thinking, desiring, choosing, and acting may remain unnoticed if Christians continue to rely only upon their natural observation and perception. To perceive only the things of this world admits the old darkness again (Matt. 6:22-23; 2 Cor. 4:4). Their spiritual eyes need to be enlightened to the reality of Christ and be focused on Him (Eph. 1:18-19; Heb. 12:2). Of course, anything the believer does secretly with a guilty or doubtful conscience is hidden away from the light of fellowship with Jesus (1 John 1:6).
15. Satan has counterfeited all the things in heaven that are possible to him, an example being his guise as an angel of light (2 Cor. 11:14). Above all else, he craves to be worshipped (Matt. 4:8-9). Praise and homage come to Satan's temple from the great multitude of idolatrous places of worship throughout the world by means of the demons who inspire this worship (1 Cor. 10:20; Rev. 9:20). The worship of false gods even infiltrated the first temple in Jerusalem during the reign of many kings of Judah (2 Kings 23:4; Ezek. 8:9-16). The first recorded instance of satanic worship occurred in Babylon around 2150 B.C. A rebellious host of people erected a tower whose "top reach[ed] into heaven," meaning that the devilish signs of the false zodiac were used for divination there (Gen. 11:4). The antediluvian patriarchs knew the true meaning of these constellations of stars, for God tells the story in the night sky of salvation in Jesus Christ (Gen. 1:14 ["signs"]; Ps. 19:1-2).
16. Satan undergirds heathen kings on Earth to increase their treasuries of silver and gold, which the Bible calls "treasures of darkness, and hidden wealth of secret places" (Isa. 45:3). He increases their earthly wealth in exchange for their homage and praise through false gods (Isa. 65:11). In the first temple in Jerusalem, there were "upper rooms" called "treasuries" (2 Chron. 3:9; 2 Kings 12:18). Gold and silver that had been dedicated to the Lord for His purposes were stored in these rooms. These treasures came as gifts from the king or wealthy people and from the spoils of war (1 Kings 7:51; 1 Chron. 29:6-7; Num. 31:48-54; 2 Sam. 8:9-12). At times the kings of Judah gave these treasures away to try to gain military protection from enemies instead of relying upon God (1 Kings 15:18-19).
17. The valuables taken as spoil from enemies of the Israelites in war had to be purified either by fire or by water (Num. 31:21-23).
18. Not only will the stolen treasures be cleansed and returned to God, but the very terrain will be completely purified from the effects of darkness, sin, and death (as in the natural, see Ezekiel 36:6, 8-9, 13-15).
19. "All fat is the Lord's" (along with the blood) of the animal sacrifices on the brazen altar, "an offering by fire for a soothing aroma" (Lev. 3:16-17). God commanded this from the beginning with Adam, Eve and their sons (Gen 4:4). Animal fat burned on the altar symbolizes nourishment and fragrance to the Father (Ezek. 44:7; Lev. 4:31). It represents the "sacrifice of praise" that is "continually offer[ed] up" (Heb. 13:15) through the Son (Acts 2:33) by the fire of the Holy Spirit (Lev. 3:3-5) from the people of God (Acts 2:3-4, 11). The Father seeks such worshippers (John 4:23). The main purpose of fat is to be "burned" (oxidized) to produce energy. The physical fat of the animal sacrifices was removed from organs in the abdominal cavity, which is the location in Christians of the human spirit from which praise and worship proceed (John 7:38).
The fat (and the blood), God's portion of the sacrifices, was offered first on the altar – before the rest of the animal – in order to rise in smoke toward heaven (1 Sam. 2:15-16; Lev. 4:34-35). Likewise, the first order in approaching the throne of God in spirit is to "enter…His courts with praise" (Ps. 100:4; 96:8). As fat is that which abounds, believers are to abound in praise to our God. The word fat is an expression used to designate the best part, for example, "living on the fat of the land." Praise to God is surely the best part for human beings (Ps. 147:1). When we worship anything of the earthly realm, we violate the first two commandments and allow demons to capture this spiritual fat.
20. Israel is often compared to a female (Isa. 54:5-6; Hos. 2:14, 16, 19-20). So is the church as the bride of Christ (Song of Sol. 4:8-10; Rev. 19:7). God designed human marriage on Earth to prepare the two mates for eternal marriage to Jesus Christ (Eph. 5:25-27, 31-32; Rev 21:9). The church is the spiritual womb in which the children of God are conceived, born, and reared (Song of Sol. 8:5; Rev. 12:1-2, 5). From the earliest days, Satan has perverted this sacred imagery into licentious worship of female deities of fertility. In all the nature religions of history, there have been "mother goddesses" (Acts 19:27; 1 Kings 11:5). The Bible often calls this idol "the queen of heaven" (Jer. 7:18; 44:17-19). During many periods, Israel worshiped "the Baals and the Ashtaroth" (Judg. 10:6; 1 Sam. 12:10). The idolatrous church in these last days is pictured as a harlot queen called "Babylon the Great." She is ruled by demonic powers, just as the first Babylon in Genesis 11:4, 9 was ruled by them (Rev. 17:1, 4-5). She is foretold in Isaiah 47:1, 7-9.
21. Israel has been a captive nation in political terms and in spiritual chains for most of her history (Ps. 106:41-42; Isa. 52:2). Many present Christians have been "conformed to this world" system (Rom. 12:2). They are caught in "the snare of the devil, having been held captive by him to do his will" (2 Tim. 2:26). The captive church ensnares her converts with an illusion of grandeur – prosperous, outward appearance – and activities that are actually "dead works" and "devoid of the Spirit" (Heb. 9:14; Jude 19). This worldly church chains her members by teaching them to idolize the religious organization and by binding them to perpetuate it through traditional and rote forms of worship (John 11:48; Isa. 29:13).
22. Honey at times represents the false comfort that Satan provides through the fleshly church: smooth, sweet words based on earthly wisdom that is soulish and demonic like the words of an adulterous (Prov. 5:3; James 3:15).
23. King Solomon built a magnificent throne of ivory and gold, like no other throne on earth (2 Chron. 9:17-19). Furthermore, "he went up to the house of the LORD" by a stairway of such grandeur that it took the visiting queen of Sheba's breath away (2 Chron. 9:3-4). His love of opulence was a root from which grew other idolatrous sins. Satan will give the coming Antichrist the power and authority of his throne to use on the earth (Rev. 13:2).
24. An evil "spirit of divination" spoke through a slave girl in Acts 16:16 to foretell the future. The Greek word for divination means "python." Python was the name of a mythical serpent that guarded the Delphic oracle where secret knowledge was thought to be revealed. God forbids the evil art of people who seek to discover knowledge about the future that He Himself has not revealed to them (Deut. 18:10-11). The devil cooperates with this ungodly practice and supplies some of his limited knowledge if it will suit his purposes. Psychics, astrologists, fortunetellers, and adherents of the so-called New Age religion use modern divination.
25. God on His throne in heaven is attended by the redeemed "from every tribe and tongue and people and nation" (Rev. 5:9-10). In evil imitation, Satan's court is composed of ruling, fallen angels known as "princes" (Dan 10:12-13, 20). These angels control the heathen rulers, nations, and areas throughout the earth for the devil's purposes and bring their homage to Satan's throne (Rev. 17:1-2, 15).
26. Through consorting with Satan's evil, spiritual empire on Earth, which the Bible calls "the world" (Matt 4:8; John 14:30), the false church receives the "bodies and souls of men" (Rev. 18:13, NIV) whom she holds on to for display. God calls her the Esau church because she cares more for her comfort, gratification, and convenience than for her spiritual birthright (Gen. 25:29-34).
27. All along God has sent true prophets to speak for Him to His people, but time and time again they have been rejected in favor of false prophets who prophesy by means of an evil spirit what the people want to hear (Jer. 2:8; 23:13-17, 25-32). Jesus said that false prophets would arise in the last days "to mislead, if possible, even the elect" (Matt. 24:24).
28. In the last days, Jesus said that people in whom Satan is working will show "great signs and wonders" (Matt. 24:24; 2 Thess. 2:9-11; Rev. 13:13-15).
29. There were female and male cult prostitutes during periods of Israel's history (1 Kings 14:24). Along the outer walls of Solomon's temple in the three stories of side rooms that were built for the priests on duty, there was cult prostitution at times (2 Kings 23:7; Hos. 4:14). The fallen church has committed adultery through her friendship with the world system masterminded by the devil, adopting many of its values and methods, thereby making herself "an enemy of God" (James 4:4; Rev. 17:1-2, 18:3-9).
30. In the last years before Jesus returns, the corrupt church will be in league with Satan's Antichrist (Rev. 12:3; 13:1; 17:3, 7). This human beast and his armies will turn and destroy her with fire in one day (Rev. 17:16). God executes this judgement against her for "corrupting the earth with her immorality, and He has avenged the blood of His bond-servants on her" (Rev. 19:2). The "cup of demons" is that which sustains them (1 Cor. 10:21). With Christians, it is the cup of Christ's blood (1 Cor. 11:25). With Satan's host, it is the "cup full of abominations and of the unclean things of her immorality" (Rev. 17:4).
31. God will separate out the true and living church of His Son (Rev. 18:4; Isa. 52:11; Jer. 51:6). This emerging church has only one standard by which she measures everything: Christ Jesus. The true Christians will allow the fire of God's spirit to burn up everything that is not of Christ in them and in their lives.
The members of the false church will not allow the fire to deal with the ungodly use of their bodies and their natural self-life (the flesh) or their love for the things of Satan's evil system (the world). The enemy will still have access to them. The Lord says in this vision, "Many will go with her [the false church]." Many of those who call themselves Christians will remain with the spiritually dead church. As in all past generations, only a remnant will be saved (Isa. 10:20-22; Zech. 8:12; Matt. 7:13-14).
September 2017
Prepare For The Ride Of Your Life
July 15, 2006: Saturday
When we arrived at the gazebo the wind began to blow on the ridge.
The wind began to blow stronger and stronger.
The Holy Spirit spoke: "I bring the OIL of GLADNESS. Many will come here who are bowed down."
[In the spirit, I saw a rollercoaster car passing through a dark tunnel.]
On the ridge the wind began to blow in earnest.
[In the vision, the rollercoaster car broke out of the darkness of the tunnel and began to travel a straight line in the open air.]
The wind on the ridge increased. [Then I could feel the car attaching to some sort of a locking device. The car started upward – climbing and climbing.]
[I felt the nervous anticipation of being a passenger in a rollercoaster car that was headed upward before the main thrust of
the ride. As we reached the top, the wind on the ridge dropped to a slight stir.]
[For a couple of seconds, it was as though we were suspended on the top.] Then the wind on the ridge began to blow more vigorously. [In the vision, we passed over the top and ricocheted around the track. The car moved at breakneck speed. It was thrilling – a rush of adrenalin shot through me as we plunged around corners and up and down a steep track.]
[In the vision the rollercoaster car came to a stop. I felt quite giddy. My breath had been taken away – but I was exhilarated.]
The Holy Spirit spoke: "I am pouring out the OIL of GLADNESS. Prepare for the ride of your life!"
Oil began to drip from above and cascade down the leaves on the ridge. It pooled on the path and soaked into the ground.
The Holy Spirit Continued: "There will be a need for the OIL of GLADNESS in the coming days. Rejoice."
---
Isaiah 61:1-3
The Spirit of the Lord GOD is upon me, Because the LORD has anointed me To bring good news to the afflicted; He has sent me to bind up the brokenhearted, To proclaim liberty to captives And freedom to prisoners;
To proclaim the favorable year of the LORD And the day of vengeance of our God; To comfort all who mourn,
To grant those who mourn in Zion, Giving them a garland instead of ashes, The oil of gladness instead of mourning, The mantle of praise instead of a spirit of fainting. So they will be called oaks of righteousness, The planting of the LORD, that He may be glorified.
---
You know, sometimes our heavenly Father is just a Daddy and wants to thrill His child – like any daddy – by taking the child to an amusement park. But His thrills have a purpose. His thrills are prophetic. He pours out the oil of gladness and thrills His child at the same time by – not just telling the child of a glorious future but by letting the child have a preview of that future through the exhilaration of a roller coaster ride.
All of us are headed into the ride of our lives!
August 2017
(He Will) "Wear Down The Saints…"
DANIEL 7:25
"He will speak out against the Most High and wear down the saints of the Highest One, and he will intend to make alterations in times and in law."
Wear down [1084c] to wear out or wear down… from the prime root 1086 (balah) to become old, wear out, consume, waste away.
What Daniel was shown in a night vision, we are living today. Satan is very, very old and repeats himself. Because there is no new light coming into him since his "fall', he just replays what has worked for him in the past. It is a merry-go-round ride that begins and ends in about a forty to fifty-year loop.
We are living a loop right now from Daniel 7:25.
… "He will speak out against the Most High and wear down the saints of the Highest One, and he will intend to make alterations in times and in law."
THE PRESENT ATTACK
Satan is trying to wear us out. Many of us have seen nature programs where small prey is being chased until it is so tired, it just stops and allows the beast driving it, to devour it. It gives up.
Well, we in America are tired. I do not know about you, but I am made (almost) physically ill by watching the evening news. Even the best and most well-meaning delivery sounds like a street fight. You cannot raise a healthy family in such an atmosphere and you certainly cannot raise up a healthy nation. That, of course, is Satan's plan.
But, as they say, "these are the cards we have been dealt." We were born for such a time as this.
ANSWERS
So, let us look at God's word for clues and answers.
1. Daniel 7:25… "He will speak out against the Most High…"
Christianity among the world's religions has been under violent attack for about 40 years… the removal of Christmas from schools; the removal of prayer before assemblies, etc. is just the "tip of the iceberg". However, our new president in America has returned freedoms to Christian churches and schools and athletic events that have in the recent past, been bullied away. That is one way of pushing back. We can be sure we vote in a president that serves Jesus Christ and honors Him. When the leader of a nation honors God, God turns to help that nation.
But we can't vote him in and then leave him to face the outcome alone – like a flag on a hill. He needs help. He needs our daily prayers and – constant – prayers.
2. "…he will wear down the saints…"
Christians are accustomed to short, intense battles against a recognizable opponent. This slow, constant pressure with no rest at any time against an opponent that seems to have no face and to be everywhere is tiring. We seem to be in an unending marathon where we also run the gauntlet of assaults against all decency. We were enlisted and immediately deployed to the front line of battle. Now we are trying to adjust to this new style of warfare. We are trying to learn how to rest (seated with Christ above) even if we are in muddy foxholes on earth; surviving without changing our clothes as those in battle must live; protecting our feet from rotting due to wet socks; learning how to take quick naps in between shellings and so on; intense, dirty – unrelenting warfare. Yes – we are tired. But we are learning and adjusting. Soon we will gain our full strength in this new style of combat. Then watch out.
3. "…he will intend to make alterations in times…"
We have been promised – through the mouths of many prophets – two full, four year terms under this president. We need those years. We must prepare to rescue many. The Lord has a plan for each one of us in the coming days – but Satan would like to cut short that time of preparation.
Remember the demons thrown out of the Gadarene demoniac? The demons cried out to Jesus saying, "Have you come here to torment us before the time?" There are allotted times.
We, the children of the Living God have been given "time" – a very precious commodity. The enemy would like to cut that promised time short – thereby hindering the Lord's plans and preparations through each one of us. Therefore, pray that we be allotted our full time – and for the American president – that he remains in good health, in good mind and physically protected – (both he and his family) for his two full 4 year terms in office.
The key word in this part of the verse is "intend". The enemy will "try" to shorten the times and seasons for his purposes. But there are the prayers of the saints. Those prayers not only balance out his intentions, they overcome his intentions… BUT we must pray!
4. "…he will intend to make alterations in times and in the law."
We have example after example of a brazen lawlessness throughout America and the world – sanctuary cities being but one violation of the law that is a very visible example in America.
Satan's nature is lawless. Our president is seeking to return this nation to living under the law instead of every man and woman doing what seems right in his or her own eyes.
We need to pray that the lawlessness stops and that the killing of those enforcing the law stops.
THE LORD HAS FORETOLD
The Lord has foretold this time – but we are living it. With the Lord's warning, He has alerted us to the signs of this attack by the enemy.
He has given us the opportunity to take stock of where we are in this crucial countdown and has called out to us through the scriptures to "overcome". He has even told us of the rewards awaiting those who do "overcome".
Now the decision is up to each one of us. We may say to a friend that we wish those in government would stand with – not against our president – but are we releasing prayers all during the day for this president: "Oh, Lord help our president." That prayer of undergirding only takes a second and can be said throughout the day.
I hear people say that there is a lack of "backbone" in many government representatives – but are we standing firm? Or do we want to "let down our guard"?
Are we going to give a big sigh, straighten our backs
and set our foreheads like flint toward the coming battle?
We can do it. Isaiah 40:28-31 says:
28 Do you not know? Have you not heard?
The Everlasting God, the LORD, the Creator of the ends of the earth
Does not become weary or tired.
His understanding is inscrutable.
29 He gives strength to the weary,
And to him who lacks might He increases power.
30 Though youths grow weary and tired,
And vigorous young men stumble badly,
31 Yet those who wait for the LORD
Will gain new strength;
They will mount up with wings like eagles,
They will run and not get tired,
They will walk and not become weary.
July 2017
False Doctrine Or (All The Pretty Little Liars)
I received this vision on the 6th day of Hanukkah – but I did not include the year when I wrote it. That was a dreadful oversite. But, at least, the Lord saved this extremely helpful teaching. It was in a stack of material I felt the Lord might wish to add to the next book. I had not seen the revelation for some time.
However, when I read it, I was struck by its present relevancy. When the Lord teaches, He says when His message is to be shared for the good of His children – and He wants this revelation to be shared now.
VISION
6th Day of Hanukah
I saw faces with flower petals around their heads – as though their faces were the centers of flowers.
But the rest of the body was human. They were standing in a flower bed – together – as if they were flowers growing in a bed.
I approached the group. They turned from talking to one another to addressing me.
"Hello," I said.
"Hello," they chimed in enthusiastically, "come for your petals?"
"I don't know," I stammered.
"Well you cannot go further without your petals," they nodded between themselves.
"But no one told me that I needed petals to go further."
"That is because you were not advanced enough to receive this hidden information," they smiled sympathetically. "The path is long and sometimes inhospitable – but with your petals you can always turn your face to the sun."
"But – and I do not mean to be disrespectful – I can do that now," I said.
"What are you saying?" they said, mildly taken aback.
"I can turn my face to Jesus at any time," I added.
"Ah," they now understood what I was saying, but not well.
"These petals help you gather greater light," – they tried to help me gain more understanding.
"Again – and I mean no disrespect – but there is nothing in the Bible about that," I said slowly.
"Oh," they chuckled, "now we see the difficulty. The need for petals is in other books – books that should have been a part of the Bible but certain people with their own agendas kept them out. These other books
have hidden, secret knowledge. With this knowledge of the secret things you begin to look like us. Look how beautiful we have become. Who would not wish to look like a flower? With these petals, you gain more and greater light."
They continued, "Oh we – [they nodded to one another] climb higher than those who only gain knowledge from the Bible. Look at our beauty. Look what like-minded friends we have. We have more power as we tap into the secret wells of the universe."
"You certainly seem powerful. I feel the power radiating from you, but at what cost?"
"What do you mean?" they queried among themselves, "there is only gain."
"No friends," I said, "you have exchanged power for purity."
"Purity – we are the most loving of all people."
"No – you have exchanged the love of God alone for hidden knowledge. You are stuck – look – your feet are
rooted in the earth, you can't move forward with Christ. You are deluded."
They were aghast. They looked at their feet planted in the ground. At first they were alarmed – but quickly reasoned their way through all they had heard to a place of pride in their decisions. "This is beautiful," they said as they found they could not move their feet. "This gives us a firmer stand. More grounded." They chuckled among themselves at their play on words.
I saw that I was not helping them through this exchange, I was only becoming entangled myself and "bogged down". "I hate to leave you like this, but I must continue up the path before me," I said finally. "May the Lord give you light."
"Yes," they smiled and turned their faces to the natural sun.
"I meant the Son of God – His light."
"Oh," they chuckled, "that is foundational knowledge – we have gone beyond that – but perhaps, you are too simple to comprehend… or to ever desire the greater light that we have found." They realized that their answer was a bit harsh or even cruel so they softened the second part of the sentence – saying it with sadness, sympathy and even pity.
"Perhaps you are right," I said with equal sadness. "I am simple."
I shrugged and slowly smiled at them. Then quickly I turned on my heel and waved in the air over my shoulder as I headed up the path: "May the Lord Jesus be with you."
June 2017
Calibrating Christ Within
Webster's Dictionary –
Calibrate: (to fix, check or correct:
(1) the graduations of a measuring instrument.
(2) to find by actual use [as in a fire arm] the ways in which it must be corrected or adjusted for uniformity [as in firing].
Caliber: – figuratively: quality, ability.
This revelation took place on Prayer Mountain nine years ago. The following account of the exchange is shown right from my journal of 2008.
May 2017
The Angel Gratitude
August 19, 2006: Saturday
An angel appeared by the right side of the gazebo. He leaned into the seating area, propping his elbows and forearms on the rail.
"Anna," he said, "I am GRATITUDE. Your Father feels you need my assistance." He adjusted himself as if to present a new idea; then continued. "What do you have that you have not received from the Lord? Surely the children of Israel grumbled in the wilderness, for they looked upon their progressive desires."
"Progressive?" I questioned.
"Once a desire has been answered, another desire raced from the horizon and rushed into their tents. Desire is a cruel taskmaster."
He continued: "Instead of acting like the children of Israel, the children of the Living God should call to mind, with gratitude, the blessings already given by their Father. This (gratitude) would leave little room for the gnawing worm of another and yet another desire. Then the suffering from progressive desire would cease."
He raised himself from leaning on the gazebo rail. "Therefore, your Father has sent me to assist you in order that the peace of the Lord might replace this restlessness."
He smiled and then winked at me and was gone.
---
This is one of my favorite angels: The Angel of Gratitude.
Indeed the Desert Fathers said that gratitude towards God is one of the best-bestowed gifts we should seek.
They felt that gratitude opened the channels for good from our Heavenly Father to the believer. Gratitude showed appreciation to the Lord for all that has been bestowed already. Therefore, gratitude allows us time to be happy, thankful, embracing the kindness He has already given.
The Desert Fathers felt that – not only is the Lord infinitely worthy of such continual expressions of thanks from His children – but the continual expression of gratitude toward God changes the whole way we perceive life.
When I was growing up a relative of mine used to say: "I've got the 'I wants' and 'the gimmes' – a term she used when she wanted to go out to get some ice cream. It was an endearing saying. Of course, the dictionary brought us back to stark reality giving us the actual meaning of the word "gimme", (grown children who still expect money from parents.)
Our Heavenly Father, says to come before Him and "ask" that our "joy may be made full." But dear children of the Living God, to simply go to Him with our hands out each time we seek to be with Him – well, no human would appreciate that type of relationship – why should He?
The Lord sent to me the Angel Gratitude because my mind was restless with the desire for many things. It was a relief to "lay those burdens down".
There was great joy in replacing progressive desires with an unending fellowship with Him. Of course, I "ask" when I need something for the work (for, after all, we are not only family we are in His employ.)
I am sharing with you about the Angel Gratitude because you may want to ask the Lord to send an angelic helper from that particular choir to assist you, also.
I wish to encourage you – for the Desert Fathers were right. Your life becomes one of unending joy when you overflow with gratitude to and for our Lord.
April 2017
FOR THERE THE LORD COMMANDED THE BLESSING (PSALMS 133:3)
Does the Lord reserve special locations where He commands "the blessing"?
Psalm 133 suggests that He does:
1. Behold, how good and how pleasant it is For brothers to dwell together in unity!
2. It is like the precious oil upon the head, Coming down upon the beard, Even Aaron's beard, Coming down upon the edge of his robes.
3. It is like the dew of Hermon Coming down upon the mountains of Zion; For there the LORD commanded the blessing – life forever.
I am sure there are many such locations throughout the world. Prayer Mountain is but one of these.
JULY 28, 2006 – FRIDAY
Oil was pouring down off the trees and onto the open areas of the top of the ridge.
The Lord spoke to me: "Stand in it." I got up and left the gazebo and walked down to the area where the tiny angels had burst forth, (shown this month in the ANGEL section.) "Here," He continued, "I have commanded the blessing."
The oil was about ankle deep and golden in color. But when I walked around in the oil, a thicker and different substance appeared beneath my feet and crept up the sides of my shoes.
The Lord spoke, "Your steps are bathed in butter."
Immediately, I got Albert to come out of the gazebo and walk around in the oil and butter. I wanted his steps to be bathed in butter also.
When we returned to the gazebo the Lord said: "I have commanded a fortress to be built here, (look at the wall of the fortress under ANGELS, December 2016) in order to protect this chosen area from the enemy – so that My children will be able to meet with Me here and receive the fullness of the blessing I intend for each. When built, the walls will deflect the glance of the enemy. Their glance will bounce off its surface and cause them (the enemy) to divert their gaze. The followers of the fallen cherub will look elsewhere."
---
Glance: Webster's Living dictionary: "To look quickly or briefly; as to glance at or over something; to allude to obliquely or in passing."
The reason I included the Webster's Dictionary definition of the word "glance" is that I think the word is important to the understanding of the words that were spoken. It seems that the wall is not exactly invisible in the spiritual realm (as we think of invisible) but more like a non-stick skillet or perhaps like a stealth bomber. It seems (and I could be wrong about all of this, you know) that the walls deflect the enemy's brief look in their direction – thereby appearing invisible. Some spiritual entity glancing in the fortress' direction would not allow its eyes to stop and actually gaze intently at the fortress. It would pass it by. This, it seems, would not preclude the enemy knowing where to look when assigned to hinder the Lord's work in the area. In that case, they would give more than a glance towards the ridge.
---
Job 29:6 seemed even more accurate when I looked it up. It says: "When my steps were bathed in butter, And the rock poured out for me streams of oil!"
I had never noticed that oil and butter were together in this verse – which was the case up on the ridge today.
Albert felt moved upon to look up COME YE THANKFUL PEOPLE, COME – number 222 in the hymnal he brought to the ridge. We sang verses 1 and 4. Here they are:
Come, ye thankful people, come
Raise the song of harvest home;
All is safely gathered in
Ere the winter storms begin.
God our maker doth provide
For our wants to be supplied:
Come to God's own temple come,
Raise the song of harvest home.
Even so, Lord quickly come,
To thy final harvest home;
Gather Thou Thy people in,
Free from sorrow, free from sin.
There, forever purified,
In Thy presence to abide:
Come, with all Thine angels, come,
Raise the glorious harvest home.
March 2017
Does the Lord Use Angels To Help Move Us Forward?
THE ANGEL "RIGHT NOW"
I show you many angel encounters from the past, but here is a revelation that was sent to me in January of this year. I wish I appeared "super spiritual" in all of my visitations/revelations. Unfortunately, many angels are sent to me with a word of correction. This angel is one such messenger.
January 8th, 2017
An angel materialized slowly before me. We looked at one another, but neither spoke. Finally, I broke the silence.
"Were you sent by the Lord?" I asked.
"Yes," was his short answer.
"I see the words 'Right Now' – well, all over you."
He took a moment to scan his arms and his clothing. "Yes," he said.
Since he did not elaborate on that answer, I continued: "Is that your name or your message?"
"Both," he said.
Again silence… so I continued, "Has He sent you to help me?"
"Yes."
"I certainly know I need help," I added cheerily, trying to lighten the situation.
"Yes."
Well, that didn't work. I cleared my throat and waited for him to continue. He didn't. Then I chuckled to myself and looked from side to side wondering what to do. "You're not very talkative," I said leaning toward him confidentially – as if sharing a secret.
"No," he said.
I paused again – waiting for him to speak. Finally, I sighed: "May I ask why you aren't talking?"
"There has been enough talk," he said. "I am here for action."
That answer took me aback a bit. It also convicted me – but not enough to jolt me into action. Instead, my curiosity "side-tracked" me.
"Forgive me for asking, but don't you feel – goodness I don't know how to say it without offending you or in some manner sinning against the Lord…"
"Let me say it for you," he interjected. "Do I feel 'odd' having these words all over me?"
"Yes," I sighed – nodding my head in agreement.
"I am sent to you alone. As you begin and then complete each task asked of you, that particular 'Right Now' will vanish. The Lord has waited a long time to send me to you – believing that you would be obedient and move forward in the work to which He has called you. Now – since you continue to be distracted – he has sent me to be a visual reminder of His need for you to resume His work."
"And," he continued, "He has given to me a PROMPTER, to further aid you."
"That looks a little like a cattle prod," I said slowly.
"What is a cattle prod?" he asked.
"Oh – it sort of keeps the cattle moving by zapping them."
The angel laughed – "No," he said, "we do not 'zap'. This is more of a nudge if the visual is not stirring you to proceed. Anna, the Holy One has spent many years in training you. Consider well this calling. Consider well the service He is due."
"He has sent me to say to you: Right Now! Move forward…Now."
I looked past the angel and spoke: "I ask you, Lord, to forgive me." I was somewhat chagrined. Then realizing that he was still standing before me, I continued to address the angel: "I am easily distracted and am grateful to our Lord for His help. Welcome into the gathering of angels sent to assist me. They labor valiantly for the Lord in this earthly assignment, let me tell you. He has been generous with His servants (the angels) and I am astounded by His and your help."
He smiled and disappeared.
I closed my eyes, drinking in the silence: "Oh Lord," I said, out loud, "may I not disappoint you but move ahead in your work."
---
The Angel "Right Now" holds a heavenly prompter in one hand and an hour glass in the other.
February 2017
Static Eraser
There has been so much "fall out" and "flak" due to the spiritual battle that took place before the new president of the United States was elected, that each of us might consider asking the Lord to send a member of this choir to our households, churches and areas.
Honestly, these battles may just be the beginning and we will need to avail ourselves of every assistance provided to us by our Heavenly Father to remain in good (unruffled) health and standing for His Kingdom purposes – BUT – in the peace of the Lord.
(Again – I am taking this right from my journal of 2015.)
January 2017
Standing On The Promises
Before the election recently, I was trying to believe the words of the prophets concerning the eventual winner for president. I was in a place of "hope' but not belief. I really tried to believe the prophets – but, alas, that which I saw and heard in the natural "shot down" any flicker of solid belief until one of our prayer meetings of ministry associates, a few days before the election.
We were praying when a highly prophetic member of the group stopped us by saying: I have just seen the 'Trump Train' leaving the station and it is being pulled by the engine 'Old Promises'."
An involuntary cry emitted from everyone praying and high – spontaneous – praise began to be lifted to God for a considerable time. He (God) broke through all doubt concerning the election and replaced it with certainty…His certainty. The prophets were right. No matter how hopeless it looked Trump would win.
But why did we have a breakthrough in the spiritual realm? We had all heard the phrase "the Trump Train" but through prophetic revelation the Lord had now given an answer to a vision He had shown in 2008 – at that time – eight years before. He had given instant knowledge and understanding and then wedded the two.
I am enclosing the vision here for you to read.
This revelation – now – has come to maturity – not only for me, but for us all.
WHAT DOES IT MEAN?
At the beginning of the year 2017 the Lord will start fulfilling an old promise made to each of us in the past… (not one given by the prophets…but an old promise made to you by God Himself.)
WHAT SHOULD I DO?
Pray and ask the Lord to fulfill that promise. If He indicates anything further – step out into it. Even baby steps reveal trust and faith and willingness to move deeper into the fulfilling of His promised word.
He is answering, dear children of the Living God. Ask for the old promise to be fulfilled.
These are exciting times. We must continue to battle in prayer for our president – but with the other hand step into long promised callings and rewards for ourselves…something like those who built Nehemiah's wall: battle with one hand and build with the other.
We have been waiting for this time. Move forward with joy – but move forward and expect Him to answer.
December 2016
The Risk of Love
Everything in the Bible is about Christ. So we have to know who He is: Christ the appointed and anointed one. The Son of God accepted from the Father – from eternity – the Messiahship, the One who would come and through whom everything would be created and in whom everything would live and to whom everything would go and then when it fell into sin, through whom everything would be redeemed: every tree, every cloud, every acre of land, every human being, every angel, except the fallen ones who have made an eternal decision. When an angel decides not to love God, it is forever. They can't change that.
Now on that basis, John 16:15 our Lord said "All things that the Father has are Mine." All things, not the Father but the things of the Father. When the Father brought forth continually out of Himself His Son, His only begotten, He gave Him all things that He could give Him. He gave Him the basic attributes of God, the basic capacities and faculties of a divine mind, divine emotions, divine will. He gave Him the equipment for a divine heart, divine faith, hope and love; the capacity for these things.
Love gives all that it can give but He could not force Him to exercise faith, hope and love the way the Father thought, the way the Father felt, the way the Father willed. He could not force that on His Son. He could equip Him to be God also then He had to leave it to Him to decide how He would use these things. How He would be as God too.
Love, divine love, gives everything it can give. "The Father loves the Son and has given all things into His hand." Not only gives it but it is under the Son's authority from now on forever, until He turns the kingdom back to the Father. Everything is under the authority of Christ, He is in charge of everything. The Father has turned it all over to Him.
THE GREATEST RISK
You see divine love risks everything too, there is a risk in this with the Father – the greatest risk that was ever taken, because when He gave these attributes of God, omnipotence, omniscience, omnipresence, all the faculties that the Father had – He gave these to the Son; but He had to leave to the Son how He would use them.
Let us just take the one capacity for love. Love certainly can't be forced on someone. Someone has to be willing to receive it and to return it. The Son could not be a robot and the Father just put everything of Himself on the Son. No, love requires a willing response. But the Son had to be free to decide what sort of lifestyle He was going to have, if I may say it that way, what sort of lifestyle as the Son of God. How He would love His Father in return, in His way of thinking what was best to do. That was the question and on His decision, the greatest decision that was ever made, rested the future of God and of creation, everything, God included, rested upon the decision the Son would make. And I cannot tell you how He made the decision, perhaps we will know some day, perhaps it is too great a thing for mortals to know, even resurrected mortals.
If He chose to be God in the way that He thought best as the Father's Son, the source of love and divine life and light would be forever confined to the Father because the Father had chosen to put all things into the hands of the Son.
THE ISSUE IS THE SAME TODAY
The issue was between the things of God and God. Between the gifts of God and a relationship with the Father. That is the question for you and me. That was the question for the angels, every angel had to make that decision between loving the gifts and using them as they thought best – that is the Tree of the Knowledge of Good and Evil, or saying, "God I want to be with You, I want to know You. You are worth more than all Your gifts."
Luke 10:22 No deeper scripture is in the Bible than Luke 10:22 – "All things have been handed over to Me by My Father, and no one knows who the Son is except the Father, (do you know why? Because the Son is hidden in the Father) and who the Father is except the Son, and anyone to whom the Son wills to reveal Him."
This is that intimate fellowship that has been forever because Christ chose that above everything.
Philippians 2:6 & 7, really beginning in verse 5 – Have this (mind or) attitude in yourselves which was also in Christ Jesus, (it is not "was" in Christ Jesus in this translation it is; "is" in Christ Jesus forever) who, although He existed in the form of God, (that is to say, He was God too) did not regard equality with God a thing to be grasped, (He was equal to His Father but is was not something that He took and used Himself) but emptied Himself, (denied Himself and said, "I will not express Myself as the Son of God but rather, I will receive all that You can give Me Father so that I can express You and I Myself choose a hidden relationship with You Father because I want to know You and continue to go on knowing You and You knowing Me. I want You Father. You are worth infinitely more than these precious divine gifts that make up God.") Emptied Himself taking the form of a bond-servant.
WHAT SORT OF BOND-SERVANT?
That is what He did in eternity, when He made His decision. Not a bond-slave, a servile bond-slave that does medial things. Not that kind, but with the heart of a bond-slave who willingly for loves sake, sets aside his own things in order that he may live by His master. Live as His master lives, be known as His master is known.
There is a scripture back in Exodus 21 beginning in verse 2. God in Exodus 20 has given the ten commandments saying, "Do you know what the first ordinance that He gave after the ten commandments? The first ordinance after the ten commandments is "If you buy a Hebrew slave, he shall serve for six years; but on the seventh he shall go out as a free man without payment. Well that is a funny thing isn't it. That is the first ordinance. Verse 2, On the seventh year he must be set free. Every slave, every Hebrew that you have enslaved and many had to indenture themselves because of debts and so forth, to be slaves.
"But (in verse 5) if the slave plainly says, 'I love my master, my wife and my children; I will not go out as a free man,' (not freed, he was free to be, to go and have his own life now. He says, "No my freedom, is to continue as a slave for loves sake because I love my master and my family," and that is what Jesus did. As Christ, the eternal Son of God) then his master shall bring him to God, then he shall bring him to the door or the doorpost. And his master shall pierce his ear with an awl; and he shall serve him permanently. He will listen only to his master, out of loves sake now, not because he was a slave, he is free! He stays on as a free man but with the heart of a bond servant.
Who is this ordinance talking about, of course it is talking about Christ, that is why it is the first one.
If the Son of God had not made this stupendous, limitless decision to seek nothing of His own and to be satisfied with living hidden in His Father, in order that He might hear His Fathers heartbeat and hear what His Father was saying and let it be said through Him, through Christ. And what the Father wanted and planned and hoped for, so that He could do those things and please His Father in every way, if He had not done that, we would not know of the love of the Father and you and I probably would not be here today. There would be no creation because there would be two Gods; the Father and His Son – who was a different kind of God than His Father. And there would not be the absolute perfect unity between the Father, Son and Holy Spirit as there is.
THE RULE OF DIVINE LOVE
So the divine love must rule, expanded because the divine love is the person of the Father and, of course, Divine love is alive and there is no end to divine love filling a limitless universe. There is no limit to the love of God and He will fill the New Heaven and the New Earth forever.
Take that scripture Ephesians 3, that's what it means, Ephesians 3:18 and 19 Paul prays "I want you to be able to comprehend with all the saints, what is the breadth and length and height and depth," (of the love of God. Four dimensions, not just length, breath and height. That fourth dimension is a living dimension, it moves, it expands and Christ through His decision, set it free.) and to know the love of Christ which surpasses knowledge, that you may be filled up to all the fullness of God.
That's the decision, there is only one truth; and that truth is in Christ Jesus. One truth; that we can only live by dying to ourselves because human beings were created to live by the life of God. Now we don't have any trouble "existing" but "to live", we must die to ourselves, as Christ did from eternity and we were created in His image were we not? So, as He is, so are we. As He lives so are we to live.
November 2016
Forgiveness
I am sharing a copy of another letter to a Christian who was expressing unforgiveness. Since these two letters are like book-ends, (though to two different people) I thought you might benefit from seeing them both. The names have been removed but they address questions I receive almost daily. If such questions have crossed your mind – though you have not written asking about the subjects – I do hope these two letters help you.
The Lord needs us now. We must get cleaned up and standing at attention ready to be called into action.
---
Dear Friend,
Even though you love the Lord, I feel the suffering coming through your letter. You are still in pain… pain all the way back to your childhood. That must be dreadful. I would suppose that such hidden pain, (silent and unseen) weighs you down – as well as blocks your nearness to God.
In order to taste the depths of God's love, the barriers to that access must be removed. That is the reason our Lord shed His blood – to provide that access – that we and others – could be washed clean and stand before our Heavenly Father clothed in Christ's righteousness.
False religions of the early days, as well as today, hold people in bondage by never allowing them to be rid of their mistakes, (and who of us does not make mistake after mistake while growing up physically and growing up in the Lord). The price Jesus paid to allow us to be washed with His blood and to be forgiven was radical in its day and is as radical in its lack of application today. God forgives. Recognize the error, ask to be forgiven and Jesus' blood washes away what we Christians call "sin." We get a clean slate.
My, oh my, how we need that clean slate daily. Well, guess what, so do others. God says to us that He sets us free but He wants to set others free, also.
Now why does He want this? It is because we are not free if we do not forgive from the heart. If we do not forgive, instead of being free, we actually tie those people to us. The more we add to that list of those we are unable to truly forgive, the more "baggage" we begin to drag with us. It weighs us down – it blocks us and hinders our greater access to our God. We are actually hindering ourselves from growing in God.
Now forgiveness, in many ways, comes from a change of perspective. All of us are growing up physically, mentally and (once born again) spiritually. In all three we start as babies. Being "born again" means you are a spiritual baby – and that baby must grow. This means that Christians are in varying stages of growth. They could be babies, children, teenagers or young adults, mature or wise in their spiritual lives.
Often we are shocked and hurt by a baby Christian – thinking that because that person is indeed a Christian, he or she should act in a certain way, immediately. We do not expect that physically or mentally of humans in the natural. We do not expect a new born to climb a set of stairs. That would be silly. We do not expect a baby to do math. That too, would be silly. But we do expect baby Christians to pass spiritual high school exams. When they do not act with maturity we are hurt – mainly due to our own expectations and standards. Actually, we have set them tests that are too high for them spiritually.
But beyond this, we chain them to us and hinder that other person's growth in the Lord and our own growth. Of course we may for a time, blind others from seeing the unforgiveness within us, but beneath the surface it is still there gumming up our spiritual pipes and holding us both back from getting to or accomplishing our true desire – which is to draw nearer to our Heavenly Father.
Now – what do we do?
1. Realize that everyone is at a different stage of spiritual growth. Even if physically the person may be an adult, that person could be at any stage of spiritual growth; perhaps a baby. That is the reason the Bible says that we grow up into Christ. As a child you could not see this – but as an adult, you see more clearly – and, as I said before, with a mature perspective. In other words – now your perspective is different. Even adults can be forgiven for acting like spiritual teenagers because we do not truly understand where they are in their spiritual maturity.
2. God our Father says He forgives you as you forgive them. Why? Because as you mature to the place that you see every person is accountable to God alone, it is not up to you to hold them in bondage blocking the growth of you both – and notice that our Heavenly Father does – in this passage – say that your attitude is blocking you both. For that reason alone, you should want to embrace a new perspective and set them free – simply by forgiving them – and yourself for holding yourself in spiritual babyhood.
Dear friend, by being uninterested in the world and the things of the world, you are much more in God. Great! Rejoice!
When in the secret place however, do remember your brothers and sisters in Christ and His desire to raise up His bride and establish His Kingdom.
Intimacy with God is not just for ourselves. As with our Lord, He used His nearness to the Father to offer prayer for others. The word says that He ever lives to make intercession – not for Himself, but for us.
I hope this has been helpful. I see that you have a heart for God. May this help you clear out the road blocks, break the chains holding you to earth and allow you to soar.
In Him,
Anna
October 2016
God Teaching One On One
The Lord spoke these spiritual truths to me several years ago. They changed the way I looked at life on earth – well perhaps not all of life – but that which was said by the Lord changed my perspective on what I would consider trials and difficulties.
December 16th – Wednesday
My Heavenly Father is speaking:
"Welcome to Heaven on Earth."
"What does that mean?" I asked.
"Perceptions, Anna – how you perceive what is around you.  How do you perceive the obstacle course?  Is it a burden to you?  Is it a joy?  Are you enjoying the training camp?  I want you to thrive in the midst of zigs and zags, of ups and downs, of ins and outs."
The Lord continued: "I want you to look at and then through the situation to see the test behind the conundrum.  I want you to best the test.
"Look behind the eight ball, see My face smiling at you.  I am giving you a flashlight and night vision goggles."
"Look into what seems dark.  The Director is in the light booth.  Let Him see you smile up into His face."
September 2016
Side Notes For: Do Angels Teach Angels?
The last healing revival that occurred in America was in the 1950s, when God granted the "gifts of healings" to only a small number of Christians (1 Cor. 12:30).
God extended the promise of healing in body, soul, and spirit to all mankind who would repent of their sins and receive Christ as the new life within them (1 Thess. 5:23; Mark 16:17-18).
God the Holy Spirit imparts and sustains all life, whether it be in heaven or on Earth (Acts 17:25; Job 12:10; 1 Tim. 6:13).
FOOTNOTES FOR: DO ANGELS TEACH ANGELS?
1.   The first promise made by God to the Israelites on their journey from bondage in Egypt concerned healing.  He spoke it three days after they crossed the Red Sea (Exod. 15:22).  He said that if they would heed His voice, do what is right in His sight, and obey His laws, then He would "put none of the diseases on you which I have put on the Egyptians; for I, the LORD, am your healer" (Exod. 15:26).
Through the forty years of their wandering in the wilderness, God was faithful to His word and preserved them from sickness on a diet of bread from heaven and water (Deut. 8:4; Ps. 78:23-25; 105:41; 1 Cor. 10:4).
This health is made possible by faith in His work on the cross of Calvary and in His resurrection and ascension into heaven (Isa. 53:4-5; Matt 8:16-17).  Matthew used the same words, "healing every kind of disease and every kind of sickness," twice about Jesus and once about His disciples (Matt. 4:23; 9:35; 10:1).  At one point in the life of the church in Jerusalem, all the sick and the demonized were being healed (Acts 5:16).
2.   Christians through whom the Lord Jesus would exercise His healing ministry in a pure way must hate their natural self-life (John 12:25; Luke 14:26) and the things of Satan's kingdom on the earth: "the lust of the flesh and the lust of the eyes and the boastful pride of life" (1 John 2:15-17; James 4:3-4).
3.   Demons are evil spirits who are part of Satan's forces.  Those who work on the earth try to possess or oppress human beings who allow themselves to become vulnerable to their attack because of sin, deception, or ignorance (Deut. 32:16-17; 1 Tim. 4:1; 2 Cor. 2:11).
There is much greater demonic activity recorded in the Gospels and the Book of Acts because of the ministry of Jesus Christ while on Earth and of His disciples in the New Testament church.  The Lord cast them out of afflicted people who came to Him, and so did His disciples (Matt. 8:16; Luke 10:17).  Known as exorcism, or deliverance, or the casting out of evil spirits, this ministry has always had some part in the work of the church throughout the centuries.
4.   The Hebrew word for "scourging" or "stripe," found in the phrase "by His scourging we are healed" (Isa. 53:5), is chabburah, the name of the instructor for these training sessions.
5.   The angelic beings are spirits (Heb. 1:14) whom God created by two means: (a) "by the word of the 33:6).  LORD" they were made, and (b) "by the breath of His mouth" they began to live (Ps. God's breath, the Holy Spirit (Job 33:4), continually sustains the angels in life, and He is able to pass through them purely and powerfully to enliven other angels.
August 2016
When I Am Weak Then I Am Strong
Christianity is a radical life.
We began this life by exchanging our death for His life. Then as a Christian, He actually comes to live in and through us. He doesn't just touch us on the shoulder and say: "I dub you to do what I did." No, He says, "I come to be all that is needed in you. I come to accomplish My will through you."
That, dear children of God, is a completely radical way of living. But we must allow Him to be the strong One within us. He must be the One that goes out to meet the foe… His name – His power.
However, nowadays, I hear a good deal of prayer that begins, "I come against this or that demonic power." There is no recognition of whether that which is being "come against" is a demon or a prince, power or authority, (which hold higher rank). All are addressed in the same blanket form: "I come against" – the Christian – he or she – taking on the enemy – putting him or herself out in the forefront of battle. It is almost as though they say: "In my power I do this."
Every few years the enemy drags the body of Christ into some new error. Then satan, being knowledgeable in the word and how to wield it – (remember how he used the word to tempt Jesus after the forty days and nights in the wilderness) has legal grounds to attack that person or group. He has legal right to afflict him or them – if he can trick them into acting against God's plan.
For a while the body of Christ was bound and determined to wage war against the high demonic powers in mid-heaven. We even had huge conferences to scream at the devil. Most – if not all of those so engaged – that led those conferences were reduced and often disgraced. The enemy saw to that. Those so engaged stepped over legal bounds given to the body of Christ in one way or another and paid the price.
Those Christians that rose up to warn them, were shouted down for a while, by the body of Christ itself. They were shouted down until they began to see the consequences of stepping over into areas not allowed to us – of not allowing Jesus to be the One to fight the battles.
The statement: "I come against" may not seem as big as those conferences where thousands came together to scream at the devil and shake their fists at high ranking demons over cities and areas, but if you have any authority at all in the spiritual realm – the effect could be as devastating to you personally or your ministry, your family, your church or your friends.
One of the greatest truths that we need to know and indeed, have pounded into us again and again is that:
Christ died to pay the price for our sin/sins. He rose to the right hand of the Father and is given all power and authority to deal with what faces us on earth. If we accept Him as our savior and Lord, He will come to live within us and do ALL through us. ALL.
All that we do should be what he desires, in His name and in His power. Him, Him, Him – all the way.
We need to stop being like cavemen shaking our fists and screaming as we dance around a fire before a hunt. It may get our primitive blood up but it also opens some dangerous doors.
No – we need to be more precise and careful. If you have never seen the Japanese Classic 'The Seven Samurai', you should. The youngest was not well trained and jumped around a good deal. But there was a master swordsman among them. He was sparse in his actions, calculated, swift and accurate. It was not showy – but oh so deadly. It wasn't like dancing around a fire. It was more like getting a job done.
I remember being with Bob Jones one time when he was delivering an afflicted person of a demon. He spoke to the invading spirit saying very naturally: "In Jesus name you are relieved from your assignment," and the demon left, no shouting – no show. Like the master swordsman: sparse and deadly.
Jesus died to pass these tests for us. We do not need to say: "Please I'd rather do it myself."
Really, it is much more fun to see the Lord move on our behalf. Nothing is more exciting than seeing God move.
For when I am weak, then I am strong in the strength of His might.
July 2016
Notes On The Angel You Who Hear Prayer
Al and I did a little research relating to this experience.
1. There will be angels to assist those on the ridge when the divine glory descends, particularly in prayer.
2. Jesus carried His shed blood to the Father and that blood can cleanse the conscience from dead works to serve the living God.
3. The purple robe of the angel was a clue that this was no mere angel. He cloaked Jesus, who is royalty. All the colors of the rainbow in that large halo give another clue that this angel was more than an angel of prayer.
4. The angel named YOU WHO HEAR PRAYER was sent to the Moravians by a royal decree. Jesus– by coming Himself within the angel– showed that the angel whose nick-name is PRAYER– came by a royal decree to this little mount also. The purple draining from the garment before Jesus stepped from the angel was a visual statement of this royal decree. The purple covered the top of the ridge.
June 2016
The Witches' Destruction Of Our Home And God's Salvation
I was laughing when Rick Joyner called to console us. This may have seemed as though I was in shock, since Albert and I had just lost everything – our home, our car and our dog – to fire. Laughing is not your usual response to such loss.
However, with the destruction I had been given the most extraordinary gift – incomparable to the loss, really. I had been given the actual experience, deep in my bones, of knowing that if you have Christ, you have EVERYTHING! It is rare that we are reduced to what we can carry in one hand – but we were so reduced – and indeed, found Him to be All.
Let me start at the beginning.
The Day Before The Fire
There was an after Christmas sale at our local electronics store, so Al and I and the dog drove into the shopping center so that I could get batteries. Everyone else in town read the ad also, so the place was a crush. I went in alone.
As those of us inside the store politely waited our turn to check out, one woman began shouting over our heads. She was looking in the phone book for a Christian retreat center. I called to her past several people and gave her the number.
Suddenly – she pushed her way to stand front of me, she was joined by equally pushy, large men dressed in black. Needless to say there was a lot of jostling to accomplish this. But the alarming thing was that they were filthy and stank. I mean – really stank.
She fixed me with a snake-like gaze and almost hissed: "Are you Anna Rountree?"
I swallowed hard and dryly choked out: "Yes".
She smiled as though a snake's tongue would slip through her lips, and said: "We have come for you."
When she said this, the putrid aroma increased. The men beside her did not speak; but hung their heads and stared down at me like great, hungry raptors. They too radiated noxious fumes. (Later Bob Jones helped me to understand the odor was from demons.)
While still crushed within the store, she began to address a subject that was extremely private – which made me wonder "how in the world she knew about that and how she knew I was in any way involved in the project?"
They were from out of town, it seemed, and actually were from out of state. According to her, these three were traveling all over America to find those who were a part of this particular type of Christian ministry. They heard that I was helping to establish such a work in Moravian Falls: therefore – they wanted to come to my house. I told them that we were, indeed, interested in the type of ministry she mentioned but it was my husband's birthday and I needed to get back to our plans for the day. However, I would step outside and talk to them for a few minutes. (I needed to check out.)
Still, I was fascinated, for as far as anyone in Moravian Falls knew, we were writing – period. However, it was true, a couple had asked us to help them look at some property for their Christian ministry – and we were doing our best to help them. Since my husband and I never discussed this, and I knew the couple did not know anyone to tell about their plans, I was amazed that these people seemed to know all about it in some dark and oily way.
Once outside the electronics shop they did not talk about the subject they had broached. Instead, they began to question me about my daily schedule – my daily life, when I was at the house, etc. They continued to press me to be allowed to visit my home. There was something predatory about them – like birds of prey sitting on a dead tree waiting to pick my bones clean.
Also, they said odd things like: "We've read your books. They're true, you know…" speaking as though they had some secret – but dark – knowledge. As they moved closer and closer I moved back and back away from them.
Finally, after about twenty minutes of being asked personal questions, I said I needed to leave. The woman flew into a rage (causing quite a disturbance outside).
I was genuinely saddened to have upset her – so – amid a thousand Christian apologies, (I'm a bit of a Pollyanna). I hugged each one of them and I left with every demon in hell hanging on me like bats. I returned to the car.
Once Home
Once at home from the electronics store, both Albert and I had to go to bed. We felt very ill. Of course, we did not realize it at the time – but the demons were causing the dizziness and nausea. We went to bed in the early afternoon and remained in bed until 12 noon the next day.
We only got up at that time, because we had a luncheon appointment with a family that lived on Pore's Knob.
The Day Of The Fire
As I walked through the house I had the fleeting impression that the house was going to catch fire.
I stopped in my tracks in the middle of the living room. The dream and vision of eleven years before flashed through my mind – so I quickly made a mental check of all the heating units I had turned off in the house.
"No," I said to myself, "nothing has been left running." I chuckled and actually said out loud: "What? You think you're prophetic?"
I continued out the front door. Once outside, I turned again to look at our home and think through the heating outlets. At our glass front door stood our little short-legged, Jack Russel, terrier Cassie (whom we loved). Finally, seeing that she would not join us that day, she turned from the door, and so we too turned to leave. We climbed into the car.
The Fire
At around 3:00 p.m. a call came into the friends with whom we were having lunch. It was for Albert, so they handed him the phone. He listened briefly to the voice on the other end of the line and then sort of shrugged – as if someone was playing a joke on him.
"They said our house is on fire."
I leapt to my feet. We both ran from the house and jumped into the car. As quickly as I could, I drove home. As I drove I thought: "What would I want to save? Our dog, the journals." (I was asking myself the same question I asked in the dream.)
At a great distance we could see black smoke rising from our side of the mountain. As we drew nearer, fire trucks passed us coming and going. You see, in the country, there are no fire plugs – so the fire trucks must fill up in town and then carry the water to the mountains.
At the bottom of our small "mountain" our car died. There was no reason for it to die except witchcraft. It just stopped working – never to run again. It was a great loss. Gwen Shaw had given us her old, white Cadillac when she could no longer get in and out of it with ease. Even though old, it meant the world to us, because it came from her.
Fire trucks from several surrounding towns had come to help – with their volunteer fire departments. We got out of the car – leaving it on the side of the road at the bottom of the mountain.
I tried to calm myself. The walk up to the fire was steep and I was so upset that I did not want to have a heart attack on top of everything else.
When we reached the house, the Red Cross had set up a station handing out blankets, coffee and hot chocolate. Someone provided folding chairs.
I asked about our dog. I was told that she would have died early in the fire.
Al and I sat down behind the yellow tape that the fire department had put up to keep people from getting too close to the volunteers.
The first floor of the house had already caved in onto the lower floor and begun burning everything to ashes. I was sure the journals had also been destroyed.
As in the dream and vision, all of us watched in silence as the structure burned.
God's Salvation
Even though I did not really take full advantage of the dream and vision given eleven years earlier, the Lord graciously saved us.
First of all: The officials said that there was an explosion in the attic of the house – the poisonous fumes from this explosion would have knocked us out and we would have burned to death in the fire.
Secondly: He fulfilled what He showed in the dream and vision. The journals had been put in cheap (Wal-Mart) safes but never locked. Even though they were sitting in water within the safes – the journals made it through the fire. It took them three months to dry out.
Thirdly: No human life was lost.
Fourthly: As in the dream and vision, I lost everything we owned except for what was in my purse and the journals. (Oh, the two children in the dream and vision were the two books we had already written.)
Fifthly: Bob Jones helped pin point the location of the witches' coven that had sent one of their high members to the area, strengthened by the two warlocks traveling with her.
God's Solution
Bob Jones had dealt with this coven before. He called them 12 White Wolves… high witches. They had targeted other Christian ministries in the area. Usually they did not come themselves. However, they were trying for a kill. There were two international ministries – in our immediate area – that I did know that had battled them, for they told us about it.
How did the coven manage what they accomplished? Who knows? But Gwen Shaw, Bob Jones and I all had been under attack at the same time. We spoke to one another about this attack that nearly killed each of us. We talked about the enemy trying to take out the older generation before we could impart to the younger. Now, they are gone to be with the Lord… and my husband among them. Who is going to tell you the truth about these things – such as a witches' attack – if not the only one left to tell the story.
Learning To Truly Listen
It is the duty of the older generation to pass on what we know to the younger generation.
I have not shared this story many times. Usually people say: "But you see angels – you talk to Jesus, nothing like this could happen to you."
The times are becoming more dangerous and we need to become more sensitive to His guidance at all times and in every way – warnings especially.
I have learned that the Lord warns us before disasters. We are His children. Why would He not? But could this fire have been averted? I do not know. But I do know that the next time He gives such a warning, I plan to listen and act accordingly.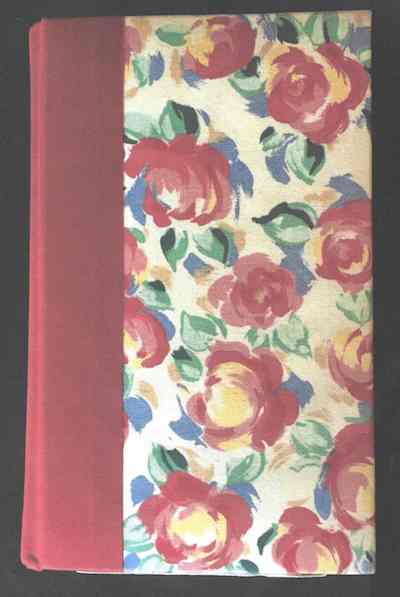 One of the actual journals that made it through the fire.
May 2016
The Unseen Spiritual Phenomena
1. An eagle's nest is used for many years; through the years the eagle may enlarge the nest up to six feet high and five feet wide. The White Eagle, the Lord Jesus, shares His nest, which is on a rocky ledge on a mountain height, with those who are learning to fly with Him in Spirit. Spiritually, His nest represents a place of rest, quietness, and intimacy with Him (Ps. 31:20; 63:7; 91:1-2, 4, 9, 14). This is a place where one learns to trust Him as God's everything, and so as one's everything (Col 3:11; John 3:35).
2. The paper doll Christians copy one another by using standardized methods of ministry employed in the church, or they attempt to reproduce the kind of ministry that was effective in the life of a famous minister of the past. They may try to duplicate the conditions that brought revival at another location. This use of patterns and formulas is actually a form of divination (a method of obtaining results in the spiritual realm without God's help), which He will not tolerate. Satan will often supply some of his limited power to this occult practice to advance his evil purposes. The false prophets in the Old Testament would repeat each other's words or pronounce prophecies that God had not given them (Jer. 14:14; 23:30; Ezek. 22:28).
The Pharisees obeyed complicated rules and rituals of behavior, but their reverence for God consisted of tradition learned by rote (Isa. 29:13). The Lord refused to copy both the customs of the Pharisees and the God-inspired fasting of John the Baptist (Luke 5:33). He listened and watched for His Father's instructions moment by moment (John 5:19-20, 30).
3. This kind of Christian is rare. This disciple "hates his [soul] life [mind, emotions and will] in this world" so that he may have the soul life of Christ forever (John 12:25). He is not at home on Earth (2 Cor. 5:8; Phil 1:23), for he cannot be satisfied by anything in this present world system (1 John 2:15; 17; 5:29). He desires only to feed upon the Lord Jesus as the hand of the Father shares His Son with him by the Spirit (Hos. 11:4; Ps. 78:23-25; John 6:32-35, 57).
Jesus's food is to please and honor His Father in everything (John 4:32, 34; 8:29). Jesus alone nourishes the Father (Lev. 21:6; Num. 28:2; Ezek. 44:7). As His Son is the true bread and drink (John 6:51, 55) Jesus alone sustains such a Christian. In time, this kind of believer will be perfected into oneness with the Son and the Father so that he is, acts and looks like Jesus who is formed within him (John 17:21, 23; Gal. 4:19; 2 Cor. 4:10-12).
4. The lofty eagle flies alone or with his mate, soaring effortlessly on the thermal currents; he builds his nest as high as possible. He has binocular vision, a symbol of the believer whose spiritual eyes, Christ the great Eagle, has opened (Matt. 13:16-17; Eph. 1:18-19). This Christian is at home in the godly spiritual world (1 Cor. 2:9-10; Phil. 3:20). He "[seeks] the things above, where Christ is," setting his mind upon the things of God (Col. 3:1-2).
The gift of the Holy Spirit enables the Spirit to bear witness of Christ in the saint (John 15:26), first to God the Father (Acts 2:3-4; 1 Cor. 14:2) and then to others (Acts 2:5, 9-11; 1:8).
April 2016
The Angel Elijah's Teaching
We all know angels bring messages from God to those on Earth… (an example of this is the angel Gabriel bringing the message to the virgin Mary that she had been chosen to give birth to the Son of God, Luke 1:26-38.)
Perhaps less understood is that angels teach – though it is verified in the Word. Also, our Heavenly Father takes these teachings very seriously: "You who received the law as ordained by angels, and yet did not keep it." (Acts 7:53) or "This is the one who was in the congregation in the wilderness together with the angel who was speaking to him on Mount Sinai, and who was with our fathers; and he received living oracles to pass on to you." (Acts 7:38) and "Why the Law then? It was added because of transgressions, having been ordained through angels by the agency of a mediator, until the Seed would come to whom the promise had been made." (Gal. 3:19) and (Hebrews 2:2) "For if the word spoken through angels proved unalterable, and every transgression and disobedience received a just penalty…" These examples verify that angels taught in the times of the Old and New Testaments and they teach today.
This is one such teaching. It was given on the first day of Sukkot, October 9, 1995 by the angel Elijah. (I included a little sketch of the venerable angel Elijah in the angel section of the website on April 2014, if you would like to see his appearance.)
April 2014 – The Venerable Angel Elijah
I am including the first two pages of the revelation from the journal. The writing is faded and the pictures' bled into one another because the journal went through the fire that took our home and then sat in water from the fire department's attempt to save the structure.
After these two first pages, the writing from my journal will be typed.
Here now, is the angel Elijah teaching in our time:
OCTOBER 9, 1995 – FIRST DAY OF SUKKOT
VISION: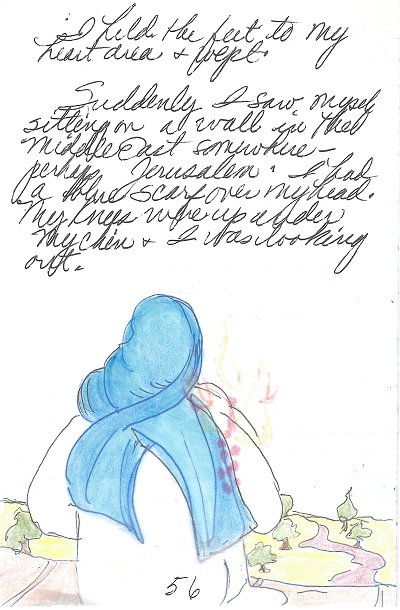 Some of the Lord's angels were sitting near me and dangling their legs over the outside of the wall.
They, too, were watching.
I began to speak in tongues, speaking outward toward the road I was watching as if sending out a message by the spirit. Then I saw a figure walking on the road, coming towards us. It was the angel Elijah. I stood up and waved "Hello". The angel Elijah waved and the other angels got up and waved also.
"Let's go down to meet him," I said.
The angels agreed and we went down some stone steps to the ground level. The gate to the city opened as we approached it. We ran to meet the angel Elijah. We made a little group around him and hugged him.
"Where have you been, Elijah?"
"With our King," he answered.
"How is He?" I asked.
"Well."
"What news do you bring?" I continued.
"Storm clouds are brewing."
"What should we do?" I interjected.
"Keep your ear to the ground to listen for His coming."
I didn't say anything, but I was puzzled.
"The ground of which you are made," he said. "He comes to rest His head in your heart. He comes to rest His head in your mind. He comes to rest His head in your life. The ground He treads is your flesh and He comes to walk across it as a Conqueror. Hold to all He has whispered into your ear. Hold to all spoken to your heart. Hold to all revealed to your mind. Don't let your love for Him grow cold."
"The feet of fire and blood come to tread down all that is of serpents and scorpions; to remove them from the ground on which He treads and fling wide the doors that the King of Glory might come in. He comes to tread as a Conquering King, subduing the flesh and filling the heart."
"I have a need of my heart being filled," I said weakly.
"Let Him see the gate of your heart opened to Him, Anna. Bow the knee before the Conquering King. Go out to Him as you have come out to me and walked with me into the city. Let no door be closed to Him. Let Him tread upon all that would rise to sting or poison."
"His power can subdue. The feet of fire and blood seek to walk this ground and vanquish every foe. He would possess you totally. He deserves no less, Anna. Let the King of Glory come into the gates within."
"There is nothing but Him, Anna. Nothing to be desired but Him. Let Him tread upon the serpents and scorpions in your life. Let Him be the conquering King in your life and reign over the ground you walk around in. He will give to you, not only a New Heaven, but a New Earth. Behold all things are new when God pitches His tent in you."
By this time we had walked into the city to a well and I looked down into it and saw the face of Jesus.
Elijah spoke: "When at all times you see His face in that deep well, all is well. Do not think all is well if you see your own face – only His. Remember well what I have spoken. The face in the well should be His. Seek Him in all, that all may be His."
He looked to the horizon: "Morning calls and the day begins."
"Thank you Elijah," I said "for sharing with us."
He put his hands on my shoulders.
"Bless you, this day, child of God."
March 2016
Notes for the Teaching on All Time is Present Above
The "river of the water of life" in heaven is a visible representation of the Holy Spirit providing life to everything there (Rev. 22:1).
The streams that come out from the inspiration of the river of the Holy Spirit are the various movements (such as denominations) of the people of God in Christ who together form His living church on earth.
The sword of the Spirit is the living Word of God concerning Christ Jesus as applied by the Holy Spirit (Eph. 6:17; Heb. 4:12; Rev. 19:13-15).
Oil is a type of the anointing with power that the Holy Spirit bestows upon believers so that Christ Jesus from heaven will be able to minister through them for the bringing in of His kingdom here on Earth (Exod. 30:25, 30; Acts 1:8; 2:33, 1 Cor. 4:20).
1. Even on Earth God grants to His faithful children "to drink of the river of Thy delights. For with Thou is the fountain of life" (Ps. 36:8-9). The Hebrew word for river means "a wadi or the channel of a watercourse that is dry except when it rains" (a symbol of the Spirit outpoured – Hos. 6:3), and then it becomes an overflowing river. This spiritual river is the powerful moving of the Holy Spirit supplying eternal life to and through those who obey Him (John 4:14; 7:38-39; Acts 5:32).
We are entering "the last days" (2 Tim 3:1; 2 Pet. 3:3) when the Holy Spirit will be outpoured in a mightier way than ever before (Joel 2:28-29) as the promised "latter rain" that will bring in a worldwide harvest (Joel 2:23-24). The Spirit will then move through the earth – as the river described in Ezekiel 47:1, 5, and 9 – to bring life wherever He flows.
2. These streams are not independent, for they not only drink from the one Spirit (1 Cor. 12:13-14), but they also add their particular contribution back into the flow of the Spirit in the one church (1 Cor. 12:7; Eph. 4:4, 16).
The coming descent of the Holy Spirit will be in such fullness of power that it will be necessary for these streams of God's people to be bound together in "one heart and soul" (Acts 4:32). This unity in the Holy Spirit (Eph. 4:3, 1 Cor. 12:25-26) will be needed to utilize in purity all the gifts and graces from the Spirit so as to preserve His work from corruption or waste.
3. In the coming days we pray that the Lord Jesus will send forth His Word to the various churches as He did in the second and third chapters of Revelation. He depends upon those who overcome by walking above their flesh, the world, and the devil: saints who no longer live for anything but for Him (2 Cor. 5:14-15; Phil. 1:20-21; 2:21).
The ribbons in the vision represent those streams or bodies of believers who are pliable and willing to be rolled up by the Spirit to wait for His use (Hab. 2:3; Mic. 7:7). The spindles are long rods on which the spools may easily rotate as the ribbons are unwound and sewn together.
4. The heavenly city of God is "the Jerusalem above [which] is free; she is our mother" (Gal. 4:26; Heb. 11:16; 12:22). The earthly copy of that city is the church of the living God described in Psalm 46:4-5: "There is a river [the Spirit flowing freely] whose streams make glad the city of God, the holy dwelling places of the Most High. God is in the midst of her, she will not be moved."
5. There is a vast supply of this oil that God has reserved for a fuller "salvation ready to be revealed in the last time" (1 Pet. 1:5; Rom. 8:18-19). It will come as a gusher, which is an oil well that spouts forth of itself without being pumped by man. The members of that unified, true church will dwell together as brethren, all of them having a share in the anointing oil that comes down from Jesus, who is their head (Ps. 133; 1 John 3:14). "Spindle Top" was one of the greatest oil gushers in recorded history.
February 2016
God's Show And Tell
When we returned to the cabin we began to do a bit of research on this particular experience. Here is the understanding that we have received, so far.
1) The scarlet cord symbolizes unity with Christ in His self-sacrifice. Christ is the unity between these angels. They are one in Him.
2) The grouping, also, shows that they function as one.
3) The various sizes of the angels mean that they were created with different giftings and responsibilities – but when one angel indicates a direction, all cooperate (if the group feels the leading is of and from the Lord). The bundle effect shows that they were put together for God's purposes. The nationalities represent a remnant of the whole.
4) I Samuel 25:28 (partial): "…because my lord (David) is fighting the battles of the Lord…"
I Samuel 25:29: "Should anyone rise up to pursue you and to seek your (David's) life, then the life of my lord shall be bound in the bundle of the living with the Lord your God…"
5) The angels represent God's protection of His own children. I Samuel continues: "but the lives of your enemies He will sling out as from the hollow of a sling."
6) As a group of the Lord's children is brought together and learns to be led by Him – in unity with the others that are brought together – then as a group, they will be like the angels in this tight bundle. What the Lord has imparted to each member of the group will – if respected by the other members – show the ministry of the body of Christ. Such respect and love is a picture (in small measure) of the unity and of the diverse giftings within the God head. Then the enemy will have difficulty gaining entry into such a group. Such a group will be bound up with the Lord in the bundle of the living and fulfill the criterion that releases the promises of the Lord.
7) This is the true meaning of John 15:7: "If you abide in Me, and My words abide in you, ask whatever you wish, and it will be done for you." This is a promise given to those called together by the Lord and willing to be brought into a place of unity with Him and with one another. The unity in Christ and with one another tugs on God. It's like a needy child that is tugging on the parent's clothing, asking the parent to keep his/her promise.
Another example of this is: John 15:16: "You did not choose Me but I chose you, and appointed you that you would go and bear fruit, and that your fruit would remain, so that whatever you ask of the Father in My name He may give to you." [It is the Lord who puts the "bunch" together for His purposes.]
8) The Child of God that does not abide in Christ cannot do what pleases God. But when He puts Christians together who do abide in Christ, the grace and power is increased for the answering of those prayers that He Himself gives to be prayed.
January 2016
Notes for the Teaching on Starting the New Year Right
1. The Lord Jesus calls disciples to be with Him and to share His life (Mark 3:14). They are to be wholly given to Christ as He is to the Father (1 Cor. 3:23). Claiming nothing as their own, they are to receive all from Him (Luke 14:33; Rom. 8:17, 32). They know the unearthly joy of blessing God and others in His name (1 Pet. 3:9).
2. The passions of Christ are the pure spiritual fires of His love that have burned from eternity for the Father and for those whom the Father has given Him in betrothal (Luke 10:22; John 6:39). "l have loved you [My people] with an everlasting love" (Jer. 31:3).
3. Christ has shed tears from eternity. He has known heartache because of the rebellion of the angels. From the beginning "the Lord was sorry that He had made man on the earth, and He was grieved in His heart" (Gen. 6:6). There is sorrow for those whom He knows will not receive the gift of salvation (Matt. 7:13-14). He has continuing sadness because He knows that many of those who will be joined to Him will be lukewarm in their response (Rev. 3:16). His regret for their loss does not diminish the ardor of His heart that yearns for all of these (Jer. 31:20).
4. It is the wisdom of the Father that the full stature of His Son will be shown forth by His body, the church (Eph. 4:13). Each member of the bride has been chosen and called to manifest that portion of God's Son that the Father in His inscrutable wisdom designs. Hence the full stature of the Lord Jesus will one day be reflected corporately in the Father's children (Eph. 4:4, 7, 10; Gal. 4:19).
5. The root of the Hebrew word for myrrh means "bitter." Myrrh signifies the bitter sufferings of Jesus at Calvary. "He was pierced through for our transgressions, He was crushed for our iniquities" (Isa. 53:5).
It also represents His present tribulations (Phil. 3:10; 2 Cor. 1:5). Christ Jesus is still bearing shame and sorrow because Christians deny Him by cooperating with His enemies (Heb. 6:4-6; 10:26-29).
It is necessary for the church to bear its portion of His afflictions as His body, as part of Him. "Now I rejoice in my sufferings for your sake, and in my flesh I do my share on behalf of His body [which is the church] in filling up [completing] that which is lacking in Christ's afflictions" (Col. 1: 24).
6. The other Hebrew word for husband, Baali, is translated "my master." It is the same word used for the god Baal. Hosea says
that this word will not be used again for Israel's husband (Hos. 2:16-17).
7. The human race was created to reflect the life, character, and glory of God's own Son who is the image of the Father (Rom. 8:29; Col. 1:15). Christians cannot themselves in any way bring forth this divine fruit. It can only be the Lord Jesus formed in them by the Spirit (John 15:5; Gal. 4:19).
December 2015
How Does He Teach The Young?
The following are pages from my diary of twenty years ago. I had just begun to see into the spiritual realm. Our heavenly Father here is guiding me into a completely different call on my life. He is teaching me as we humans might teach a very small child.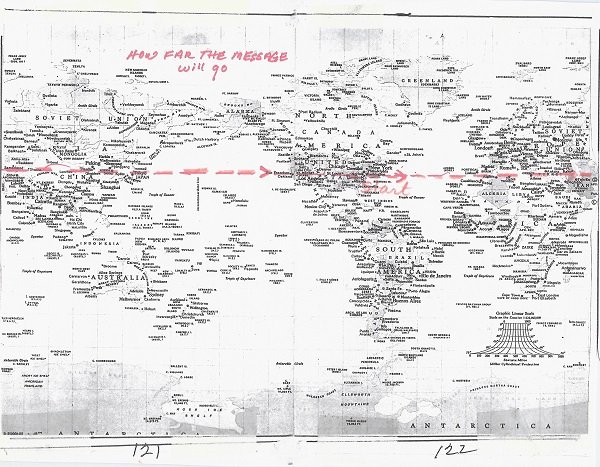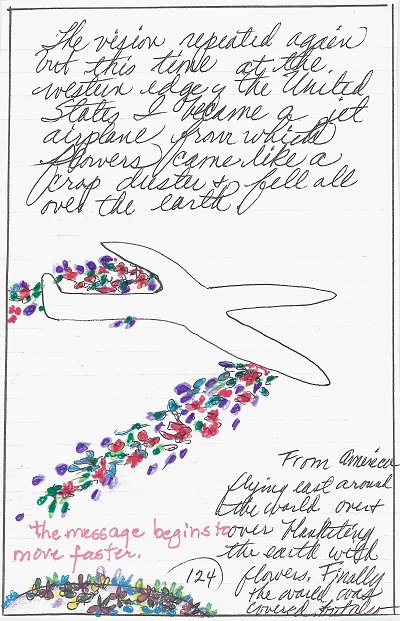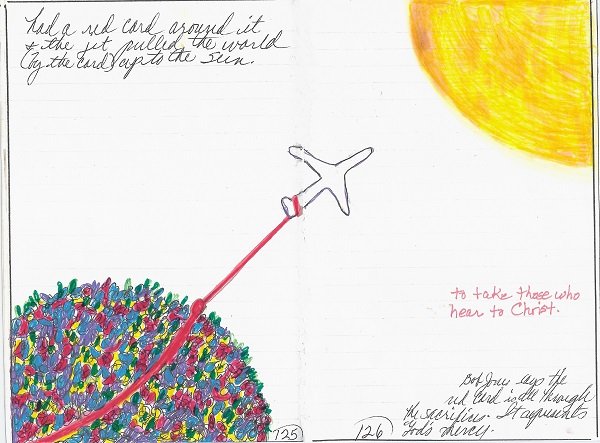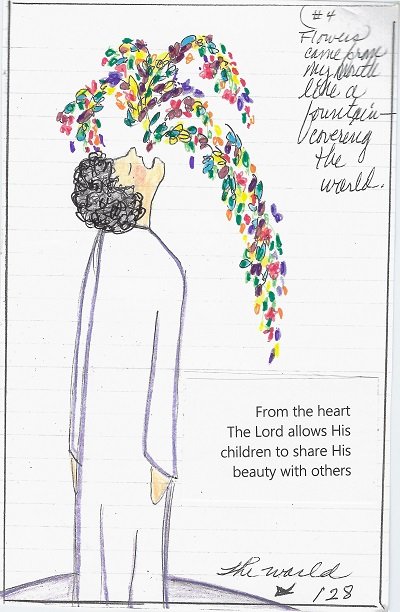 GOD'S PICTOGRAPHS –
Hmmm – pictographs. Now remind me again – exactly what is a pictograph?
Well, remember the cave paintings? Pictographs "are pictures representing an idea, as in primitive writing" according to Webster's Unabridged Dictionary. Many experts feel that these paintings were commemorating animal hunts – but there is also the possibility that pictographs were teaching tools – a classroom that took place around a fire on a cold winter's night.
It is this later teaching tool that is employed by our heavenly Father… visions that are "still" pictures. They are a bit like making a presentation by pointing to a large illustrated pad that is sitting on an easel. The pictures do not move – as is the case with many visions. They are a far more primitive tool – often used to teach those who have begun to see into the spiritual realm recently. Those whose spiritual eyes were opened recently are babies in the gift and therefore our heavenly Father uses the same means of instruction that we humans use with our young. He makes it simple and repeats the picture over and over to reinforce the message.
This message – (given exactly twenty years ago) explains in simple terms that He would be giving me a new assignment. He would allow me to show some of the beauty of Christ and of His angelic hosts… and of heaven itself.
Of course, I did not understand until years later what He meant. That makes these pictographs all the more precious. They are like letters written to you by your parents when you were very young (which you discovered later in life). They are to be cherished, for they show your parents' love for you long before you were aware of their care and guidance.
Even if you do not understand the pictographs that are given to you at the time, record them anyway. Years later you will look back and smile to see how much Parental love was being poured out on you.
Our Heavenly Parent keeps baby pictures, too.
November 2015
Notes For The Teaching On Paradise
FOOT NOTES
1. The battering ram with the iron head of a goat (Lev. 17:7; 2 Chron. 11:15, "satyrs") symbolizes the satanic attack that God permits to come against the false church in the spiritual wilderness (Rev. 17:3-5). He did the same thing to apostate Jerusalem (Ezek. 21:21-27; Rev. 18:8).
The King of Babylon in the Ezekiel passage above represents Satan, who was the power behind the throne of the earthly king of Babylon, even as Satan was in the case of the king of Tyre (Ezek. 28:2, 12).
2. In the last days before the Lord Jesus returns, the false church will be in league with the Antichrist, who is called "a scarlet beast, full of blasphemous names" (Rev. 17:3; 13:1), and who is the personification of Satan, the "great red dragon" (Rev. 12:3). The Antichrist and his armies will turn upon this whorish church and destroy her by fire (Rev. 17:16).
3. The man-controlled organization that calls herself "the church" is centered upon things of this world and seems oblivious to any impending judgement of God against her. This also was the case with the people in the days of Noah and in the city of Sodom (Luke 17:26-30). This church will not understand what God is doing (Matt. 24:39).
4. The false church is called "Babylon the Great" (Rev. 17:5) because she is the final form of the satanically inspired, religious system that began in the days of the tyrant Nimrod to exalt herself through witchcraft and idolatry (Gen. 10:8-10; 11:1-4). This first Babylonish church used bricks instead of stone to build her city, even as today's Babylonish church builds herself up with man-made materials instead of relying upon Jesus Christ to build her with living stones (Matt. 16:18; 1 Pet. 2:5).
5. In Genesis 28:12-13, Jacob dreamed that "a ladder was set on the earth with its top reaching to heaven" with the angels of God ascending and descending on it. The Lord, in His pre-incarnate form, was standing above it.
He told the first disciples that they would see the heavens opened and the angels ascending and descending upon Him (John 1:51).
6. This is the shed blood of Christ that releases us from guilt and separation from God that was caused by our sins (Rev. 1:5). The way is now open to the throne of God by faith (Heb. 10:22) through hope (Heb. 7:19) in the Lord Jesus.
7. It is the release from the power of sin by the death of the totally corrupt corporate spiritual heart of the human race. This happened when the old human race died with Christ on Calvary. God gives those who would believe in His Son a new heart that lives by the resurrection life of the Lord (Eph. 2:10; Rom. 6:6-8; 2 Cor. 5:14-17; Col. 3:3; Gal. 2:20).
8. It is to live in God (Col. 3:3) the heavenly life of love, ministering to His needs (Ps. 65:4; Rev. 3:12. It is the place of the disciple who continually bears about in his body the sentence of death from the same inner cross to his own self-expression that Jesus bore daily here on earth (2 Cor. 4:10; 1:9; Matt. 16:24; Phil. 2:7). It is the final stage of overcoming the enemies of God, where the soul life (mind, emotions and will) of Christ Jesus is being imparted to the believer (Matt. 16:25). It is the place of the overcoming Christian in every generation (Rev. 2:7, 11, 17, 26-28; 3:5, 12,21). The disciple who overcomes the world, the flesh, and the devil as the Lord Jesus overcame them seeks only the living God, in comparison with whom all things are as rubbish (Rev. 3:21; Col. 3:1; Phil. 3:8)
9. The area where one arrives first when entering heaven is called Paradise. One then moves on to the celestial city – the heavenly Jerusalem – and finally to the throne of God the Father (Heb. 12:22-23). Jesus promised the repentant thief whom they crucified with Him at Calvary that He would meet him in Paradise that very day (Luke 23:43).
10. The living church is able to climb into Paradise in spirit and to live "hidden with Christ in God" in spirit and heart (1 Pet. 3:4; Col.3:3) as described in the three sections of the stairway of Christ under notes 6, 7 and 8 (John 3:21; Isa. 26:12; Ps. 31:19-20). His people are also able to: (a) hide in caves in places prepared by God (Rev. 12:14), as did David and his men (1 Sam. 22:1); or (b) float on the water, as did Noah and his household during the flood (Gen. 7:23).
Christians are those who have been born again by the Holy Spirit implanting the Word of Scripture concerning salvation within their new hearts and spirits so that they have begun to experience the life, light, and love of God.
11. In heaven, whatever one asks for immediately appears because the abiding fruit of Christ's character is in everyone; all things are available in Him, as He promised (John 15:16).
12. The Garden of God in heaven (Ezek. 28:13), which is the pattern for the Garden of Eden that was on the earth (Gen. 2:8-9), contains fruit trees too.
13. Every created object and every living creation (angelic, human, animal, plant) in heaven is formed of God's light, which is substantial and can be felt and allows the divine light of the glory of God to shine through everything (Rev. 21:23; 22:5). There are no shadows there, no hint of darkness.
14. The work of certain angels is that of rescuing believers from danger as described in Psalm 91:11-12: God gives "His angels charge concerning you, to guard you in all your ways. They will bear you up in their hands, lest you strike your foot against a stone." An angel of help rescued Daniel from the lions (Dan. 6:22) and Peter from jail (Acts 12:11).
October 2015
Notes For The Revelation Of The Angel Of Obedience
1. All God's children must learn to obey Him, even as Jesus on Earth had to learn in His human nature to obey His Father in all things (Heb. 5:8; John 8:29). The natural person of believers is incapable of obeying God, for their "flesh" (the earthly body and soul acting on its own) desires only to do what it pleases (Rom. 8:7, 7:18; Eph. 2:3). Therefore our obedience must be learned by repeated acts of the will in freely choosing moment by moment the obedience of Jesus' perfect human nature in us (Eph. 4:24; Col. 3:10). The Holy Spirit can then reinforce the flow of the Lord's obedient life in us (Heb. 5:9; Phil. 2:13). Christ has been made unto us all things, including the obedience that the Father desires (1 Cor. 1:30; Col. 3:11). Believers need to let Christ manifest the life of obedience in them, for He is the only life in them (Isa. 26:12; 2 Cor. 4:10-11; John 14:13-14, 19; Col. 3:4).
2. The earthly soul life must be replaced by the soul life of Jesus' perfect human nature in us (Matt. 16:25). This exchange is called the salvation of the soul (Luke 21:19; Heb. 10:39; James 1:21; 1 Pet. 1:9). The Holy Spirit cannot protect us when we allow the devil and his demons to work through our old self (Gen. 4:7; Eph. 4:27; 1 Pet. 5:8-9). We give legal permission to them to inhabit the darkness in us because of sin (Eph. 5:11).
3. The glory of Christ's love meets all of the believer's true needs (John 17:24; Phil. 4:19). The enemy is capable of stimulating our natural desires so that we feel we must have certain earthly gratification and have them now (1 Pet. 1:14). We can come to rely upon these substitutes and to love them instead of loving the Lord (1 John 2:15-16). We can discover that "the love of Christ [for us] controls us" (2 Cor. 5:14); that His love is better than wine (Earth's best stimulants) (Song of Sol. 1:2); and that His "love never fails" us (1 Cor. 13:8). It is no sacrifice to choose that which is of God in Christ – eternal, divine, truly pleasurable, and satisfying – instead of that which is temporary, created, a counterfeit pleasure, and a false satisfaction (James 4:3-4; 1 John 2:17).
4. Every believer must "forsake…his thoughts" because "every intent of the thoughts of his heart [is] only evil continually… from his youth" (Isa. 55:7; Gen 6:5; 8:21). The Holy Spirit transforms us by helping us set our renewed minds (no longer conformed to this world) on God's interests (Matt. 16:23; Eph. 4:23; Rom 12:2).
5. The Lord Jesus said that the path that leads to true life is narrow and restricted to walking step by step in Him who is the way (Matt. 7:14; 1 John 1:7).
6. Paul tells us that the imaginations and speculations of the mind of the natural person are vain and futile because they focus upon "the creature rather than the Creator" (Rom. 1:21, 25).
7. God said that the root of sin in mankind is in the thoughts of our hearts (Gen. 6:5). Jesus reiterated that truth (Matt. 15:18-19).
8. Paul says that the unruly mind can be reclaimed for Christ by casting down speculations and every proud argument that is contrary to the true knowledge of God in Scripture. The believer then takes control of every thought to make it obedient to Christ (2 Cor. 10:5).
9. The young apostle Peter was headstrong, bent on going wherever he wished (John21:3). Jesus told him that when he grew old, he would have to follow his Master in the way of the cross where he did not wish to go (John 21:18-19).
10. An example of this word is spoken by Moses to the children of Israel to "listen obediently to the voice of the LORD your God." (Deut. 15:5).
11. God's "eyes are too pure to approve evil, and [He] canst not look on wickedness with favor" (Hab. 1:13). "Your iniquities have made a separation between you and your God, and your sins have hidden His face [intimacy] from you" (Isa. 59:2). The light of God cannot fellowship with darkness (1 John 1:6).
12. "Delight yourself in the LORD; and He will give you the desires of your heart" (Ps. 37:4). "In Thy presence is fullness of joy; in Thy right hand there are pleasures forever" (Ps. 16:11). "Thou dost give them to drink of the river of Thy delights" (Ps. 36:8). "God has prepared for those who love Him," things never seen or heard before, things beyond imagination (1 Cor. 2:9).
13. Having "emptied Himself, taking the form of a bond-servant," He became "obedient to the point of death, even death on a cross" (Phil. 2:7-8; Heb. 2:10; 12:2-3). Perhaps the worst suffering was the shame He endured from people believing He had been rejected by the Father (Matt. 27:42-44). He kept choosing at each trial to entrust "Himself to Him who judges righteously" instead of justifying Himself (1 Pet. 2:23). Jesus' perfected human nature, fully joined to His divine nature, is within the believer as his new nature: complete in Christ and becoming complete in its expression through His disciple (Col. 2:10; 3:10).
14. God created first in heaven the prototype of every animal that ever lived on Earth, and it still exists there in a perfect state (James 1:17; Heb. 8:5; 9:23). In the case of dinosaurs and other animals that ate meat on Earth instead of the grass and plants that God provided for them (Gen. 1:30), they remain in heaven as the gentle herbivorous creatures that He made them. He will restore the carnivorous animals now on Earth to this condition during the Millennium (Isa. 11:6-9; Rom 8:19-21).
15. Many have spiritual bodies that look like the physical form of human beings (Dan. 10:16, 18), but others are unique creations of God, as are the four living creatures around the throne in heaven (Rev. 4:6-8) or the wheels (Ezek. 1:15-20).
16. The Holy Spirit opposes the flesh in believers; He presses the power out of it in order that He may bring forth the obedience of Christ (Gal. 5:17; Rom. 8:12-13; Col. 3:5). The outward discipline that the Spirit custom designs for each of us is meant to bring us to accept God's "sentence of death within ourselves in order that we should not trust in ourselves, but in God who raises the dead" (2 Cor. 1:9; 4:10-11). This process is like pressing out the juice of grapes, leaving the "flesh" or pulp lifeless. Some Christians refuse to accept and carry this individual cross as Jesus continually bears His private cross (Matt. 16:24). Therefore they have to continue in chastisements from God for years (Heb. 12:5-6).
17. Children in human families learn to obey by being disciplined or trained by their parents, and so do the children of God. Divine discipline also is meant to bring us to receive the gift of repentance, so that we change our attitude and direction and return to peace and right relationship with our heavenly Father by sharing in His holiness (Heb. 12:10-11).
18. Sometimes angels must strongly oppose us, as the angel with the drawn sword blocked Balaam's path (Num. 22:22-35). An angel also wrestled with Jacob at the ford of the Jabbok (Gen. 32:24-31).
19. When the sons of God are revealed in the last days as those who "will shine forth as the sun in the kingdom" (Matt. 13:43), "the whole creation," including the angels and the redeemed in heaven, will share in "the freedom of the glory of the children of God." (Rom. 8:18-19, 21-22; Col. 3:4). Christians have received "the promise" of the Spirit (Acts 2:39), who brings forth Christ as that "Something better for us so that apart from us they [the redeemed in heaven and the angels] should not be made perfect" (Heb. 11:39-40; 1 Pet. 1:10-11). All heaven also awaits the victory Jesus won over Satan and his host at Calvary to be enforced by the overcoming church, so that all of God's enemies will be cast out of that part of heaven that they occupy (Eph. 3:10; Rev. 12:10-12).
September 2015
The Gift – Side Notes
Christ Jesus wears a golden girdle as the great High Priest to the Father (Rev 1:13).
The canopy is called the chuppah in Hebrew and means "a chamber." It represents the place in his father's house that the bridegroom in ancient Jewish ceremonies had prepared for the couple to begin life together.
The Lord Jesus comes not only as King but also as Priest according to the order of Melchizedek (Heb. 5:6)
Spiritual wisdom is primary among the Holy Spirit's giftings, for "all desirable things cannot compare with her" (Prov 8:11; cf. Isa. 11:2). Therefore she is represented by a crown of gold (Prov. 4:8 – 9; Ezek. 16:12).
Rings on every finger can mean that the sword of the Spirit (the living word from God) is to be fully grasped and communicated in writing to others (Eph. 6:17; Rev. 1:11, 19).
All of the eight gifts given here are manifested in some form of a circle, symbolizing that they are of the Father Himself and eternal, without end. God empowers these endowments to operate as the Christian follows the leading of the Holy Spirit (Heb. 2:4; Rom. 11:29).
The mysteries of God are those truths concerning Him that cannot be known except that He reveals them.
Women in Scripture who were childless felt great disgrace (1 Sam. 1:5-7, 10-11).
The Bible speaks of the Lord as the husband of His people (Isa. 54:5; Rev 21:2). The Father instituted human marriage on earth in order to prepare His children for eternal union with His Son.
All judgment has been committed to Christ Jesus, who alone has the authority to render righteous verdicts with divine mercy (John 5:22; James 2:13).
God says that when we are betrothed to His Son, we are "advanced to royalty" (Ezek. 16:13).
THE GIFT – FOOTNOTES
1. The Lord Jesus visited the apostle John in a vision while he remained on the earth at the Island of Patmos (Rev. 1:9). He was so overcome that he "fell at His [Christ's] feet as a dead man" (v. 17; cf. Acts 9:3-5). But later John was taken up into heaven in spirit where he was able to look upon the Lord Jesus as well as the Father on His throne without being physically overcome (Rev. 4-5).
2. The apostle John saw "seven [of the] angels who stand before God" to do His bidding (Rev. 8:2). We know that among the angels of His presence is Gabriel, who told Zacharias that he "stands in the presence of God" (Luke 1:19). These angels are chosen for this special responsibility (1 Tim. 5:21).
3. The colors of their robes signify that these angels stand in the presence of Christ the King (John 19:2-3). The golden girdles across their chests indicate their priestly service to God (Rev. 15:6).
4. "All that the Father gives Me will come to Me," Jesus said (John 6:37). The Father "gives" or betroths His children to His Son here on Earth at the time when each one is born again of the Spirit and enters the kingdom (John 3:3, 5-6).
For the Christian, the chuppah is "in the bosom of the Father" Himself. The Lord calls this "My Father's house" where His own on Earth are to abide in spirit even now (John 1:18; 14:2-3; 17:24; Col. 3:3).
The presence of the canopy symbolizes the fact that Jesus is coming from His Father's house in this instance. The chuppah itself represents the Father as signified by the word love.
5. Melchizedek was king of Salem and priest of God Most High eternally (Gen 14:18; Heb. 7:1-3).
The purple robe attests to Christ's royalty (John 19:2-3). The white robe with the golden girdle across His chest signifies His priesthood. Jesus appeared to the apostle John in the same white robe with the golden girdle. (Rev. 1:13).
The crown He wears covers the top of His head in filigree work of gold. It is similar to the ornamental crowns placed on top of the Torah scrolls, the written Word of God in synagogues. The Lord Jesus is the Word of God (John 1:1).
6. The dictionary gives the meaning of human wisdom as knowledge of what is true or right, coupled with just judgement in applying it to obtain the desired results. But "the wisdom of this world is foolishness before God," for natural wisdom is hopelessly flawed by sin (1 Cor. 3:19; 1:20).
The wisdom of God the Father from the beginning has been encapsulated in the person of His son (1 Cor. 1:24; John 1:2). Those who receive Christ Jesus are put into Him by God, so that the Son becomes for them all things including divine wisdom (John 1:12; 1Cor. 1:30; Rom. 8:32).
7. The dictionary defines human knowledge as acquaintance with information learned from study or from experience. Golden earrings signify the divine knowledge from the Father that Jesus receives for the Christian. Christ said that "He [God] awakens My ear to listen as a disciple…and I was not disobedient" (Isa. 50:4-5).
The Holy Spirit reveals to the disciple the knowledge the Lord Jesus has received for that person (1 Cor. 2:10-11). One category of such knowledge is the spiritual gift called the word of knowledge (1 Cor. 12:8). It is a direct disclosure of knowledge that was not seen, heard, or thought by the Christian (1 Cor. 2:9).
Another area of supernatural knowledge is the disciple's conscience where the Spirit reveals what is in accord or not in accord with the life of Christ in that person (Rom. 9:1).
8. The human definition of understanding is insight or comprehension with the mind of the meaning or the significance of something. The golden heart hung on a chain over a disciple's heart represents the spiritual heart of Christ being reproduced in that person (Song of Sol. 8:6). King Solomon asked God for an understanding heart to administer justice in the natural realm (1 Kings 3:9, 11). The Christian is given a spiritually-minded heart to understand things of God in the supernatural sphere (Ezek. 11:19; 1 Cor. 2:14; Isa. 6:10).
The renewed human spirit is to know intuitively in the conscience when some thought, word, or act is from God or not, but the heart is to understand its meaning. What the mind or the spirit cannot understand, the heart does because it is the seat of faith by which we understand spiritual things not seen (Heb. 11:3; Rom. 10:9-10).
9. One of the meanings of human discretion is the capacity to act judiciously, being circumspect in exercising sensitivity regarding the effect of one's conduct.
The main Hebrew word for bracelets is derived from a root word meaning "to bind or join". Bracelets on the wrists of the Christian signify being bound or attached to The Lord Jesus (1 Cor. 6:15, 17).
In New Testament times, prisoners were bound to their guard by a chain around their wrists (Acts 12:6-7). Paul considered consecrated disciples to be willing prisoners of Christ Jesus (Rom 16:7). As such we are to be restrained by the Spirit in not being able to do or say what we please, but are to act as the Spirit leads (Gal. 5:17-18).
10. The dictionary defines discernment as the faculty to make distinctions accurately between things.
The nose ornament is a symbol of spiritual discernment because the nose instantly recognizes the presence of an odor. It distinguishes between pleasant and offensive smells without reference to the mind or to sight (Ezek. 16:12; 1 Sam. 3:9). Discernment is meant by the common expression, "Sniffing out a matter".
The first thing to determine in spiritual discernment is whether the matter at hand is of God or not. If it is not of God, the next distinction is whether it is of the flesh (coming from the natural person) or of Satan (demonic). This spiritual gift can be a manifestation of the Holy Spirit called the distinguishing of spirits. It enables believers to identify the kind of spirit that is operating in a particular situation, group or person (1 Cor. 12:7, 10).
11. In ancient Jewish betrothals, for the right to marry the girl, the groom's family gave gifts – called the bridal price (Gen. 24:53; 29:18, 26-27; 34:11-12). The giving of money or some other gift of value constituted the engagement to be married. In more recent Jewish betrothal ceremonies, the groom gives the bride a ring and says "Behold! You are consecrated to me with this ring according to the Law of Moses and Israel."
When one is betrothed to the Lord Jesus, a spiritual ring on the finger is a constant reminder that one is consecrated (set apart) unto Him. It also represents His pledge of faithfulness to endow the person with spiritual gifts and grace needful to carry out the Father's calling upon that person.
12. In the Bible a golden necklace is an emblem of authority for a person who is under greater authority (Gen. 41:42; Ezek. 16:11). An example is King "Belshazzar [who] gave orders and they…put a necklace of gold around his [Daniel's] neck giving him "authority as the third ruler in the kingdom" (Dan. 5:29). The neck represents the human will, either in yieldedness to authority or in being obstinate and stiff-necked (Prov. 1:8-9; Matt. 8:8-9; Acts 7:51). The Father gave His son authority over all things (Matt. 28:18; John 3:35). However, the Lord Jesus humbled Himself always to the authority of the Father's will (John 5:30).
Because of His love and respect for the Father, Jesus feared to ever act independently of Him, but found delight in obeying Him (Ps. 40:8; Isa. 11:3; John 5:19-20). Christians will find rest only in having the same yoke about their necks (Matt. 11:28-30).
13. The betrothed, Rebekah, asked the servant, "Who is that man walking in the field to meet us?" The servant said, "He [Isaac] is my master. Then she took her veil and uncovered herself" (Gen. 24:65). It was a custom in early times in the East for a future bride to be, set apart until she was married. A disciple of Christ accepts the spiritual veiling of one's whole being in consecration to Him (1 Cor. 6:19-20).
The word for favor is usually translated as "grace" in the Bible. The veil of divine favor (grace) surrounds those who embrace their consecration to Jesus. Each can say (with David) "You surround [me] with favor as with a shield" (Ps. 5:12).
14. Through his servant, Abraham gave gifts to Rebekah, the betrothed of his son Isaac (Gen. 24-53). Our Father God gives gifts of His splendor through His Son to those who welcome their betrothal to Christ Jesus (James 1:17). These presents cause the bride to be "exceedingly beautiful" in God's eyes. He said that the "Beauty [is] perfect because of My splendor which I bestow on you" (Ezek. 16:13-14).
15. The author of the Book of Hebrews says that Psalm 45 is about God's son (Heb. 1:8-9). It is a wedding song of the marriage of Christ the King and His bride. In Psalm 45:13 the bride is described as "all glorious within". This refers to the "hidden person of the heart, with the imperishable quality of a gentle and quiet spirit, which is precious in the sight of God" (1 Pet. 3:4).
16. King Solomon asked God to "give Thy servant an understanding heart to judge Thy people to discern between good and evil." God said to him, "Because you have asked this thing and have not asked [things] for yourself…I have done according to your words… [and] I have also given you what you have not asked" (1 Kings 3:9, 11-13).
17. The supreme mystery of God is Christ who incorporates all other divine mysteries within Him (Col. 2:2-3). The mystery of the ever-expanding love that is manifested in Christ is the greatest mystery of God. It can never be fully known (Eph. 3:17-19; Luke 10:22).
18. "Rejoice, barren woman who does not bear; Break forth and shout, you who are not in labor; For more numerous are the children of the desolate, than of the one who has a husband" (Gal. 4:27; cf. Isa. 54:1).
19. Adam was "a type of Him [Christ] who was to come" (Rom. 5:14; cf. Gen. 2:24). Husbands and wives on earth are to become "one flesh," meaning that the two think and act as one. In full union with Christ, the betrothed one becomes one heart, one soul and one spirit with Him (Ezek. 11:19; Acts 4:32; 1 Cor. 6:17).
The Bible calls Joseph the "husband" of Mary. After their betrothal they were considered married but without the physical consummation (Matt. 1:19). This is also true with the betrothal to the Lord Jesus. (2 Cor. 11:2).
20. In two instances of betrothal in Scripture, the groom places his garment over the intended bride.
(1)
God spread His skirt over His people of Jerusalem that His love might cover their nakedness (the exposure of their sinful nature) (Ezek. 16:8; 1 Pet. 4:8).
(2)
The widow Ruth asked her relative Boaz to spread his covering over her as a sign of his willingness to be her protector as redeemer (Ruth 3:9, 12-13; Deut. 25:5-7).
Jesus as our head covering in betrothal means that we walk under His favor, protection and authority. This is so that our "minds should [not] be lead astray from the simplicity and purity of devotion to Christ" (2 Cor. 11:3).
21. The passionate heart of Christ for His betrothed ones is represented by the ardor of the shepherd for the maiden in Song of Solomon 4:9. "You have made my heart beat faster, my sister, my bride. You have made my heart beat faster with a single glance of your eyes."
22. "…the boastful pride of life, is not from the Father but is from the world [system ruled by Satan]" (1 John 2:16). Pride is claiming for oneself glory that belongs to God (John 5:44). All glory belongs to God. He has said, "I will not give My glory to another" (Isa. 42:8).
The Son of God "is the radiance of His [Father's] glory," but He did not claim that glory as His own (Heb. 1:3). It remains the Father's alone.
The light of God's glory shines within the hearts of disciples, but it is not their possession (2 Cor. 4:6). They are "reflecting" it, as in 2 Corinthians 3:18, where "reflecting" is the better meaning of the Greek word usually translated "beholding".
23. Isaiah spoke of abstaining from the pointing of the finger," which means passing judgement on other people (Isa. 58:9).
24. David said the same thing to Saul when the king offered his daughter to him in marriage: "Who am I…that I should be the king's son-in-law?" (1 Sam. 18:18).
25. "What do you have that you did not receive?"(1Cor. 4:7). "Every good thing bestowed and every perfect gift is from above, coming down from the Father of lights" (James 1:17; John 3:27). Even our own beings now are a gift from God because His Son purchased us on the cross of Calvary from our former master (1 Cor. 6:19-20; Rev. 5:9).
26. "Pharaoh king of Egypt had…captured Gezer…and had given it as a dowry to his daughter, Solomon's wife" (1 Kings 9:16). A bride's dowry is the material wealth that she brings to the marriage.
There are no riches that anyone can give to God's Son whom the Father "appointed heir of all things" (Heb. 1:2). His Father owns "the earth and all it contains" (Ps. 24:1).
27. The linens to which God refers are the white, finely woven linen robes such as those worn by the Aaronic priests (Lev. 6:10; Exod. 39:27). These garments represent the righteousness of Christ with which "it was given to her [Christ's bride] to clothe herself in fine linen" (Rev. 19:8; cf. Isa. 61:10; Rom. 3:22). Fine linen symbolizes righteous acts that the Holy Spirit accomplishes through the saints to glorify the Lord Jesus (John 16:14; Rom. 15:18-19).
August 2015
Bob Jones' Interpretation Of The Dream Of June 30th, 1995
(This relates to the pink house and its contents. Pink, of course refers to that which is occurring in the flesh.)
Anna: (speaking to Bob Jones) It looked like a box.
Bob: Jerusalem. That's the way they look in Jerusalem. They look like a box. The waves off the side of the cliff are humanity. Ships represent leadership…leadership chained to humanity. The buildings will be as high as they are wide. They are square….like 15 feet wide and 1 5 feet high and 15 feet long. The heavenly buildings are like that.
Wood speaks of anointed flesh. So the treasure that you saw was the treasure of the past. But the sons of thunder—their mother made a request of the Lord that "my" sons sit at your right hand and your left hand. Jesus said: "it is not Mine to give." Then He said: you don't know what you asked– for this is required of me. You've got to drink of My cup. They ( the sons of thunder) said: "Lord we can do it." And so they did drink of His cup. They could do it. I've never heard them preach on that. James was the first to be martyred—killed like Him, wasn't he? John remained behind to live for Him, didn't he?
So they did live in this persecution, didn't they? So—those were old cups, weren't they? ….that men did drink out of, didn't they? And so men did drink. The church was birthed on persecution. And there is something old and something new that comes in the wedding. This was the treasure of the church…of the early church.
These are treasures that religious men have usurped. This speaks of coming into the property that the soul has taken over. The soul in our churches has no vision of persecution and suffering. But the LAST DAY CHURCH will come out with great suffering. And so, those are the cups. Can we drink from them? It is only those who will drink of them—(the leadership that was not chained to humanity in the dream) that will no longer be chained. So they are not coming through the system…but outside of the system.
But the system—that which controls—has got to give up and bring a new wedding. And what you were seeing was that those who really owned it were coming "into their own." They had inherited that "stuff". The spigot that was sitting on the floor was the widow woman's spigot. They brought vessels from many churches and they got oil from it. It was the oil to keep her son from slavery…religious slavery.
But isn't that in the treasure of our past? Didn't that spigot continually run oil so that everybody that had a vessel had them filled? And it ran the best of the oil….the best for light and life—for well-being which speaks of the Spirit. And hasn't the church usurped the authority of the Spirit?…..and put Him out? But when the Spirit—the spigot of oil—comes won't the spigot run continually then? And who will it touch?
FLESH …."I'll pour My Spirit out on all flesh." And so did the early churches die in the spirit or did they die in the flesh?
Anna: The flesh.
Bob: Dying in the flesh is easy. It's living in the soul for Christ that's hard. So can we drink of His cup? Yes, we can.
Albert: (my husband) He told them they could.
Bob: And we can too. We do drink of His cup of what we see going on in this world. Every time you're grieved….for sin grieves God, doesn't it? You see, I saw satan's trophy room and so many things of God were there in his trophy room….and he usurped it. They have usurped so many things through knowledge….the tree of knowledge….and taken away from us….but they are all there in scripture. That old dead piece of stick is there in scripture—when Moses lifted it up. There are all kinds of vessels in scripture and we are many different vessels, aren't we? There are awesome treasures there, aren't there?
(Speaking of the table in the dream) The acacia wood is probably what you thumped…..thorns like a locust.
Albert: It does have thorns.
Bob: That's what they made the ark out of. So you were testing the wood of the table of the Lord. So this table of the Lord was really the communion table of God. Here is where He communes with His people. Here are the cups where He communed with them. The sopping cup of the Last Supper was there.
And can we drink from His cup? Of course, we're going no place until we do…and don't we continually?
Albert: Where else do we have to go? Is there any other option?
Bob: The righteous will absolutely suffer persecution—that's drinking from His cup. And are we not persecuted and brought low by the world every day? We're made fun of.
But where she was and what He's bringing back to the church—what she saw there—I'd study to find out what that letter means in Greek. You've got a letter there—did you notice it? Turn back (He was talking about turning back to the beginning of the dream as it appeared in the journal originally) and look at that letter. That house is shaped in the form of a letter. I'm just wondering what the letter for Koinonia (Greek for fellowship) is? See that letter? That's a love letter to the bride in the book of Revelation, is what that is. I know for me, the thing it makes is a "k". In these things, the width and the height is always the same. It's a cube….so is that.
Al: And you remember those scriptures.
Bob: That's a gift. You surely have seen that I can't even remember my own name at times. But when I get into something like that (looking at a dream or vision) a gift starts operating. That's a gift that's quickening those scriptures to me. Jeremiah 9:23-24. "Thus says the Lord, 'Let not a wise man boast of his wisdom, and let not the mighty man boast of his might, let not a rich man boast of his riches; (24) but let him who boasts boast of this, that he understands and knows Me…'"
Al: We're reading where Solomon goes astray.
Bob: Yeah, he married all those foreign churches. Nehemiah would not. Why not? It came through his mother's blood line. She knew that the only one who could see her was King David. So she presented herself to him to tempt him. David got all the blame for it and took it because he was a man—but Bathsheba was presenting herself nude…presenting her body to him knowing he was up there. So it came on down into Solomon. So Solomon said, there are several things I don't understand and one of them is love. I don't understand the difference between love and sex. So they could get to him because all he was after with a woman was sex. So he did not have a compatible companion. So he was always seeking it in a new conquest, wasn't he?
Albert: He had one thousand wives and three hundred concubines.
Bob: He was one busy man.
Albert: That shows you that he didn't know what love was.
Bob: And therefore in searching for it, he never really became holy. So he really didn't seek after righteousness and holiness did he? He went the way of perversion. In that perversion, he tells what he didn't understand in scripture. So his wisdom was of the earth, wasn't it? It wasn't a godly wisdom. But, it was an earthly wisdom.
Albert: He knew a lot about the things of the world.
Bob: He asked God for the wisdom to deal with man, didn't he? So he was brilliant, wasn't he? Did he have godly wisdom? Only when he sought it. And he was a cruel ruler. And he didn't have compassion for anything that wasn't a Jew. He put everything to the whip except the Jews.
So he didn't know God's way and he didn't have God's wisdom. He had the greatest wisdom that man has ever had—and so who did they give the credit to? They gave it to Solomon—the wisest man that ever lived.
Anna: They gave it to Solomon and not to God.
Bob: So who is the church giving the credit to now?….the charisma gifts. Who looks so foolish to the church (this is speaking of himself for he was often mocked) he can't talk straight so that we have to answer for him. He's always making a mess of it.
But wisdom comes by the fear of God, doesn't it? Over a period of time that wisdom begins to bring in the proper application of it—which is understanding. And real understanding is fear God in all your decisions. I think you can only get understanding from Him. So you'll notice when I'm trying to interpret a thing in understanding, I'm quoting scripture to you. So I don't think we're going to get any understanding at all apart from scripture.
The thunder that's coming, we better understand it. And we better understand it by the Word. We better filter it through the logos. Then with the understanding of it we better totally obey it.
Albert: All the treasures of wisdom and knowledge are in Christ Jesus—of the things that are really valuable.
Bob: (speaking of the buffet table in the dream) That's the Lord's table, that's who that is. The Lord is the buffet table. So that's really the Lord isn't it? And all of His goodies are there. Everything there is Christ—His cup—His spigot. That's where the oil ran out. When the prophet prayed for it, the oil never ceased, did it?
So prophets play an important part in this thing. But the vessels are of the Lord and the prophet must remember that He must be the Lord's vessel for the oil to pour through it. And he's got to have that wisdom and understanding. So knowledge to me is an invitation and wisdom is the application—but understanding is the ''know-how''.
Albert: And the prophet can't be controlled if he wants to stay a true prophet.
Anna: Understanding, what brings it?
Bob: It's a gift that works through the Word. Then all of a sudden it is like a key that begins to unlock. Here's the beginning of it. Here's the next meaning and the next thing you know you can interpret every bit of it yourself. So that's why you need an old eagle who can teach you to understand. And the understanding is: "Look at it." Turn it every which way. If you've got a diamond, you've got to look at it from every aspect. Turn it in every way and then "ah" this is the direction its saying.
So you knew it was a house.
Anna: But I didn't know it was a letter.
Bob: Well, you didn't turn it. But once attention is drawn to it, the next time you'll know it. So with revelation I turn it every direction I can. And all the time praying for a scripture on it…..for its got to be filtered out of the logos.
I personally think you're talking about the house of Koinonia. That's a "K". The house of "k" or friendship. That's what you saw was the friend's house. It was a friendly house of beauty.
Anna: It was a beautiful place inside.
Bob: You know what bothered me? There were no windows in it. There must be windows in it….those are prophets. But again, the House of the Lord has no outside glory. The glory is within. In every vessel the glory would shine. It doesn't look beautiful to mankind on the outside. That was Him, wasn't it? The Friend. Was He beautiful on the outside? The Word says that He was not: (Is 53:2-3) "For He grew up before Him like a tender shoot and like a root out of parched ground; He has no stately form or majesty that we should look upon Him, nor appearance that we should be attracted to Him. He was despised and forsaken of men, a man of sorrows and acquainted with grief; and like one from whom men hide their face He was despised, and we did not esteem Him."
The "K" is for Koinonia….the coming forth of the House of Friendship—-the friendly house. You'll be joining the House of Friends up on the mountains.
July 2015
Bob Jones On The Root Of Bitterness
(This was told me in June of 1995.  The story he is telling is from his own experience with a root of bitterness.)
Bob: In '82 I was in a place (he is speaking of a certain church with which he had a connection. This is not Mike Bickle's church.  This experience came before he even knew Mike.) and He told me to go resign being a prophet and to put my mantle on another young man and go home and sit.  A man in his obedience removes the mantle.  It is not of his doing.  It's the Spirit.  So I did that and Viola (his first wife who died) and I thought we could go back to that same church and we'd sit on the back and maybe get away with it.  So I walked into the church the next Sunday after doing that and saw a woman I'd prayed for who was having a miscarriage—and she stopped and the baby was born healthy. She always came and laid that baby in my hands.  But that Sunday she said: ''Will you get out of the way?  You're always in my way. You're always standing here."  Then the pastor came and said: "Bob you sure are distracting things.  Would you mind going and sitting down?"
So we sat down in back and there were two or three "words" coming in prophecy at us that were critical.  And I said: "God what's happening?" And He said: "I'm helping you leave, Bob. I told you to and you came back.  Now I am helping you." I said: "I heard you, Lord, don't help me anymore."
So—I went home in August.  I was praying sitting out on the back porch—praying. And I said: "I am sick here at my stomach.  I am sick here from this abortion stuff.  This is really bothering me  and I'm really hurting all over and I'm hurting inside like I've never hurt before….and from my own sins I'm hurting, Lord."
And I saw like two fingers coming out of the West and they came and hit me right in the eyes and I fell back on the divan.  When I opened my eyes I was blind.  I have no idea how long I was blind, but I was blind quite a while.  I was wondering if this was a stroke or something.  So I just sat there. I waited and just sat there and wept.
After a while, my sight returned to me…and He began to speak to me about a new group of people He was going to bring…and He began to speak to me of a root I had in my heart and He said: "Pull it out."  So I got a hold of it like a root that had suckers on it and I tried to pull it out.  When I did I'd almost faint.  He kept saying: "Pull it out, Bob." And I'd say, "God, I can't."
I know now it was on the Day of Atonement when He came.  He said: "Can't get it out, huh?"
I said: "Oh, Lord, I need help.  That thing hurts so bad and I'm rooted into the earth—the worldly things.  It hurts so badly."
He said: "Dear friend, I've come to help you.  He reached down and 'took–a-hold- of' the root in my heart with both of His hands and He just began to pull it out. I was in the spirit but I fainted in the spirit.  And He began to pull the thing out…and it had root systems. It was all over my body like a ROOT OF BITTERNESS. It was a bitter thing.  I'd grown up in bitterness (it was usual for those that came from his part of the country to hold grudges and seek vengeance–). On the ends of the roots were knots…and they were so hard to pull out without the help of God.  And what He pulled out of my heart was a ROOT OF BITTERNESS.
So what I'd done until that time, I'd kept all that bitterness cut down like a sprout.  But I couldn't get the root out.  And when He pulled the stump out, He pulled my memory out with it.  I couldn't remember a week past.  People would come and say: 'Do you remember this or that?' Before, they were talking about un-forgiveness and hurt and pain.  Now there wasn't any memory of it.
So He pulled out the whole root system. Then He started speaking to me about young people coming—and what they were and everything. So I filled it in with that. (Instead of seeking the Kingdom of God and His righteousness, he filled his thoughts with the coming young people with whom he would work.) I kept filling it in that God was bringing a group of young people…He's told me that since 1975….and I filled it in with that.
God said: 'You must watch that because that is fertile ground for another root to grow.  But it won't be of the past…it will be the present. With the persecutions and everything that's going to happen, you must watch the root system and keep it daily pulled out.  Keep the weeds pulled out of your heart daily.'
You see, anger over a length of time gets more anger in it—then your imagination adds to it. It becomes bitterness.  When bitterness comes into you, you start looking for anything that will keep you alive until the next day….anything that will stimulate the soul to try to live.  It was sin—and that sin was anger and bitterness."
Anna:  "But Bob you understand."
Bob:  "I think that understanding came because I had no man to understand and I had such a hunger for it. I just kept seeking Him and at different times He'd give me an understanding on a different level. In all the persecution that I went through, He'd excite me because the things I'd been asking Him for years—what it really meant–, He'd give me the meaning of it.  I'd get so excited in the time of persecution I wouldn't have time for the persecution….because of what He was saying.  I'm still having it now.
But those fingers (he held up his index and second finger toward me in illustration of these two fingers going into both his eyes) hit my eyes and they began a new thing in my life.  These fingers are used to plant seeds in the growing cups. Life."
June 2015
Interpretation Of The Vision Of June 28
I am giving to you the interpretation of one of my visions that Bob Jones very kindly explained to me in June 1995. This vision is not only valid for the present, but it is such a great teaching tool that I wish to share it with all of you. In this way, you will be receiving instruction from a very mature prophet. (If you have not seen the vision on which this interpretation is based, it is shown under the section set aside for "PERSONAL MESSAGE".)
Bob Jones talking: "The gold stamens mean a pure mind. Those who come to this mountain (speaking of the mountain on which years later I would live) will have a pure mind. But everything must be built on 2nd Peter 3:1 out of a pure mind…the gold mine of God. 2nd Peter 3:1:
"This second epistle, beloved, I now write unto you; in both which I stir up
your pure minds by way of remembrance." (KJV)
Anna: "I could see myself falling from a great distance into the flowers."
Bob: "So we fall from where?" he asked. "From here (he pointed to his head) to here (he pointed to his heart.) So you see how far we must fall?…from THE SOUL to the SPIRIT. You were falling. You don't fall really in love with Him in the head. You are too soulish. You fall in love with Him in the Spirit. The head, then, begins to vote for the Spirit."
Anna: "But as for myself, I fell again and again."
Bob: "But that's exactly what you've been doing…and the others have been. Since that meeting up there in Moravian Falls, even youth have really begun to move here." (he points to the SPIRIT.)
Anna: "The landing was soft and no one seemed afraid."
Bob: "Isn't it? We think it's a terrible landing, but it's beautiful isn't it? "This" (he points to his head) "is hard, isn't it? This" (he points to his belly) is soft, isn't it? Can you imagine falling on your Daddy's stomach?"
Anna: "At first the people came down like a few drops of rain. Then they came down like a downpour."
Bob: "Right."
Anna: "The people were caught in the flowers—but then the people began to spill over the flowers…"
Bob: "You see, the first ones don't spill over."
Anna: "That's right, they didn't."
Bob: "But they do prime it."
Anna: "That's right, like priming the pump."
Bob: "So the pump is being primed through Rick (Joyner) and other ministries that have been on fire since that time (a meeting of several ministries that occurred in Moravian Falls). And they are already going through the whole earth right now priming everything else. A lot of things that I've shared are now like priming things."
Anna: "On them was the pollen from the large flowers on the mountain."
Bob: "Whose pollen? They got it off the flower…the Rose of Sharon. So they were carrying honey—which is the good word of God. That's what pollen is. Bees make honey out of pollen."
Anna: "Where the people ran, a flower was left in the footprint."
Bob: "Fruitfulness."
Anna: "then the flowers like those on the mountain covered the earth."
Bob: "…the revelation of it. You see it blossomed when you get the revelation of it."
Anna: "…blowing."
Bob: "…the shofar. God is blowing the shofar now…Zechariah 9:13 and 14…'.storm winds of the South.'": Zechariah 9: 13 and 14:
13 "For I will bend Judah as My bow, I will fill the bow with Ephraim. I will stir up your Sons, O Zion, against your sons, O Greece; And I will make you like a warrior's sword."
14 "Then the Lord will appear over them, and His arrow will go forth like lightning; And the Lord God will blow the trumpet, and will march in the storm winds of the South."
Bob: "God is blowing the trumpet…. God declaring His time. So the heavens are declaring Poppa's timing."
Anna: continuing the give to Bob the parts of the vision: "their vibration shook the whole earth."
Bob: "That's Isaiah 66:2: 'those who tremble at My word.' Bob continues: … "but to this man will I look, even to him that is poor and of a contrite spirit, and trembles at My word."
Anna: continuing the vision: "Then lightning flashed across the sky and thunder rolled."
Bob: "Lightning—His power. Thunder, His voice."
Anna: "then the Aurora".
Bob: "His beauty is rainbow colors."
Anna: continuing the vision: "…burst across the whole sky."
Bob: "God's covenant was revealed in the heavens."
Anna: "Christ on a white horse…"
Bob: "The white horse is a pure movement of the Spirit. The merry-go-round goes up on top of that ridge. You see the merry-go-round has no beginning or end but goes worldwide. It has a worldwide spin. It's like what you're saying. It's like the flowers. I was told I'd never ride the white horse. I could not control the white horse—but others are able who are apostolic. You see, I've always had to run with the white horse. But the pappas are coming which will direct the movement—which I am not. But, I'm the one that motivates and keeps the white horse alive. I've got the reins. A lot of times the apostle doesn't have the reins in His hands. I've got the reins. But I have to walk beside of it…and keep it in the flow. That is my purpose."
---
I have shared with you Bob Jones' interpretation of the vision of June 28, l995 that is shown under the section: Personal Message. This is the interpretation of a prophet that is at the height of his gifting. He taught me and now he is able to teach you. It was a rare gift that I was granted in my life. It is even rarer that this was recorded and now can be shared with you—so that he may teach many, many more of God's children.
May 2015
THE FIRST OF THE TRANSCRIPTIONS: BOB JONES
Here are the first of the transcriptions to share with you, my friends. I am giving these to you as they came to me-literally. My husband, Albert, and I were interviewing Bob Jones. The one transcribing added all of our little reactions, etc. I did not expect her to record these…but now, I am able to see their worth in helping the reader to be a part of the exchange. There was a good deal of unrelated chatter before we asked him about the first time he remembered experiencing the supernatural.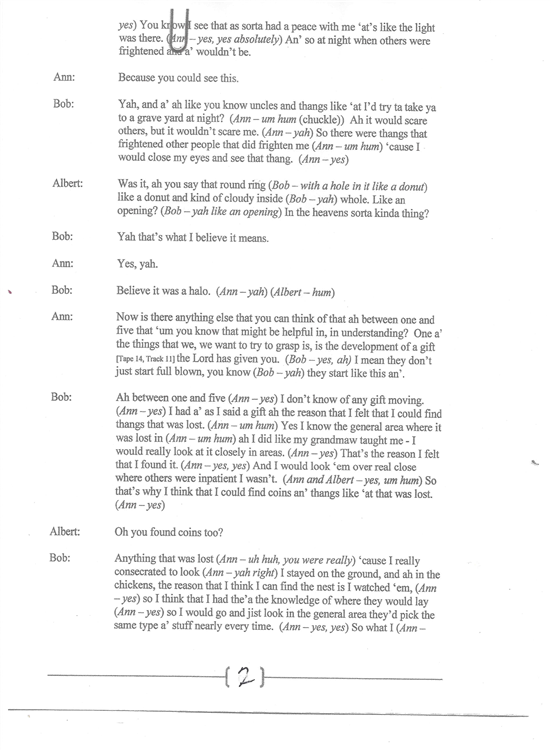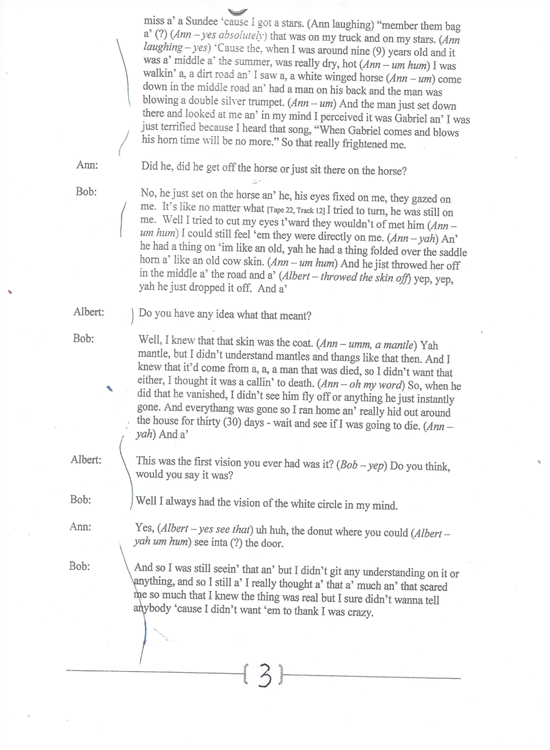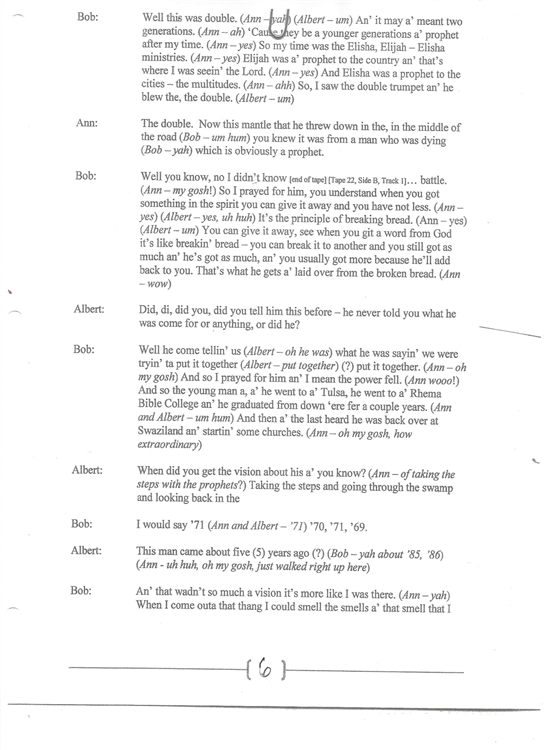 April 2015
Teaching On The Mountain Of Spices
In all of these entries on the web-site I am trying to share exactly the process that occurred while I was receiving the revelations (many of which are in the books THE HEAVENS OPENED, THE PREIESTLY BRIDE and HEAVEN AWAITS THE BRIDE). It is always helpful to have the results shared with the body of Christ; but sometimes it is also helpful to see the inside workings of the end results. Such sharing rarely happens—but I find it most helpful when it does—I hope you do, also. Here are the notes from my journal of 1995 as I attempted to understand the revelation of THE MOUNTAIN OF SPICES.
March 2015
Looking At Something In A Different Way
I was showing Bob Jones one of my drawings at one time. He took the page and turned the picture round and around. I asked him what he was doing. "When I see something—whether it is on a page or in a vision, I turn it around on all sides to see if that helps me to understand what is being said." In many ways, that is what these particular angels do. We've all been stuck in a problem because we continue to run around the same mental track each time we approach the matter. These angels help us to take a side road in our minds, etc. They help to "unstick" us so that God's life can flow in that situation again.
February 2015
The Picnic
I am typing the handwritten text for the vision that I call The Picnic. When you reach the drawing for the picnic, the center fold of the journal makes a dark line in the center. Also, remember, this revelation is 20 years old and the journal passed through the fire that burned down our house and the water that the fire department poured on the structure trying to save it. Many of the angels you have seen earlier on the website. I will start at the far right and name those at the picnic. Anna (me) is sitting to the extreme right. Next-moving clockwise- is Boaz, then Jachin (found in May 2013 under angels), then one of a group of five guards (air, earth, fire, water, and under the earth), this one is Fire. Then the angel Phyllis ( She is found in the section on angels in February 2014). Then the second of the guards: Earth. Next to Earth sits Chuckles or as Bob Jones called her: Emma the angel of healing (December 2012 under angels). Barely seen on the far left side of the picture is Cerise, (an angel of Zeal). Turning the curve in the circle is Judy, the angel of Praise (found under angels in July 2014). Next to her is The Angel of Promises (found under the angel section in February 2013). Sophia, the angel of Wisdom sits next to him (found under angels in September 2014). The angel Daniel is next. (He is found in angels, June 2014). Sitting next to him—but behind Daniel's staff is the guard Air. Next to him is Heather (remember she is formed from the mist of the Hanging Gardens in Paradise –which are found in October 2013). Next to Heather is another guard: Water. Beside Water sits the angel Aaron with his staff. Then next to the Angel Aaron is Tacti (another guard—this time for under the earth.) The last angel shown in the picnic—sitting right next to me on the far right is the angel Clara (found in angels March 2014).
VISION: September 3, 1995
I traveled the tunnel rather listlessly. I had been ill and still was not too "up-to-par".
At the mouth of the tunnel in Paradise stood my angels (those angels assigned to me while I am on earth). "Don't despair, Anna. Let's have a picnic," the angels said. Jachin and Boaz were on either side of me. We were quite a little troop going down the path.
"We knew you'd be coming and have it prepared already." They said.
[We went to a location near the terraced waterfall. A picnic cloth was laid out under some lovely nearby trees (although it wasn't to shade us from the sunshine, as on earth—more like a canopy).
"Heather," I said, "works here. Could she join us?"
"Of course," said Clara—and went over to the waterfall and called her. Heather formed from the mist and the two talked a moment and then she came over with Clara.
"Heather," they all said and all the angels hugged her.
"I'm so happy to see you," she smiled.
"Come sit with us," Aaron said, "Right near me," added Daniel in a grandfatherly way.
[There was a feast laid out—of fruits, nuts and sandwiches, breads, olives and a thin wafer-like stuff piled high in the center of the picnic cloth. The cloth was red and white like so many picnic cloths on earth.
Daniel said: "All of this bounty comes from our God and He is generous in sharing His bounty with us."
The angels burst into a song of praise and thanksgiving. Their hands were raised and their faces turned up. Their hands were touching one another. As they sang, it was like electricity or fire or intensified light. The song climbed the scale and climbed in intensity. Then it was over and the blinding light subsided and we were ready for the picnic.
[The picture shows a donut of light with their feet or hooves barely seen at the bottom.]
"Take what you'd like, Anna," Cerise said.
I reached for some bread and bit into it. It tasted sweet and nutty and fruity. They all watched me before starting.
"This is good," I said. They smiled and nodded to one another. "Are you going to eat?" I asked.
"Oh yes," they said and reached for the wafers in the center of the table cloth.
"Mmm, heavenly," said Chuckles—and we all laughed.
"So, how have you been, Anna," asked Jachin.
"Not too well. I've been sick."
"Are you feeling better," inquired Boaz.
"Much better."
"But how is your spirit, is what Jachin meant," said Aaron.
'Well, I don't know,' I answered. I've been 'thrown off 'by this illness. I wish I didn't need to be ill.'
'Are you following the guidelines set down by your Father?' asked Phyllis.
'No,' I answered, I can't say I am.'
"Don't you think it would be wise to do so?" asked Sophia.
"Yes," I said, "I've been remiss."
"Your Father has given you a period of time in Florida to get work done and to get your life focused on Him and away from the world. But He also wants you to follow His guidelines as a preparation," said Judy.
"Preparation for what?" I asked. [At this period of time I had no idea that He would ask me to write books based on the revelations He had given me.]
"That is not for us to say," Cerise said.
"He wants obedience from you, Anna," said Aaron.
"Careful obedience," said Daniel.
"Absolute obedience," said Heather, and they all laughed.
"Yes, absolute obedience, otherwise that which is ahead of you will be too dangerous," said Clara.
"Dangerous?" I asked.
"To the life and work or God in you and through you, Anna. If one is on a dangerous trail, one listens very carefully to the trail guide—who has gone before." Daniel said.
"You are in a time of rest; clarification of direction and purpose, and preparation for that which is to come," Sophia said.
"Work as unto the Lord. Seek Him in all that is done. We are here to help you—and others will be called to step forth. They are with us and you, but have not stepped forth as yet," said Epaggelias (the Angel of Promises).
"We are here to protect you, Anna," said the five guards, "as well as be companions to you."
[The five are: Air, Earth, Fire, Water and Tacti (under the earth).]
"You have many friends—and more than you realize," said Aaron.
"How is bread made up here?" I asked suddenly.
"It comes together because we wish it. We think in ourselves that which we would like and it materializes. But manna comes from the throne of God. Did you try some?" [I did not write down which angel said that.]
"No—may I?"
"Please," they said.
It was like air….there wasn't anything there. It was white and so thin you could almost see through it—well, you could, but opaquely. They watched me as I put the wafer into my mouth. It dissolved in my mouth. There is no taste to which I can compare it—sweet but not sweet—nutty but not. It was full of flavors, yet almost air.
"It's good," I said.
"Yes," said Jachin.
"So, back to the question that was asked you. How is your spirit?" asked Aaron.
"I think I'm a bit distracted," I said.
"You must learn to work, but always, always…" Aaron said.
"Always," said Chuckles.
"Put communion with the Lord your God first. You have busied yourself with the work at hand. This is good. But, you have failed to stay in communion with your heavenly Father," said Aaron.
"He has asked you not to run off with the gifts, has He not?" asked Daniel.
"Yes."
"This is a quiet time when these variances can be corrected and the proper order and focus can be trained into your life." [I had to look up the word: variance. It was not a word that I ever used and I was not sure exactly what it meant. The meaning of the word is at the bottom of page 112. The meanings are: the state or fact of varying, difference or discrepancy; disagreement, discord, dissension, being changeable or having a tendency to change; (in law) a lack of agreement between two parts of a legal proceeding which should agree.]
Sophia continued: "Do the work at hand, but always, communion with your Husband (Jesus), your Father and your Friend must come first."
"There is much to do, Anna. The Lord has commissioned you as His Chancellor. Your first duty is to report to Him each day for
dictation. He has your training program all planned and only needs you to show up," said Phyllis.
"I have been remiss; but I thank you for your help."
[All the angels hugged me.]
"Are you getting tired?" asked Cerise.
"A little," I said.
"Time to return," said Cerise.
They helped me up. The cloth was picked up by its corners (by no one I could see) carried up and disappeared.
"No clean up," said Chuckles…..and we all laughed.
With arms around one another, we began to walk toward the tunnel.
"Good-bye," I said to Heather—and waved to her as we left.
"Blessings," the others said as we walked away.
[They began humming a song. The hum went right through me, inside me to my inner most being.
We walked to the mouth of the tunnel and just kept going—they with their arms around me and one another—like a small troop, we hummed in the tunnel. The tunnel seemed to glow with light more intense as we hummed. At the earth mouth of the tunnel, we walked through—and they were invisible—not gone—just invisible.
January 2015
Notes On Sense And Nonsense
1. "No eye has seen, no ear has heard, no mind has conceived what God has prepared for those who love Him—but God has revealed it to us by His Spirit. The Spirit searches all things, even the deep things of God…We have not received the spirit of the world but the Spirit who is from God, that we may understand what God has freely given us" (1 Cor. 2: 9-10, 12 NIV).
2. The natural or earthly-minded person comprehends things of the world. "Whatever is true, whatever is noble, whatever is right, whatever is pure, whatever is lovely, whatever is admirable—if anything is excellent or praiseworthy—think about such things" (Phil. 4:8, NIV).
3. Jesus of Nazareth walked and worked on Earth, but He lived above in His Spirit within the Father (John 1:18; 14:20). On earth He did not judge by what His eyes saw or by what His ears heard (Isa. 11:3). He relied upon the Holy Spirit to teach Him all things (John 14:26).
December 2014
Revelations Concerning Crystal Clear
As I have told you before, all angels do not look alike or dress alike or have identical duties.
Since they are spirit, they may appear in different shapes and clothing, with different voice inflections, etc. Usually, they appear in a particular shape, size and clothing. However, CRYSTAL CLEAR demonstrates the variety of manifestations used to better relate the Lord's message to a believer: a child. The angel CRYSTAL CLEAR is so named because the Lord teaches the truth through her in very easily perceived and unmistakable terms.
NOTES FOR THE REVELATION CONCERNING CRYSTAL CLEAR
1. Angels who minister to particular believers on Earth (Heb. 1:14) often have names that identify each one's function. All heaven is formed of supernatural light that is, substantial and transparent, reflecting the glory of God in everything everywhere (Ps. 8:1; Rev. 5:13).
2. There is no sea in heaven or on the new earth (Rev. 21:1), because the sea represents rebellion that cannot bring life but issues in death. The unbelieving peoples of earth are often represented by "the tossing sea, for it cannot be quiet, and its waters toss up refuse and mud." (Isa. 57:20-21; Jude 13).
3. His words are "spirit and are life" (John 6:63) to those who act upon them by building upon Christ the Rock as the foundation. But those who put their hope in anything that is built on the sands of Earth will see it swept away one day (2 Pet. 3:10).
4. "The world" is one meaning of the Greek word cosmos, which is used in the New Testament to denote the spiritual kingdom of Satan on the earth that is ruled by aggression, deception, lust, greed, murder, and pride (1 John 2:15-17); John 8:44; Rev. 12:9). All human beings are born into that kingdom with the spirit of evil working in them (Eph. 2:1-3). The only way to leave that kingdom of darkness is to be born again by the Holy Spirit into Jesus Christ (1 Cor. 1:30) and so be transferred out of this "world" into His kingdom (Col. 1:13). Jesus taught the lesson about building on sand in Matthew 7:24-27.
5. The "flesh" is one meaning of the Greek word sarx to denote the independent use of the earthly, outer person of soul and body. The law of sin in the members of the human body (Rom. 7:23) has also corrupted all natural expression of the faculties of the soul (mind, emotions and will). This expression is called the old self (Eph. 4:22), and "nothing good dwells in…my flesh" (Rom 7:18).
6. The copper in a penny gives it a sour taste in the mouth. Copper in Scripture signifies the righteous judgment of God against sin. The altar for animal sacrifice in the courtyard of the wilderness tabernacle was plated with a copper alloy, probably bronze (Exod. 27:1-2; Num. 2 21:6; 8-9). The only good we have in us as believers is Christ Jesus (Luke 18:19; John 15:5).
The angel CRYSTAL CLEAR imparts a powerful and refreshing blessing because the light from God flows through her hands. The angel Gabriel touched Daniel and revived him (Dan. 10:10, 16, 18).
November 2014
A New Day For Angels Also
The following conversation occurred on February 12, 2008 on earth.
The first interchange was with TUTOR. I will show you TUTOR under the Personal section. The main part of the exchange was with the SCRIBE. The Scribe records all that is occurring in a certain location here on earth. It is the SCRIBE that is pictured—even though he looks older and wiser than my artwork can depict him. These pages are right out of my journals.
October 2014
Angels As Signposts
Some angels not only deliver messages to us or assist us in the tasks at hand, but some are markers of great significance in our lives. They themselves are signposts. The very arrival of such an angel means that your life is about to make a momentous change. (The angel of the Lord appearing to Zacharias—John the Baptist's father—the angel Gabriel appearing to The Virgin Mary).
Often the first response to such an angel's declaration is that you come under a massive attack from the enemy.
WHY?
Well, with a higher calling or greater authority, an increase in the anointing is given to you. That increase in the anointing comes with greater light. The gathering of greater light to a person attracts hindering demons that seek to stop—even if only temporarily—the use of this greater anointing for the sake of the Lord's kingdom.
WHY DOES OUR HEAVENLY FATHER ALLOW SUCH AN ATTACK?
Remember that after His baptism Jesus was led by the Spirit into the wilderness (Luke 4:1b) where He was tested by the devil. His baptism and the anointing He received at that time were markers of the beginning of His public ministry. But first He was tested. The enemy tests the anointing and also tests us to see if there are any chinks in our armor. The Lord allows this testing.
WHY DOES OUR HEAVENLY FATHER ALLOW THESE TESTS WHEN HIS CHILD IS BARELY "ON-HIS-FEET" IN THE NEW AUTHORITY OR CALL?
1. It allows the child He is training to use the new authority—even if it is "baby steps" to rebuff the enemy.
2. The attack confirms something new and more dangerous to the enemy has occurred in the person's life.
3. It gives those who are being tested the chance to "test" their own spiritual armor. Remember, that David was outfitted for battle by the King in Saul's own armor. However, David took off the armor for he said: "I cannot walk with these, for I have not tested them." (1Samuel 17:39b)
DO SUCH ANGELS REMAIN ON ASSIGNMENT WITH YOU?
No.
WHY?
These are angels of great responsibility and authority. They are not personal angels or angels assigned to an area of the land or over cities, etc. Therefore, when the angel VICTORY appears, both his presence and the message he brings are important—(well, all messages from angels are important—but some messages are of greater significance.) But if he brings with him a symbol of authority, that symbol
adds additional weight to his visit.
THE DELIVERY OF A SPIRITUAL OBJECT
The angel VICTORY brought with him a scepter. Such an object in the natural would indicate authority. Here it is given—not only to the person receiving it—but receiving it on behalf of a group. If you have visited the web site or written to the address provided for you so that you may write to us and request prayer (these not only write, but receive a written answer) you know that we pray for you. The Lord has called a group of us to pray. Those that gather are giving of their time and of themselves to hear the Lord and pray His purposes—as well as for the requests we are laying before Him on your behalf.
The authority that is now given to us must be tested. Pray with us that we pass the tests.
WHAT DOES THIS AUTHORITY MEAN?
I am not sure. Although I have been a part of corporate intercession (and the others in the prayer group, also) I do not believe that I have been part of a group that has received a greater authority for prayer than that which is more than the anointing and authority available to all believers.
WHAT DO I THINK IT MEANS?
Well, I know what I would like it to mean. I would like it to be in prayer that which was spoken of Samuel about prophecy..(1 Samuel 3:19: "So Samuel grew and the Lord was with him and let none of his words fall to the ground.") In other words, he prophesied from the throne of God and God backed up his words. I would like very much to be so in the will of God in our prayers that God answers rapidly and completely that which comes from His throne through us. That is what having greater authority means to me—however, this is very new to me and to the group that prays together.
I am sharing with you at the beginning of this anointing so that we may grow together in our understanding of the breath, height, and depth of this mighty gift bestowed by our Heavenly Father.
A NEW EXPERIENCE
Even though we are here and you are there we will be growing in our understanding at the same time.
Pray with us that our prayers are more effective in your behalf and in behalf of others—many of whom are suffering in these deeply troubling times.
September 2014
Teaching By Seeing
On the Second Day of Hanukkah, December, 1995, the Lord gave me an experience in heaven that was shared in Heaven Awaits the Bride. Here is the illustration that was drawn on the day of the revelation—along with the text:
THE POOL OF REFLECTION
After we arrived in Paradise, I found that I was sitting alone near a clear, round pool of water. On the opposite side of the pool, shrubbery was growing in geometric shapes—squares, rectangles, triangles, and circles. These shapes were reflected within the pool…
It was unusually still by the pool, like being in the eye of a hurricane. I swung my legs around, putting my feet into the water. They hardly made a ripple. Strange.
"Where am I?" I asked myself.
"The pool of reflection," a child's voice answered from behind me.
"Uh oh," I said within myself because I recognized the voice. "Crystal Clear," I smiled faintly as I turned to face her.
There she stood, her hair still tousled as if from play. She was wearing the same pale shift and pinafore. She looked five or six years of age. However, she had old eyes. At times I could see through her arm or leg. She was a spirit.
"You have come back to see us," she exclaimed cheerily. "We L-O-V-E, love you," she continued, spelling out the word "love" as if it were in a child's song.
I sighed painfully within myself as I remembered the last time I had seen her. "But," I thought, "perhaps this time will be different." I decided to ask her about the pool. "What is the pool of reflection."
"It is a place where you can see yourself very clearly," she said.
I was not sure that I liked that idea. "Does one wish to reflect upon oneself?" I asked coolly, my flesh suddenly rising up and being as sly, legalistic, and evasive as the flesh always is.
She continued as though she did not notice. "You might want to take a look to see if you are cooperating with God or resisting Him. Do you want to look into the pool? She asked brightly.
THE DECISION
Of course, I did not want to look into the pool. However, I was beginning to hear in my own voice, as well as in the hardness of my heart, my resistance to correction.
Shortly before arriving at the pool, I was telling the Lord that I would give up anything and everything in order to gain more of Him. Now with my first opportunity to allow this declaration to become experiential in my life, I was balking. "Do you think I should look?" I asked limply.
"It might help," she replied.
With a sigh, I took my feet out of the water and lay down on my stomach to look into the pool. I was amazed. I saw Jesus's face reflected in the water instead of my own. But here were geometric objects stuck onto His head and face. "What are these objects," I asked.
"Blocks," she said. "You are blocking Him. They make the face of Jesus look really ugly."
She leaned over to look at my face in the pool. "Hmmm," she said as if making a diagnosis. "You need to unstick the glue."
"Unstick the glue?" I asked, "How do I do that?"
REPENTANCE
"Repentance," she said matter-of-factly. "Repentance unsticks the glue." She pulled back to look at me directly instead of at my reflection.
I sat up to look into her face. She shook her head from side as children do when correcting one another. Speaking in a slow, singsong manner, she said: "You're too old to play with blocks." Before I could answer her, she vanished.
August 2014
Angels Helping Angels
This particular spiritual experience taught me many important aspects of angels. Let's take this occurrence piece by piece:
MIGRATION:
I find that angels often describe spiritual occurrences in a way that brings a quick understanding of the situation through comparing it to something the person might understand. Here, a choir of angels of varying sizes is traveling north on assignment. By using the term "migration" it seems that this is a yearly occurrence for this particular group. Since we are not privy to the reason, we can only speculate: such as being assigned to humans that winter in the warmer climates and return home to the cooler climates in the summer. However that, I am sure, would only explain the shift in location for some of these angels.
ANGELS ASSIGNED TO A LOCATION
Some angels on this high mountainous ridge where I live, seem to be stationed here for long periods of time… times longer than a single human lifetime. The prophet Bob Jones often said that this particular ridge in North Carolina had the second largest number of angels in the world….the Mount of Olives being the first. This perhaps is due to the prayers of the Moravians and partially due to the Lord's own call on the land.
ADDED LIGHT AND POWER
Where there are many angels stationed, as there are on this ridge, there is a supernatural glow from the multiplied light and power. When a path was first cut to the top of the ridge, the top glowed so brightly that people down on the road could see it—stopped their cars, got out and climbed to the top of the ridge to see such a sight. This supernatural glow lasted for several days—people taking rocks from the area that continued to glow even away from the site. That glow may not be seen by humans now, but angels passing through do continue to see it.
CHARGING THE BATTERY
In other words impartation.
Here is a scripture where the Lord heralds an impartation: Ezekiel 2:1-2a: "Then He said to me, 'Son of Man, stand to your feet that I may speak with you.' As He spoke to me the Spirit entered me and set me on my feet…" The body of Christ recognizes the laying on of hands to
Impart the Spirit. Let me share with you a circumstance in my own life that might illustrate this "Charging the Battery". My husband and I were friends of Bob Jones. Often we would be with him when he ministered. At such times, he would sit on the platform and stretch out his right hand to lay it on each person as he/she came before him. The line might include hundreds of people, but he prayed for them all. After a while, however, his arm would freeze in place. Just as we associate heat with the anointing, so when the anointing drains from a person for a period of time they become cold. This would happen with Bob. The anointing was being imparted to those being prayed for and he was starting to run low. Often, at such a time, he would even show a ring of frost around his mouth. Therefore, at such a time, his friends would gather around him and lay hands on him to "fill him up again." We helped him by imparting that which was within us to him.
GREATER UNDERSTANDING
Being present when this choir of angels arrived and hearing how angels help other angels was a great privilege. We often hear of how angels help humans. We also know that they must be working together in order to stand as an army, etc., but to see the angels assisting one another—showing such camaraderie and generosity towards one another was a unique blessing that I shall never forget.
July 2014
And what of His heart's desire?
This is an example of the angels teaching. The angelic encounter occurred on February 25, 2008. (The Scribe is an angel that records— and here, as we see, he also teaches.)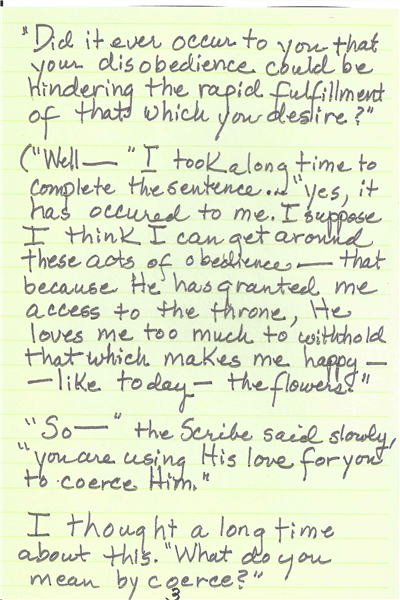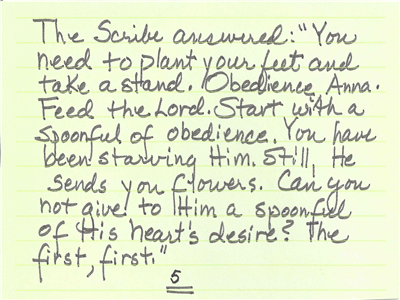 June 2014
Revelation Feeds Revelation
My dear friend Bob Jones always said that revelation is "caught" not "taught". You might also say that being around those who are prophetic helps to build the prophetic in you. [Remember that blue birds represent revelation.]
May 2014
All Creatures Great And Small
In February on 2008 Clara (the angel that took me to see the healing angels—she is pictured from my journal of May l995 which is shown on March 2014 on the web-site, if you would like to see what she looks like) took me to heaven for a lesson above. I hope it blesses you as much as it blessed me.
April 2014
Teaching on Future Duties
This vision teaches future duties for the body of Christ. The wall is brick—not stone. Brick symbolizes that which is man-made. There is "life" beyond the wall (symbolized by the vine). But within the wall (the world) the house (not the house the Lord built) is burning. The believer (symbolized by me) has escaped over the wall into life. But now (in these increasingly dangerous times) others wish to escape the fire to come. We, as believers, are called to help the younger believers over the wall.
March 2014
The Journey From Salvation To An Intimate Walk With Christ
I had only been seeing in the spirit for a few months; but the Lord continued to instruct me (through visions) about the way to draw closer to Him—from being set free from the enemy kingdom until a maturing into a place of intimacy with the Lord.
PAGE 65: From being set free through salvation to being drawn by the Lord into the path toward maturity.
PAGE 66: Salvation brings a new beginning. Obedience to the Spirit of God and to His Word means that the believer begins to bring forth the beauty of Christ in his/her life….thus the flowers.
PAGE 67-68-69: Not everyone receives Christ. These have no flowering of Christ within them. But the Lord has mercy upon them. He sees them as beautiful and their tears and desire to bring forth "He who is the beauty of the Father's Kingdom", moves Him. He takes each person's nothing and returns to them life.
PAGE 68: (CONTINUED)
PAGE 69: (CONTINUED)
PAGE 70: Here we see the Lord brings the child into salvation and she is clean—washed in the blood of the Lamb.
PAGE 71: Jesus adds to His own church.
PAGE 72: Those blood-washed and growing in Christ walk with Him to take the good news of the kingdom to the world.
PAGE 73: Those serving the Lord on earth continue to grow as he guides them into greater maturity.
PAGE 74: The Lord takes the Christian higher and higher in love, knowledge, gifting and the fulfillment of His promise for intimacy.
PAGE 75: Now we see that all of this has been a journey into maturity—the maturity that He desires for His bride.
February 2014
A Different Way of Teaching #2
This vision came time and time again soon after the heavens were opened to me. However, I did not understand the meaning of the pictures until several years later. I knew, however, that a vision that is given again and again in the same order and presentation has vital meaning. This series of pictures was the Lord's way of trying to teach me the calling He had placed on my life.
I will write the text that is in longhand in the journal and then –the Lord being my helper—explain the symbolism.
[Suddenly, I saw a coloring book drawing of a house with a mother and father standing outside, smiling. There were large clouds overhead.]
THE SYMBOLISM
The cloud over the house is a divine covering. The man is my husband and I am the wife. Our lives—as shown by the lack of color—are normal.
BLUEBIRDS
[Then bluebirds came to nest in the attic of the house.]
SYMBOLISM:
The attic means that one is dealing with higher revelation—possibly visions from and about above. The blue birds mean revelation.
LIGHTNING
[Lightning struck the house from all sides.]
SYMBOLISM:
Lightning means the power of God.
MORE LIGHTNING:
[And the house got bigger and bigger and then at one point the house was so full of people that–]
SYMBOLISM:
The house is hit with more and more of the Lord's power.
REVELATIONS EXPLODE FROM THE HOUSE
[All the people in the house were blown out of its windows and door onto the green grass of the front lawn. They picked themselves up and ran back into the house joyfully.]
SYMBOLISM:
The people represent revelations…..many going out and many coming in.
THE INTERVIEW
[Then there were television cameras and interviewers and cameramen around the front of the house. An interviewer asked us: "Now, tell us about yourselves?"
Albert said: "What is there to tell. We're just a usual family."
"Usual?" the interviewer exclaimed as if amazed because of all that was going on.]
SYMBOLISM:
The number 4 represents the world. I'll tell you the meaning of the 4 cameras soon.
JUST WHAT WAS GOD DOING?
[An angel stood before the house. "Because you are highly esteemed, the Lord has established for you this house."]
SYMBOLISM:
The angel is a messenger. The house is built under a glory cloud. The red door means entrance through the blood of Jesus. But what in the world does the whole vision mean? I was perplexed. Only recently—at that time—had I entered into the realm of visions. Both Albert, my husband, and I believed that the Lord wanted us hidden. So what in the world was the meaning of the T. V. cameras? At the time we lived near our friend Bob Jones. We ate with him once a week. So—-I left a page empty in the journal in order to get his answer to this perplexing question posed by the T. V. cameras.
BOB'S REPLY:
My heavenly Father was trying to teach me through visions. He was giving me my marching orders. He was relating to me the reason He had me on this earth at this time. Even after this instruction and the meaning of the vision given to me—it took me three years to understand that He wanted me to relate the visions He had given to me to His children. The pages shared with you are from my 1995 journal. The page with little on it is exactly as Bob gave the answer to me. The Lord's teaching methods are truly amazing.
January 2014
Other Ways of Teaching
Our heavenly Father has other ways of teaching His children. Sometimes the teaching is in pictures. Here is an example of the Father teaching me in pictures. This series was given to me over and over again on January 9, 1995.
The first picture shows the Holy Spirit taking a person from the sea of humanity, delivering the new believer (represented by the fish) to Christ (represented by the sun). Then in pictures #1-6 there is a progression of revelation concerning Christ. In square 1 there is a little revelation of His glory. In square 2 there is a greater revelation of His glory. In square 3 there is more of a revelation and then in square 4 there is a full picture of Christ in His glory. Then the revelation begins again.
THE NEXT REVELATION
The next revelation finishes the teaching again. Boxes seven and eight complete the revelation of His glory in greater measure. Then Mickey Mouse (a cartoon character) appears and says:"IT'S SHOWTIME!"
What in the world could this mean? It means that the Lord is going to show me something in a very simple—almost childlike way so that I cannot miss His meaning.
CELEBRATE
As Mickey Mouse stood there, confetti began to pour down from above. This meant that we were going to celebrate. Then The Father showed who was to be celebrated. JESUS!!!!!
THEN THE LETTERS WOULD COME CLOSE TO ME
The large, red letters would come close to me and then splat all over me. When this happened a voice said: "The blood of Jesus." The Father was showing me that, through the blood of His Son I am redeemed, cleansed, forgiven and protected. Then Chuckles appeared confirming that this was a glorious gift to mankind—believing mankind. In the revelation of Jesus all the colors of the rainbow were displayed. All good things are in Him.
DOUBT AND UNBELIEF?
Suddenly, Woody Woodpecker appeared asking me if I was living in doubt and unbelief? Woodpeckers eat worms, etc. inside trees. Wood, hay and stubble—that which is fit for the fire. The woodpecker gave a mocking question to me. Did I believe the Lord did all of this for me? Could I give this as my testimony? Could I tell what the Lord had done for me?
My answer caused the Holy Spirit to pick up the evil one—represented by the snake—and carry it away from me.
THE LAST PICTURE
The last picture was of the Holy Spirit dropping the snake on the Rock that is Jesus Christ.
And what did it show?
REVELATION 12:11: "And they overcame him because of the blood of the Lamb and because of the word of their testimony, and they did not love their (soul life) even to death."