Personal Message
Anna Rountree – uncensored
January 2023 – Music from Heaven
December 2022 – Christmas
November 2022 – Here She Is!
October 2022 – Here She Stands
September 2022 – Up She Goes, Continued
August 2022 – Up She Goes
July 2022 – The Test of Moravian Falls
June 2022 – Confronting the Truth
May 2022 – History Through Music
April 2022 – Putting Out the Welcome Mat
March 2022 – On Earth as it is in Heaven
February 2022 – When We Look Back
January 2022 – About the Audio
December 2021 – A Gift for Christmas
November 2021 – WE'RE STILL STANDING
October 2021 – DADDY'S WINK
September 2021 – THESE ARE THE "NOW" TIMES
August 2021 – FLABBERGASTED
July 2021 – GOD BLESS AMERICA
June 2021 – TO HONOR OUR BLESSED COUNTRY ON MEMORIAL DAY
May 2021 – Blessings
April 2021 – The Gathering of Light
March 2021 – Bursting into the Clean Air
February 2021 – Surviving the Seismic Quake
January 2021 – What Now?
December 2020 – What is the Answer?
November 2020 – He Has Answered Our Prayers
October 2020 – God Makes a Way
September 2020 – Discerning the Signs in Our Times
August 2020 – I Know You Have Heard
July 2020 – Welcome to Prayer Mountain
June 2020 – For Our Father's Children
May 2020 – Personal Section
April 2020 – Lord Help
March 2020 – For Your Safety
February 2020 – "Head "em up, move 'em out!"
January 2020 – 2020
December 2019 – His Family
November 2019 – Miracles Still Happen
October 2019 – Receiving Miraculous Signs
September 2019 – Time to Get Our House in Order
August 2019 – Get Ready, Get Set – Go!
July 2019 – The Beginning of a Tsunami
June 2019 – Summer Time
May 2019 – Are We There Yet?
April 2019 – Update
March 2019 – A Quandary and A Song of Ascent
February 2019 – X Marks the Spot
January 2019 – When Unity Comes
December 2018 – Bye-bye 2018
November 2018 – Prayer on the Mountain
October 2018 – Amazing Grace
September 2018 – Early Gifts and Mantles
August 2018 – The Father's Double Mantle
July 2018 – A Mantle from the Holy Spirit
June 2018 – John G. Lakes Mantle
May 2018 – A Subtle and Sobering Lesson
April 2018 – When Kings Go Out to Battle
March 2018 – The Division Between Christ and the World
February 2018 – Angel Friends
January 2018 – Better Than Star Wars
December 2017 – Welcome the Pathfinder
November 2017 – "We're Back"
October 2017 – The Second Heaven
September 2017 – The Gap
August 2017 – Guest House Report
July 2017 – The Little Cabin on the Ridge
June 2017 – Beelzebul
May 2017 – Serious Times
April 2017 – Returning Glory
March 2017 – Keeping Our Head and Guarding Our Heart
February 2017 – God's "45"
January 2017 – A New Year, A New President, A New Citizen
December 2016 – The Election of Trump
November 2016 – Seeking the Lord
October 2016 – Fall on Prayer Mountain
September 2016 – Angels at Work
August 2016 – The Choir Known as Harmony
July 2016 – Everything with Angels is not Serious
June 2016 – God's Warning
May 2016 – The White Eagle Moves His Nest
April 2016 – Spring in Moravian Falls
March 2016 – All Time is Present Above
February 2016 – Gifts from Daddy
January 2016 – Starting the New Year Right
December 2015 – Our Eternal Family
November 2015 – Birds of Paradise
October 2015 – The Angel of Obedience
September 2015 – What an Amazing Summer
August 2015 – And Now for a Masters Class in Dream Interpretation
July 2015 The Lord Sharing Secrets
June 2015 – Vision of the Mountain
May 2015 – Christian History While You are Living It: Bob Jones
April 2015 – The Expansion of the Prayer Room
March 2015 – Zeal
February 2015 – I Get By With A Little Help From My Friends…
January 2015 – A Time For Hope
December 2014 – Old Promises
November 2014 – The Arrival Of The Angel Tutor
October 2014 – How I Am Trying To Help
September 2014 – An Impartation
August 2014 – Summer In The Mountains
July 2014 – Do We Encounter Seraphim On Earth?
June 2014 – The Great Escape
May 2014 – Does The Lord Issue Warnings With Some Anointings?
April 2014 – The Holy Spirit's Mantle
March 2014 – Bob Jones
February 2014 – Another Way Of Going Up
January 2014 – Getting to Know You
December 2013 – Healing Light
November 2013 – Fireside Chat #2
October 2013 – If You Ask
September 2013 – Fireside Chat
August 2013 – Disaster Relief
July 2013 – When You Receive A Prophetic Word – Then What?
June 2013 – God Is Talking – But – Are We Listening?
May 2013 – The Signs Of The Times
April 2013 – Hearing God
March 2013 – Now Is The Time
February 2013 – Attacked From Within
January 2013 – Hope Rising
December 2012 – How Should We Then Live?
November 2012 – The Last Few Years
Back to the top
(We are not having our open prayer meetings at the moment.)
January 2023
One of the callings – no, one of the privileges given to this ministry is the honor of sharing the music from heaven.
All of us are abundantly blessed by the glorious music being brought forth through our gifted musicians for the corporate worship of our mighty God. However, the Lord is now pulling back the curtain to share the music of angels with us on earth.
One such music being shared with us is from Betsy – a friend – who not only hears the music being played in heaven, but also brings it to those of us here on earth.


Back to the top
(We are not having our open prayer meetings at the moment.)
December 2022

Christmas
This month we come to the celebration of the birth of our Lord and Savior, Jesus Christ. We are the most fortunate of people, for we belong to Him. Whatever is playing out before us in this world, we have already been rescued out of its' ultimate consequences by our Lord.
How wonderful that we are alive to serve Him another day on Earth.
Daily, we ask the Lord to bless you, and to protect you, and your loved ones. Thank you for allowing us to be a part of your family through prayer. Praying for you has been one of the great joys of our lives.
Also thank you for undergirding the Lord's work through this ministry with your prayers and financial gifts. Eternity will not be long enough to express our appreciation to you and to continue to ask the Lord to bless and reward you for your kindness to us.
We love you. Merry Christmas!
(We are not having our open prayer meetings at the moment.)
November 2022
Here She Is!
We have not filled her up yet… but here she is. Isn't she lovely?
We are absolutely thrilled!
"The Blessing" Illuminated
We are showing it twice because in this shot you can see some of the angel orbs around the structure.
Back to the top
(We are not having our open prayer meetings at the moment.)
October 2022
Here She Stands
Our shed, or, now, "The Blessing" as we are calling it, is almost completed. (It is far too glorious to be called a "shed.")
All that remains to be done is the staining, and the installation of rain gutters outwardly.
Standing Tall
Inwardly, the storage shelves are now finished.
(We are not having our open prayer meetings at the moment.)
September 2022
Up She Goes, Continued
We are still moving forward and exceedingly excited. Celebrate with us.
Here is a picture of the first of the roof trusses which are being installed.
Next, we have all of the roof trusses just waiting for the roof sheathing and the roof itself.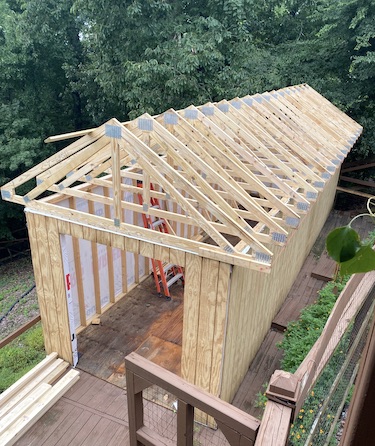 Finally, all the roof sheathing has been installed and the first section of the beautiful, red tin roof is applied.

(We are not having our open prayer meetings at the moment.)
August 2022
Up She Goes
Yes! Yes! We are actually moving forward. Praise God!
Cubic Construction has begun to build the shed for Mary, Joseph and the baby Jesus ¬– plus two lambs, and  a burro.  These were ordered before the supply chain broke down and prices went sky high. We thank the Lord for warning us both about the money increase and about the supply decrease. We were going to add to the manger scene one figure each year. But after the warning, we tightened our belts and ordered all the remaining animals at once. The manger scene is to honor our Lord at the celebration of His birth in December and will be displayed outside of the ministry during the Christmas season.

(We are not having our open prayer meetings at the moment.)
July 2022
The Test of Moravian Falls.
The lovely thing about Moravian Falls is also that which will test you to the max. Whereas you feel you have stepped back in time to live the quieter, gentler "hometown" feeling of the late 40's and early 50's, the slowness of actually accomplishing a forward thrust on projects (for those of us who have lived much of our lives in New York City, where you live twice as fast as everyone else alive), can be wearing.
He has S-L-O-W-E-D D-O-W-N the process. Oh, it will get done. But not today. There's deer season or turkey season, or a month's worth of vacations. In summer everyone melts into the sand on the beach (the ocean is but a "stone's throw" away, close enough to take the entire family.)
If you can put yourself into first gear, like you're driving up a mountain road, and relax about driving – you've got it. But as the passage of time slows – so that you can actually get a good look at the passing scenery, your breathing gets deeper, and your heart slows, and you begin to experience – what is that? Peace?
Remember the days you would lie on your back in the summer grass and watch fireflies? Remember rocking in a rocking chair or swinging on the porch swing, listening to sounds of the night? How long has it been?
Well, in Moravian Falls, these soul enriching activities can still be reintroduced into your schedule.
But if you want something to go quickly. Nope. Just settle back and put up your feet. But it will eventually get done.
In Moravian Falls, we step forward, and then we sit down to consider that move for twice as long.
Our saying up here is that "well, it's Moravian Falls time." We give each other a knowing smile and a wink. But it's home and we love it. And – we'll "get 'er done" "before the cows come home."
(We are not having our open prayer meetings at the moment.)
June 2022
Confronting the Truth
One of the great blessings – as well as one of the great sorrows – that has occurred in these last few years is the realization that humanity is exactly as spoken of in the Bible: fallen. Therefore, likewise, this beautiful planet, created by our Heavenly Father, is corrupt. Even though we read this truth in the Word, most of us could not see this before. It seemed inconceivable.
But the last few years have shaken us awake. The scales have fallen from our eyes, and we are left with the stark reality: the whole world does indeed lie in the grip of the evil one. After we recover from the sadness that we are, actually, not going to reform "the world" we are left with the other alternative – also provided by the Bible: God's solution of setting our eyes on things above where our life is hid with Christ (Colossians 3:3).
Now, this may seem like a compromise or even skirting the problems right at hand, but it is not sidestepping the problems right before our eyes if it is directing us to God's perfect will for us.
Our problem is that we have been aiming at the wrong target. We are begging God to change His mind into helping us reform something He says He is going to do away with – and replace. He is giving us a new heaven and a new Earth. We, likewise, want all of mankind, whom, we all agree, is a marvelous creation, to be part of the Kingdom of God, but our Father only wants His Family filled with those who actually want to be in His family. Some of His humans do not want to be in that family. Therefore, our gracious God, allows them what they want.
As painful as these last few years have been, still, it seems we have needed the shocking clarity they have provided.
Dear children of the Living God, we need to be following our Father's guidelines – not creating standards, which we feel will fulfill our own idea of righteousness. We need to accept God's evaluations and timetables rather than believe mankind is going to change and reform this world into some heaven on earth.
Is this troubling? Quite the opposite. When we stop making up our own rules, we will be: "Free at last. Free at last. Great God Almighty, we are free at last."
(We are not having our open prayer meetings at the moment.)
May 2022
History Through Music
Before I moved from my home state of Texas, I wrote a history of that state for young people. I felt the children would grasp the flavor of each era more quickly if they could see the attire, read the history, and hear the music of each age. Therefore, the book was accompanied by a tape with music from every period of Texas' development.
A Love Gift
The book and tape were a love gift to my home state. I wanted to give the whole state a big "thank you" for helping to raise me before the Lord carried Albert and I elsewhere into other duties.
Later
Later, the Lord began to share heavenly history with me. When He opened the heavens, He gave me the ability to be in the vision and then drop my eyes to the page and write exactly what was being said… and then return to the vision. In this way, I was writing down an absolutely accurate accounting of the prophetic revelation being given.
Also, there is much music in heaven. Since I do not know how to notate music, I could only write down the lyrics.
But now
But now, the Lord has brought others to assist. Not only are we seeking the Lord for the music that goes with the lyrics brought back from heaven, but also the music that permeates Prayer Mountain. This music began to be experienced beginning in 2006. Therefore, as we share the historical chronicle of The Moravian Falls House of Prayer, we are seeking to share with you the spiritual music sung and played by angels or the Holy Spirit on Prayer Mountain.
Music
As in the history of the church, music carries within it a spiritual DNA of our brothers and sisters who have gone before. Songs sung by the early church are different from those sung in America around the turn of the century.
It is the same with the music from heaven, sung by angels or given to us by the Holy Spirit. It carries some of the Lord's glory in it – a spiritual DNA.
We pray that it means as much to you to hear this music as it means to us to be used by our Lord to bring it to you.
(We are not having our open prayer meetings at the moment.)
April 2022
Putting Out the Welcome Mat
It's spring.
This means more and more of our Christian brothers and sisters will be coming to Prayer Mountain. This is always a joyous time for us up here. By twos and threes or groups, we see them making their way up to the ridge to meet with the Lord, and even, perhaps meet with dozens of angels.
The songs of ascent in the Bible were songs sung or chanted by those seeking a closer relationship with God. The 15 songs that are recorded, accompanied the worshippers on their way to the temple in Jerusalem.
The Lord Brings Life Anew
But our Lord has not forgotten His House of Prayer to be built on the ridge in Moravian Falls.
Here is a new song of ascent that is being sung even now by those making their way up Prayer Mountain.
This song was received in a waking dream state where (my assistant, Cynthia) both saw and heard the people walking up the mountain of God while singing this song.
(We are not having our open prayer meetings at the moment.)
March 2022
On Earth as it is in Heaven
Our Lord cried out to His Father to bring heaven's government to earth to replace the corrupt activities of sinful mankind. Unredeemed mankind has resisted from the beginning (really.)
But what about "His people?" What about God's people that had been translated out of this world into the Kingdom of the Son of His love? Are we a shining example of heaven brought down to earth? Can the unredeemed world look at us in awe at our dedication to our Lord and to the blamelessness of our lives? Need we ask? Some "yes" – most "no."
Heartbreaking, isn't it? But despite it all, our heavenly Father loves us and His Son (knowing our sinful nature), laid down His life for us.
Our Heavenly Father isn't believing in us. Oh no. He knows what is in mankind. But He believes in His only begotten Son. And because we believe in His Son, also, we are gathered into the relationship of love between them. We are made part of the family. Blessed beyond blessed are we.
Therefore
We personally cannot change unredeemed mankind, but we can allow the Lord to change each of us, His children. We keep looking "out" when we should be looking "within." It can be "on Earth as it is in heaven" for each of us individually if we allow Christ to replace the "flesh" within our souls.
How is this done?
There is nothing you, personally, can do to bring this about. The Holy Spirit takes you through a series of tests. Each test you pass removes a quotient of that "flesh" and replaces it with Christ. You cannot test yourself – nor set up the tests. They are like pop quizzes – surprises. Each test is passed by choosing Christ over satisfying the "flesh" nature.
We say we want to be closer to Christ or grow in Christ or know our Father better. If this be true, we are able to experience more of heaven on earth right now. Pick up your own cross and follow our Lord to Calvary.
Remember the old saying from the Evangelicals:
1. I am saved (your spirit.)
2. I am being saved (the replacing of the flesh in your soul with Christ.)
3. I will be saved (the eventual replacing of your earthly body with a heavenly one.)
Civilizations may crumble about us, but our task has never been to rescue the dirt of this planet, but to cooperate with the Holy Spirit as he rescues us out of the dirt that is our flesh.
Our Daddy wants family. May we not be distracted from His purposes for us. Heaven awaits.
(We are not having our open prayer meetings at the moment.)
February 2022
WHEN WE LOOK BACK
Years later – when we look back on this extended period of time in America, will we look at the "lockdowns" and "mandates", and "restrictions" or will there be personal snapshots of experiences that we treasure from these days? Probably the latter.
Oh, there will be the opening remarks that gather these years together into one sentence, but it will only be a marker that starts the replay at a certain point. After one sentence which marks the starting place, we will then begin to unfold the amazing hidden adventures each of us has had with our God during this time. Whatever "the world" is throwing at us, our Father is using this time for His greater purposes in each of our lives. He is taking advantage of this "time out" to address unhealed areas in His children.
How is He doing this?
Amazingly, He is taking us through a series of tests. These tests are a tweaking of the "little things" – things half forgotten, things we thought we had dealt with, things shoved back into darkness at the time so that we could go on with life. He's going back and dealing with these. We are being given that fabled "second chance".
Using the Lockdowns
He is using the lockdowns to get us alone and quiet – even as He did in the story of Jacob (representing the flesh), when Jacob wrestled with the angel. But it is our God who is wrestling with us.
However, He has given us an advantage we did not have when we were younger and fleshlier. Now, we are older and have hopefully, gained some wisdom. We are looking back at each circumstance. through the lens of maturity and a maturity that has the advantages of seeing the consequences of former decisions made "in the flesh" rather than "in the spirit".
He has used this time
He has used this time to slow us down enough to actually "catch" what He is doing. The tests may look different, but the outcome needs to be the same: to replace with Christ the fleshly decisions made when we were younger. He is cleaning us up. I don't know what's coming – but we obviously need more of Him replacing the flesh remaining in our souls to make it through.
We have been given this "time out" for a reason: His reason – not the enemy's.
Just remember we are dealing with our God. With every loss of our particular desires, with every sidetrack, with every inconvenience, we need to look "behind" the curtain and ask Him – "what are You saying to me?"
If we ask, He will share with us His purposes.
Even as our younger selves resisted tests, hopefully – with more of life "under our belts", we will face these tests and allow the Lord to heal us His way.
Almost everyone I know is being carried back to "go". It's like we are beginning again. It's very like that "second chance" – but the outcome is not to do the things we have done before, but – instead – to do the greater works He speaks of in the Bible.
This is one of the most amazing times in our lives. We will look back in wonder and deep, deep gratitude to God for the quiet days when He took our faces into His hands and said: "look at Me, not at the passing panorama of the world".
And, even as Moses lifted up the staff in the wilderness, He is saying, look to your God now, lift Me up; look to and trust in Me and be healed.
The Bonus We Did Not Know About
There is a bonus we did not know about when we were younger. That is – allow Him to heal us (when more of Christ has replaced the flesh in our souls) and that healing flows down to our children and grandchildren.
Do you want to change "things?" Allow Him to change you. Do you want the best for your children and grandchildren? Allow Him to form Christ in you. After salvation the greatest adventure in life is to watch Him work. Right now He is working on us. Don't resist Him. Let Him wrestle you to the ground and win.
(We are not having our open prayer meetings at the moment.)
January 2022
ABOUT THE AUDIO
When "The Heavens Opened" was first published, I asked the publishing house if I could record the book. At that time, they did not record their books – therefore they allowed me to retain the audio rights.
After all these years, we finally have the equipment and the audio technician who can make this possible.
Therefore, beginning in 2022, we will start an audio presentation of "The Heavens Opened". A chapter will be released each month on the website.
The Lord being my helper, I will read the text. Also (again the Lord being my helper), there will be music with the lyrics taken down in heaven.
This is a big step for us and I so hope it is a blessing to you.
To enjoy the first chapter of "The Heavens Opened," go to the Audio Book section.
Chapter One – The Attack
(We are not having our open prayer meetings at the moment.)
December 2021
A Gift for Christmas.
As we come to the end of the year 2021, the Lord has prepared for us the most marvelous Christmas gift. He is moving forward with the Moravian Falls House of Prayer.
Do you know how exciting it is to move forward after 33 years of seeking the Lord for a house of prayer? It is a miracle of joy. It is a deep sigh of release as one sees the Lord answer His own request.
As extraordinary as receiving such an answer to prayer is – the process has shown more of the character of Christ and of our Heavenly Father.
They are infinitely faithful and infinitely righteous. Seeing our Father's character revealed on this Earth is one of life's great pleasures for His children. No matter how hard fought in the spiritual realm, the deep satisfaction of being a part of the family of such a Father is one of our greatest joys.
This joy is difficult to express but let me try. It is a joy that seeps down into your bones. It is so deep within you that it actually extends beyond you into the spiritual realm. That doesn't sound possible, but in life it is an actuality.
You not only see it with your eyes, but also taste it. When our Heavenly Father reveals His holiness and His righteousness and love, His very character, it is better than any pleasure on earth. It feeds you. It comforts you. It teaches you. It thrills you – even as it gives you peace
Oh, great and mighty Father, we not only love You, we are in awe of You.
So thank you for this blessed gift of hope, Father, as we enter the New Year. You have made Christmas very special this year, for You have revealed more of Yourself.
(We are not having our open prayer meetings at the moment.)
November 2021
We're Still Standing
Bounty & Harvest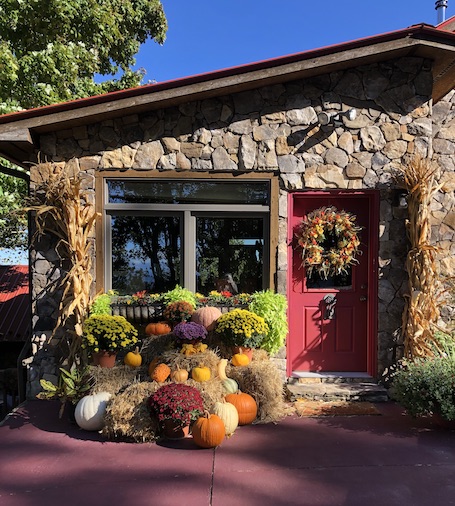 Here is the display the prayer warriors see on their way to the top of prayer mountain. With the mountain weather so mild and the leaves turning, scores of visitors are making their way to the top.
Through all the twists and turns internationally, the body of Christ is still standing strong. Our Heavenly Father has us here at this very time for a purpose – and we are standing and believing and hoping and praying for His Kingdom to come here on earth "as it is in heaven."
(We are not having our open prayer meetings at the moment.)
October 2021
DADDY'S WINK
There is breathtaking beauty along with heroic struggles between good and evil taking place in the spiritual realm. Great conflict and great valor are playing out right before our eyes – but, for the most part, we do not see this.
But, our Heavenly Father knows we want to see this. We want to see the greater enriching that comes from touching that realm. We long to sit at our Heavenly Father's feet and listen to Him tell us of His glorious Kingdom, perhaps to share funny stories of the Cherubs or Seraphim or those awesome wheels with thousands of eyes.
In the spiritual realm, we have eternal friends – very much like spiritual family members, really: If asked, we would probably say we want to smile and laugh with them as we would our human friends.
Visiting Daddy's office
By the Lord allowing us to share the spiritual history of a plot of land that He is giving to us all, we – together – are allowed to see into that unseen world.
It's like sitting in our daddy's office after school. All these adult activities are swirling around and you are just watching. Suddenly He turns and winks at you – the sort of wink a parent gives a dearly beloved child
You swell with the realization that you are special to Him. He is giving you the privilege of seeing Him work. Not only that, but you are being gathered into His plans. You are sharing His secrets.
We do not want to miss it.
So often in our natural lives we take for granted life with our earthly parents. But we don't want to miss one word, one explanation, one nod given to us by our Heavenly Father. He is pulling back the curtain and sharing His secrets with us.
Sharing secrets with Daddy. I don't know about you, but I find that truly exciting.
&nsbp;
(We are not having our open prayer meetings at the moment.)
September 2021
THESE ARE THE "NOW" TIMES
Jesus said: "I have many more things to say to you, but you cannot bear them now" (John 16:12). Dear children of the Living God, that "now" has come.
Even as wars and rumors of wars multiply, so has the Lord multiplied revelations concerning His word and His ways. The apostle Paul said: "I press on toward the goal of the upward call of God in Christ Jesus" (Philippians 3:14). We may not have realized that, as the world's systems are overripening into rotten, He is pouring out revelations about Himself, His angels, and His ways. It is almost as though the angels are jumping up and down, waving their arms and shouting: "over here! Over here! Don't look at that! (About the news of the world.)
Indeed, I can barely watch the news now. Honestly, I feel like I am swallowing poison. But why? It isn't from religious convictions. I wish it were. No, it simply makes me ill – rather like what one might feel on shipboard during a particularly rough ocean crossing. Also, the information I receive from the news now doesn't seem to add to my knowledge, or my enjoyment.
Oh, I am still watching a bit of the news, but I do so because I need to know what is going on in the world for the sake of prayer (like the recent tragedy of Americans and our allies struggling to get out of Afghanistan).
AN OLD STORY
The outcomes, however, seem to be self-evident. It's as though we are in a retelling of an old, old story. The only thing new is that we are waiting to hear where we are in the timeline of the Bible (in its inexorable march towards Armageddon.) But even as the world is crumbling around us, God's hand is reaching down from heaven while He is calling: "come up here" (Deuteronomy 19:15).
THE WITNESS OF TWO OR THREE
Do we realize how amazing it is that God Almighty holds to His own laws, even to allowing the death of His son to fulfill the law? I did not realize that He was so careful in fulfilling all the law. However, the fact that He opened this confirming revelation to three people at one time so that He would fulfill the statute: "Every fact is to be confirmed by the testimony of two or three witnesses" (2 Cor 13:1), amazes me.
My husband and I and our neighbor Wendy were blessed to see Him fulfill that statute concerning the chapel and His coming.
Usually only one person sees into the spiritual realm. But with this "legal" confirmation that established His promises, He allowed three to see the revelation at the same time. Truly amazing.
In the world, all of this destruction and mayhem is taking place around us, but God Almighty is bursting forth into the true direction for his children: UP.
For more information on the "The Witnesses," please visit
September 2021 – The Witnesses
(We are not having our open prayer meetings at the moment.)
August 2021
FLABBERGASTED
Have you ever been so astounded by God that you just sat there stunned? That just happened to me today. I realized I was in the middle of an answer to a prayer made 32 years ago.
In 1989, Albert and I had just arrived in Kansas City and were asked to go out to the Vineyard Christian Fellowship in California with the worship team and dance group from the Kansas City Fellowship. Graham Kendrick was coming to America to launch his March for Jesus. After the conference, everyone – including my husband, went to Disneyland in Anaheim. For some unknown reason, I remained in the hotel room weeping and praying for a house of prayer. This was 32 years ago. So unusual was this, that the incident was burned into my memory; for I was asking for a house of prayer without knowing where it should be located.
We then spent over three years bringing together the pastors of all 72 denominations of the churches in Kansas City for monthly prayer
in the ballroom of a downtown hotel.
After our work was finished in Kansas City, we took a year off, and then planned to go to Florida where our friend Bob Jones was living. I had spent a full year recording his life and thought it might be a good idea to be near him when I wrote (the book) about it. Most of this year was spent in Texas. Bob had said I would receive a visitation during Hanukkah of that year [which began in December.] As Bob predicted, my eyes and the heavens were opened on the first day of Hannukah.
The Heavens Opened – "X" #1 (27 years ago)
Before we left Texas, I began to travel daily to heaven and record all that was said and done.
This was the first "X" on a treasure map given to me by the Lord. There were five "X's" but no guidance as to what they represented. This was twenty-seven years ago- Hanukkah 1994, Sunday, November 27.
Florida – "X" #2 A & B (26 years ago)
A. We moved to Lynn Haven Florida (outside of Panama City), where I was visited by the Lord who came surrounded by several angels bearing gifts, (very much as the servant gave to Rachel's family) – proposal gifts.
If you wish to see the account of the proposal, click here.
September 2015 – Betrothal Gifts
B. I was then visited by a spiritual camel caravan loaded with twenty-four chests. These were Hope Chests, given before I entered into a
Formal Betrothal with the Lord.
If you wish to see the account of the Hope Chests, click here.
January 2013 – The Hope Chests
If you wish to see the account of the camel caravan, click here.
January 2013 – Hope Rising
Glendale Florida – "X" #3 (25 years ago)
Then we moved to Glendale Florida to help a Presbyterian Church until they could get a pastor. It was in Glendale Florida that I entered into the Formal Betrothal with the Lord. After helping the Presbyterian Church find a pastor, we moved to North Carolina.
If you wish to see the account of the Formal Betrothal, click here.
May 2018 – Clothed in Christ
If you wish to see additional information on the account of the Formal Betrothal, click here.
May 2018 – Notes on the Betrothal Garment and the Crown
Moravian Falls North Carolina – "X" #4 (24 years to today)
The Lord took us to Moravian Falls in order to write books which were published by Strang's Publishing House.
If you wish to see the account of the fourth "X", click here.
February 2019 – X Marks the Spot
Also, we began a prayer meeting on the mountain.
If you wish to see the announcement of the prayer meetings returning to Prayer Mountain, click here.
November 2018 – Prayer on the Mountain
The Fifth "X"
The "Welcome Wagon" angel came in 2006. But only today – in July 2021 – did I understand the significance of the "X" he was clearly making. We arrived in Moravian Falls 24 years ago. But it was not until 15 years ago that the Lord began to build on the components that would eventuate in the Moravian Falls House of Prayer – and it took me until July 2021 to even recognize what He had done.
Here is the map finally completed in the spiritual realm and waiting for its completion in the natural realm.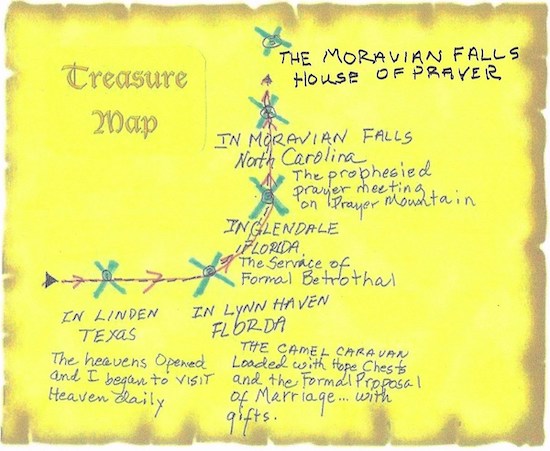 The Long Game
The Lord plays a "long game". For His more astounding glories on earth, that is exactly the game He plays. It has been 32 years, and we still are pressing on toward the fulfillment of this "treasure."
I was thinking of Mike Bickle, whom I met when he was in his early 20's. Already, at that time, he had been spiritually promised a piece of land that was connected to Harry S. Truman. He held on to that promise – and that was probably nearly 40 years ago – and now, I hear, the vision is being realized.
That, dear children of the Living God, is the "long game." 32 years and still counting for the house of prayer on the mountain the Lord named "Prayer" in Moravian Falls, and nearly 40 years for Mike Bickle. He has acquired the Harry S. Truman land and now is headed toward an eventual prayer chapel in Missouri.
Inspiring
By golly, I am inspired by that. We Americans have been trained by the fast-food industry to want "things" right away. Faster – faster – faster. But when we really look at the Word – it is "the long game" that brings the greatest rewards – and, children of the Living God, He is giving us the opportunity to experience that rare and deep thrill of being a part of such a "treasure."
Oh, how fortunate we are to be children of the Living God, and how fortunate we are to be living in these times.
(We are not having our open prayer meetings at the moment.)
July 2021
GOD BLESS AMERICA
On this July 4th we are brought into the stark realization that Democracy is a fragile gift. Our founding fathers told us this by saying that this form of government required a population of people of goodwill toward one another and honorable intent.
Because we are a people of goodwill, it has been possible time and time again to turn the other cheek until a major and, I must say, unmistakable attack galvanizes this "laid back" nation to turn and look violent situations squarely in the eye.
It was like that in the Second World War. We hung back until there was a direct attack on Pearl Harbor.
Such attacks haven't all been from without. We have been undermined from within also. It just seems as though we haven't because we have never seen such internal attacks as clearly as we see them now. Always we are slow to respond because it seems so illogical. But the enemy isn't using logic. The enemy is using the same part of us that is used in addictions – our emotions –and we all know how unstable these are.
The Turning
But help is coming from the very area the enemy was in the process of staking his flag of victory into: our grade schools. Guess who is raising up against the indoctrination of the children: moms and dads. If we must start with the youngest and their defenders, then so be it. May God help America, and may we show gumption enough to stand shoulder to shoulder against the indoctrination of our children.
May those in the shops and fields, the churches and the schools, the highways and byways, stand to their feet and cry out unashamedly: GOD BLESS AMERICA, LAND THAT I LOVE.
HAPPY 4th of JULY.
(We are not having our open prayer meetings at the moment.)
June 2021
TO HONOR OUR BLESSED COUNTRY ON MEMORIAL DAY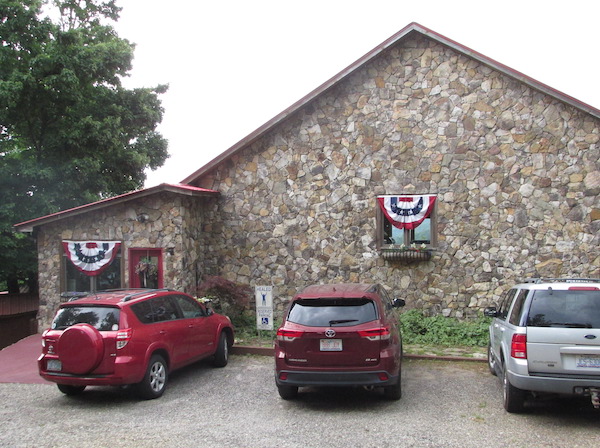 The front of this Mountain ministry
The ministry's front door
The window leading into the prayer room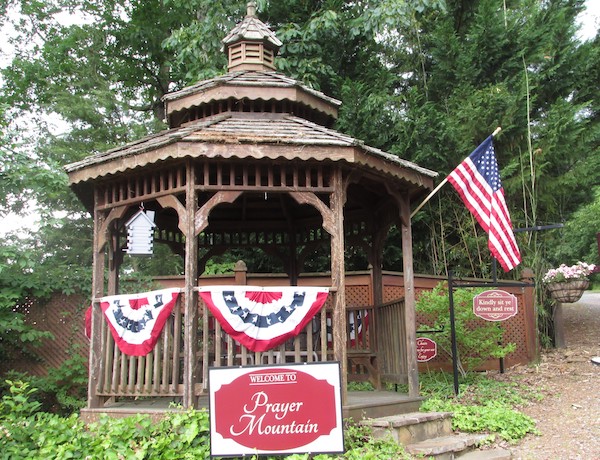 The gazebo
(We are not having our open prayer meetings at the moment.)
May 2021
Blessings
Our precious Jackie, who has been a part of Christ Jesus Triumphant for six years, is leaving to start her own investment company. This is a loss to us – but of great gain to all of you. Even before she came to the ministry, I called her "The Golden Girl." Through her lively wit and ingenuity, she not only lived up to that name but, in my estimation, she surpassed it.
Jackie majored in math in college and is a "whiz". Her father was a near-genius in the stock market and, I believe she takes after him.
After hearing many prophetic words that she would be moving into new areas of work, all of us finally agreed that she should pursue those new horizons stretching before her.
Her husband, also, is starting his own business. Professionally, he is rated in the highest category of his avocation as a physical therapist. He is also a prayer warrior, a lecturer, and a published author.
Both he and his wife, Jackie, are beginning their new businesses at the same time. What joy. We cannot tell you how highly we think of their giftings and of their commitment to service.
As they move into this new and extremely exciting phase of their lives, they go with continuing love and blessings from us all.
(We are not having our open prayer meetings at the moment.)
April 2021
The Gathering of Light
Have you noticed that before something wonderful happens in your life, it seems that there is a compounding of the "the bad"? Just when you feel you have hit your limit standing against the darkness, it gets darker. Now if you have not been through this cycle of seemingly unfortunate events before a breakthrough, you might get discouraged.
What is this? Why this multiplication of "the bad"?
I asked Bob Jones about this during one such "downturn" in my life and he said that demons attack us in greater measure because they see what we can not. They see the gathering of light.
Before the blessing is seen by us, it is seen by the angels and demons. The demons multiply in an attempt to hinder the blessing of God from reaching the person because – well – let's face it – that's their job.
So – bad times are strange heralds of the greater good being on its way. Also, the greater the hindering darkness, the greater the gathering of light. I began to see why the Bible could say: "Rejoice in the Lord always and again I say rejoice" (Philippians 4:4).
This, I know, is a strange way to look at adversity, and truthfully, it takes me a little while each time adversity comes, to remember this truth. First, I get hit and knocked back on my heels. Then I suffer and question everything and want to blame someone.
Then, I begin to remember, wait a minute, I have been here before! This shock usually calls me to listen to my better self (Jesus) who lives within me. Therefore, when this "pile on" of bad things is happening and you seem to be "going down for the third time," grab whatever lifeline Jesus is throwing to you – because if your eye can catch a glimmer of the light in the midst of an attack, Satan has already lost. Then, hanging onto that sliver of hope, Jesus can pull you out of the mire and thrust you into a blessed new day.
Usually, a greater anointing comes with this new day. You have broken through, passed a test, escaped from circling "that mountain" one more time, matured into a greater spiritual understanding, and indeed, find that you have walked into that glorious new day.
Congratulations.
(We are not having our open prayer meetings at the moment.)
March 2021
Bursting into the Clean Air
I am sure that for many of us, several of our hopes and dreams have seemed to vanish down a dark rabbit hole. However, in this short period of time we have also found that many of our deepest spiritual desires have begun to be realized: relatives are reaching out to Christ, perplexing questions are being answered, persistent blockades are suddenly being removed.
The present times are a bit like that scene in the movie: The Hobbit, where the dwarves and Bilbo are staggering around in the dark, spider-infested wood, and "their burglar" (Bilbo) climbs up to the top of the trees to get his bearings. Suddenly he bursts through the treetops into fresh, clean air. Hundreds of small blue butterflies (revelation) are set into motion. All of us watching this action, took in a lung full of fresh air, right along with the hobbit. Also, along with the hobbit, we gained a clear view for miles and miles, even to the distant destination.
Many of us have seen that we have tried to heal "the world" by means of "the world." But, like the hobbit, as we finally thrust our faces into the sunlight again, a wiser and more mature body of Christ has emerged.
We now see clearly the truth of the verse that says that we are to be "in" the world but not "of" the world. I think all of us were hoping for a different result. Truly, I feel we were hoping for a preview of our Lord's millennial kingdom – when He will straighten out the ungodly kinks – when we will see justice and mercy kiss and we would live in a pre-millennial Eden to show everyone what heaven it could be living under the rule of Christ.
But instead, the doors were slammed shut, and we were left standing in the dark wondering what happened? We were puzzled, but almost immediately, numbers of these glorious, personal breakthroughs began to occur. We may not have understood immediately, but now we are seeing breakthrough after breakthrough and realize our Father is doing something quite different from what we thought.
We are, after all, His children, and He is going to tell us what is going on. He has said to our hearts again that, "In the world you will have tribulation, but be of good cheer, I have overcome the world" (John 16:33).
But let me say for the record, that I believe the prophets were right; Trump won. But they presumed on an America that is fast disappearing – an America that would honor that landslide victory – that would see and work to foil the ungodly plans, before they could damage our nation. But we didn't see, and therefore we did not act.
Francis Schaeffer – the great Christian apologist, said – that either we will come to Christ and live in freedom guided by Him, or we will live under a small elite that will tighten the noose around our necks tighter and tighter to control us. This, mind you, he said in the 1980's – forty years ago. We now are living his scholarly prediction, for by addressing only the minor, fleshly, problems that were before us (like the false impeachment trials), the enemy was, behind the scenes, eating the heart out of our nation. It was like a poisoned layer cake where layer after layer had been corrupted from the top down. Schaeffer felt, in this scenario that at particular times, civilization is unable to pull itself out of the mire.
As heartbroken as we all are, we need to get our priorities straight. We must remember, we are just visiting, and chosen to visit, at our Heavenly Father's selection. All of us who are His children are like astronauts in training exercises on another planet. Our home is above. We are in training down here because down here there is resistance to us; therefore we mature more quickly – like the resistance from pumping iron. The resistance makes us gain muscle mass.
What does Daddy need from us in this season? The tests may become more severe – but after all, He began this training with the bestowing of gifts in the charismatic movement in the 1960's. We have been tested with progressively more difficult tests for years.
Now it looks like we may be getting a few major "pop quizzes."
Well, what are we made of? Hopefully, by now, we are made up of more of Jesus than of our flesh. But the quizzes will show us the true ratio. These are exciting times for those of us in Christ. All we need to do is love the Lord our God, live godly lives and follow our Daddy's instructions. This sounds easier than it actually is. But, after all, we are supposed to allow Christ to "do" all through us. Our "pop quizzes" will show us just how much we have grown up into Christ. Lord, help us to pass these tests.
And in case we haven't said it before: "Thank You, Daddy, for your training."
(We are not having our open prayer meetings at the moment.)
February 2021
Surviving the Seismic Quake
I truly believe we have just witnessed the spiritual end of an era: the end of the time of the gentiles. If true, we then are in the time of the Jews. I do not claim to be a prophet, but I feel it is time to consider what it will look like if things continue as they are. The end of the time of the gentiles is a momentous marker.
Another such momentous marker was the death and resurrection of Jesus Christ. All of humanity died with Him on the cross, and when He rose, He ushered in a new human race. Now, if we receive Jesus as our Savior and Lord into our hearts to be our life, then we take into our spiritually dead bodies the life of the Son of God and are "born again." We are alive.
These are huge events and, for the most part, entirely overlooked as momentous at the time.
But these are events that guide and shape our lives – the hidden ones. Do we really think in normal times, the blatant and overwhelming evidence of corruption would not have been considered by someone with the authority to at least question it? Of course, the authorities would have looked into it immediately. But with mountains of evidence, no one would even consider the evidence. It is like those $600 hammers the government buys. Incomprehensible. Something else is going on: a silent seismic shift.
THE MARKER
Trump's presidency marked the end of an era: like a glorious "going out" party. We had four years of plenty and peace. Truly, I was hoping for eight years, just like many of you. Even though he was persecuted during his entire presidency, he stood for righteousness and godliness in government. But I knew something was amiss when I heard that Obama sent Kerry to the heads of government right after Trump took office and urged them not to cooperate with him. I heard that Obama promised that Trump would be "out" after one term. In other words, "the fix was in." Trump could have won 100% of the vote, and the results would have been the same. The "fix was in."
But dear children of the living God – this could not have happened except that God Almighty allowed it. Times have changed, and it seems our Father is ready to bring about the next step in His glorious plan. He can wait no longer for the One New Man. He is lonely for His children, and therefore He will allow conditions that will shake the Jews loose from an economy that has been extremely good for them. They are already saying to one another: "Is it time to go (to Israel)?
The world that lies under "the deception of the evil one" is rejoicing but the outcome for America seems bleak indeed. Yet the political outcome could drive the Jews back to their home and, after all, we, His children, long for our "elder brothers" to come home.
BUT WHAT NOW?
First, we need to listen to our God for His directions. According to the Word, we need to give a good, hard look at what the callings of a Christian are. Have we been trying to use God's power to reform a world that the Bible says is under the sway of the evil one? Remember that in the list of those wearing "black hats" showing that they are of the enemy are "the world, the flesh, and the devil." Jesus did not come to earth to reform the governments of the world. He came to save His people from their sins (Matthew 1:21). He was not a national liberator as most Jews expected, but rather a spiritual liberator, and as He is, so are we in this world. "Herein is our love made perfect, that we may have boldness in the day of judgment: because as He is, so are we in this world" (1 John 4:17).
Like 9/11 changed the whole world and not just America, so January 20, 2021, will mark a silent change, profound in its results.
But we who are His children who are alive at this time to serve our Heavenly Father, have a question: "What is Daddy doing, and how may I align myself with His desires?" We do not wish to be found fighting against our Father's way of rescuing His firstborn (Exodus 4:22).
Jeremiah 16:15-16
15 "But, 'As the LORD lives, who brought up the sons of Israel from the land of the north and from all the lands where He had banished them.' For I will restore them to their own land which I gave to their fathers.
16 'Behold, I am going to send for many fishermen," declares the LORD, "and they will fish for them; and afterward I will send for many hunters, and they will hunt them from every mountain and every hill and from the clefts of the rocks.'"
The evangelists have traveled the whole world calling all who can hear, to come to Christ – Jews included. But now, I feel, we have moved into the era of the hunters.
FROM GENTILES TO JEWS
This would be a massive change in the whole world – especially America, the most powerful gentile nation. There needs to be a reason for the Jews to leave such a very comfortable economy, where they are held in respect and high esteem.
But what would drive the Jews back to the land of their forefathers?
Ezekiel 36:24-27
24 For I will take you from the nations, and gather you from all the lands; and I will bring you into your own land. 25 Then I will sprinkle clean water on you, and you will be clean; I will cleanse you from all your filthiness and from all your idols. 26 Moreover, I will give you a new heart and put a new spirit within you; and I will remove the heart of stone from your flesh and give you a heart of flesh. 27 And I will put My Spirit within you and bring it about that you walk in My statutes, and are careful and follow My ordinances. 28 And you will live in the land that I gave to your forefathers; so you will be My people, and I will be your God.
The salvation of the Jews and the raising up of the ONE NEW MAN (both Jew and gentile) is heavy on our Father's heart. Since both Ezekiel and Jeremiah tell of the time of the Jews being removed from the lands and driven to Israel for their salvation, can we who are already children of the living God have any response but to rejoice?
OUR ATTITUDE
If we understand the tremendous period of time in which we are privileged to live, we can cooperate with our God and turn our faces to the jobs He gives to each of us to fulfill. We can even rejoice in the coming adversity. (We probably won't rejoice that much, but at least we will understand and therefore cooperate instead of trying to bring back our idea of the past.) We have kingdom jobs to do down here – those assigned by our Heavenly Father. Let us be about our Father's business, as our Lord did on earth.
January 2021
What Now?
People keep asking me what I think about the recent national election. Truly, I am as dismayed as you are. I am baffled by what I see and hear and equally saddened.
We keep thinking the courts will rescue us, but they do not seem to even take the cases. All of us know that fraud occurred and is already taking place again, but our outcry falls on deaf ears.
Poor America. Granted, we have always been naïve, for we are a young nation among the civilized nations of the world. But being young, we also had the strength of a teenager. Therefore, in true teenage fashion, we blundered our way through most things. The older nations looked upon us as strong but clumsy, willing to help those in distress but a nation they could quickly just give "lip service" after their crisis passed, generous but gouache, like a nouveau riche tourist among the ruins of fallen more subtle nations.
No matter, I am proud of this naïve nation. But now, our youth and strength seem to no avail. We are dealing with the two most subtle foes a brash adolescent nation can face: a wily old Satan and an ancient nation led by false gods that has always been known as "inscrutable."
I am not sure that pulling us out by the scruff of our neck – like a momma dog saving threaten pups – will mature us in time to understand and retaliate against such subtle foes. America has, at times, been "as harmless as doves," but we have never been "as wise as serpents."
Dear ones, in the past, we may have felt that our wealth and strength have saved us; but now, all of us should see the truth clearly: that it has always been God Almighty that has rescued this adolescent nation and brought her through.
In our short history, our government has become far more corrupt than most of our nation's people could have believed. Those alive in Christ are heartbroken to see the length and breadth of this corruption.
But I still feel that if we repent and turn to God that He will heal our land. As Amos pleaded with the God of Israel for his small country, we plead with God for America because of our youth.
Amos 7:2b-3
"2 …'Lord GOD, please pardon!
How can Jacob stand,
For he is small?'
3 The LORD changed His mind about this.
'It shall not be,' said the LORD."
God stopped the destruction of that nation twice as Amos pleaded.
Even though we are citizens of our Father's Kingdom (in spirit, we already live in the heavenly Jerusalem). Of course, we want to give this land of America as much prayer and loyalty as a faithful ambassador from that heavenly realm should give to its host nation. There is great love for this land among His children and for a nation that is called Christian, to be boldly taken over by a nation under the rulership of false gods, is an insult to our Heavenly Father.
But at times in the spiritual history of the Bible, the Father has allowed such an insult through widespread humiliation of His anointed Kings as well as of Himself at the hands of nations who worship false gods. Why? Because He is actually dealing with those of us, He calls his own.
As the psalmist states in Psalm 2:1-6
"1 Why are the nations in an uproar
And the peoples devising a vain thing?
2 The kings of the earth take their stand
And the rulers take counsel together
Against the LORD and against His Anointed, saying,
3 "Let us tear their fetters apart
And cast away their cords from us!"
4 He who sits in the heavens laughs,
The Lord scoffs at them.
5 Then He will speak to them in His anger
And terrify them in His fury, saying,
6 "But as for Me, I have installed My King
Upon Zion, My holy mountain."
As we see here in Psalm 2, the Lord can change circumstances at any time.
So, what does He wish to see from us? Faithfulness to Him and our new family, rescued out of this world through salvation into Christ Jesus.
We know that circumstances in the world are going to get worse. As the children's song says: "The Bible tells us so." We were hoping for at least four more years for our president to help hold back the inevitable. But will we get those four more years? We will know soon.
Let's keep praying and standing, hoping against hope for that reprieve – and dear children of the Living God, it will only be just that – a reprieve. The Bible tells us what the march of time will bring. It is written and will be a reality one day. We just hope it won't be this day. But if it is – what say you? Is this generation ready to take a stand for Christ? We may have hoped that the Lord would shine forth in one way. But if He wishes to shine forth in another way, He is the One who gets to choose after all. Therefore, "Shine, Jesus, Shine."
December 2020
What is the Answer?
I have thought long and hard and prayed even longer and harder concerning the times our nation is going through.
WHAT LIES BEFORE US?
1) Firstly, there is the most obvious answer to the question – should we believe the prophets? Do we believe the prophets, no matter how impossible the circumstances before us appear – (sort of like we are now, standing on the edge of the Red Sea with the Egyptians barreling down on us scenario). In this scenario, we believe the Lord will back up the prophets and bring victory to our president (and to America).
(In case you feel the prophets are Old Testament only, they are not just an old Testament gift. The office of a prophet is one of the five designations given to the church to work with the Holy Spirit to guide the body of Christ in the New Testament.)
I want to believe the prophets. However, I am usually given some sort of personal witness within my spirit that agrees or disagrees with prophetic words. Unfortunately, this is one of those times the Lord has given me an opportunity to walk forward without the deep assurance of prophetic sight. It is a very uncomfortable test – especially right now.
2) Secondly, there is the fact it is written in God's word that if someone stands with Israel, the Lord says He will stand with them (Genesis 12:3). No one has stood with Israel more than Donald Trump. Not only has he stood in the past, but he is right on the edge of many more treaties that would benefit Israel immeasurably. Therefore, we should agree with our Lord's scripture and stand with Donald Trump and our God to fulfill His word and ask Him to give Donald Trump victory.
3) Therefore: even though I personally do not have an assurance, I am standing with the prophets in prayer that Donald Trump will win a victory and be carried immediately into a second term. I am also standing before God, asking Him to support Trump for his kindness to Israel.
We may or may not have a witness concerning prophetic words, but we know our Lord's perfect will. He is for righteousness – not only in our personal lives but also in our government.
As Christians, we cannot stand by as treachery, fraud, and bold deceit are paraded before the world's population as winning righteously. Such cruel unrighteousness must be opposed. What deluded arrogance. What demonic glee. What open mockery before the face of our God. Almost the whole world believes that there was fraud in our elections… (that's whether they may be for the outcome of fraud or against it), just as when everyone knew that O. J. Simpson murdered his wife and her friend (which he admitted years later), still many – though not believing his innocence – pulled for his receiving a "pass" in the trial.
But to the children of the Living God, I say – "Crawl, if necessary, to the throne of God and plead that righteousness prevails." Stand with your brothers and sisters in Christ that this darkness does not overtake us.
THE HOLY SPIRIT CALLS US TO PRAYER
Christians worldwide are joining their voices in prayer for the Lord's perfect will in the United States' presidential election. May God bring the courage needed to reveal the truth. May He move in the judges' hearts to judge righteously.
Hope, dear children of the Living God. Remember, it is always darkest before the dawn. I know this may sound strange, but we need to give our God encouragement by telling Him we are standing with Him. Not only does our president need to know that we are for him, but our God also needs to know that we stand with Him.
We must show as much grit and steel as the children of Israel when confronted with the edict, to fall down and worship the image Nebuchadnezzar had set up or be thrown into the fiery furnace. They answered:
16 "…O Nebuchadnezzar, we do not need to give you an answer concerning this matter. 17 If it be so, our God whom we serve is able to deliver us from the furnace of blazing fire; and He will deliver us out of your hand, O king. 18 But even if He does not, let it be known to you, O king, that we are not going to serve your gods or worship the golden image that you have set up."
Stand for and with our God.
November 2020
He Has Answered Our Prayers
Praise God. He has answered our prayers. THE WAY IS OPENED TO THE TOP OF PRAYER MOUNTAIN.
The ministry that purchased the land took pity on the Father's children and opened the way for prayer to return to the top of Prayer Mountain. I am having many of the 40 chairs this ministry purchased, taken up higher on the mountain so that those who come to pray may rest. Being able to sit will allow those who come to Prayer Mountain to take the time they need with the Lord.
OUR RESPONSE
Please join us in thanking the Lord for His kindness and compassion toward us. If you would, we might also ask our Lord to bless and prosper the ministry that purchased this land.
WHAT DO THEY PLAN TO DO?
The next question in the minds of most is: "What do they plan to do with the land?" The answer is: "steward it." They do not plan to build on it. Instead, they desire to man the road and to leave the surrounding woods "as is."
Originally the land was purchased in order to keep it pristine i.e., in its native wildness. Paths and benches and the re-planting of the native Mountain Laurel were also part of that plan. The hope of the original owners was to keep the land as much like "country" as possible – instead of looking like a housing development. There were to be walking paths across the top as well as benches provided for meditation.
The fact that the land was purchased recently as a gift to God and to His people is a great blessing.
THE HOPE FOR A HOUSE OF PRAYER
There was prophesied a chapel to be built on top.
Most do not know that blueprints were already in place. A chapel was designed to have glass on all sides. The chapel was designed in this way so that those within could experience the beauty of the changing seasons. The chapel was to be the only structure on the land. It was to be a place of prayer and meditation – a place given to the Lord and to welcome His people.
THE FUTURE
Let us pray that – just as the miracle of opening the road to allow God's children to return to the top for prayer – that the chapel will be built. Our Heavenly Father has waited a long time.
His kindness blesses us. Let us pray that the Lord will be given the desire of His heart, and a chapel will be built soon. We thank the former owner of the land for their care and the many years of welcoming the Lord's children.
October 2020
God Makes a Way
The way is open. The Lord has heard our prayers and taken down the barrier to the top of Prayer Mountain.
The ministry purchasing the land said, specifically, that they wanted the Lord's children to bring joy to His heart by meeting with Him on His chosen mountain. I know this certainly brings joy to our hearts. Praise God.
We will get the 40 chairs to the top as quickly as possible. But if you come to Prayer Mountain you may take one of the chairs up with you – so that you will have a place to sit. They were acquired for you.
Dear, blessed children of God, in the many years that I have lived, I have seen a pattern with the Lord. That pattern is this: when circumstances block the Lord's children from fulfilling the desire of His heart – then – the Lord moves to correct the situation. When there is no more "wiggle room," the Lord moves to make a way.
The answer to your prayers is here. We thank Him for both hearing and then answering our prayers. Bless His holy name.
September 2020
Discerning the Signs in Our Times
All of us have marveled at the amazing signs given in the Bible. I don't know about you, but I have wondered how they could discern the meaning of each – since each seems wrapped in an enigma. Thank heavens; they give us the answers in the Word.
But what about now? Does God speak through signs in this day and age? Yes, He does. But unlike those disclosed in the Bible, the truly extraordinary – and, most of the time, publicly visible – signs, require a good deal of prayer and Biblical acuity to receive the comfort or guidance laid out before us by the Lord.
SIGNS?
So let us take a sign that has been given to us in these recent days as an illustration of how one might break down such a challenge with scripture: sort of a modern-day "how to."
FIRST, THE SIGN
On August 9th, 2020 (last month), we had a 5.1 earthquake on Prayer Mountain – at 8:08 a.m. It was so violent that it shook the whole mountain and the structure that houses the ministry. We hear that it was felt all the way to Scotland. Very exciting.
THE DATE OF THE SIGN
August 9th seemed a confusing date to me at first. August 8th is Bob Jones's "resurrection day" – as he called it. On August 8th, he died, went to Heaven, and was sent back by the Lord. But it wasn't the 8th. The earthquake occurred on the 9th. But its nearness to that special day helped us to realize that the 8th and 9th were related – in this instance in that Bob was part of both narratives.
The number "9" gave an answer to a years-old puzzle that started when an angel picked up Bob Jones and took him to the top of Prayer Mountain in the early days of the land being populated. The angel asked him to strike the earth nine times. When he did, the tall staff he was carrying to help him stand (after a recent knee surgery) shattered as he struck the earth the 9th time. He was told by the Father to turn to the north, south, east, and west and call out to the people of the world to come to Prayer Mountain – decreeing that people will come from the four corners of the world to meet with their Heavenly Father.
The earthquake on Prayer Mountain being on the 9th showed that the time for the fulfillment of that prophetic word was at hand. The nine strikes to the earth were finally understood.
THE TIME OF THE SIGN
8:08 – Double new beginnings. As when the dreams were interpreted by Joseph for Pharaoh, the answer was accompanied by the statement that the prophetic dreams would be established. The events would absolutely take place because the dream was given twice. The matter had been firmly decided by God (Genesis 41:32). The double means the same in our times as it did when Joseph interpreted Pharaoh's dreams. The double "8" means a new beginning is certain.
THE DEGREE OF SHAKING WITHIN THE SIGN
The fact that it was 5.1 shows the grace of the Lord toward His people by – in His perfect timing – bringing it about. (Five is the number of grace.)
THE REACH OF THE SIGN
The fact that the quake was felt in Scotland is significant. Remember Donald Trump walking over to that small church near the grounds of the White House? He carried with him and held up a Bible when he arrived. That Bible belonged to his two great aunts who prayed in the Hebrides Revival. The Hebrides are islands off the mainland of Scotland on the west side.
Those who are not Christians would not understand the significance of that Bible in the hands of our President. To Christians, we see the fulfillment of promises (even through a family line).
It is important for us to see the Lord's faithfulness to answer the prayers the Moravians prayed so many years ago for the land now known as Prayer Mountain.
THE NAME OF THE CENTER OF THE SIGN
The center of the quake was in Sparta – a nearby town. Remember, the Spartans were a war-like nation. By centering the quake in Sparta, the Lord showed that He was shaking all that can be shaken (Hebrews 12:27) and like a man of war, He is beginning to stand for His great name (Joel 3:9).
How does this combination of clues speak to the purposes concerning Prayer Mountain?
THE SIGN DECODED:
The earthquake, given by the grace of the Lord on the 9th, was to show that He has come to fulfill the prophetic word and act, given through Bob Jones and that it will now be accomplished. He is raising up to "do His will," and nothing will delay it. The time has come, and He is declaring this to those who can hear. After so many years of waiting, He is declaring that He will wait no longer. He is coming to fulfill His word; that we should rejoice in anticipation.
We here in Moravian Falls are very encouraged and reassured and just downright excited. The Lord truly "got our attention" through this earthquake.
He has given many physical signs here. One was at the beginning when a path was cut to the top of Prayer Mountain. The top of the mountain glowed for two weeks, to the amazement of many. Also, there were locations that we – through prayer – were unable to cleanse. Our Lord brought a tornado and allowed it to drop down on just those physical locations and – without touching any inhabited structure or person – He wiped the land clean.
Most people do not associate the phenomena on Prayer Mountain with our Lord interjecting Himself into the physical locations with spiritual declarations that He, alone, can make. But He is speaking. He has not forgotten His promises, nor has His desire for a chapel to be built on the top of the ridge, been abandoned. Therefore we say with all the angels assigned to this place: "Come, Lord Jesus."
August 2020
I know You Have Heard
I know that many of you have heard that Prayer Mountain is closed. That, unfortunately, is only a half-truth. Part of the land has been designated private property and closed to the Lord's children. However, the Lord always makes a way. Outdoor chairs and a gazebo are furnished for those who come to be with the Lord on Prayer Mountain.
BUT WE MUST RESPECT THE LAW
But dear children of the Living God, we must respect the law. Some are so distressed by the closure that they step over the barrier and trespass. The owner has clearly displayed the citation numbers of the laws that would allow a judge to fine or jail trespassers. God's children are not meant to be lawless. I beg you, no matter how much you feel this action is not showing forth our Heavenly Father's heart toward His children, we must respect the law.
By law, the land belongs to the one who purchased it – and anyone violating the law is not only breaking American laws but also spiritual laws.
THE POSTED ACTION
The action that was posted is similar to a church building being decommissioned. When a church building or lands are decommissioned, they legally remove the building or land from being set aside for God. Being private property removes either a building or lands from certain legal designations:
A. For both buildings and land, returning them to private property removes them from being a 501 (c) (3) – that is, from being under the umbrella of a ministry or church.
B. They now can be used for secular pursuits.
WHEN YOU VIOLATE GOD'S LAWS
For those who come to Prayer Mountain; when you violate God's laws of personal ownership, you place yourself squarely into the enemy camp. This gives Satan a legal right to harass you. You have taken yourself out from under the Lord's protection. There is much that the body of Christ does not understand about what is, and what is not in God's "legal" will. He has written a good deal about these boundaries in His word – but few dwell on the parts of the Bible that deal with private, personal property. However, I assure you, Satan does dwell on them. There is nothing that Satan would like more than for you to be so incensed about being blocked from land, which you feel God has set aside for prayer, that you cross over into illegal acts. However, we must bend like a reed to the raw legality that is presently in place.
LET ME GIVE YOU AN EXAMPLE
A young mother of five small children felt she must step over the barriers and pray on top of the land, requesting that it be opened. In distress, my assistant took down her number, and I called her. I talked to her for two full hours, trying to dissuade her from breaking the law. She was not thinking about the fact that she would open a chink in her spiritual armor, and she was putting into jeopardy her livelihood and perhaps even her health, or the children's wellbeing. When you break – not only the law of the land but spiritual law, you give Satan rights to access you and yours, and you may battle things that a person under the protective shadow of the Lord's wings does not need to battle.
THE LORD HAS PROVIDED
The Lord has provided for you. You are not forgotten. There are no chairs up further in the decommissioned area. But there are chairs a plenty in the gazebo area.
You are welcomed to pray here. We want you. We will do whatever we can do to provide for you and make you feel at home.
The Lord goes where He is wanted.
And – where He is, His angels congregate. The angels may be a wee bit crowded in this smaller space, but they also want to be wanted. It is very natural that they be here, also. The Lord has provided and will not leave you wanting.
PLEASE
Also, please do not pray against those who own the land that is closed. They, too, are children of our Heavenly Father. Bless them and wish them well.
Let us trust the Lord, that in His perfect timing, He will restore all of Prayer Mountain to His children and give the angels a bit more room to move around.
May God bless you all.
July 2020
Welcome to Prayer Mountain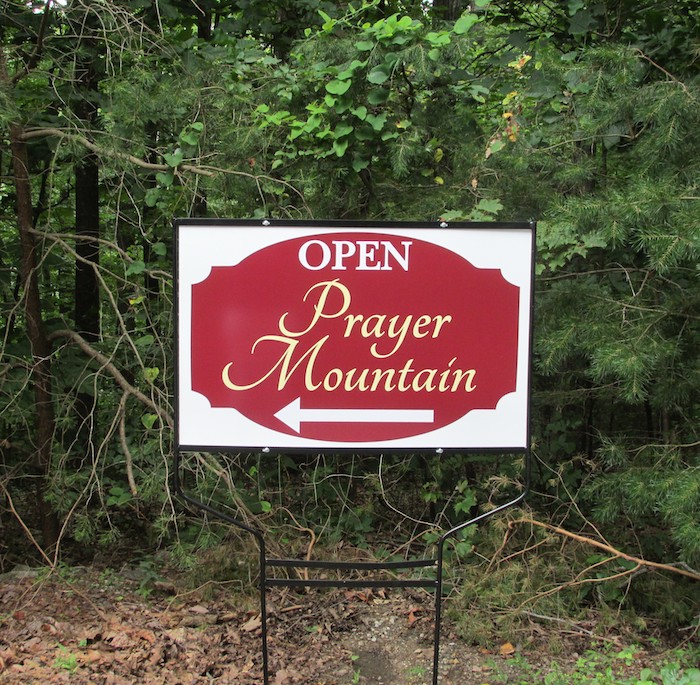 Here is the last of the signs recently put up to assist you in finding Prayer Mountain. Each sign has been allowed by ministries that own the land. Each ministry is a part of the "mountain," and each ministry graciously has provided the ground for the sign in order to assist you. All wish to show the Lord's love toward you and wish to honor our Lord's calling for Prayer Mountain. The ministries that are participating hope the signs help. They are:
1.  Team Focus USA
2.   MorningStar Ministries International
3.   Christ Jesus Triumphant, Inc.
3.   Prophet's Reward, Inc.
THE SIGN'S LOCATION
The newest sign sits at a "T" in the road called: MORNING LIGHT DRIVE. It shows everyone that they must turn LEFT at the "T" in the road to reach Prayer Mountain.
Other signs will guide you further up the road.
Remember to take NORTH STAR DRIVE to begin your climb up the "mountain" to locations provided for you and your cars.
Once you have arrived at the designated location, there is a gazebo for shelter and 20 outdoor chairs that you may use as you will. Especially, if you walk up from Apple Hill Lodge, Morning Light Retreat Center, The Elijah House, or Mountain View Lodge, will a chair to sit in be welcomed.
The Lord loves you, and we love you, and we are sure that even the Angels welcome you to PRAYER MOUNTAIN.
June 2020
For Our Father's Children
You may have heard that Prayer Mountain is closed. Well, part of it is closed, but not all of it. Therefore, we have put up a few signs to help everyone:
These signs are near the gazebo. Please feel free to sit in or use the gazebo as you need it. It is for you.
I have purchased twenty outdoor chairs (so that at least, groups of this number will be able to sit) – please take your time in prayer. If you plan to come to Prayer Mountain with a larger group, please let me know beforehand and I will purchase more chairs for your use. Our Heavenly Father wants everyone to feel welcomed and to be able to sit and rest.
The members of my staff are parking down the road in a neighbor's driveway, in order to give you room in the ministry's parking lot to park your own cars. Also to give you space for you to turn around on the mountain.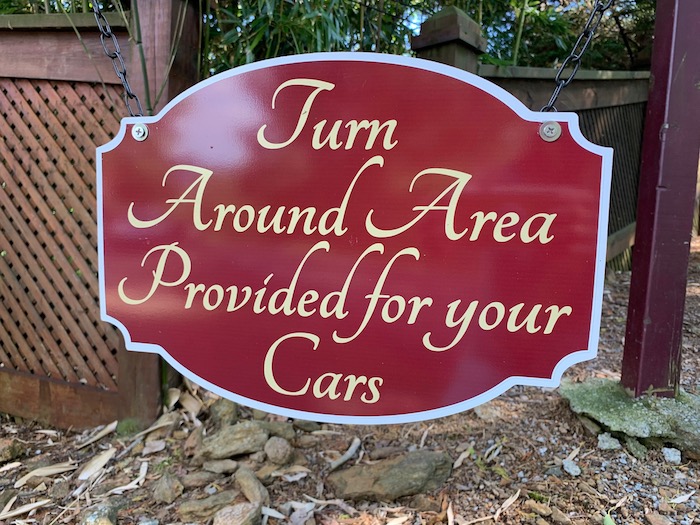 Other signs that we hope will help you. To guide you at the turn near the green barn on Morning Light Drive:
To guide you at the turn on North Star Drive:
To help you continue on North Star Drive:
---
Dear Friends, this mountain is the Lord's. He has set it aside for prayer and it has been open for over 30 years. He longs for you to feel welcomed and, as much as possible, cared for. He loves you and so do we.
---
WELCOME TO PRAYER MOUNTAIN.
May 2020
Personal Section
My goodness it is May. What a time this has been.
I remember where I was when Kennedy was shot and where I was when the twin towers were hit. Now with this long, sequestered period of time, I know I will have another notch on my memory belt.
It has been strange. But we have also seen the ingenuity and originality of mankind. Rarely are we so unceremoniously separated from the familiar – i.e. quickly jerked out of one type of life and locked into another. But we are seeing the bright beauty of mankind's struggle upward – even when dropped into the bottom of a pit. It may have been destabilizing, but there is also great beauty to these days.
We have welcomed back silence into our lives. We actually stopped whipping our futures like racehorses driven to win some hypothetical race. We have instead, returned to a few basic questions we may have asked ourselves in our young adult years: "Who am I; what am I doing; what am I meant to do?" (in the Lord of course).
It is like I need to touch firm ground again to give myself some sort of solid floor from which to push off into the next phase of my life. I suppose the optimal word would be that we have "re-evaluated" our lives.
No matter how hard these days may have been, they also have been pretty wonderful haven't they?
I have spent these days "hanging out" with God.
Oh, I have moved forward on the book and continued the spiritual chronicle of God's invisible foundation for Prayer Mountain and prayed for you and yours. Those of you who write to us, we feel as though we are part of your families. We ask one another about your well-being, as though you were our human mothers and fathers – but we pray for you like our dearest brothers and sisters – crying out to our Heavenly Father to give you everything that will make your life and your joy full.
Although we do not see you, we love you because we are all one in Him.
Thank you for remembering us in these difficult times. Believe me, you are remembered before our God daily.
April 2020
Lord Help
Even though in 1981 a pandemic was prophesied (by Dean Koontz, a Christian writer) that he would later say would come out of the Wuhan province in China (the exact province from which the Coronavirus came), it has been 39 years since that was written. A whole new generation has arisen.
My grandfather (who was a doctor) contracted the virus of 1918 which infected 500 million worldwide and killed 20 million. As a child, I remember my grandmother telling of her husband being in one of the beds in a hall full of beds (because all the rooms were so packed).
We see all manner of reactions to this virus, since most of us have had flu but few of us have lived through a pandemic of a new disease.
Therefore, we must listen to those more qualified to guide us and we must behave. We have a long history of cheering for the rebel (true to our old, fallen nature). But now is the time to cry out to God and obey the authorities.
Like 9/11
We were never the same after 9/11. It changed us. This world-wide pandemic, I believe, will do the same.
All of us are wondering just how long this will last along with other practical concerns.
But along with the day to day concerns, all of us Christians should be before the Lord in prayer to hear how He wishes us to make use of this very rare time . . . this pause. This silence . . . this exhale.
A Time Apart
For me, it seems to be a time set aside to draw closer to the Lord . . . to listen for Him; to take time just to sit together and enjoy one another.
Recently, life came screeching to a halt and is being rebooted, it seems, as a slow, ambling, drift down a quiet river on a sunny, spring day. The sun is warm, but not hot and there is little to do but drag our fingertips through the lazy water passing the boat.
We have forgotten what it's like – that life. We have been transported to a lifestyle 75 to 100 years ago: God, home, family, neighbors.
The push, push, push of the type of life we live at present, has slipped away and we are left confronting our priorities, our lack of private reflection and hunger for God. It is as though a fog has cleared and we are seeing our lives in painfully clear relief.
The enemy may have brought a dreadful virus, but God is using this time to reset our lives. Just like 9/11, once we get through this, we are going to have a different, a clearer vision – but it will be with dove's eyes. For we have remembered the summer days of our youth – when our minds were not painfully cluttered with so many things. We actually took time to gaze at the stars or watch the lightning bugs begin to come out at twilight. We had time to listen to the wind stir the trees, or hear a dog bark a block away, or even further in the distance, to hear a night train blow its whistle, as it approached a railway crossing.
Many of us seem too busy to enjoy life. Media has filled all the spaces in our minds that we used to leave empty waiting for wonderful surprises from our Creator. There was room in our minds in those days for awakenings as our Father took us by the hand and strolled with us. Little things seemed enormous and we were tender before the Lord.
He is taking us back to those gentler times. He has missed us and now we know we have missed Him.
Let's just see what He plans to do with us after this gentle pause. The gaudy lights of Times Square and Hollywood have lost their appeal as we turn our gaze steadily on Him. Now, with our hand in His, we are walking forward into a recalibrated and simpler tomorrow. He has centered us. He has brought us "home".
---
I want to thank every person who is now or has contributed to Christ Jesus Triumphant. These are not easy times and we see every donation as a great sacrifice on your part to the Lord and to His work. Thank you. We pray the Lord rewards you a thousand times over, dear blessed friends. May our God reveal His heart to you in these times and may He abundantly prosper you.
March 2020
For Your Safety
Dear children of the Living God, we will be suspending the Friday "Prayer on the Mountain" meetings beginning the first week of March.
The health department has suggested that international gatherings – such as this prayer meeting – be suspended until the coronavirus has been neutralized. We have Christians who fly in from Asia, Africa, South America, Russia, Australia, the Middle East and Europe – well, from all over the world – to join us in prayer. Each meeting we have several languages represented.
Therefore, to ensure we are cooperating with the health professionals worldwide, we on this little mountain will do our part.
We love you dearly and will miss you dreadfully. Please keep us in your prayers and you know you will be in ours. You are family.
Oh Lord, heal those infected in every nation. We ask this in Jesus' name.
Like Arnold Schwarzenegger: "We'll be back!"
February 2020
"Head 'em up, move 'em out!"
If the rest of 2020 is going to be anything like the month we have just lived through, we are definitely in for a "wild ride". The first month of the year came in with everything (and I do mean everything), more intense: work, relationships – everything.
Of course, this makes life very exciting and decisions more critical. It is not only that life itself has become accelerated, but that our Heavenly Father is pouring out an increased anointing on His children. Therefore, all of us are somewhat discombobulated.
Truly, I know of no one going up in an anointing that is not somewhat "off balance". Each person is headed into unfamiliar territory, therefore, we become prone to mistakes when faced with new challenges. It isn't that we don't want to move forward in our lives. Quite the opposite. All of us have longed to stop "marching in place". It seems as though most of the body of Christ has been in the wilderness a very long time. But that does not mean that we will not stumble a bit when we begin to move out again. We have not worked those muscles in a long time. We have been standing in place, braced to take the blows Satan has been throwing against us.
Our leg muscles are locked to withstand the blows. But now we are hearing the command to "Move out". The increased anointing is giving us the energy and anticipation to move forward if we are able to pick up those legs again. We are leaning forward and slowly unlocking the knees and stiffly, stumbling ahead.
BE KIND
If we realize that our brothers and sisters in Christ are experiencing the same stiffness (as we all try to heed our Father's command to "Move out") perhaps during our desert experience we will have grown in maturity enough to also be kind, understanding and forgiving to one another in this new, new phase of our Father's work.
It is a brave new world we are headed into and we want to be brave, new people as we answer our Father's call. We want Christ within us to answer that call. We want Him to be the face people see and His to be the voice they hear.
I believe the wilderness has been a good training ground. We may trip a bit in it – but I believe we really do want Christ to be all in all in our lives.
We have done a good deal of growing up in that wilderness. We may be awkward as our spirits are stirred again, but there will be less of "the pointing of the finger" and the "show business" delusion as visibly, we begin to meld into the body of Christ that Daddy wishes to see.
Help us, Daddy. We want to be "one".
January 2020
2020
Oh boy, oh boy, oh boy – 2020 at last. We have heard the absolute pile-up of prophetic words concerning this year as far back as ten years ago.
During those ten years, by putting our heads down, trusting in our God and inching forward, we could say with Paul:
12 "Not that I have already obtained it or have already become perfect, but I press on so that I may lay hold of that for which also I was laid hold of by Christ Jesus. 13 Brethren, I do not regard myself as having laid hold of it yet; but one thing I do: forgetting what lies behind and reaching forward to what lies ahead, 14 I press on toward the goal for the prize of the upward call of God in Christ Jesus" (Philippians 3:12-14).
All of us are positioning ourselves to receive that 2020 promised clarity of vision (in the spiritual realm). All of us would love to walk into the glorious prophetic words spoken over each one of us during the last ten years – (with the arrival of the fulfillment being in 2020).
It is as though we have heard and believed but waited a long time for these glorious words to overtake us:
"Behold, days are coming," declares the LORD, "When the plowman will overtake the reaper And the treader of grapes him who sows seed; When the mountains will drip sweet wine And all the hills will be dissolved" (Amos 9:13).
It has been stated for years that 2020 will be such a year. All of us are holding our breath, for we would love to see some of these prophetic words mature into actuality. Seeing our mighty God fulfill His promises is among the greatest thrills we are given on this earth.
Also, seeing our Heavenly Father more clearly and being drawn into a deeper intimacy with our God, is truly "heaven on earth".
So – here we are at the year 2020. If the prophets are correct, we are in for one amazing ride. The prophetic words are so diverse and so universally good that I, for one, am looking forward to this year with unbashed hope.
2020. Here we are!
December 2019
His Family
There are all manner of theories about the exact date of our Lord's birth. We may wish to be precise; but I am sure He honors our celebration of His coming into the world as a "man" whenever we lift our hearts to Him. Christians – speaking as the worldwide church – have settled on a day so that we may celebrate Him together.
We are family, after all – the whole wide world of us.
OUR ONENESS
We have been experiencing our "oneness" in the Friday "Prayer on the Mountain" meetings. Many different nations have been participating in the corporate intercession.
Almost every Friday, we are blessed to have two, three or four nations (other than the United States of America) represented within the meeting. Truly it is wonderful to hear our brothers and sisters pray in the language of these different nations.
We become as children when we hear these prayers and often clap and burst into spontaneous joy when each finishes praying.
"WE ARE THE WORLD – WE ARE THE CHILDREN"
By being brought together briefly in time and space (as a foretaste of the glory we will experience in eternity) we embrace our Father's family. "O taste and see that the LORD is good."
We do "taste and see". We do not know one another before the meeting – but Christ in us knits our hearts together quickly. He is our Brother – family – and He in us makes us one.
For this reason, every Friday, the Prayer on the Mountain meeting is revelatory and exhilarating.
Truly we feel blessed. Come and add to the Lord's blessing by seeing more of us together.
We always leave out the "Prayer on the Mountain" sign to welcome family.
Have a Blessed Christmas.
November 2019
Miracles Still Happen
Here are two that occurred in the Friday Prayer on the Mountain meetings:
1. MIRACLE PROVISION
A visiting young woman from out of state came up to Cindy (one of our worship leaders) after the prayer session and told her she had always wanted to play the violin.
Cindy asked: "Do you have a violin?"
"No," the young woman replied.
Cindy said she would see what she could do to assist her.
After talking to the young woman, a gentleman from West Virginia asked to speak with her. He held a violin case. He told her that the Lord had him bring down a violin to see if anyone needed one.
Startled, Cindy ran to get the young woman and introduced her to the gentleman who brought the violin. What a miracle.
2. BREAD ON THE WATER
I believe that I have related to you the fact that my husband, Albert, and I researched and helped to mount the first city-wide repentance service in America with the First Nations people. This was held in Kansas City with the chiefs of the five tribes that had once been a part of Kansas City's history: The Kanza, Wyandot, Shawnee, Osage and Delaware.
We brought the present-day leaders of these five tribes to Kansas City to allow the ministers of the seventy-two denominations represented in that great city to repent to the leaders of the tribes for the sins committed against the First Nations people.
It was both thrilling and heart-breaking: thrilling to be allowed to be a part of such a breakthrough – and heart breaking as we poured through the protected archives of the Kanza Collection at the university in Lawrence, Kansas. Just reading the book of treaties showed us that our ancestors had tricked and cheated them. It was difficult to stomach the realization of what we had done to the original inhabitants of this land.
But I never expected to be honored again to touch (in any way) the inhabitants of a designated piece of land. But, "like bread on the water", Chief Big Pond came to Moravian Falls. Although he lives in Bixby, Oklahoma, this godly Methodist apostle travels extensively as a representative of the First Nations people to assist in First Nations repentance services for the setting free of this nation's land and of those who occupy it.
Chief Big Pond's ancestors occupied this North Carolina land originally and he felt a monumental connection to it. It was an honor to accompany him to the top of Prayer Mountain to God's designated location for our Father's House (on top).
He prayed and blessed me and I him. Also, he gave me this necklace with the colors and symbols of his tribe. Here is the necklace.
He hopes to return here soon for he feels that the book the Lord wishes him to write should be written here. Praise God. (For such an honor, I would ask the Lord if Chief Big Pond could share some of the Scribe Angels helping me.)
With "original" rights he has cleansed the land and called forth the chapel to be built on top of the ridge. The land has been waiting a long time to be released. I'm happy for it. I'm happy for this third generation, First Nations Clergyman/Chief, and I can tell you, I am happy for those of us who have lived to see this day.
October 2019
Receiving Miraculous Signs
The Lord is stepping up the "amazing" in our midst. He seems to enjoy meeting with His assembled children as much as we, His children, enjoy being with Him. When we are together, we experience His love through one another.
SIMPLE SIGNS
A "simple sign" can be so appreciated. One such was recorded by a daughter of His who came to pray.
Her story is this:
Somehow, she got lost while seeking the road to the Friday prayer meeting. She stopped to seek the Lord's help. Looking up after her prayer, she saw a cloud formation in the shape of the arrow in the picture. "Huh," she thought, "could it be?"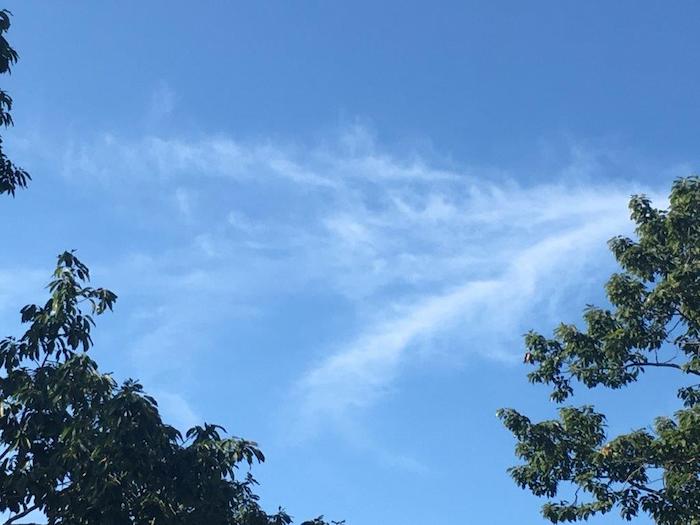 Shen followed the arrow – which took her right to the meeting. (She was even on time.)
ANOTHER SIGN
Another "simple sign" was given to a group of young men staying on Pore's Knob (the larger mountain facing Prayer Mountain).
Looking out of their windows at daybreak, they saw a glowing structure on the smaller mountain facing them. They enquired as to what it was and were told that it was the location of the Friday "Prayer on the Mountain" meeting.
The young men said they followed the glow and came right to the location. They too, arrived on time.
Now before you think that we believe we are something special and glow because of some holiness – we know we are not.
The glow occurs each morning due to the way the morning sun strikes the stones on the outside of the prayer location. I wish it were holiness; but alas, it is a natural phenomenon that the Lord used to bring them to pray with their brothers and sisters in the Lord.
Also, the Lord wanted them to hear the many prophetic words spoken over them during the meeting.
THE MEETING ITSELF
Each meeting is different because each week different people come to the "Mountain" to seek the Lord. It is wonderful to be with our brothers and sisters from around the world and glorious to hear them pray in their native tongue.
All of us, I am sure, are grateful to our Lord for providing this place that we may step aside from our day to day lives to gather with those He brings together to seek His will and to reach out in love to Him and to one another.
On behalf of all of us, Lord, we thank You.
September 2019
Time to Get Our House in Order
In my lifetime I have never seen so many families and single people moving from one location to another. It's like someone spilled a huge basket of fruit that scattered everywhere.
But why so much moving?
Of course, I am not absolutely certain, but there are hints of the reason. After spending over fifty years preparing the body of Christ through multiple teachings, so that we are almost as highly trained as Navy SEALS might be in their field, the Lord is now getting the body of Christ into "place" to be available in exactly the location He needs us. This next move of His Spirit will be so mighty that all of us will need to be as highly trained as once only clergy were prepared. This next move will need us all. I mean, everyone of us.
SOUND DOCTRINE
That is the reason we cannot rely on the gifts only. We need to have sound doctrine. We need to know His Word purely.
For this reason, God Almighty brought back from "the dead" Steve Hill (who preached the Brownsville revival) and told him to bring one message only to the body of Christ: BEWARE OF FALSE DOCTRINE. Why is this important? Because false doctrine is propagated by demons to keep the saved from fulfilling their callings. We give to these demons part of ourselves – which belongs to God alone. They are deadly.
We can't say, "Oh that's just the speaker's opinion," and shrug it off. Our brothers and sisters in the past died to deliver to us the pure Word of Christ. Have they died to make available the gospel to those of us that just roll our eyes and say: "Well, I only receive what I want to receive. I don't believe all of it."
Dear children of the Living God, do you not know that while sitting under any of it, the deadliness of the doctrine comes from the teacher's spirit as well as their words. You may bat-back the false doctrine like a tennis ball, but all the while, that which is in the spirit of someone so deceived as to deliver to you false doctrine, will be propelled right into your spirit.
Wounding, or worse damage, will occur. You need to flee such false teaching. If God almighty thinks it so important to "flee" such teaching, that He makes available again the evangelist of the last declared revival, we should not take false teaching lightly.
RECAP
So – The Lord has spent about fifty years training us in His gifts: we can pray for the sick, pray for deliverance, prophesy as God leads, speak of salvation through Christ, etc.
Now – He is moving to separate us from false doctrine. We will be deadly to new believers if we feed them false food.
And – He is moving us around to insure we are in the right place to be of benefit to His Kingdom, His glory and to His spiritual children. For, there will be spiritual nurseries in homes, churches, empty buildings, and well, everywhere people may gather.
Therefore, let Him clean up our Christian doctrine and look forward, with great anticipation, to being moved into the exact location He needs us. We will find new brothers and sisters of like mind in these special locations – which will add to our joy and to the stability of His body.
He is preparing deeply and carefully. Let us cooperate with Him.
IT IS GOING TO BE AWESOME!
August 2019
Get Ready, Get Set – Go!
Words right from the heart of God are pouring out in these Friday morning Prayer on the Mountain gatherings. Each week we meet new brothers and sisters from around the world. Each week the word from our Father's heart is voiced anew: "He is coming!"
We have trained and prayed and been vigilant to hold our place on "the wall" and now He is coming, His reward is with Him1 (Isaiah 62:11). The "suddenlies" are headed our way – thundering like a caravan of racing camels. Soon, according to the words coming forth in the meetings, they will overtake us with breathtaking speed.
Are we ready? You better believe we are ready. We have been getting ready for a long time. We realize that the battles on the horizon are not Armageddon but are an acceleration of "wars and rumors of wars"2 (Matthew 24:6). In other words, it is not the end but the beginning of the end. After all of this training we now need to wake up to the fact that it is time to move up to the starting line. We need to get into our positions and lean forward, breathlessly waiting for the sound of the starting gun. Fixing our eyes on Jesus3 (Hebrews 12:2) with all our faculties tinglingly alert and focused, we need to listen for the sound of the starting gun.
As we begin to run, the stored blessings accumulated during the long, hard testings we have endured, will begin to overtake us. We are stepping into the period of time when the "harvest overtakes the planting"4 (Amos 9:13). The time of answers while we are still asking5 (Isaiah 65:24).
We have not seen these days since the Charismatic Movement began in the early 1960's.
We have not been "as those who dream"6 in a long time (Psalms 126:1). After years of grueling training courses, we are more than ready for our steps to be "bathed in butter"7 (Job 29:6). We are about to see with our own eyes the fulfillment of the word: "Behold I do something new…."8 (Isaiah 42:9, 43:19).
We alive today will see the "new thing". Oh fortunate brothers and sisters, we have been called and chosen to see the "new…" Something that God Almighty has not done before. How amazing is that! Oh, fortunate ones. Oh, blessed beyond compare. Get ready.
---
---
SCRIPTURE NOTES
1. "Behold, the LORD has proclaimed to the end of the earth, Say to the daughter of Zion, 'Lo, your salvation comes; Behold His reward is with Him, and His recompense before Him'" (Isaiah 62:11 NASB).
2. "You will be hearing of wars and rumors of wars. See that you are not frightened, for those things must take place, but that is not yet the end" (Matthew 24:6 NASB).
3. "Fixing our eyes on Jesus, the author and perfecter of faith, who for the joy set before Him endured the cross, despising the shame, and has sat down at the right hand of the throne of God" (Hebrews 12:2 NASB).
4. "'Behold, days are coming,' declares the LORD, 'When the plowman will overtake the reaper. And the treader of grapes him who sows seed'" (Amos 9:13a NASB).
5. "It will also come to pass that before they call, I will answer; and while they are still speaking, I will hear" (Isaiah 65:24 NASB).
6. "When the LORD brought back the captive ones of Zion, We were like those who dream." (Psalms 126:1 NASB).
7. "When my steps were bathed in butter, And the rock poured out for me streams of oil!" (Job 29:6 NASB.)
8. "Behold, the former things have come to pass, Now I declare new things; Before they spring forth I proclaim them to you" (Isaiah 42:9 NASB). "Behold, I will do something new, Now it will spring forth" (Isaiah 43:19a NASB).
July 2019
The Beginning of a Tsunami
Oh my word, the prayer meetings have been growing by "leaps and bounds". We had one this last month that was so packed that I was praying the floor would not buckle. I dare not count the number present because the Lord told David not to number Israel. (Of course, in this case we are not Israel) but just in case He does not wish that done by ANYONE, I too, do not count His children.
Prophesy is flowing like a river. To tell you the truth, I am amazed. One week the worship team had played only one song when people began prophesying. The team would play and then – more prophecy and on and on. Truly, dear friends, it is awe inspiring.
I thank you for your prayers.
It is as though an angel is stirring the waters. But beyond this, truly it is the Lord. Somewhere the great move of the Spirit has begun. Blessedly, we are encountering those higher waves in the ocean because somewhere the tsunami has begun to roll.
I feel like I'm standing on the shoreline looking out to sea. I want to shout toward the horizon: "Come on, God!" like I'm at a football game. I want to cheer Him on – to show Him we're rooting for Him.
That may seem ridiculous, but truly, He just might appreciate a bit of encouragement from the "home team".
Original music is being heard (from above, I am sure) and played – and my goodness, the anointing on the prayers. Only God Himself could bring forth such passion in prayer.
All of us have been waiting a long time to see this day. All of us have been hoping and praying we would experience the last and mightiest outpouring of the Spirit promised in God's Word.
What is happening here is not because of us – believe me. It is Him. We are at the beginning of the answer to our prayers. He is pouring out His Spirit on all mankind. Wherever you are, you are now or will be soon, experiencing the mighty stirrings of this extraordinary blessing from our God.
If the Lord so wills, we would love for you to come one of the Friday mornings to be with your brothers and sisters from around the world to fulfill the Lord's command of, "At a time of rain, pray for rain." We don't want just a taste of revival, i.e. "rain", we want the downpour, the gully washing, the up to our chins and enough to swim in, i.e. prayed for "rain" – His Spirit everywhere.
Come Lord, "You are welcome in this place." Come now and bring that last great tsunami crashing over all mankind to bring in the last great harvest. We want more brothers and sisters, Lord. We want our whole family, Daddy. Make us one.
June 2019
Summer Time
It's here… the glorious days of summer. We are hoping that many more of our friends and soon to be friends will be able to come to the Friday prayer meetings in June, July and August. Prayer Mountain is waiting for you. There is much excitement among the angels. Don't disappoint them.
PICNIC
This last month we had a surprise barbecue after one of the prayer meetings. A young man my late husband and I knew in Kansas City in 1989, wanted to cook Texas, barbecued brisket for a picnic for those who came to pray. It was great fun to have a picnic and a real surprise to those attending.
THE GIFTS OF BEAUTY
Two lovely pictures were given to all of us; one drawn many years ago, was a family treasure. It was brought by the artist herself.
The second was given a couple of days before the Friday prayer meeting. However, it came in time to hang before the donor arrived in town to attend "Prayer on the Mountain". It is called: "First Day in Heaven".
DAY TO DAY
I am working hard on the next book and the website. Also, we are doing our best to prepare for our 4th staff member. The Lord being our helper, we will be ready.
We thank the Lord for supporting what He Himself is doing through His ministry. Because of your love and goodness toward us, we are able to move forward to provide even more and deeper revelations from our Lord. What a joy it is to share these revelations with you. He has been bountiful to share them with me. Therefore, I wish to be as bountiful and share them with you.
Have a blessed summer.
May 2019
Are We There Yet?
Honestly, all of us – me included – are like kids on a long trip. We are fidgety in the back seat of the car asking, "Are we there yet?" Well, let us ask: "Are we there yet?"
What do we mean?
Just exactly what do we mean when we ask this question? We mean: is it the appointed time for our Lord to pour out His Spirit on all mankind? How long will it be before the great outpouring that will flood the whole world like a tsunami of His presence? Please Lord, how long?
THE RECENT PAST
Great moves of the Spirit usually come every forty years. Some people are still alive that carry the message of what it was like to live through that great move of the Spirit, named the Charismatic Movement. (It swept out to the West Coast where it was renamed, "The Jesus Movement" [Hollywood rebrands everything].)
Therefore, most people alive today do not remember the spark that ignited this move, nor its rapid development and its eventual decline. But, over the 42 years since the Lord proclaimed its end, we have heard of it: the grace, the miracles, the healings, the joy . . . how they were "as those who dreamed".
A FRONT SEAT ROW
I was fortunate enough to be married to one of the twelve that our Lord used to spark that mighty move of His Spirit. When that mighty move began in the early 1960's, I was still in New York and unsaved.
However, in the 1970's our Lord arranged for me to be in the same location as one of the original twelve who "prayed in" that revival.
Graciously, the Lord "saved" me, filled me with His Spirit, gave me a prayer language, and told me I would be marrying the minister of the church where one of "the twelve" was pastoring. A year after our marriage, our Lord extended the mighty move of His Spirit to the very church where my husband was pastoring. The church went from 15 adults and two children to being packed with 150 children and their newly saved parents. The church building was small, being built before the Civil War, but it was packed.
To say the least, this explosion of new Christians into the church was breathtaking. We loved to be together and had a great hunger for the Word. My husband, who was an excellent teacher, raised us up through deep study of the Word and through his example of mature, godly living.
IN 1977
In 1977 the newly saved Christians at this little church wanted to go to a huge conference in Kansas City. Brothers and sisters from all denominations – from liturgical to nondenominational were coming together to praise the Lord. The meetings during the week were held in various denominational churches. So many came that no large auditorium could hold them in Kansas City, therefore, for the last meeting of this week-long convocation, those in attendance gathered in Arrowhead Stadium. The meeting was huge, perhaps 50,000 thousand, with 10,000 having already returned home to prepare for services on Sunday. Those present were beside themselves with joy.
A SHOCK
At the end of this gathering in the stadium, a person on the platform (that was down on the field), rose to give a spontaneous prophetic word. Oh my, what a shock, after all that joy, the person proclaimed that "the body of Christ is broken," and that our Heavenly Father was saddened and was shutting down this mighty move of His Spirit. This was in 1977 and He did just that.
Oh, it sort-of slid away over time, like water in a container with a hole in its base. But it went. A couple of books were written about this amazing occurrence as a witness to the glory, but it was over. He did not proclaim this in secret, the Lord had brought together representatives of the whole body of Christ to inform them.
NOW
Now, it has been over forty years since the stated end of that mighty move of the Spirit. Our Lord has used this time to test and mature those who came into His Kingdom in the '60s, seventies, eighties, nineties and now. Some have gone on to glory. But for those who have "borne the heat of the day", you might say, those are about to be rewarded.
HE IS COMING
He is coming to bring the great ingathering He promised. Are we shocked by the corruption in the body of Christ? We shouldn't be. Are we shocked by the lack of sound reasoning and decent behavior among the lost? We shouldn't be. At last we can see plainly that the whole world does lie in the grip of the evil one. But righteousness has begun to make a stand and face down the champions of darkness. Already, we have been battling and are tired. But hang on, for the cavalry is beginning to top the hill. They are coming to our rescue. Their horses are breathing fire and their armor is as bright as the sun.
At their head is our Lord, our Husband, our Champion, our King and He is just and will execute the victory that has already been won.
We have been waiting for this hour. Let us give it all we've got.
ARE WE THERE YET?
Yes. We too are topping the hill and shouting, VICTORY!!! We are about to be swept along by the greatest tsunami of revival ever. It is topping the hill right behind us. Oh, but brothers and sisters, that wave is about to overtake us and with earth shaking impact break over us and then go before us.
Oh yes – we are "there". The spark of this revival may not have begun in our own backyards but who cares where it begins. The great move of God has begun. So, hang on. He is coming with thousands upon thousands of angels.
---
Look in the Prayer Meeting section for the prophetic words spoken in the April "Prayer on the Mountain" meetings.
---
April 2019
Update
Those of us working for the Lord through this ministry, feel like we have been shot from a cannon. We are flying along; but we are joyfully shouting "Weeee" all the way through the air.
We have added one more worker in the office and are about to add another. The fourth assistant will be coming from Texas where she was working for Baylor University – and let me tell you, we are in desperate need of her help.
It is all so exciting. My own office being downstairs, I hear these young women laughing and cooperating with one another upstairs. There is so much love and unity. I thank the Lord for this. I have said repeatedly, that unless we are able to serve the Lord in righteousness, we should be about something other than Christian ministry.
PRAYER ON THE MOUNTAIN
The Friday prayer meetings are wonderful. Many are coming and again, the unity among those present is tangible. The prophecies are under the Prayer Meeting Section. However, I thought you might like to hear a prophetic song sung at one of the meetings. It is a marching song:
It is deeply moving to have someone you have never met, rise and begin to sing a song that was given to her from the Lord.
I would that we could share all of the prayer meetings with you, but perhaps the Lord will allow you to visit some Friday morning.
HEALINGS
We have been blessed by the Lord healing those for whom we pray on Friday mornings.
We cannot share all of them, but we want to Praise His Holy Name by sharing with you one of the healings.
A Christian brother came to the prayer meeting from out of town.
He was born with a deformity in his leg and had a very bowed knee and a slightly clubbed foot. Also, he had had an accident which made it painful.
We all joined together in focused prayer for his healing. Romans 8:11 was read along with John 1:4. We anointed him with oil that supernaturally came out of a Bible – [that His Name Is Flowing Oil Ministries brought to us for the purpose of healing] – and decreed God's blessings and promises for healing over him, including Jeremiah 30:17. Two members of our ministry team laid hands on his knee and prayed for a miracle.
All of a sudden, they felt his bones become like clay and smoothly being molded back into shape. The leg was becoming less bowed in front of everyone's eyes. At this time the man said, that he felt he was growing taller and others actually saw him growing. He also felt the sole of his left foot supernaturally rotate so that it was flat on the floor! To his delight, all the pain left too. Glory to God!
The Lord is moving in power. Praise Him.
March 2019
A Quandary and A Song of Ascent
(A state of perplexity or uncertainty, especially as to what to do; a dilemma.)
When glorious occurrences take place that bring honor and praise to the Lord, do we share them – to the praise of His glory – or do we hide them, fearing that they might lead to accusations of sensationalism or to an eventual tawdry tarnishing of God's special signs and wonders. In other words, does telling cheapen them?
Of course, the Bible has one story after another "telling" of His wonders. It's packed with them . . . and we are grateful for the recounting. But these are in the distant past and therefore seem harmless. But what about now?
EARLY PROTESTANTS
As wonderful as the Protestant move of God was in innumerable ways, I often think that we Protestants have taken a sledge hammer to God's mysteries. The early Protestants tore out most of the gold and bright colored Biblical paintings that adorned so many early churches. I hope we have passed through that severe and rather rabid stage and can now rejoice in some of His more prophetic mysteries and that which was meant to show honor to His glory.
Otherwise we are dismissing the glories and wonders that so many of our youth are seeking in all the wrong places. Christ and His world-wide Kingdom have infinitely more thrills and deep satisfactions than drugs, New Age or witchcraft.
THE EARLY MIGRATION OF CHRISTIANS
Much of the early history of the Christian migration to Moravian Falls has been written; but not the glories that are happening now. No writer has been here continually for the past twenty-two years and truly, I am only completely familiar with Prayer Mountain. There are now, and have been from the "Pioneer" phase of the recent Christian migration, groups that are called together by a "like" desire for Christ and similar or complementary callings.
Many of these early pioneers have moved on or are moving on now. This is always the way with civilizations. First come the "pioneers" and when they move on, the early "settlers" move in. That change is happening now.
Paul wrote of this when he said:
1 Corinthians 6-8 – "I planted, Apollos watered, but God was causing the growth. 7So then neither the one who plants nor the one who waters is anything, but God who causes the growth. 8Now he who plants and he who waters are one; but each will receive his own reward according to his own labor."
Even though I have lived here continuously for twenty-two years, I have never begun to record the history of this one mountain.
Much has transpired, but I feel it has been more like "family business". It has been the "ins" and "outs" of corporate living and therefore not meant to be shared – as you might not share your family's private business.
THE PRESENT
Now, however, I am beginning to see the Lord move in a way that should be recorded. We need to gather the 12 baskets full of His glory and in so doing, to add to His praise.
John 6:13 – "So they gathered them up, and filled twelve baskets with fragments from the five barley loaves which were left over by those who had eaten."
We may not be able to share all from the prayer meetings, but we can share the prophetic words meant for the body of Christ at large.
THE REASON FOR THE QUANDARY
A sign was given. So, let me dip my toe into sharing this recent sign given to us in the meeting on one of this month's Friday mornings called: Prayer on the Mountain. First let me say that I was raised Protestant but have been privileged to witness great wonders. Therefore, God being my helper, I see both sides. My ancestors were Quaker. Therefore, I lean toward the "plain"; but when I see a godly "wow!", I want to give God the glory. But first a little history.
EARLY DAYS ON PRAYER MOUNTAIN
When this little "mountain" was first opened, a simple footpath was cut through the mountain laurels and small trees. When the footpath was cut, the top of the "mountain" glowed for two weeks. People would see it from the main road below, get out of their cars and climb the hill to observe this wonderous sight. After climbing the hill, they would gather stones from the top to take home as mementoes. These removed stones often glowed for quite some time after they left the mountain. Truly a marvel.
Bob Jones said that it was a "preview" of things to come. He was referring to the coming chapel that had been prophesied with the Father coming down into the chapel to minister Himself to His children.
I believe that Bob was somewhat disappointed that people were so excited about the glowing stones that they were not dedicating themselves to "praying in" God's greater purposes for the small "mountain". Opposite the small "mountain" was a larger, more impressive one. The other mountain rose high over the little glowing top and would seem to be a better choice – for the smaller mountain would require generosity of spirit and brotherly love on everyone's part to allow strangers to pass over the private parts of the road to the top.
However, due to a true gift of hospitality on the part of the couple who purchased the apple orchard and turned it into a Christian retreat center, the others that acquired land from the original couple or near them, felt that this couple had set the godly standard for God's land. All who came were received with generosity and open heartedness. All who came to pray, passed freely to the top of the mountain.
NAMED
The little "mountain's" name: PRAYER MOUNTAIN was given to it by this couple who wanted to display God's generosity through hospitality to all.
PRAYER ON THE MOUNTAIN
Recently, open prayer on the "mountain" had begun again. This, according to the prophetic words of many prophets, is the Lord's great desire.
With the prayer time on Friday morning being opened to all, prophecy, signs and wonders and great joy, also, have come to the "mountain".
Among the panoply of joys coming forth was a prophetic sign that was given in the prayer meeting this last month.
THE SIGN
Within this particular meeting we had seven major prophetic voices in attendance – rare in the best of times.
One of the worship leaders had told me before the prayer meeting started, that she wanted to play a song she had heard in a dream. In the dream she saw several walking purposefully up a mountain singing. They were wearing tunics and blouses with loose trousers, all in shades of brown. None were ragged or dirty. She sang me the song, saying that she would like to sing it at the end of the worship music.
I asked her to begin with this lovely "song of ascent". I felt that the dream showed angels singing it, for it was truly heavenly.
When the meeting began, she played and sang this lovely new song:
The Song Of Ascent
THE RESULTS
After the song ended there was a holy silence. We began the next song, "Abba" and as we sang, "You are closer than the skin on my bones, you are closer than the—" suddenly a fuse blew in the prayer room and the lights went out! We carried on singing… "song on my tongue. Your thoughts define me you are inside me, you are my reality. Abba, I belong to you."
After the second song ended, one of the prophets crossed the room to me, leaned over and whispered that fire was falling in the room. We prayed in tongues and praised and thanked the Lord. Then we began to sing the third song… "Be lifted high, be lifted high, for Your glory be lifted high…" and a fire alarm went off.
All of this startled us, and we laughed nervously. But the alarm confirmed the word of the prophet. Fire had fallen in the room.
It reminded me of the sign spoken of by Mike Bickle when he brought out of seclusion Paul Cain. Paul Cain had been hidden for at least one decade, maybe more. Mike Bickle asked him to speak at one of his (then) church locations. When Paul Cain spoke, the electrical power in the building blew the fuses and the fire department arrived at the door.
THE SIGN
We too realized that we were in the middle of "a sign" – a new beginning perhaps – the second stage of the Lord's work on this little mount. Only time would tell.
But we were here to witness it – to be part of the count down.
FIRE
I had seen fire all over the mountains when we first came to Moravian Falls. This was spiritual fire, of course. But now, after twenty-two years perhaps He was actually lighting those fires. I told Him that I had been here praying for His chapel to be built for over half the time the children of Israel were wandering the desert. I was hoping he was giving us a sign that He was moving forward. Whatever the sign meant, (I am sure we will understand later) both it and He are welcome.
THIS TIME
This time I hope also that we respond in the right way as the signs and wonders are revealed.
We are thanking Him for His prophetic sign; but we are also praying and asking Him how we should proceed. I hope Bob is watching from the great cloud of witnesses and this time, he is not disappointed in our response to God's wonders. Our heads are down in prayer and we are thanking Him for His signs and for our God being with us.
NOT TO STRIKE THE ROCK
Please pray for us. We want to be pleasing in God's eyes. We remember all too well the story of Moses who, after forty years of guiding the grumbling, children of Israel through the desert, struck the Rock and was cancelled from the number of those who could enter the Promised Land.
AFTER TWENTY-TWO YEARS
It seems that after twenty-two years we have entered into perilous times. We can get too excited and run ahead of God, or worse, embrace a stance of pride instead of deep wonder and gratitude for all that He does and will do.
Even though I lived through the glory days of the Charismatic Movement and then saw fires ignite in locations like Brownsville later, I am still awestruck when He is gracious enough to be with us as we pray or encourage us with signs that indicate that He is "on the move".
Having Him with us when we pray and seeing Him move to accomplish His will – well, there is nothing as exciting (except for Jesus Himself or seeing someone accept Christ and come into our big, amazing, spiritual family.)
I so want to see Him accomplish the whole building of His house on the mountain. All of us have seen building projects accomplished through "the flesh". Would it not be wonderful to see Him initiate and then to see Him carry forward His plans in righteousness? Goodness, it is worth years of my life in prayer to see His house be built without man's flesh getting into the middle of it.
THE DESIRE OF HIS HEART
I pray our Father receives the desire of His heart. He has waited even longer than I have.
THE ANSWER
Now the answer to the question I posed at the beginning of "A Quandary". WITH HIS PERMISSION, I will proclaim the wonders of the Lord in the land of the living. Come, Lord. You are welcomed in this place.

</p
February 2019
"X" Marks the Spot
Years ago, the Lord gave me a Treasure Map. It was simple; but He said that the map would lead to Great Treasure. (I understood that this was spiritual treasure.) Here is the map.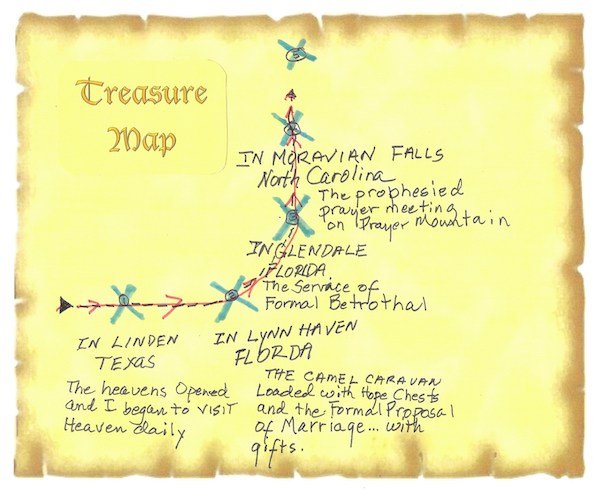 At each station – or "x" there would be a clue and a reward. I had found three over the years since the heavens opened, but it had been over twenty years since discovering the next "x". Suddenly I stumbled over the fourth "x" in a journal page written twenty-three years ago.
THE CLUE
Twenty-three years ago – when my husband and I lived in Florida – we were visited by a Japanese missionary to Guatemala. He brought us a present. Truly it was the strangest present I have ever received. He brought me two pages removed from a very old book. I could see the age of the photos by the early style of the photography. One was a marker – a testimony – to the power of prayer by George Müller. It was set up as a witness by the very orphans he rescued and fed. It stands today in Arno's Vale. We are typing it due to water damage from our fires:
George Müller
Founder of the Ashley Down Orphanage
Born September 27th 1805,
Fell asleep March 10, 1898
He trusted in God with whom
"Nothing shall be impossible".
And in His Beloved SON JESUS CHRIST our LORD
who said "I go unto my Father,
and whatsoever ye shall ask in My name
that will I do that the Father,
may be glorified in the Son."
And in His inspired Word which declares that
"All things are possible to Him that believeth."
And GOD fulfilled these declarations in
the experience of his servant by enabling
him to provide and care for about
ten thousand orphans.
This memorial was erected by the
spontaneous and loving gifts
of many of these orphans.
[Believe me, I do not compare myself in any way to that wonderful man of God. I am merely sharing the dedication stone in order that we may thank the Lord for him together.]
THE OTHER PICTURE
It was the other picture that struck me when I came across it. Here it is: one of George Müller's prayer rooms: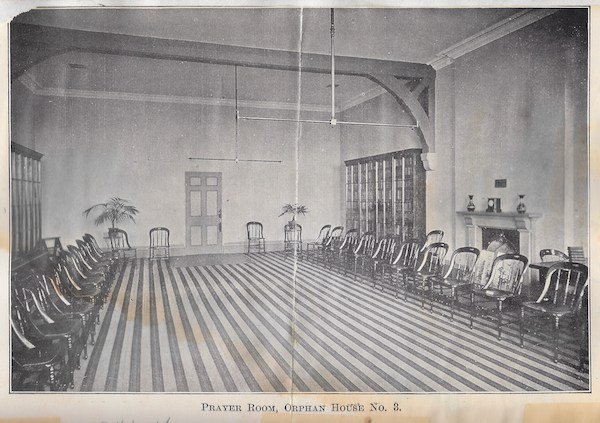 THE FOURTH "X"
The gift of this very old picture was a clue… a prophetic clue… so many years ago. And, now, that prophecy is being fulfilled: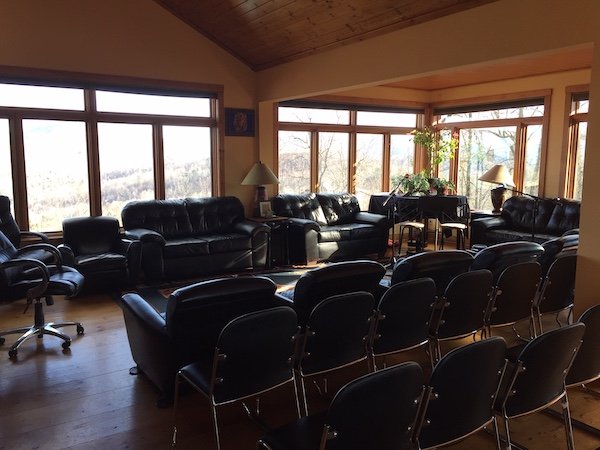 These are partial pictures of the Prayer Room on Prayer Mountain in Moravian Falls. The dedication in Arno's Vale to that great intercessor, George Müller is an inspiration to us all. His life of dedication and service to our Lord is one we should all hope to emulate.
I had stumbled onto a twenty-three-year-old prophetic clue and the reward.
THE REWARD
The reward for all of us is His pleasure. We have opened the Prayer Room to any and all – to give Him love and praise and to place before Him our requests according to the Word. James 4:3-4 – You do not have because you do not ask v4You ask and do not receive, because you ask with wrong motives, so that you may spend it on your pleasures."
For those present, to feel His pleasure in all that we are doing is great joy.
CHARIOTS OF FIRE
It is like Eric (the missionary from Scotland who was also a great runner) said to his sister when she could not understand his dedication to training for the Olympics in "Chariots of Fire":
Eric: "I've decided. I'm going back to China. The Missionary service has accepted me. But I have a lot of running to do first.
Jenny: "Eric—
Eric: "Jenny you've got to understand. I believe God made me for a purpose, for China… but He also made me fast and when I run I feel His pleasure. To give it up would be to hold Him in contempt. You were right. It is not just fun. To win is to honor Him."
THOSE GATHERED
All who have gathered for prayer on Prayer Mountain have other responsibilities and other gifting's; but they are willing to take the time to come aside with other children of God to pray. He does make it joyous for us. But, like Eric said in "Chariots of Fire" it is not just fun.
To pray and then for Him to answer is to honor Him. We are participating with Him in Kingdom management. Our prayers are moving His hand for His purposes. Those who gather for corporate prayers are the tip of the spear in the hand of God. It is glorious, exciting Kingdom business.
You all are invited to add your prayers to the prayers of others to make an even weightier spear in God's hand.
THE FUTURE
There is one more "x" to be discovered on the Treasure Map. (I hope it is not twenty-three years in between again.) I'm like a kid in a candy shop. I can't wait to experience what He has said is a Great Treasure.
PROPHETIC WORDS
So much prophecy is coming forth in these prayer meetings that we are adding them to the website. This will give you some of the amazing prophetic utterances shared in each prayer meeting. We want to take these seriously and also to share them with you, so that we may grow and mature together. (The prophetic words will be from these meetings only.). You can read them under the Prayer Section
Return to the August 2021 Personal Section
January 2019
When Unity Comes
IN FRONT OF THE PRAYER ROOM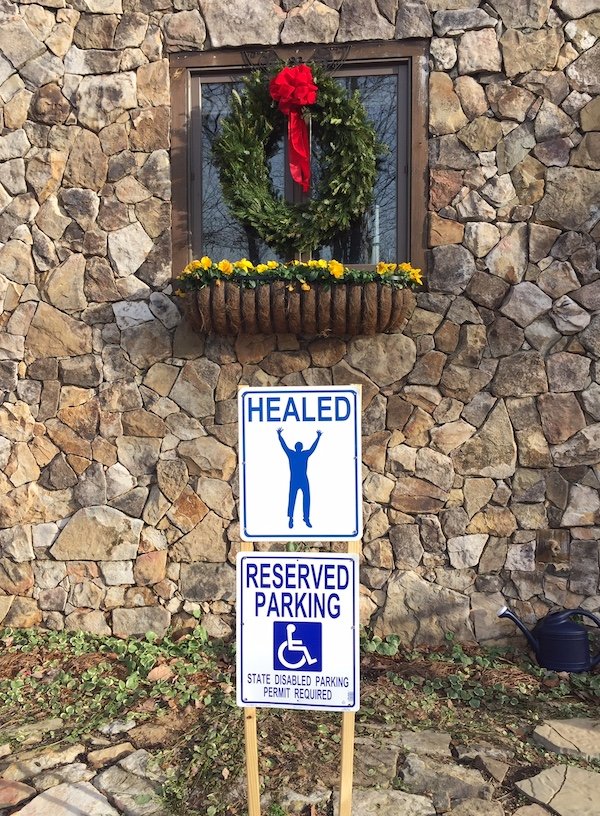 These handicapped parking signs are needed. We just did not want them to be the final statement concerning our Lord's ability to heal.
We have returned open corporate prayer to the mountain for two months now and already there have been an astounding number of healings.
ANGELIC HELP
The angels, it seems are assisting in these healings. Several people have seen the angels participating by walking around the room to place their hands on and sometimes into the chests of people – thereby healing their hearts (which is often the reason their healing has been blocked in the past). This testimony came from the mouth of two witnesses present at the time. (One from Florida and one from this locale.)
Other angels present according to testimony were: Wealth, Finances, Prosperity, Counsel, Strategy, Hope, Good Measure, Full Report and an
angel that labors on behalf of the "hidden ones".
FROM A VISITING PROPHET AND A LOCAL SEER
Standing at the foot of North Star Drive, these two prophets from different areas of the country, saw a huge angel called Unity. According to the witnesses, the angel himself was so tall that he was taller than the nearby lodge on the hill. This means that he was at least 70 or 80 feet high perhaps more. The angel was giving the revelation of how God wants unity to look and how to be honoring and loving. The angel said that "when unity comes, the harvest will flow".
PROPHECY
Before one of the meetings, we had received a call from a Christian leader in Alabama. He told us that a spirit of revelation was going to be in the meeting.
Indeed, he was correct. Person after person spoke forth prophetic words during prayer. These were most encouraging.
WORDS FROM TWO PROPHETS
W. Stafford – Luke 14:8-10
1. Whoever wants to carry the greater light must take the lesser place. (Like a knight laying his sword at the feet of The King.)
2. The Lord is going to throw some people up in the air and if they will let go, their chaff will be thrown off. For others, the Lord will crush them and then completely make of them a new vessel. Those tossed are the remnant. Those crushed are the remnant of the remnant.
A PROPHECY FROM TIMOTHY SNODGRASS
Timothy is not only a prophet, he is a friend. The prophetic word was brought by an intercessor that was visiting Prayer Mountain. She relayed the prophecy to us on the very day he had prophesied a Godly acceleration was to occur. She brought this to us on December 7th – the 77th anniversary of Pearl Harbor, December 7th, 1941.
Timothy Snodgrass:
"I was taken in the Spirit above the United States and found myself standing at the border of the Carolinas. I saw the date Dec 7th, which is the date of the attack on Pearl Harbor. When I looked up into the heavens, I saw that the sky was filled with warring angelic chariots – and the Lord spoke to me that, on this day in 2018, the battle is going to turn to counter strike the plans of the enemy on America and that it would be the beginning of a great acceleration toward revival and world harvest."
[This was related at the prayer meeting December 7, the 77th anniversary of Pearl Harbor by a visitor.]
THE LORD WELCOMES YOU
We too welcome you to this open prayer meeting. Each Friday (if we are not snowed in) the doors open at 9:15 a.m. The meeting begins at 9:30 a.m. with live worship, then prayer (all are welcome to pray) and then prayers for healing.
Prayer Mountain belongs to the Lord and He is loving and welcoming. When you are able, please join us.
December 2018
Bye-bye 2018
What a year this has been. But, dear brothers and sisters in Christ, we were born for such a time as this.
The Lord knew into which times He was calling us before we were even born. He trusts us. He expects us to stand. He expects us to shine as the darkness grows greater.
The difference between light and darkness is so stark now, isn't it? The Bible told us that these times were coming. But they are here before we expected them. Rejoice chosen warriors. Rejoice blessed of the Lord. Rejoice.
I feel so honored to be alive in these times. I feel energized by the Lord to show forth His good works and His character during these days. While we walk this earth, I want to be about my Father's business, as I am sure you do.
PRAYER
In order to advance the Kingdom, therefore, we have begun Friday "Prayer on the Mountain" again – open to all who wish to come together to "praise-back" the encroaching darkness and to glorify our Great God.
The Lord has brought to us here in Moravian Falls, two wonderful worship leaders and one of our ministry assistants is being brought along to grow in accompanying them on the QChord. It is important, always, that those of us who "can", bring along those who are taking their "first steps". The Lord smiles upon raising up others in our midst.
We of God's spiritual army, need to be as determined and faithful as the enemy's spiritual forces. We are in training. Come on brothers and sisters, let's show our Heavenly Father that we have the brass and steel that is needed.
Those of you who visit Prayer Mountain and join with us in prayer have no idea the strength you add by coming to be with us.
Also, we are adding prayers for healing at the end of each meeting. A healing revival is coming and we need to be "up" and "going" when it "hits" us – instead of running to catch it as it passes.
THE WEBSITE
We are working on adding a Korean translation to the website and later a French and a Portuguese translation (thereby reaching more in their native languages).
The books are in about 30 languages. I wish I could give the different countries a web site in each of their languages.
There are many excellent teaching sites, but few which consistently "show and tell" the mysteries of Christ. I am honored to be one among those given such an opportunity. The monthly making available of my experiences "above" have been a little like writing a thin volumed book (with illustrations) every month. But I love sharing these revelations with you. For a while I was wondering how I might get more of this material to you. The Lord Himself taught me through these revelations and I knew that, by reading them, you, too, would grow . . . mainly by confirming what you yourself have seen already.
BOOK NUMBER THREE
Also, I am halfway through the third book in the series begun in "Heaven Awaits the Bride" (the two-book combination). When the witch's coven burned down our home, this third book was the manuscript that was destroyed. This destruction led to the acceleration of my husband's dementia and therefore, I spent years personally caring for the one I loved so dearly, as he declined and then went to be with the Lord.
But now we are roaring back and with the help of the Lord who called us, I will finish the third book in the trilogy.
RECORDINGS
Also, this coming year, we plan to begin recording the books. It looks like everyone else – plus computers – have had a "shot at it". With the Lord's help, I would like to give it a try. The "studio" has been set up in my downstairs closet. (The clothes are still there, but with blankets hung over them.) We moved the throw rugs from upstairs to dampen the sound – bouncing off the floor, etc.
Thank heaven, we have had a couple of professional sound engineers who are helping us "set up" in the closet. It's exciting, for all of its pinned together glory.
COMING TO VISIT
I realize that many of you would like to visit. I would like to get to know you too. (Therefore, my assistants have to hold me back, for I cannot get the writing completed if I spend my days visiting.) I would have a wonderful time getting to know you better. But there is this big problem of the Lord frowning because I am enjoying myself instead of completing the book which He has asked me to write.
Therefore, if you wish to come to Moravian Falls, would you consider being here on a Friday in time to attend the prayer meeting that morning? I would love to see you, then. Every Friday the doors open at 9:15 a.m. on Prayer Mountain in Moravian Falls, NC 28654 – write to PO Box 70, Moravian Falls, NC 28654 for directions. We can also assist you with maps and nearby places to stay. Please do join your voices to ours in prayer and praise.
THE GUEST HOUSE
Well – as I told you, things are slow in Moravian Falls. Do you realize that some of the stores in downtown Wilkesboro and North Wilkesboro (our nearby towns) still close for half a day on Wednesdays? I have not seen this since I was a child in Texas. (They close so that people may get ready for Wednesday night services at church.) Joyously, many of us here are still observing that tradition. Isn't that wonderful? Truly it is a blessed place to live but completing a guest house is a bit s-l-o-w-e-r. We will "get there", eventually. Please keep praying for us.
MY BRAVE EXTENDED FAMILY
Dear, brave children of the Living God, I am honored to be serving our Lord by your side.
I never mention my gratitude to you on the website because I write to (as well as pray for you) personally. But let me publicly express my gratitude to you for your support of this ministry. There are not many of us – the "old guard" still alive… (Bob Jones, Gwen Shaw and I would share over the phone the most recent demonic attacks coming against each of us. All of us wished to share with you as much as we could to help train the body of Christ.) They are now with the Lord, which quickens me to the need of getting as much undergirding to you as I am able. Believe me, your kind support makes this possible. I hope to have the time and resources to squeeze – out of myself everything the Lord has imparted to me and give it to you.
At almost 83, I feel like I am racing the clock, but I could not do what is being done without you. Bless you and thank you.
Come to see me in 2019 (on Friday mornings – 9:15 a.m.)
MAY OUR GREAT GOD BLESS YOU AND KEEP YOU.
I long to know you better.
HAVE A GLORIOUS CHRISTMAS.
November 2018
Prayer on the Mountain
Dear Friends,
Prayer on the Mountain is returning each Friday, beginning Friday, November 2nd, 2018. At 9:30 a.m. worship begins – then prayer. (The doors will open at 9:15 a.m.)
Many have asked us when the prayer meetings would resume. They miss them and we miss them, and we believe our Lord misses them.
It has been in our hearts to return an open prayer meeting to Prayer Mountain. Prayer and praise should be ascending to our God from such a blessed place.
Also, we on this "little mountain", wish to open our arms of fellowship and love to those who journey from around the globe to come to Prayer Mountain in Moravian Falls. That is our Heavenly Father's heart.
I'm not sure who is more excited – the Father's children up here or the angels assigned to Prayer Mountain.
All of us rejoice!
Come one – come all. Freely we have received from our Lord and freely we give to you.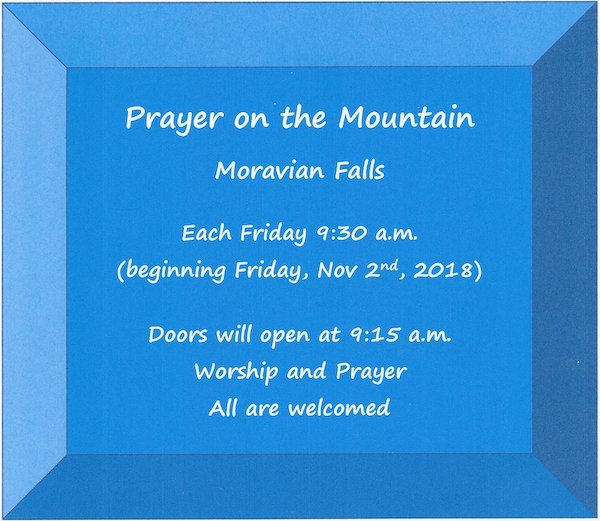 Return to the August 2021 Personal Section
October 2018
Amazing Grace
Now that you have read about the faithfulness of our God in healing (under the Angel Section), I have an absolutely extraordinary story to add to your wonder of and praise for our great Father, His Son – our Brother – Jesus, and our startlingly powerful friend – the Holy Spirit.
This comes from a young family, with three "wee" children, who are called to missionary outreach in Africa. Their names are Clint and Tara Moseley. This is their story:
FRIDAY, MARCH 23, 2018:
At 4 p.m. on Friday, my husband, Clint, was critically injured in a self-defense jujitsu training – a total freak accident of a move gone wrong during a demo. There was severe blunt force trauma to the throat to the point that Clint's life could never be the same.
I was home with the kids, we have a 3, 1 and 6-week-old, so he went to the ER that is closest to us. I met him there as soon as I could at 9:30 p.m. I didn't know what to expect other than a text I got from him that said, "I think I broke my windpipe. This is very bad. Going to ER." When I walked into the room I found Clint white as a sheet, struggling to breathe, drooling, unable to swallow, swollen, and on the verge of losing consciousness from the amount of excruciating pain he was in. His neck and back were so swollen it looked like he had football pads under his skin. I had never seen him like this and immediately I recognized this for what it was: an attack from the enemy to take him out. This wasn't a broken arm, a sickness, or a kidney problem – this was a straight attack from Hell to eliminate my husband and his ability to speak. Anyone who knows our story knows that in the last 16 months we have taken the biggest step of faith of our lives and following the voice of the Lord to run our non-profit, Project R12, full-time as a family. The warfare has been strong but the journey has been full of the power and miracles of Jesus, but that's another story of it's own.
When I saw Clint, I knew I had to make a choice: I could crumble or I could hold onto the promises of God for my husband and our lives. I chose the latter which meant that at no point in this process was I going to let myself or Clint partner with anything but life and life abundant for him (John 10:10). We both invited Holy Spirit to come and change the atmosphere and bring healing. Over the last year we've come to know the Holy Spirit as a friend, a person, our advocate, and the greatest gift Jesus left to be with us when He went to Heaven. He wasn't an "aura" or "a feeling" – He is a person and so we invited Him into that room to bring healing and the radical peace of His presence. We didn't know how serious anything was yet medically but regardless we weren't going to change our stance: miracles, total healing, victory.
They gave him morphine for the pain but it didn't do anything, the pain was too intense. Next, they took him for a CAT scan and it revealed severe trauma to the esophagus and trachea to the point his chest cavity, heart, neck and back were full of air bubbles which meant there was a hole/tear in the esophagus or trachea. They were not equipped to handle a traumatic injury of this level – it was too fragile of an injury that he needed to be taken via ambulance to Vanderbilt ER with the trauma team. This was an injury that could change or ultimately take his life. Again, this was a moment we had to choose how to react. The attending doctor told me the "reality" of an injury like this: feeding tubes, 6-inch incision through the neck, breathing tubes, a tracheostomy, infection that can often lead to death, a 24-hour timeline to respond… the list goes on. Since Clint was in such a medically stressed state I knew I had to stand strong for the both of us, I could not crumble now. I politely thanked him and said, "Thank you but I do not receive that for my husband." He probably thought I was in shock and denial and wanted to make sure I knew that this was the "reality" of Clint's situation. This was the truth, the CAT scans and testing showed it… but I knew this wasn't the reality of the promises and truth declared over Clint's life. THAT was what I was going to declare and speak out – not the current situation he was in. Words hold tremendous power and I knew the power of speaking LIFE would shift atmosphere.
Saturday, March 24, 2018:
They took him to Vanderbilt in an ambulance around 1 a.m. with the prognosis of a "perforated esophagus" and wanted the Trauma Unit ready. Again, we did not accept this diagnosis. We accept total healing and nothing else. Since we had a newborn at home, I had to go between Vanderbilt ER and our home in Franklin every 2½ – 3 hours to feed the baby and be with Clint. So, over the next 20 some hours, I would travel back and forth only letting myself think and speak out LIFE over my husband and nothing else.
They ran a gamut of tests from multiple CAT scans to swallow tests to scoping his airways – they did neck and chest x-rays. As I sat next to him holding his hand, whispering the truths I knew about him for his life, I could hear the gurgling and popping of air bubbles in his neck and chest. It sounded like a soda can opening. The doctor came in and said, "Well we have really bad news – you've got mass amounts of air trapped in from your neck to the lower of your chest cavity. We are trying to find out where all the leaks are, from your trachea to your esophagus. The reality is if we do surgery you'll have a 6 to 7-inch incision in your throat and we will try and close up the holes…" It went on but I'll spare you the details.
I saw the look in Clint's eyes after she read the prognosis and I could see fear and anxiety trying to make its way into his heart and mind – but together we quickly shut it down. It was a team effort, he needed me and I needed him. It was the interweaving of the promises of marriage in its finest hour.
Clint's friends came in and laid hands and prayed for him. At this point, he was in and out of consciousness and heavily sedated because of the pain. I had decided to post on social media what we were going through because we both knew the power of prayer. The response was incredible. There were hundreds if not thousands of prayers going up for Clint from Africa to Alaska. People were stopping, interceding, and asking for healing for him. It's not just a sweet slogan, "I'm praying for you" – it's a battle cry. Heaven came into that hospital room and the power of God began to manifest itself in the form of signs and wonders. Here are just a few: the temperature of the room was incredibly hot, so hot that we were sweating and taking off all we could. The heat was stifling and I asked the nurse about this and she said no this is highly unusual – it's usually very cold in the rooms. The heat followed us wherever we took Clint which is a very common sign of healing – the fire of God was burning in that room. Even highly sedated and coming in and out of consciousness, Clint kept telling me, "Jesus is healing me, I can feel it, He is healing me." We experienced unprecedented delay in getting from the ER to the Trauma Unit to the point of frustration but looking back we realized without the delay, Clint's friends wouldn't have been able to come in and pray for him. They prayed in the Spirit and spoke into existence things not as they were currently but as they should be – holes closing, air leaving, cells fully functioning, Heaven was responding.
As Clint lay there I could hear him praying for the people around him. Even in the state he was in, he was choosing to praise, to worship, to believe that our God was going to and will save Him. I joined him in this praise and I truly believe that worshipping even in this state of crisis broke the back of the enemy. It was a key move in our victory. We took authority over the spirit of death, sickness, infirmity, and we commanded it to leave – it has no place here. We were constantly waring, declaring and fighting for him… welcoming Heaven and believing it would invade his body restoring it back to perfect, beautiful health.
MIRACLE 1
Together we went back to the x-ray room for a fluoroscopy – basically he would drink this dye and they would then do an x-ray that would show the leaks and where they are. This was a big, important test. Normally, they wouldn't let anyone into the room prior to the test- but because things were delayed I was able to. Again, this was a choice, we had to declare healing and life over these test results. These results would dictate whether or not they proceeded to perform surgery on his esophagus. I left the room and they did the testing. I watched the XRAY sign go from white to red as they took the images – with each flash I thanked Jesus for the healing and what only He could do. When the tech opened the door he burst out, "There's no holes! It's perfect! No leaking!" – healing was now becoming real.
We had climbed from the valley of the SHADOW of Death to the Mountain that is higher than all of this. The "Esophageal Tear" was no longer there – healed. We were gaining momentum and we both could feel it, Jesus was doing this. I was updating people via text and social media and the comments and encouragement were like fuel in the fire – we had what felt like, not a village but a nation behind us. There was an atmosphere for miracles being cultivated in that little room.
The doctors were baffled so they wanted to do another CT scan (his third) because it wouldn't be possible to have this much air without multiple tears. I had to go home to feed the baby, get all my babies ready for bed, and make sure my mother-in-law was hanging in there. Every time I got in the car to drive home, the Enemy would attempt to tear me down but I took every thought captive and clung to the promises and miracles I had already seen happen. While I was gone, Clint finally moved from the ER room to his "permanent" room in the Trauma Unit, this was around 4 p.m. on Saturday. Here is where he would stay for the next days and weeks as we fought this battle for his life, but really, this is where everything changed. I had watched as Clint had progressed over the course of the last 20 something hours – his color was changing, his countenance was coming back, he was taking less and less pain meds, test results were being changed… things were being flipped upside down.
The trauma unit was not somewhere you wanted to be – the floor was a place of incredibly serious injuries, many of which were too gruesome to even mention. It wasn't a floor you are only in for a couple of hours and certainly not one that you would be able to walk out of as the patient.
As I walked down the hall to Clint's room, I realized how much he no longer fit into this floor. He was now not on any pain medicine and was walking around on his own and asking the nurses when he was able to eat. The nurses didn't know how to handle him as they are not accustomed to a patient "this whole and healthy" on their floor. They kept checking his chart to make sure he was in fact Clint Moseley. The doctors were completely and totally at a loss for explanation so they wanted to just continue to monitor him before they came up with a solid course of action. They kept referring to him as a "really lucky guy" and "one of the fastest healing bodies" they have ever seen. Rather than coming in with solemn looks on their faces, they were smiling ear to ear as they observed his injuries that were no longer there. It was like nothing had ever happened to him.
The ENT doctor came to see him to do a minimally invasive scope of his trachea to try and locate some of the tears and holes that leaked all of the air in his chest and body. To her surprise, she could not find any holes. It was as if there had never been any type of trauma. In fact, his "trachea was beautiful and perfect looking." Again, a baffling result.
SUNDAY, MARCH 25th, 2018:
The top doctors' group from all the different clinics – Trauma, Critical Care, Thoracic, etc. – came into Clint's room Sunday morning (by the way they nicknamed his room, Miracle 26 Room) and marveled over what is "medically not possible". They listed off all of the trauma that Clint came to the ER with along with the level of severity for each injury and then simply said: "There is no sign of any type of trauma – he is completely healed. We are going to call this a MEDICAL ANOMALY". Two hours after the doctors came to marvel over him, Clint signed his discharge papers and WALKED out of the Trauma Unit. No wheelchair, no breathing tubes, no scars, no medical procedure, no prescription for pain medicine, no orders for a follow up – he walked out as if he had never even walked in there. He was whole, healed, and a living breathing testimony of the power of God TO HEAL.
September 2018
Early Gifts And Mantles
(The picture is from my 1995 journal.)
I have noticed, as I look back at these early recordings in my journals, how many gifts and empowering's were given very early.
The heavens opened for me at the season of Hanukkah in late 1994. The Lord moved very quickly to equip me. Believe me, I just stumbled through all these experiences. No reason was given to me for such an equipping. Just hearing, seeing and recording the spiritual experiences, was about all I could manage at the time. Therefore, the start of March 1995 was less than three months from the initial breakthrough experience.
We must remember, that with each level of equipping, we receive a spiritual "growth spurt". These are tiring when one is growing up physically and they are equally tiring in the spiritual growth process.
With each visit to Heaven, I could stay a little longer. I found that I had to "work-up" to longer periods of time above.
The endowments shown in this journal, picture occurrences from 1995. They are described in the two books: "The Heavens Opened" and "The Priestly Bride" (which the publishing house combined into one large book: "Heaven Awaits the Bride").
The pictures here are shown right from my journals of twenty-three years ago and the raw material from these journals transferred to the books.
At that time, I had no idea I would be writing books or sharing any of these experiences. But now I believe the Lord was preparing me for writing and for the marathon of prayer required to prepare the land for a Prayer Chapel on Prayer Mountain.
August 2018
The Father's Double Mantle
Our Father took the least of His children and shared with the least, Himself. There is no greater gift other than being made a member of His family through Jesus Christ.
Perhaps the reason He dared to allow me to wear His mantle is so that I might write about Him as He is, loving, fatherly – and not as we might have imagined Him – distant and foreboding.
Of course, I did not know I would be writing about Him at the time. In fact, I would not know this for two more years. At the time we were helping a wonderful Presbyterian church (even though we were not Presbyterians) in the farming country of the Florida Panhandle. I was in charge of the children's sermon and therefore busy making puppets during each week in order to illustrate my five minutes of children's church.
Daily, I was going to Heaven each morning, but I had no idea the Lord would ask me to gather a few of those experiences into a book.
Also, in the book, the Lord decided which experiences He wished to share. I did not know until a year later, when the book was finished, that it shared so much about our Heavenly Father. It was as much a surprise to me as it would be to anyone picking up the book for the first time to read it.
But, nothing in my life has changed me as much as getting to know my Father. Intimately knowing Him, truly and tangibly has set my life into perspective ("O taste and see that the Lord is good…" Psalm 34:8 KJV) as no other relationship has been able to do. I feel my life is whole, settled and at peace. I know, finally, just how much I am loved by God. Truly, there are no words to express the all-encompassing love radiating from His near presence.
I have lived through many heart wrenching situations since receiving the double mantle; but so swaddled have I been in His love, that the outside occurrences have not pierced through that covering of love to damage me. I am blessed to know my Heavenly Father – to truly know Him. Nothing in life or in this world compares.
PRAYER MOUNTAIN
Perhaps, also, that is the reason He has placed me on Prayer Mountain. For it is here that many prophets have prophesied that He will actually appear when His chapel is built.
Because I know how great it is to see Him, touch Him, hear His voice – have Him transform your life – I feel He has placed me here on Prayer Mountain to pray that our Father's coming down will be accomplished soon. It is a prayer I can pray in faith because I have seen Him and know Him.
All of us wish to be like the disciples of Jesus who could say, according to 1 John 1:1 & 3:
v 1 "What was from the beginning, what we have heard, what we have seen with our eyes, what we have looked at and touched with our hands, concerning the Word of Life…
v 3 …What we have seen and heard we proclaim to you also, so that you too may have fellowship with us; and indeed our fellowship is with the Father, and with His Son Jesus Christ."
We have been given the revelation of Jesus (when He walked the earth,) we have been given and are being given the revelation of the Spirit though His worldwide outpourings. But oh, how we need that personal, face to face experience of our Father. (He came down to dine with the seventy elders on the mountain top when the children of Israel were crossing the Desert to the Promised Land. We are not praying for and on tip-toe in expectation of, something He has not done before.)
He has promised through His prophets that He will come Tabernacle with us.
In these days that Satan and his ungodly hoards are more violent – we need our Father.
We need to know Daddy.
July 2018
A MANTLE FROM THE HOLY SPIRIT
This second mantle was a direct gift from the Holy Spirit and literally changed my life – radically. Perhaps the greatest change has been that I am almost as invisible as He is.
1. After working with the entire body of Christ in Kansas City, MO and KS – (which, at that time, was around a million and a half population) to hearing, as we left the city, that from now on we would "be hidden" – it did seem as though we had fallen off the earth. This prophetic word was fulfilled after I received this mantle – with the shoes: both rendering me invisible. But one of the most unusual and bravest steps taken as it related to this "hiddenness" is that my publishing house, Charisma, was willing to publish the books knowing that I would not help to sell them. They rely upon T.V. and conferences and public book appearances to promote their books and I would be "missing in action". I was unknown as far as name recognition in the larger body of Christ (after all, I was simply a minister's wife). The fact that they published the books was amazingly brave. Only the Lord could have moved upon them to take such a step. I will be forever grateful to Steve and Joy Strang for their bravery.
2. The next difference was that I was keeping a journal and from those daily records, the Lord asked me to share some of my experiences with the larger body of Christ.
The most intimate parts of my life with the Lord were now to be made public – very public. I felt as though people would see right through me. All of my faults and trials and mistakes were, now, to be plastered onto a worldwide billboard . . . in multiple languages. My life was inside out.
3. Now, another change happened. My tastes and desires changed. For me, the thought of writing anything now that would not have eternal consequences became unthinkable. Earlier in my life I had written a Texas history for young people. Now, I only wanted to reveal more about Christ and about our Heavenly Father. All else seemed like – well – not worth the effort . . . (for me anyway). This was very different.
4. Also, I entered into a fierce hand to hand combat with the forces of darkness . . . even suffering the loss of our home (by it being burned down by a coven of witches) and the loss of my dear husband (who died a few years later).
5. I began a website in order to share with you, my brothers and sisters – children of the living God – all that has been given to me.
Bob Jones, Gwen Shaw and I often talked by phone about how the enemy was trying to take "out" our generation before we could impart to others that which had been imparted to us. Bob and Gwen are with the Lord, now. But there is much still to share and I am so grateful to the Lord for the opportunity to pass it on to you.
---
In one of the creeds that we learn as children, it says of the Holy Spirit – "Who spake by the prophets." Well, I am no prophet – just a "secretary" – but I am trying to be true to what He has shown me and to Him in order that I might deliver all of it to you, His children.
June 2018
JOHN G. LAKE'S MANTLE
Now – I have lived in this mantle since 1994 or twenty-four years. Did it change my life?  Yes, it did. Do I feel it on me?  No.  But this mantle from Jesus has been burning on me, changing my outlook and giftings.
HOW HAS IT CHANGED MY LIFE?
1.  Only two months after the Lord placed the mantle on me, I began going into Heaven.  Yom Kippur was in September.  I began visiting Heaven the early part of December (Hanukkah). Life changing.
CAN YOU REFUSE A MANTLE AND STILL GET IT?
Yes, you can.  I refused that mantle when it was first offered because of righteousness sake.
Remember, David was anointed to be king when he was but a youth. There were many times, after he was grown, that he could have reached out and taken the crown.  But, to him, taking something that, by right was his but having to sin to fulfil that which was promised, would show a flaw in his character.  Even with the king trying to kill him, he would not raise his hand against the Lord's anointed.  That was pleasing to God . . . not displeasing.
Our Heavenly Father wants righteousness first.  Undercutting a leader – for any reason – is unrighteous in the eyes of God.  Better that you do not receive the blessings of a mantle than to act unrighteously toward a leader in order to receive it.
I turned down receiving the mantle when I first saw it because I had gone to Spokane to stand with our friend.  I believed then and I believe now I chose the "better part".  Given the same challenges now, I would choose righteousness over the blessing of the mantle any day.
The next time I saw the mantle, the Lord did not give me a choice, He put it on me.
2.  I'll give you another instance of someone refusing a mantle: Bob Jones.  Bob was a young boy when he was offered a mantle.
He was walking, barefoot down a long dirt road in rural Arkansas when, about a football field away, an angel came down on a winged, white horse.  The angel was wearing armor.
Even though it was a great distance, the angel's eyes burned into his.  Without speaking, the angel threw down a mantle of skins onto the road and then flew off.
Bob was "scared spitless".  He turned around, ran home and got under the bed.  He had heard that when you saw an angel you were going to die – because, of course it had to be the Angel of Death.  He knew instinctively that the garment the angel had thrown down was from a dead man and he was afraid that he, too, had been marked for death.  That is the reason he hid under his bed.
Years later, when he came into his prophetic gifting, he wanted the mantle.  So, he asked the Lord for it.
He told me that angels had kept it for him – however, he would add, that for two weeks after he received it, it smelled like moth balls.
When the fulness of time came, both Bob and I received the mantles the Lord intended us to have.
Bob's came from a black prophet – a holy man in Africa.  The prophet's son was not righteous.  Therefore, the Lord refused to allow the mantle to be passed down in the family line. When the prophet died an angel took it to Bob.
Bob told me that years later, a young man from Africa knocked on his back-screen door.
Bob went to the door and asked the young man who he was.  The young man said that he was the grandson of the prophet whose mantle Bob wore.  He said that he had come to get his grandfather's mantle.
I asked Bob – "What in the world did you do?"
He said: "I gave it to him."
I was amazed for I felt that, now, he was without it.
"No," he said, "you can give the mantle and yet retain it."  He smiled: "He has it now – but so do I."
JOHN G. LAKES MANTLE
With the mantle I received, it had been with John G. Lake for years and years.  It was given to me – but, I am sure that power still remains in that grave.
A QUESTION FOR THE PROPHET
After being in possession of the mantle that came from John G. Lake's grave site, I was puzzled about how I was making use of it for the Kingdom's sake. I decided to address my question to Bob Jones.
"Bob," I said, "I have been wearing this mantle for several years now. I really do not see an increase in the gift of healing through me.  That was John G. Lake's major gift.  But I do not see that I acquired the gift with his mantle."
Bob answered: "The mantle was multicolored wasn't it?"  Perhaps Jesus wanted to emphasize another gift through you . . . writing for instance.  John G. Lake was a writer of books wasn't he?  Perhaps He wanted to emphasize the writing part of the mantle.  He will stir the healing part of His (Jesus) mantle when He needs it.
Mantles are mysterious and we are just starting to explore them.
May 2018
A Subtle and Sobering Lesson
The following letter comes from a friend in England who is a medical doctor seeking his second PhD at Oxford University. Also, he is engaged in a major research project. That which he encountered could happen to anyone of us. Honestly, we do not live as though we are in a war zone, but dear children of God, we are.
The Lord spared this professor, but oh, his experience should run a chill down all our spines.
Because he is a friend, I asked him if he would allow me to share his letter with you relating both his physical and spiritual experience. The Lord released him to do so. All of us are very grateful to him.
---
The Letter:
Dear Anna,
I trust this letter finds you well. Thank you so much for your recent correspondence.
You might remember that I had quite a serious accident at Stonehenge back in February. While God was not the originator of the accident, I learnt a very valuable lesson, which may be of interest.
Somebody drove with over 50 mph into the driver's side of my car and took off the front bonnet. A fraction earlier, and he would have directly
driven into my driver's door. Surprisingly, no one got injured. Due to the impact, I had only a severe concussion resulting in a complete memory loss lasting approximately 20 minutes. My car was a write off. I asked the Lord, why the enemy had gained such access to my life. This was the first time, and I try to walk closely with the Lord, keeping my life pure.
The only thing that came to my mind was the following: When I drove on the road passing by Stonehenge, I looked at these large stones and thought, 'What threat can come from this pile of rubble?' I was aware that Stonehenge was a place with a history of intense occult activity. Today, the site employs a practicing shaman as part of the tourist attraction. The Lord reminded me that I was not supposed to judge by mere external appearances (John 7:24). This unrighteous judgement was based on spiritual arrogance. This in turn lead to underestimating the potential threat of the enemy and gave him access.
Accepting such a thought would probably not have had such implications in a different location. But Stonehenge seems like an intensive and active spiritual war zone with significant levels of witchcraft. Even small mistakes can be costly in such places. I was reminded of the battle of Midway in the Pacific Ocean during World War II. Most of the enemies' fighter planes were shot down. A few were able to target the American aircraft carriers and destroyers. Out of these few, only a tiny fraction succeeded and their bombs hit their targets but with devastating effect. Sometimes, the same can apply to our thought life: We manage to fight off most attacks. However, one or two thoughts might get through. If this occurs during active conflict, the effects can be as severe as in the crash.
The lesson I learnt was subtle but sobering: Don't fear the enemy but take his potential threat seriously.
Spring is growing in momentum even in rainy England. I keep praying for you, your country and your president.
God bless.
---
So, what was the lesson for us all?
Presumption.
Presumption is like a half sleep. You are not spiritually alert enough to properly discern. "The barn door is open" you might say. But let us be entirely accurate in "presumptions" evaluation: painful as it may be to hear – there is pride in it. Think back – every time you dismissed a threat from the enemy or thought "I've got this…" what happened? Well, little if you were living such a fleshly life that Satan had you anyway – but a "car crash" metaphorically, if you are a "prize" – (that is truly seeking to live a godly life). Oh, the care we must take. We must, must, must "take every thought captive".
April 2018
I don't know about you, but the members of our prayer group have been under tremendous enemy attack. I suppose I should not be surprised because it seems to happen every spring. There was a spring offensive even in Biblical times:
2 Sam 11:1a – "Then it happened in the spring, at the time when kings go out to battle…"
But this attack does seem unusually severe. However, there is a difference this time. I felt it (I am sure you have too).
Also, we can see it in the daily news. The attacks are increasing on the American president and on all of us.
I mentioned this to the wife of one of our prophetic members and when she relayed this to her husband – instead of the word "attack" her husband heard "flack". ("Flack" was anti-aircraft artillery that was sent up to take out bombers during the WWII thereby preventing them from reaching their target and removing vital enemy factories that produced guns, tanks, bombs, etc. Remember the movies that we saw of WWII of the explosives going off in the air near the planes? That was "flack".)
Anyway, that is the word Wayne Stafford heard. He had been in the air force in WWII and the word "flack" took him into a vision that not only related to our prayer group; but to all Christians passing through these increasingly difficult times.
THE VISION:
He saw us as though we were on a bombing mission over hostile territory in WWII. Now, in such a vital mission we would not want the enemy to know where we were going or the main target until the very last minute, so we would fly somewhat near the target – but not straight to it – until that very last minute. (Since there are other targets around the main one, the enemy would not know which one to concentrate on.) The pilot flies the plane in this deceptive path until the plane reaches the IP point (which means initial point).
Once the plane reaches the IP point, the plane turns and heads right for the main target. At this point, the bombardier assumes most of the controls of the plane. He tells the pilot the speed to maintain, the altitude and all critical calculations that would relate to a successful bombing run.
IN THE VISION
The prophet said that we (that is the Lord's children) have reached the IP point and are making the turn to start our bombing run. At this point, the enemy will concentrate its fire power because (instead of being scattered over many targets, it can now focus on the main objective). Therefore, the "flack" is becoming more intense. But we must hold the plane steady, no matter how great the enemy opposition – and – there are hundreds, if not thousands of pieces on the ground, that fling up artillery shells into the air that have a pre-determined altitude where they will explode.
Still, we cannot deviate – because, if we do, the bombs that fall will miss the target.
HITTING THE IP POINT
That is the natural. But there is a spiritual of this vision and a message from the Lord:
"Once you have reached the IP point and I cause you to make your turn into the real target, I will take complete control, you will release all of your control to Me and if you do that, when we get over the target, what I want to release over the target can be released and be accurate and hit the target. If you put your hand back on the controls in any way, shape or form, then when I release over the target, we will miss the target. It is very critical that you turn complete control of the aircraft, of the bomber, back to Me – the bombardier."
AS WE HEAD TOWARD THE TARGET
We in America know the enemy has increased the "flack". In the war, 50% of that branch of the service was killed… more than any other. But they took out vital targets like ball bearing plants. (Without ball bearings you can't have tanks.) Without ball bearings you don't have artillery pieces.
Any time attacks increase on the American president we too come under increased attack.
Let us, as Christians, now discuss an unusual problem, just between Christians.
During Donald Trump's growing up years in New York he was known as "a swinger". Everyone knew it. Now those that wish to discredit him want to use that fact.
However, right before or right after he became president he also became a Christian… a new creation in Christ. We in the body of Christ were told this by the Christian leaders that were present at his repentance and confession of faith in Jesus Christ. Everything before was wiped away. All things were new for Donald J. Trump. We cannot expect non-believers to understand that he is now a "new creation".
But, dear Christians, they will try to pull him down with the acts of his "old man". However, we Christians know the truth. We cannot in good conscience leave him standing alone. We must ask the Lord to strengthen us. Give us a back bone. Put some steel into us to stand with him.
He is moving to expose the "deep state". He is finally getting the Cabinet he needs, He is trying to clean up America's cities from functioning like cartels to coming under the rule of law of the nation. It's messy. Not only is he, but we, are being shot at from all sides.
WHAT'S NEXT?
I would love to tell you things are about to get better. But I believe the vision is correct. We have just "hit" the IP point and are turning toward our major target. Things are about to get worse… more "flack".
Let's not whine. What are we made of? We aren't in fox holes on battlefields. Think of those in war torn cities huddling to protect their children or those fleeing shell shocked towns without food or water. We are fighting from the safety of our homes and churches and prayer groups. Set your jaws, straighten your backs and don't tire now! Pray, pray, pray!
Years later when we talk about the Lord's great battles – (and we will talk about them) – we will ask one another: "What did you do in the great spiritual war?" (like the one which is facing us right now) …for we, dear Christians, are born for such a time as this.
God help us to fulfill our calling.
March 2018
Dear Friends,
Are we not the most fortunate people in that we are called by God to be here in these exciting times? Stressful – but all of history has been stressful. I have lived through the Great Depression, World War II, the Korean War, the Vietnam War, the rise of Militant Islam (with all their mini-wars) and still, still I find God good and righteous and this world (which belongs to Him, after all) to be a blessed place to live.
But never in my lifetime have we seen so clearly the division between Christ and the world. In the Second World War we saw the stark differences between Christ and Satan's "front man": Hitler.
But now the lies and corruption are so great that putrification is global. Now it is difficult to find many people in government that we can truly trust.
We feel like we're in a House of Mirrors or being forced to play a crooked, high stakes shell game. In the House of Mirrors, we lose our way, bumping into endless false twists and turns until our lives are frittered away. In the shell game, one false choice and the ground disappears beneath our feet.
In each, the penalty for losing is death: spiritual, physical, moral, relational and on and on or a half-life (what we call zombies) where we are trying to suck life out of false gods… the dead feeding the dead. These false paths lead nowhere.
Therefore, we walk a razor's edge if we rely upon the world, the flesh or the devil. The only firm ground beneath us is "The Rock": Jesus.
But for those of us who cling to "The Rock," life is a glorious adventure. We are not our own. (That's a relief.) We are here to serve the One who purchased us (our Lord and Master, our Savior, our Redeemer, our King). We do His bidding and live to glorify His Name. He has already planned out our exciting schedule and chosen all the good works "we are to walk in."
For our response to His call, we receive membership in our Father's family – all of heaven, blessed brothers and sisters in Christ, many, many spiritual friends (the angels) and the sort of spiritual work that dazzles the mind.
For joining our Father's family, we are given promises, callings, anointing's and blessings galore. We have treasure laid up for us in our true home and family and friends waiting for us above.
Truly, dear friends, this life is short. For those who are reading this while in their 20's or 30's, it may not seem the case. However, let me assure you – a little further down the path it begins to be a race to finish all that has been given to you to do before you are called home.
The Bible itself tells us very little about the eternal life before creation and it tells us very little about life after the Millennial Kingdom.
Therefore, those of us who have been given the opportunity to draw near to our Heavenly Father – at this time – are unique. Oh, there will be other people. The Bible tells us of nations of people living outside the city in the Millennial Kingdom (Revelations 22:2). But brothers and sisters, we who are alive now have been given a unique opportunity – both in nearness to God and in service to Him.
We are blessed beyond measure. We are loved and cherished. We are Family – His Family. God is our Father, Jesus our Brother and the Holy Spirit our great Teacher and Friend.
It doesn't get any better than that.
February 2018
ANGEL FRIENDS
Last month we drew nearer to our Heavenly Father. Now, let us look at our friends, the Angels.
As I have worked on this website, I have begun to realize how many angels I actually know. You see, since many specialize in certain areas of authority, I do not see them every day. They come and go in response to our Lord's request. He decides [because He is the Lord of the Hosts] either to call them directly or in response to our request through prayer.
UNUSUAL ANGELS
The two angels shown this month are unusual as far as our general thinking about how angels should look.
They have very unusual jobs, also.
Both, however, are of tremendous assistance to those whose lives are at a crossroads – or one of the crossroads in their lives.
Perhaps that is the reason each was assigned to Prayer Mountain. Many people from all over the world come here to meet with their Heavenly Father. Many are at a crossroads in their lives. They need help – and are humble enough to ask the Living God for assistance in their decision. [Even though they are seeking God, they would not refuse a little help from the angels as well.]
Therefore, RIGHTLY DIVIDE assists in the division between soul (mind, emotions and will) or the flesh and the spirit. THE UNDER SECRETARY
TO TRUTH assists in the dividing of "the lie" – sham – hoax – diversion from the truth.
In other words, if the person's decision is not founded on or in truth right from the outset, the person will veer from the Lord's path in greater and greater measure as he moves forward.
If your first step is predicated on a lie you will march off into "God-knows-where." Then somewhere down the line you will need to make a U turn or keep bumping against a dead-end sign. Therefore, we are very grateful to the Lord for having assigned these two powerful angels to Prayer Mountain.
WHAT ARE ANGELS LIKE?
Angels have different personalities just like humans – but without rebellion. The Lord's host already has decided to stay within the Heavenly Kingdom and therefore not to follow Satan. Now, of course they see the consequences of their former friends' rebellion. They witness the darkness, bitterness, physical deformity, hopelessness, cruelty, etc. They see all of their former friends moving inexorably toward a horrible end. This must be a dreadful reality to witness when these demons were once their companions and full of light.
GOD'S FAITHFUL ANGELS
We, however, work with our Father's faithful angels. Whether we see them or not, these angels are present and will be our friends throughout eternity.
They assist us with our work here on earth and they protect, train and often guide us.
The interaction we have with them is at our Lord's command. Therefore, because they are on assignment, they are focused on their reason for being with us. In other words, they are friends, but they are "all business". Their closest relationships (other than with the Lord) are not with humans, but with their own kind: other angels.
They have feelings as well as personalities. Also, they can be wounded if struck in battle or in a sneak attack. Just as our spirits can be wounded, so can they – because they are pure spirit.
The healing of our spirits and of the angels is the same. Only God Almighty can heal a pierced or ripped or torn spirit.
For us, we remain quiet and pray and silently allow the Lord to mend us. Sometimes highly anointed music helps. Spiritually we are before our Father's throne.
The angels, on the other hand, return to the throne above and are healed in His presence.
WILL EVERYONE SEE THEM?
Even though more and more of God's children are seeing the angels that are assigned to earth, that is still a small number in relation to the whole body of Christ. But – the number is increasing.
MY PRAYER
It is my great hope that all of our eyes will be opened and that all will begin to interact with their spiritual friends, the angels.
Until then, I hope you are enjoying getting to see and hear the angels the Lord has arranged for you to know though these actual experiences.
And, even though I am not the greatest artist in the world, at least the pictures are drawn by someone who has actually seen them.
I love sharing them with you.
January 2018
Dear Friends,
I am expecting a year of amazement of our God and praise for Him in 2018.
We have seen the hand of the Lord move again and again this last year. When only He could rescue and save – He rescued and saved – always in a way none of us could have anticipated.
The visible battle against the "darkness" has kept God's children more engaged than any Star Wars series could captivate us. What is more exciting than battling right alongside of the angels – of having our prayers used to tip the scales for righteousness. No – we weren't observers in some darkened theatre, we were the ground troops. We were the air-men. We were the sailors on the sea.
And more than this, in the Star Wars series they are still fighting with the same equipment they used in 1977 (when the film first was released.) But not so with our Father's children.
In the same thirty-one years, we have received upgrade after upgrade of our spiritual equipment. We have been growing and maturing – planting our feet and sharpening our weapons. We have been plunging deeper into God and also raising higher and aiming truer.
The children of God are part of the most exciting saga that has ever existed.
For many years we could not see behind the boulder where the enemy had been hiding. Oh, but now we see him. We prayed that the Lord would expose him and He did. The Lord flushed him out into the open.
But because we see him now we must not become lax. Instead, we must persevere. We must double – triple our prayers, coupled with righteousness living so that our prayers may be heard.
These are the times for which we have trained. These are the times for which we have been preparing year after year. Let it be said of us that during this small portion of earth's history they pushed the enemy back – out of our families – out of our churches – out of our government and out of our lives.
---
---
CELEBRATIONS OF CHRISTMAS PAST.
This was the front door of the ministry for Christmas.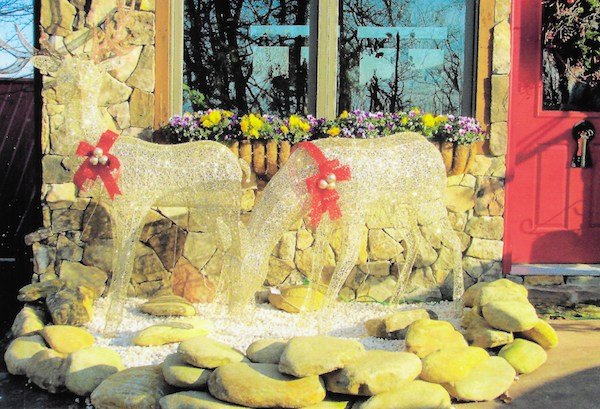 Here is the front of the Guest House. (Even though it is not ready to receive guests, we did not want it to feel left out of the Christmas celebration.)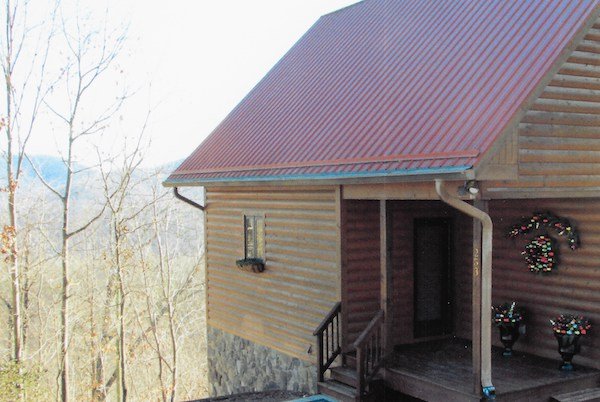 December 2017
After such a huge attack, the Lord sent us additional help. He sent the Holy Spirit as the Pathfinder.
Why as the Pathfinder? Because after a long attack, the weary child of God finds that the goals are often lost. He or she is scattered in the initial direction or target.
The Lord sent the Holy Spirit as a pioneer to say we were charting new territory and cutting through the wilderness of demonic barriers to clear a way – a straight path to His purposes and to His victory.
JULY 4, 2008: FRIDAY
An angel in buckskins walked down the path to meet us on the platform. He was medium height and looked as though – if necessary – he could wrestle a bear.
"Hello," I said as he came down the stone stairs to the platform.
He sat down opposite the two of us on the bench saying: "I come to you today as a PATHFINDER. Your compass of the Father's desires has been lost in the labyrinth of twists and turns as you sought to fulfill His desire. Now, quiet yourself. Look around. Get the lay of the land and take out your map."
"What map?" I asked.
"All that has been given to you – so far – is a map. Even if you have lost the compass you still are able to look up – in order to be guided by the directions above. (I did not know if He meant directly by God the Father or from the stars.)
I looked into his face and realized that I could not see his face clearly. It was the Holy Spirit.
He continued: "The Father has sent me to guide you, Anna," He said, "Give yourselves the time to receive another compass. Study the map while you wait – and enjoy the view."
---
NOTE: Ah, but there was a counter attack – recorded on July 6, 2008.
---
JULY 6, 2008: SUNDAY
Scores of black snakes – large ones – like pythons – were heading through the mist. They were in the air – as though they were tentacles of a huge hydra.
The snakes were searching. They began sticking their heads sideways against the glass windows of what would eventually be the guest house. Unsatisfied, they went after the car windows, etc. Trying to get at anything they could breakthrough and reach.
Somehow, I knew they were looking for someone to squeeze the life out of.
Grubs came out of the Under Way. They worked their way up the asphalt road toward the top of the ridge where a couple of cabins were located. These grubs were eating the leaves from the trees as they went. They could not get past the check points because of the Check-Point Charlie angels1. However, they cleared the leaves from the trees and bushes. The foliage was stripped from the trees. Without foliage, these trees could die due to a lack of photosynthesis.
After they had cleaned the trees of leaves, they attached themselves to the trees and began to spin cocoons around themselves.
The trees from the Under Way all the way up to the apex of the road had cocoons hanging from them – sort of a chilling decoration.
---
The Lord sends angels to minister to us after each attack. Remember the angels that ministered to Jesus after the wilderness testing by Satan? Well, we too are comforted and trained after an attack. Here the Lord is steadying us. He then moves us beyond comfort. He does not leave us simply recovering. He trains us further. He moves us on.
CHECK-POINT CHARLIE ANGELS
These are angelic guards that are stationed at the mouth of the two roads leading up to Prayer Mountain. These roads are the only entry ways to Prayer Mountain, and therefore, the Lord has a couple of warrior angels at each entry. These angels are on duty at all times.
The Lord urges us forward:
---
JULY 8, 2008: TUESDAY
The messenger handed me a piece of paper.
"Here you are," he said.
The paper was folded and closed with a seal. The seal was red with a gold center. I had never seen a seal like it. In the natural that seemed impossible… but of course, I am no expert on sealing wax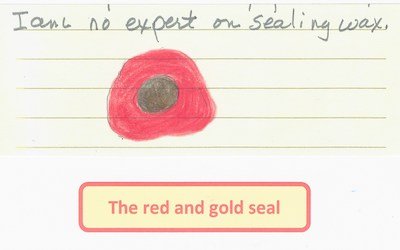 I looked at the angel. His face gave no indication of the message's contents.
I opened it.
At first the message – written in what looked to be the angelic language or perhaps some other language that I could not understand – eventually changed to the language I understood.
It read:
Stay the course.
The messenger had his hands behind his back and was rocking slightly back and forth on his feet.
"Thank you," I said to him.
"Any return message?" he asked.
"Well I don't have a piece of paper," I said, "but I could tear a sheet from this pad."
He smiled as he stopped rocking back and forth, "I am able to take that," he said.
"Very well," I said and turned to a blank sheet in the journal I was using to record the angelic encounter. "With God's help," I wrote. I tore out the page and handed it to him.
"I don't have a seal," I said.
"This will do," he said bowing from the waist. "Ta-ta" he said as he left the platform.
I watched him climb onto his huge wheeled cycle and head down the ridge.
I sat with the message in my lap. The Scribe and I looked at the note. Then referring to the contents of the note, the scribe spoke: "If not now – when?"2 He alluded to the message from the Lord to "Stay the Course".
He continued: "Your Father trusts you to stay the course – holding the line against the enemy within and without. But if you do not come to the end of yourselves, if you do not make a firm decision to be sons of God – but imagine that you may embrace the flesh and the devil yet reap blessings from your Father; if you continue to limp between two opinions and justify your actions with a divided heart that you shield from your own gaze – then He will have trusted you in vain. Your loss will be great, but His loss will be greater – for you will have kissed the lips of Satan and handed him half of your heart – willingly handed him your heart and justified your actions."
"You would be losing the call upon your lives. But, He would be losing sons. Oh, you will be believers, but sons are like their Father."
"How long will mankind break the heart of their Father. How long will they toy with God? Though His forbearance is great, it does have its limits. The children of Israel made this mistake in the desert. He brought them out but did not bring them in. They died in the wilderness. To the end they justified themselves."
"We (the angels) heard them. We shuddered at their obstinacy – their callousness toward the One that had delivered them. All the while they defended their actions. We heard them."
He began to weep. (I did not know angels could weep. I was stunned; but also fascinated.)
"Please, please," I said. I did not know how to comfort a spiritual being that had seen the very history of mankind failing God Almighty. What does one say? "We are trying," I said finally. "Please be comforted."
He looked at me with eyes still full of tears: "He trusts you," he said. "What an honor."
His eyes were about to brim over. "Excuse me," he said, bowing from the waist. He walked up the hill into a more private wooded area.
"Oh God help us," I said.
1. THE SCRIBE is an angel that is often present to help me. He has been assigned to Prayer Mountain to record the Lord's faithfulness in keeping His promises relating to this particular mountain and while here, he teaches and instructs me.
Turn to the Teaching Section to see the conclusion of this revelation.
November 2017
I am using all three sections: Angels, Personal and Teaching to share this revelatory account. Going from the beginning to the end in sequence helps us learn how the enemy works and then how the Lord counters his attacks. I am showing this to you, right from my journal so that you may be taught by all that the Lord used to teach us.
WE THOUGHT WE HAD DEALT WITH THAT!
After the removal of a major demon, we usually dust our hands together, sigh and say "that's that". We turn on our heels, expecting that these actions mean the job is done.
But not so.
They come back. Oh, they come back in a different way – but back they do come.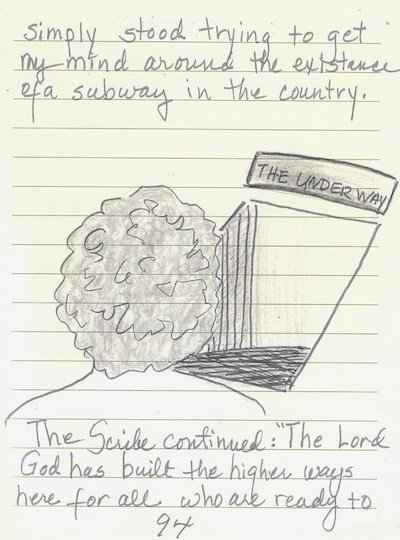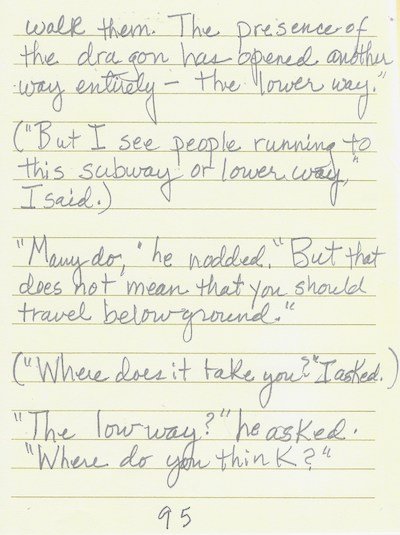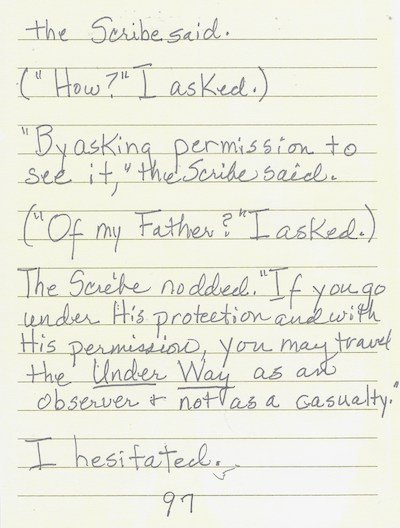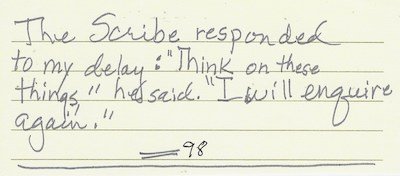 October 2017
THE SECOND HEAVEN
MY FIRST VISIT TO THE SECOND HEAVEN
Satan's headquarters is not on earth; nor as many think, beneath the earth. Satan and his upper management team, (the princes, powers and world rulers of this darkness) dwell in the midheaven. This is a confiscated area the Lord allows them to inhabit until they are thrown down to earth. Rev. 12:7-9.
Satan and the other created spirits are unable to be everywhere at all times – as our God, who is omnipresent. Therefore, Satan must control a vast network of subordinates. These less powerful, fallen spirits are bound to him and subject to his will. Since their fall, they are without light and love, therefore this shadow kingdom is driven by cruelty and bullying… darkness and death are in all they do.
The vast number of them labor on earth; some serve beneath the earth and some serve the princes, powers and world rulers of this darkness in the second heaven.
I am including three pictures from my journal of 1995. They are a little difficult to see, but they are real and true. This was my first visit to that dark, decaying area. I was taken there by Jesus.
---
THE SECOND HEAVEN
I could not discern if it was densely dark or if it only seemed that dark because we had come from a place so permeated with light.
THE SHEEPFOLD
The white Eagle flew down into a walled-in area that had a shelter within it. The wall was of uncut stones and fairly high. On top of the wall were branches brandishing large, painful-looking thorns.
It was a sheepfold.1 It was Christ's outpost in that corrupted stratum occupied by Satan.2 The enclosed area had but one gate. It appeared that the thorns were not so much to make entry by the demons impossible, but to serve as a warning. NO TRESPASSING – a visible command from Christ Himself. The sheepfold was His territory.
It occurred to me that perhaps one of the reasons the crown of thorns was crammed into Jesus's skull before His crucifixion was a private slap in the face from Satan, for the sheepfold was crowned with thorns. Christ had dared to establish a place of safety within the enemy's hostile kingdom. That crown of thorns was an affront before His crucifixion; now, after His resurrection, it was an ever-present reminder of Christ's victory and His eternal lordship.
The white Eagle changed into the Lord.
There was scant light except for that which came from Him. "Stay with Me," He said. He had a tall staff in His hand.
By the gate were two pairs of porpoise shoes that were dyed red.3 He put on a pair, and so did I.
"Touch nothing here, Anna; all is defiled." 4 We walked out the gate into the darkness. Jesus Himself was the light on our way.
Weeping and sardonic laughter came from the darkness. They were human voices, but they sounded as if they were coming from animals.5 Alarm gripped me. I stayed close to the Lord, walking in His footsteps. Although it was dark, I began to see dimly.
THE OUTSKIRTS OF THE STRATUM
The surface on which we were walking was dank and sticky. There was a slight suction created on the bottoms of my shoes as we walked, as though I might become glued to the spot if I did not keep moving. Huge, slimy creatures would half roar, then lift themselves up and move threateningly towards us. They looked like giant slugs, but acted more like bull seals protecting their territory.6 They tried to frighten us, but they ended up bowing before Jesus, a begrudging acknowledgment of His lordship.7
THE RIVER OF FILTH
We came to a levee that sloped down to a black lagoon. The water was filthy, sluggish, and stagnant. The smell was putrid.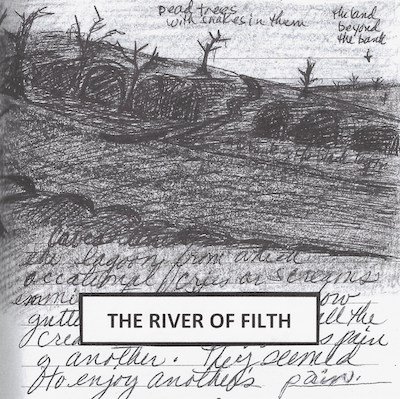 Jesus helped me into a long pirogue. I sat down, but He stood and poled us across this narrow waterway with His staff. The water boiled and emitted steam every time His staff plunged into it.
Jesus said, "This is a river of filth. As the river of life is clear, so this one is putrid and defiling. It issues from the mouths of sinful man. As rivers of living water come from the belly of My righteous ones, so out of the blackened heart, through the mouth, comes this watery filth."
I could see creatures lying on the banks and hear them breathing. They appeared to be crocodiles, but they made blowing sounds through their nostrils like hippos.8 Their eyes shone in the dark.
THE CHAINED ONES
Caves lined the levees, and an occasional cry or moan came from them. I felt that the sounds I had heard when we walked through the gate came from these caves. They looked like dungeons with demons guarding the entrances. But who or what was imprisoned there?
The demons uttered low, guttural chuckles at the obvious pain of those imprisoned. They enjoyed someone else's pain.9
"Observe the misery," the Lord said. "My people participate in this, enjoying the downfall of another, laughing at the mistakes of others, and holding them in their chains instead of setting the captives free." 10
I looked toward the dark entrances of the caves. Within these dungeons the enemy held captive certain areas in the lives of humans on Earth. Christians, instead of helping to set the captive free, were tightening the chains of condemnation that held them in bondage. Christians were siding with the jailers against the Lord by nullifying the provision of forgiveness and reconciliation that He had made for them through His shed blood.
THE LEVEE
We stepped onto the opposite bank and began to walk up a wide path to the crest of that levee. Moans came from every demon we passed. Christ's appearance among the demons tormented them, and they ran away from Him.11
"Light is very painful to them," Jesus said, indicating the fleeing demons. "They suck up darkness and breathe out venom – lost, corrupted forever, darkness inside and out. These who once ate the food of angels, these who stood in My Father's light, these who knew the companionship of the trustworthy – now they slither and cringe from the light, cursing the darkness and cursing the light – they are doubly damned. They eat vomit – three or four times over." (I felt that He was equating vomit with slander.) "In community with those of their kind, they laugh at each other's misery and deny each other relief – turning, forever turning upon one another, therefore always alone."
"Leave us," a voice said, and a hyena giggled.
As we topped the levee, the land as far as I could see was slimy mud, a murky wasteland.12
"Wet," Jesus said, "for they fear fire. They are tormented even by dry places."
Numerous dead trees stood within the mud.
"The trees are a memorial to the vile groves of false gods. Here these trees are seen for what they actually are, broken, bare, without life – the home of snakes and birds of prey."
COUNTERFEIT UNITY
Indeed, black snakes were in these dead trees, as well as covering the brackish mire. They were hissing and writhing, constantly moving over one another as if mating.13 "A false unity, a joining in the black mind," I thought. It occurred to me that as the Lord is bringing together a oneness in Himself, so the devil is birthing a counterfeit unity.
Jesus spoke, "The spawn of demons. How Satan promotes his imitation fruit. These goad tormented souls to vomit forth slanders, lies, and cursing – rivers of putrid water in which the demons swim."
His ear caught the sound of a cry from a cave by the lagoon. He turned His head to hear, saying, "There are labyrinths also within some believers: dark corridors where the light has not shown, hutches that have not been delivered from darkness.14 But the true light is ready to travel every corridor and touch every dark corner so that all within each believer may be of the light. Darkness is heavy with sin; it is dense and murky. My freedom is light. For the redeemed, all within them must be delivered over to the light. Light must flood every corridor, and every lurking malady must be healed."
Jesus then took my hand, saying, "Come."
THE DEMONIC TEMPLE
Suddenly we were within some sort of huge temple.15 Large, gray concrete pillars supported this main area. The room was hazy with incense, and the cloying odor of blood was mixed with that smell.
Around the perimeter were several stories of rooms, some closed and some open. They looked like caves of horn.16 It was possible to reach only the lower rooms by foot, all the others required flight, like bats.
There were six staggered levels of rooms on the left side: six at the back and six on the right side. But how many cave rooms were there in all, I could not tell.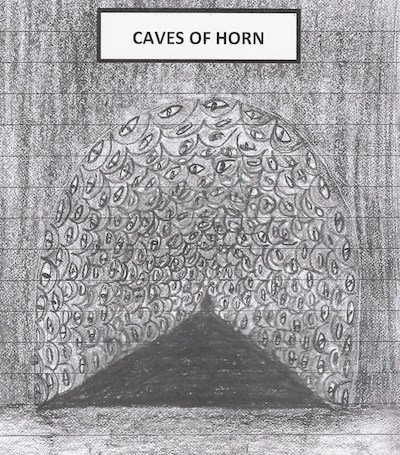 I could see black creatures covering the walls of the hollow rooms that were open. They looked like dark, unhealthy jellyfish, each with only one eye. These were like a fungus on the walls. Their eyes were constantly looking to and fro. Nothing escaped their notice.
STOLEN TREASURE
The Lord spoke, "The enemy has hidden stolen treasure within the darkness of these rooms. Prying eyes guard this treasure. These spies are rewarded for their vigilance. The infested caves are a vortex, throbbing with suspicion. Here there is fear of exposure – the opposite of covering – because of love. The time has not yet come, Anna, to release these captives from the caves [meaning the stolen treasure], but all that is of Me and is Mine will be cleansed and come to Me."
I did not understand what He meant. He continued, "Just as tears and prayers can be stored above, so can praise be taken captive by the evil one and stored in the caves of horn. The enemy bathes in stolen worship – renewing himself in that which belongs to God, putting his hands all over that which is sacred and secret. Since Satan cannot create but only imitate and defile that which belongs to God, his greatest joy is to desecrate that which is of the Light. My Father will one day have all that belongs to Him. The temple vessels were captured and hidden away in Babylon, desecrated by being mocked and used to toast false gods. Just as these were returned and reconsecrated to God, so all that belongs to My Father will be cleansed and consecrated to Him alone.17 The enemy is in dense darkness, doing that which is foul in order to relieve his pain, but instead only multiplies his pain. But My Father will set free all that belongs to Him. He will cleanse it from the filth of deception and idolatry corrupting it so that it might rise to Him."
I saw demons flying into these caves of horn to defile the hidden things of God there, like spiders sucking the life out of their captured prey.
PROMISED DAY OF DELIVERANCE
Jesus continued, "There is coming a time when God Himself will raise His sword in the midheaven.18 He will come forth in His own behalf; the fat from the false sacrifices and from offerings to other gods, who are not gods, will be His.19 The fat is His, and they have robbed Him. The praise is His, and they have stolen it from Him. They have stored it for themselves. But He will raise His sword to sever the fat from them and to release the praise stored for generations. A great holocaust will occur when the fat of many generations finally rises to Him. When He unsheathes His sword and rises up in His own behalf, none can say to Him, 'Nay!' None can call to Him, 'Hold!' None can turn Him back at the gate. He will cleanse the midheaven and set it free. Then His light will touch every corner and purge the malignant growth from generations of corruption, thievery, and lies. When He lifts His sword and releases His light, surrogates will flee like roaches; mighty ones in the strength of wickedness will shrivel and slither away."
He spoke to the midheaven, "O promised day of deliverance, a time has been appointed, and you will be free." He turned back to me and said, "When He raises His sword in heaven, praise will be released like a bird from a cage, never to be imprisoned again."
THE DEMONIC MASQUERADE
We began to hear a drone, like that of bees swarming or flies gathering on a dead carcass, coming from a distant area of the temple. As those creating the monotonous sound drew nearer, I could hear the hypnotic rhythm more clearly. They were chanting mantra.
Suddenly they burst into view. It was a large and lavish procession accompanied by loud, discordant music.
The massive concrete columns within the temple obscured our presence from those entering, so we stepped out of view.
Dancers and musicians came before a woman splendidly dressed.20 Jewels adorned her long robe and crown. She held innumerable chains in her hands just as a person would hold dog leashes. Shackles were around the necks of demonic beings she held captive, who bowed continually, kissing the ground where she walked.21 They looked like naked humans.
Her retinue was very large and seemed to comprise those from various nations – perhaps every nation. She turned in our direction. Her eyes were red with false fire; when she opened her mouth, fire came from it.22 We were too far away for the fire to touch us, however. When the fire ceased, honey dripped from her mouth; those in chains licked up the drops that fell to the ground.
She went up by stairs to a high throne in this incense-filled hall.23 When she sat, her attendants wrapped the long train of her robe around her feet. The train looked like a python.24 Those in chains groveled on either side of her throne.
FALSE HOMAGE
The kings of the earth came with presents for this woman.25 They also brought jugglers, prophets, and magicians to entertain her and her court.
The team of jugglers juggled all manner of objects of unequal weight, including gold bars and apes. But the object that fascinated me the most was a cage on which was written THE SOULS OF MEN.26
The prophets were almost as showy, jumping around and speaking great boasts concerning her and others present.27 Those gathered would laugh and throw money to these false prophets.
The showiest of all, however, were the magicians, who looked extremely grave, wise, and dignified; they performed mighty signs and wonders.28 Everyone clapped and bowed before them in awe.
Each king would take a golden coin from this woman's tongue like tokens taken while standing in line at a store counter. A number was on each coin. They would return them to her later as she went from side room to side room, servicing these kings like a prostitute with many clients.29
The woman's face was old and caked with makeup, but from a distance she looked beautiful and splendid. She was drinking from a jewel encrusted cup, and her eyes looked glazed.30
"Who is this?" I asked the Lord.
"The false church," He replied.31 "She makes herself a queen, and those enslaved eat of the honey from her mouth. She has given herself to every demon. She services them. Many will go with her."
I looked at her horrified.
"I have brought you to see the false masquerading as the true," He said. "Mark well the content. Mark well the consequences and outworking of the decision to embrace the darkness instead of the light. All manner of corruption breeds in darkness. Come," He said, and once again He became the white Eagle. "We go now to the bowels of the dragon."
September 2017
THE GAP
[Recently I was asked a question by a pastor's wife – and in answering it – I felt many of us may be passing through the same test. Therefore, I am writing on a little addressed spiritual truth… "the gap".]
Dear friend,
I cannot tell if you are under extraordinary attack or if the Lord is moving you higher in rank in this ongoing spiritual battle.
In each case the answer is the same… "having done all, to STAND."
Now this standing is not tensing and holding on but instead giving a big sigh and relaxing – resting while standing. If you know your brothers and sisters are going through the same bashing from the enemy, it is helpful. Like the most persecuted man around – our president – who is still going to Bible studies and allowing pastors to pray for him. Can you imagine what he is facing each day?
When moving into a higher spiritual rank, you move out of the protection that has been formed by being in a certain place for years. In other words, you have learned to handle that level of demon. Now you have passed whatever tests that are required to be allowed to take on higher callings for the kingdom. So, you are being advanced in rank (so to speak).
THE GAP
When being promoted, we move out from under the established protection to a "no man's land" – to where our flesh has not been as challenged and to where we are no longer dealing with the old familiar, lesser demons.
As we move into this unprotected territory, we begin to make fleshly mistakes as well as to get hit by those stronger demons that are waiting for us in that higher, exposed area. The tests are harder. They last longer. Often, we begin to feel persecuted by man and God – abandoned – unloved. Unless we are extremely mature (but still passing tests – remember Jesus in the wilderness) we will wallow in self-pity as well as the feeling of abandonment. In other words – we will
incorrectly discern what is happening spiritually and instead of discerning correctly, begin to question ourselves and even God.
"Why?" is the most repeated question.
Therefore, if after repentance the question is still "why?" then the answer is not sin.
IF IT ISN'T SIN – THEN IT IS FLESH
Suddenly you realize you are not as mature spiritually as you thought. Moving out into the greater light has exposed glaring, unresolved problems in your flesh nature. The Lord has exposed these grave pockets of "flesh" in order to give you the opportunity to deal with them – to allow the cross to work in your life in a deeper way. Of course, where there is raw "flesh" there are "flesh" eating demons… like blood sucking flies that sting and infect.
So, what removes the blood suckers? As soon as their torments alert you to their presence, ask the Lord what let them in. Then repent.
But – just being sorry for your thoughts and actions will not clear them away permanently. You must ask for the root in your flesh that has not been surrendered to the cross of Christ. The more of your "flesh" that has been replaced by Christ Himself, the more of your soul is being saved.
You know, many brethren have a very true saying: I am saved (the salvation experience moving from death into life.) I am being saved (the replacing of our natural soul life with the life of Christ – for only that which is of Christ will pass through to the Father.) I will be saved – the resurrection of the body.
FROM GRADE SCHOOL TO MIDDLE SCHOOL
When we move from one level to another level spiritually, it is a little like going from grade school to middle school. Remember those days? You had to start all over again, so to speak. We too, start again when we advance.
"Higher levels, higher devils", is the saying. As we move into the new level we, like those entering middle school, are not as steady on our feet… we have "bigger things" to deal with. However, it is God Almighty who is
entrusting us with more power and authority (when we finally learn to stand.) He is calling us on. He is the One who needs our greater service and He is the One who is urging us to draw closer to Him – to know Him better.
Therefore, when you are "in the gap", rejoice for you will mature, (if so be you love the Lord more than your fleshy soul life) and you will learn to battle and defeat these greater demons, (if so be you are willing to live a sanctified life giving them no ground on which to set up camp.)
Although when we at first move into a greater anointing and are given more authority, we are wobbly and unsure, we are still beginning to stand… maybe not well, but to stand. Struggling, but standing. Therefore, after a while, the light of understanding begins to break through to us.
CLEARER SIGHT
We are not being persecuted or wrongfully tested. We are being taught and trained and, oh my word, promoted. We are growing stronger. Now we are raising to an upright position. Our heads are lifting and our eyes are clearer – more focused on the goal given to us by
God and we have "toughened-up". We are a greater threat to the kingdom of darkness.
Therefore rejoice – we will learn to stand in this new and more intense warfare – and regain our joy. We will be of greater use to our Lord and to His people – and we will be entrusted with more power and authority.
THE GAP IN THE REAR VIEW MIRROR
The "gap" has its place in our training. It always comes as a surprise but is always appreciated after passing through it.
August 2017
GUEST HOUSE REPORT
We want to keep you informed as we move forward. We thought you might like to see each step as we move to readying the cabin.
1. We have received many names – great names. We are going to wait a little longer to give everyone – who wishes – a chance to send in a name.
2. Here is the flower box at the front of the cabin.
There is a hole in the center of the planting because a bird built a nest, laid eggs and is now raising baby birds right were the center flowers were planted. We can wait. Don't want to disturb a little family.
3. We are (still) waiting for the road crew to complete the upgrade on the work to the road that goes to the top of Prayer Mountain. They are half finished and therefore leave us "hanging". But in this quieter and slower area of the country, we just laugh and say that things are being accomplished in Moravian Falls time – slowly – but we get there.
4. The front of the cabin this summer.
Please keep us and the little cabin in your prayers. We want to do a good job – for it is the Lord's and being readied for the Lord's people.
July 2017
THE LITTLE CABIN ON THE RIDGE
WELCOME HOME
We are thrilled to tell you that this ministry has been given a cabin right on Prayer Mountain to use as a guest house.
We have needed a guest house for some time. So many of our ministry family come from distant states – even foreign lands. A dear Christian purchased this small house when it became available – and seeing the need – gave it to the ministry for our use. It will be so much easier for those who come to see us to stay right on Prayer Mountain within walking distance of the top. This will allow for greater periods of prayer and quiet meditation.
According to the prophets, this lowly little mountain has been chosen by God for the revelation of the Father's presence and His glory. That is the reason there are so
many angels on the ridge. Since the glory is gathering already, visiting the top is a blessed and helpful experience – even now.
THEREFORE HOME
If such a location has been chosen by God for the revelation of His Fatherhood, we have always felt that the area around the ridge should be warmer – friendlier – more like family … more like coming home. There are many spiritual experiences in the world – but here we are promised a transforming relationship with our Father. We need to see our Daddy and our Daddy wants to see His family.
We hope this will be aided by the outpouring of love displayed through this little guest house.
BEGININGS
We have started on the outside by adding window boxes and flowers. We wanted the house to look loved, even before going inside – so first, we "loved on" it.
We will enter with much prayer and thanksgiving to God for His graciousness to us and to His children.
TIMELINE
I am not sure when the cabin will be ready to receive guests. It is entirely without furniture, towels, rugs, dishes, etc. In other words – first it must be furnished. That will take as long as it takes – but the Lord wants to bless His children – and we feel it is a great step in moving Prayer Mountain to be more like a family.
NOW FOR A FAMILY POW WOW
The houses up here are being named, it seems. Therefore, we would love for this cabin to be named by members of our Father's household. If you would like to submit a name please send it to the address below:
Christ Jesus Triumphant, Inc.
P.O. Box 70
Moravian Falls, NC 28654
We can't wait.
June 2017
BEELZEBUL
Let us talk about this worldwide attack on the body of Christ.
You may or may not recognize it as worldwide because "the prince of demons", Beelzebul, is leading the attack through the strategy outlined by the Lord Himself to be used against the enemy. That strategy is to take out or bind the "strongman" first. We usually apply this scripture to demonic forces. However, at present we are able to see the strategy turned upon the Lord's anointed with heart stopping effects through the attack of at least two human, world leaders (I'm sure there are more brave and anointed souls, I just am not familiar with them.)
Even though this website is being followed by Christians all over the world, I am going to address the attack on two of God's human "strongmen" (anointed warriors brought forward by God for this hour): Donald Trump [president of the United States] and Benjamin Netanyahu [prime minister of Israel] because – unless this demonic attack is stopped – you know how they say: "coming to a theatre near you" – well it will be "coming right to you" … wherever you are.
Let us look at some of this major demon's names to glean from the Lord a strategy of our own.
BEELZEBUB THE LORD OF THE FLIES
In the natural, cattle can be driven mad by the constant stinging attacks of horse flies. The bites are painful and draw blood, often causing wild herds to stampede as they try to get away from these flies. The animals wallow in mud to cover themselves with as much dirt as will possibly keep the flies off of them.
Spiritually, the attack is similar. The same sort of stinging and maddening attack has been mounted against these two men. The stings do not kill, they just drive them – turning them again and again to address false and misleading stories or turning to protect family or friends from the daggers being thrown at them – from world leaders, the press, their own party, those within the government seeking to undermind – lies – betrayals – the entertainment world, the rock stars, the comedians, etc. The organized attack can only be coordinated by the enemy and it is like blood sucking horse flies, driving and driving them. Many do begin to return to the wallow hole – covering themselves with the dirt from which they hoped to remove themselves.
BEELZEBUB IS THE LORD OF THE DUNGHILL
These flies love excrement. Everything starts to be covered with it. As the lord of the dunghill, he uses his flies (which swarm over excrement to spread terrible diseases: typhoid fever, cholera; dysentery, epidemic conjunctivitis, meningitis and polio.) The Tsetse fly spreads sleeping sickness. This is an illness that leads to death.
Spiritually the church struggles awake at times (such as during recent elections in America) but quickly falls asleep again. This is the demon behind its sleepiness and the death that comes with the false doctrines taking the Lord's church down the wrong path – (which leads to death.)
Most of the false doctrines have been around since right after the death of Christ. Every type of false god and false doctrine has been blended into the pure gospel of Christ. Many new brands sprang up in the 1960's. These were dabbled in by everyone for a while; but eventually older and more mature teachers stood up to refute them and they passed out of fashion. But amazingly, I am old enough to have lived through the rise and fall of these aberrant doctrines in the 1960's and 1970's to the rise of the very same doctrines again, years later after these more mature teachers have died. They are "in fashion" and everyone talks about them and relies upon them as being valid – but, dear children of the living God, these "dunghill doctrines" are carrying the body of Christ into deeper and deeper sleeping sickness and (I have told you where sleeping sickness leads) spiritual death.
BEELZEBUB THE AGITATOR OF HATRED
We have seen how angry everyone is now. That, dear friends, is entirely supernatural. There is no actual reason for this boiling anger. This high demon is known for pitting people and groups mindlessly against one another.
Well, we are certainly seeing that side of his personality or it might be his job description. There will be killing in the streets if the rule of law is not returned. Senseless, mindless – as in Germany before the 2nd world war. The people were deaf and blind to sound reason. They were taken over – possessed. That can happen to whole groups of people – senseless hatred.
When being asked why they, as students, were shouting down free speech or throwing chairs through windows on campus, they gave "sound bite" answers, with absolutely no real reason … just temporary madness and the excitement of others being professionally organized to "kick up some dust".
This summer, with so many professionals being paid to guide the youth into destruction, there will be a lot of "dust kicked up".
BEELZEBUB IS THE LORD OF IDOLOTROUS SACRIFICE
As such he oversees the sacrifice of infants and the unborn.
I was in a conference one time when Bob Jones called out three witches that had sneaked into the assembly to pray against him. He publically told them, that they had sacrificed two babies to gain the power with Satan to hinder his message. They jumped up and ran out. Christians with clean hands and a pure heart gain access to the throne in prayer. However, evil, such as the murder of infants, gains power with Satan.
THOSE OF CONSCIENCE
I am not sure how any person of conscience can bare to see the constant attack of Beelzebub and his troops against the Lord's anointed. Satan is employing this major demon to drive, hurt, sting, distract, draw blood and stampede, not only Trump and Netanyahu –but to weaken their support team – trying to destroy these two extremely brave leaders through a thousand-thousand bloodletting bites. It is horrible to watch these demons moving on people to take them down.
It is like watching some "Wild Kingdom" television show where an animal is savagely piled upon, drug down and eaten alive. Horrible.
We are seeing the devil in all his raw, self-aggrandizing butchery … and dear children of God, this is just the beginning unless we begin to take up arms in prayer against this butcher and his minions.
I was listening to a respected British commentator speaking of the battle this one man, (Trump) was having, trying to return this nation (America) to the rule of law and of all who are set squarely against him. No one has ever seen anything like it. The commentator said: "They are trying to kill him."
COMING TO A COUNTRY NEAR YOU
The strategy is that this demon must take out Donald Trump and Benjamin Netanyahu first. Then the rest of the leaders will fall in like sheep. Only these two leaders are standing up to the other world leaders who are snickering behind their backs. They are taking the abuse for us. They are speaking the truth.
So – like these two leaders or not – we need to stand with them and hold up their hands.
We need to pray, pray, pray for both of them.
And – like America and Israel or not – these two are like the little Dutch boy with his finger in the dam. If these strongmen fall – their nations will fall – then so will the world.
WE ARE THE CHILDREN OF GOD
We, the children of God, will be culpable if we do not take our stand with the Lord's anointed. But how do we pray?
This demon is one of the top high three demons – Satan, Leviathan and Beelzebub – the unholy trinity.
Many have been told that we have all authority to tackle anything demonic. That is exaggerated. We have authority to tackle what our God wants us to tackle here on earth.
The scripture used to support the tragic over reach that we make with the 2nd heaven is:
LUKE 10:19 – "Behold, I give unto you power to tread on serpents and scorpions, and over all the power of the enemy: and nothing shall by any means hurt you."
Notice the word: tread. That means whatever is on earth, under your feet where your physical body is. He did not say power over everything in the second heaven, (Satan's headquarters) whatever is in the stratum above us, etc.
These demonic princes are not stationed on earth. They, along with Satan lead the section of the evil rebellious organization from the mid- heaven. Whatever is down here, (the demons) we have authority over.
So how do we pray?
Be sure you are in the armor provided by the Lord.
WE SHOW HUMILITY BEFORE GOD
With the high demons, we ask our Father to bind them. We do not need to shake our fist at them. We need to ask our Father to deal with these high demonic powers. This shows humility towards God.
1. We repent (thereby getting clean ourselves.)
2. Cover yourself with the blood of Jesus.
3. Ask your Heavenly Father to bind Satan and all of his evil ministering spirits, his princes and powers, his demonic forces of wickedness in high places and ask that He command that they stand back from you and your family, your finances, your house and car and your callings – and also that He command that this demon stand back from Donald J. Trump and Benjamin Netanyahu, their families, their property, their callings, their cabinets and their family members, and from all that You Father have called them to accomplish.
4. Many curses are going out, night and day through the witches worldwide.
Say – Proverbs 26:2 –
Like a sparrow in its flitting,
like a swallow in its flying,
So a curse without cause does not alight.
5. These two leaders are doing what God has anointed and called them to do at this time. You can pray and ask the Lord to deal with those who are coming against these anointed ones according to – Psalm 105:15 – "Do not touch My anointed ones."
6. Ask the Lord to cover these two leaders with the blood of Jesus.
7. Place a protective hedge about them.
8. Ask the Lord to send additional angels to protect them.
9. Ask that He the Father, bless and strengthen them.
10. Thank the Lord for standing with those He has called and anointed.
11. Please bring many to stand with them.
RISE UP
Are we going to allow God's anointed men to "take it" without lifting a finger in prayer to stand with them? I would be ashamed to do so.
Come on, glorious body of Christ, let's get busy decommissioning this major demon. He is blocking God's outpouring and clean-up through these two men. The enemy is planning a summer of spiritual slaughter in the streets of America. We, the Father's children, can't allow Beelzebub to win on our watch. To arms, brothers and sisters. To arms.
May 2017
SERIOUS TIMES
You know we are in serious times when covens of witches are bold enough to announce on television that they are organized worldwide to curse the American President. I am sure they have organized in this way before. After all, Hitler and his upper military echelon were deeply involved in the occult. At least they were secret about these leanings.
But these witches' curses are having a ripple effect. There is a strange general blindness that seems to have settled on much of the American population and a corresponding inability to hear as well as see clearly. Inexplicably, there is violence protesting the thought of violence; slander protesting the thought of slander; and fascism protesting the thought of fascism. This is complete madness. Of course, many are being paid to be so mad. So, they are "crazy like a fox". But that so many others are unable to think through these situations – that so few are able to remain rational, shows that something else is tipping the emotional scale.
The boldness of the witches, the erratic behavior of many of the people, the defiance of the law, the disrespect of those in authority all show that we are dealing with the enemy camp. (I am not referring to political parties here). I am referring to our real enemy – Satan, using men as puppets and as masks.
Spiritually, this battle is not the American President's. It is ours – the body of Christ's.
BOOT CAMP IS OVER
We thought we would have a few more years of peace. But we now find ourselves collecting our gear and being shipped out to the front lines. Our heads are spinning and we are trying to catch our breath. We have gone from recruits to – dare we say it? Warriors! Warriors! Let me just try to get accustomed to the sound of that and – more piercing to our souls – the implications of that.
All right, let me think through where we are. This is no skirmish, that's for sure. We have been dumped onto the beaches of Normandy. We have been set down in the middle of the "Killing Fields". Well, we knew it was coming. But here it is.
We've been training for this for years but now none of us are sure the training exactly matches our present reality. The training was a bit more like knights in shining armor training for a jousting match. Everyone was going to hold to the rules. Instead we are confronted with no-holds-barred-back-alley-street-fighting. It's dirty and there is not a whit of chivalry in it. We are cut off from one another and just doing the best we can with the stash of ammunition at hand.
But the good thing about it, is that – at last we are going to get to use all that training,. At last we're going to see if we will plant our feet in the lentil field like David's mighty men and refuse to budge or will we turn and run. We will at last see who God has made us.
We are honored that although we trained for a kingly joust, the Lord thinks we can adjust to street fighting if it's required and Prayer is the weapon.
There are many styles and groupings of prayer. But truly, when all is said and done, prayer is prayer. I myself have moved from more formal prayer gatherings with worship music and some semblance of form and communion to praying constantly. Much more prayer is required than form can contain. The other is beautiful and a joy but we are in desperate times. I pray constantly. I pray out loud. I pray internally. I pray with anyone who will pray.
PRAYER
We, of course, must act as Christ leads – but at all times, we must pray. Pray with every fiber of your being, dear children of the Living God. The spring is always a perilous time as the Word says in I Chronicles 20:1 "Then it happened in the spring, at the time when kings go out to battle…". Those high rulers are not just on earth, but also the princes and powers of the demonic kingdom. They are moving upon the lost and the weak minded during this season. They stir and stir like stirring a caldron – in order to cause conflict – and please pray for our President. The witches from all over the world cursing him, is a hard burden to live under.
May our Lord help him – and all the leaders seeking to return their nations to the rule of law.
April 2017
Returning Glory
Forty years ago, the Charismatic Movement came to an end. Oh it wasn't recognized as an ending when its demise was pronounced (because it faded away slowly) but everyone knew that the effortless glory that we had experienced – and frankly become accustomed to – had lost its edge. Things were different. Life was different – harder, it seemed.
The great flood of people scrambling to be saved, the instant answers to prayers, the giddy, childlike expectations in all areas of our lives had mysteriously lifted. He, the Spirit, seemed to be withdrawing. Finally, it was more than "seemed". He had withdrawn. We knew it. The glory had departed.
This was not accomplished in a vacuum. The Lord announced His intentions.
The word says that He does nothing without informing His prophets. He was true to His word. Forty years ago, He not only informed His prophets, He announced it to a representative gathering of the entire body of Christ.
In July of 1977, the Lord gathered together what is still considered the largest number of representatives of all denominations: Catholic, Episcopalian, Lutheran, Methodist, Baptist, Presbyterian, Assembly of God, Independent and so forth in a massive conference in the heart of the country – Kansas City. The gathering was so huge that the meetings had to be separated out into the various denominational churches, because the municipal auditorium could not contain them all.
In the final gathering (50,000) people came together in Arrowhead Stadium. [At least ten thousand needed to leave early to travel the country to churches for Sunday services, so there were probably more than 50,000 in all.]
There was a great amount of laughter and dancing, as was usual with any Charismatic gathering. There was real joy before the Lord. However, the joy turned to sorrow at the end of this great gathering when, spontaneously, a prophet stepped forward amid the rejoicing to deliver a somber word.
So important was this word – that it was preserved in at least two books.
I am including this 1977 prophecy for you now:
"Come before Me, with broken hearts and contrite spirit
For the body of My Son is broken.Come before Me with tears and mourning,
For the body of My Son is broken.The light is dim, My people are scattered,
The body of My Son is broken.I gave all I had in the body and blood of My Son,
It spilled on the earth.
The body of My Son is broken.Turn from the sins of your fathers,
And walk in the ways of My Son.
Return to the plan of your Father.
Return to the purpose of your God.
The body of My Son is broken.The Lord says to you: stand in unity with one another,
And let nothing tear you apart.
And, by no means separate from one another,
Through your jealousies and bitternesses,
And your personal preferences,
But hold fast to one another.
Because I am about to let you undergo
A time of severe trial and testing,
And you'll need to be in unity with one another.
But I tell you this also,
I am Jesus, the Victor King.
And I have promised you victory."
Few may even be alive that attended that conference. I just happen to be one of those few. Without our knowing it, the Lord brought to a close the Charismatic Movement.
Bob Jones, (the prophet) who was not a part of this mighty gathering but who prophesied with equal clarity about the body of Christ that year, said that "Ichabod" had been written over us in 1977, (i.e. "the glory has departed.") He said that a generation would pass [forty years] before He – the Spirit – would return in such power. "The glory", now gone, would return in forty years.
We are in that fortieth year: 2017. This is the generation that will taste of that glory again.
But those of us who have lived through the spiritually lean years – have we learned anything? Perhaps a few lessons. But mankind is woefully capable of living through significant lessons and then repeating the same mistakes.
At least, while we waited for His return in power, we have studied and grown in His gifts. Years ago, only a few could pray for the sick, prophesy, lead the oppressed into deliverance – but now, the use of the gifts is widespread. We have not been idle. Truly, we sought to be productive for the Kingdom. But also, we have grown in our understanding that emphasis on the gifts alone has allowed a damaging imbalance in the body of Christ. We have been too satisfied to replace the character of Christ with an exercise of the gifts. Also, among our leadership there has developed widespread spiritual power but often this has been coupled with widespread moral corruption. The gifts were not and are not everything.
However, if the prophets are correct – and I believe they are – He is coming again in power. Things are going to get giddy again but this time we need to desire His character over His gifts. This time we need to keep our feet on the ground even as we soar into the clouds.
THE SPIRIT'S RETURN
How will we meet His return? More dancing in the streets? Goodness, I hope so. But this time will we clean the inside of the cup so that His glory will have a worthy container? Will we apply ourselves to the work at hand and not just the joy?
Will we treasure instead of squander His presence? Will we bless Him by displaying His Son in our lives (with no cheating around the edges)?
What say you, dear children of the Living God? Are we ready for the return of His glory?
March 2017
Keeping Our Head And Guarding Our Heart
Somehow the savagery of the distress that is occurring in America as the duly elected government seeks to return this nation to the rule of law, reminds me of a huge animal that has been wounded and is screaming and thrashing violently. It shows how "out of whack" we have been. Also, it makes you wonder what it will be like when – as foretold in the book of Revelation – Satan is thrown down to earth: (Rev 12:12b) "…woe to the earth and sea because the devil has come down to you, having great wrath. Knowing that he has only a short time," (NAS).
Those who are mature in the Lord know they must stand – even as the fury swirls around them, for if the enemy can move the children of God from fervor in prayer to bitterness in heart, he is still winning insidiously.
Even knowing this, I could feel myself slipping from passion in prayer into a borderline tortured distress. I knew this was not the Lord. Inside of myself, I was becoming sour and rattled. I needed the Lord's help. I, myself, went up on Prayer Mountain and cried out to the Lord for help. Graciously He answered me.
I am sharing with you His answer to me in case anyone else needs help. (This may not help everyone, but if it helps even one person that has been rattled and distressed in the extreme by all that is happening, then sharing this will have been worth it.)
FEBRUARY 9, 2017
PRAYER MOUNTAIN
The Lord spoke:
"From here you are able to see the circle of the world." (In the winter months on this mountain's ridge, you can see in all directions because the trees are bare.)
"What does it take to separate you from this world? There is nothing eternal in the government of this world. Even if it supplanted evil today, tomorrow it would be supplanted by it. That is the warp and woof – the fabric of this (present) life. Why be tortured by it? Why submit yourself to the enemy's instruments of torture." (Those that goad us through the means of the media, etc.)
The Lord continued: "Did I seek to reform the religious structure (of His day, i.e., did He seek to remove worship in the temple or the priesthood?) Did I seek to overthrow the political regime? (Did He lead armed rebellion against the occupying Roman rule?) No, I called out to those called to the Kingdom."
"Pray for and assist those in the world, but do not be tortured by the March of Time or the Pageant of the Hours. Set your heart and your sights on eternity – your true home and your true family."
---
I pray constantly throughout the day and into the evening for the governmental leaders of this nation – and the nation itself… but no longer do I feel a bitter root growing within me. It has been extracted… and, with the Lord's help, it will remain so.
It is the enemy's plan to either lead a frontal attack against God's children – wounding and scattering us, or to get us "so torn up" that we sabotage our own communion with God. Either way, if he succeeds, he has removed us from the field of battle. He has "sidelined" us until – with the Lord's help – we can center ourselves in our Lord again, throw off the distractions that are gathering darkness to us like a magnet and begin to focus like a laser on hearing Him and following His strategic commands.
We are, after all – here on this earth for Him. We need to deflect the machinations of the enemy and – at last – stand to our feet a very great army.
February 2017
God's "45"
Donald Trump is the 45th President of the United States. That is not many national leaders; but indeed, we are a young nation… the "new kid on the block" really. We are gangly and awkward and "put our foot in our mouth" like a teenager. But we are also young and fresh and eager – certainly not subtle – but blessed with amazing strength. In a fight, everyone wants us on their side. After we've helped them win, they are again somewhat embarrassed by our lack of "political slickness."
Therefore, like the youngest kid in the neighborhood, they take our money and use our toys – and – if we give them up willingly they will let us into the club house – and we have been grateful to them – truly – for letting us in the door.
And you know, that will continue because we will always be the new kid on the block – and we will always come stumbling forward to reach out a hand to the world – because that is who we are.
No matter how much the intelligentsia "grays-up" the atmosphere, we are basically a gloriously hopeful lot – powerful but surprisingly decent – and rather simple… in the best sense of the word.
But God has sent a message – not only to America – but indeed to the world through this election. But what?
We know he is God's "trump card" and God's "final trumpet call" – but another prophetic symbol was given due to the fact that he is the 45th President.
THE PROPHETIC WORD
We are blessed to have a very fine prophetic voice as a member of our prayer group at this ministry. He is hidden by God and (personally) I think that may be the reason he is so accurate and unmixed. [ I will refer to him as WS.]
WS said that God had made Trump His Colt 45. This revolver was created in 1873 (exactly 144 years ago) and was named the PEACEMAKER by the manufacturer – (though this historical fact has been lost in time, it seems.)
Expanding his understanding, WS said "As the swamp is drained, alligator and crocodile dens will be exposed. Snake (poisonous, non-poisonous and constrictor) holes will be uncovered. Also, spider webs will be seen."
"As these creatures come into view, God will use His 45 (Trump) to (spiritually) shoot them."
GOD'S WAY VS POLITICAL CORRECTNESS
Often the Lord throws us a "curve ball" to see if we are keeping our eyes on Him or if we have veered – off into political/spiritual correctness. Almost everything Jesus did offended the Establishment.
One of the greatest examples of political incorrectness was committed by King David. It is found in 2 Samuel 6:12 – 23:
"Now it was told King David, saying, 'The Lord has blessed the house of Obed-edom and all that belongs to him, on account of the ark of God.' David went and brought up the ark of God from the house of Obed-edom into the city of David with gladness. And so it was, that when the bearers of the ark of the Lord had gone six paces, he sacrificed an ox and a fatling. And David was dancing before the Lord with all his might, and David was wearing a linen ephod. So David and all the house of Israel were bringing up the ark of the Lord with shouting and the sound of the trumpet.
Then it happened as the ark of the Lord came into the city of David that Michal the daughter of Saul looked out of the window and saw King David leaping and dancing before the Lord; and she despised him in her heart.
So they brought in the ark of the Lord and set it in its place inside the tent which David had pitched for it; and David offered burnt offerings and peace offerings before the Lord. When David had finished offering the burnt offering and the peace offering, he blessed the people in the name of the Lord of hosts. Further, he distributed to all the people, to all the multitude of Israel, both to men and women, a cake of bread and one of dates and one of raisins to each one. Then all the people departed each to his house.
But when David returned to bless his household, Michal the daughter of Saul came out to meet David and said, 'How the king of Israel distinguished himself today! He uncovered himself today in the eyes of his servants' maids as one of the foolish ones shamelessly uncovers himself!' So David said to Michal, 'It was before the Lord, who chose me above your father and above all his house, to appoint me ruler over the people of the Lord, over Israel; therefore I will celebrate before the Lord. I will be more lightly esteemed than this and will be humble in my own eyes, but with the maids of whom you have spoken, with them I will be distinguished.' Michal the daughter of Saul had no child to the day of her death."
King David was not being politically correct and his wife (who was the daughter of Saul the former King and who had been raised in the palace as a princess) looked down on her husband.
NEW PRESIDENT
This new president often is politically incorrect. But WS has received a warning from the Lord about His choice in answer to our prayers for help:
"Touch not My anointed."
May the Lord bless and protect His chosen vessel – and may God's people hold up his hands in fervent prayer, daily.
January 2017
A New Year, A New President, A New Citizen
We not only have a new president in this new year – this ministry has a new citizen.
This is Jackie, a young woman I have always called "The Golden Girl" – beautiful inside and out. She is one of my assistants. This picture was taken right after she became an American citizen a few weeks ago.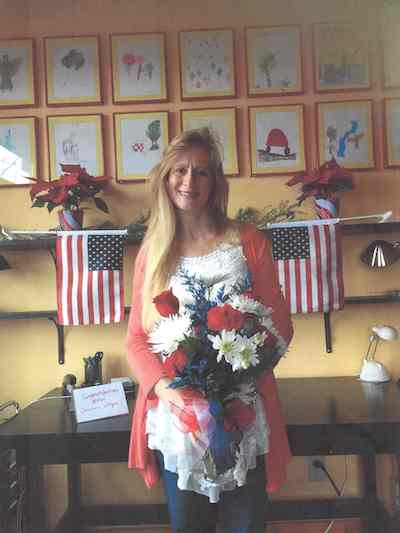 In her youth, Jackie competed nationally as a gymnast in her native England – before spending 17 years running her own gymnastics club. (Twice they were presented with the National Club of the Year Merit Award.)
She became a Christian 17 years ago and was baptized in the Holy Spirit.
Thirteen years ago she came to live in America. She attended Charis Bible College and graduated with a Bachelors of Biblical Studies Degree. She worked for John and Lisa Bevere's ministry, Andrew Wommack Ministries and then Gary Oates Ministries.
It was during the years that she labored for the Lord through the Gary Oates Ministry that I met her – always, always admiring her dedication and righteousness. I always said that – besides Tammy – the only person in the world I would love to have as a part of this ministry was Jackie.
One day I received a call. Gary Oates – for whom she worked – was leaving "the mountain" here and she was now going to seek employment elsewhere. I did not dare believe that she would consider this small ministry as a "home base"; but I told her my long-time heart's desire to have her as part of this ministry because of my great admiration and love for her personally.
She said she would drop by to talk. It just so happened that years ago, the Lord had given her a dream that one day she would be helping me – and well – the rest is history.
Two years ago Jackie married a very fine physical therapist. Now, after much study, she has become a full-fledged American citizen.
We could not ask for a better new citizen for the country.
Glory. Things are looking up.
The two prophecies show God's faithfulness to (1) a nation and to (2) a ministry. In the teaching section I will share God's prophetic promise to individuals – His children – for this year.
December 2016
Dear children of God,
We in this country have just lived through a historic election. Even the historians tell us this is true. The Christians, however, knew that it was a historic spiritual battle. Most Christians were praying day and night – many fasting.
The battles were not only intense, but seemingly, hand to hand combat in the trenches. All of us were weary. Many did not know if they and we could "hold out" – fighting with such intensity for such a long period of time.
Many had felt an ominous dread and oppression before the attacks of 9/11 on the twin towers in New York. But that "stonewalling" in the spirit and sense that something dreadful was about to happen was only a few days before the towers fell. Also, we did not know why we were spiritually blocked. "What was the matter?" we asked ourselves. But this we knew and it was month after month – each more dreadful than the last.
However, the Lord brought us through – many limping across the finish line, many bruised and bloodied. But the Lord prevailed and He fulfilled His words through the mouth of many prophets.
For myself, it was a wiser servant of the Lord that emerged from those battles. I felt older – perhaps like the solders that returned from World War I or II. In this "hard knocks" school, I did learn a few things:
1. Indeed, the whole world does lie in the clutches of the evil one: satan.
Those of us in prayer (here) had asked the Lord to reveal the corruption in our government, media and in those running for office. When He began to answer those prayers, we were horrified. The America we thought we knew, seemed, in actuality, to be a facade. Corruption was systemic. Almost everything and everybody: political parties, institutions, the media, etc. seemed to be marinated in corruption. The closer we came to the election, it was as though a putrification set in – the stench of which made people ill. I heard person after person say: "I just can't watch the news. It makes me sick."
We began to see our world very much like the hero in The Matrix (movie) who was shown what the world had become: how the people were asleep and used like milk cows to extract from them a liquid that sustained that artificial life.
But for us – the real human beings on earth today, we were being fed lies in order to milk from us the funds that would keep a select group living the lifestyle they had chosen for themselves – while many of us were working two and three jobs that kept us tired and tethered but productive. Satan's world was weighted against us…but for God.
2. I also, realized that the prayer battle that we had just (by the grace of God) "made it through", was not the end – but the beginning. What I thought was a prayer ceiling was actually a prayer floor. We who are privileged to be alive in these times have just begun to fight.
We have been in training for many years but it is time for us to set our hearts, minds and spirits to accept the reality of prolonged, focused battle; that is, the passionate prayers of warriors.
The "perfume" about which the Lord spoke six years ago (spoken of in this month's angel section) is already in the land again. The lifted curtain exposing the pervasive corruption is once again closed and we are becoming hypnotized by the dazzle of "the matrix". We will need to remember what we have seen and heard because it is no longer readily before our eyes and we may not have the opportunity to see it that clearly again.
Humans are not genetically predisposed to prolonged "fight and flight". That is the reason there is an indictment of the enemy in Daniel 7:25 – "He will speak against the Most High and wear down the saints of the Highest One…"
However, the word also says those who endure to the end… Therefore, enduring this tiring warfare and even prevailing is possible. We need to set ourselves to be among those who "make it through".
The Lord needs our prayers, dear children of God, in order that His righteousness might prevail. We always knew this day would come, we just did not know it was here.
November 2016
Seeking the Lord
In this Personal Section I am showing you a copy of a letter written in answer to a Christian seeking a deeper relationship with the Lord. The name on the letter has been removed and the answer – due to it being a letter and not a book or a teaching – of necessity – is short.
However, I have had this question asked of me many times recently – and truly, if many are asking the same question – the Lord has put it on each heart and is drawing each in a mighty way.
Here is what I shared with one earnest seeker. May it help you, also.
---
Dear Friend,
I know just how you feel. I never thought I would ever have any unusual experiences with the Lord. I was too plain, too ordinary – too down to earth.
But lo and behold, He chose the plainest and least gifted of everyone around to take to Heaven and to share these remarkable experiences with. One day I did not see and the next day I did. Amazing. I still am amazed.
But dear friend, I was not seeking the experiences, I was seeking more of Him. I was going to hunt Him down, until I knew that I had the fullest experience of Him I could have on this earth.
My husband and I had already pastored many years and by this time the Lord had used us to help bring together the pastors for prayer, of all the 72 different denominations in Kansas City. We met once a month in the ballroom of the downtown hotel. The church was being brought together in love, prayer and repentance but I knew there was more. When we finished our part of the Lord's work in that metropolitan area and turned it over to the pastors of Kansas City, I told one of the pastors that I was going apart to find God.
We were exceedingly tired after having brought together the pastors from a population of a million and a half people: so we took a year off to pray and seek God.
Now, most people – unless they are retired as we were – are unable to take off a year to press into God; but John of the Cross and others did not get to take time off to seek Him. It can be done while one works – look at Father Lawrence. It takes pressing in and pressing in – not frantically, but like a lover that just wants to sit quietly with the Beloved – happy, just to have a chance to "hang-out;" sort of like on a lazy summer afternoon on the front porch idea… but with the One you love.
It is so simple that we Christians want to "busy-it-up." Go ahead, enjoy Him. Just talk to Him. Share with Him. Thank Him. Be more grateful for what has been given to you already – that you know Him – that whatever He is doing with you, right now, is good. And if you cannot stand it any longer; that too is good. Cry out to Him from the depths of your being… wail – use scripture to back up your point of view. Make a case for yourself – He says, "Come, let us reason together." Reason with Him. Convince Him that you are right and that He should fulfill that which you are laying before Him. Be bold. Be passionate.
Either approach is right and taken into consideration: either quietly or "storming the castle."
Come on dear friend, pull yourself up on your most holy faith and stand. Take nothing less than Him in His fullness and you knowing Him in His fullness.
Bless you,
Anna
October 2016
Fall on Prayer Mountain
People from all over the world pass by each day as they hike or drive to the top of Prayer Mountain.  All of us who live up here want everyone who comes to pray – or just sit and bask in the blessed atmosphere the Lord has provided through an open heaven – to feel at home.
We want it to be seen that they have, indeed, come to a mountain of the Lord.   When and where we can, we have added a few flowers in celebration of who He is and where we and they are.
Here is our front doorway that is seen by those passing by to Prayer Mountain: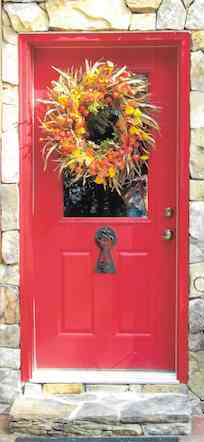 Fall hanging basket by the front door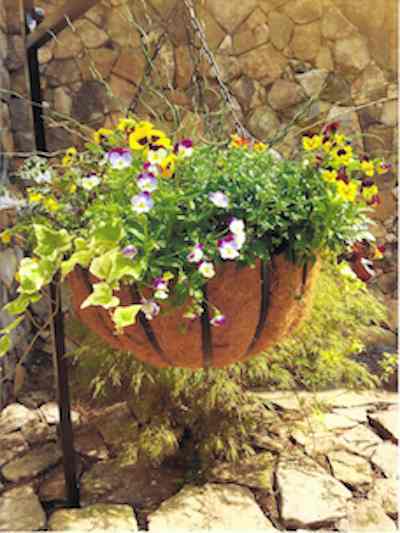 Give Thanks right beneath the front window.

September 2016
ANGELS AT WORK
Prayer Mountain in Moravian Falls is an elevation blessed with tremendous spiritual activity.  Bob Jones once said that the only location on earth with more angels than Prayer Mountain is the Mount of Olives in Israel.
People from all over the world come to this location to pray.  Many see angels and almost as many leave with angels to assist them when they go.  But while the angels are here they are very busy.  One of the occupations in which they are engaged, is assisting in the delivery of prayers to the throne room above.
The following revelation (taken right from a journal of six years ago) gives you more insight into angelic labors here on this ridge.
JULY 9, 2006 – PRAYER MOUNTAIN
The angels within the woods and it sounds like – those in heaven – are singing together.  They are singing in an angelic tongue – which I do not understand.
Suddenly from among them a high voice lifts to God.  Almost immediately the angels on the ridge and those from a wider area (sort of like surround sound) join in a chant supporting the high voice.
The angels on earth begin to lift bowls to angels hovering just off the ground.  Those in turn lift the bowls to angels a little further above the earth.  They were like a holy bucket brigade.  Carefully and smoothly they pass the bowls upward.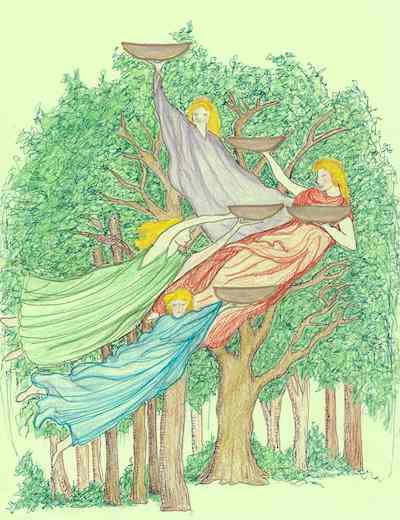 The angelic song may be the angels' version of a "work song", like the songs sung by those building the railroads in the early years of this nation.
It would seem that the gathering of these prayers to this area signifies a type of heavenly loading dock.  Prayers are coming from the people to this area.  When the bowls are full, they are ready for delivery heavenward, and the angels are ready to assist.
The presence of the Holy Spirit is very strong today.  It's like He's hovering…as though He is protecting or covering the bowls.  Wispy tendrils of light pass to each bowl as they begin their journey upward.  Perhaps these tender wisps of light are the Holy Spirit touching each bowl before it moves upward (like a mother bird on a nest touches (with its beak) each chick's unhatched egg – brooding over it with tender care.)
---
August 2016
THE CHOIR KNOWN AS HARMONY
Our Heavenly Father loves harmony. Eight years ago He very kindly showed me one of the ways He assists both mankind and nature to achieve balance or harmony: unseen, but glorious.
These pages are right from my journal of eight years ago.
I realized that I too could join in creating balance and harmony by what was coming out of my heart and my mouth. I too, could add to the joy of my Heavenly Father. I too could be part of bringing the harmony He so desires.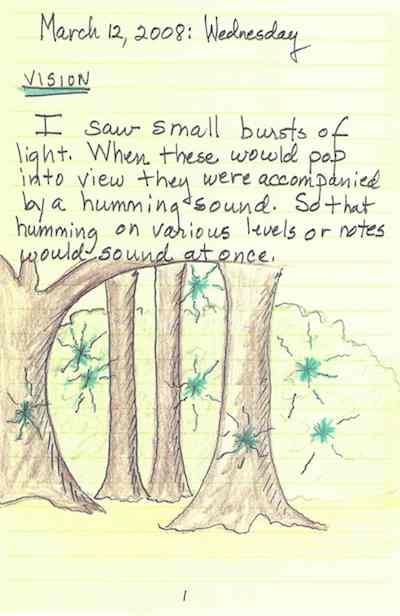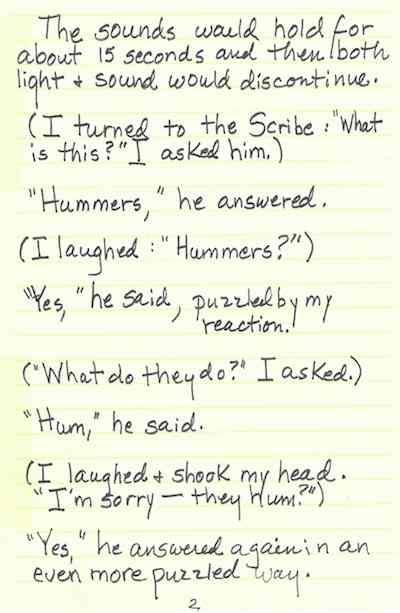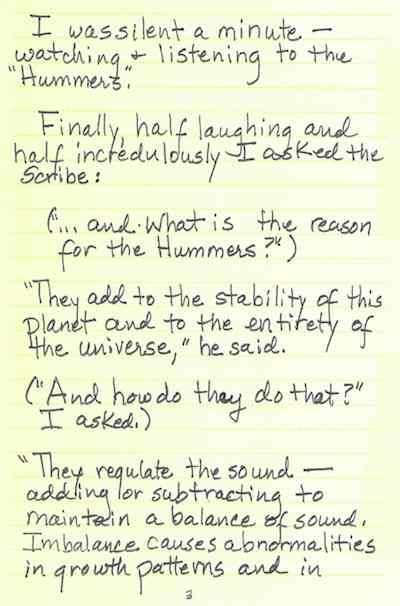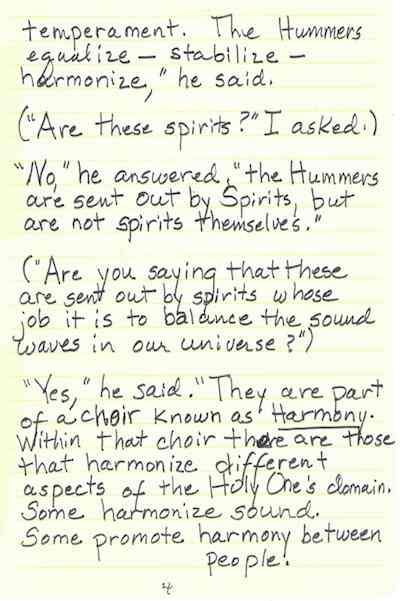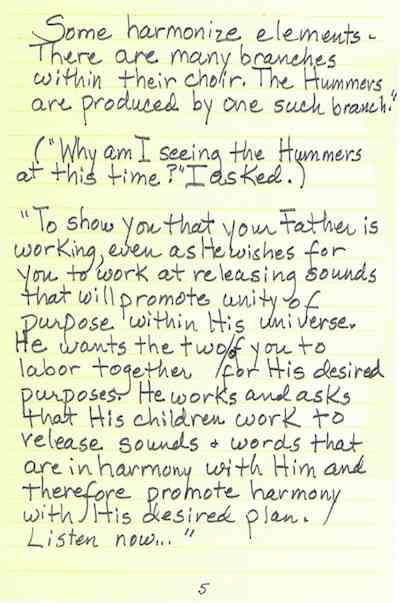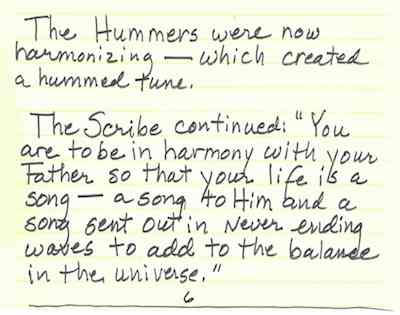 July 2016
EVERYTHING WITH ANGELS IS NOT SERIOUS
This experience occurred a little over a month after our home burned in 2008. Often in the mountains we find ourselves sitting among and even above the clouds. This was one such morning.
Being in the clouds is somewhat like being in a heavy mist. It is refreshing and beautiful.
Within the mist, angels were at play. Mahesh Chavda's wife – Bonnie – once said to Harry Bizzell (who has a Christian retreat center at the base of Prayer Mountain). "Harry, there are places on earth where angels play and this is one of them." Well, here are angels at play on Prayer Mountain.
February 13, 2008; Wednesday
There was a heavy mist this morning. Because we had to drive to Elkin, we prayed at the house.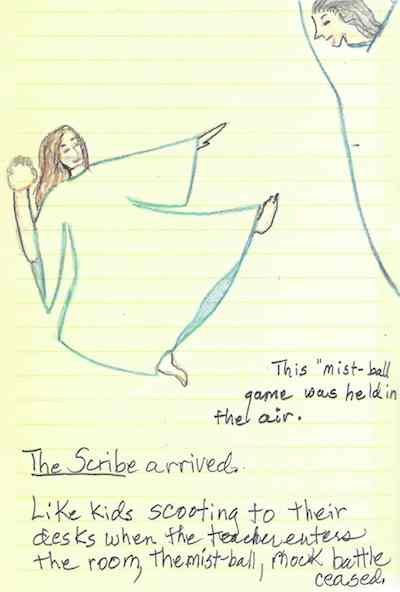 June 2016
GOD'S WARNING
I'm going to tell you a story: A TRUE STORY – that begins with a dream and vision [which we will look at under the Personal Section, right here] and culminates in an attack from an out-of-state witches' coven [which we will address in the Teaching Section].
This dream and vison are a warning from God. Our God always warns His children. We need to learn to take heed – for our very lives may depend upon believing the message. [Notes are at the end of the dream and vision.]
June 20, 1996 Thursday – DeFuniak Springs, FL
Dream
Al and I, and our two children were at a seaside resort.1 The high-rise – or hotel, whichever it was, was by the sea.2 3 Our apartment was the top floor nearest the "restaurant observation tower".4
This observation tower – restaurant was right on top. We lived right beneath that in the top apartment. At the top of the observation tower was a tall antenna.
We (Al and I and our 2 children) were walking from the apartment (or hotel), on an excursion,5 it seemed, when lightning began to hit the telephone/electricity lines. We didn't seem afraid as a lightning strike would cause a surge of electricity to run the wire until it ran to the antenna on the top of the hotel's tower.6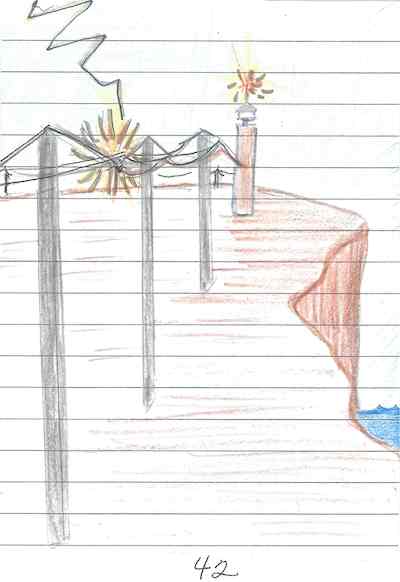 The lightning would bang and flame when it reached the top of the antenna. One of the lightning bolts started a flame in the observation tower but it looked as though it was something that could be handled.
Then the observation/ restaurant took a direct hit from a bolt of lightning and burst into flames.
We began to run back to the hotel/apartment.7 I was thinking as we ran. What was valuable to me and what did I not want to lose? 8
"The journals," I thought to myself. The Bob Jones story is with Marlene and also the fables of Caddo Lake. It's only the journals. I wondered (if we were not allowed to go up there), if the fire-proof security chests would make it through such a roaring fire? If I got up there, how would I get them out? … Throw them over the side? "No," I thought, I'd put them in double plastic bags (the size for trash) and drag them down. I thought I might be able to retrieve some jewelry but that wasn't really important. We had headed back for the journals.
There were people on the stairs as we climbed. A concierge was asked if we needed to go or if the fire was getting under control. He suggested we go.
A maid asked if I wanted some coffee. She was set up on the stairs. I said it looked as though I might need some.
While waiting for a cup I stepped out into the large lobby. It looked 1930's in its expanse and style.
People were running around in this lobby. I asked if the elevators were working, but knew the answer before I asked. The elevators don't work in fires.
We were going to need to walk to the top.
The walk was going to be (about) like walking up the stairs to the top of the Empire State building.
All of this time, I was thinking of ways to get the journals out. I was amazed really that they were going to allow us to go up there, with such a fire right above the apartment.
I woke up. My legs (the calves of them) hurt like I had already walked up as many steps as in the Statue of Liberty.
A direct hit to the restaurant/observation tower.
VISION
The vision was a continuation of the dream.
Al and I began to climb the wide stairs of the 1930's lobby of the hotel/apartment high rise.
People were hurrying down the steps: some in robes, (one had on a pair of big fluffy (pink) bedroom slippers), some carrying suit cases, some with children firmly in hand.
Al and I were climbing against the flow of people running from the fire above. We held to the right hand rail as we continued to climb. In the next floors police were helping people evacuate. We continued higher. Police were on these floors, but few people.9 The police didn't stop us, however.
I was panting from climbing and my calves hurt. We continued to climb. We could hear the flames of the fire roaring now.
On this floor there was smoke. Before we could climb higher, a police barricade (in the form of a painted saw horse) blocked the stairway.10
Police, in gas masks were dashing up and down the halls looking into rooms for anyone who still needed to get out.11
Al and I stood at the police barricade looking up. We could feel the heat now, and see the light of the flames.
We didn't need to say a word. Whatever was in our apartment was already in flames.
We turned and quickly began to descend the stairs. Some of the police dashed past us and some were leaving behind us. All these floors were being cleared.
We were the last residents to come down the stairs.
Police were darting to and fro, but the hotel/ apartment lobby was empty. The hotel/apartment had been evacuated.
As we walked through the empty lobby, the upper floors of the building began to fall in on those floors below. The building was falling in on itself.12 We could hear it above.
We walked out and away from the burning building. Some people were crying, some huddled together. Firemen and the fire engines were there, but only to block off the area. They were letting it burn.
Police tape was around a wide area and the residents standing beyond that tape.13
As we walked away, we could feel the intense heat of the burning building.
We stepped over the police tape and turned to watch the building burn. What an inferno.
Red Cross trucks and personnel were now, on the scene.14 Cuts and bruises were being tended, blankets handed out for those in shock, etc.
From another truck people were receiving coffee.
Firemen, police and residents were watching the building burn.
It burned to a pile of ashes.
Even the steel beams did not make it through the fire. All reduced to a pile of ashes.
No lives were lost, but all else was consumed.15
People were being taken away into town, then.
We waited.
Eventually, Al and I and our children were there alone at the location. The police, firemen, etc. were gone.
We stayed – looking at the pile of ashes – until they (the ashes) cooled. How long did we wait? I don't know. (In the natural this might take a week – but time accelerated here, I suppose.)
When the ashes were cool and flakey, Al and I crossed the police tape, trudged to the center of the pile and extracted the journals.
How did we know to do this? Not even the security safes surrounding them survived.
The journals were not burned, just covered with ashes. We took them from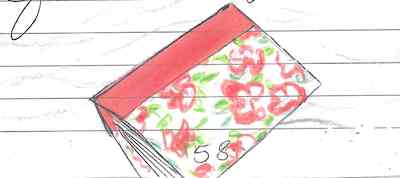 the ashes, brushed them off, tucked them under our arms and left.16
We did not seem at all surprised that they made it through.
But whatever else was of value in that apartment was long gone. This did not seem to worry us. That which was truly valuable to us made it through the fire.
What the symbols in the June 20, 1996 dream and vision represented in the physical realm and what actually occurred
1. My husband Al and I and the two books that had been written already (it was a marker in time).
2. We live on a high ridge in the mountains.
3. The sea means humanity. The location is a place apart.
4. The home is the nearest one to the place of prayer – a place where people are spiritually fed and enlightened.
5. At the time the fire started Al and I were out to lunch with dear friends.
6. This is not a good lightning strike – meaning not power from God, etc.
7. When we got the call that our house was on fire, we rushed home.
8. The journals were and are the most valuable possession Al and I owned and own.
9. Police instead of firemen because it was a crime.
10. Our car actually broke down at the foot of the mountain.
11. Gas masks – because – if we had been present at the time of the explosion – the toxic fumes would have knocked us out and we would have burned in the fire.
12. Our house did fall in on itself as it burned.
13. Police tape was up and everyone stood behind it.
14. The Red Cross was present giving out blankets and coffee.
15. The only life lost was our dog's.
16. The journals made it through the fire.
May 2016
THE WHITE EAGLE MOVES HIS NEST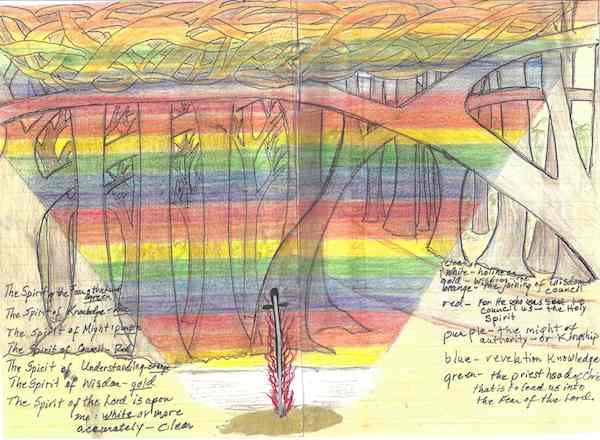 Years later, the White Eagle moved His nest from Pore's Knob. (Notice the nest in the top of the trees). At that time I did not know eagles moved their nests… 'moved' may be slightly inaccurate… abandoned may be the better of the two words. Eagles abandon one nest and build another. They do so for many reasons: availability of food, encroaching danger, etc.
The nest the Lord assembled on the ridge was placed in the top branches of an invisible tree He had planted on the spot several years before. The roots of the tree went down into the blue granite rock of the mountain. In the 1980's Bob Jones had opened a vortex at that very spot and God Himself had plunged a flaming sword into the heart of the mountain to be used by those of His choosing.
THE 2008 VISION:
The vision shown here is right from my journal of 2008. I realize that a typed text would be easier to read – but allowing you to see the text as and when it was written includes you in a slice of Christian history.
The small print on either side of the picture is my early attempt to express what the colors meant to me at that time. On this day in 2008, the Lord added a rainbow to the vortex Bob Jones opened years before.
Copy of the vision right from the journal of 2008: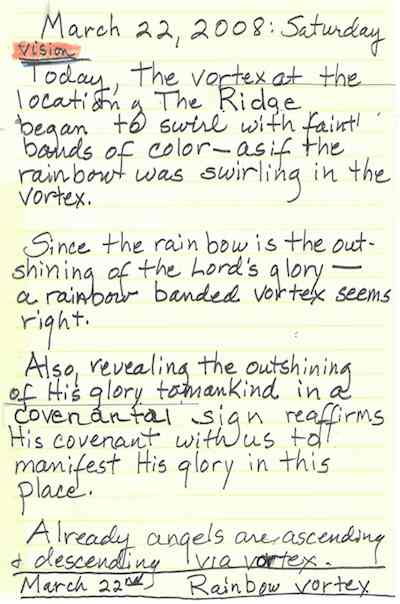 April 2016
SPRING IN MORAVIAN FALLS
Early spring in the mountains. We are showing you two pictures of the flowering tree because we are trying to feature the bird's nest in the crook of the limbs. (You really need to look to see it.)
The third picture shows you a bit of a flower bed and the mountains beyond.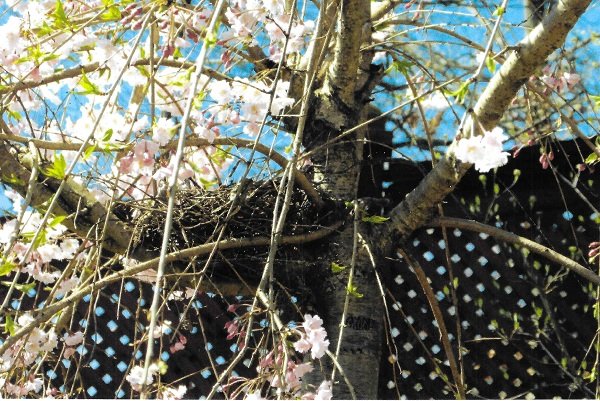 March 2016
ALL TIME IS PRESENT ABOVE
Past, present and future are all present in heaven. I am including the following heavenly experience, for it illustrates this very truth. The spirits speak of their actions in the revelation as if relating to the future – when actually – they are speaking of our (my husband and my) rather recent past.
Let me explain:
When my husband and I were in Kansas City we were allowed to work with a ministry that hoped to bring the pastors together for prayer on a regular basis. Albert and I and the head of this ministry began this outreach with the three of us praying daily. The whole process is too lengthy to detail here (for the revelation being shown does not deal with the process whereby that was accomplished, but the fact that it actually was accomplished.) The Lord graciously allowed us to reach out to the pastors of seventy-two denominations. These pastors came together for prayer once a month in a large ballroom of the main downtown hotel in Kansas City.
There were many, many more pastors than just the seventy-two representing the denominations. The fellowship and prayer of these pastors brought the city together into a loving, cooperative and I must say, blessed unity . . . and the Lord graciously allowed us to be a part of this glorious experience.
However, the spirits referred to the experience as if it were "on the horizon": a time coming – not a period of time that we had already lived through on earth.
The Lord, therefore – through this unique experience in heaven – illustrated the truth that all is present above.
[The faint picture is from my journal. Remember these journals passed through a fire that destroyed our home and then took 3 months to dry out from the water the firemen poured on the containers that held them.]
THE VISION
It was then that I heard the sound of singing, faintly at first. It was the sort of singing you might hear if your mother was making bread in the kitchen on a cold winter's day. I turned toward the sound and saw a bright light. In the center of this light sat a group of spirits.
The path lay right near them. I stepped onto the path to approach them.
The light was as white and intense as the "incubating" light in the parts department. Within the light, four spirits sat together working. Intermittently each would reach up and take a blue ribbon from the air as it floated into the light. The ribbons also seemed charged with light as the spirits began to roll them onto large, silver spools. Then, with the ribbons wrapped, they would place the spools onto equally large, silver spindles that were suspended in midair.
THE SPIRITS AT WORK
These spirits were not solid in appearance. They were closer to being transparent, but a bluish-silver light outlined their forms. Their shape was that of human beings. However, the light in which they worked made it difficult to see their facial features distinctly.
They did not seem to notice me as they sang together while they worked:
Every little seam,
Every little seam
Sewn with the thread of life;
Every little seam
Joins the living stream
Flowing to the river of life.
Then without turning they acknowledged me. "Hello, Anna," a spirit spoke from all that light. "Watching?"
"Yes," I said.
"We are getting the ribbons together for sewing. They represent the various streams that flow from the great river of life and back into it, even as the waters on Earth flow in and out but do not overwhelm the land."1
"These streams are God's people," another spirit said.2 "They come from Him and flow back to Him, the great Source."
"But they need to be sewn together," another said, looking toward me as if suggesting my participation.
"I'm not a very good seamstress," I laughed lightly.
"The needle here is the sword not of man.3 The streams are being sown together by the Spirit of God Himself so that the Father might rejoice to see His city filled with those who love His Son and one another. Even the city itself is made glad."4
"You are called to sew with such a needle, Anna," the first spirit said. "That we do know."
"We are placing the spools of ribbon on spindles so that they will unravel easily when ready to be brought together," the fourth spirit added.
"Is there some significance to placing them on spindles?" I asked.
OIL FROM HEAVEN
The spirits smiled at one another and sang:
There is oil in the spindles,
Oil right from God.
There is oil from the Spirit of God.
There is oil like a gusher,
Oil from the sky,
Oil that's been hidden until now.5
Hum – hum, oil from on high,
Oil that's been hidden until now.
One of the spirits turned to me and said, "These ribbons are being placed on spindles for you and others who will use the sword as a needle to prepare for the gusher."
Then they sang:
Sew the streams together
And catch the sacred oil;
And, oh, let it not be
Used for the profane.
"Your Father has the answers to the questions in your heart," the third spirit smiled. "We are those who wrap the spools and put them onto the spindles."
RIBBONS OF BLUE
"They are all blue ribbons," I said.
"Yes, each became a stream when revelation came concerning a great truth about our God. But a truth about Him is not Him," the first spirit added. "Although the ribbons are being wrapped on individual spools, they are about to be sown together into a river like the river of life from which they came."
"As we see the Lord bringing into completion all things relating to these times and seasons, we rejoice to be a part of His great roundup," the second spirit smiled.
[Notes relating to this vision may be found in the section: TEACHING.]
Febuary 2016
GIFTS FROM DADDY
I am trying to the best of my ability, to share with you steps in the spiritual process above. We all have gifts and all those gifts come from our Heavenly Father. But how are they received?
That process – which is occurring in the spiritual realm – is rarely seen. I thought you might be edified by seeing the reception of two gifts from my Heavenly Father. Not that all gifts are given nor received in the same way. But at least this is a glance through the opened veil, in hopes that you may grow in greater understanding. And since the Lord wants you to grow in greater understanding, I am blessed to share with you what I can.
1. The first is from my journal of December 31, 1994. This is right after my eyes were opened to see into the spiritual realm.
2. The second experience comes from the entry in my journal of April 26, 1995 . . . four months after my eyes were opened. I hope you are able to read these pages. I never dreamed they would be seen and therefore was recording for my eyes only. But I share them with you with an open hand, praying that the Lord benefits you.
(1)

(2)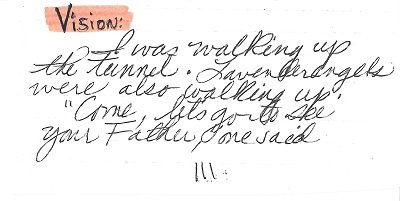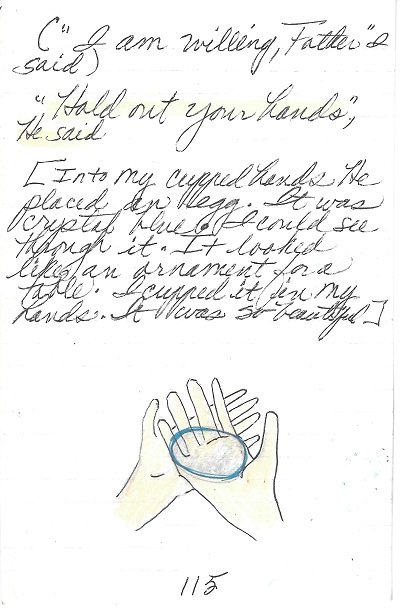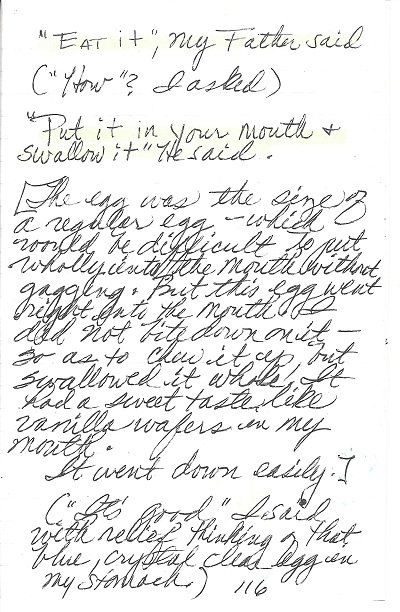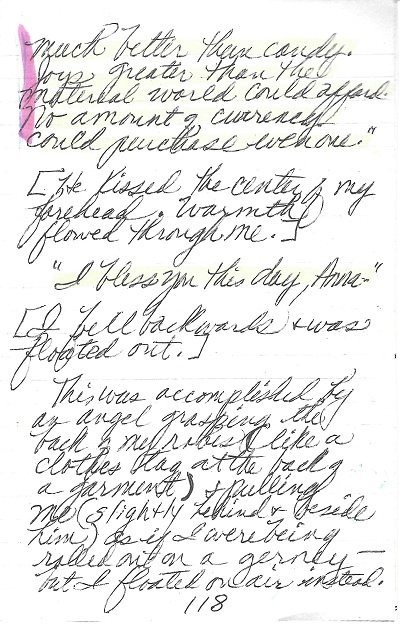 January 2016
Starting the New Year Right
There are some New Year's resolutions that, not only clear the way for our going forward, but also light rockets beneath our godly resolve. But we might review:
1. Repentance for any known (and unknown) sins.
2. Forgiveness given to all (it is not in our job description to hold grudges – thereby holding others in bondage… as well as ourselves).
3. Review our priorities.
The following revelation occurred in heaven twenty years ago. Here the Lord helps me to reevaluate my priorities… a painful, but liberating lesson.
---
Vision Within the Garden
Suddenly I heard someone clearing His throat in order to call atten­tion to His presence. I looked up. Jesus was sitting in the large apricot tree. "My Lord," I said in amazement, "what are You doing up there?"
"I am up a tree, Anna," He said.
I laughed. "What are You doing up a tree?"
"You want Me up here," He replied.
"I want You up a tree?" I laughed, for I thought He was joking.
"Yes," He answered. "I am localized, and you know where I am. You can come to the base of the tree and ask Me questions, and then go about your life. I am in a portion of your heart, but I do not have free access to the whole garden."
I was cut to the quick. I swallowed hard. "Come down, my Lord," I said. "Forgive me. These mysteries are so exciting…well, forgive me that…"
"…that you have begun to use Me?" He asked, jumping down from the tree.
"The very thing I have hated, I am doing," I said.
He walked toward me. "What do you want of Me, Anna? Informa­tion? There is a vast supply. Is that what you want?"
"No, of course not," I replied. "These mysteries are so …"
"…titillating?" He asked.
"Well, they are …"
"…seductive?" He added.
"Yes," I affirmed.
"But they are part of Me – and you have been given all of Me. It seems a poor exchange."
"Oh, my Friend," I continued, "forgive me. I love You and want to be with You. I want You to have access to the entire garden."
"You are called to know mysteries, Anna, but not to use Me," He said.
To Still the Soul
I was speechless. When years before, I had decided to pursue the Lord earnestly, I withdrew my senses from the overstimulation of worldly input. I felt that I needed to still my soul if I wanted Him to come knocking at my heart.
The withdrawal from keeping myself entertained with the world was exceedingly painful. But now the Lord was saying that I had replaced the worldly with spiritual entertainment – desiring more and more spiritual knowledge – a subtler and less objectionable substitute, but still a substitute for Him. I did not know what to say. I was stunned.
He took me by the arm and guided me gently to the rim of the foun­tain. "Sit down," He said quietly. He sat beside me. I looked into His face. The beauty and dearness of those eyes were beyond compare. He took my hand and held it.
A True Friend
"My Anna," He said, "be a true friend to Me, as I am to you. I want you to desire My company. I am a King, but I desire to be with you, as any lover would long to be with the one he loves. I do not command your love; I humbly ask for it. I do not dictate that you be with Me. I long for you to seek Me. There I wait for you, Anna."
I dropped my head. "Lord," I said, "I am selfish. I am using You for my own pleasure."
Even a King
He lifted my chin. "Anna, look at Me," He said. "Even a King wishes to be loved for Himself, not for the gifts He bestows." He smiled at me. "If you do not enjoy being with Me now, why do you believe you will enjoy My company for eternity?" He looked down at my hand. "The pursuer wants to be pursued also," He said gently.
He looked up and then over to the gate. "Have you ever thought of standing at the entrance to the garden with the gate opened, waiting for Me?"
"No," I replied.
"You have expected Me to travel the entire distance to you. Do you not think I would be pleased to have you waiting, with part of the distance covered so that we might see each other sooner?"
"Yes," I said quietly.
He smiled at me. "Come, My love, let us walk." He helped me to rise and put His arm around my waist. We began to walk the path that circles the garden. "I have called you to Myself," He said looking down at me. "Few understand what this means.1 Would you like to know, Anna?"
"Yes," I said tentatively. "I say this in fear and trembling because I fear not getting something I want."
He laughed. "I know this. What does that say about our relationship?"
"It sounds like I do not trust You," I said.
"That is what it sounds like," He agreed.
"Is it true?"
"Yes," He replied.
"Well, Lord, help me!" I pleaded. "I want to trust You."
"My wonderful girl," He said, "My love. Do you not understand? My desire is for you. My passions burn with eternal fires.2 No mere tear could quench them. It would take the tears from eternity, and still the fire of My passion for you would not be quenched.3 Why would you not trust the One who loves you as I love?"
I could not answer. I did not know why I did not abandon myself to God. I shook my head. "Who am I to deserve such love?"
"You are chosen for Me by My Father," He said earnestly. "With wisdom that is beyond wisdom, He has chosen you."4
"Then increase my desire to be with You," I said, "to desire You more than an anointing or spiritual knowledge or…" I could not think fast enough to enumerate. I shook my head in frustration and then blurted out: "I love You." I clung to Him, burying my face in His chest. "You are the dearest Friend I have …I love You!"
He placed His arms around me lovingly. "My own," He said. He dropped His head back and laughed as in pain mixed with joy. Then, bringing His head to mine, He spoke softly, "Anna, Anna." There was great pain in His voice. "Please do not do this again." He held me trembling. "Anna, do not do this again."
I had hurt Him deeply by treating Him presumptuously, casually – like someone with whom I had to deal in order to receive that which was my primary interest. But He loved me. He wanted my company and wanted me to desire His. That which is the deepest desire of every human heart was mine, and I was seeking secondary rewards.
My heart began to break. The pain was excruciating. The garden responded also. The smell of myrrh flooded the area. I glanced at the myrrh tree. Red tears of the aromatic gum were slipping from the heart of the wood.5
I pulled back, holding Him at arm's length, looking into His eyes. "My God, my God," I said. "I am not worthy of You. I cannot even respond correctly to the depth of Your love. Ishi, if You do not give to me a love that matches Yours in intensity…" The pain in my heart was so severe that I could not finish the sentence.6 With all that was in me I pushed past the extreme pain to cry out, "Oh, please help me to love You as You love me. I am willing, Lord, but I cannot do this myself.7 You must do this through me! Please!"
Side Notes
To be "up a tree" means to be in a difficult situation.
The Levites, including the priests, were called by God and set apart to stand before Him as a holy remnant. They were to belong to Him in order that He might bless the rest of the Israelites (Deut. 10:8; Num. 1:53).
God took them for Himself to be wholly given to Him (Num. 8:15-16).
There is a Hebrew word used only three times in Scripture that means "intense longing" such as the longing of the Son for each betrothed one who was created for Him. When the bride realizes this, she uses that word when she says, "I am my beloveds, and his desire [longing] is for me" (Song of Sol. 7:10).
The bark of the myrrh tree is pieced so that the gum from the heartwood oozes out and hardens in red drops called "tears". These are crushed to make the spice myrrh.
Ishi is a Hebrew word meaning "my husband".
December 2015
Dear friends,
At this glorious season of the year, may the miracle, who is Christ, fill your hearts.
It has been such a joy to pray for you. I do not think you can pray daily for someone – and their families – without growing to love them.
What a tender and blessed eternal family our Lord has brought us into – and, we have eternity to enjoy one another… as well as our Heavenly Father, – His Son, our eternal husband – and the Holy Spirit, our eternal Friend.
Thank you for the kindness you have shown to me.
My wonderful brothers and sisters in Christ, I will continue (the Lord being my helper) to share with you the Lord's training right from my journals – and also, to pray for you daily… and often all through the day.
You are on my heart. May your prayers be answered.
November 2015
BIRDS OF PARADISE
The Lord is always full of inventive ways to prepare His children for Kingdom service. Sometimes the message arrives years ahead of time – when the person has absolutely no idea what the message means.
Such is the case with the following revelation. This was given twenty years ago: October 19, 1975.
The Lord was sharing a secret with me. He was preparing me for a time to come [which actually, proved to be two years hence], when He would call me to write of heaven.]
I am sharing this revelation with you so that you might look again at the clues in your own lives: for He shares subtle signs with us all. He may be giving you "Previews" of things to come.
VISION
I was in paradise and angels flew up presenting bouquets of flowers to me. In their hands the bouquets became cabbages – (cabbages are an edible food) and out from these cabbages flew birds of paradise. They perched in the air and began to sing.
An angel said: "The Birds of paradise sing the sweetest song in Paradise. Would you like one to take home to earth?"
I replied: "I have no way of caring for it. It's better that it stays here in its native home."
The angel said: "You are a bird of paradise but called to sing Heaven's song on earth. You'll sing of your true home and hardened hearts will be moved. You will sing of your true home and it will be like a travel log. The Birds of Paradise sing the sweetest songs about Paradise. Many will hear and look up."
The birds sang:
"Sing beautiful bird of paradise:
Sing of treasure untold,
Sing of the riches in Christ Himself,
Sing of your heavenly home."
The birds flew back into the cabbages and the cabbages turned into bouquets of flowers which the angels handed to me.
October 2015
THE ANGEL OF OBEDIENCE
This revelation was given on Simhat Torah (the opening of the Torah) 1995 – 20 years ago.
As I hastened, I heard the voice of Jesus say very clearly, "Obedience, Anna."
I stopped in my tracks.
He continued, "I delight to show you your heavenly home, but for your safety, you must be trained in obedience.1 There are grave dangers.2 All doors to the enemy must be shut."
As I stood in wonder at the gravity of what He had said, an angel appeared on the path beside me.
The angel began talking to me as though he were continuing some conversation we had already begun, gesturing with his hand toward God's park. "All of this is for the children of God, but you, Anna, have chosen to eat from the hand of God. You must love your Father enough to choose obedience rather than gratifications on Earth.3 Choose Him minute by minute. You are careless with His gifts, and you are careless with His love for you."
His overfamiliarity stunned me, as well as his knowledge of a decision I had only recently made, but yes, I was careless. As the Lord had drawn me into a deeper walk with Him, those things permissible a year or even a month ago were now no longer allowable. Somehow I could no longer get by with them, but I still lapsed into many of these faults.
THE THOUGHT LIFE
Elusive sins caused me to pay a high price in my relationship with the Lord. I thought to myself, "Let the wicked forsake his way and the unrighteous man his thoughts4". I had moved from the "way" category to the "thoughts." My mind did not focus on unforgiveness or covetousness or such obvious sins. My sins now were in engaging my mind in some area where I was not called, or in letting my mind dwell on the past, or in making a judgement that was out of my boundary of responsibility.
My life had become very constrained indeed.5 If I walked without turning to the right or the left, I remained in the flow of God's grace. Any thoughts that were "vain in their imaginations" caused my mind to run in grooves around a track.6 Such thoughts were driven by tormentors, it seemed.7 But I found that I could stop them by repeatedly catching myself and halting the train of thought as I began to think on such vain thoughts.
Of course, these thoughts would tiptoe back in, needing to be run out time and time again. Therefore I was halting them and throwing them out, standing against them with my will, as if my shoulder were against the door of access.
Still, I was careless, as he had said, and was mentally running around many tracks in torment and weariness until each thought was taken captive to Christ.8 Earlier in my life with Christ, my mind could usually do as it pleased, but not now.9 Narrow and narrower was the way, but in this obedience to His Word was life.
THE ANGEL SHAMA
Without missing a beat, the angel on the path beside me said, "I am Shama."10
I saw no reason to give my name, for he seemed to know almost as much about me as I did myself.
"Shall we walk?" he continued.
Almost stumbling, I moved forward.
He had long, straight, silver hair that was caught at the base of his head and hung down on his back. He was very muscular, and although his hair was silver, he looked perhaps forty. He wore a full-length white robe, which looked as though it had been stained with blood or the juice of red grapes. This stain was on the hem of the robe and on the cuffs of the long sleeves, discoloring the garment to the knees and elbows.
"You delight in God," he continued. "I have watched you and have seen that you desire nearness to Him. However, do you not know that disobedience creates a wall between you and Him?11 It is a wall of your own making because you cannot curb your natural desires. He will replace with Himself every delight you push away, Anna."12 In looking at me, his eyes caught sight of a hill slightly beyond us. "Come with me," he said.
As we walked up the hill, he continued, "There is a type of suffering in obedience, but the rewards far, far outweigh the pain."13
THE PROTOTYPES ABOVE
From the top of the hill, we could see a broad plain below. Herds of various kinds of creatures were grazing; among them were prehistoric animals.14
My hands went to my face in amazement.
"Heaven itself is like an ark, Anna," he said. "These animals do not have resurrected bodies but were part of the heavenly kingdom before the earth was created."
"Magnificent," I whispered.
"Aren't they?" he said, observing the scene. Then, almost with a sigh he continued, "Let's return to the path." He was slightly ahead of me going down the hill, and he assisted me with the incline.
"Do you have hair?" I asked him.
"It looks like hair," he said. "We are creatures of light. We are spirit, Anna. We are not flesh and blood as humans are. Some of us in service to the King look like humans, but some do not."15
We returned to the path and continued to walk. "We can change our appearance," the angel said, "whereas you cannot. We are known by the essence of what we are, not by the outward appearance. On earth this is often reversed, is it not? Humans often dwell upon appearances."
"You seem to know me," I queried.
"I know you better than you know me," the angel laughed.
THE STAINED ROBE
"Why is your robe stained on the bottom and on the sleeves?"
"I am called to assist in child training – the kind that squeezes the child – like being in a wine press.16 These," he looked down at the stains, "are visible signs of the child's development. The more stains, the greater the work has progressed within the child. Obedience is not learned easily, Anna. Some on Earth never learn it."
"Are you an angel assigned to help train me?" I asked.
"I am assigned to you."
"Helping to train people in obedience cannot be a pleasant job."
The angel replied, "It is of great significance to the Father and absolutely necessary. By this time in your life, my robe should be entirely stained and my face and hands dripping, but there are only stains on the hem and sleeves. So may I suggest that you are hindering your growth through known disobedience. Immediate gratification can never replace serving the Lord with a whole heart. Such obedience releases joys untold."
REPENTANCE
I looked out over the landscape, letting the truths he was sharing work within me. "I have sinned," I said quietly.17 I did not wish to seem glib, but I did wish to show a willingness to repent promptly. "I ask the Lord to forgive me."
He put his arm around my shoulder and jostled me, as a coach might a football player. "And you know He does. This is a good day for new beginnings," he smiled. Then he removed his arm and looked ahead solemnly.
"I thank you for your patience and for helping me. I can see you are a powerful angel. If you were a human, I would say you 'worked out.' "
"We do 'work out,' " he laughed heartily, "but our workout comes from wrestling with humans. 18 I look as I do because you have given me so much resistance through your flesh. So," he laughed, "you might say I do 'work out.' I would suggest that you turn this very day so that my work out is less strenuous. Delight yourself in God, Anna, and reduce my exercise program," he smiled.
Then he sobered rapidly. "Nothing, no one can compare to Him," he said. "Speaking for those of us who are assigned to you," he continued haltingly, almost as if he was going to reveal something deeply personal, "we would like to get a little closer to God." He almost stammered, "If it were only us, we would; but much depends upon you concerning that."19 He seemed so embarrassed by what he had said that he vanished.
SIDE NOTES TO THIS SECTION
The natural or earthly self is the greatest hindrance to following the Lord; therefore, it must be set aside (Matt. 16:24).
The enemy has erected his fortress in our natural minds in the form of man-centered attitudes, speculations, and beliefs (2 Cor. 10:4-5). From these citadels his demons can deceive and torment the believer, as happened to the slave with the unforgiving attitude in Jesus' parable (Matt. 18:33-35).
The name Shama is a Hebrew word meaning "to hear with the intent to be obedient."
Jesus in His human nature "learned obedience from the things which He suffered" (Heb. 5:8). Faith was perfected in Him as He endured the rejection and betrayal of those He came to save.
Celestial beings have bodies of spirit instead of physical matter; therefore they are able to appear or disappear (Judg. 6:12, 21) or to change their outward appearance (Exod. 3:2) as needed.
The heavenly host is watching how we believers on Earth run the course of obedience in Christ Jesus (Heb. 12:1).
NOTES CONCERNING THIS REVELATION ARE UNDER THE SECTION CALLED "TEACHING".
September 2015
WHAT AN AMAZING SUMMER
So much has been accomplished. So much decided.
1. The new office is completed for my assistant, Tammy. We enclosed the car port, (I had the furniture already and most of the office equipment).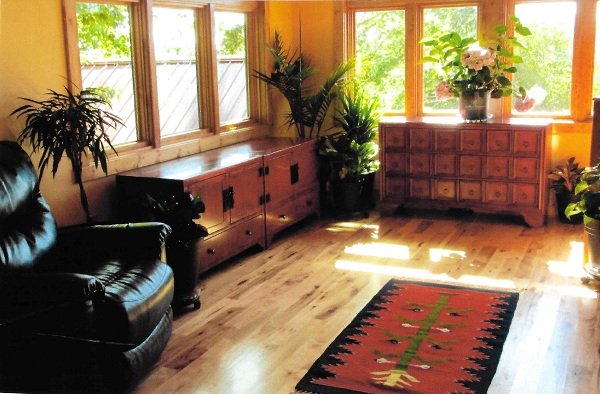 2. My own office, I turned over to my other assistant Jackie. The pictures on the wall were drawn by children who attended the prayer meetings in the past.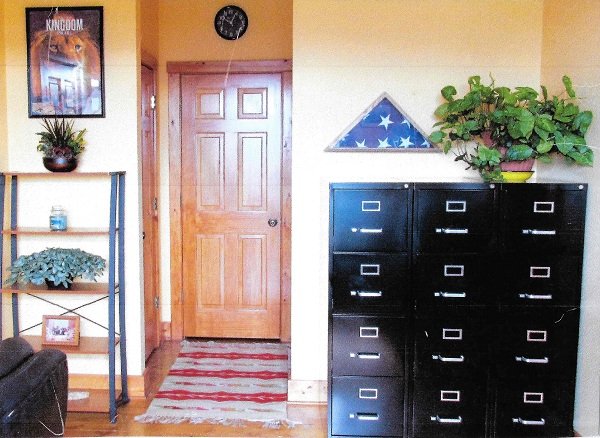 3. Instead of laboring outside by growing a garden, we were able to turn our attention to the inside because we joined others resting the land in accordance with the Jewish Shemittah. This September 13th will mark the end of the one year period of rest. Therefore, we will uncover the raised beds and plant fall/winter crops.
4. I moved my office downstairs – converting a bedroom into an office space.
Oh, what a glorious summer.
August 2015
AND NOW FOR A MASTER'S CLASS IN DREAM INTERPRETATION:
Again, the dream and the interpretation are right from my journals of 20 years ago. The dream is simple and could relate to the body of Christ as well as to me alone. But Bob Jones' interpretation of the dream is highly instructive. Here is Bob at the height of his prophetic gifting. I have shared with you his interpretation of a vision. Now, here is Bob Jones as he interprets a dream. (The interpretation will be shown in the TEACHING section of the web page.)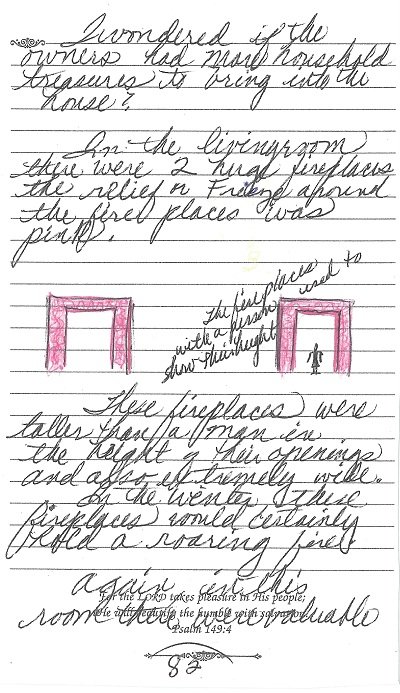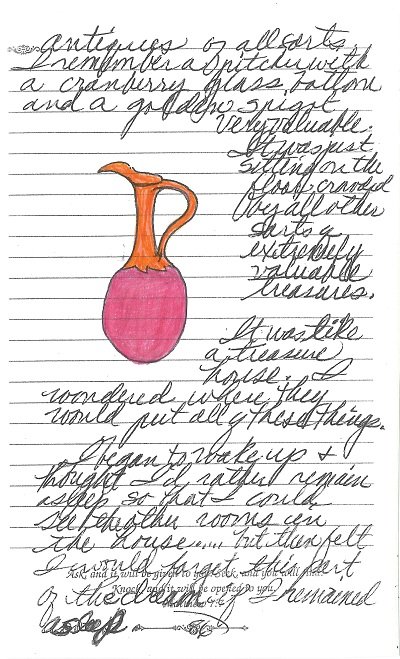 July 2015
THE LORD SHARING SECRETS
The Lord does share secrets with us. In this vision He shares with me part of the future.
The entire vision is lavender—which means it deals with the nearness to our Father and then, what He intends to impart to others because of that nearness. This vision was given on June 12th 1995…or twenty years ago. I did not understand it until later.
Page #9 Walking with Jesus in the garden: intimacy.
Page #10 This would produce fruit that would tell of the Lord.
Page # 11 The Three balls mean The Father, The Son and the Holy Spirit…all three will be shown in no special order. The Sword is for writing. All three will be shown in writing.
Page #12 The Lord Himself tells me to write about our heavenly family.
Page #13 I will record the lyrics of the angels also. These will go into a book.
Page #l4 The Lord spoke: "Do not wonder. Only do it." The fruit from the relationship will be caught on the wind of the Spirit and go out as a witness to Him.
June 2015
VISION OF THE MOUNTAIN
June 28, 1995
I will show you the first page of this vision from the journal. However, I will type the other parts of the vision…( The print is much too damaged from the fire to be read easily as it is.) The revelation is not only something that is occurring in the natural realm right now, but also in the spiritual realm. But the main reason for showing you this vision is to allow Bob Jones to interpret it—thereby teaching you in the same manner that he taught me. The interpretation is in the section called: TEACHING. [Just a side note: Remember I told you that it was 20 years after I was saved that the heavens opened for me (1975-1995). Now it has been 20 years since the heavens opened (1995-2015). Forty years since salvation. Since major markers happen in my particular life in 20 year cycles, I am looking forward to the next exciting step.]
The text of the vision:
The mountain was covered with red and blue flowers with golden stamens.
I could see myself and others falling from a great distance into the center of the flowers. As for myself, I fell again and again. I do not know if the others were the same people falling over and over again or not. The landing was soft and no one seemed afraid. I was not afraid to see myself fall such a distance into these flowers.
At first, the people fell like a few drops of rain. Then they came down like a down-pour. They were caught in these flowers—but now, the people spilled over the flower petals and began to run all over the earth. On them there was pollen from the large flowers on the mountain.
Where their feet stepped as they ran, a flower was left in the foot prints. The rain of people was only on that mountain, but those coming down covered the earth. Then—flowers, like those on the mountain covered the earth. These flowers were red and blue also.
Then I saw an angel with a horn flying in the heavens. When the horn was blown, the flowers closed and stood on their feet…a very great army. The earth shook for they marched in time with one another and the vibration of the marching shook the whole earth.
The earth began to crack apart from the marching. But still they marched—taking little heed to the earth crumbling beneath them. Then a mighty song began to come forth from this army:
LET EARTH SING PRAISES TO OUR GOD,
LET ALL OF HEAVEN DECLARE,
LET UNIVERSES BOW TO HIM
WHO SITS UPON THE THRONE.
Chorus: FOREVER, OH OUR GOD AND KING
FOREVER MAY YOU REIGN
FOREVER LET THE WORLDS DECLARE
THE GLORY OF YOUR NAME.
The army on earth looked up for the heavenly host was joining in the chorus when they sang the song again.
Then lightning flashed from horizon to horizon and thunder rolled and the aurora burst across the whole sky. From its flaming center, Christ on a white horse and a mounted army rode forth.
Cheers came from the army on earth. Cheers answered them from heaven.
The final battle was about to begin.
May 2015
CHRISTIAN HISTORY WHILE YOU ARE LIVING IT: BOB JONES
It has taken me a little time to realize that-actually-I may be a historian. The books that I wrote before I began seeing into heaven are both history books. Indeed, all that I have given to you in the spiritual realm is true…true spiritual history. Now, I wish to start sharing sections of Bob Jones' "life"interviews. These were taped over a year's period of time twenty-three years ago. They, also, are true Christian history. There may be day to day happenings relating to life, but also, there are the amazing spiritual encounters he experienced-starting as a small child.
I believe we are far enough along in this work that portions of the story may be related. I have been seeking our Father's heart and mind about how He would want these vital revelations to be shared with His children. Freely, our friend, Bob Jones gave my husband and I permission to relate his story. Freely, Mike Bickle (under whose authority Bob had placed himself at that time) gave us his permission as well.
WHY HAS IT TAKEN SO LONG?
First, all the tapes needed to be put into CDs so that they could be transcribed. Then, secondly, the CDs needed to go through the laborious and time consuming process of being transcribed. In each case, I have multiple and huge notebooks containing either CDs or transcriptions.
I cannot tell you how much material we have because as soon as we got to Bob's house in Independence each recording session, we turned on the tape recorder and ran it "full-out" the entire time we were with him. Thereby, we recorded EVERYTHING from the first "hello" to going out to eat afterwards.
There is too much material to place in a story, but as an archival repository of a great prophet and as a slice of Christian history, every comma and period is of great importance.
With the Lord's help, I plan to start sharing small sections of the (raw) transcriptions. These transcriptions are taken down in dialect. [Bob grew up in Arkansas. His father was a share-cropper-and his father, mother, and all three of the brothers worked the fields.]
I feel that by sharing the transcriptions "as is" you are there with us-actually participating in history. [Since news now days seems so manipulated that I- personally- do not know if what I am hearing is true or a fictionalized facsimile of what is actually going on, I thought you might enjoy the unvarnished truth….even if reading it proved to be a bit awkward.]
The transcription is in the TEACHING section of the web-site. May our Lord bless you in the reading of it.
April 2015
THE EXPANSION OF THE PRAYER ROOM
After one year waiting for the contractor and three months of construction the expansion to the prayer room is finished. Mercy, how needed it has been and is. I will show you the way the room began—with the hummingbird feeders hanging outside on the porch—to the piano in the corner of the expansion and much more seating area. Along the way, I acquired rugs on sale, sale sofas and tables. I have been storing them for some time. But now, here they are. The room is completed. To God be the glory and thanks.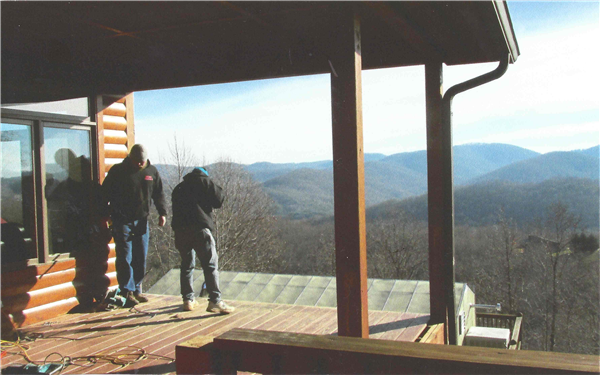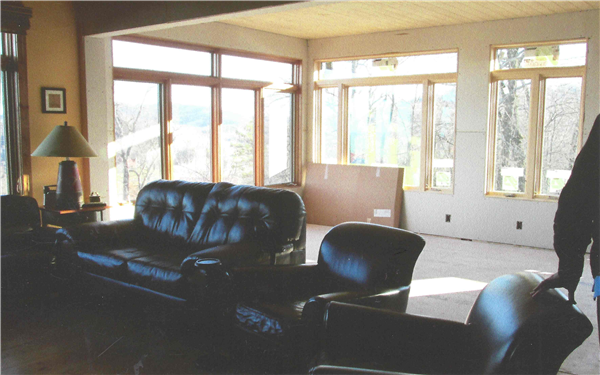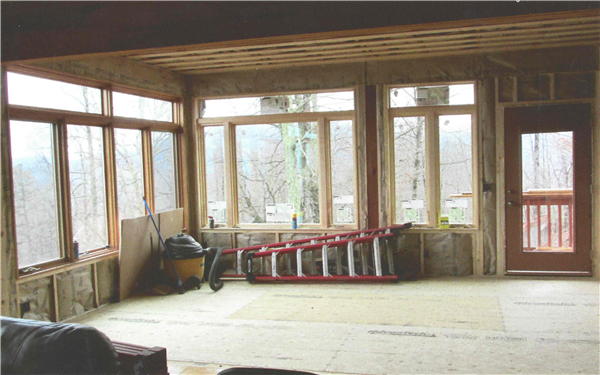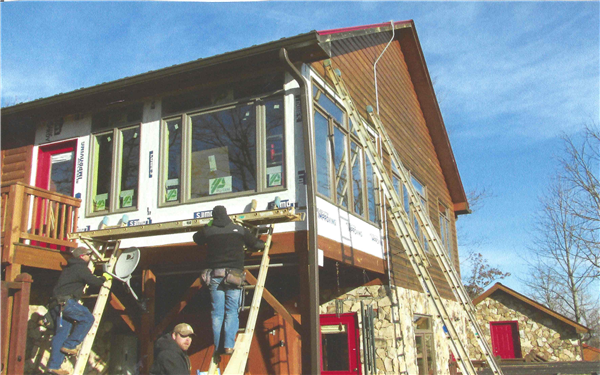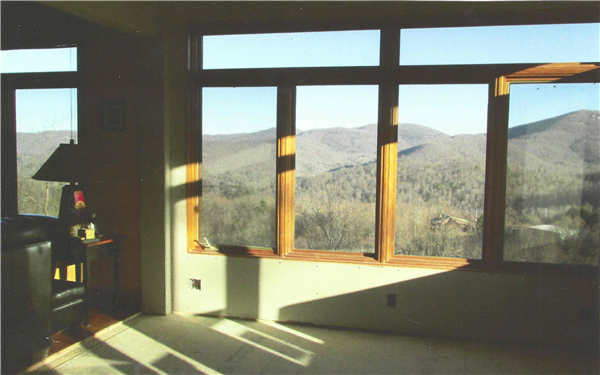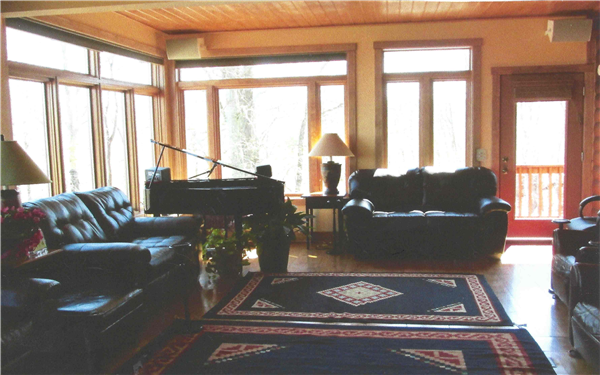 March 2015
ZEAL
Dear brothers and sisters in Christ, in these days, we, the body of Christ, are in great need of zeal. Many of us have been comfortable and apathetic for too long—and the enemy has pressed his advantage by being devious, sly and persistent. We, on the other hand, have been lulled to sleep—hypnotized by the pretties of this world: beautiful clothes, beautiful homes, and (in the West) plentiful food. We have repented around the edges and let the substance slide.
We have been using our heavenly Father like an indulgent parent that will give us anything we want because He loves us and delights in giving us the desires of our heart—and we have many, many desires. Dear ones, we are meant to grow up and seek Him for Himself alone. We are meant to turn from our own titillations to delight in giving Him the desires of His heart.
The Lord has given us jobs down here. We are not to set up lawn chairs and watch the parade pass by as we wave little flags and shout "yeah, Jesus."
Are we so apathetic that we do not want to see Him rip open the heavens and step down—splitting the forests as He manifests among us? Are we so desensitized by the constant drone of evil from all over the world that we are slowly being cooked like a frog in heated water? Dear God, are we the ones for whom Christ died so that we might be His witnesses here on earth? Or are we still gumming Pablum—and so hungry to be liked by everyone that while our brothers and sisters are being beheaded, limply we refuse to take a stand for Christ?
Oh God, help us to cry out to You for a zeal that sets us aflame and burns away the compromise of petty niceties, for the pure, burning truth of Christ.
How say we now as we come to the end of this age? For my part, I have been hoping that the Holy Spirit would stir—and then stir again– zeal within me. I want to break through to a higher level of passion for Christ. I want to be more focused—with a forehead of flint. I want to run to my own personal lintel field and be counted worthy to take a stand for Christ.
The Holy Spirit is bestirring Himself and we need to ask our Lord for a love and zeal that consumes us—even as it did our Lord.
February 2015
I GET BY WITH A LITTLE HELP FROM MY FRIENDS…
Several months ago the Lord spoke to me an unusual request. He asked me to pray for three angels. (He did not say if these were angels assigned to me personally, or for all angels within that specific category).
Two things about that request surprised me:
1. That He asked me to pray for angels at all (whether personally assigned to me or a general category such as Cherubs….of which there are several types.)
2. And that I had never seen these particular angels.
The request surprised me, for I said to myself: "If the Lord is asking me to pray for these angels (let us just assume for this discussion that these are angels assigned to me personally) then there is almost a lifetime that I have never considered angels as having needs—and certainly not praying that those needs be met."
Oh, I had often asked the Lord to send angels to protect me or others or that He send them to help me in some way—but I had never considered standing before the Lord in their behalf as I might a human.
Why, I wondered had I not prayed for them? I knew that they were extremely helpful in all manner of ways. I personally (actually) knew that they had different and unique personalities—and I had been blessed with the gift of—not only seeing—but of knowing a number of angels rather well. Why had I not considered praying for their needs? I suppose I simply looked upon them as too mighty or as servants of my Father (we are all servants of our Father, even as our Lord Jesus)—and not as they actually presented themselves—which was as friends…spiritual friends, that's true, but friends. Granted, most of us do not see them (as yet); but all of us know of their helpfulness. The Holy Spirit is not seen either, but we know Him as Friend.
WHO ARE THESE ANGELS?
The Lord asked me to pray for the angels: CONTINUING PRAYER, GRATITUTE, and THANKFULNESS.
The dictionary defines "gratitude" as a feeling of thankfulness, appreciation for favors or benefits received or a warm appreciative response to kindness.
The dictionary defines "thankfulness" as a state or quality of being thankful—impressed with a sense of kindness received and ready to acknowledge it.
Therefore gratitude is a "feeling" and thankfulness a "response" to that feeling.
MY RESPONSE TO GOD'S REQUEST
Therefore, several months ago I began to beseech the Lord on their behalf.
I asked the Lord to:
1. Bless them
2. Empower them
3. Anoint them
4. To give them wisdom
5. Knowledge
6. Understanding
7. Discretion
8. Discernment
9. To prosper the work of their hands
10. To give to them zeal in serving Him
11. To help them have success in the tasks that He gives to them—and
12. Great joy in doing these tasks.
Although I have been blessed to see many angels, to this day, I have never seen CONTINUING PRAYER, GRATITUDE and THANKFULNESS. But because I pray for them daily, I feel that I know them.
I asked the Lord to extend these requests to cover all the angels assigned to me or to my family members. Goodness, I want all the angels serving the Lord by assisting me to have all that they need for their work—and, hopefully, to enjoy their assignments.
A CHANGED ATTITUDE
Praying for these three angels (and indeed all the angels assigned to me or my family members) has changed my attitude toward the angels themselves. I think of them now as friends—spiritual friends. They are so helpful to us, I am glad to give my time to ask the Lord to help them and to bless them for their service to us.
I am not suggesting to you that you should pray in this fashion—because prayer is a very personal communication between you and the Lord. I am merely sharing a request made to me—which in many ways has changed my life. I only hope that sharing with you this extraordinary turn around in my own attitude toward angels, might—in some way—help you.
We get by with a little help from our friends….It is possible that "help" might go both ways–friendship certainly does.
January 2015
A TIME FOR HOPE
We have seen, heard and prayed concerning disaster after disaster all over the world. Most are unable to miss knowing of the dreadful events that are occurring almost everywhere. I'm sure that all of us will continue to "put our shoulder" against the evil that the Lord calls us to address in prayer. But what is our Heavenly Father doing? What of His children? We also know that He that sits in the heavens laughs. It seems to me that we need to join Him in that response, also. We need to pray, to laugh and we need to hope. These pages are right from my journal. I do hope that they bless you as much as they blessed me. May they give you hope. PRAISE TO OUR LORD, JESUS CHRIST.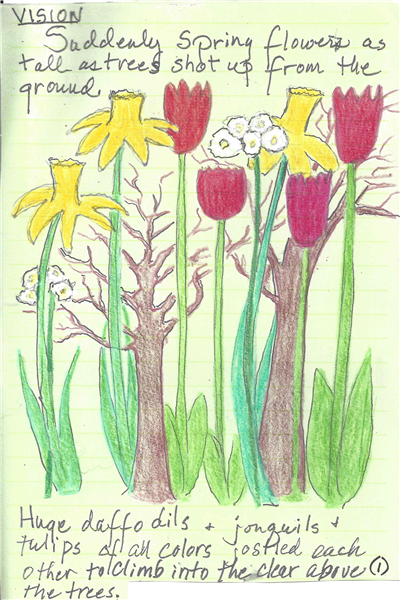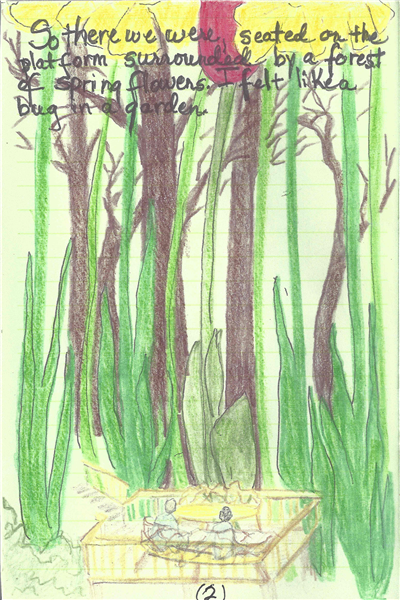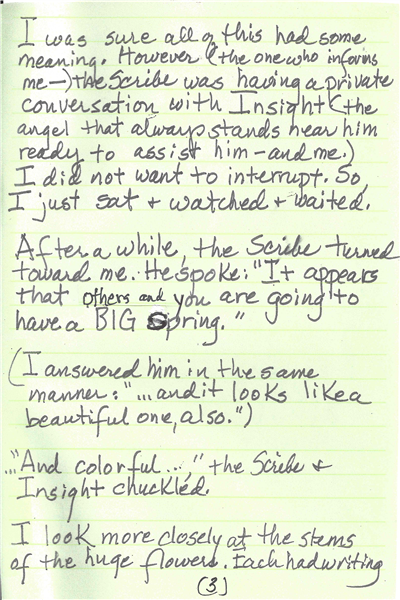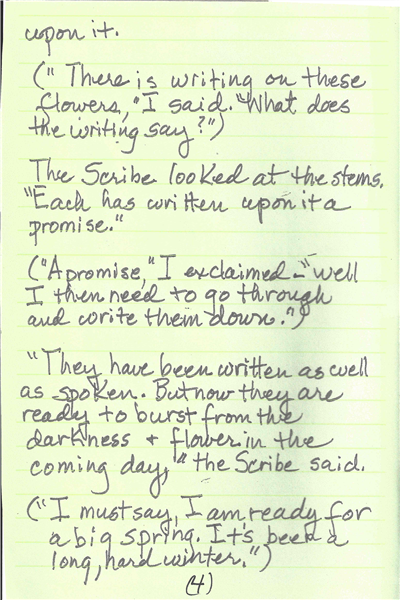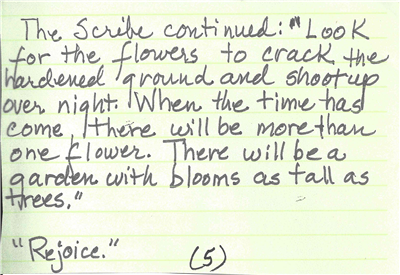 December 2014
OLD PROMISES
Because of this blessed and hallowed season of the year, I wish to share with you a vision that was given to me by the Lord in 2008. Prophecies, like fine wine must cure. Usually they do not reach the fullness of time for their manifestation immediately. This one was given six years ago—which means that in 2015 it will enter the seventh year and, I truly believe, the time for OLD PROMISES to be fulfilled. The pages are right from my journal of 2008. Mark well, for it is not only the fullness of time for old promises made to me and to my ancestors—but to you and to your ancestors. The angels and the Great Cloud of Witnesses are watching with great anticipation.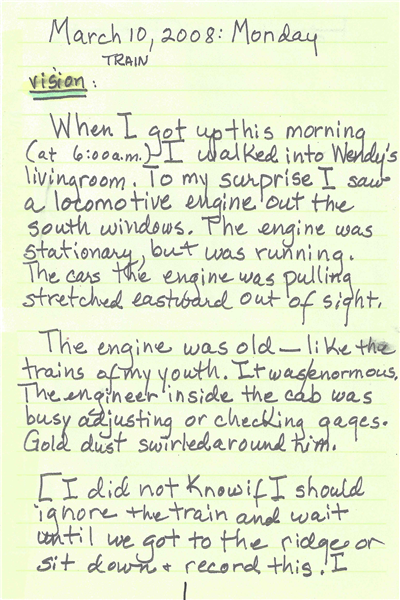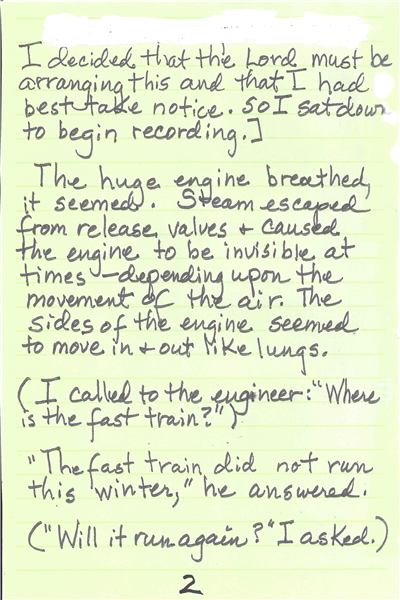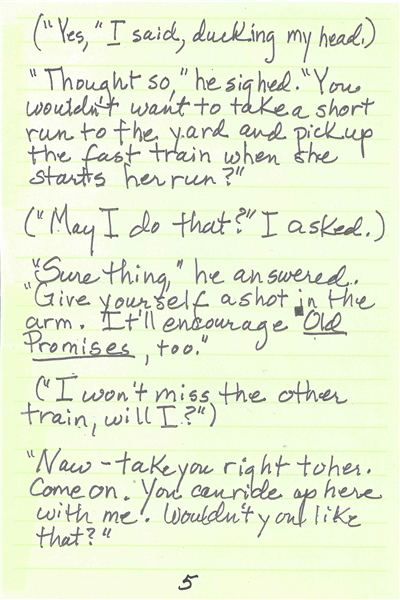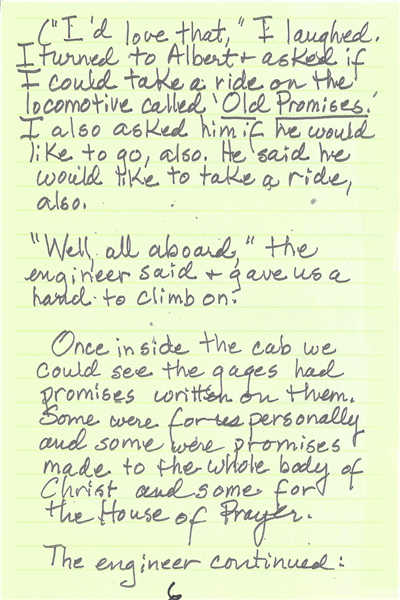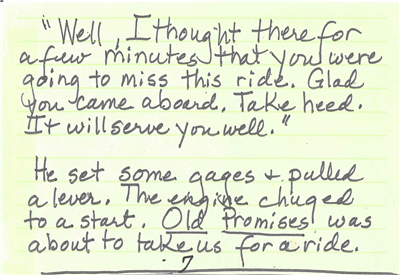 November 2014
THE ARRIVAL OF THE ANGEL TUTOR
Even angels must learn. This is the first time I had seen and talked to TUTOR. He tutors material written on instructional tablets. The tablet that was given to me said only one thing: DO THE FIRST-FIRST. Usually, I noticed, these tablets were given to angels assigned to the area.
These are my journal pages of February 11, 2008.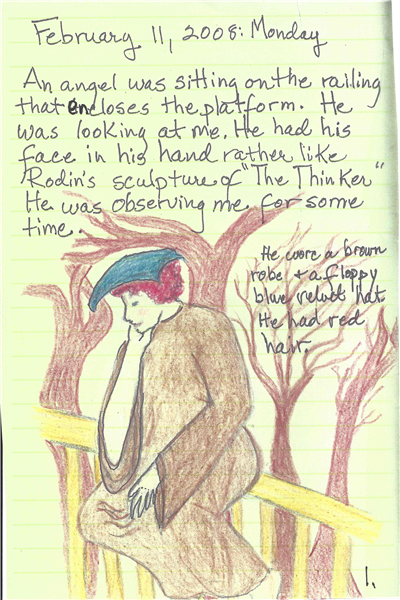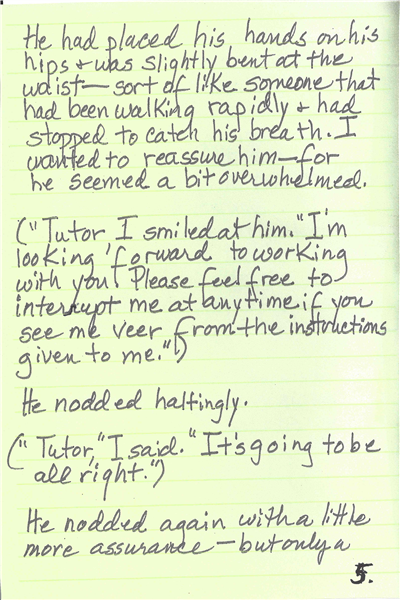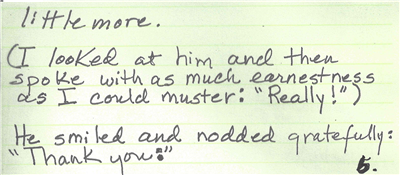 October 2014
HOW I AM TRYING TO HELP
At Hanukkah 1994 when the heavens opened to me—according to the prophetic word of Bob Jones and many other prophets for twenty years before—I asked the Lord that I be able to write down exactly what He or an angel was saying. I knew that my memory was not retentive enough to go through an experience and then accurately write down the experience afterwards. Also, I did not want to write "the gist" of what was said or "sort-of-what-was- said" as I remembered it. Those encounters and those messages related through them were too important to me. (Now remember, I did not know that the Lord was going to ask me to write a book or books from the experiences—seeking accuracy was an act of honoring what was said and who said it.) I wanted to be exact in writing down the accounts.
WHAT I ASKED THE LORD
I told the Lord—after the first visit to heaven—that I did not think as He thought or speak as He spoke and therefore I asked Him if I could be "in the experience" and then glance down to write . (This is not "automatic" writing where one's eyes are closed and one is writing without looking. No, I am looking down at the pad on which I am writing and then reentering the experience. I am not writing well, since it is not given much emphasis in the recording process. However, it is exact.) He allowed me to record the experiences in this manner.
SPIRITUAL LANGUAGE
Spiritual language is very different from communication between humans on earth. Part of it is heard, part seen and part is imparted directly to one's spirit. Therefore, to clearly understand that which is being said, the hearer must wait until all three components come together cleanly and firmly.
For this reason, often I could only put down a few words or a half a sentence at a time. I might put down the beginning of a sentence and have no idea where that sentence was going or how it would end. I was merely recording as carefully as I could.
I am sharing with you the recording process because even though I was going to heaven daily, my husband did not. However, by reading my daily experiences, he grew spiritually at the same pace as the one being taught in heaven.
THEREFORE
Therefore, both he and I learned a great truth. That is—if you read the exact words that are spoken by an angel, those words carry a spiritual weight with them. They accelerate spiritual growth whether one is in heaven or on earth.
THE BOOKS
As I have said, I did not keep the journals in order to write books. However, when the Lord asked me to share the experiences in the first book, He asked that I simply take them right from the journals—exactly. He selected the experiences that He wished me to share. (You see, I was going to heaven daily and all of the experiences could not be included.) My Heavenly Father chose the material He wanted to share through the journals. I simply put them side by side into the manuscript.
Therefore, those who read the books are being given the opportunity to grow spiritually in the very same way that we (my husband and I) were allowed to grow.
THE WEB SITE
Through this web-site—hopefully–I am continuing to add to these experiences.
I am giving to you the deepest experiences and most profound truths imparted to me–in the great hope that these will help you to grow—even as they helped us to grow.
September 2014
AN IMPARTATION
We know that an impartation may be given by the laying on of hands. Also, many have heard of or have received an impartation through someone blowing on them. The Bible, Acts 5:15-16, tells of people being placed in the street so that Peter's shadow might fall on the sick and those tormented by "unclean spirits." In Acts 19:11 and 12 we read of pieces of cloth being carried from Paul to the ill. In heaven, there is another means also. I tell of this in HEAVEN AWAITS THE BRIDE, chapter six, page 52. I am showing you the drawings from the experience that depicts that impartation. It took place on May 15, 1995. The pictures are from my personal journal.

THE IMPARTATION: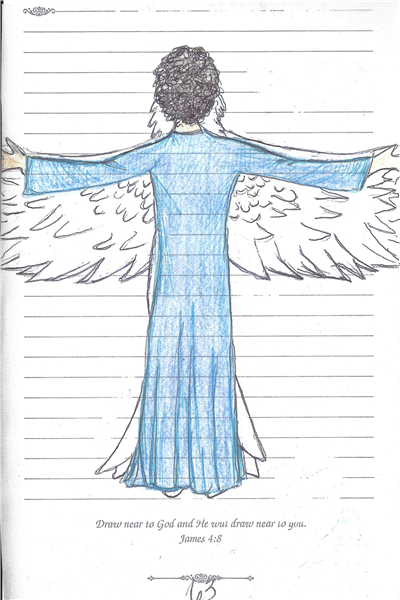 August 2014
I want to share with you some of the summer in the mountains….mainly because beginning in the latter part of September the land here will begin its Biblical year of rest until mid-September of 2015. Also, the room in which we meet to pray (hopefully) will be expanded by next year. We will move out the wall and take in the porch. Also, a piano has been ordered for worship. I thought you might be interested in seeing where we pray for you. I will list the pictures as they will appear:
1. Salvia in the front bed.
2. The gazebo on a misty morning.
3. Blue morning -glories.
4. Hummingbird feeders on a misty morning. We feed at least 40 of them.
5. The wall that (hopefully) will be moved out to make room for the intercessors.
6. The chairs opposite the sofa.
7. Some of the produce in the garden….huge.
8. Baby, the Australian Blue Heeler…(a great dog)
9. The birdbath in the Spring (a) and then,(b) the flowers of Summer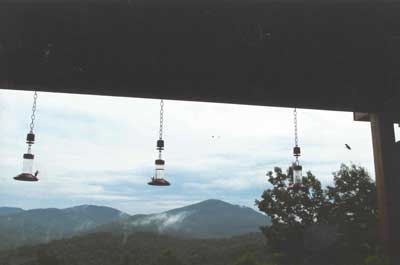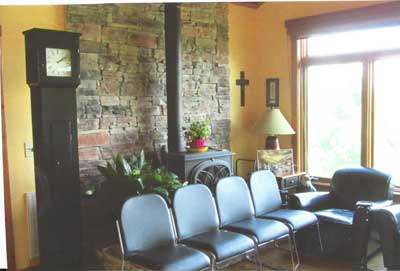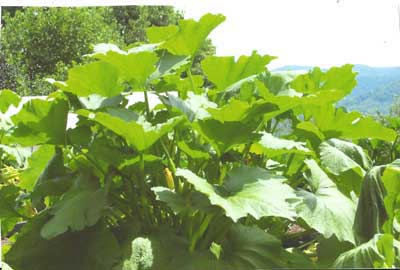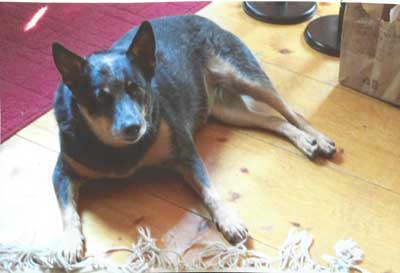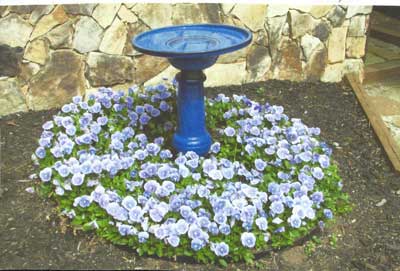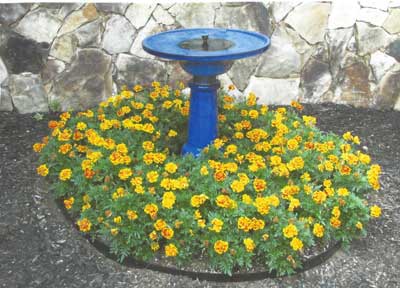 July 2014
DO WE ENCOUNTER SERAPHIM ON EARTH?
Thank heavens, we do. Here is one such case in our present day. I had seen the Seraphim at a distance and, it seems, asked the Lord if I might see one more closely. This encounter was on January 20, 1995—very early in my experiences in the spiritual realm. Such an encounter in the Word is in Isaiah 6:1-7.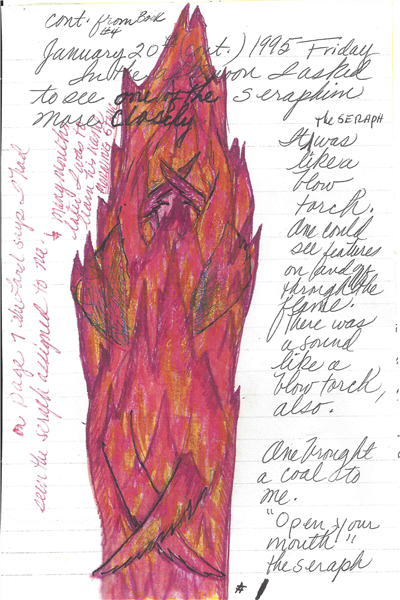 June 2014
THE GREAT ESCAPE
Can one "get into trouble" when passing from the earthly sphere into the heavenly?
Yes.
I'm showing you one such instance. This comes from my journal of July 1996. My journals for many years started with the run-down of events on that day in previous years. Yes, you are right, after a while there were too many as the years passed and I cried "help" and stopped. Because the retelling of the experience began at the end of one such page, I left it in.
Also, I think it might be helpful if I typed the narrative for you so that you would not need to decipher the writing.
VISION:
I had on a pale purple robe. (Purple is the color that represents the nearness of God. The color indicates that I was headed for the throne room.) I began to rise into the air. Sparklers –grouped as comets- began hitting me as I rose.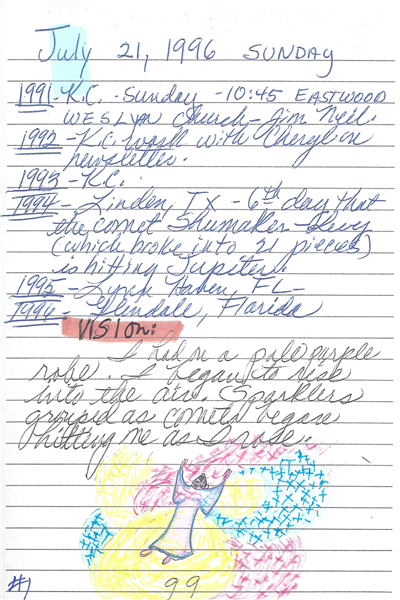 Demons tried to interfere—but they were thrown away by touching the sparklers. It sounded like bugs hitting an outside bug light.
"Come, Anna," I heard.
Heaven opened and a large contingent of angels came forth to escort me into heaven.
I looked back to see demons amassing like a swarm of locusts or bees beneath me. I supposed that that was the reason angels escorted me the rest of the way into heaven.
I was taken into the throne room.
May 2014
DOES THE LORD ISSUE WARNINGS WITH SOME ANOINTINGS?
Yes He does.
You have read the warning to prepare for the pain that accompanies heightened prophetic vision (as shown in the section on ANGELS—February 2014—that introduced the blue angel Phyllis). That warning was to prepare the one receiving a heightened prophetic anointing of the pain of seeing more clearly. When a person is able to see coming disasters in the future or unconfessed sin in another's life, one feels some measure of the pain experienced by our Lord. But does He warn us of an anointing that might bring pain to others?
Yes He does. The following contains two warnings. The vision was given September 12, 1995. I am taking the vision right from my journal of 1995. That is the reason the journal pages have numbers that relate only to that particular journal:
In a dream the Lord had salt cupped in each of His hands. Then He poured the salt from His left hand into my left hand. Afterwards He ate from my left hand and I ate from His right hand. It was a type of COVENANT OF SALT. A Covenant of Salt is a perpetual or everlasting covenant—probably due to salt's preserving properties. An increase in the anointing of the gift of discernment followed.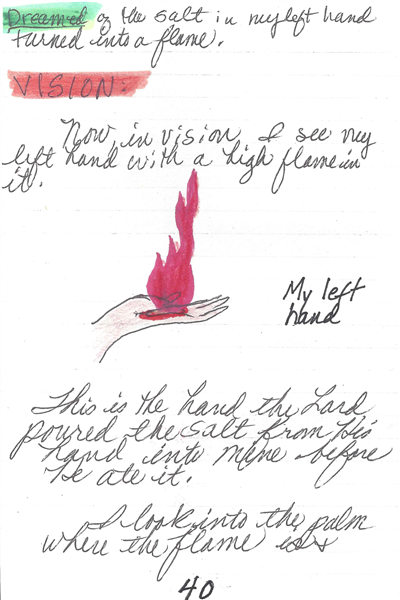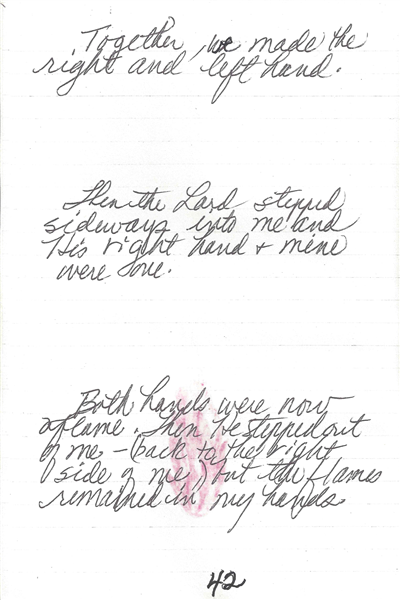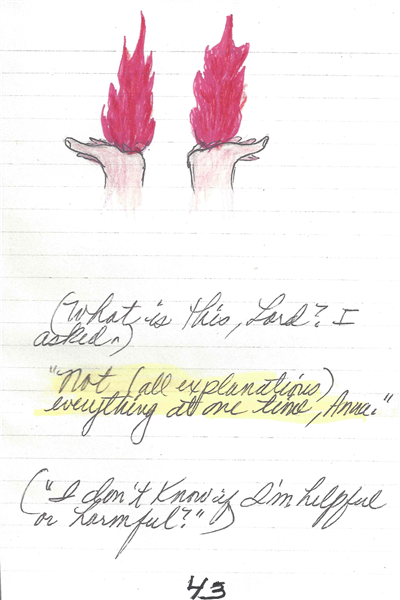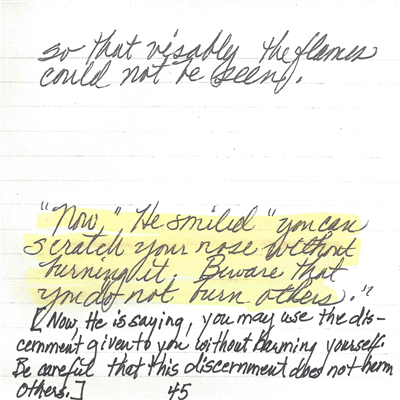 April 2014
THE HOLY SPIRIT'S MANTLE
I thought you might like to see the journal pages on August 4, l995. The bestowing of this mantle can be found in THE HEAVENS OPEN and HEAVEN AWAITS THE BRIDE in Chapter 12 called THE INSTALLATION. I am showing you the actual journal pages with their drawings so that you might gain a clearer picture of the ceremony…not that I think my drawings are able to represent the grandeur and majesty of our Heavenly Father's throne room, especially when the mantle is swept upward and the thousands of angels are represented by lines and colors. The sword I showed you in the web-site in June 2013 under angels.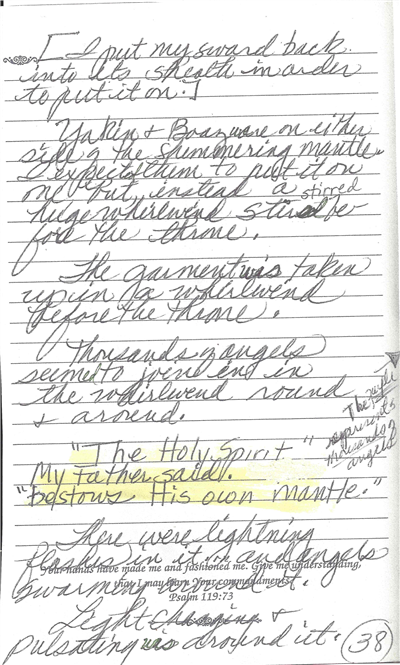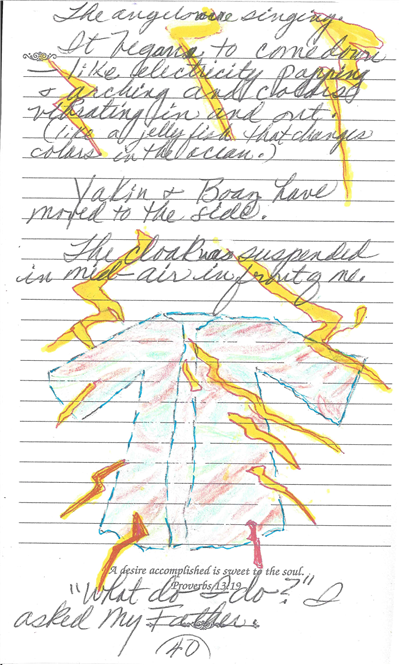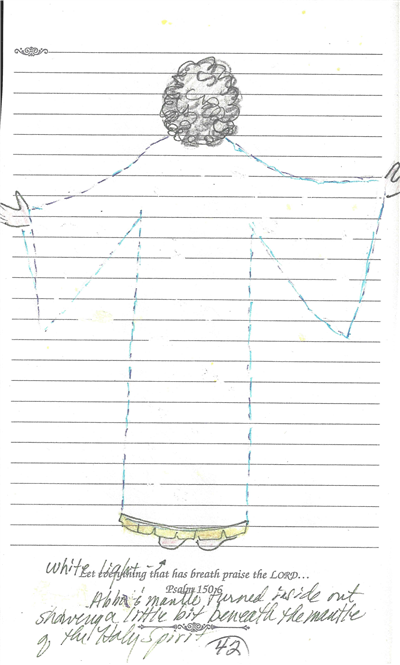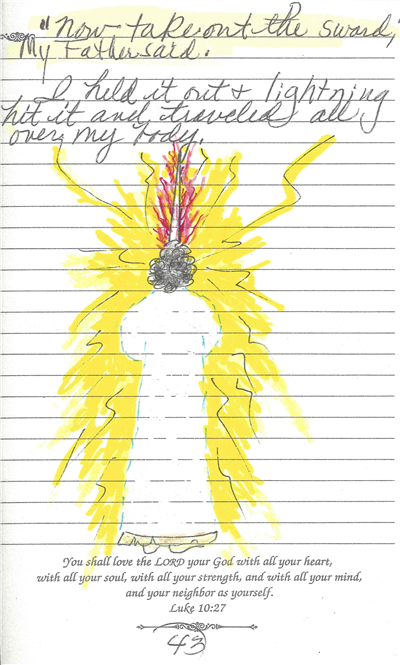 March 2014
BOB JONES
Bob often said that Al and I and one other couple were the oldest friends he had. We laughed, not knowing if he meant oldest in years or in length of time knowing him.
One day Bob said—just right "out of the blue" that it was hard for prophets to die.
I was surprised by the statement.
"Hard?" I questioned.
"There is so much light and life in their bones," he answered. "It is hard for them to die." He then related the Biblical story of the body of a deceased man hastily thrown into the grave of Elisha the prophet. When the deceased man touched the bones of Elisha he came back to life and walked away.
I would have found that extremely odd if I, myself, had not experienced that amazing phenomena. This occurred when my husband and I visited the gravesite of John G Lake with a dear friend who wished to pay her respects. Upon approaching the grave, all three of us began to feel the amazing power that was still locked in those bones—just as it was described in the Bible.
A GOOD FRIEND
Bob Jones was the most amazingly gifted prophet I have ever known…and he was a good friend. He was kind, caring and generous. He poured himself out for anyone and everyone. I have seen him minister for hours to people. He would minister with equal love and attention to a church of fifty people as to a conference of thousands.
However, these gifts did not make him "holier-than-thou." No, he was very real. He made mistakes, as we all do. He battled through—what to many would be—crippling rejection. But, he made it through victorious.
Also, he left you a gift. The gift is the revelation of the Lord's intentions for the mantle he wore. I wish I could say that I was waiting to share this with you, but in truth, I was called the night before Bob's funeral and reminded of this prophetic revelation by a very fine man from Fort Mill. SC. Only the outcome of the revelation was given to him—not the whole vision.
However, in listening to his understanding of Bob's mantle, I was jarred into remembrance of Bob's own prophetic vision given to him years ago.
THE LINE OF PROPHETS
Bob said that he found himself on the beach in the middle of an unusual situation. He was walking in the footprints of a man right in front of him in the sand. Where the man in front of him stepped—he stepped. He simply walked in that man's footsteps.
At one point he glanced ahead of him in the line and saw prophet after prophet ahead of him in one long line—all the way back to the beginning. Each prophet walked in the very footprints of the one right before him. Then, he said, he looked behind him.
"Who did you see?" I asked.
He said that he saw one more person in the line after him.
"So," I said, "there will only be one more prophetic voice after you?"
He shook his head "no." After his death, he said, that particular person represented the many that would receive the mantle he wore….rather like the breath of God blowing on a dandelion causing its seed to be lifted by the wind and dispersed and multiplied.
THE COMING MOVE OF GOD
I remember a conversation with a pastor from a church that Bob dearly loved in Kansas City. The pastor (not Mike Bickle) said that he had a revelation that when Bob "went" there would be revival. The pastor thought that Bob leaving meant his leaving that congregation. But I really believe the meaning was broader. I think that when Bob finished his earthly ministry and left us all, revival was near at hand. He was always a marker. That is the reason for the earthquake when he died. An earthquake is a marker that no one can miss.
HIS STORY
Because you have asked, please let me tell you…yes, I intend to finish Bob's story. I have enough material from my recorded interviews with Bob to fill twenty books. I will fulfill my promise to him to write his story. Pray for me–for it is a bit like writing a dozen volumes like War and Peace. Please pray that I do a good job for the Lord, for my friend and for the body of Christ.
February 2014
ANOTHER WAY OF GOING UP
I am trying to show you several ways of ascending into the heavenly region. This vision occurred on July 4, 1996. I am not showing you the complete vision at this time—just the means of going into the heavenly realm…what it looked like, what it felt like, how I felt while participating in this means of transportation, etc.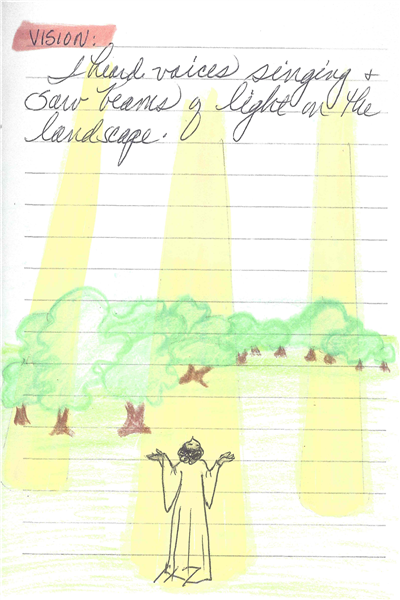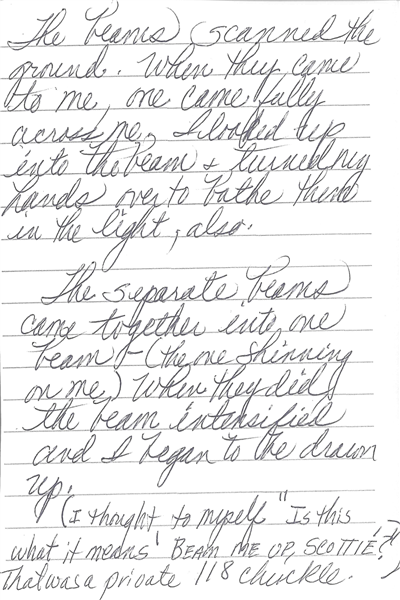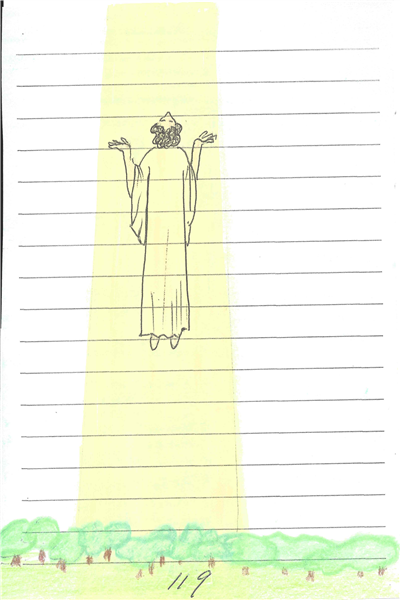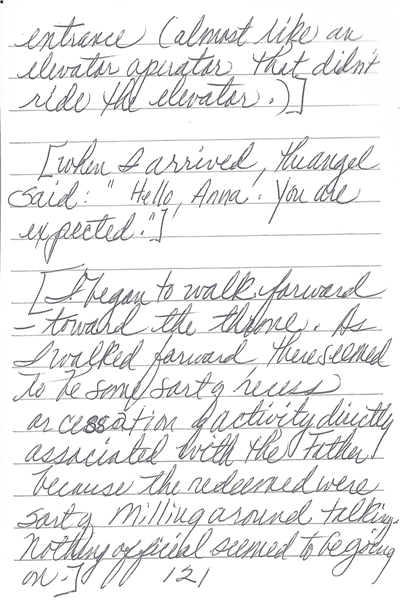 January 2014
Dear Friends,
Truly, you have become my friends. I and my team pray for you every day, many of you have written to me, and some have graciously contributed to this ministry. If more than one correspondence from you comes in, we remember your name and receive it as from a valued friend. For, indeed, you are more than a friend, you are family. It is a little like getting a jump on heaven. I am getting to know many of my brothers and sisters before we meet face to face in heaven.
The other day I was unpacking my car and getting ready to take the groceries inside when a large group of young men from Africa came running up to me. "Are you Anna Rountree?" they asked. "Why yes," I answered. "We have been praying to meet you," one of the young men said. "Well, I smiled, "come on inside." When they sat down I asked them their names. One of the young men was called Solomon. When he told me his name I said, "But you have written to me. We are praying for you. How great to get to meet you."
You are family and I do not take lightly your kindness me. You are taking time out of your lives to write to me. I just want you to know how much I appreciate your thoughtfulness.
I am truly excited about 2014. I was saved in 1974 and the heavens opened to me in 1994…twenty years later. The heavens opened in 1994 and we are coming up on 2014…twenty years later. What will this twenty year marker bring? (with such a slow learning curve, one cannot have many twenty year periods in one's life). Goodness, I hope the Lord makes the most of this twenty year marker.
The world may be sinking to its knees but, dear family, our Heavenly Father's children are standing to their feet. We need to be about our Father's business. Oh, thank you Lord, that we are alive in these times. How you have honored us. How you have trusted us. May we be worthy of Your trust and not fail to uphold Your honor to the end of our days.
December 2013
HEALING LIGHT
At one time or another we may have been blessed to receive a healing from the Lord. If so, we, at that time, experienced the "feeling" of it, but we may not have seen it with our natural or spiritual eyes. Just what does such an anointing look like to the natural or spiritual eye?
On December 22, 1994 I was in Florida. Just recently I had begun to experience heaven. However on earth, I was falling ill. Instead of asking for healing I asked the Lord if I might see. Suddenly a door stood open. Blazing light was on the other side of the threshold. I walked up to the door and stepped through. I was in the midst of intense light. I could see no one or anything. I said "healing light". Suddenly shafts of light began to shoot through me. Already I was in an intense white light, but these laser shafts were even more intense. [All was white, but I colored the light and the shafts so that I might remember what happened. The pictures are right from my journal of 1994. Even the discoloration is from the journals getting wet when the fire department tried to save our home from burning. The journals—which were in closed, but not locked safes—sat in the water poured on the home—(which could not be rescued. However the journals were saved.)
The laser lights shot through me from all directions….(many more than I depicted in the journal's picture.) They did not hurt –but my body could tell I was being bombarded with something. After being bombarded from all sides, beams began to shoot from my hands. I was healed.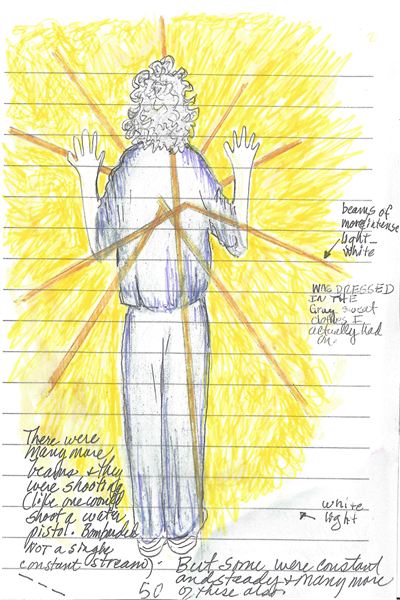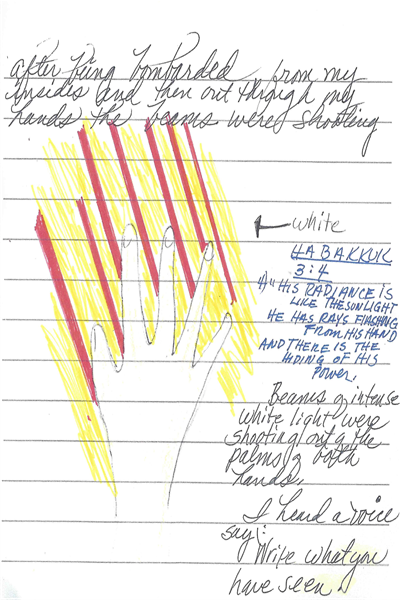 November 2013
FIRESIDE CHAT #2
When all seems to be going well, suddenly there is an immense attack from the enemy?
Why?
There is a spiritual reality that most Christians have experienced, but conversely, most Christians are blithely unaware. It occurs during the time of spiritual promotion. Oh yes, we do get promoted—if so be we pass the tests that allow promotion. How dull it would be if we did not grow in Christian maturity. But—just as in secular schooling, we must be tested.
All of the tests leading to a higher level of service do not come at one time. We grow incrementally in being able to accept more responsibility and thereby in being endowed with more authority.
AT FIRST
At first, on a certain level of service, we may be scrambling to complete the spiritual workload and losing a battle here and there to the much more powerful demons that attack Christians on that new and higher level. However, after a while, with the Lord's help, we begin to handle the spiritual workload on that level. Also, we grow in wisdom, knowledge and understanding concerning the enemy's wiles at that level and are able to either side-step them or deal with them more easily.
In the vernacular, we speak of this stabilizing as "getting on top of it" or "getting it under our belt" (referring to a time when the clothing was long and loose and therefore needed to be tucked up into the belt to unencumber the feet for battle). I am not talking about the prelude to an increased anointing here. We will take that later. We are discussing the period of transition as one advances into greater responsibility and subsequently greater authority.
SETTING THE STAGE
Now let me set the stage (and I will need to use everyday examples to give clarity to that which is- actually- spiritual phenomena).
Let us suppose that you have been serving the Lord in a certain area for a period of time. During this time you have grown and matured. Now-without you knowing it-the Lord intends to promote you—that is—to give you more responsibility and thereby, more authority. What happens?
THE GATHERING OF LIGHT
More light begins to gather around you in the spiritual realm. God is adding to you and you begin to shine more brightly. This, of course, makes you a much more yummy morsel to the demons whose job it is to stop you.
Years ago I remember asking Bob Jones (the prophet) why the demons seemed to know what we ourselves did not know about our advancement. He told me at that time — "because of the light."
MOVING OUT
When we are moving out of our usual level of protection—that bubble or shield that has been built up through repeated battles and hard won victories—begins to thin. We are moving out of a hard won "zone" and therefore are more vulnerable.
Now, most of the time, we do not know this. But the demons do. They attack before we know we are in transition and before we have the experience of battling the more powerful demons at that higher level.
EXAMPLES
Let me give you three real, live examples. A few months ago our prayer team was asked to pray for three Christians that had been damaged in just such a transition into higher authority:
1. One is a young, righteous pastor whose anointing in preaching has increased ten-fold. Likewise, his congregational numbers have increased miraculously—and, after the kernel of the congregation moved from location to location for years, the Lord has looked upon them with favor and given to them a new and truly lovely church home. Before the congregation could move into their new church home, this pastor was caught in a freak and deadly combination car and truck accident. He had to lay his bike down under the wheels of the log loaded 18 wheeler. The Lord rescued him with only minor damage to his heel and equally mild damage to his bike. The enemy was trying to stop the pastor from reaping the reward for his faithfulness and to stop the move of the Spirit to which all indicators are pointing.
2. Another is a dear Christian lady that was teaching prayer in a church in another state. She had written a book on prayer and was preparing to travel to yet another state to teach prayer to those in a mega-church. This church was not known for prayer—for it had stressed other gifts. However, they were ready and willing to learn and were very excited to add their voices to others standing before the Lord in intercession. Suddenly, she was hit with something mysterious and was given a 1% chance of survival. She did survive and is now regaining her strength. I'm sure she was pulled through by the prayers of those very people she had been teaching to pray. The enemy was trying to deprive the body of Christ of a seasoned prayer warrior and a mature teacher of intercession. Praise God, he did not succeed.
3. The third is a very gifted teenager who had just arrived at college. Already he had the gift of healing—which was beginning to increase. At the beginning of the school year he fell and hit his head—eventuating in a concussion. He was sent home to rest, but that same day he fell again—hitting his head again—and giving him a second concussion. He was beleaguered with cluster migraine headaches twenty-four hours a day for months. But he refused to stop going to church or to stop praying for those who needed healing. All manner of gifts are increasing in the young man and he is being healed. Praise God. He is part of the next generation of powerful ministers.
The reason I have given you three accounts is to show you people who had been used by God on one level and are now moving into a higher level of authority in their field or spiritual calling. Since these periods of spiritual advancement happen with all of us—what do we need to learn?
1. Be on the alert.
2. If you sense any change at all in the anointing you are carrying, begin to tread more carefully.
3. We need to ask others to cover us in prayer and we, in turn, need to cover others.
We do not want the enemy to take out of service those needed in the end-time battles. If we are aware of this period of vulnerability in our lives and the lives of others we can close ranks to lessen the enemy's infiltration and hinder his full-out attack.
October 2013
IF YOU ASK
We will pray. I say "we" because there are more people than just me praying. There is a team of highly dedicated and anointed intercessors that stand before the Lord on your behalf daily.
Anyone that has written a letter or bought a book through this web-site, or who has been kind enough to send a donation to this ministry will receive prayer—continuing prayer. We are very serious about this.
We all know that there are vast numbers of people alive in the world today—most of whom have no one to pray for them. But, that will not be the case with those who have reached out to us. You are family. You have blessed us. We want the Lord to bless you. So—we believe that the greatest gift we can give you is our personal time in prayer for you.
Because prayer is such a vital part of this ministry, there is corporate prayer at the ministry five days a week and then conference call intercession seven days a week. About four and a half to five hours a day are given to this very important ministry of corporate prayer. (This, of course, pretty effectively cancels any other evening activities that might come along. However, the joys of answered prayer far make up for any loss.)
We consider ourselves blessed to be given the opportunity to pray for you.
September 2013
FIRESIDE CHAT
At intervals, now, I want to share with you situations or occurrences that I have seen or experienced that may be out of your realm of knowledge. That is what mothers and fathers do with children, do they not? They sit together by the fireplace-all warm and cozy-with only the glow of the fire to light the faces of those gathered—and share. The enemy has sought to kill those of our generation before we can pass on to you—who are our children—the wisdom and knowledge gathered through "skin-of-our-teeth" experiences.I am sharing this first experience in the hope that, by hearing, you, our children will choose godliness.
THE "DEEP THINGS OF SATAN"
Are there "deep things of Satan?"
The Lord says there are:
Revelation 2:24
"But I say to you, the rest who are in Thyatira, who do not hold this teaching, who have not known the deep things of Satan…"(NAS)
Scholars believe the Lord is referring to the Gnostics who said that they knew the deep things of God—and the Lord is turning the phrase on them. (Gnosticism mixed the teachings of the old false gods with Christianity). But are there other "deep things"—those that do not slip so neatly under manmade labels? Yes, there are.
I want to share with you one such—in the hope that, by sharing this true story (one in which I myself was present to observe), the fear of the Lord will rest upon all of us.
STEALING GOD'S ANOINTING
Can an anointing really be stolen? Yes, it can; but the consequences usually are swift and severe.
BACKGROUND TO THE STORY
My husband and I spent a sabbatical year of prayer before the Lord– after laboring four years for Him in a large metropolitan area. During that year we were attending a small, but highly prophetic, worship group that functioned like a very small home group. Years before, we had known the man who presently was their leader. The worship music was glorious and the young members anointed and trained in the prophetic.
Near the end of sabbatical year a very well-known "father-among-prophets" was coming to a church in a town nearby. This older prophet was a friend of ours. For the space of a year it had been known that he was coming to bestow an anointing on the congregation of a friend of his at their evening Service. Of course all the young people in the small worship group wanted to attend the service. So did we.
THE REQUEST
After learning of the older prophet's schedule, the leader of the worship group approached Al and I saying he knew the older prophet would be ministering at his friend's church Sunday night—but what if he was invited to a nearby retreat center beforehand—like Friday night, Saturday and Sunday morning? This would allow the younger people of his group to minister to him. Also, it would give him much needed rest before that Sunday night service—and—the older prophet, who loved the younger generation, always sought an opportunity to encourage them.
That sounded like a great idea; so we invited him. He accepted.
Then the leader suggested that Al and I invite a number of our own friends from other areas to be a part of the week-end. We thought it strange that he called by name certain ones he would like to attend. Many were in international ministry and highly anointed. But we shrugged off these reservations with the thought that they, too, were friends of the older prophet and would love to be with him and minister to him.
They, too, accepted.
The week-end retreat was lovely—nothing unusual—and then came Sunday. Oh my—Sunday!
THE SUNDAY MORNING SERVICE BEGAN IN A USUAL WAY
There was worship, prayer and some teaching. Then the older prophet rose to share with the group. As he moved to the center of the area up front, the group leader asked him to tell everyone about the anointing he was taking to his friend's church that evening.
The older prophet began to share the story of how the Lord had directed him to bestow this anointing on that congregation. As he spoke, the anointing in the room began to rise—and rise—and rise until it became astounding.
SUDDENLY
Suddenly, the entire group of those at the retreat center jumped up and rushed to the older prophet, crying out and grabbing into the air high above him. I stepped back with my mouth open because I had never seen anything like this before. [I found out later (from the older prophet) that he calls that a "feeding frenzy." The anointing is so high and available that people are grabbing for it.]
After a goodly interval of those present bathing in a virtual waterfall of an anointing, everyone packed their cars and headed quickly to the evening service in that nearby town.
TARRY AWHILE
After everyone left, I asked my sister to remain a few minutes. I sank down on a nearby sofa and looked at her.
"Alice," I said, "something happened here, but I don't know what it was. But, "I continued, "something about it wasn't right."
Then we, too, went to the evening service in the nearby town.
IMMEDIATELY
When I walked into the extremely large sanctuary I could sense that something was wrong. The older prophet and his friend (the pastor of that church) were seated on the platform. The pastor was not talking to the older prophet. Instead, his eyes were scanning the congregation. I took my place beside my husband and glanced around the congregation myself. The leader of that small group was over on the far right side surrounded by his young charges.
I looked back at the platform to my friend, the older prophet. It was then that I realized that my friend had nothing to give the congregation. The anointing had been given.
STANDING IN THE GAP
Oh my, I began to pray. I looked over toward the leader of the small group to see if he, too, was praying—and saw that he and the young people were leaving. I knew he saw the problem. The older prophet had arrived empty handed. [Remember the time in the Bible when Jacob tricked his father, Isaac, to bestow the blessing upon him instead of Esau? Esau cried out to his father: "Have you not reserved a blessing for me?" Isaac told him that he had given everything to Jacob in that blessing. "Now as for you then, what can I do, my son?" (Gen 27:36c and 37c). It was gone.
I returned to praying for my friend on the platform. Finally the Lord answered—but the anointing bestowed on that congregation was not of the extraordinary intensity of the original poured out on those at the retreat center.
WHAT HAPPENED NEXT?
The service at the church came to a close and my husband and I went to the motel where the leader of the small group and his wife were staying. When we walked in I asked the leader why they had left the service. "Well," he answered, "he had nothing to give."
"And," I said "you did not stay to pray for him and beseech the Lord to give him something to give to that congregation? They had been waiting a year to receive that anointing."
"No," he shrugged. He was sitting in a recliner with his legs up and crossed at the ankles. The soles of his shoes were facing me.
I indicated his upturned soles. "You pulled a Jacob," I said (referring to his upturned feet
–because when Jacob was born he came out holding onto the heel of his brother Esau. Therefore he was called "the supplanter".)
He leapt to his feet in agitation and said: "I told you that anointing belonged to us."
"You didn't tell me that, brother," I said. "I never would have been a part of such a thing—and then, you didn't stay to pray when you could see that he needed people to stand with him." I shook my head and left.
WERE THERE CONSEQUENCES TO STEALING GOD'S ANOINTING?
Sadly, yes.
1. The highly gifted worship group split up almost immediately.
2. The leader's marriage fell apart.
3. That congregation was cheated. Who knows what the Lord intended for them.
NOW LET ME SHARE WITH YOU LIKE A MOTHER WITH CHILDREN
If you see any such tendencies in yourself, run to the Lord for Him to cleanse you. When over a period of time there is a contriving to sin; when there is deep plotting that is deliberate and takes a long time to work its way into your heart, you are contemplating a much more heinous sin than sins of sudden passion. These are densely dark and show deep wickedness. Always, those who practice such sin justify them to themselves and others. All who so connive employ cunning to hide what is being done. Run from such tendencies in yourself and flee from anyone that plots such harm to others. Look for small things that are wrong—these may lead you to deeper discernment. Always, always look at the character of a person. Our heavenly father is not looking for the gifts in a person, but the character of Christ. If you step into any such entanglement repent and ask the Lord for forgiveness.
A SIDE NOTE:
I was able to share this story with the pastor of that congregation and ask for forgiveness for my part of what happened. This occurred almost 20 years ago. I know more now. Therefore, what I have learned, with the Lord's help, I will share with you.
August 2013
DISASTER RELIEF
Another part of the ministry is disaster relief. Times are getting more difficult and all manner of weather changes are occurring on a regular basis. The price of fuel is climbing and food products are increasingly high. This ministry is in the country. I feel it is here for a reason. One of the reasons is to prepare before we need to rely upon that which we grow or the need to care for those displaced by crisis or disaster. Even this year we have had flash floods and commercial crop failures.
For four years I have been establishing the necessary structures to facilitate the growing of vegetables on a very steep plot of ground. (We work with what we have, don't we, and thank God for it.) Because of the steepness of the bank on which the vegetables need to grow, the ministry has built raised beds to house them.
Last year, before he died, my husband helped to plant the first crop in these raised beds. The pictures shown here are part of the second year's crop. We are learning how to grow from seed, how to eliminate bugs without dangerous chemicals, when to harvest, etc. It is our belief that the body of Christ should be prepared to be of help ''in season" and ''out of season.''
Pictured below are a few of the beds. Beyond the vegetation (leeks) you see one of the mountains. Also, beyond this same bed is the greenhouse with a black shade clothe over its top. In another picture you will see four small planters housing herbs. They sit in front of the support beams for the greenhouse—which rises 20 feet above the ground. Notice the far fence beyond the planters. That fence gives an indication of the steepness of the property.
With the Lord's help, we will prepare.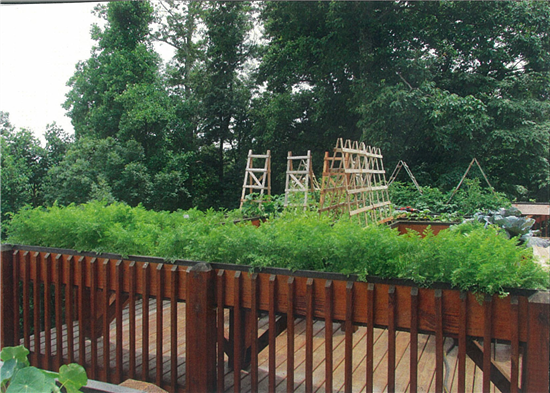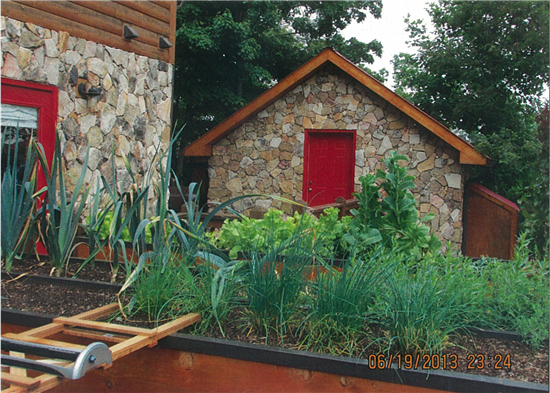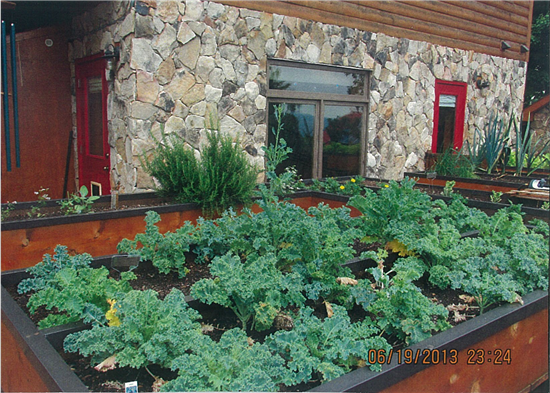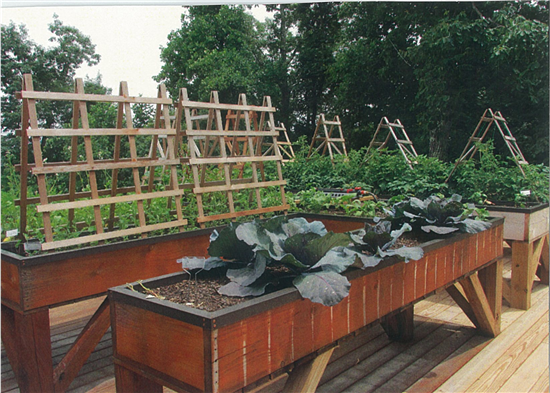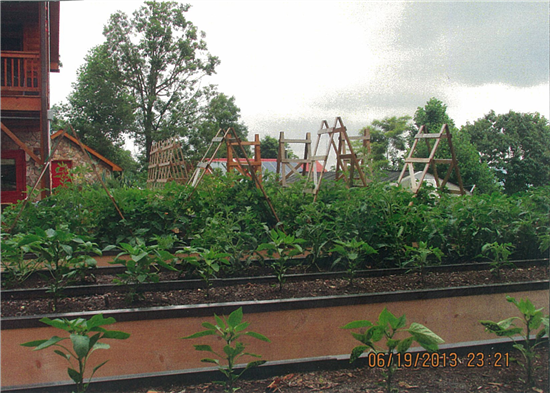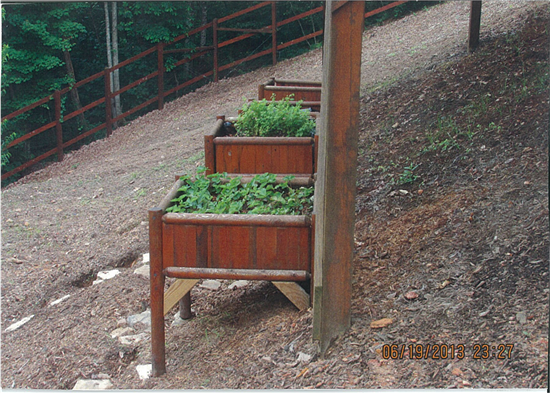 July 2013
WHEN YOU RECEIVE A PROPHETIC WORD—THEN WHAT?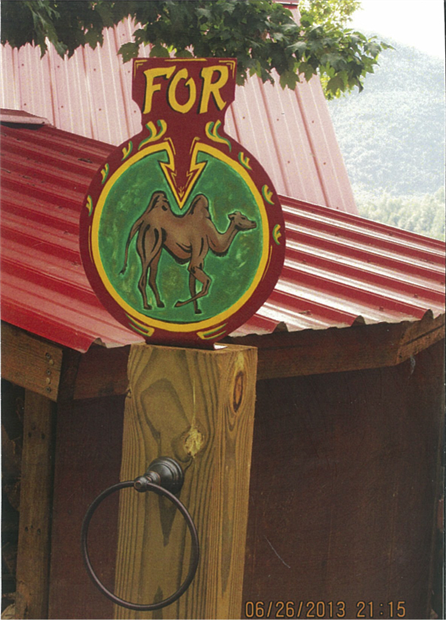 Here is one response. What! A hitching post for camels? Let me explain. I'll start at the beginning. You have received a prophetic word. Now what?
1. Search the response your own spirit has towards the "word" before receiving it.
2. If you have a witness in your own spirit that there is truth in the word then do you just sit and wait for it to happen? No.
3. You begin to pray that the Lord brings you clarity concerning the word.
4. You also ask the Lord to bring it to pass.
5. AND, if possible, give some physical sign that you believe the word will be fulfilled. This physical sign is a step in the direction of the word's fulfillment. The Word says: "first the natural and then the spiritual." A natural act in response to a prophetic word says that you believe that He is in the prophetic word and that you are ready to respond to His next step.
Here are three responses to the prophetic words that the camels are coming. Three households in the area where I live have received such a word concerning camels and the provisions the camels will bring. Each household is here giving a physical response to this prophetic word. One is a hitching post for camels. Another household has fresh water in a wheelbarrow. Another put out a bale of hay….three responses to the prophetic word that the camels are coming. I hope this helps you.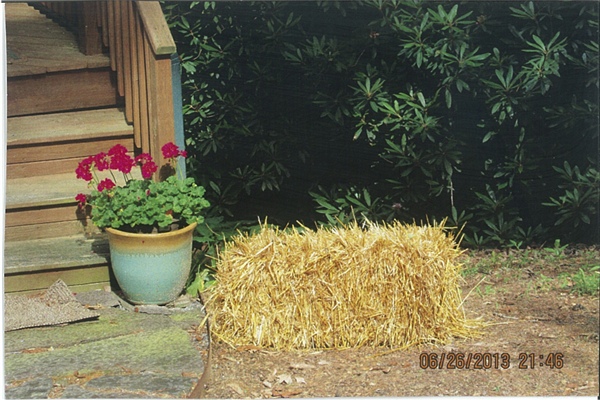 June 2013
GOD IS TALKING–but–ARE WE LISTENING?
In a time when a soldier's heart is ripped out of his chest and eaten amid shouts of vengeance or a man is mowed down in a metropolitan area, hacked to death with a meat cleaver and then the perpetrators calmly pose for pictures–we had better be listening for and to God.
FOR ONE THING
We need to wake up! Somehow, dear children of God, we need to grow up and out of the naivete' that tells us that Christians are automatically protected and cannot be touched by evil or the perpetrators of evil: the demons. Does not the book of Ecclesiastes warn us about being naive?
I do not say that I am wise. Oh, no, instead it is my carelessness that has taught me. But I do hope I am wiser now. Therefore, because I, myself, have been an offender–thereby learning the "hard way", I am going to share with you one of my own mistakes that almost cost me my life.
THE MISTAKE
It was January. The Lord had just asked me to write THE PRIESTLY BRIDE (the second book that is part of HEAVEN AWAITS THE BRIDE). He confided in me that this book was important to Him. But before I began to write, the Lord warned me that the enemy would try to kill me while I was writing the book.
So I reasoned: "Hum–I run three miles a day, eat only turkey or chicken for meats and lots of salads. I am my proper weight–therefore, this plot against my life must be from some accident–a car accident, perhaps." Therefore, I began to drive very carefully.
THE ATTACK
In June of that year I was halfway through the book and I had a stroke. I went blind in my right eye, lost the use of my right arm and hand and my right leg. So there I was. When I finally regained my ability to speak, I asked my husband to go into town and get me a bottle of aspirin. (You see, we were so healthy we didn't even have aspirin in the house). I knew aspirin thinned the blood.
After he left, I spoke to the Lord: "Lord, You asked me to write this book. If You no longer want it, I am ready to come home. But if You do want it–You will need to pull me through this." When my husband returned from town he took me to the hospital–where I was given every test. They could find no reason for the stroke. "Just a fluke", they said. I was damaged, though. I drug my right leg and had difficulty writing with my right hand–but finished the book. Gradually I regained full mobility–but it took a while.
AGAIN
Then, one year later, on the same day in June, I had another stroke. "Impossible!" I thought. "You can't have stokes on the same day one year apart." This time I asked Bob Jones how this could occur. Bob asked the date of the strokes. I told him the day in June they had occurred. "The Summer Solstice," he said. "After your first book, (The Heavens Opened), you were put on the witches list. Worldwide they pray against those on that list on the Summer Solstice. From now on, you will need to be careful on that day." And I have been.
THE LESSON
Now–what did I need to learn? Were there precautions? What was my initial mistake?
FIRST OF ALL
God warned me. I believe in these times God will warn us all: directly (audibly or by impressing the danger upon our spirits). Or He will speak through a friend or stranger. However, with me, after the warning, I decided to use my mind to decide how the enemy might attack me. I was wrong.
WHAT SHOULD I HAVE DONE
Since God was warning me, why didn't I ask Him HOW the enemy was going to try to kill me? Instead, I sort-of said: "Thanks for the 'heads-up' but I'll take it from here." I was careless, naive, and let me say it–arrogant. Since with each of the strokes the doctors could find nothing wrong with me, if I had known that the attack would come from a stroke I might have taken one baby aspirin a day and averted this means of attack. Certainly, I would have been in deep prayer to block such a move against my health–and perhaps even consulted a doctor.
WHAT DID I LEARN?
God was talking but I wasn't listening–well, not fully. I should have asked Him for a fuller explanation–not just start with the Spirit and then try to go the rest of the way in the flesh.
WE NEED TO BE ON CONSTANT ALERT
I really believe that additional demons have been loosed from the pit. Truly we are in a war zone and must conduct ourselves as soldiers on the front lines. We may want to whine that: "we can't live like this in a constant state of war." Oh, but we can–and must. When I lived in New York, I used to run at 6:00 a.m. in Washington Square. Not many policemen were out when I ran. The same was true of running the track around the reservoir in Central Park. You kept your wits about you. People disappeared there. People were killed. To ensure your survival your senses became heightened—like a wildebeest on the Serengeti that grazes but also keeps an eye on the lions in the tall grass–calculating, always calculating the nearness of the predator in ratio to its own possible "get away" speed and the availability of a clean escape route.
If New Yorkers can remain alert and vigilant just to stay alive in the city, certainly we can be as vigilant and more so to insure the health of these bodies and battle–readiness of our minds, emotions and wills.
The times are increasingly dangerous. The enemy is getting bolder–brazen, even. Therefore, we must listen for our Father's warnings AND ask for any related details that might help us counteract the threat.
May 2013
THE SIGNS OF THE TIMES
We are heading into some of the most amazing times we have ever or will ever experience during this present age on earth. I realize that the news in this country and indeed almost every country is negative and gives little promise of turning around—according to worldly reports. But, let me share with you a pattern that I am beginning to see emerge. That is one of the gifts of being older. If you live long enough you have seen it all—well, maybe not all—but a goodly portion of it.
So—a bit of personal chronology: I graduated from high school in 1954, from college in 1958, and then, attended the Royal Academy in London. By l960 I was starving in New York—like any hopeful person in their early twenties that had come to that humongous city set to live by the "arts". Most of the fifteen years I lived in New York City were spent in the West Village—and most of that, on West 11th street.
I arrived at the birth of an extremely volatile decade—the 1960s. I was there for its meteoric rise and its sad decay into drugs, irresponsibility and violence. Dustin Hoffman, who lived in the next block on 11th street, had to move because a group was making bombs in the basement right next door. The materials exploded destroying the brownstone. My mother called from my home in Texas begging me to "get out of there." "Oh, mother," I answered naively, "that wasn't even on our block." (You can tell I was in my twenties.) Then another group bombed and destroyed a very old, historic church a block away in the other direction.
There were demonstrations, deaths from overdoses and groups with exotic names and violent agendas.
BUT at the same time—in the crypt-like chapel of a church in Houston—two ministers and ten members of a cavernous and failing church prayed daily and birthed the Charismatic Revival. Before that time, a few individuals in the main line churches had been "baptized in the Holy Spirit", but the Redeemer in Houston burst into church-wide revival that spread like wildfire and touched the nations.
The two came at the same time. With all of the drugs and danger and unrest on the one hand, the Spirit of the Living God was exploding with a worldwide move of His Spirit on the other. It is easy to hear and see that which the enemy is accelerating now throughout the world. It may take a little longer to experience the extraordinary, consuming fire of His Spirit which—somewhere, I know—already has burst into flame. Most people thought the Charismatic revival began in the l970s because that is when it had spread to more of the nations.
Today I was talking to a friend who lives in Mobile, Alabama. She told me of several accidental explosions on a barge in Mobile Bay. (By the way, the original name for that body of water was BAY OF THE HOLY SPIRIT.) This is one more sign that joins the others. We are on the verge of a world-wide explosion of the Holy Spirit.
Look up, brethren. He is coming!!!!!!!!!!!
April 2013
HEARING GOD
There are many ways of hearing God: audible voice of the Lord, inner voice, leading of the Spirit, etc. In 1995 the Lord gave me this series of visions. I had no idea that the pictures were a message from the Lord telling me exactly how He wanted me to serve Him in the future. It was many years later that I looked back at these journal drawings and understood His message to me. Blue birds mean revelation. The number 24 relates to heaven (because of the 24 elders). It does not mean that I have some sort of exalted authority but that the revelation is of that which is above.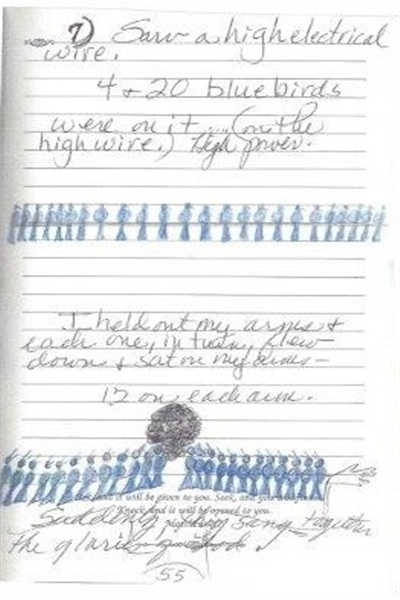 In the next part of the vision a blue bird flew into my mouth. Then another and another until all 24 bluebirds had flown into my mouth.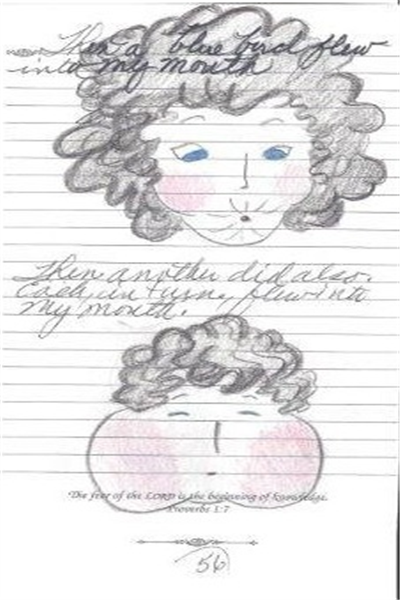 Then the bluebirds nested in me. Afterwards, each one of the bluebirds flew out bringing some revelation of the Lord. Amazing, isn't it? I look back and marvel at the Lord.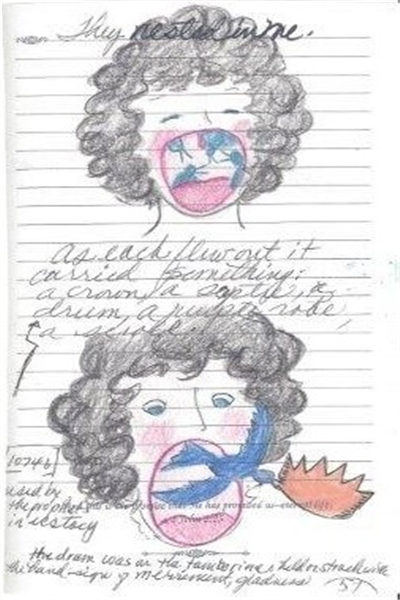 March 2013
NOW IS THE TIME
"OK, Bob Jones, now is the time."
I wrote this to my friend a few days ago. What did I mean by this? I will tell you.
When Al and I were in Kansas City (from '89 through '93), I felt that the Lord wanted me to interview Bob Jones concerning his life. I approached Mike Bickle, under whose authority he had placed himself, to receive his permission. Mike graciously agreed.
Al and I began to record small portions of Bob's life—5 years at a time. We started at 0-5 and then 5-10. After the second week a city-wide church explosion occurred. The target of this explosion was Bob Jones. The one igniting the explosion was a well-known church leader. All camps withdrew into their bunkers. Bob Jones quietly began a sabbatical.
I returned to Mike Bickle. "Mike," I said, "I will stop recording this story if you say so—because Bob is under your authority. But just think what it would be like to have interviews with Jeremiah or any of the prophets during the time they were going through their trials. What a treasure that would be for the body of Christ."
Mike thought a moment and then said: "Wait two weeks and then continue."
We did. Every week we visited Bob and recorded five years of his life. Of course, we also went out to eat with Bob and his wife—which put quite a few pounds on me.
It has taken a very long time and I cannot tell you how much money to get the cassette tapes put into CDs and then to hire a person to transcribe the CDs. It has taken twenty years—twenty years to be exact—to prepare the material for a detailed story of his life.
In the meantime, I began to write of my own wondrous experiences with the Lord. But, I never stopped having the material from those interviews transcribed. Our house burned, taking the next two books in the series after the ones presently published and my husband began his decline into the darkness and death that is brought about by dementia. I was his care-giver until his death—which halted my own writing for years. But any time we had two pennies to rub together, we never stopped having those interviews transcribed.
Now—now is the time to bring this collective treasure to the body of Christ…and what a treasure it is. There is nothing like the recordings taken during this period of time. My husband and I archived them carefully on CDs to preserve them for present and future generations. Now the Lord has indicated that He is ready for me to take this sprawling material and condense it into the Bob Jones story.
Twenty years—a lot of life and living in between—a lot of heartache and love—thousands upon thousands of dollars spent in preparing this material and now the Lord has said that it is time. I think the most exciting part of this to me is that it is the Lord who is calling for this. I am excited because He is excited. Therefore, with the Lord's permission and with His help, I will begin to write the Bob Jones story.
February 2013
Attacked from Within
Within our lifetime the ancient gods are rising again.  Heresies long discarded by the Christian Church are lifting their heads and becoming standard bearers for pockets of Christians around the world.  These once small and rare pockets are now becoming larger and mutating—eating away at the true gospel—eating away at the simplicity and purity of Christ.
You might say that much of the Christian church is eating food sacrificed to idols—for often the gospel is mixed with portions of these ancient, false religions and sadly truncated.  We may be reaching the masses through large evangelical events;  but following initial salvation, we are feeding our new brothers and sisters in Christ a cropped and strangely mixed gospel.
Besides this, it is a wonder that the present church does not have rotted teeth due to the consumption of so much cotton candy.  Sound and light shows have replaced the call for repentance for sin.  Lack of accountability on the part of both leadership and congregations for the life they live have been covered over with a marmalade of so-called "love".
People may be crying out for revival—but churches are not training the souls they already have.  Why do we want more people to flood the churches when we so poorly care for those among us now?
Surely—oh, surely we are not so light as to want revival because it would be exciting and even flattering to us for the Lord to pack the house of worship where we pastor or attend?  Have we even considered the consequences of many salvations bur few true disciples?  The church would be over extended and severely weakened.
The babes in Christ would be vulnerable to the enemy.  As the enemy increases in his end-time power, these babes would be left to battle a stronger and more determined supernatural being with the gifts of the Spirit without the character of Christ deep within their bones.
Power has replaced purity.  Anointing has replaced sound doctrine.  Show business Christianity has replaced the study of "line upon line".  A careful measured growth in Christ is now not exciting enough to hold our attention.  The world is "to-much-with-us".  We are so hopped-up we have spiritual ADD.  Nothing and no one can hold our attention very long.  We must have fireworks.
Often these fireworks come from strange exotic false doctrines.  But we do not know this.  We do not know enough to ascertain the difference.  Also we are woefully ignorant of the battles the church has fought and won in the past.
When we are called to embrace the cross to our self life how tempting it is to allow our minds to be titillated by a bright shiny idea that requires nothing of us.
But brothers and sisters in Christ, let us trick the trickster.  Let us arm ourselves.  Let us gain more knowledge so that we may disarm the enemy.  In 1985 a book was published called… Early Christian Heresies by Joan O'Grady.  It is now a classic.  At least, by reading this book, we may become acquainted with the false doctrines flooding the church—for nothing is new.
Give yourself a chance to know the doctrines that have been vetted for authenticity and subsequently discarded by the Christian Church.  Brothers and sisters in Christ, we are being attacked from within (which is always the way the enemy weakens a work of God).
We need to arm ourselves and be among those who are knowledgeable enough to stand for the truth.
January 2013
Hope Rising
In 1995 my husband and I were visited by a caravan of 24 camels. Fifty angels accompanied this caravan: two with each camel, one guiding the lead camel and one angel at the end of the line to steady and guide the latter animals Since my husband and I were living in a government controlled housing project, I wasn't sure how our neighbors were going to receive these large animals and desert attired Bedouin. Thankfully no one was out on the street.
I am adding a picture of this very event right out of my 1995 personal journal. We were living in Lynn Haven, Florida at the time. (Notice the coastal plant in the front yard.) (Also, I must remind you that I drew these pictures in my journal to document that extraordinary spiritual experience for myself. I never expected anyone else to see them. So much for knowing what you may be doing eighteen years later.) Later I wrote something in red at the top of the page—I have no idea what I was thinking when I did that. These camels brought hope chests that were my dowry—given to me by my heavenly Father to bring to the formal betrothal to the Lord.
I have shown this event—(which is documented in great detail in the second half of Heaven Awaits the Bride)—because two friends with whom I pray almost on a daily basis, have been seeing camels everywhere for a couple of months. They began to feel it was a sign. I must say I agree with them. They asked me what I thought it might mean?
"Provision," I said. "Just like camels that travel the desert, these camels will bring all manner of provision to you." Goodness only knows God's children have been trudging through the desert for many years now. We need this sign of hope.
They then told me that others had seen the camels, also. So I did something I am just learning to do: I looked it up on the internet. Glory!
I looked up "The Camels are Coming…" (which actually is an old children's song)… and there it was. Other brothers and sisters in Christ were also seeing camels. This is very encouraging. …for by the witness of two or three a matter is established—(and confirmed, I may say).
Remember the beginning of the movie Pirates of the Caribbean 3 when the pirates were lined up and began to sing? I thought that to be the strangest beginning of a film I had ever seen. It did not make a difference in the story and did not advance the plot. It was what? It was a sign. Sometimes the world is wiser than the children of the living God. The song triggered an uprising in that particular group to make a stand. They straightened their backs and lifted their heads. Well, we have been trudging long enough. We are ready for ACTION.
Here is an old children's song that goes with the new sign from above. We, too, need to straighten our backs and lift our heads:
"The camels are coming
hurrah-hurrah
The camels are coming
hurrah-hurrah
The camels are coming
hurrah-hurrah
Make way for the camels.
hurrah-hurrah."
These camels are signs of the first breakthrough in all our preparations. The provisions coming to be dispersed to the troops sparks hope in all of us. There is a stirring in the camp—and with the stirring hope rises. Oh, the joy of hope—the blessing of hope.
We can feel it rising from the ankles to the knees, to the hips and soon we will swim in it. Lift up your heads for He is coming. I can sense it in the air. I can feel it in my bones.
"The camels are coming
hurrah-hurrah
The camels are coming
hurrah-hurrah
The camels are coming
hurrah-hurrah
Make way for the camels
hurrah-hurrah."
Return to the August 2021 Personal Section
Back to top

 December 2012
I think the whole world suffered with America through our last painful election.  It was painful, but also revelatory.  It exposed the oily slide we are on into an accepted corruption—-(manipulated by an even oilier "slight-of-hand").
But if you are a student of political history, you know that every election we have had has been full of name-calling, distractions to blind the populace, half truths to hide the all-out lies.  "Where is the honor?"  I heard people ask.  "Where is the honesty?"  Still, this election, punctuated by two East Coast storms, seemed very different.  It was as though some corner had been turned, some outcome decided upon –something– something was and is different.
But then, we were told, that these days would come.  Like the children's song "the Bible tells me so".  The Bible sets before the children of God the later days of this era of earth's history.  Still it has been difficult for us to believe that –actually– we may be in the beginning of those days— that we may be the ones to be alive in such times.  But if we are in the beginning of the last days— if we are the ones chosen to represent our Heavenly Father in such times, we should feel honored.
How should we then live?
How should we then live?
I can only share with you some decisions I have made.  They may seem incredibly child-like — but a little straight forward; simplicity may be welcomed.
1.  God is on His throne.  For His children, our future is secure with and in Him and with the great Church Triumphant.
2.  We are here for a purpose. I don't know about you, but I thought my life would be full of  gentle days and — if the Lord so granted — a few good deeds.  I never expected to see a battlefield.  I thought I would be at home tending sheep.
[Many do not remember the church before the great Charismatic movement (which began 53 years ago).  Many are not old enough to have firsthand knowledge prior to this great move of the Spirit.  Before that move of God the clergy were trained and then there were "all the rest".  Even the healing movement that came before, only raised up a few (almost super stars) to exercise the gifts.  But as messy and wobbly as the Charismatic movement has been, "all the rest" began to be trained.  We learned to pray for the sick, cast out demons, teach the Word, prophesy, be led by the Spirit and on and on.  Without our knowing it, slowly, very slowly the Lord was raising up "all the rest".
Now "all the rest" that are still alive from those early days of the Charismatic movement along with the multitudes that are now equipped, are beginning to hear the trumpet call from within their tents, are waking up and will stand to their feet a very great army.
3.  It seems to me we are heading for the trenches.  Our wants and needs should reflect this.  Our choices should no longer be multiple and scattered; but like soldiers in the trenches, our choices should be simple, few and life sustaining.  We must be focused.
4.  If we are the chosen battalions of the Lord and are called to be "boots on the ground", we need to follow orders.  Stripped down and trained up we should be ready for anything.
Whether it has been understood by us or not, we are an elite force.  The realization may not have dawned on you as yet because our training has spanned so many years, and perhaps, seemed random. But it has been anything but random.  When the time comes, all that training will snap into place.
No one know the General's orders as yet, but we all know the broad outline of the battle plan:
A.  Live righteous lives.  Each righteous person is a burning light that drives  back the darkness.
B.  Pray.  We are no longer on the "practice range" of prayer.  We are heading for the battlefield where every shot is life or death.  Use your ammunition wisely.
We must constantly beseech our Lord to bring the worldwide move of His Spirit that He has promised— to bring in the last great in-gathering all over the globe—and yes, we must  ask for sustaining provisions and sufficient equipment.
You see, the times are growing darker but, ah, the dazzling worldwide light the Lord is about to reveal.  We are past due—way past due—and well trained.  For those who have never lived through a mighty move of God, (and this promises to be the mightiest) not only is the Spirit of the Lord everywhere in great power but the battalions of darkness rush in to try to stop Him.  Those times are both gloriously easier and unbelievably harder.  We will need to fight- but we will have enhanced power.
C.  We must prepare to help others.  The world system is sinking to its knees all over the globe.  We must be prepared to help whenever and where ever we can.
I'm sure many would have beneficial ideas to add to such a simple list, but for those who have not begun to gather their thoughts together in this regard, I hope this helps you begin your own list.
November 2012
I am incredibly excited that the Lord has allowed me to address you personally.
The Last Few Years
For several years the Lord has had me on a "tour of duty" with The Moravian Falls House of Prayer. Daily corporate prayer with dedicated Christians is one of the great joys of my life—and these prayer warriors are among the most dedicated of those with whom I have prayed. It has been an extraordinary period of time. I thank the Lord for allowing me to be a part of this corporate offering of prayer and praise to His glory and for the bringing in of His Kingdom.
But now the Lord is calling me out of this means of service to Him and into another. I'll miss the faithful prayer warriors of The Moravian Falls House of Prayer, but my heart and my prayers go with them always.
A New Day
The Lord is calling me back into writing.
Friends of mine had opened this website for me already. Honestly, I never thought I would use it. But now I find I do wish to share with you through this means. It is more personal— and I want to be more personal.
Angels
Also, I just realized that I could share some drawings of the angels I have known. These would be taken from my private journals. Believe me—it is not that I am a superior artist. But sometimes it is helpful to see—as best possible—what has actually been seen.
Teaching
Then I would like to share some teaching with you. Our dear friends, the Strangs, asked us to write a book on Christian doctrine for Charisma House. We had finished the first dozen chapters of the book and sent them to our friend in Kansas City to be typed. But before we could complete the remainder of the book our house burned taking the rest of the book with it.
Then my husband began a long decline with an illness that eventually took his life. During this long decline I felt saddened that the huge amount of work that we had completed on the first half of the book would never be released to the body of Christ.
Even though I am very sorry not to be able to give to them the completed book they requested, some information will be able to reach the body of Christ and hopefully will be of help.
The Lord being my helper, I will begin another book for Charisma House relating to heavenly visitations.
Questions and Prayers
If you have questions that arise from Heaven Awaits the Bride or wish me to pray for you, please write me via my Moravian Falls address which you can find on the Contact page of this website.
I take prayer very seriously. I will pray for you.
This is a new adventure for me— I hope it will be for you also.