The Moravian Falls House of Prayer
August 2021 – Onward and Upward
July 2021 – Let the Trees Clap Their Hands
June 2021 – The Moravian Falls House of Prayer
May 2021 – A Bit of Home
April 2021 – A Tale of Two Signs
March 2021 – A Sign That Points
February 2021 – The Sign
January 2021 – The Moravian Falls House Of Prayer
Onward and Upward
August 2021
Often Bob Jones had said that the area around the chapel on Prayer Mountain should look like the garden of Eden – there should be benches, and quiet walkways for meditation, contemplation, and, where possible, flowers.
We are beginning. But before we can engage in any planting plan, there must be water to ensure the survival of the plants. On July 19, 2021, a well company designated the location of the first well.
Looking for a location for the first well.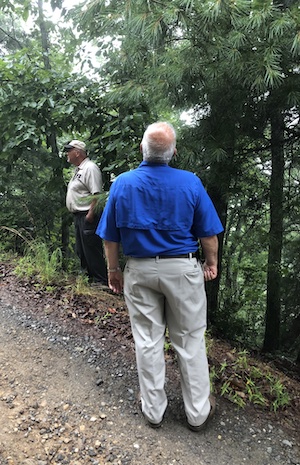 The well location with surrounding vegetation.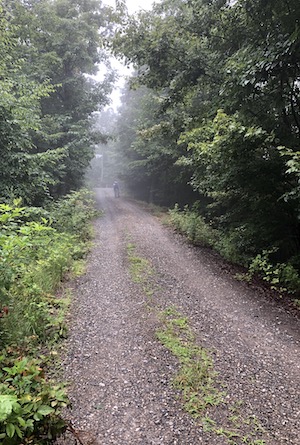 Let the Trees Clap Their Hands
July 2021
We wanted to offer prayer and praise to our Lord up on the Ridge of Prayer Mountain.
He is worthy and, I am sure the angels have missed joining with His children to exalt Him!
We are trying something new in order to include you in this offering of praise to our King.
THE MORAVIAN FALLS HOUSE OF PRAYER
June 2021
We thought you would like to see an artist's rendition of the Chapel.
These come from three oil paintings that hang in the Prayer Room in the Moravian Falls House of Prayer's temporary location on Prayer Mountain. We need to pray before we pray, don't we?
Only those who have visited have seen this depiction, but we feel it helps a good deal to be able to see a likeness of "what" you are praying for.
This first rendition of the Chapel shows a feather on the outside. Bob Jones said that the feather represented life, so that in this rendition, "life" is on the outside of the Chapel.
In the second rendition, the feather has moved to the inside of the Moravian Falls House of Prayer. You can see it glowing in the upper right side (as you look at the picture). Now Life fills the Chapel and is bringing great light to others.
The third rendition of the Chapel shows the fulfilling of the many prophecies concerning the Moravian Falls House of Prayer. God Almighty comes down to be within that structure, and to meet with His children – to speak to them, to heal them, to bless them and to anoint them.
This, of course, would not be the first visit by our Heavenly Father: He came in person to reveal His glory to Moses; at another time He ate with the elders of the Jewish people (when the children of Israel journeyed out of Egypt.)
Mankind has seen Jesus and experienced the Holy Spirit. But now it is our Father's desire to allow His children to see Him and talk to Him. He does not wish to hide Himself from His family any longer.
The Dark Cloud*
"What is the dark cloud about which my Father spoke?" I asked the angel Elijah.
He replied, "the dark cloud that surrounds God is actually the dense oil of the Spirit, a great good, a visible sign of the magnitude of the anointing, incomprehensible to mankind and therefore seemingly dark. To the majority of mankind, He is hidden in darkness. Light that they cannot see emanates from Him. To many of His children He seems hidden, but the fire of His love is burning through the density of that oil now and will allow His children to see His love, His mercy, and His fatherly compassion, as well as the startling reality of His Holiness
* Heaven Awaits the Bride (Charisma Media/Charisma House Book
Group 2007) 122-123 (Part 1).
Deuteronomy 4:11-12 The Darkness
11 You came near and stood at the base of the mountain, a mountain blazing with fire to the heavens, with black clouds and deep darkness. 12 And the LORD spoke to you out of the fire. You heard the sound of the words but saw no form; there was only a voice.
Exodus 30:22-33 The Anointing Oil
22 Then the LORD said to Moses, 23 "Take the finest spices: 500 shekels of liquid myrrh, half that amount (250 shekels) of fragrant cinnamon, 250 shekels of fragrant cane, 24 500 shekels of cassia—all according to the sanctuary shekel—and a hin of olive oil. 25 Prepare from these a sacred anointing oil, a fragrant blend, the work of a perfumer; it will be a sacred anointing oil. 26 Use this oil to anoint the Tent of Meeting, the ark of the Testimony, 27 the table and all its utensils, the lampstand and its utensils, the altar of incense, 28 the altar of burnt offering and all its utensils, and the basin with its stand. 29 You are to consecrate them so that they will be most holy. Whatever touches them shall be holy. 30 Anoint Aaron and his sons and consecrate them to serve Me as priests. 31 And you are to tell the Israelites, 'This will be My sacred anointing oil for the generations to come. 32 It must not be used to anoint an ordinary man, and you must not make anything like it with the same formula. It is holy, and it must be holy to you. 33 Anyone who mixes perfume like it or puts it on an outsider shall be cut off from his people.' "
All these things (the oil, the tabernacle, the golden utensils) are a type or pattern from heaven. So as all these items and people are anointed with the oil, it is a representation to us of our Father who is surrounded by the dense anointing.
A BIT OF "HOME"
May 2021
For those wishing to "sit a while" as you seek the Lord on Prayer Mountain, we have purchased four wide, sturdy, outdoor rockers. After all, for some, there's nothing like rocking and praying – and our Daddy wants you all to feel "at home" here on His land.
The rockers come from The Vermont Country Store¬ – whose name already gives us mental pictures of autumn leaves, and delicious jams and jellies.
These sturdy rockers are now in place, ready for your use. We hope these are a blessing to you. I can't tell you what a blessing it is for us to be able to make them available to you.
A TALE OF TWO SIGNS
April 2021
This account is of two new signs. It is a chronicle of a seldom described part of the history of Prayer Mountain. One sign is actually a repainted, abandoned sign and the other is a brand spanking new one.
SIGN #1.
This sign was made by a dear friend of mine. Before moving to Texas with her husband she worked for Disney animation. They decided to leave California to start a cabin building business in Texas. After building their own log cabin, they decided to rethink their career path and went into the making of signs.
She was designing and making signs when my husband retired from the pastoral part of the ministry. My friend and I decided to create a historical coloring book for this small, but amazingly significant town where the River boats turned around on the bayou and headed back to New Orleans. We thought that it would help the visiting adults to have the history of the houses, churches, hotels, etc. and settle the children in the back seat by giving them something to color. We used my very young nephews and niece as the children ringing a church bell or climbing a tree, or fishing in the bayou, etc.
After we finished the coloring book, Albert and I moved from Texas to Kansas City. Years later, when we moved to Moravian Falls, we needed a few signs to guide the visitors.
Recently, when the land on the top of Prayer Mountain was sold, the only sign to survive the sale is the one pictured. It had been brown, but the previous owner used the back to create a new message and painted the sign purple. Therefore, instead of sandblasting it, we kept the basic sign purple (since that is part of its history), repainted the lettering, etc. on the front, and returned the sign to its original location.
We felt that it was a survivor that made its way back to its former "post". Like an old soldier that limped home after many years of service, we joyously salute this battered and abandoned warrior. Long may it stand in the service of our God.
SIGN #2.
A: This is one of three such signs we have purchased to put up because we are blessed by having children who accompany their parents to Prayer Mountain – as well as several who live here. We want to show these children the Lord's love by driving slowly so that their parents can call them out of harm's way.
B: Also, some visitors come with their friendly, small dogs. Both children and dogs will get out of the way, if you drive slowly enough.
Many thanks.
These are the two new signs (well, one is an old faithful).
We thought you would enjoy a bit of the history of the signs, because – let's face it – we rarely give them much thought. But they, too, have a fascinating story to tell.
A SIGN THAT POINTS
March 2021
As we told you last month, the sign that marks the location of The House of Prayer is slightly to the side so that those wishing to pray on the exact top will have access. This white stone on the ground points to the eventual chapel location.
The chapel will sit toward the front of the ridge with a clear view of the two closest mountains: Pore's Knob and Moore's Mountain. It will overlook the valley below – a beautiful prospect.
THE SIGN
February 2021
(I hope I mean this in more ways than one.)
Here is the sign at the location for the building of THE MORAVIAN FALLS HOUSE OF PRAYER.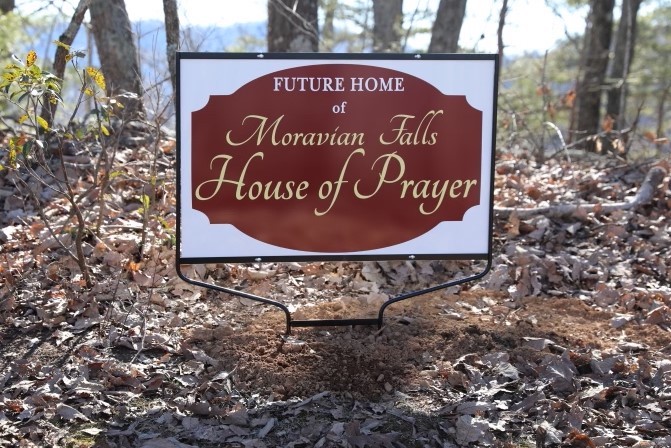 Many who come to Prayer Mountain wish to know the chapel's exact location so that they may pray on the spot. (FOR WHICH WE ARE GRATEFUL.)
We have put the sign slightly to the side, so it does not impede your access to the location for prayer. But we are going to add a white stone with an arrow on it that will point to the exact top.
THE LOCATION
The chapel will be built toward the front of the property. It will catch the first rays of the eastern sun.
At night it will be as a "light on a hill" – easily seen from the road.
It will be a beautiful token of our love for a Mighty God and an answer to His expressed desire to meet with us in a special way. TO GOD BE THE GLORY.
THE MORAVIAN FALLS HOUSE OF PRAYER
January 2021
Sometimes it takes a long interval before dreams or prophecies become realities -especially in Moravian Falls. One such dream, held here for 24 years, is just coming into being.
It was on the hearts of many to establish a House of Prayer on Prayer Mountain. Also, it was prophesied by many (Kim Clement and Bob Jones being among them). But much land on that ridge was needed – not only for the chapel – but to keep the Mountain in a lush and natural state. Many wished to re-plant the native Mountain Laurel and the native Dogwoods that filled the woods 25 years ago. There were to be quiet trails dotted with sturdy benches in order to provide pleasant locations for our Father's children to reflect and pray – as well as a chapel.
There are three lodges available in walking distance of the chapel location – thereby allowing retreatants a quiet and serene time in the beauty of the country with everything at hand without needing to use their cars to get to each location.
The early pioneers of this "hope" felt the chapel should be called "The Moravian Falls House of Prayer."
EARLY ATTEMPTS
Therefore, the early arrivals partitioned the government to acquire an official trademark. However, at that early stage, we had nothing that was required by the government to qualify us to receive that legal designation. There were several steps necessary before we could apply. One of the requirements was to have open prayer meetings on a regular basis over a lengthy period of time.
When we first began, we had only hopes and dreams. Therefore, in those early years, such an official designation was not possible.
BUT NOW
But now, we have had open prayer meetings on Prayer Mountain for fifteen years. So, we are ready to announce that the name of "THE MORAVIAN FALLS HOUSE OF PRAYER" will be officially attached to the open prayer meetings on the top of Prayer Mountain.
A THREEFOLD CORD
Three ministries have been praying together for several years and have linked arms to see The Moravian Falls House of Prayer move into its next phase.
The original plot of land has been purchased, and discussions of a planting program to restore the native laurel and dogwood have begun.
This three-fold cord is a realization of our Father's great desire to have "cooperation" as one of the original building blocks for His chapel. The three ministries decided to trademark the name in order to be a witness to that cooperation between brethren.
A DREAM BECOMING REALITY
For those of us who have been standing in prayer for the whole 25 years, this step forward is a great joy. We always expect progress to be slow here (it is after all the Moravian Falls way: we stop to take off for deer season or turkey season or holidays, for too much snow or too much rain, to care for the ill or dying, for children's programs and visiting family members, etc. – in other words, for good old fashioned country living. Some of our local shops in the nearby more populated areas of Wilkesboro and North Wilkesboro still shut down half a day on Wednesday because it is Wednesday-go-to-meeting-night.)
I grew up with all the stores closing at noon on Wednesdays. But it has been a long time since my hometown, or many other hometowns have given honor to a night when people are expected to attend church.
Such is the area the Lord has chosen for The Moravian Falls House of Prayer. If moving forward takes a little longer here, we can bear with one another and with the Lord so that He may bring about His results with love and gentleness.
We are on His timetable here in Moravian Falls. We have found that "His time" makes for a much sweeter life for everyone.
May The Moravian Falls House of Prayer be permeated with His love for the brethren and with His desire for cooperation between His children – but mainly with a steadfast, unending love for our Heavenly Father – our great King.