Walls and Gates
The Second Revelation
The Merry-Go-Round
Notes on the Wheel of Fire
A Different Way of Healing
Receiving A Family Mantle
Side Two Of The Father's Mantle
A Mantle From The Holy Spirit – Side Notes
A Surprise Gift
Notes on the Betrothal Garment and the Crown
Receiving The Spiritual Of A Natural
Living Patchwork Quilt
The Under Secretary To Truth
Seeing Our Heavenly Father
The Final Attack
The Filthy Vortex
Notes For My First Visit To The Second Heaven
Prepare For The Ride Of Your Life
(He Will) "Wear Down The Saints"
False Doctrine Or (All The Pretty Little Liars)
Calibrating Christ Within
The Angel Gratitude
For There The Lord Commanded The Blessings (Psalms 133:3)
Does the Lord Use Angels To Help Move Us Forward?
Static Eraser
Standing On The Promises
The Risk of Love
Forgiveness
God Teaching One On One
Side Notes For: Do Angels Teach Angels?
When I Am Weak Then I Am Strong
Notes On The Angel You Who Hear Prayer
The Witches' Destruction Of Our Home And God's Salvation
The Unseen Spiritual Phenomena
The Angel Elijah's Teaching
Notes for the Teaching on All Time is Present Above
God's Show And Tell
Notes for the Teaching on Starting the New Year Right
How Does He Teach The Young?
Notes For The Teaching On Paradise
Notes For The Revelation Of The Angel Of Obedience
The Gift – Side Notes
Bob Jones' Interpretation Of The Dream Of June 30th, 1995
Bob Jones On The Root Of Bitterness
Interpretation Of The Vision Of June 28
The First Of The Transcriptions: Bob Jones
Teaching On The Mountain Of Spices
Looking At Something In A Different Way
The Picnic
Notes On Sense And Nonsense
Revelations Concerning Crystal Clear
A New Day For Angels Also
Angels As Signposts
Teaching By Seeing
Angels Helping Angels
And What Of His Heart's Desire?
Revelation Feeds Revelation
All Creatures Great And Small
Teaching On Future Duties
The Journey From Salvation To An Intimate Walk With Christ
A Different Way Of Teaching
Other Ways Of Teaching
Preface
Chapter 1
Chapter 2
Chapter 3
Chapter 4
Chapter 5
Chapter 6
Chapter 7
Chapter 8
Chapter 9
Chapter 10
Chapter 11
Chapter 12
Appendix
Walls and Gates
We will begin a study in Nehemiah on walls and gates. There are, after all, walls in the new Jerusalem and even in Heaven. Therefore, there must be, not only a practical, but also a spiritual need for walls, as well as their gates.
NOTE:
The terms "body of Christ" and "church" are interchangeable. Both (in this study) represent the children of the Living God, bought and paid for by Jesus Christ. When the word church is used, it has no relationship to a certain denomination or congregation… only blood bought believers.
NEHEMIAH 1:1-3
1 The words of Nehemiah the son of Hacaliah. Now it happened in the month Chislev, in the twentieth year, while I was in Susa the capitol, 2 that Hanani, one of my brothers, and some men from Judah came; and I asked them concerning the Jews who had escaped and had survived the captivity, and about Jerusalem. 3 They said to me, "The remnant there in the province who survived the captivity are in great distress and reproach, and the wall of Jerusalem is broken down and its gates are burned with fire."
KING ARTAXERES
Verse one, in the twentieth year, means in the twentieth year of King Artaxeres. You will see this in chapter 2, verse 1 where he says it again – in the twentieth year, and this time he adds King Artaxerxes. This is about the year 440BC. Nehemiah is a cupbearer, that is a very high position. He is the cupbearer to king Artaxerxes and he is a Jew. At this point in his life the temple has been rebuilt. Ezra had returned 13 years before this time to purify the remnant of the Jews in Jerusalem; but now Nehemiah receives news about their present condition: that is the present condition of the body of Christ. Spiritually he is given "revelation". You see he received news of the condition of things – the reality, the truth, now when you and I are given this kind of revelation, hopefully we will respond as Nehemiah did.
THE REMNANT
He heard that the remnant in the province who survived the captivity was in great distress and reproach and the wall of Jerusalem was broken down and its gates were burned with fire. Those four things: (1) distress (King James says affliction), (2) reproach, (3) the wall is broken down and (4) the gates are burned with fire. This represents the condition of the church/body of Christ today as well. How relevant is the Bible! Therefore, let us examine these four things and ask the Lord to reveal the truth of them to our hearts.
FIRST DISTRESS
First the "distress", the great distress of those who represent the body of Christ. The Hebrew word for distress here is Ra and the usual translation of that Hebrew word in the Old Testament is "evil". The second greatest most popular translation is "wickedness" or "mischief". It means that which is initiated by Satan. There are certain afflictions that God brings upon the body of Christ to purify her – chastise her, teach her, harden her and strengthen her but this is not one of them. This word here is an evil thing. It is caused by Satan. It is God enclosed – in the sense that God always gives Satan his bounds within which he must operate. But God does not initiate this kind of affliction. It is something from the Devil.
The same Hebrew word ra used here is found in Psalm 34:19 "Many are the afflictions of the righteous, But the LORD delivers him out of them all." The word afflictions in verse 19 is the same Hebrew word and in the context there (this is 15 through 18) you see that these afflictions are something that the believers cry out to the Lord about, that He may save them from them. They are not something that He originates.
Also, that word is used in Psalm 107:39 "When they are diminished and bowed down through oppression, misery and sorrow," the word "misery" there is the same Hebrew word and it is linked here with "oppression".
When the body of Christ is oppressed, burdened and afflicted it is the same Hebrew word used in Genesis 2:17 where God said "but from the tree of the knowledge of good and evil you shall not eat" – that word "evil" is ra. It was never intended by God that we know this kind of evil. It is something that Satan has brought into the world.
Look at Ephesians 4:14. The New Testament explains the Old Testament. Paul is describing the body of Christ and what she is to be, and he says in verse 14 "As a result, we are no longer to be children, tossed here and there by waves and carried about by every wind of doctrine". The Greek word for wind of doctrine is a word that is always a bad wind, an evil wind. It is the same Hebrew word that describes and was used when Jesus was in the boat asleep and the storm came up and He rebuked the wind and the reason He rebuked the wind was because Satan was behind it; Satan was trying to kill Him and the disciples so He rebuked the wind because this was an evil wind and this word used here is always used in terms of destructiveness and evil. It's something that blows from Satan: every wind of doctrine. But if you know the Word of God you can see the fallacy of it. It's from the devil. It's actually against the Word of God.
LOADED DICE
Ephesians 4:14 is talking about the doctrines of demons that in these last days we are going to hear more of such doctrines that will deceive even the elect the Bible says. We have got to be so careful. Verse 14, "by the trickery of men, by craftiness in deceitful scheming" – that trickery is a Greek word meaning "loaded dice". Cube, from which we get the word cube, means "dice that are loaded" and with which you cannot possibly win in a game. You see Satan has no honor or integrity. He will do anything, and you can't win with him. If it is not in the Word of God, you cannot win with it. It is going to end in disaster. It may look good. It may sound good. Outwardly it may seem fine . . . but.
The body of Christ is subject to this kind of distress from the devil – this kind of oppression – this kind of evil teaching. We have seen people drawn away by teachings, that sound inciteful, hidden doctrines that really seem to build interest – if not faith, but go beyond Christ. They go beyond the Word of God, that is the whole witness of the Word. If you take one or two verses anyone can make a system of thought out of them, this is what cults do so often. That is why we need to know the sense of the whole Word of God. There is agreement in "the whole" – there is only one Holy Spirit who wrote this Book. We cannot take out one or two verses and try to load them too much.
REPROACH
Reproach the second matter. That is a Hebrew word cherpah that means shame, rebuke or disgrace and I want to give you a few scriptures that indicate some examples of this. It means that the body of Christ is a disgrace before men. Oppression or affliction that I have just finished talking about is in the spiritual realm from Satan, in the invisible spiritual realm. People getting oppressed, downtrodden and carried away and tossed to and fro. God wants a stable body of Christ built on The Rock. The second reproach has to do with the body of Christ before men, as men see and talk about her and regard her today. She was a laughing stock in those days and to many she is a laughing stock today and it is not us that they are laughing at, it is our God. Because who are we that they should criticize or speak against us? It is ultimately God they are talking about. His name that is being profaned and insulted.
Genesis 30:23 Rachel "…conceived and bore a son and said, 'God has taken away my reproach.'" (This perhaps may be the first instance of the Hebrew word reproach, cherpah.) It was a disgrace for a Hebrew woman not to bear a child; and so, she named him Joseph, which means "add to me". She had one, and she wanted another. The body of Christ is accused of unfruitfulness and barrenness today; and that accusation many times is justified.
Another example of reproach that God wants to take away from His body is that of idolatry. Unfaithfulness. The same Hebrew word cherpah (translated as reproach) is used in Ezekiel 22:3-12 regarding Jerusalem – "A city shedding blood in her midst, so that her time will come, and that makes idols, contrary to her interest, for defilement!" Two things Jerusalem is accused of here are shedding blood and idolatry.
Ezekiel 22:4-6 "You have become guilty by the blood which you have shed and defiled by your idols which you have made. Thus, you have brought your day near and have come to your years; therefore I have made you a reproach to the nations and a mocking to all the lands. 5 Those who are near and those who are far from you will mock you, you of ill repute, full of turmoil. (This is part of reproach – being mocked) 6 Behold, the rulers of Israel, each according to his power, have been in you for the purpose of shedding blood. (And then he goes on to describe how shedding blood and idolatry are in the same category. Shedding blood does not mean going out and stabbing people, it means "dealing death". It may involve murder, but it is all the things that are listed down to verse 12 – oppressing one another, wronging one another, verse 9 – slandering one another, verse 12 – taking bribes, getting gain because of idolatry.
We put these things above God. In the way we treat each other, it shows we don't love one another truly from the heart. If we loved one another truly and fervently from the heart, we would slap our hands over our mouths the first word that we ever spoke against a brother or sister. To cast any kind of doubt against them, to express any sort of ill will, to express any sort of unlovingness toward a brother or sister; but we do it and sometimes we repent of it and sometimes we don't. If we loved one another instead of shedding blood, we would tremble to speak against one of God's anointed, one of the brothers and sisters for whom Christ died. No wonder we are a reproach when we treat one another the way we do.
Ezekiel 36:15 This same Hebrew word cherpah for disgrace or reproach is used in this verse. "'I will not let you hear insults from the nations anymore, nor will you bear disgrace (Disgrace here is that same Hebrew word Cherah) from the peoples any longer, nor will you cause your nation to stumble any longer,' declares the Lord GOD." He is talking here of the disgrace of being desolate and crushed. Having no real authority and power in terms of what happens. Verse 3 in that same chapter "…'Thus says the Lord GOD, "For good reason they have made you desolate and crushed you from every side, that you would become a possession of the rest of the nations and you have been taken up in the talk and the whispering of the people."'
GOD'S PEOPLE
Does the body of Christ today stand above the world speaking God's truth and acting God's truth or is she captive to the principles of this world? She runs her business much on the same basis that the world runs its business. We were never intended to be an organization like the organizations in the world. Organizations like the Association of Barber Shop Repairman (fictitious) who go around repairing barber shop equipment. They have bylaws and they have dues and they do certain things, they have a certain budget. We are not intended to be an earthly organization. Our dealings are in the realm of the spirit, we are a spiritual organization that is to represent God here on earth before the principalities and powers.
All battles are in the spiritual realm, that is why this matter of oppression, affliction has to do with the spiritual realm – God wants to get rid of that. How we appear before men is secondary. We are essentially a group of sons of God who are reclaiming this earth for God and it is carried on in the realm of the spirit. Our efficiency rating before God is in terms of prayer, the overcoming of sin, the loving of one another, the laying down of our lives for one another, the world cannot judge that, but they can sense whether power is there. They respect it. They don't understand where it comes from, but they know if they are looking at a weak group of people, who are mouthing things but not really living them.
REPROACH BEFORE MEN
In the first chapter of Nehemiah we are told, in part, of the revelation concerning the present state of the body of Christ and our reproach before men. Why? Because the wall of Jerusalem, the wall of the church is broken down and its gates are burned with fire. What does that picture in our minds? Vulnerability! Defenselessness! People walking in and out whenever they want to. There will be walls and gates in eternity. It is important that we understand this. Walls – we need to understand the spiritual significance of them. Then we will talk about gates.
Walls are in Isaiah 26:1 "In that day this song will be sung in the land of Judah: 'We have a strong city; He sets up walls and ramparts for security.'" Are we, children of the Living God, willing to speak the truth no matter who might be offended? Oh God help us to speak it. None of us wish to live a namby-pamby sort of life. When we stand before the Lord, we want to be able to say that we spoke what we believed to be the truth, no matter what happened. A strong body of Christ is where everyone takes his or her place on the wall and is concerned and alert so as not to allow the enemy to slip through that portion of the wall.
PART 2 ON THE WALL NEXT MONTH.
The Second Revelation
Once in Moravian Falls, the second revelation given to me concerned prayer and the angels stationed here. It also showed angels from far and wide coming to carry prayer to those in need.
VISION: 1997
Moravian Falls, NC (Friday AM)
As I prayed this morning, the angelic beings here on this mountain began to congregate and circle the cabin.
They seemed excited – activated by the prayers I was praying in tongues.
There seemed to be hundreds and perhaps even thousands – not only those here but the angelic beings coming from over the mountains in all directions – joining those here in their circular flight.
My hands were together in prayer. The hands together seem to be an unbroken circle – like making a connection that multiplies the power.
As I prayed it was as though sparks or orts of light were released upward… released in some way by the prayers.
These sparks or orts of light – like fire flies were caught in the hands of angel after angel.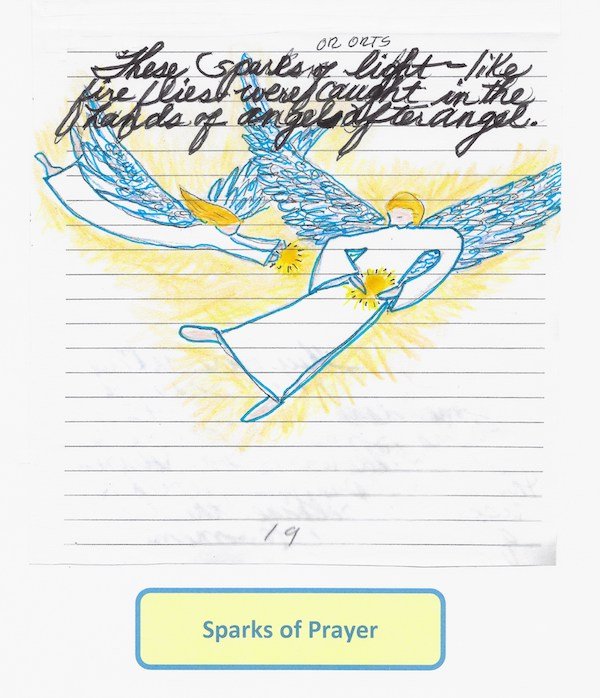 These sparks or orts of light were cupped within their hands. Immediately they flew in the direction from which they came.
They were taking the light to share in some dark areas. Perhaps that which was of God was released through the prayers. These prayers would be used to extend the light of Jesus Christ to someone for salvation or healing, etc.
The longer I prayed the more sparks or orts flew upward and the more were carried by the angels to other areas… each spark or ort cupped within the angel's hands.
From Webster's Unabridged Dictionary:
SPARK – a small glowing piece of matter especially one thrown off by a fire or a small discharge from an electric current.
ORT – a scrap of food left from the larger meal.
I felt as though these prayers were serving the purposes of God for His glory.
Jesus flew to me:
"Come," He said.
I rose to meet Him.
He took me to His nest on earth and showed me the view.
"From here, Anna."
Prayers Carrying the Light
The second vision from the Lord after we arrived in Moravian Falls, concerned part of our duties to Him on earth: prayer. Here the Lord shows that the prayers from this location will be carried by angels to those in need.
We ask ourselves if that doesn't happen everywhere? Yes, of course it does. But there are certain locations on earth that allow us to be right in the center of God's will for us… (Moses being called up on the mountain to receive the tablets from God, etc.
I will give you a modern-day instance of placing someone in a location to benefit the lives of others.
BOB JONES IN FLORIDA
After living many years in Independence, Missouri, the Lord had Bob sell his home and move to Florida. He really did not know people there and the home he found was way out from town. Few people were living out there.
Since he was miles out and connected with no particular group, he visited many congregations and became friends with pastors of many denominations and ethnic backgrounds. Because his mantle came from a holy, African man, he always felt at home in African-American churches.
THE TIME ARRIVES
When the national election for president began their campaigns, Bob Jones prophesied that the Lord was giving America a "burning bush" (for the race was between Al Gore and George Bush).
The panhandle of Florida leaned heavily Democratic. However, because of Bob Jones' personal relationship with the area pastors and their belief in his prophetic word about George Bush (especially the African American Churches) they voted for Bush.
THE REPORT
It was reported by most of the media that Bush won that election because of the vote in the Panhandle. Basically, they reported that it was the African American vote in the Florida Panhandle that won that particular election.
God called Bob Jones into the Panhandle of Florida for His purposes.
BEING A WITNESS
My husband and I were present to witness it all… and were amazed. It was obvious that He had moved Bob Jones into Florida to put His hand on that national election.
CALLED
Being called to Moravian Falls or any other location is the same. I will speak of this location because it is one I know. Moravian Falls may be "out in the boonies" as they say, but God has a mighty work He wishes to accomplish here. Therefore, each person needs to be called.
Also, one may be called for only part of the time. My husband was such a one. He went to the top and prayed five or six hours a day for God's will to be done on Prayer Mountain. He is now with the Lord – but he had a part. Others may buy and maintain the land for a period of time. They have their part. As Paul said in 1 Cor 3:6-7:
6. I have planted, Apollos watered; but God gave the increase.
7. So then neither is he that planteth any thing, neither he that watereth; but God that giveth the increase.
After all, we serve the Lord. It is His business we are about. His will be done – not ours.
HIS CHARACTER
Also, it is our Lord's character that we are called to show. If in all of our labors for Him, we cannot also show forth His character we are laboring in the flesh… and works of the flesh will be burned up.
THE NEST
When the Lord said "from here" in the vision, He was saying that I was to live in a place of intimacy with Him (the nest) up high (which is above the "flesh").
The Merry-Go-Round
SECOND TRAINING WHEELS VISION
The second most common and often the earliest of the revelations is of riding a White Horse.
Bob Jones would say that the "white horse" symbolized a new move of the Holy Spirit – (I suppose that can be personal as well as national or international.) Always, it is the Holy Spirit revealing the Lord Jesus.
THE TRAJECTORY
This revelation showed the prophetic trajectory of my future life. I only understood this as I looked back at the vision. A couple of months after "breaking through" as Bob Jones called it the Lord was plainly showing me how I would serve Him from then on and my relationship to Him and with Him.
VISION FEBRUARY 20, 1995
I watched it as we passed and even twisted my head around to watch it as long as I could.
I remembered from my childhood that with great effort, some could catch the ring. If you did catch the golden ring, you got a free ride. I fixed my eyes upon the ring as soon as it came into view. Then standing in the stirrups and holding to the pole on which the horse was suspended, I r-e-a-c-h-e-d for the golden ring.
I caught it.
"What does this mean?" I questioned out loud.
TRANSFORMED
Suddenly, the horse became a large living, white horse. It jumped off the merry-go-round and began to smoothly and powerfully climb toward the sun. I was not afraid, but I did wonder where we were going.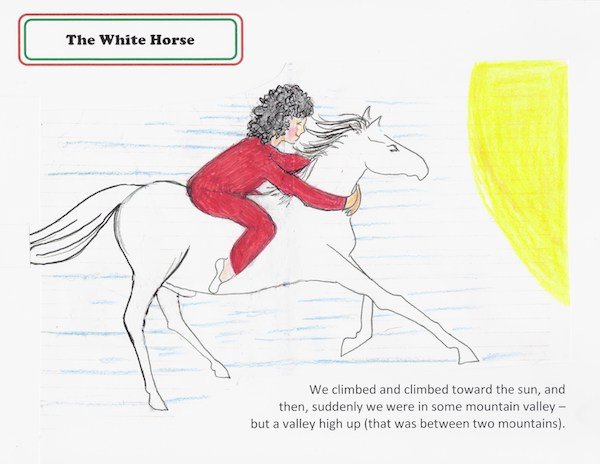 THE HIGH VALLEY
There was a waterfall of sparkling, cold mountain water which flowed into a stream.
The horse stopped by the mountain stream. I dismounted as he began to drink. I looked around. No one was in sight.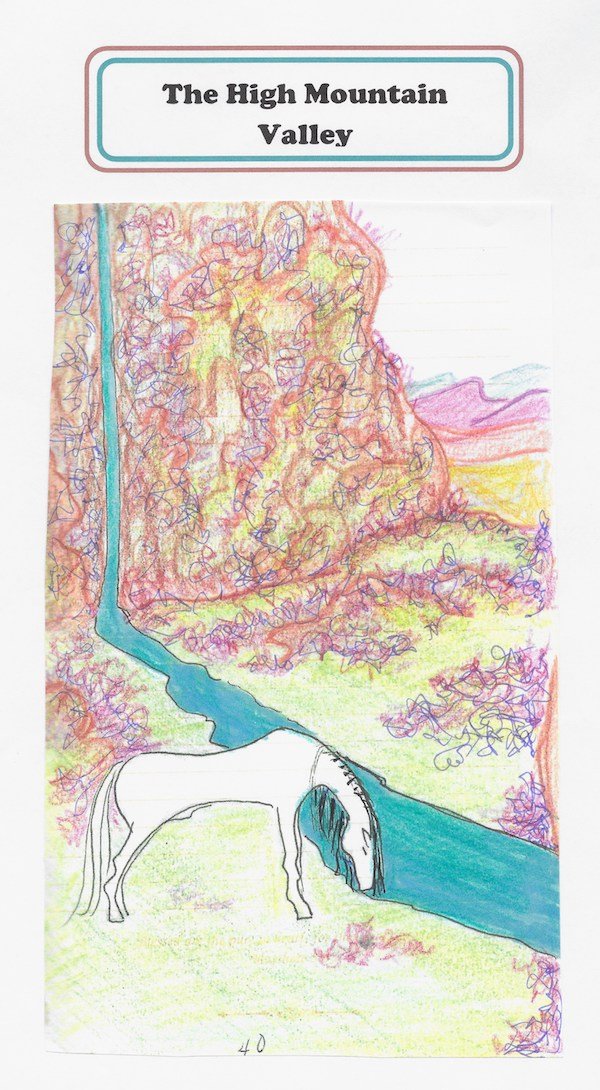 The air was cool and sharp. I could see clearly for miles and miles. I filled my lungs with the clean, pure air and looked around. Lavender flowers, like heather were growing from the sheer mountain side. Except for the sound of the water, all was very quiet, clean and pure.
I didn't know why I was there, but it was as though the horse knew this high mountain valley well and was at home there.
---
This is a simple vision, but oh so important to the one who receives it.
Notes on the Wheel of Fire

The Wheel of Fire – Side Notes
The ring of gold represents being wed to Christ. The ring of fire is a symbol of the process of sanctification that includes sharing Christ's sufferings (Phil. 3:10). Not all Christians want to participate in this aspect of union with Him.
The first biblical example of calamus meaning moral uprightness was God saying, "Do what is right in His [God's] sight" (Exod. 15:26).
In the Song of Solomon, cinnamon grows in the locked garden that Jesus calls "my sister, my bride" (Song of Sol. 4:12-14).
A wall is used to separate and protect that which it encloses.
The skin of Moses's face also shone from being in the presence of God and His glory (Exod. 34:29-30, 35).
The divine light was made visible in Jesus when He was transfigured. His whiteness was beyond any earthly whiteness (Mark 9:3).
God invites all people to draw near to Him (Matt. 11:28).

The Wheel of Fire – Foot Notes
1. The heavenly host adores God for His mercy, praises Him for His goodness, and worships Him for His holiness as the "wholly Other" of all beings. None of the heavenly ones are more glorious in the burning holiness of worship than the seraphim stationed above the throne (Isa. 61:1-3). They are clothed with awesome fire as witnesses to the absolute purity of the holiness of God that is His alone. Only holiness can exist in such consuming flame. Therefore, the singing of these seraphim is the sweetest and purest known outside of God.
2. Voices from Heaven that are heard on Earth, especially God's, may at times sound different from earthly voices (Ezek. 43:2; Rev. 1:10, 15).
3. Divine love is "the very flame of the Lord." It is unquenchable and imparted only by grace. The Lord's disciples are to set the intense flame of Jesus's love as a seal over their hearts (Song of Sol. 8:6-7). His love sustains each one while undergoing the burning away of all fleshly idolatry in body and soul (Song of Sol. 8:6; Matt. 3:11-12).
4. The divine fire is for all disciples who will count their old self dead in order to fully embrace God's purposes. They seek the reality of abiding in spirit "with Christ in God [the Father]" where they were placed by the new birth (Col. 3:1-3). The baptism with the Holy Spirit and fire that Jesus gives will burn away the chaff that is not of Christ in them (Matt. 3:11-12; Dan. 12:10). One is then drawn closer to the heart of the Father and learns to live in the consuming fire of His love (Deut. 4:24, 36; Ps. 50:3; Dan. 7:9-10).
5. A seraph touched the prophet Isaiah's lips with a burning coal (Isa. 6:6-7). God chose his mouth to be purified because control by the Spirit of one's tongue is the key to God's control of the whole body (James 3:2, 6). "No one [human being] can tame the tongue" (James 3:8). Christ Jesus alone has the authority (the right) and power "to subject all things to Himself" (including the tongue) (Matt. 28:18; Phil. 3:21).
6. The Hebrew word for the spice calamus means "a stalk or reed." It is translated "right or upright" in Scripture. Christ Jesus alone is upright or righteous in His Father's eyes (2 Cor. 5:21; Rom. 10:3-4).
7. The primary root of the word cinnamon means "emitting an odor." The new heart of each Christian is a fragrant garden, enclosed and set apart for Christ alone. It is to be formed in the image of the heart of the Lord Jesus that is undivided in His consecration unto the Father (2 Chron. 16:9; Luke 10:22).
8. God spoke this message through an angel: "Jerusalem will be inhabited without walls… For I," declares the Lord, "will be a wall of fire around her, and I will be the glory in her midst" (Zech. 2:4-5).
The fire of God is a manifestation of the purity of His holiness (Lev. 10:1-3). The seraphim's song proclaimed that God would be a wall of fire to those being trained in holiness. The Holy Spirit would be the separation and protection for them around their hearts, their minds and their feet (their conduct or walk) (Phil.4:6-7; Gal. 5:25).
9. "Jesus took with Him Peter and James and John his brother, and brought them up on a high mountain by themselves. And He was transfigured before them; and His face shone like the sun, and His garments became as white as light" (Matt. 17:1-2; Rev. 1:16; 10:1).
A heavenly messenger prophesied to the prophet Daniel about the last days: "Those who have insight will shine brightly like the brightness of the expanse of heaven, and those who lead the many to righteousness, like the stars forever and ever" (Dan. 12:3).
Jesus said that at the end of the age, "The righteous will shine forth as the sun in the kingdom of their Father" (Matt. 13:43).
10. Christians "see" (perceive) the true reality of the deceptive world system with the eyes of their new hearts first (Col. 2:8). Paul prayed for the Ephesians that "the eyes of your heart may be enlightened, so that you will know what is the hope of His calling, what are the riches of the glory of His inheritance in the saints, and what is the surpassing greatness of His power toward us who believe" (Eph. 1:18-19).
11. Jesus promised the overcoming Christians of the church in Philadelphia to be made pillars (given permanent places) in the temple of God. For He said, they "will not go out from it any more" (Rev. 3:12).
12. The zeal of Christ's love for His Father ("Your house") consumed Him (John 2:17). Such love "surpasses [human] knowledge." It is beyond comprehension (Eph. 3:19).
13. Pure nard is a very costly spice (John 12:3). The word nard (spikenard in the King James Version) is from the Hebrew root meaning "light."
The figure of the Father is visible in Heaven by the pure, uncreated light of His nature (1 John 1:5).
14. Eternal Life is offered freely to any who will receive and grow up into Christ (John 3:16). Many may accept the invitation (Matt. 22:10). But the "worries and riches and pleasures of this life" hinder the forming of Christ in some of them (Luke 8:14).
[Important announcement in the Personal Section.]


Back to top
A Different Way of Healing
In each of the sections: Angels, Personal and Teaching, I am showing you three different means used by our great God for healing. Our Lord is miraculous and so are His ways.
A HEALING
This experience occurred only two months after the heavens opened for me. Therefore, it is a "young" revelation. You will be able to see the growth in one year of recording the revelations. The longer you exercise a gift, the greater the growth. The Vale of Promises came about one year after the Lord began to give me these experiences.
Exactly what the angels gave me to eat and drink, I have no idea. But they cured me of the flu.
I am going to show you this revelation right from my journal of February 18, 1995 (which was a Saturday).
The silver ball that told a "type" of time, as a sundial might in a Victorian garden, was solid silver – not crystal. My art work leaves something to be desired.
On this Saturday, in Florida, I had the flu and therefore returned to my bed to take aspirin and drink juices and chicken broth. For that reason, the revelation took place at 3:00 p.m. in the afternoon. Here, then, is a healing brought by spirits and angels in heaven:
VISION: FEBRUARY 18, 1995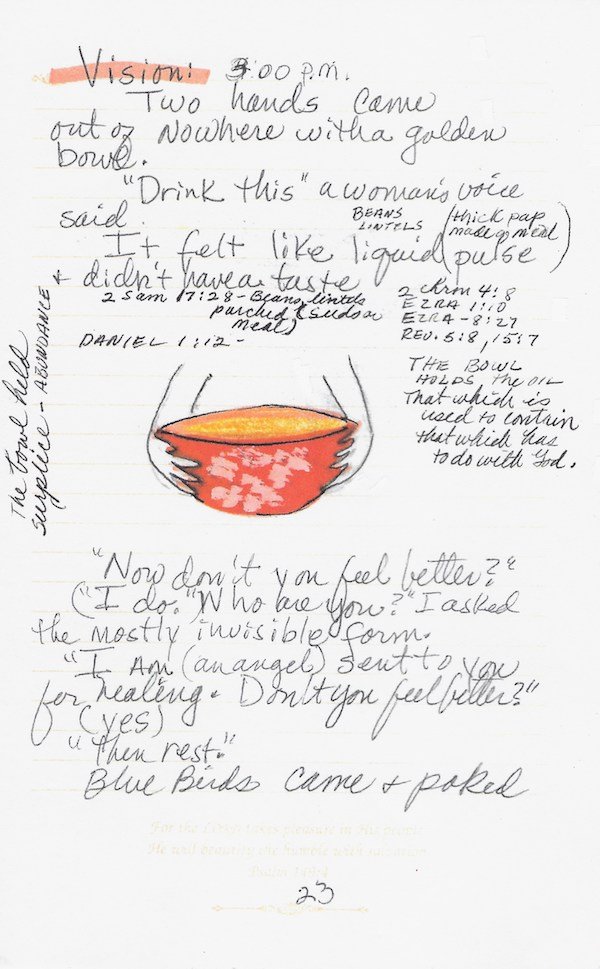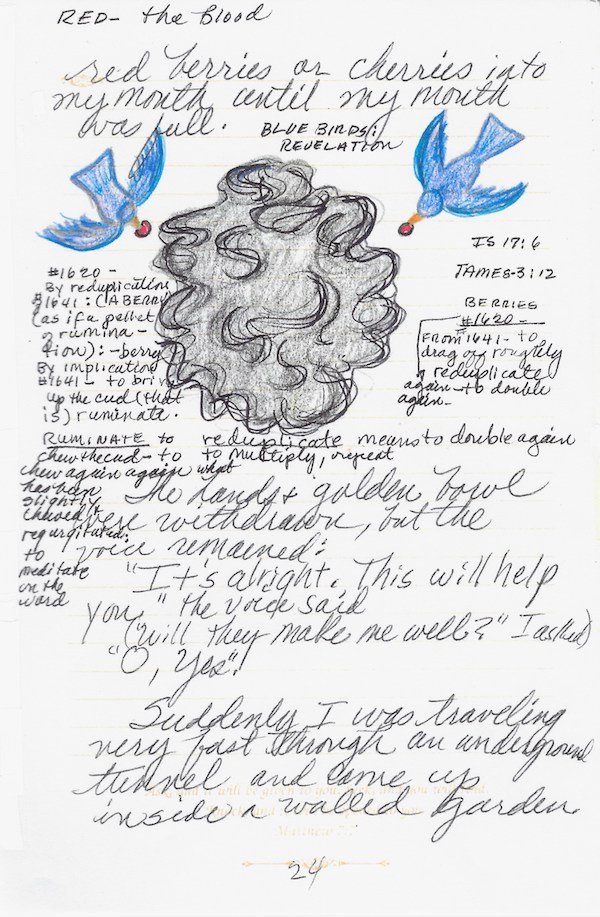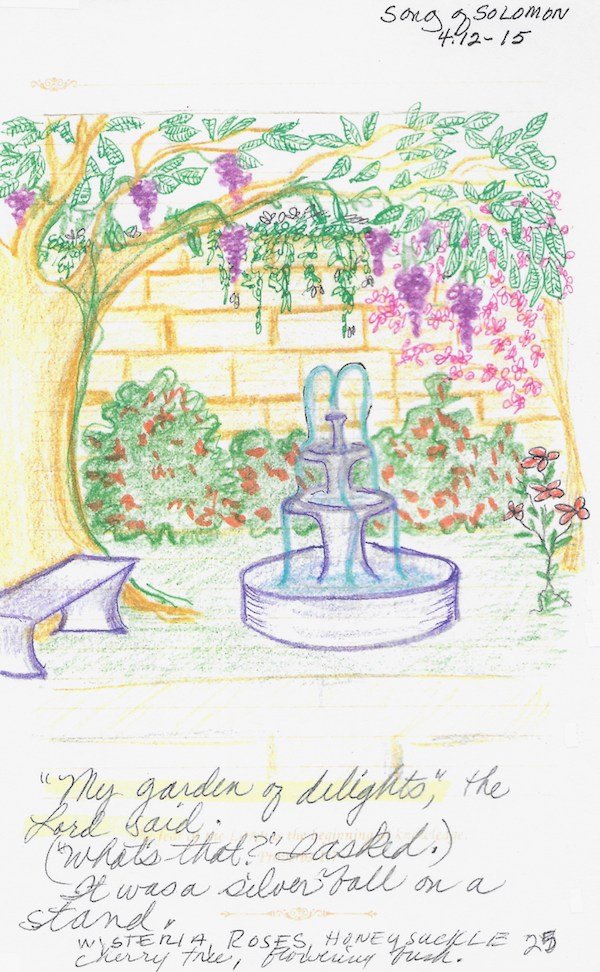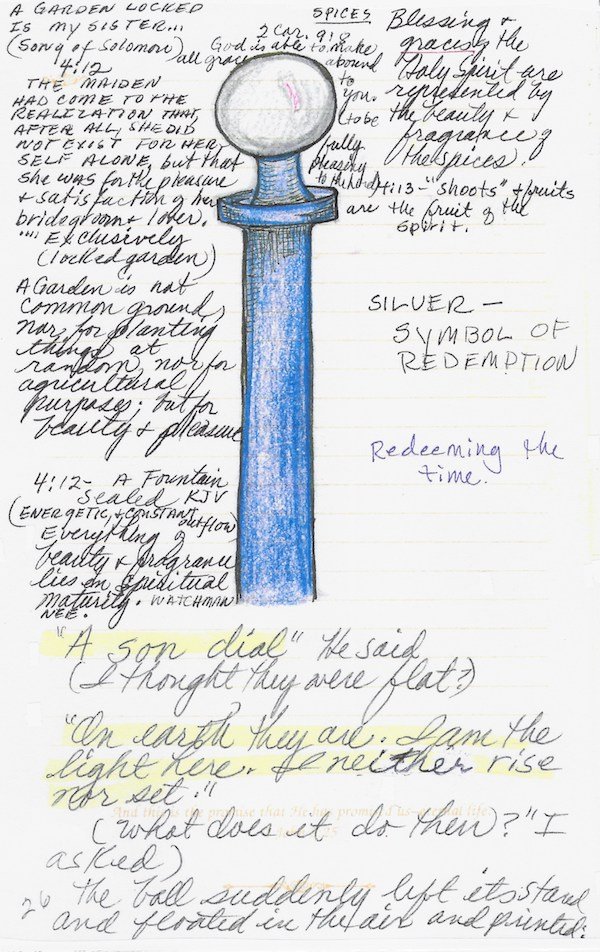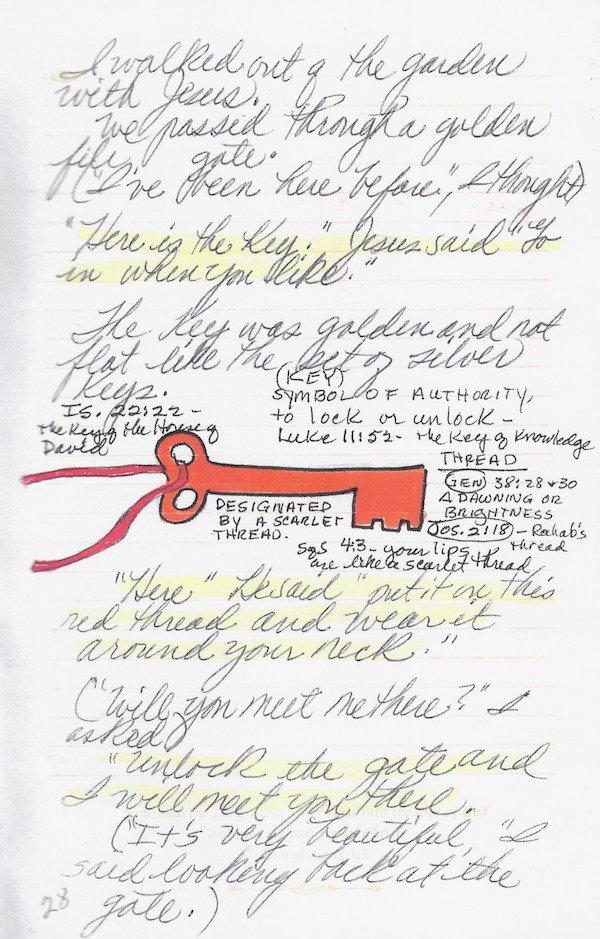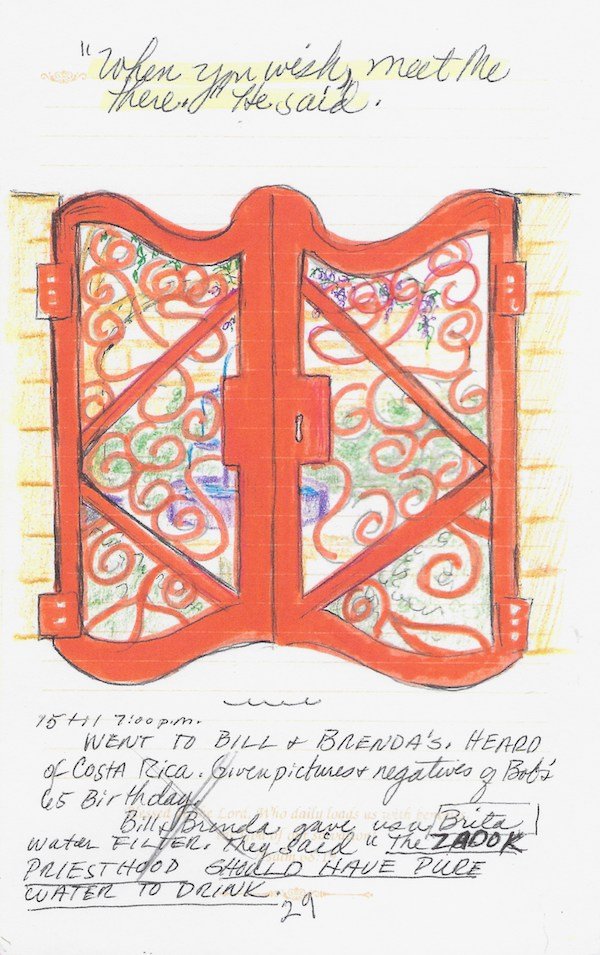 Receiving A Family Mantle:
The Mantle Of Lieutenant General George Perry Rains
The Lord wished me to have a mantle from my own family line. He chose my Great Uncle Doc, this was a name I gave my great uncle while growing up. "Uncle Doc" because he was a doctor.
I was the last baby he delivered. I remember his great generosity to the Baptist Church, of which he was a member – and having Thanksgiving at his home that was a block away from the home I grew up in.
He and his wife, my great aunt, had no children but were exceedingly kind to all of the children in our family. I remember well that he gave a whole, large building to the First Baptist Church in my home town.
His doctor's office was over a building right down town. This made it possible for people at work in the town to drop in for an appointment. Amazingly, he never charged for these appointments. A receptionist was near the entrance. If you wished to pay something for his medical services, you could give a little something to that receptionist. He had a generous heart towards all people.
He and my grandfather, his brother, were two of the quietest and kindest men I have ever known. Since he had no children, the Lord was kind enough to pass his mantle to me… for which I am truly grateful.
LIEUTENANT GENERAL GEORGE PERRY RAINS
(1872 – 1955)
This description is from Historical Archives of Texas.
George Perry Rains, physician and soldier, son of Mercer and Nancy Texas Rains, was born in Marshall, Texas on September 18, 1872. He received his early education at Mrs. Maulding's Private School and at Marvin Chapel. He subsequently attended the University of Texas, where he received his A.B. degree in 1891 and his M.D. in 1895. After an internship at John Sealy Hospital in Galveston, he studied medicine at the University of Pennsylvania and received a second M.D. degree in 1897. He returned to Marshall and served for a time as a surgeon at Texas and Pacific Hospital before entering private practice. On April 26, 1899, he married Norma Pitts. On December 31, 1890, Rains enlisted as a private in the Marshall Light Infantry. He served on the Mexican border in the years before World War I.
In 1917 before America entered the First World War, a secret communiqué from the German government to the Mexican government was intercepted and decoded, then read on the floor of the United States Congress. In it the German government pledged to the Mexican government to give them Texas if Mexico would invade Texas. After the decoded message was read on the floor of Congress, a vote was taken to go to war with Germany. General Rains was a commanding officer on the Texas/Mexican border. It was said that he rode a white horse while commanding the troops.
In that war he was a colonel in the Third Texas Infantry, commanding officer in the Thirty-sixth Military Police and commanding officer in the Sixty-first Pioneer Infantry.
He was commanding officer at Camp Sheridan, Alabama from February to April 1919. He subsequently was in command of the 144th Infantry Regiment, the Seventy-second Infantry Brigade and the Thirty-sixth Infantry Division. On September 1, 1936 he retired from the National Guard with the rank of lieutenant general and was made honorary life president of the Thirty-sixth Division. He served as the chairman of the board of Marshall National Bank, vice president of Memorial Hospital Board, trustee of East Texas Baptist College and director of Marshall and Sabine Railroad. He was an honorary member of the Texas Medical Association, a member of the Military Surgeons Association and a director of Kahn Memorial Hospital and the Harrison County Red Cross. In 1937 he was president of Harrison County Medical Society. He was a member of the Marshall City Commission and the Rotary Club. He was a deacon of the 1st Baptist Church of Marshall. He died in Marshall on September 19, 1955 and was buried at Greenwood Cemetery. In 1970 the Texas Historical Commission placed a marker at his grave.
(Please go to the Personal Section.)
Side Two Of The Father's Mantle
Mantle # 4
(Continued from the Angel Section.)
Suddenly, the angels turned the robe inside out – there displaying another garment entirely. The Father's mantle was double. This side was a drab camel skin – probably as John the Baptist wore in the desert.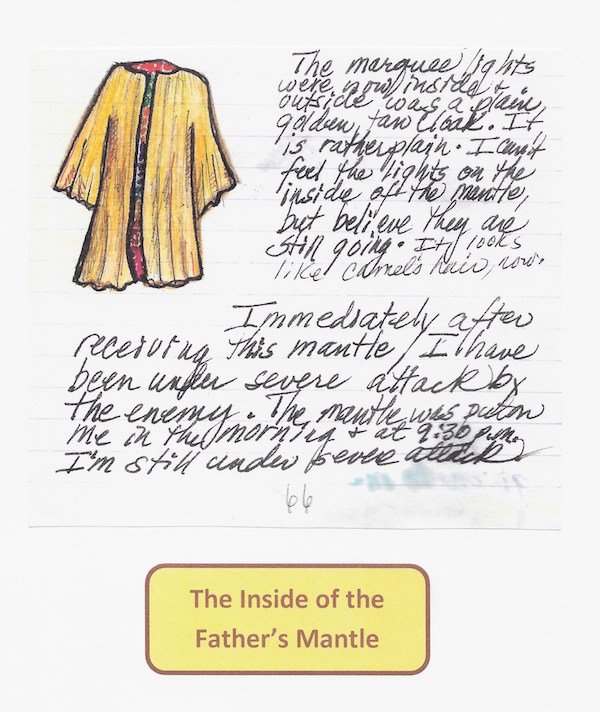 I was helped into the double mantle. This drab cloak completely covered everything I was wearing. The cloak left me looking like a wandering vagrant. (It is funny what you think about in times like these. I found myself grateful that the skins did not smell like goat.)
At first, I thought it strange that the ruler of the universe would wear such a drab garment. Then it came to me that our Heavenly Father was as Jesus showed Him to be – humble. Of course – of course, I understood not only the reason for wearing it but also, I understood more about my Heavenly Father's character. This revelation made me even more grateful to be allowed to wear the mantle – honored and blessed really. Our glorious Father was humble and if I wished to draw near to Him, how desperately did I need to put on the humility of Christ.
I asked the Father: "Are those marquee lights still going?"
"Yes," He answered with a chuckle, "the bulbs are still giving light. The marquees are rolling. Yet they are but a picture of the true light within. The outside now looks like camel's hair. Study to see who was thus dressed.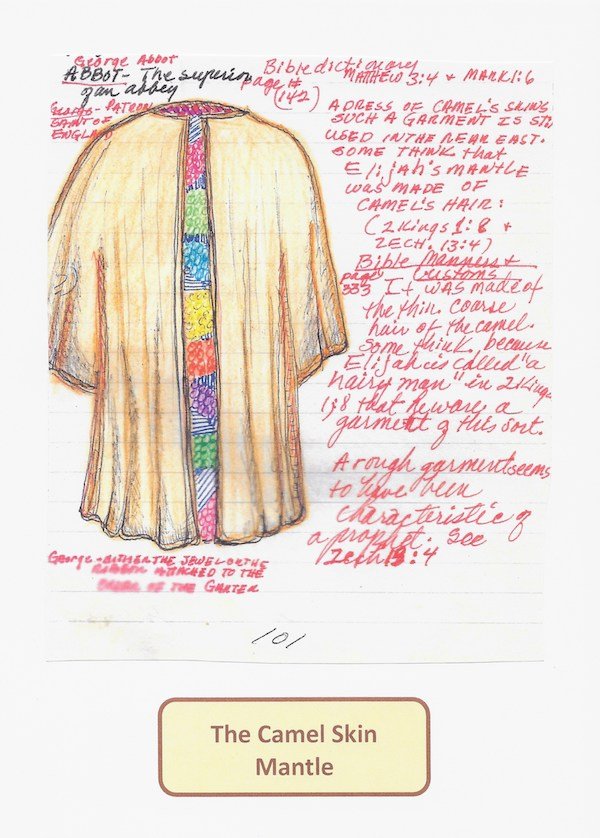 [Turn to the Personal Section to find out how these particular two mantles have changed the life of one of God's children.]
A Mantle From The Holy Spirit -Side Notes
The sword is the living, moving, powerful, Spirit-energized Word of God concerning Christ Jesus that reveals the true condition of our spiritual hearts (Heb. 4:12-13). It is truth as it is in Jesus, and it overcomes the lies of the enemy (Eph. 4:21; 6:17; Rev. 12:11).
The sword of God's Word in our hearts can be wielded by the Spirit through our actions (hands) or spoken by the Spirit through our mouths (Matt. 10:19-20; Col. 3:17). That Word wars against the enemy and strengthens the brethren (Rom. 12:21; Eph. 6:17-19; Col. 3:16; Rev. 2:16).
The whirlwind is a visible representation of the powerful moving of the Holy Spirit as on the Day of Pentecost "like a violent, rushing wind" (Acts 2:2). The Greek word for wind in John 3:8 is the same word that is translated "Spirit" in the New testament.
A strong ankle is needed to walk well. A spiritual walk is behavior that rests upon supernatural faith in and manifestation of the Lord Jesus in love (John 6:29; 15:5; Eph. 5:2). Only the Holy Spirit can bring this forth (Gal 5:16). He strengthens us to be able to allow Christ to be and do this in His strength (Phil. 4:13).
FOOT NOTES
1. Scripture describes cherubim with one, two, or four faces (Ezek. 1:10; 41:18; Rev. 4:7). In the vision of a new temple, there were cherubim with the faces of a man and of a lion carved on the walls
(Ezek. 41:19). The Lord Jesus is "the Lion that is from the tribe of Judah" (Rev. 5:5).
2. The sword of God's Word is empowered by the Holy Spirit who takes that which is of Christ Jesus and discloses it to those who are one with Him (John 16:14; 1 Cor. 6:17).
3. There are many books that God the Holy Spirit has written personally (Exod. 32:32; Dan. 7:10) with His fiery-red pen and golden ink. Examples are the Book of Life (Rev. 20:12), the book of the days ordained for each person (Ps. 139:16), the book of our tears (Ps. 56:8), the book of those recorded for life in Jerusalem (Isa. 4:3), and a book of remembrance of those who fear God and esteem His name (Mal. 3:16).
4. "The Spirit of truth . . . proceeds from the Father" through the Son (John 15:26.) "The Spirit of truth . . . will not speak on His own initiative, but whatever He hears, He will speak" (John 16:13).
5. The Spirit of truth as it is in Jesus sets us free (John 8:31-32): from bondage to sin (Rom. 6:12-14), self (Rom. 6:6), and the world (Gal. 6:14); from oppression (Isa. 10:27); from the prison of darkness (Ps.107:10-14); from sickness (Luke 13:16); from the Law (Gal. 5:1-4); and from death (John 11:25-26).
6. The two large pillars supporting the roof over the porch of the temple that Solomon built were named Jachin, "He establishes", and Boaz, "In Him is strength" (1 Kings 7:15, 21). In the spiritual sense, the pillars stood guard at the entrance to the holy place, as cherubim also guarded the entrance to the Garden of Eden (Gen. 3:24).
7. David, Solomon's father, said that God made him understand all the plan for the temple to be built, including the porch, "in writing by His [the Holy Spirit's] hand upon me" (1 Chron. 28:11, 19). The two cherubim named Jachin and Boaz are assigned to stand guard over the revelation of the words of God in writing by the inspiration of the Holy Spirit.
8. At times there is silence in Heaven, as when the seventh seal is broken, with the host there waiting to behold what God would do (Rev. 8:1). "It is good that [one] waits silently for the salvation of the LORD" (Lam. 3:26).
9. The hands of a believer represent the visible work (Matt. 5:16). The feet stand for the walk or conduct that is seen (2 Cor. 4:2). The head is the place of spoken thoughts (1 Cor. 2:11-13). The Holy Spirit reveals only Christ, not Himself, and He does the same thing in the believer.
10. A porpoise skin covering over the tabernacle in the wilderness hid its true purpose from the eyes of the world (Exod. 26:14).
11. Jesus as the Christ was hidden from recognition except by divine revelation (Luke 10:21). The believer's life is hidden in God (Col. 3:3), so that only Christ Jesus in him may be manifested (2 Cor. 4:10-11).
12. Jesus said that "whoever wishes to save his life [Greek psuche, the expression of his own soul] shall lose it [when he dies], and whoever loses his life [soul] for My sake [so as to express My soul], he is the one who will save it [for eternity]" (Luke 9:24).
13. Everyone in Heaven is without shoes, for all the ground there is holy (Acts 7:33).
14. Jesus rebuked those who justified themselves, seeking to be considered righteous in the sight of people (Luke 16:15) rather than before God, who alone is the One who declares us righteous in His Son (Rom. 8:33).
15. Part of the individual cross, which is continually offered to each believer, works the invisibility to others of one's self (Luke 14:27; Eph. 4:22).
16. An exposed heel means anything in one's walk (behavior) that makes one vulnerable to being wounded or tripped up by the enemy (Gen. 3:15; Matt. 18:7; 1 Cor. 3:3; 1 Pet. 5:8-10).
17. Nothing good dwells in or originates from our "flesh", the earthly person (Rom. 7:18). On the cross God removed all spiritual life support to this old self (Rom. 6:6).
18. The functioning of the natural person can only produce spiritual death (Rom. 8:6, 13).
19. Jesus said, "I do not receive glory [honor or fame] from men . . . How can you believe [trust in God] when you receive [and trust in] glory from one another, and you do not seek the glory that is from the one and only God?" (John 5:41, 44). The rulers of His day "loved the approval of men rather than the approval of God" (John 12:43).
20. God maintains a sufficient degree of freedom in our will to enable us to choose for or against Him in every matter. He respects that freedom and waits for us to be willing. "Whosoever will, let him take the water of life freely" (Rev. 22:17, KJV).
21. "I do believe; help my unbelief," the father of the epileptic boy cried out to Jesus (Mark 9:24).
[Please go to the Personal Section to gain a clearer understanding of how such a mantle affected the life of the one wearing it.]
A Surprise Gift
We now need to zoom forward to Rosh Hashanah of 1994.  We had, since going to Spokane in '90, helped bring together the pastors of the (then) seventy – two denominations in Kansas City for monthly prayer and mounted several city – wide repentance services and organized Kansas City's first "March For Jesus".  After our work in the city finished, we turned over all that had been established to the pastors of the city (collectively) and took a year off to pray.
 
My husband had promised the pastors of the city that we would return after a year so that he could fulfil that promise by giving a weeklong convocation on the cross of Christ.
 
YOM KIPPUR
 
So, we headed back to Kansas City for the weeklong convocation that started at Rosh Hashanah and ended right before Yom Kippur.  On Yom Kippur we were starting to leave the city; but first, we stopped off for an open prayer meeting being held by the ministry of the friend we had accompanied to Spokane years before.  The prayer vigil was held in a sanctuary.
 
THE CHURCH
 
The sanctuary had once belonged to the Catholic Church as part of an extremely large convent.  Now the building was part of a rescue facility for unwed mothers; if they wanted to keep their babies or allow responsible families to adopt them.
 
The church building itself had a high vaulted ceiling, tall windows and an alcove in front where the altar had once stood – (now decommissioned as a Catholic sanctuary).  It was a large room, simple and clean.
 
The prayers had already begun when we arrived, therefore we sat toward the back of the room.  It was good to be among some of the friends we had made in Kansas City.  Wonderful to pray with them again.
 
SEEING THE LORD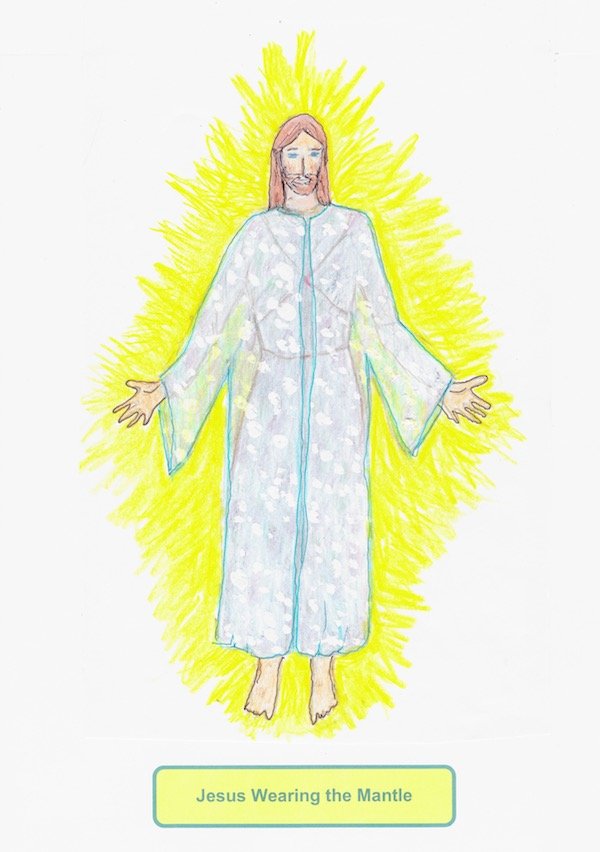 We had been there for only a few minutes when I saw the Lord, twenty-four feet high standing in the center of the vaulted alcove.  He was wearing that mantle I had seen being carried by the two angels in Spokane.  The cloak was shimmering with multicolor.  It was other worldly – gossamer.  Rays of light were streaming from the Lord.
 
"Oh," I said to myself, "that's where the mantle went, back to Jesus."  I thought: "It was His to begin with and it has returned to Him."
 
Suddenly, He fixed His eyes on me and said: "Look at Me."  His eyes were piercing and seemed nearer than the considerable distance between us.  He continued His piercing gaze.
 
SUDDENLY
 
Suddenly the cloak came through Him and traveled the distance from the alcove to the pew where I was standing.  It came around me.  Then He periscoped down to a normal size and began to move forward.  He passed into me and therefore into the cloak as well.  So, He was in me wearing the cloak.  It was so odd, for He was looking through my eye sockets.
 
Then He passed out of my body leaving the cloak and He went back to the alcove/altar site.  The cloak remained on me.  Once back at the alcove, He turned around and looked at me with the garment on me.  I could feel the garment on me, also I could see it.  
 
This time He did not ask me as He had in Spokane the night before we went to the mantle's location.  
 
I did not understand, but it was like the ancient Biblical rite of a covenant cloak given by a husband to His wife "to cover her".  It was, in some way, given to me as a sign of all the Lord was intending in future.  It was the first step that eventuated in the Formal Betrothal.
 
[Go to the Personal Section.] 
Notes on the Betrothal Garment and the Crown
The Embroidered Robe – Side notes
* In time past, the enemy must have argued successfully before God that he had legal right to have the garment of brotherly love.
* To be clothed in the Lord Jesus is to be beautiful in the eyes of the Father (Isa. 62:3; Zech. 9:16-17).
The Embroidered Robe – Footnotes
1. The radiance of the Father upon His throne is compared to the colors in a magnificent rainbow (Ezek. 1:28). The range of colors begins with dazzling white and moves through the full light spectrum (Rev. 4:3).
2. "So, as those who have been chosen of God, holy and beloved, put on a heart of compassion, kindness, humility, gentleness and patience" (Col. 3:12).
3. "Bearing with one another, and forgiving each other, whoever has a complaint against anyone, just as the Lord forgave you, so also should you" (Col. 3:13).
4. "Beyond all these things put on [divine] love, which is the perfect bond of unity" (which binds everything together in complete harmony) (Col. 3:14).
5. Satan, an expert legalist, primarily accuses believers before God of disobedience to the greatest commandment: to love God (Rev. 12:10; Job 1:9-11; Matt. 22:37). The devil can detect this sin by observing the lack of love between brethren. God's word says, "The one who does not love his brother whom he has seen, cannot love God whom he has not seen" (1 John 4:20).
The lack of love in the body of Christ has reached a point where there were few Christians who manifested Christ's love for all the saints (Col. 1:4).
6. The garment is intended by the words, "That Christ may dwell in your hearts through faith" (Eph. 3:17). His love is to fill our hearts and overflow into the soul capacity of our will. The will is to steadfastly choose to love others in His name – "to preserve the unity of the Spirit in the bond of peace" (Eph. 4:2-3).
The garment was lost through disobedience to the Lord in His church. It could only be recovered through obedience. Christ Jesus does not act on Earth by the Holy Spirit apart from some obedient member of His body. And the Lord Jesus gives the Holy Spirit to those who obey Him (Acts 5:32).
7. "You shall love the Lord your God with all your heart, and with all your soul, and with all your mind" (Matt. 22:37). It is not possible for human beings of themselves to love God (Rom. 3:11, 13-15). However, when a Christian embraces Christ Jesus as one's only life, He becomes the new inner garment of ever-increasing love for God and for others (Col. 3:4; Phil. 1:9; Eph. 1:15).
8. "Shepherd the church of God which He [Christ] purchased with His own blood" (Acts 20:28; Rev. 5:9).
"Then I [God] bathed you with water" (Ezek. 16:9-10; Eph. 5:26).
"You shall make holy garments for Aaron your brother, for glory and for beauty" (Exod. 28:2; Ps. 29:2, NKJV).
"My soul will exult in my God; for He has clothed me with garments of salvation, He has wrapped me with a robe of righteousness" (Isa. 61:10).
9. Jesus says here that the whole of our being is to be saved – body, soul, heart, and spirit. "For the word of God is living and active and sharper than any two-edged sword, and piercing as far as the division of soul and spirit, of both joints and marrow [the body], and able to judge the thoughts and intentions of the heart" (Heb. 4:12; 1 Thess. 5:23).
God alone is righteous. This means that the divine nature is perfectly just (fair and impartial) and right (true and upright).
Human beings were created "that we might become the righteousness of God in Christ Jesus" (2 Cor. 5:21). Christians put on the new inner self (heart and spirit) that God created and that is becoming like Christ "in righteousness and holiness of the truth" (Eph. 4:24; Col. 3:10).
10. Christ Jesus is the head (Eph. 4:15). Christians are members of His body. We are part of Him and of each other (1 Cor. 12:27; Rom 12:5). This means that a person who is in covenant with the Lord Jesus is also in covenant with all other believers. All Christians are "members [of Christ's body] belonging to one another" (Eph. 4:25, WUEST)
The Crown – Side notes
* The number twenty-four signifies delegated authority in the heavenly realm (Rev. 4:4).
* There is an old saying about brides: "Something old, something new; something borrowed, something blue."
* The Hebrew word for the spice henna is translated "camphire" in the New King James Version. It is the same Hebrew word for "ransom" (Song of Sol. 4:13; Isa. 43:3). A bride in the Middle East applies the spice as a paste to her hands and feet on the night before her wedding.
The Crown – Footnotes
1. The Father promises the crown of eternal life to those who persevere under trails and hold fast to their love for God and His children to the end (Rev. 2:10; James 1:12). Also, in Revelation 3:10-11, Jesus appears to refer to the crown of life for the same reasons.
2. The blue color of sapphires represents heaven in the Bible.
3. "Speaking the truth in love, we are to grow up in all aspects into Him who is the head, even Christ" (Eph. 4:15). The manifestation of Christ involves "always carrying about in the body the dying of Jesus, that the life of Jesus also may be manifested in our body. For we who live are constantly being delivered over to death for Jesus' sake, so that the life of Jesus also may be manifested in our mortal flesh" (2 Cor. 4:10-11).
4. Jesus provided something old in the recovered covenant garment. Later He wrote His new name on my forehead. Now the Father allows me to borrow the crown of life for the coming ceremony. He adds to it twenty-four blue sapphires.
5. The Bible calls angels in the third heaven "stars" (Rev. 1:20; 12:4). The Father designates twenty-four angels to accompany this wearer of the crown of life in heaven.
6. For Christians the hands (work) and the feet (conduct) are to give forth the sweet fragrance of Christ's sacrifice on the cross as our ransom for sin (Eph. 5:2; 1 Tim. 2:6).
7. The union between the Father and the Son is complete and total (John 10:30). They will be satisfied with nothing less than that for those who are "heirs of God and fellow-heirs with Christ" (Rom. 8:17). Jesus prayed, "As Thou, Father, art in Me and I in Thee, that they also may be in Us… that they also may be perfected in unity [with Us]" (John 17:21, 23).
Receiving The Spiritual Of A Natural
1 Corinthians 15:46
"However, the spiritual is not first, but the natural, then the spiritual."
Mainly, this verse refers to mankind first being a natural (or fleshly) person then becoming a spiritual one. But in the root word from (#5590) in the concordance "thing" is also mentioned. It is this meaning to which the angel refers.
The prayer group that had been praying many years for the Lord's will to be manifested on Prayer Mountain and for those that make their way to the top, years earlier had received a physical token of transferred authority. We received it together (so that not one of us would mistake the gesture to be personal only). Still, we were unclear as to the full meaning of this "natural" and the extent of the authority it represented.
The Lord, wishing to assist us with these extremely important questions, sent an angel to clarify… and not just any angel, but the first angel I had seen on the top of Prayer Mountain.
RECEIVING THE AUTHORITY AND THE ANNONTING
2014 – (4 years ago)
The Angel Victory stood before me. He wore a silver robe that looked for all the world like liquid mercury. He was blazing with light. I had seen him on the ridge many years ago. He spoke:
"Even as the heathen King Ahasuerus was moved upon to look into the Book of Chronicles of his Kingdom and found there Mordecai's service to him and to his realm – I have moved upon you to open the chronicles of the ridge in order to see with better understanding my words to you nine years ago. Nine. How many times did the prophet strike the ground?"
"Nine," I answered.
"You have wondered about the number nine, have you not?"
"I have."
"It has been nine years since I appeared to you. Twenty-nine years since the prophet called the people to come from the north, south, east and west."
"Now, Anna, the years have been accomplished for you (which implied a corporate 'you' such as those of the prayer group) to be endowed with your further calling. You said that you would receive me. Will you be strong and very courageous? Will you embrace your further calling?"
"What is that calling?"
The angel continued: "To keep the fires burning on the altar of incense of prayers rising into the nostrils of God Almighty."
"For what purpose?" I asked the angel.
"For the purposes God Himself will reveal – purpose by purpose – immediate and changing purpose by immediate and changing purpose… guided by the nod of His head… guided by the glance of His eye," the angel said.
"Here," the angel Victory said "the scepter has been given to you. First the natural, then the spiritual. The natural was extended to you by the one who held it. Now, I victory, have been commissioned to give to you the spiritual of that natural."
He reached out to me holding a short, (probably 12 to 15 inches long) golden scepter. I reached out my hand and took it. It had some weight to it.
"What is it?" I asked.
"Seek and you will find," the angel said and vanished.
---
CORPORATE BLESSINGS AND ANOINTINGS
I had in the past received spiritual tokens to cement the validity of physical markers in my life. However, these were always personal. I had never been the one who received for a group… a corporate anointing… a corporate blessing.
Honestly, I had not thought about such an occurrence. What would it mean? How would it be exercised or used or experienced?
Since the Lord has me stepping out onto thin air often – I run to the Word to confirm or deny spiritual experiences. If the Lord has "done it before" – showing it in the Word, then I know He can "do it again". I hope I am not so vain as to believe that I alone have been singled out to have such experiences.
Were there corporate anointings and blessings? Well yes – the famous blessing is in Numbers 6:22 – 27 to be placed on all the children of Israel:
22 Then the LORD spoke to Moses, saying,
23 "Speak to Aaron and to his sons, saying, 'Thus you shall bless the sons of Israel. You shall say to them:
24 The LORD bless you, and keep you;
25 The LORD make His face shine on you, And be gracious to you;
26 The LORD lift up His countenance on you, And give you peace.'
27 "So they shall invoke My name on the sons of Israel, and I then will bless them."
What about the anointing? Does the Bible give us an example? It does. Exodus 28:41 –
"You shall put them on Aaron your brother and on his sons with him; and you shall anoint them and ordain them and consecrate them, that they may serve Me as priests."
The Lord had honored the prayer group by giving to us the authority in prayer for this little mount. The physical token had come from the one who owns the physical acreage and the validation of its meaning and scope of its authority (given in the sign of Esther) from the throne of God. Only God Almighty can give such authority on Prayer Mountain.
Now remember, I and the group had been praying for years before the angel brought the scepter to us. I believe it was bestowed because of length of time in prayer, faithfulness and a desire to hold to purity. Honestly, we were thrilled to be given additional authority and anointing in order to pray for all of you… and to seek God's will for Prayer Mountain and His timing to fulfill His will.
That is one "spiritual" given by God Himself to confirm a "physical" handed to us some time before.
I am showing you the moment of the transfer of the authority and with it the anointing.
Look for the same in your life. Usually He surprises you with such "spiritual upgrades". You are going along serving as you have always served and you receive a "suddenly". It's glorious.
Living Patchwork Quilt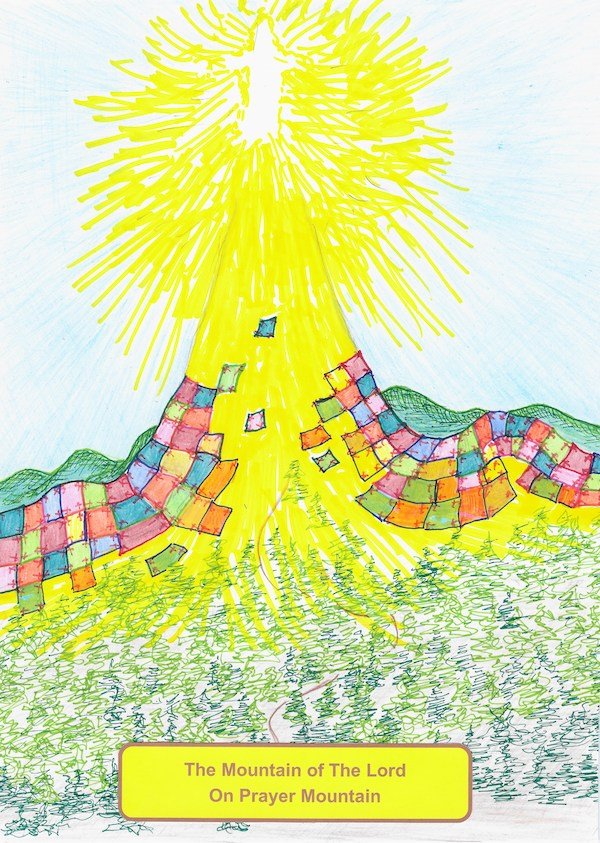 August 6th, 2006: Sunday
When walking up toward the gazebo, I saw a patchwork quilt laid out all over the land on Prayer Mountain. Its patches were bright primary colors: intense yellow, bright red, electric blue like a patchwork quilt for a child's room. In each square a living picture was playing. Each held a story or stories.
These stories were playing at the same time. But not all of the pictures were of people. Some were of the fauna on the mount: squirrels, birds, etc. Their stories were being told also.
Every so often, another patch was added to the quilt and began to play its story within its little square. The squares were many colors and sown together with a heavy, red thread – which later all felt represented the blood of Jesus. There was a joy and childlikeness about this quilt.
I thought to myself that the whole earth is full of His glory.
Suddenly a mountain shot up from the top of this ridge. I heard a voice say: "The mountain of the Lord will be chief among the mountains. He will rise and all will fall before Him."
I asked: "What does mean?"
The voice answered "Prepare!"
---
This revelation was one of the most delightful and instructive of the visions shared with me by the Lord on Prayer Mountain. On the surface it was like a never-ending story (because it was growing daily.)
Those within the vision included First Nation peoples, Pioneers, birds, bears, rabbits, etc. Moravians, people groups from other lands and a massive – a monumental number of angels.
It was like a "Living Memory Quilt." It played out the stories of all those who had come to Prayer Mountain… so that, if you have visited, you are also a part of this "living history" – a Memory Quilt.
Suddenly I realized that I was being recorded… that what I did in this place was significant (even if I thought I was alone.) I realized that, by being here, I was part of God's testimony about His land and Himself. I was not only part of the witness of His faithfulness to this land but to the Moravians and to all His God-fearing children who have prayed for Him to be glorified by establishing a righteous work on that ridge.
How long had He been declaring His intentions over this land? Who knows – probably from the beginning. This ridge had already been pruned and tested. A group of PhD's from Tennessee were here on this little mount: they were surveying the top. My husband and I went out to greet them (and in true country fashion – find out what they were doing.) I asked why the land had so little soil on the mountain and one of our visitors told us that the mountain had worn down. "The Brushy Mountains," he told us "was one of the oldest mountain ranges in the world." Over the many, many years the mountain had worn down from a peek which could have been as high as the Himalayas to, now, one of the humblest of land rises.
In the eyes of the world, being "less" high is also "less" desirable – usually – lowly – insignificant – but I felt the Father was preparing it. He was making it ready to receive His presence and His glory in His time… like the manger that received the Baby Jesus – the now, lowly ridge could and would receive the Father's glory.
Even as the sounds of our praises and prayers are reverberating throughout the universe – on and on – forever proclaiming His wonderful name now I realized that all we do in His name is being recorded whether we realize it or not and all is present before Him to be seen again – it is a testimony to His faithfulness and a spiritual record that is being played before the great cloud of witnesses and the angels… a glorious Living Quilt.
ASSURING HIS CHILDREN
But the most important part of the vision came at the end with a proclamation and a promise.
Right at the end, a mountain shot up from the midst of the quilt. It has been prophesied by many reputable seers that our Heavenly Father will be manifested on the ridge – there to meet with and minister Himself to His children. (He has come down before – as when He came down and ate with the 70 elders on the mountain when the children of Israel were in the desert.)
We need Him again in this tangible way in order that His children may know Him better.
The amazing last part of that vision is a restating and a re-pledging of those prophetic promises.
He is coming and we have been told that we have a part to play: "prepare."
The Under Secretary Of Truth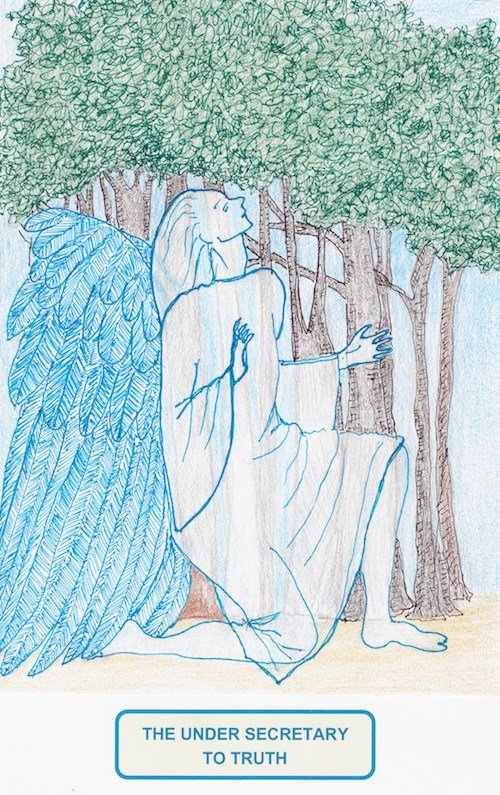 THE UNDER SECRETARY TO TRUTH
June 29, 2006: Thursday – Vision:
An angel about 25 feet high appeared. He was translucent. I could see right through him. He bowed at the waist to greet me. Then he knelt as though acknowledging that he was reporting for duty. I respected his time with the Lord. When he rose, he faced me.
I addressed him: "May I ask your name?"
"I am an UNDERSECRETARY TO TRUTH." I remembered that Jesus said that He was Truth. I then supposed that there are angels that serve as secretaries (like in the president's cabinet). This must be an angel that serves under the secretaries – one that could be assigned to a location and remain in that location during the assignment. I did not know for sure, however.
"Do you come with authority from Truth Himself?" I asked.
"I do," he continued, "You have prayed that all that will be brought forth here will be in love and fellowship. But a spirit of truth is also needed for the transparency required to conduct His power." [It seemed that he was suggesting that truth was a conductor of power. However, I felt that I had known several Christian leaders with "power" that I could not also testify to their personal character as it related to "truth". * But if the angel was relating my own personal desire to see the truth joined to God's power on
this ridge… well, he was right. There was a great desire within me to see God's ways prevail from the beginning to the completion of one of His purposes – uncorrupted.]
He continued: "He who is Truth has sent me to this location in order that His power may have safe passage and drive home, truly "hitting-the-mark". The path of light will lead many to knowing the One who is Truth. I speak, not from myself, but from the One who sent me to you."
---
* "Power" is a gift given by God. As the word says in Romans 11:29: "the gifts and the calling of God are irrevocable." Therefore, at times the gift will reside within a Christian that is soulish or fleshly. That person uses the gift, but the gift does not change the person's character. Character is replacing our fleshly mind, emotions and will with Christ. That, of course, is a "work of the cross".
A person may have a large ministry or hold authority in a church but still not be maturing in his or her character. This has been one of the greatest stumbling blocks for the body of Christ. When we are younger in Christ we believe that those God-given gifts MUST be springing from a person who has the mind, emotions and will of Christ. They must be embracing the cross and have been rewarded with these glorious gifts that help so many people. The fact that this is not true, may be the most difficult "pill for us to swallow" as we ourselves, mature. It doesn't seem "right" somehow. Our human mind believes righteousness and the gifts should go together as they do in Jesus. How could God allow the unrighteous to use His gifts? – not only use them, but swindle, cheat, make millions there-by living a life of wealth and ease, all due to God's "gifts"?
I certainly am not wise enough to answer that age-old question. But I do know our Heavenly Father. He keeps His word. If he has assigned certain
gifts to certain people, He will give those gifts to certain people with the hope that they will be used to benefit His children in their time of need. The gifts are blessings that pass through the person to those in need. No one owns God's gifts.
WHAT IS OUR HEAVENLY FATHER SEEKING?
You never read in the word that our Heavenly Father is looking for the gifts in anyone. NO – He is looking for the character of Christ.
Character and gifts are two different things.
Gifts are given – as the name implies.
Character is a replacing of our fleshly souls (mind, emotions and will) with Christ. Not with His characteristics, but with Christ Himself. In other words, we do not act like Him, He replaces the fleshly parts of our souls with Himself – just like at salvation we ask Jesus to come into our heart and be our life.
The transformation of the soul is accomplished by "embracing the cross". What in the world does that mean? It is sort of "Christianize" for the work of the Holy Spirit within us. The Holy Spirit orchestrates a series of tests in our lives. We are unable to test ourselves nor even to arrange the time of the tests. The Holy Spirit must accomplish all of this. [Sometimes, also, we must take certain tests (presented in various ways) over and over again.]
We must pass our tests even as Jesus passed His tests in the wilderness. Like Jesus we must choose God over our "flesh" and we pass that particular test.
Now, what does this do? It was difficult to tell with Jesus' tests because He was uncorrupted by sin. But when He came out of the desert, He came in the power of the Spirit. But for us, our soul has been sullied by sin. We do not tidy up our souls. All parts of the soul must be replaced by
Christ. [We only do this over a lifetime (usually). Some only allow a little of their souls to be exchanged for Christ.]
But this "work of the cross" (called that because it is painful most of the time) determines our placement in His millennial and future work.
Jesus passed the tests originally and now He passes them again through us, if we allow Him. He is all in all. Finally, only Christ passes over (and we in Him) into the Heavenly Kingdom.
GIFTS AND CHARACTER
The word says to seek spiritual gifts (in order to bless many in the name of the Lord.) But live your life to fulfill the high calling in Christ Jesus. (Philippians 3:14) "I press on toward the goal for the prize of the upward call of God in Christ Jesus."
For the eventual House of Prayer on Prayer Mountain, (I was musing at the time of the vision that) I hoped to see a work of the Lord accomplished by those with gifts and character – thereby to see it raised up unsullied and clean. (That of course should be the desire of any and all wishing to establish houses of prayer where ever they may be.) The universal truth for all should be that such a sacred trust must be established on a clean foundation: (Psalm 24:3-5) –
Who may ascend into the hill of the LORD?
And who may stand in His holy place?
He who has clean hands and a pure heart,
Who has not lifted up his soul to falsehood
And has not sworn deceitfully
He shall receive a blessing from the LORD
And righteousness from the God of his salvation.
Seeing Our Heavenly Father
SIDE NOTES
The throne of God is resplendent with the most valuable of all: the divine character and virtues of the Father. These comprise His authority and that by which He rules. Righteousness and justice are the foundation of His throne (Ps. 97:2). He is righteous and just (Ps. 11:7; Zech. 9:9). He loves righteousness and justice (Ps 33:5) He works righteousness and justice (Ps. 99:4).
No human being can see the brightness of the glory of God's face and live through the experience (Exod. 33:20; 1 Tim. 6:16). Angels are able to behold His countenance (Matt. 18:10), and believers in their resurrected bodies will see His face (Rev. 22:4).
Christ Jesus is our hope of drawing near to God the Father and to dwell in Him with His Son even while we still walk the earth (1 Tim. 1:1; Heb. 7:19; John 17:21; Col. 3:3; Rev. 3:12).
One meaning of "waters" in Scripture is "peoples and multitudes and nations and tongues" (Rev. 17:15). Troubled waters symbolize heathen peoples in an uproar (2 Chron. 15:6).
God has ordained that the salvation of the Lord Jesus be carried out on Earth with the free consent and cooperation of those in the one body of His Son, those who have been made a part of the risen Christ (Eph. 1:22-23; 2:16; 3:10; 5:23, 25-27, 30).
The hope of returning to heaven, our true home, to know our true Father, our true Brother, and our true Friend, the Holy Spirit, lies deep within the new, human, spiritual heart (Ezek. 36:26; John 17:3; 2 Cor. 5:8; Phil. 1:23). The resurrected spirit of each believer is already there in Christ (1 Cor. 6:17; Eph. 2:5-6; John 12:26; 17:24).
There is nothing good and trustworthy dwelling in the natural state in which we were born, that is, in our "flesh," which hates God and refuses to obey Him (Rom. 1:30; 8:7). Christ Jesus is the only good and trustworthy thing in us, for He has been made all things for us from God (1 Cor. 1:30; Col 3:11).
In the end times, God's family will be restored to Him (Mal. 4:5-6; Eph. 3:14-15; Mark 9:12) from the captivity of a double heart (Ps. 12:2), so that they no longer go limping between two opinions (1 Kings 18:21, KJV).
The trumpets were blown in heaven on this occasion for one of the same reasons that the two silver trumpets in Israel were sounded to gather everyone together: to rejoice in worshiping God in His immediate presence (Num. 10:2-3, 10).
TEACHING NOTES
1. True gold, like every created thing in heaven, is transparent because it exists to be illumined by God's glory (Rev. 21:18, 21, 23).
2. Jesus said that His Father has a "form," a figure or shape that can be seen (John 5:37). Many people saw His bodily form: Moses alone (Num. 12:8) and again with all the leaders of Israel (Exod. 24:9-11). The body of the Son of God is like His Father's appearance, for the Son is in His image (2 Cor. 4:4: Phil. 2:6; Col. 2:9). Jesus said, "He who has seen Me has seen the Father" (John 14:9).
3. The divine light that is of God flashes through His garment in heaven like lightning as an indication of His awesome power (Rev. 4:5; 16:18). The power of the Lord Jesus on Earth also permeated His garment (Luke 8:43–46; 6:19).
4. The primary Hebrew word translated "to worship" literally means "to bow down," not a matter of words or feelings but an act of humbling oneself. An example is Moses in the presence of the glory of God's grace (Exod. 34:8). When the glory cloud of God filled the temple, none of the ministering priests were able to stand (1 Kings 8:10-11).
5. The same words translated "lap" in both Testaments are also translated "bosom". When one sits, the lap is almost the equivalent of the bosom. This represents the intimacy that the Son has "in the bosom of the Father" (John 1:18).
6. The Lord has made His disciples to be "a kingdom, priests to His God and Father" (Rev. 1:6). Priests are chosen and brought near to God to dwell in His courts (Ps. 65:4). God gave His covenant of peace to the Aaronic priesthood through Phinehas (Num. 25:11-13). The Melchizedek priesthood of those who have believed into Jesus includes a greater covenant of peace (Heb. 7:17, 24) Christ is their peace (Eph. 2:14).
7. He is "a hope both sure and steadfast and one which enters within the veil, where [He] has entered as a forerunner for us" (Heb. 6:19-20). Having entered within the veil in spirit, "we look not at the things which are seen, but at the things which are not seen" (2 Cor. 4:18). Our desires and minds are set on "things above, not on the things that are on earth" (Col. 3:2).
8. "Delight yourself in the LORD, and He will give you the desires of your heart" (Ps. 37:4). If we "[desist] from[our] own ways, from seeking our [own] pleasure, and speaking [our] own word, then [we] with take delight in the LORD" (Isa. 58:13-14). He will move us beyond the heights of the earth by drawing us after Him (Song of Sol. 1:4; John 6:44).
9. The Lord God dwelt within a dark cloud when He visited the Israelites at Mount Sinai (Exod. 19:9; Deut. 4:11; Ps. 18:9).
10. "[No one knows] who the Father is except the Son, and anyone to whom the Son wills to reveal Him" (Luke 10:22). "He who has seen Me has seen the Father," Jesus said (John 14:9).
11. Jesus said that there would be "dismay among nations, in the perplexity at the roaring of the sea and the waves, men fainting from fear and the expectation of the things which are coming upon the world" (Luke 21:25-26).
12. The more judgements of God come upon the earth at the end of the age, the more clearly His glory will appear upon His children. They will begin to "shine forth as the sun in the kingdom of their Father" (Matt. 13:43; Isa. 60:1-2).
13. "Open your mouth and eat what I am giving you" (Ezek. 2:8). "Thy words were found and I ate them; and Thy words became for me a joy and the delight of my heart" (Jer. 15:16). "Write in a book what you see… and the things which are, and the things which will take place after these things" (Rev. 1:11, 19). "Blessed is he who reads and those who hear the words [with understanding] … and heed the things which are written in it; for the time is near" (Rev. 1:3).
14. The word chancellor is from the Late Latin cancellarius, meaning a doorkeeper or a secretary to a king. God's chancellor is one who opens the door for others to come to know Him through a written record of proceedings in heaven and their substantiation by the Scriptures. As the risen Lord opened the minds of the eleven apostles and those who were with them to understand the things concerning Himself in all the Bible, now He is opening the mind of His church to deeper revelation of the Father's heart (Luke 24:27, 33, 45; John 16:12-13, 25).
15. God knew each of us in Christ before we were born into the world (Jer. 1:5; Ps. 139:16). "He chose us in Him before the foundation of the
world" and called us according to His purpose (Eph. 1:4; Rom. 8:29-30; Gal. 1:15).
16. Human wisdom and the reasonings of worldly thinkers are useless nonsense to God (1 Cor. 1:20; 3:20). "God has mainly chosen the foolish people… the weak… the lowly and despised, even those considered nonentities, in order to nullify those who think themselves to be somebodies – so that no one may boast before Him" (1 Cor. 1:27-29, paraphrased).
17. The Father delights in one He has called to fulfil His purposes because of the apportionment of the grace of His Son's character, life, and ministry that He chooses to allot to that person (Gal. 5:22-23; Rom. 12:3, 6; 1 Cor. 12:7, 11; Eph. 4:7, 15-16).
18. The Father has placed His entire trust in His Son, giving Him all authority to bring all creation to completion (John 3:35; Matt. 28:18; Eph. 1:22). The Son warrants this trust because He laid Himself aside from eternity out of love for His Father in order to fully obey and manifest His Father rather than Himself (Phil. 2:6-8; John 5:19, 30).
19. The natural expression of the earthly person in soul and body, called in Scripture "the old self" (Eph. 4:22; Col. 3:9) or "himself" (Matt. 16:24), must be denied and laid aside as worthless to God. The Holy Spirit will enable us to keep in incapacitated on the individual cross that He provides each of us; as Jesus bears His personal one (Matt. 16:24). The life of God in Christ alone is to be manifested in us (Eph. 4:24; 2 Cor. 4:10-11). The natural or old person cannot be changed, for it is hopelessly centered on itself rather than God. Christians change only by having more of Christ Jesus, the one new man, formed in them (Gal. 4:19; Eph. 2:15; 4:13).
20. God the Spirit causes believers to grow up together in all aspects into Christ (Col. 2:19; Eph. 4:15): in His salvation by the Scriptures (1 Pet.
2:2), in the grace of faith and love and of the knowledge of Him (2 Thess. 1:3; 2 Pet. 3:18), and in being fitted together into a holy temple in the Lord (Eph. 2:21).
21. The Father is unveiling more of His heart so His people may know that He has turned their heart back again (1 Kings 18:37) and that He has given them a heart to know and understand Him. (Deut. 29:4; Matt. 13:15) and that they may love Him with all their heart (Deut. 4:29).
22. Whirling wheels accompany certain cherubim (Ezek. 1:15-20; 10:13).
23. When God created the earth, the host of heaven "sang together and… shouted for joy" (Job 38:7; Rev. 12:4, "stars of heaven"; Job 1:6, "sons of God").
24. The Israelites usually used a trumpet made of a ram's horn called a shofar, the transliteration of the Hebrew shophar. One of the purposes of their blowing the shofar is the same as that for which it was blown now in heaven: to solemnly prepare everyone for a new revelation or act by God (Exod. 19:13; Josh. 6:5; Joel 2:15).
The Final Attack
This battle had been so long and intense that one of our prayer warriors finally buckled and withdrew from the company of those of us in prayer. Nothing, it seemed, could persuade our friend to stand. As he buckled, he left the area. He confided that for him, he wanted his life to be simpler and gentler, living the type of Christian life that did not make him such a target of the enemy.
We began to realize that the "testings" were to not only cleanse the land but also to confirm those who were called to be here.
Although we were sad to lose him, we understood. Like seeing a fallen comrade on the field of battle, your heart goes out to your fellow prayer warrior but there is no condemnation – only sorrow that all of those who were called at first would not be together to celebrate the Lord's final victory.
BUT THE DEMONS REJOICED
When the enemy pulls one of God's children off course [let us hope it is only for a time] the demons celebrate. That happened in this battle. By hindering one of God's children, their glee was frenetic.
---
JULY 11, 2008: FRIDAY
Laughing demons were flying around, stopping now and then to rub up against each other – like animals that might put their scent on a tree.
You know, I have never seen demons actually be happy. These were overjoyed – delirious. They were celebrating, it seemed – but manically, feverishly, insanely. Yes, insanely, is the best way to describe their actions and the frenzy with which they persisted. They were taunting me; exulting in their celebration and – according to their attitude – rejoicing at the expense of God's children.
Suddenly a huge angel – as black as night – with clothing that billowed out from his body – (tattered, ragged, as though the garment had not been cleaned nor changed in thousands of years) –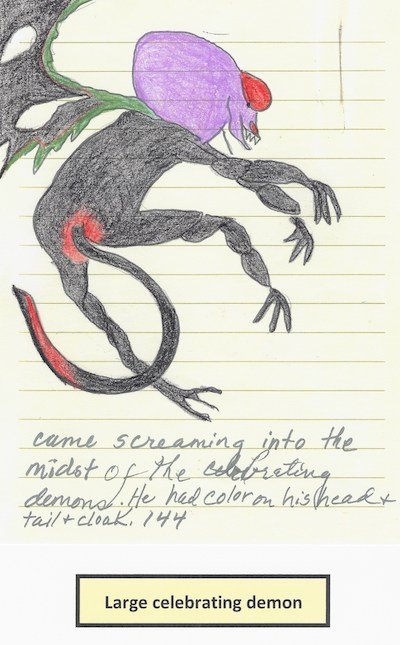 came screaming into the midst of the celebrating demons. He had color on his head, tail and cloak.
The sound he made was blood curdling and cut through everything. It made me recoil.
The demons scattered like roaches scurrying away from light.
This demonic angel flew around dragging his filthy garment through the air – screaming, screaming, screaming. Oh Lord, it was dreadful.
"Father," I said, "in the name of Jesus, I ask that You rebuke this emissary from Hell."
"Punish him for daring to cross Your sacred land. Torment him for taunting your children and return him to his place of darkness away from this beacon of light – this place that You have established for Yourself. You have claimed this place. Pursue him. Drive Your arrows into him. Literally bring him to ruin. I ask this in Jesus name."
The large demon began to look like it was being pushed or thrust in the midsection by a rail – for time and time again, something invisible was ramming into his stomach, so that as he was punched backward, his legs came flying out in front of him as he received the blows. His arms, also swung to the front of his body and his face looked as though he had received the type of blow that – if so be he was human – would have knocked the breath out of him.
Again and again he received these bows – until he turned suddenly from facing the blows to trying to escape them.
He screamed in pain as he went.
"Oh Lord," I said, "thank You for helping us."
JULY 14, 2008: MONDAY
I could see faces looking down from above – watching. I believe that it was the great cloud of witnesses. The angels, also, were standing, watching us.
"Lord," I said, "help us to know Your ways. Lead us in Your path. Open all doors to Your understanding. Give us your heart in all of this."
"Also, Lord, would You be so kind as to take up, again, the building of the fortress that will surround (what would be the guest house and the ministry location)?"
The Lord answered: "Work will resume today on that fortress."
JULY 15, 2008: TUESDAY
Work has resumed on the fortress around the ministry house and what would eventually be the guest house. It seems as though the Lord has assigned additional workers for the labor is moving ahead at record speed.
The Lord, also, assigned more guards to protect the workers.
RELICS OF THE BATTLE
Have you seen stranded tanks rusting beside the road in war footage: relics left behind of old forgotten battles? The same phenomena exist in spiritual warfare, much to my amazement.
Buzzards circled within the dirty vortex – as if there were dead carcasses on the ground and crows perched in the bare trees near the top of Prayer Mountain. These are the same trees where the huge black cocoons are hanging.
Something is gestating within those cocoons. The cry of the crows is almost like a demonic lullaby – as though the crows are nurses watching over the cocoons. Very strange. They guard and train – even while the "what-ever-they-are" inside the cocoons are developing. The whole thing is eerie.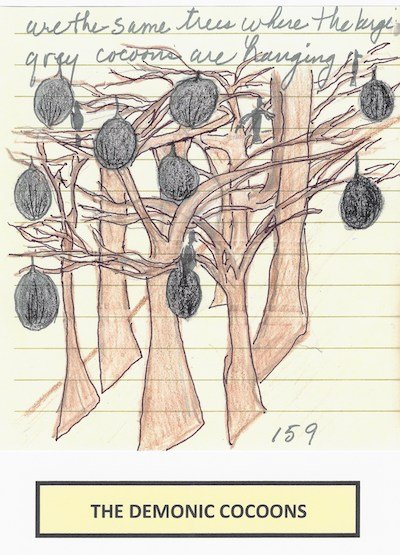 ---
THE FINAL OUTCOME
This spiritual battle was long and fierce. There were many wounded and many victories won. However, the dark sacks hanging in the trees were a
constant reminder of unfinished business – the final blow had not been struck. Without constant prayer, at any time those gloomy sacks could open, letting out God – knows – what.
GOD'S VICTORY
Nine years later, an exceedingly rare tornado came to Moravian Falls.
It pin-pointed several prophetic sites, but mainly, it mowed down all of those trees accommodating the dark, gestating sacks. It touched no person nor house - (both of which were right next to the destruction) just those trees.
All the signs of the Under Way's location are gone... leaving only a slight sink in the land to mark the once gaping hole.
After nine years, the land has been cleansed of those final markers of the battle that began in 2008. Much has happened with that group of prayer warriors also since 2008. But now that a necessary cleansing of the land has occurred, (the natural before the spiritual) I am waiting to see how our Lord moves forward to accomplish His glorious spiritual purposes on Prayer Mountain.
There is nothing more exciting than to see our Great God move on behalf of His desires and His people.