We plan to have a prayer meeting every Friday. However if we have to cancel a meeting we will announce it here.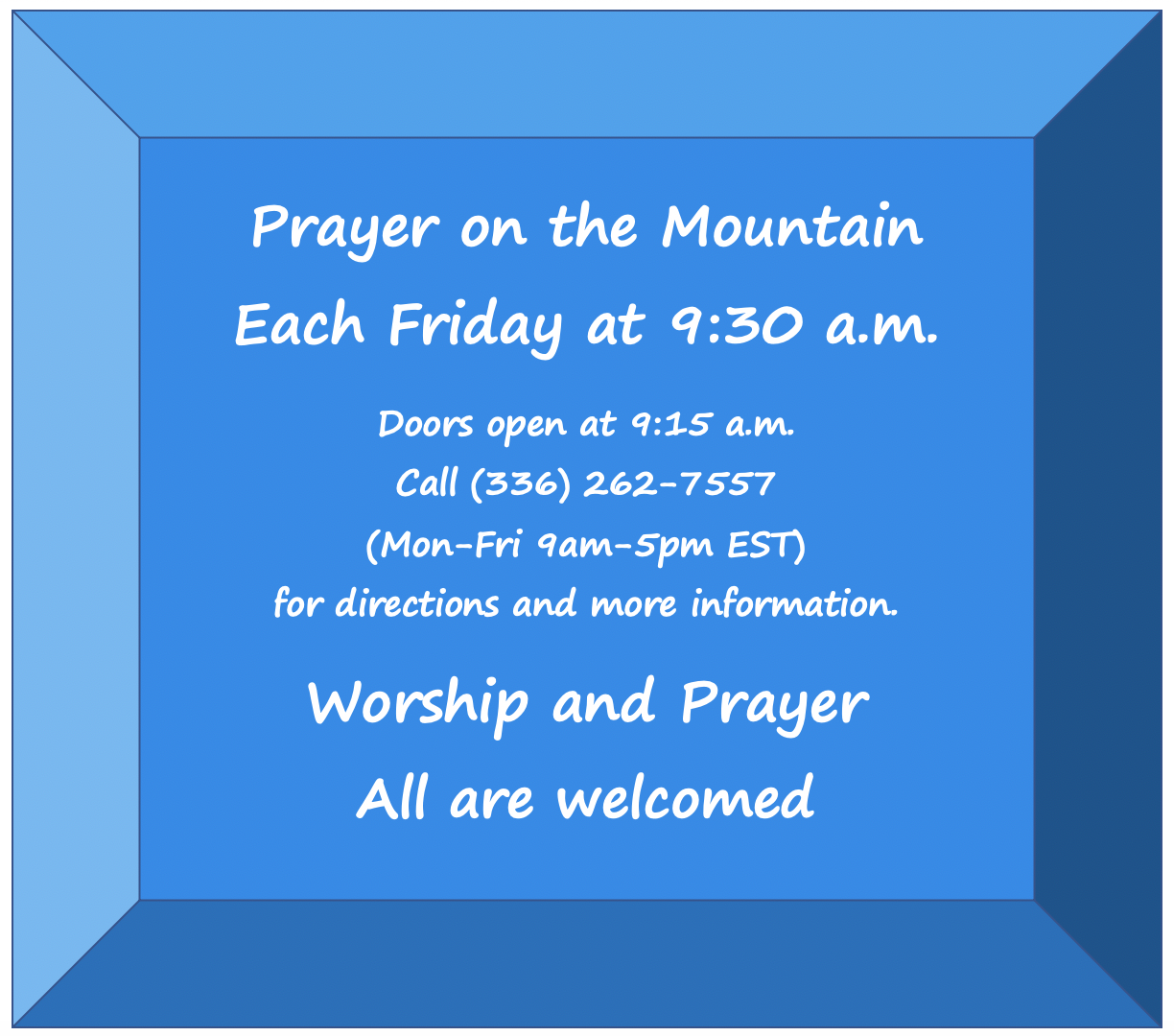 Prophetic Words
So much prophecy is coming forth in these prayer meetings that we are adding them to the website. This will give you some of the amazing prophetic utterances shared in each prayer meeting. We want to take these seriously and also to share them with you, so that we may grow and mature together.
(The prophetic words will be from these meetings only.)
Prophetic Words from our May 2019 Meetings
MAY 24, 2019 MEETING
Carol
Father God right now, in the Name of Your Son, in the mighty Name that is above very name, I ask Father God that You raise up prophets in the Church, to deal with Jezebel and to stand against witchcraft within the Church. I ask Father God, that they confront it, as Elijah confronted it, and that it be brought down in the Church. And we know that as it is in the Church, as it is in Your Body, that we will see in the natural realm.
I'm asking Father, that You begin to raise up prophets, that will stand against the false religion of Baal, the false wickedness of the priests of Baal, those that worship the false gods, and worship Lucifer. I ask Father God, that You raise up prophets that will stand as Elijah did and cast down witchcraft coming against the United States of America. I ask for them to be raised up now, in this time. I ask that witchcraft be broken off of this nation. It is a hinderance, Father God, and I ask for it to be removed.
I ask Father God, for the fire of God to begin to come upon Your people. That they begin to encounter the flaming Seraphim and they begin to receive and interact and are changed by the Spirit and the Seraphim of purity. That your people Father begin, to seek You, that You put a hunger and a thirst in them, to seek after the righteousness of the Kingdom of God that is within them. Let everything within them that is not of God begin to be cast down and to be consumed by the fire of God, so that there will be nothing left of them that the enemy can operate through.
Father, I thank You for that. In the name of Yeshua Ha Mashiach.
Richard
5 "Then suddenly, in an instant, your ruthless enemies will become nothing more than dust in the wind and your vile tyrants like wind-driven chaff!"
(This is about Ariel and His people Jerusalem)
6 "She will be visited by the Lord Yahweh, Commander of Angel Armies, with thunder, earthquake, and deafening noise, with whirlwind, tempest, and the blaze of a consuming fire! 7 As quickly as a fading dream or as fleeting as a vision of the night, so will all the vast hordes of all the nations fade away and all who war against Ariel and her fortress disappear. 20 For the terrible one will be no more, the scornful jester will not be found, and all the lovers of evil will be cut off. 21 Those who make the innocent appear guilty, those who ensnare others with deceitful tactics, and those who lie to keep the innocent from getting justice shall likewise be destroyed" (Isaiah 29:5-7, 20-21 The Passion Translation Bible).
We don't look at the things around us, but we look to You our mighty God and we shall see You come forth like a mighty storm, in Jesus name.
In Jeremiah 23:29 – Is not My word like a fire says the Lord, and like a hammer that breaks a rock to pieces.
Carol
Father God we are so thankful for You, we are so thankful for Your love. We're so thankful that You called us for such a time as this, that You chose each and every one of us to be in the earth during this hour, during the culmination of this age. Father God, we ask that the people of God, begin to have an understanding within them, a knowing within them, that the age we have been in is coming to an end. That there's a new age that is about to embark upon this earth.
I ask Father God, that You put it upon the hearts of all Your children to begin to get before You, to humble themselves before You and to begin to cry out to You, and begin to ask You, and give You permission to do in them what needs to be done for this hour, Father God. That You begin to deconstruct any false thought patterns, any religious patterns of thought, Father God, to deconstruct what needs to be deconstructed in our mind and in our understanding. So we will begin to get in line with the purposes of God… the Throne of Heaven, and in what You want to do in this time and in the earth.
I ask Father God, that You so burn that in the hearts of Your people that, without fear, they lay themselves before You. That they come before You, and say, "Do what needs to be done in me, Father God! I want to be part of what You're doing in this earth. I want to walk in what You want me to walk in. I want to fulfill everything that You wrote of me in the Book, Father God." I ask that I be among a people that will not be denied that which Yeshua provided in His finished work, that will receive all of it, even to the healing of our DNA.
I thank You Father God, for the coming forth of the manifested sons of God into this earth, who will stand, and none will be able to stand against them. The fire that will be upon their lives will just consume the evil. I'm asking for a level of holiness, a level of purity that mankind has not known or understood, from before the fall. Father, restore all, for Jesus paid the price. Restore to us what was lost. . . the removal of the memory of sin, the removal of the memory of iniquity of the generations, that it no longer impacts how we see ourselves, how we see this world and how we see what God wants to do.
I ask that we are open, Father God, and we give You permission; that we trust You and all that You want to do. We want to agree with you, in the Name of Yeshua.
Timothy
Father we ask You to bring cadence to Your army, Lord that we would walk and march in lock step and harmony with Your Spirit. Lord, we ask You to remove the divisiveness of the enemy in Your people. That we would truly come together in the unity of Your Spirit, not political allegiance or political alignment in the church. Your called-out ones would be called out, truly, to walk in unity of Your Spirit.
That there would be no mixture, no divination, no Christian witchcraft that would be allowed in Your body. Lord, that You would raise up people with discernment. That no fleshly prayers would take place and that the Spirit led prayers would come forth. And that we would not pray out of intellect, but we would pray out of unction by Your Spirit. That we would move by the unction of Your Spirit and that Your Words prayed in Spirit, would come forth immediately, Father.
That the sower would be overtaken by the reaper, that Your harvest would come forth without delay or deviation, Father, without being sidelined, without being derailed, without being delayed, that Your words would come forth in the power of Elijah. Lord, that the things that the flesh has produced, would die off now. Lord, that the flesh would no longer be leading in Your church, but Your Spirit would be leading and Your people following the leading of Your Spirit. That they would know Your heart and know Your mind and do Your will by the unction of the Holy Spirit. That cadence would come to Your body and that You would be glorified.
Anna
I saw these dark caverns (almost like Mammoth Cave) and the side rooms and corridors and down all sorts of dark and hidden places that the enemy has taken parts of people and put them in prison.
Lord, please draw them to repentance and help them turn from sin. We ask now, Lord, that You would flood these places wherever they are with Your light and that You would rescue the parts of people that have been put in prisons by the enemy, Lord; that You would rescue them now, Lord, and give them back that part of their soul that has been given over to the enemy. Please, in Jesus' name we pray this.
Mark
Let that Spirit of Jezebel that has held people down and the spirit of Ahab, that God is breaking off along with that spirit of Ahab be defeated. For God is raising people up in the spirit of Jahoo to come and defeat that spirit of Jezebel that has kept people down for so long, and kept them captive, and kept them seduced.
Jonathan
I wanted to share about my daughter – last week, she was worshiping here (and she is four years old) and I asked her when she left (as I could see her being touched) I said, "Did you feel like God was hugging you?"
And she said, "Daddy I felt like it was the winds of God blowing on my heart."
Timothy
Father, all those who are truly searching for You, Lord let them find You in this hour. Father that You would make Yourself known to a people who know You not. That in their searching for truth, they would find Jesus and not the deceptions of this age. Lord, that they would have an encounter with the living Jesus. We thank You Lord that You are the way, the truth and the life and so Lord, let them know You in a personal way. Lord that that you would make your presence known, that You would continue to manifest Yourself to them by way of revelation. Lord give them a revelation and an understanding that does not come through mental ascension but comes by Your Spirit's wooing and drawing and cleansing and washing and liberating and freeing. Lord that the chains that bind would be broken in this hour and that a people would come to know You and Your saving grace. We thank You Lord.
Wayne
You honor His name and He will show you His glory and that is what He is doing here.
MAY 17, 2019 MEETING
Uche
My daughter saw the Lord standing here, in front of her.
A Lady
The Lord spoke to me from the book of Micah and He said:
1 In the last days the mountain of the house of the LORD will be established as the chief of the mountains; it will be raised above the hills, and the peoples will stream to it. 2 And many nations will come and say, "Come, let us go up to the mountain of the LORD, to the house of the God of Jacob. He will teach us His ways, so that we may walk in His paths." (Micah 4:1-2 Berean Study Bible)
Angee
I had a vision during worship when you played this instrument. The sound that came from it was like it was going down the streets, in through the dark streets and into all the corners and the crevasses, and needles were falling out of arms just because of our Lord's presence. But the sound had a fragrance; I smelled it and I felt it blow through here, just a fragrance and it's the fragrance of the Lord. And so, Lord, I thank You that You're sending Your sound and You're sending Your fragrance into the darkest places, into these streets and they're just blowing through like the tsunami that you were talking about. Lord You are just blowing through and needles are falling out of arms. It's a beautiful encounter that they're now encountering You and Your presence. Lord, I just pray that these fathers, the arms that the needles are falling out of – this generation that is fatherless, that You, Lord, are waking them up. I thank You that on behalf of this fatherless generation, and that there's a healing that's coming. And Lord, I thank You that You guide, and You lead, and You Father teach them how to be fathers to this fatherless generation. Lord I thank You that You're an example to them, the most precious, divine example to them, for who is better to show father's how to be fathers in this generation.
A Lady
The Lord showed me a long time ago that our county, Wilkes County, has a huge blanket of addiction over it. It's like laying all over the ground and He's been wanting to roll it up. Now, when she was talking about the needles falling out, He said it's going to start here. As many trees as you see; that many needles are going to start falling out and it's going to go across the whole US and around the world. This blanket is an example of victory that He's rolling it up.
About seven or eight years ago I read something – in the US, Wilkes County sadly was the second greatest area of drug addiction and death from drugs (and we're very ashamed). And He said the reason that that made the news (He just told me this), was that He's going to turn that around.
Mark
In the last days He wants to bring people together. Each one of us is like a brick and how can you protect a brick? If you drop it, it will break. If you hook them together in a great wall, the great wall of Christians in the last days, to stand against the evil one. That's what I was dreaming about. We come together arm in arm. We gain the security and the peace of being part of the wall, the great wall of Christians and the great cloud of witnesses that will be part of the end time church. That is what I was feeling.
A lady
I want to add on to that. I have been feeling in my spirit just what you are saying only it was a spiritual building, that is what we are doing – it is spiritual.
Casey
During the film Indiana Jones and the Last Crusade, it he had three challenges and the very first one was the breath of God and the clue that he has to solve this riddle is only the penitent can pass: "only the penitent man will pass". The Lord just won't let it go and as Timothy was praying about abortion and as you guys were talking about the epidemic in our country with drugs, and as you were praying for Israel, I saw the Lord had a needle and thread that was sparkling and He was tying all of that together and kept bringing it back to my remembrance that, "only the penitent man will pass".
So, Lord, right now I pray in Jesus name, and as we're here together corporately, Lord, we decree and declare a new revival of repentance over our country, over the world, Lord, as you have been showing John and I over the past few days about Nehemiah. One of the greatest revivals in history was after Nehemiah rebuilt the city. He rebuilt Jerusalem and right now I decree and declare the rebuilding of the city, Lord, and right now just this revival of repentance where they were between the "Feast of the Trumpets" and the "Feast of the Tabernacles". They were in sackcloth and ashes and just overwhelmed.
Some of the people, had never even heard the law before in their whole entire lives and it brought them to repentance. And I thank You right now for an encounter with You, Lord. The people in churches, the churches; are full of people who are not saved. Lord right now help them to encounter You. To encounter You in a way that they've never encountered You before. In a way that they cannot deny.
Right now, out of this room, off of this mountain we decree, and we declare a move of repentance and the deliverance will come. The deliverance from the drugs, abortion, and all sin. All of the deliverance will come through this move of repentance, Lord, and we send it out now in Your name. We bless You and we glorify You and we honor You, Lord. Lord, You are holy. You are worthy. Lord, we live to honor You. It's not about us. It's about You, Lord, and it's about the others. It's about the others. Right now, Jesus, Your heart in us. Oh, Lord, repentance. I repent. I repent right now on behalf of our nation, on behalf of those in churches right now that have just played church, right now I repent on their behalf. Lord, move, move now, in Jesus' name move on the churches, Lord. Lord, we love You.
Jonathan
I heard the word this morning that, today is the day of "victory," and I saw people in this room claiming that. And I'm taking it as a claim.
And the other thing I felt is that there are those of you that are in a transition right now, I'm one of them as well. But it's to get to your harvest, you need a breakthrough, and it's a financial breakthrough specifically. I felt the Lord saying that He wanted us to pray for that right now. So, if you're in need of a financial breakthrough for your transition to get to your harvest and your destiny. Lord, we're going to agree, today and thank You for Your kingdom coming in alignment with Your (God's) will, with Your purposes, and all the resources that You have created for us will come into our lives. We come in agreement today. We declare by the blood of Jesus that today is our day of victory, we declare victory in Christ, and that today we thank You, God, for Your victory over our lives in every area, and in everything You died for. We praise You for that.
Father, we thank You for the financial breakthrough for those in this room and those associated with ministries in this room and other ventures that You've called forth today, for that victory to come in Jesus' name without delay for Your purposes in this hour on the earth and in our lives and in our families, Lord. We thank You today for every resource online and every conversation and every alignment of relationships, Father, for the breakthrough that You have called forth in this hour. Amen.
Anna
The first Angel that I saw when I came up here was called "Victory".
Wayne
When Ernest first came in and told me his name, the Lord said, "Remember his name."
The second time he prophesied and prayed, in that doorway, the Lord said, "Earnest." Now He wasn't talking about the man. In my day, which was a very long time ago, when people made transactions, one of them would give what was called, "earnest money". Basically, that was a guarantee of what that person would bring forth, would bring the whole thing forth.
He was brought here today because of his name. Everything that had been prayed about and prophesied about today, is an "earnest" from the Lord.
Donna
This is the tsunami that is coming, the arising of the sons of the living God, hallelujah. The sons are emerging, and with them He is marrying the anointing for the liberation of creation.
Oh, though you groan, your liberation is coming, hallelujah, and it is coming swiftly says the Lord.
Just put a fire in us oh God that cannot be quenched until the fulfillment of your purposes and your glory. For the glory of your name.
Ernest
As I was sitting here, I saw the Spirit of Wisdom, who was dancing and twirling. And then I saw this twirling, I saw a long thin flag and it was going over everybody. Then I began to hear the Lord say, "I have come to release wisdom for today's needs?" Every need, is being met through His wisdom. And the Spirit of Wisdom is coming upon us to understand what we have heard and seen and to know how to walk and how to live, and how to operate.
There's coming a day when wisdom will lead you in and out of My Kingdom, for you will be transported from place to place. You will preach the Gospel, you will heal the sick and you will raise the dead, for My remnant is raising up, it's rising up, it's rising up. For I am releasing the Spirit of Wisdom to understand how to go in and how to come out. For I am going to give you the hands of understanding. I'm going to put feet to the things I have put in your heart and you will go and you will release the Kingdom wherever I send you.
Wayne
What I heard, when this meeting started was the word "wisdom".
Carol
Father God help us to become so in tune that we hear the cry of the heart of the Father for this day. The cry of the heart of the Father. To be a people that begin to move in a level of faith that has never been seen before on this earth. Father God I ask, and I pray over everyone that is here, that there be a shift that takes place in their life and in their relationship [with You] and in their understanding with the Father and what the Father is doing in this time.
And that they begin to rise up and begin to release and loose out of their souls anything that would hold up the move of God, anything that would hold them up, and that the enemy would not have a landing pad to operate in their lives or the lives of any of their loved ones. Father God I ask that there be such a passion in our hearts, a fire to release and to not allow anything [unholy] in us, so that we will be able to stand as our Lord stood and said though the enemy comes, he has nothing in common with us. There is nothing in us that the enemy is able to grab a hold of, and he's unable to operate in a people that understand that the Word of God, the Kingdom of God, and that vibration and the Word is alive, it is living letters, it is alive and it shakes everything that can be shaken within us.
Father, we give you permission to begin to shake everything that has been in our souls, in our minds, our thoughts, to deconstruct anything that the enemy has used. Any negative paradigms, any agreement with the enemy, anything Father God, that in anyway allows the enemy to operate, that our minds will be renewed and we become a people that understand the Kingdom, we understand the ways of God, that we become a people that the Word permeates every cell in our body, that it permeates every part of our soul, and we are no longer a people that are need based, but a people that are authority based.
We begin to understand that we are walking, and we are representing the King of kings and the kingdom of darkness shall not prevail against us on any point, an understanding that what we have (not silver and gold) but You, Your Spirit, Your Word, Your Life, Your Salvation to a hurt and dying world.
Father God, I ask that You begin to birth in every person here, awaken them, to whatever You need. Stir them. Whatever needs to be done, put in them and allow them to hear the cry of the heart of the Father and the cry of creation that is groaning for the manifested sons of God to come forth. We believe You, Father that You're going to do in us what only You can do and that nothing will stand against what You want to do. Thank You for that Father God. In the Name of Yeshua Ha Mashiach of Nazareth.
Ed
The Lord says that there are some here that have been given a ministry and it may not be a pulpit ministry it may be a ministry to travelers, and He is saying to just take that step.
The Lord just gave me this word from Matthew:
25 "Therefore I say to you, do not worry about your life, what you will eat or what you will drink; nor about your body, what you will put on. Is not life more than food and the body more than clothing? 26 Look at the birds of the air, for they neither sow nor reap nor gather into barns; yet your heavenly Father feeds them. Are you not of more value than they? 27 Which of you by worrying can add one cubit to his stature?
28 "So why do you worry about clothing? Consider the lilies of the field, how they grow: they neither toil nor spin; 29 and yet I say to you that even Solomon in all his glory was not arrayed like one of these. 30 Now if God so clothes the grass of the field, which today is, and tomorrow is thrown into the oven, will He not much more clothe you, O you of little faith?
31 "Therefore do not worry, saying, 'What shall we eat?' or 'What shall we drink?' or 'What shall we wear?' 32 For after all these things the Gentiles seek. For your heavenly Father knows that you need all these things. 33 But seek first the kingdom of God and His righteousness, and all these things shall be added to you. 34 Therefore do not worry about tomorrow, for tomorrow will worry about its own things. Sufficient for the day is its own trouble (Matthew 6:25-34 NKJV).
Ernest
Father I thank You that You are breaking confusion off of your believers, and I thank You that You are sending confusion into the enemy camp. God I thank You that you are releasing victories where there have been prolonged hinderance to the things of God.
And Lord, right now I thank You that the people of God are stepping into greater victory than ever before and we are going to see, God's inheritance – which is the nations, Father we call them into fruition right now. God we thank You for the prophecies that have been spoken about the billion soul harvest, that we are Your workers and that the sons and daughters are being raised up right now. That they are might men and women, they are bold, they are on fire, they are the laid down lovers, they are going forth and they are trashing the assignments of Hell right now in Jesus name.
MAY 10, 2019 MEETING
Anna
Oh Lord, we come before You as Your children – we are Yours Lord and we are here to pray Your mind and Your heart, for that which You want, that which is in Your heart and in Your plans, Lord. You have plans, we may think that we have plans but You have plans. Lord, we pray now in the name of Jesus that we do pray what You want Lord and only what You want Lord because it is nothing – it is flesh if we pray what we want – we say we want what You want, Lord. Correct us if we get off on some tangent or something that is not You, Lord. We want You and we want what You want.
Timothy
Today, Lord, we declare the word of release to call forth those whom You've prepared. We ask that they be granted marching orders. Release them from that which would hold them at bay. Let them be released to do their part, to come forth in the power of Elijah. Father, those that have been destined to declare Your Word and to do Your works for such a time as this. We ask, that You would dispatch Your angels to their aid. Lord, that those who are in need of comfort and healing, that have been damaged in the battle, we ask that their hearts would be strengthened, that their hands would be made strong and their minds sharp. We pray, that there be no confusion to Your orders, that the enemy not be allowed to bring mixture. That in their sending they would go quickly. That there be no delay. No derailing of Your plans in this hour. Father, we cry out for help this day. We ask You for help, in the name of Jesus.
Lord, that those whose hands are weary from standing would be lifted up. That their season of visitation and strengthening in the manner of Your prescription, would be now. Lord, those that have left the battle, that You would heal them and bring them back in the power of Your might. That in their weakness Your strength would be perfected and made strong, and that we would learn to depend on You in greater and deeper manners, ways and means.
Lord, we pray for the release of resources to those who do not have what they have need of now. Lord, we pray for the rallying of Your heart cry, that Your body would come together with one heart and one voice, one cry and one purpose, serving one Lord. That those who have allowed themselves to be put on pedestals, would repent. Those who have exalted themselves above measure would be brought low by Your grace and Your love to occupy the place of Your calling and Your choosing, to do Your bidding with the authority of Your Spirit and presence and Your affirmation.
Lord, those who have not understood what You're doing in this hour, we pray for understanding. That in our getting of wisdom, You would also grant understanding that we might find the proper application of that which You have spoken through the years and to know the place of purpose and position according to Your alignment and according to Your good pleasure and Your heart's love and cry to humanity in this hour.
Lord, we pray that our love for one another would be made evident by our actions and our deeds as well as our words. That the world would recognize by our example that You have sent Your Son. As we love the unlovable, cry out for the downtrodden, and intervene for the widows and orphans. Lord, that Your sticks would be made one. That the tribes of Israel would be united together with those who have been grafted in and we would understand the place of Your choosing in this hour as never before.
Lord, we pray that the confusion that the enemy has brought through error and deception would be rooted out at every turn. Lord, that there would be no corner or place or provision given anymore to deception or division in Your body, in this government, and in Your children, in Jesus' name.
I give You the praise and the glory and the honor, Father, that Israel be united with the twelve tribes and that in Your land, there would be true authority to speak on Your behalf, in Jesus' name.
A Lady
God represents wisdom to me. And I believe as we proceed to ask God for wisdom, He will put the wisdom in your life, He will put it in you, as you trust Him.
Anna
Lord, the prayer that You have given us asks that we be here on earth as it is in Heaven and there is complete unity in Heaven. Complete unity around Your throne, Lord. Complete unity. We ask that You do this, Lord. In Jesus' name. Only You can do it! Only You can do it. Please help us.
Timothy
Lord, forgive us for not being led of Your Spirit and following Your Spirit. We pray, Lord, that You will help us hear Your voice and know Your heart with clarity and prove what is Your perfect will. Father forgive us for not waiting in Your presence to do Your will. Forgive us of our own agenda and our busyness and the things that so easily beset us and the distractions and the cares of this world. Father let us realize the seriousness of the hour.
Lord, that we would wait and know what You would have us do, even moment by moment and day by day. That the things that are on the horizon and in our schedules and in our plans, that do not align with Your will, Father, in the easiest way possible, let us be redirected as those who are Your body and those who name Your name. Lord, that we would find perfect and divine alignment with Your will, Your plans, and Your heart, Lord, in this hour. Father, we need You. We need You, Holy Spirit. We say "Come Holy Spirit, touch Your people. Visit with us, woo us, draw us."
Arrest us, Father, by Your love and Your kindness that we might fulfill Your plans and destiny for our lives – that we might have our reward and give You Your due, Lord Jesus Christ. We declare Your victory. We declare Your victory over this mountain. We declare Your victory over this region. We declare Your victory over this nation. We declare Your victory over the earth. We ask You to raise up those who will walk in that victory fearlessly without reservation or distraction. Help us, Lord, be those people and unite us as one heart and one cry through Your perfect will, Father, and we will give You the praise and the glory and the honor.
Timothy
Today, those who know you're called and that the call of God is on your life, but you haven't stepped into it yet, if that's you and you want to make the commitment to fulfill your calling today, please stand up. If you've never accepted the calling before or it's weighing on you, there's a refreshing today. God wants you empowered and today is a day of release. There's a healing for those who have been repressed or pushed down, whether it's you in your own insecurities, weaknesses and fears, God said to Paul, "My strength is made perfect in weakness." That wasn't just physically, he, Paul, knew it in every realm and every area of his life. And today the Lord says it's a new day, it's a day of My calling, it's a day of My purpose, it's a day of My anointing and it's a day of My release.
For those who will stand up and say, "Yes, Lord!" and "No," to the weaknesses of the past, the limitations of the past, the fear of the past, the oppression of the past, whatever the limitation that has kept you from stepping forward; there's a release of teeny tiny steps. When you take those teeny tiny steps of obedience, no matter how simple, God is going to bring great release and you're going to grow in confidence and you're going to grow in strength, until the roar of the Lion comes through your voice, and through your life, and through your heart, and through your steps, and you find it to be more than enough.
The anointing of God will break every yoke that confronts you, that would try to hold you back and that would try to limit you and keep you from the glory of God being made manifest in your life and you will know the power of the Most High even as Paul said that the fullness of the Godhead dwells in His body, so shall it be with your life until you know the victory that God has given you. You will know what Christ has died for you to have, in every realm, in every area, in health, in healing, in righteousness, in salvation, even in wealth and riches according to the destiny that God has placed upon each one of you – the provision and flow of resources to more than meet every assignment that God has for you, no matter where He would send you. And the Lord says, "Even some of you in this room will go to the four corners of the earth. Yet even though you felt, 'Lord, is it possible?', even yet, the Lord says, 'Yes, it's possible and with Me all things are possible. And you will know the power of My angel's wings to carry you even without ticket or vehicle, for you'll go in My Spirit and you will know the power of translation and the power of My Word flowing through you to bring release," says the Lord.
"Think it not a strange thing that you've been called for such a time as this, and this is a place of My providing and residing in your life, not only where I send you but everywhere you've been, says the Lord. For I'll teach you even through your mistakes and your errors, your failures and your sin, if you will give it to Me and I'll use you to be a light in the middle of the darkness, so that this generation will not fall in the ways the enemy has brought you down in the past, says the Lord. Give it all to Me. Give it all to Me this day. Give Me your insecurities and I will make you courageous as a lion, says the Lord and you will know that this is your day of victory," thus says the Lord.
Anna
We believe that You, Lord, have begun revival somewhere. We are asking You, Lord, that the revival would start spreading. We thank you for what you are sending forth, water; like a great tsunami. It's coming to our ankles. Let it come to our knees. Let it come to our thighs, Lord, and then let us swim in it. You've been training us all these years. All the years since 1977 when you stopped the Charismatic revival. You've been training us, Lord, all these years. Many can pray and preach. Many can lay hands on people for healing. Many can deliver people from demons. Now, Lord, we're ready to do the work of the Kingdom. We're ready for it, Lord. We're asking. Show us those that You would have us pray for, Lord, please. Come with Your Spirit and a tsunami worldwide – that great outpouring that will cover the whole earth. Come now, we ask this is Jesus' name. Amen.
Candace
Roar as a lion for the outrage and anger of the world, like the cry in Psalm 37, Lord: that we would cease from anger. We are coming from a place of victory. We are fighting from a position of victory and we do not need to be outraged and filled with anger. We walk in boldness and confidence. Like Jesus we're moved by compassion and there is such a difference and so, Lord, I ask that you would forgive us for those places that we have cried out in outrage and that we've joined in with this age of outrage. That is not what You have called us to, Lord. Draw us back to Your heart. That is not what Your boldness looks like, so forgive us, Lord. Forgive us, Lord, but bring us back to You. Show us how to be moved by compassion. How do we move in boldness into the world and be moved by compassion and draw others to You and point others to You? Thank you, Lord.
Barry
With regard to the River flowing, I actually saw that in my heart, and it was really very interesting, so that I could just connect so quickly to what you were praying. But I felt like there was a prophetic aspect to it and – that is, that the eyes of the Lord had looked out upon the land to note its famine and its dryness. And that there's a great level of barrenness that has been present but that His River is flowing, that He's sending it forth.
I could just see it as though it was one stream in particular, but in that, there was this release of hope. There's actually a release of everything necessary for the life of God to be made manifest to those who need to receive it.
And I also felt like that there is a generational aspect of God's workings, and the stream that might flow to those who are older may be a little bit different than it flows to those who are younger because there are distinctions in callings. And for us to be okay with that and receive that which is purposed for us in the station of where we are in this present time of our lives, and to know and be at peace with the fact that God has not forgotten. He has not forgotten, and He will hydrate.
Susan
Today Anna, we talked a lot about water, and you were talking about that in agreement with my brother here and also when you were talking about water to your ankles, to your knees. And since I've walked in here, I just keep hearing a chorus. And please sing with me, some of us sing here, but, you know, we are called to worship.
"Open the floodgates of Heaven. Let it rain. Let it rain. Open the floodgates of Heaven. Let it rain. Let it rain."
Yes, Father, the cleansing flood. Thy will be done on earth as it is in Heaven. So, send us healing waters. Send those healing waters from Heaven. We receive them today: the living water.
(Let it Rain, written by Michael Farren)
We receive it today that living water will start rising up in the place of heaven. From the floodgates of heaven, let it rain over here.
MAY 3, 2019 MEETING
Cindy
During worship I saw the inner curtain of the temple being drawn back without hands. It was one long curtain being drawn off to the side, it was being drawn from the inside and it was moving the right. I felt something deep and precious in the Spirit. I almost couldn't play. It was during the "Baruch atah Adonai" song. There was a shift into the realm that was holy, and I felt like I could not touch it. I can't fully put into words what I felt. We saw a precious place.
Halee
While we were sitting here, I was seeing the Lord pouring oil into our eyes. It was eye salve like in Revelation 3 and I saw the scales coming off of our eyes. So, I speak over the watchmen and the seers. God, that they would not be Eli's that misjudge a move of God, that misjudge the Hannah's and the Samuel's. That, God, they would not be judgmental in their flesh and stuck in an old wine skin. Oh, Father, that you would remove the scales. Remove the scales through dreams, through visions, through encounters, even when they won't listen to the tongues of men. Father, that You encounter them in the night season, in the grocery store, in their car. Father, and just remove those scales so that they can see rightly the move that is coming, and they will not misjudge it because it's messy or it doesn't look like they want it to look. That, Father, they will bring this baby in; this new move, this renaissance, this new birth, not just a revival of dead things, but a new birth. Father, that You would bring forth the new eyes to this region and around the world. That these fathers and mothers will see this move and they will nurture it and an El Shaddai anointing, a breast-feeding anointing, would come on mothers and fathers.
Dylon
Isaiah 55:10-11 "For as the rain cometh down, and the snow from heaven, and returneth not thither, but watereth the earth, and maketh it bring forth and bud, that it may give seed to the sower and bread to the eater; 11so shall my word be that goeth forth from my mouth: It shall not return unto me void, but it shall accomplish that which I please, and it shall prosper in the thing whereto I sent it" (KJV).
Father God, we just thank you for every word that's been spoken over everybody's lives that are in this room, over every ministry, Father God, over this region. We remember the promises, Father God. We thank you.
Barry
Each of us has a very valuable part to play in all of the purposes that God has. He wants us to recognize how we are fit together, all a part of
something bigger than ourselves, far bigger than ourselves and yet we
are each one important and essential. So, bear that about when the
enemy comes against you to make you feel like you are a nothing – he is a liar. He speaks out of what he has, which is nothing. The Father is the one who establishes. So, take heart at all times.
Timothy
Lord, we thank You for Your Word that directs us to be courageous and to be made strong in the power of Your might. We thank You for the Spirit of Might as our portion today. We thank You for Your gift and what You have given us. Lord, we thank You, that we are united with one heart and one voice and one cry. That we might know You, in the power of Your resurrection through the fellowship of Your suffering. We thank You, Lord, for coming forth in a people. Lord, we desire to be that people.
Early this morning, I penned this: The Lord has granted a gift of repentance to America . . . north, south and central. Father is calling forth those who will worship Him in Spirit and in Truth, lifting up holy hands without wrath or doubting. A great divide will come forth as Father separates the wheat from the chaff. Mixture will be removed from His people, as we repent. Eating from the tree of knowledge, either good or bad is sin. You cannot stand on a lie, either; if you do, you will fall quickly, in this hour. Stand and repent. This is the Father's invitation, in this hour.
Father we thank You for Your invitation. We thank You for Your gift and here today we receive Your gift on behalf of America. Cause us to be united in the place of division. We thank You that You are removing all the things that offend. Lord, let us not offend or grieve Your Spirit. We thank You for the unity of Your Spirit. We thank You for Your love and Your peace, and the gift that You have given us this day as America. We repent Father and we ask You to forgive us, Your people, Your called out ones, Your chosen. Lord, let the separation begin in Your house that the world would see by our love for one another that You have truly sent Your Son. Father, we thank You, that there are no bounds, no walls, no barriers that can hinder Your love from its task. We thank You, Father, that Your love never fails. So, Lord fill us this day with Your love and let faith and hope arise until all is manifest that Your eternal heart has determined even before the beginning of time. Father, we ask that You would unite Your people, even that the two sticks would become one, together with the Gentiles and that there be no longer division in Your body here on planet earth.
Father, we thank You, for this gift for the Americas. Lord let this sound be heard in the hearts and in the minds of Your people, even as an earthquake. Until nothing remains that would hinder or offend. Lord, we ask that You would grant us the grace to walk in Your love and cover the multitude of sin. Lord, that the Americas truly would become, not only in word but in deed, Your promised land. And we will give You the praise and the glory and the honor that You deserve.
We thank You, Jesus, for Your grace upon each of our lives today. Lord, we thank You for Your love and let us be partakers and disseminators, imparters and releasers of Your love that never fails, Lord.
Jonathon
I have a word to read. It's Ephesians 1:9-11:
"He made known to us the mystery of His will, according to His kind intention which He purposed in Him 10with a view to an administration suitable to the fullness of the times, that is, the summing up of all things in Christ, things in the heavens and things on the earth. In Him 11also we have obtained an inheritance, having been predestined according to His purpose who works all things after the counsel of His will" (NASB).
I felt to read this. The word that I got earlier this week was, "It's time now."
I believe there are two visions I had when we were in here. One was the Lord with a drill going into our hearts and Him saying He's getting to the core; He's getting to the core now. We don't have to do it. His drill is doing it. We just have to allow Him to get to the core.
And the other thing I saw that goes along with several other words was: I saw a switch being turned, like the power switch coming on. The Lord showed me a little more about it – it was actually a transfer switch. It is a transfer of our power to His power and His purposes.
So, Father, we just give You our power. We give You our autonomy. We give You our abilities today. We receive Your courage. We receive Your strength. We receive Your ability to do Your will in this hour. And we thank You for the fulness of time and all of Your purposes coming forth in Christ in our lives, in our families, and in our lands in Jesus' name.
Jeremy
Haggai 2:6 "For thus says the Lord of hosts: 'Once more (it is a little while) I will shake heaven and earth, the sea and dry land; 7 and I will shake all nations, and they shall come to the Desire of All Nations, and I will fill this temple with glory,' says the Lord of hosts. 8 'The silver is Mine, and the gold is Mine,' says the Lord of hosts. 9 'The glory of this latter temple shall be greater than the former,' says the Lord of hosts. 'And in this place I will give peace,' says the Lord of hosts" (NKJV).
So, I think this exhortation to be strong in the Lord and in the power of His might, to be unified as one body and to be walking near to the Lord without giving offence in anything. It's critical to "being the house of the Lord". It's in this place of "being the house of the Lord" that He gives His peace. So, if we are not in that place where He gives His peace then we will not have the courage to come into agreement with the promise. It's a promise, not a threat. It will shake all things. So, He created the heavens and the earth, the mountains and the seas, and they are His to shake. They belong to Him. It's His right to shake. He made the sky and He already designed it so that He can roll it back and reveal His face. Even when the nations are fleeing from the face of the Lamb, we are welcoming it because we are in the place of peace and coming into agreement with the promise that He will shake all things so that righteousness will dwell.
Courtney
I had a vision, while we were worshiping, I was hearing that God would continue to reveal all of himself to me, just all of the different entities and everything that He is. It was a vision of two silhouettes. You know what it looks like when a cell starts dividing and it is kind of like that meshing between them. It was like two silhouettes with that meshing in between them. It was like the cells coming together and what I got from that was it was His way of reminding me that I am part of Him, just as He is part of me.
Wayne
I think the Lord wants me to read something. This is a card I picked up from our local post office about a year and a half ago and it was very significant to me. He wants me to read it now over the entire gathering. This is a word from the Lord for each and every one of you if you will grab hold of it.
"You are stronger than you know. Every day, may you learn more and more about your strength and lean more and more upon the remarkable courage that I have given you."
Everyone in here has more strength than you know. You have more courage than you know. Believe it. Find those scriptures in the Word of God that speak to strength and courage. Believe it. We are coming into a time where you are going to need it. Believe it.
Barry
There is a remarkable thing the Lord has identified himself with us and calls us his own and calls us His family.
Hebrews 2:11-12 "Both the one who makes people holy and those who are made holy are of the same family. So Jesus is not ashamed to call them brothers and sisters. 12He says, "I will declare your name to my brothers and sisters; [Speaking of the Father] in the assembly I will sing your praises" (NIV).
I mean He sings praises in our midst, with us. There is no distinction, no separation and I felt like that was what He was doing this morning in our midst. I actually could see it Him in my heart's eye. He was dancing amongst us and He was spinning and twirling and as He did this, it was just a glorious praise and in it, we were with Him.
Wayne
That spinning and twirling that Barry just spoke about – there is a scripture that speaks exactly to that and that's in Zephaniah 3:17. So if you all go to the scripture, Zephaniah 3:17, that speaks about Jesus spinning and twirling over you.
Ed
Your former rain Lord – the Zionist movement and the Pentecostal movement in the spiritual. The birth of Israel and the birth of the healing ministries. The taking back of Jerusalem in 1967, Lord and the breakout of the Charismatic movement, Lord. It has now been 40 years and, Lord, as that former rain prepared the ground, prepared us for this.
As your latter rain pours out and it pours out mightily and ones see that they are walking in things that they have never walked in before. Let them know that it is not because they are more deserving, it is because it is necessary, they must have it for these times.
Lord, as the rain pours out, just remind us too, that as David was in his Cave of Adullam, he and his mighty men, that You, Lord, have kept others hidden in their personal caves of Adullam. Now You are bringing them out just as you brought David and his mighty men out of the cave.
You taught them while they were in the cave, and others have been hidden away and you have been teaching them and they too have been wandering. Now is your time. Now is the time that the Lord is going to bring these forth. Thank you, Father, and we pray now in Yeshua HaMashiach's name that You accomplish this. Amen.
Trey
Father increase the healing anointing, increase . . . yes I heard you God – hand out the keys to the body parts room so that people have access to that God, and ask for creative miracles and do supernatural things Father – from the soccer mums to dads Father, that the world would change and be on fire for You God and Satan will freak out because of the goodness of God here. So, Father I ask for an increase of Your Spirit, Yes God, I thank you this. I thank you for the souls God, I thank You for the souls God, I thank you for the precious fruit God and it is an honor to be on Your team God, I love it, I love it.
Gia
Deuteronomy 32:1-4
Give ear, O ye heavens, and I will speak; and hear, O earth, the words of my mouth. 2My doctrine shall drop as the rain, my speech shall distil as the dew, as the small rain upon the tender herb, and as the showers upon the grass: 3Because I will publish the name of the LORD: ascribe ye greatness unto our God. 4He is the Rock, his work is perfect: for all his ways are judgment: a God of truth and without iniquity, just and right is he.
Lord we thank You God that Your words are truth and that Your doctrine is dropping like the rain and that Your speech is distilling, Your speech is concentrating in us and through us in this earth God. And Lord, that You are coming forth with Your love. Your love is increasing in Your people in this hour. You are stirring and You are awakening Your love. And Lord we thank You and we lift You up God and we magnify You as King and as Lord on the throne of our hearts. And Lord You are going forth and You are moving in Your people and You are stirring that up in this hour and we praise You and we glorify You as King, in Jesus name.
Prophetic Words from our April 2019 Meetings
APRIL 6, 2019 MEETING
Wayne
When we were singing "Break Every Chain" the Lord gave me an image of something that He had given to me, oh maybe 25 years ago. It was from the movie Forrest Gump. It's that scene where he is running away from the boys that are trying to harm him. As he is running, his braces are falling off. Today if you want to grab this, it is for you.
David
I have been struggling for a long time to hear the word of God and during worship, God spoke to me and He said, "There is a unity coming in My church." And He doesn't care if you're Protestant or Catholic or Baptist or Pentecostal, He doesn't care about that. He wants one church to come together in Jesus. The battle that we are going to have to win, we will only win as one. All the bickering between churches is just like the 12 apostles trying to decide who was the better in Christ's eyes and Christ finally just said, "Enough!" That is what He is telling us, His church; to stop bickering between ourselves, stop judging each other, stop trying to say, "Our Christ is better than your Christ." It is Christ!
Jackie
That actually reminds me of something that Anna taught me: that she went to a very big meeting in a stadium right at the end of the Charismatic revival and it was announced to the whole audience, through a prophet, that the Lord was bringing this revival, this healing revival, to an end. This was in 1977. He said the reason why, if I'm right, was because of a lack of unity in the church.
A prophetic brother
Father, we present ourselves before You this day and we ask You to show us our place of standing. We ask You to anoint us, to break the yokes in our spheres of influence that are ready, at such a time as this, to be broken. Father, we pray that You would move us into the fullness of all that You have called us to, whether early or late, near or far. Lord, we ask that You would bring about a change that the slumbering and the sleeping would end and that those who have been filled with Your word would find their voice, would find their platform, would find the sphere for which You have prepared them.
Lord, we ask You for a sending in the earth. That people would be mobilized according to Your election, according to Your choosing, and according to the preparation that has been made ready. Father, we ask that You would release the resources, the provision, the transportation and the place of abiding, that they might stand in Your presence in the place of Your choosing, immovable, even as a bulwark, Lord. Father, those that you have made ready and their hearts are open to Your leading. Let Your Word and the seeds of Your direction go deep within them, take root and spring forth, in Jesus name. That good soil is made ready to receive the seeds of Your direction and Your Word.
So, Father, we stand each one of us today and those who You have made ready and we say, "Put us in Your place. Cause us by Your grace to move and be and stand according to Your choice, election and purpose in this hour, in this time." Father, we thank You for visas. We thank You for travel. We thank You for provision, transportation, and the place of abiding upon arrival, in Jesus name.
Father, we thank You for this day. We thank You for bringing us here together. We thank You for travelling mercies for those who are returning to distant places. Lord, let them hear on the way the answers to their cries. Lord, we thank You for the heart cry that You have put in each one of us and now we call forth the answers to be clearly heard and discerned that we as a body and of Your people would move according to Your direction. We ask that You would call cadence to Your people that we would march in lock step with Your Spirit in unity with one another empowered by Your love which never fails.
Lord, we thank You for new anointings to break every yoke and we will give You the praise, and the glory, and the honor, Father, in Jesus name. Amen.
APRIL 12, 2019 MEETING
Steven
It's in His rest you'll find the best. Draw near, not in fear. Come up hither and drink from the river, where you will be full. It's in the rest you'll find the blessed, it's in the rest you'll find the best. For it's the story, it's in the glory; is the story. Drink from above that liquid love, delivered from the Holy Dove. Drink from the river and get your full. Be filled. Be filled.
A lady
I have seen the angel of Revelation 10, the one that has the cloud and the rainbow, I have a picture of him that I will show you, and in verse number 6 it says, "there should be time no longer" – It is basically saying the delay is over and whatever we speak (according to the Bible) will manifest.
Steven
I can confirm that word because when we started, I could see a blue angel circling the prayer meeting, touching people's heads who are stuck in procrastination. God is releasing them from being frozen.
Sophie
Early this morning the Lord gave me a word in a dream and the word is for the body of Christ and this is what the Lord says:
Each small step of obedience is going to benefit the whole body. So, do not be afraid or do not look at the enemy. If God has given you something to do, just do it because it's going to benefit the body.
APRIL 19, 2019 MEETING
Carol
I saw people and they were covered with sores, and God started talking to me about how when Miriam spoke against Moses, leprosy came, leprosy came upon her. There is a leprosy that has been a part of the body of Christ because of the words that they have spoken, because of the things that they have said that did not agree with the throne of God, and the purposes of God.
Bitter water, sweet water, salt water, pure water should not come out of the same fountain. And God is looking for a people that are willing to lay down their own opinions, willing to lay down their own rights, willing to lay down everything that would hinder and connect them with the things of this world. To begin to walk in complete obedience to Him and to clear out, these things that have blocked our ears. They have blocked our eyes, they have blocked our understanding and we need that cleansed – we need a cleansing by the blood, so that the wounds, the sores, the leprosy that has resulted because of the words spoken, and we all have done it.
Father God we repent, we repent for words that we have spoken, that are words of complaint, that are words of gossip, that are words of lies, that are words that are negative, any word that gave access to the enemy in our lives, in the lives of others, in the lives of the leadership of the body of Christ. Father God every time we judge, we repent Father God. We are asking for a cleansing to come upon the body, a cleansing and a purification.
And Father God, I'm asking because I saw people that were covered with like a dirt, a clay, that was dried up and the Lord began to say that that is the effects of living in this realm and in this world, the contamination of it, but there's coming a time and a people where the rain of God is going to wash off the effects of living in this realm and we are not going to be affected by it anymore. We are going to walk in fire, in holiness, in purity, in authority. We are going to walk and do and fulfill the purposes of God in this earth. But it is a people that are willing to die to everything of this earth.
And Father I saw when I was here at one time Wayne was talking about a people and I began to see people coming up and standing in line, and He's calling people to come and stand the line! Stand the line!
Take your place, take your position, begin to lay it all down and go after this thing because we are at the culmination of the ages.
In the name of Yeshua HaMashiach, we will not fail our King. (Anna then said, "Yes and Lord we begin right now. We say that we bless the whole body of Christ. We bless and curse not. And that we would begin right here Lord, that fountains of blessings would pour out from your people. We pray this in Jesus Name.")
Carol
One time I was praying that it would be done on earth as it is in Heaven. And I was praying that, and the Lord just spoke to me so clearly, "You are praying that My will be done on earth as it is in Heaven. Do you want to know what is going on in Heaven?" And I said "Yes." And this voice that was so powerful, I can't even describe it, He just said "All of Heaven is preparing for the culmination of the ages." And that is what we are supposed to be doing here. We are supposed to be preparing, understanding where we are and what this season is.
You know, it is so significant, this time of Passover. The feasts of Jehovah are so important to Him. They are His feasts. They are not Jewish feasts. They are His feasts. This is the time the Lord fulfilled that Passover and because of that we can go boldly into the Throne Room of God.
We need to really set and seek in our minds and in our hearts where we are and that this is the culmination of the ages. And what does that require? What is being asked of us? What is being required of us? Because we are not here by accident. We are people that have been chosen for this specific time on the earth. We have been destined for this time and what has been put in us is what is needed, for what is going to going to happen here. We need to take it and understand the seriousness of this. The Lord is serious. He is serious! He is not just the Lamb, He is coming as the Lion of Judah. He is coming as the King of kings and it is a serious time. We need to take it and address it as such.
So, Father, I ask that you would give all of us the anointing of Issachar that we would understand the times. That we would not be lax and not be lazy and not be apathetic, but we would be diligent concerning God, His purposes, and what He wants to do not only in us, but through us to a dying, hurting people that need answers.
He spoke to me a number of years ago and said, "There is coming a time when as words are coming out of your mouth the manifestation of it will be before your eyes." He told me this years ago.
A couple of years ago I was worshipping, and He brought that to me again and said, "Do you remember when I said that to you?" I was totally taken aback by this; I have to tell you. He said, "That cannot happen till I trust what comes out of your mouth." And I was shocked because, you know, sometimes in our own arrogance I thought, "I don't really think I speak that badly." But I started really paying attention to myself. And there are negative things that come out of our mouths that we don't even realize. Judgements about other people. It is not our business. If we see something, we take it before the King, He is very capable of dealing with whatever needs to be done. So, we have to really seek Him to purify our hearts.
Father, I ask that You do send this fire, this baptism of fire because there are things in our souls and in our DNA that effect how we respond, how we deal with things, how we deal with You, how we walk this walk. And we want everything out of us that contaminates, everything out of us that taints the way we see things, the way we talk, the way we look at things, the way we think about things. We want to give all of that to You, our DNA, our souls, that You might make us whole; that we can walk in a way that really shows and honors our King on this earth. In the name of Yeshua HaMashiach.
Jonathon
Father we thank you for releasing the guile today from our lives and releasing even . . . I had a vision of this mountain yesterday of snakes leaving it. And in the second part of the vision the Lord showed me the streams pouring again out of the mountain – and those are the words and those are the hearts coming together with the words of Heaven, of His kingdom.
Randy
In Ephesians where it says, "Do not grieve the Holy Spirit of God," it is surrounded by examples of things that grieve the Holy Spirit and it how we treat one another is in the context of how we relate to people that determines whether or not the Holy Spirit is grieved. We do not want to be dull to the grieving of the Holy Spirit in our carnality. We want the Holy Spirit to rejoice over us.
Eunice
The Lord says, "I am in Your midst. My countenance shines upon you. My fire is within you. My love saturates you this day."
Tina
Come to Me with your prayers and requests, I am the streams of living waters. I have said, "Out of your belly shall flow rivers of living waters." For you have repented before me and now I have seen your sorrow. Now I will turn it into joy. Great joy in your midst will flow out of you and bubble up and I will reach the masses and the multitudes for My name shall be glorified in all the earth through this.
A Man
I see the Lord release a new sweetness in our hearts – a new level of sweetness and love.
A prophetic brother
Father, we receive the things that You have spoken today. Lord we thank You that You have heard our repentant heart cry. Lord we ask that this heart cry of responsibility before you and humble repentance would go forth throughout the land. We cast down every thought that would exult itself against the knowledge of Your will and we put behind us the things of yesterday and the successes and we press on to the high calling. We declare that the things of yesterday that You have blessed us with, will not hold us captive as old wine. Lord we seek new wine, we seek cleansing with hyssop. We see the fulness of all that you have desired in Your heart. Lord we ask that You would give us greater understanding in the way in which we should go, the things which we should speak and teach us how to pray. Lord we ask that the leading of Your Spirit would be poured out, even as a heart cry, that you would respond to. Father You made us to know You. Now we ask that You would reveal Yourself even as You desire to walk with us in the cool of the day.
Joe
Hear my words, I speak them over you in love. Receive them, wrap them in the thoughts of your heart. I am here.
A prophetic brother
Lord, I pray that the mystery that is hidden in the husband and the wife would come to the forefront of Your revelation that we might have a true foundation of family, that the mystery that has been hidden in the ages would be revealed through demonstration and this generation as they come to restoration of the hearts of the fathers to the children and the children to the fathers. You are our father, Heavenly Father. Let it be so according to that which Your heart has desired from the foundations of the world.
Ian
Isaiah 58 tells us of repentance and restoration. And as we come upon this high holy day of Passover, the last verses of Isaiah 58 say:
"If you turn away your foot from the Sabbath,
From doing your pleasure on My holy day,
And call the Sabbath a delight,
The holy day of the Lord honorable,
And shall honor Him, not doing your own ways,
Nor finding your own pleasure,
Nor speaking your own words,
Then you shall delight yourself in the Lord;
And I will cause you to ride on the high hills of the earth,
And feed you with the heritage of Jacob your father.
The mouth of the Lord has spoken" (Isaiah 58:13-14 NKJ).
APRIL 26, 2019 MEETING
Carol
Earlier this week in my time with the Lord He showed me a large beautiful bird cage and this bird cage was full of these little bitty birds and the door of the cage was open and the little birds didn't come out immediately, but then one came and it flew out and then they started coming out of this cage and they began rising higher and then all of a sudden I realized I was in a very high elevation looking down and these little birds had changed into great eagles and their vision was very clear. They could see clearly from this high place. And we are in a different time. There has been a shift that has taken place.
God told me a year ago in January, the beginning of 2018, "I am making up my jewels", and He began showing me jewels that in areas were dull and not clean, but sometimes they would show forth the greatness of God, but then there would be that they would not. And God was beginning to cleanse those jewels because the world needs to see the jewels of God. They need to hear from the prophets that are accurate and clear in what they see.
Ed Walker
After we got here, I saw angels all around out here and then, when we got up to where we could see inside, the angels were flying all around inside here too, rejoicing. This is our second time up here. We had heard about the angels before, but this time I know they are here.
Faiger
In fact, the Lord had said earlier when you speak about the young prophets that this is what Heaven looks like. He said when His people are together, they're African Americans, they are European Americans, there's Jewish, there's Gentile, there's Asian. Basically, every continent, including the Native American Indian, is in this room. Think it not strange on leavened bread on Passover that this is happening at this time for He has gone before us and yet brought us together for such a time as this. There are impartations that are being made. Hallelujah. And we receive them, in Jesus' name, in the name of Yeshua, the Messiah. We give God glory, amen.
Father, we come before you, Father, and we not only pray for this nation but we also repent for the church. God, that we have not been the church you have called us to be. We have not stood up with love. We have not had compassion, and God, we ask that You would do an operation in us. Take what is in us that is not of You and throw it as far as the east is from the west. God, we repent for the times that we had not stopped for the one that was in trouble. God, we repent for being too busy. Father, we repent for being too selfish. We repent, God, for not doing the things we were told to do. We repent for delayed obedience, for it is still disobedience.
God, we come before you now and we bind every demonic spirit, every lying spirit, every jealous, backbiting, greedy, gluttonous and spiteful spirit, in Jesus' name. We bind them from us in Jesus' name, that we may be the church that You have called us to be. That we would walk in love and give impartations. And God, we thank You this morning, we thank You for the anointing in this room. Most of all, we thank you for the power in this room. We thank You for the authority that's been granted unto us. We thank You for the gift of the prophet that stores up the gifts, in the name of Yeshua, the Messiah. That Your glory will be seen.
We give you glory for what is about to take place. Thank you for the authority You've given us to co-create. Thank You, God, hallelujah, for the mountain. Thank You for the ones that have already been here. Thank You for the mantle that is here this morning transferred upon the individual, God. Shore up, God, give us dreams and visions of things that are yet to come. Oh God, I thank you for this power this morning, I thank you for this anointing this morning. I thank you, God, that this is what Heaven looks like. And God, when we are in love like the way we are today and when we walk God with unity You show up and You look like this. We give You glory. We give You honor. We give You praise, in Jesus' name.
Thomas
This is for you specifically. When I was here the last time and the angels were outside, then I sent word that the angels had moved inside. The Lord said that the staff that the flag is on (I don't know what it is called, but you will) . . . a standard . . . and I saw an angel come and he slammed the standard down here and He said, "Time has collided in this place." The two that you talk about, the Chronos and Kairos have collided here in this room and the Lord says that what they are feeling is the spinning time merging as one.
He said that there are young prophets in this room and there are old prophets in this room. The Lord says their mantles have merged as one. The Lord says, "The shift in the Spirit is in your midst. It is not coming; it is in your midst. It is a new dimension and it is a new paradigm," says the Lord, "for the ancient gates have been opened, they are not opening, they are open and the King of Glory is coming through them. You are feeling, you are feeling, you are feeling the waves of glory released from the Throne of God. Angels are not just around, but they are in this place, filling it."
And then I saw three large angels over here and they were pouring out, they were going through like they had vials and they were going around to every person and pouring into them. Those that asked for renewing, those that have asked for refreshing, the Lord says, "You are in the fire. Don't look for the fire; you are the fire. Don't look for visitation; you are in the presence of the Living God in the earth." And what I said before that from this place that it would be released around the earth.
The Lord wanted me to tell you again this day, daughter of God, "The time has shifted in your life and your mantle has now enlarged." The Lord says, "Those that are around you need to understand that as well for it will not be work as in the old days or ministry as in the old days.
Young prophets understand the word of the Lord and decree and declare it to be so and stand." For God says, "I am releasing the four winds of the Living God on the earth and the prophets will direct it to where it should go and where it should land and who it shall fill," says the Lord. The Lord says, "Prophets, if you close your mouth this hour surely you will fall by the left and fall by the right and you will not see the manifest presence. For this is the hour," says the Lord, "that my sons and daughters will arise and they will walk in the manifest presence." The fire of God that was released a year and a half, two years ago, that separated and sanctified and empowered has come to its end for many." But the Lord says, "Now the cloud of my manifestation will come, and it will come in three waves of glory. So, you do not know what this feels like, you do not know what this looks like, so if you are not before Me resting," says the Lord, "you will not see."
For some of you the trumpets already sounded, some of you have already pulled yourself aside, some of you already sense His presence, some of you have laid prostrate before the Lord, naked before God.
"My creation is moaning and it's crying out."
These mountains are on fire. The fire of God is upon the mountains. The angels that God has sent stand upon these mountains. They have been here now for forty years and God says, "The chariots of fire, the chariots and the horses of fire came ten years ago and they have waited for the prophets to give direction." They waited for the prophets to say yes and amen to such a time as this.
It has been decreed, oh man of God, it has been decreed for such a time as this.
Timothy
I saw an infected wound and the Father pressed out the puss and the infection. So, Father, I pray for the grace to bear the pain, to press out the wounds and if they need lancing that You will lance them in the perfection of Your tenderness. That we will submit ourselves and bear our wounds to You. That as the body of Christ we might be made whole and that no infection would remain, that no bitterness or pain or even scar would continue to remain. Father let Your healing that is total and complete come in the place of every wound in the body of Christ. We thank You, Lord, for Your infinite wisdom in knowing the time and the place and the instrument and the scalpel and the things that are required. Father, we ask You for great grace that no ancient wounds remain, that no current wounds remain, and that no infection remain in the body of Christ. In Jesus' name, Father, we bring this to You today and we ask You for the release of the healers, the release of the surgeons, the release of the valiant to be healed. And we call forth healing, healing in Your wings, Father, healing in Your people, Father, and great grace to receive Your healing. And now, Father, everything that would defy Your healing power be destroyed and removed in the body that we could be made whole and do Your bidding in purity and love, in Jesus' name.
Prophetic Words from our March 2019 Meetings
MARCH 1, 2019 MEETING
Wayne
The Lord Jesus said, "Out of the mouth of two of more is a thing established." Well out of the mouth of two Old Testament prophets is the worship that was just done today established. The second song that we worshiped Him with, "Come dance with Me." Out of the prophet Isaiah He said:
"…And as the bridegroom rejoices over the bride,
So shall your God rejoice over you" (Isaiah 62:5 NKJ).
The second prophetic voice is out of the prophet Zephaniah:
The Lord your God in your midst,
The Mighty One, will save;
He will rejoice over you with gladness,
He will quiet you with His love,
He will rejoice over you with singing" (Zephaniah 3:17 NKJ).
He wants you to know that those scriptures validate all three songs, especially "Come dance with me".
James
I just saw something, I felt like I was supposed to share with you. It has to do with a divine separation. You know when Elijah and Elisha were finally separated, it was really so they could both get a promotion. Elijah went up to Heaven and Elisha went and picked up Elijah's mantle. There was a divine separation and a double promotion that I am seeing. The Lord, sometimes even people that you are bonded with and you love very much, the Lord has a divine separation and there is something like that going on but it is for promotion, it is so one can go up and another can go up too and pick up another's mantle. I don't know what all that means to you but there is something like that going on.
Also, I have been holding onto something for a couple of weeks but about three Fridays ago when we were on the way up here, the Lord had me go the other way and I went and parked in front of a lodge (that was not near this property) and faced the front door. I was facing the front of this lodge and I got real emotional and began to thank the Lord for all the specific people that He had brought up here over the years and everything they did. I said to my wife, "I don't know why we are doing this, but we are supposed to do this right now." So anyway, we faced the building and I was just thinking about all the different people that the Lord brought there and all the different leaders and people that spoke different things. I just thanked the Lord for all of them.
Then He spoke to me 1 Kings 2-11 and that was a summary verse of the rule of David. It says that David reigned 40 years over Israel, 7 years in Hebron and 33 years in Jerusalem and then David slept with his fathers. And the Lord spoke to my heart, I heard the words in English, "The time of David is over."
And then God spoke to us the next verse and it says: Solomon sat on the throne of his Father David and His throne was firmly established.
And the Lord said, "The time of Solomon has come." You know the big historical difference is that David wanted with all his heart to build the temple but was not allowed to. David was allowed to gather the plans and the building materials and everything. I believe for us here in this area and for Moravian Falls specifically that the time of David is over. I believe the Lord spoke that to me definitely, but the time of Solomon is here, so the time to build is here.
During those years when we were all coming here in the late 1990's and into the 2000's. One of the things that drew everybody here was what was called "Heart of David" conferences – it was the heart of David that drew us here. We did "Heart of David" conferences over and over. There were the "Heart of David Songbooks", it was all about the heart of David and I think that's a really good thing but I believe the time of Solomon is here and the Lord is going to build His house. So, anyway, that is what I got.
Anna
Thank You for your word, oh, we are very grateful for it Lord. And we do pray Lord, in the name of Jesus that we who are here will not make the mistakes that Solomon made. That we will not be like that Lord. That we will be according to Your nickname that You gave him. You actually gave Solomon a nickname, You loved him so much. So we pray that we would be just this darling that you give a nickname to and that we will not fail You Lord by being impure or following false Gods or going towards idols or witchcraft, Lord, or any of the dark arts like Solomon did.
We ask Lord that that part of the heritage that came from him, that that would be gone, Lord, that you would wipe that away now with the blood of Jesus Christ. We ask that You pour the blood of Jesus Christ over us up here and that we be cleansed. We repent of anything we have done incorrectly. We ask Lord that You fill us with Your Holy Spirit and that You guide us Lord in every single way, that we would not step to the right nor to the left but follow right after You Lord and not seek power and not seek our glory and not seek any of this Lord. We want You to be high and lifted up and for people to see You and for You to minister to Your people. We ask this in Jesus name.
Anna
All of us should be so encouraged because we live in fabulous times. Oh my gosh, I mean it is tough, isn't it but oh my, all that is happening, we are just on the cusp of a mighty revival, we are on the cusp of great miracles, great healings and Lord we offer ourselves to begin those healings here. We will take them! We are right on the edge; we just need to pray.
MARCH 8, 2019 MEETING
Cindy
At worship practice when we were warming up and we were practicing with our instruments, I felt like I saw these puffy white clouds coming into the room and they were about 18" deep. They were lying on the floor and I told the other musicians that I had to go and lie in them. So, I jumped up and I ran, and laid down on my back on the floor and when I did that, it felt like there was a thick, thick heavy blanket on me.
Carol
We pray for a baptism of repentance over us individually, beginning in our hearts and then over this nation. I believe that the Lord is saying that this baptism, (praying for the baptism of fire) will shift and purify the minds and the hearts of this nation. It will change things, it will be the answer to these women in these abortion rooms, it will be when they are touched by the fire and the love of God that they are purified. Send the fire, Lord.
Wayne
I enquired of the Lord to understand a word I got that has to do with the worship team being given, by the Lord, four "songs of ascent". The Lord reminded me of an image from 50 years ago when I was stationed in Hawaii, and back at that time, God was probably priority number 25 on my priority list. I was playing golf with some fellows on a golf course by a runway where big planes landed and took off. They took off all the time, even while we were playing golf, so it was not unusual, however I remember this with great clarity and great detail – this one thing that happened that day.
I paused in playing golf and I looked at this 747 that was at the end of the runway and why I don't know, because they take off all the time but this time I was fascinated, so I was looking at it and it started to take off but it was lumbering and it looked to me like it was in slow motion and I kept watching it and waiting. It seemed like it was taking forever and finally the nose lifted and finally after a little while the whole plane lifted and took off and I was fascinated by that, why, I don't know. 50 years later the Lord brought that image back. He said, "That is your explanation for four more songs of ascent before you take off."
That particular 747 was maxed out with passengers and cargo. It was lumbering but not straining, I remember that. That is the word that I gave our worship leaders – that 747 – the four engines are four more songs of ascent. It is lumbering because it is so maxed out and it is taking longer to actually take off. If it took off in say a mile it would take a mile and a half for it to take off – before it finally lifted up and started to soar. Today we were maxed out and overflowing [there were so many people present that they were sitting on the floor and in the next room] and that to me was a confirmation of the image from 50 years ago. Those 4 engines on those 747 were the four more songs of ascent. I know they have soared before, but this is like nothing that has happened. They are going up in anointing.
The Lord expanded to me today that the first song was the plane – the 747 itself. And so, this plane is lumbering to take off and today He gave me why it is lumbering – because I told them that there would be four more songs of ascent and that those four songs were the engines on the plane. Well it turns out that when a plane starts its takeoff, all of the engines are pressed forward to the firewall and then the brakes are released so that the plane can take off. However, this particular 747 – that is not how it is taking off and that is why it is lumbering. They were to have four more songs of ascent, which the worship leaders have now found, and those four songs are the engines coming online one at a time. So, the plane is moving forward without all four engines starting up, that is why it is lumbering, not only is it fully packed but it is not using all four engines, so it is lumbering. As you bring these first four songs of ascent online it will gather speed and start to take off.
The sixth song of ascent will be when the nose lifts. The seventh song of ascent will be when the main gear lifts off. The eighth song of ascent will be when the plane breaks gravity, in other words, it overcomes the gravitational force and is now soaring.
Peggy Jo
It is springtime and it is time for the fig trees to blossom and to bloom and for them to produce great fruit. God said, "The season and time of the fig tree having only leaves and no fruit is over." This is because He has said, "It is done, it is time to cut it down and to bring forth the time of great fruit." And He says, "Many have been in a season of pruning, and pruning, and pruning." And some have said, "But Lord, can't I keep this little branch, see how little it is? It is just a little branch. Can't I keep it?" And He said, "No, you cannot because you will only produce little fruit on a little branch. It needs to be pruned back so that I can produce great fruit." This is because it is a season where He desires great fruit and it has been a season of lack of fruit and it is time for the fruit to be produced and multiplied.
MARCH 15, 2019 MEETING
Carol
During worship, I believe it was the second song, when I saw a host of Heaven and they were worshipping with us and then, all of a sudden I began to see them go down, they just began to bow down and I was like, okay, and I'm thinking in my mind, is this in honor to God, what's going on and why are they just stopping and dropping, boom, boom, boom, and then, all of a sudden, it's like I could see the Lord coming down a staircase.
And the Lord came into this room and He stopped at each and every person that was in this room, and He began to look very deep within us. He began taking an accounting of what is really within us, each one of us. It was very sobering, and as I watched this, I understood. He began saying that we need to begin taking an account of what is within us, because He is, and the days ahead that are coming will show what is within us. It will bring an accounting, even of itself, of what is actually within us, and we need to begin to press in, to clean out, to lay down, to sever all loves of this world and fall deeply in love with Him because the days of accounting are upon us.
Even though people may say, "Oh, well we've been given a reprieve, we have three years, we have seven years…" There's much work to be done and there is no time left for us to play games and to stand with one foot in the world and one foot in the "body of Christ" and think that we are going to be able to accomplish the purposes of God. This is a very serious time on this earth, and He has set us here, appointed us here for this time because He put within us what was needed to accomplish His work in this earth and specifically in America and for America's call to Israel.
What we have seen in the body of Christ is affecting the natural realm. So, it has to start with the body of Christ. It has to start with an understanding and the people of God going back and honoring and respecting the laws of God.
Father God we are asking that You do in the "body", in Your "body" in this earth what is needful to be done to bring unity to the "body" to be for one cause and that is the cause of Christ and His purposes in this earth. Father God I ask for an understanding that the blinders and the dullness be removed from the "body of Christ" so they can understand that, You don't say, if the sinner repents, You say, "If my people who are called by my name humble themselves, and pray and seek my face and turn from their wicked ways, then I will hear from heaven and will forgive their sin and heal their land" (2 Chronicles 7:14 ESV).
Daniel
I was getting the sense that way back in the garden of Eden, when the enemy, the adversary said, "Hath God said?" What he was doing was taking the order that God had created in His creation. In the garden God had put borders around a certain tree. He's a God of distinction. He's a God of separating the land from the waters. He's a God of separating the heavens from the earth. He's a God of separating male from female. He's a God of borders and distinctions.
MARCH 22, 2019 MEETING
Wayne
The plans of the enemy are coming to naught. The Lord gave me an image. The enemy has balloons that they fill with helium to send against the righteous, but the Lord is tricking them. They think the cylinders have helium in them. He is replacing the helium with argon gas, which is a heavy gas, so that the balloons fall to the ground.
Thelma
Ah the Lord thy God has got a mighty tallit. Yea I blew in here. Yea ye prayed, you wept, and I the Lord thy God, said to the youth that had never voted before, "Come – go". To the elder that never voted before, "Come – go". I tell you I'm on the throne. For this nation, is the backer of Israel and this nation shall be for Israel in this battle that I have already written in the prophets. Ye are My end-time body, and I have a tallit, my tallit of an army, an invisible army. But he that has the eye of the vision of God and that dwells in the Heavens can see. A mighty army is over this nation and over Israel. I am using many people such as you, they are gathering in, like pods, a pod here and a pod there. Some are a hundred, some are forty, fifty, twelve. I'm gathering My people in unity and in oneness of one voice lifting up unto Me. Fear not and fret not, for I hear thy cry and it is being answered. Ye are my end time body. There's only one body that I have bought, it's a blood covenant body and it belongs to Me. Two thousand years ago I bought this body. I hung on the cross, and I shed my blood for you. You belong to Me. Don't you know I'm going to send My invisible army to protect you when they want to destroy you? Oh, many are being beheaded even while we speak, while we worship, while we gather, many are losing their lives but is it not written that the martyrs would give themselves and they cry under the altar. Yea remember the word. Every word shall be fulfilled, but hear ye, My people, ye are My end time body. Ye are My end time warriors. You are My end time priests. Hear ye thou Me and I will say to my Father, "Yahweh hear them," and He hears Me, saith God.
Holy, holy, holy is the Lord. Glory is in this gathering. My Spirit is pleased with thee. My peace is upon thee. Be ye at peace with thyself and Me, saith the Lord.
Now continue to press forward against the adversary, for he is loosened, and he is raging. Remember, this is the day of miracles, this is the day of miracles of the adversary as well as of My body. Be ye wise and know that which is not of Me. They cannot manifest My love. They can work miracles, but they have no love. You will know them by the spirit of love, saith the Lord.
Love dwells here. Holiness dwells here. Purpose to worship and to serve Me here, but yea, in all My body it is the same. And I have many such as you and I'm coming for you. I'm coming to reign with thee for a thousand years, saith the Lord.
Get ready, for My kingdom come, My will is being done in such as you, and My kingdom being formed in thee, the kingdom is at hand. The King and I love thee, My priests. You are My priests. In My kingdom there are neither male nor female in the government order. You are my priests; no babies are in the priesthood. You've graduated. Some of you are VERY graduated. You've got the keys to the kingdom. You know I have five offices and nine gifts. Isn't that the whole man that was here on the earth? Yea that set the example. Well then that is what I'm feeding you with. Let this mind be in you that is in Me, the Father's mind that you may see and behold Me. Always I am in thee, and with thee guiding and leading thee in perfection, says the Lord.
Come on up here and see as I see, saith God, all is well.
Melissa
Stand up, stand up, stand up, stand up,
Stand up, oh armies of God.
Line up, line up, line up, line up,
Line up, oh armies of God.
Pulse of the nation,
Pulse of this nation,
Pulse of the nations,
Hear the Lion's roar.
Rise up, rise up, rise up, rise up,
Rise up oh armies of God.
Patti
This is a word that the Lord gave to me while we were worshipping, and it goes along with everything that the Lord is speaking today. It is in the Song of Solomon 2:10-16 Amplified:
"My beloved speaks and says to me,
'Arise, my love, [*arise my church, arise] my fair one,
And come away.
'For behold, the winter is past,
The rain is over and gone.
'The flowers appear on the earth once again;
The time for singing has come,
And the voice of the turtledove is heard in our land.
'The fig tree has budded and ripens her figs,
And the vines are in blossom and give forth their fragrance.
Arise, my love, my fair one,
And come away [to climb the rocky steps of the hillside].'"
(The Bridegroom)
"O my dove, [here] in the clefts in the rock,
In the sheltered and secret place of the steep pathway,
Let me see your face,
Let me hear your voice;
For your voice is sweet,
And your face is lovely."
(The Chorus)
"Catch the foxes for us,
The little foxes that spoil and ruin the vineyards [of love],
While our vineyards are in blossom."
(The Shulammite Bride)
"My beloved is mine and I am his;
He pastures his flock among the lilies.
*Patti interjected.
So, thank you God, because you are calling us up to a new level as the church, and we ask You in the name of Jesus, we ask you Holy Spirit, that you may catch the little foxes for us. That You may catch anything that is, stealing away that intensity and relationship with you.
And I pray Lord God for all those who are called to pastor and all those who are called to leadership and to serve in leadership in the churches here in the United States, that You will give us, Lord God, not only the fear of the Lord, but the passion to seek You in the secret place, and that we may go higher so that we are able, Lord God to see what is coming and we may be able Lord God to preach the gospel that needs to be preached straight from the word of God, Lord God, uncompromised. Father, take the foxes away, catch the foxes away, and open the eyes of the church, Lord God. Even the eyes of the remnant Lord God, that we may arise and we can seek You and we can see Your Glory Lord God and we can continue to stand on the wall, as watchmen on the wall so we can see the word that You have given to us, to this nation to come forth, in Jesus name.
Cindy
Yesterday, there was a text received and I heard these words powerfully in the spirit: "Celebrate the victory. Celebrate the victory!"
Donna
Read Psalm 24 in the Amplified:
THE EARTH is the Lord's, and the fullness of it, the world and they who dwell in it. For He has founded it upon the seas and established it upon the currents and the rivers.
Who shall go up into the mountain of the Lord? Or who shall stand in His Holy Place? He who has clean hands and a pure heart, who has not lifted himself up to falsehood or to what is false, nor sworn deceitfully. He shall receive blessing from the Lord and righteousness from the God of his salvation. This is the generation [description] of those who seek Him [who inquire of and for Him and of necessity require Him], who seek Your face, [O God of] Jacob. Selah [pause, and think of that]!
Lift up your heads, O you gates; and be lifted up, you age-abiding doors, that the King of glory may come in. Who is the King of glory? The Lord strong and mighty, the Lord mighty in battle. Lift up your heads, O you gates; yes, lift them up, you age-abiding doors, that the King of glory may come in. Who is [He then] this King of glory? The Lord of hosts, He is the King of glory. Selah [pause, and think of that]!
MARCH 29, 2019 MEETING
Cindy
During the worship, I heard in the spirit a ripping or tearing. Something was rent in the sprit realm. It felt like a deep rend but it was not loud. It seemed large.
Richard
Lord I thank You that even as the bride rises and Your glory is shining upon her – that so America shall be lifted up. For You showed me in a vision a full moon – which in Joseph's dream was the wife of Jacob and You showed a full moon with a flag of America on it and it was going to the left from the east wind blowing. And I just say, "Let the bride come forth and as she comes forth, let America be lifted up again. For this is Your nation, Lord, You started it. It comes from You and your people and it is salvation and it is a Christian nation and so, we just release that and I just say, "Lord have Your way. May she be lifted up once again but resting upon Your bride."
A Man
I thank you Lord that this is an hour when You are raising up the fruit from the root, and are exposing which root every fruit is from. You are bringing it forth so that it may be divided out, so that we can see and know, and all will see the righteous, and all will know because they will see You upon Your people. They will be in awe of the Father's goodness because "that" is what this hour is about.
We thank You Lord, even though it is difficult to watch the fruit divided – and some divided out; but Lord, we thank You that we are in You, in Christ hidden within God.
Wayne
There is something the Lord wants to say, and you know I am speaking it at this time, in this place and it is for you but it is also for the church at large and it is a "heads up".
When Moses was about to enter the Promise Land, he talked to the people and told them certain things. He said, in the latter days, these things, you will do.
When the people demanded a king, they chose by their sight and by their heart. We sang a song today, "Be Thou my vision, O Lord of my heart". They chose by their vision and by their heart. Now I am going to read Deuteronomy 30:19 and then I am going to say a little thing about it.
"I have set before you life and death, blessing and cursing; therefore choose life, that both you and your descendants may live."
If you will choose by His vision and by His heart, you can have this scripture, both you and your descendants, in this time. Do not choose as man chose – as Israel chose their first king. They chose by their sight and by their heart.
Choose "Be Thou my vision" . . . be Thou my heart, and it will be well with you. And this is not just for this group. It is for the church.
Sion's Rose
The number 22 in Hebrew is the culmination of all things.
Richard
Was it not released last month that there was "fire" here? On the way here the Lord had me turn on the radio and the first word the person said was, "fire."
The fourth Friday of February and March were on the 22nd. I noticed it because it was unusual that the Lord had been putting 22 before me but I did not know why. We have a prayer meeting called Fire House. So the fire of God, I just bring that here, I just decree that the fire of God is Your presence Father because around Your holy throne is fire and so I just call forth a release of that here. It is already here; I just call for a full manifestation of it. I thank You Father that You rest here in this place because of faithful ones who love You. I thank you for the fire coming forth right here in this room, in this chapel of Yours because this is a meeting place of Yours. Another building may be built but I decree it comes to pass here, now. I just hear You and I hear Your heart in that and I say it in faith, and I believe You and I bring the fire from the meetings we have been in and release it here, but it is already here. So I am just joining in with what has already been established by the faithful ones here, by Your people, in Jesus name thank You Lord.
Elizabeth
I believe the Lord wants me to share this. He came to me in a dream as an Eagle and He had bright, bright blue eyes and He said, "You must complete your mission so your daughter can complete hers." And that goes with His word when He said we have to choose God for us and for our generation. He also said, "When you pray, pray with expectation." And when you were talking about the chapel I heard in my spirit, "The time is now." So we are to expect it. We are to know that we know that we know.
Caleb
This morning I had a vision, here in a cabin on Prayer Mountain, in which there was a "city on the hill", and it was up on the mountain and it was lit up and people in the valley were watching and were viewing what was happening on the mountain. People knew that the city was there but the people in the valley did not necessarily care and it did not have any impact on their lives, per say, but I saw the city there.
And then, there was a particular building which . . . I did not realize the story of the cabin here and of the Prayer Chapel . . . and I saw from within the cabin there was a release of the breath of God. And it brought me back to Genesis – the face to face encounter when God breathed into Adam, face to face there – it was that type of a breath of God.
And I saw this wind blow down the mountain – it was very heavy and very strong but on the tips of the wind there were actually people that were being carried by the wind. And initially I was like, "I understand like the breath of God swept through the valley but what is going on with this?" you know!
It was beautiful because it was like this conversion of intercession and
evangelism where the people went empowered but it happened on top where the city was, where, now that I understand the story here with the chapel. So, I really believe significantly, this morning in prayer at 5:05 a.m. I heard angels talking in the spirit, but I could not make out what they were saying, I guess I don't speak that language! I was really trying to, and I have been praying for the seers realm to open more, it has not quite opened all the way yet but I heard them talking and it happened at 5:05 a.m. and I believe that was significant to Isaiah 55:5 which talks about coming to the waters.
"Surely you will summon nations you know not, and nations you do not know will come running to you, because of the LORD your God, the Holy One of Israel, for he has endowed you with splendor." (Isaiah 55:5 NIV).
And I really felt that this was a place of the splendor of God. It is interesting because there is a coming to and a sending out. And I really believe that this is symbolic of this city on the hill, which – it was the view on this mountain – but I did not understand that story and now I do. And so I really believe that it is a "now" season. You know that five usually speaks of grace and favor and I really believe that there is a season of favor that is released "now" for this Prayer Chapel and for this "city on the hill", so I come into agreement with that.
Eunice
While we were praying for the lady to be healed today, I saw a vision of a waterfall coming from Heaven, an open portal that just poured out a waterfall over her head and all around her and it flowed through the room and onto every person here. And I felt the Lord say, "When prayer is made for an individual here, that it doesn't just affect that individual, but everyone in the room because the Holy Spirit is permeating the room, the water is flowing from the Holy Spirit, the anointing of God is everywhere, His presence, His healing power, so everyone is affected and everyone is changed." In Jesus name.
A visiting prophet
Thank you, Father for the alignment of all things that are for this season. Lord, Your promises, Your power, Your grace, Your relationship, the relationships that You have, to set things in place, to put things in order, that the things that You have determined for this time, come forth, in Jesus name.
Father we ask You to establish the boundaries in Israel; Father, the boundaries that You promised to Abraham, let them be established in this time Lord. Father that the things that have risen up against Your will and Your promises be no more.
Father we pray that Your people would come forth in the power of Your grace for their weakness, so that Your strength might be made manifest, in Jesus name.
Father, the things that have been declared and established in the spirit realm in this region, let it be done, now, according to what You have determined. Father, we ask You to bring the people from the north, the south, the east and from the west, that have place and part in these things. That they would come bearing gifts, that they would come anointed, that they would come prepared to do their part.
Father we pray that You would remove the tares from the wheat in this season, Lord that the chaff would be blown away and rendered no more – without effect or cause, purpose or place, in Jesus name.
Father we pray that Your power would come down to establish Your will, that it not be by might nor by power but by Your Spirit.
Lord we pray that You would cause Your people to be sensitive to the leading of Your Spirit. Those that have been caught in defiant opposition to Your will and Your word and Your truth Lord, we pray that You would grant them grace and the gift of repentance, that they might repent of those things – that they have even stood in opposition to Your heart and Your will.
But Father, if they will not repent, if they choose so to harden their hearts, then Lord let them be removed from dividing Your body, that the unity of Your Spirit would come to Your people in this region, Lord that there would be no more division, and that every wicked thing would be removed, in Jesus name.
Father we pray that those who are standing ready, be released and commissioned in this hour, in Jesus name. Lord, the things that they carry in their hearts, even as Mary carried in her heart, let them come forth now according to Your anointing, and Your grace and Your divine timing.
We declare the divine timing of release, to that which has been held for many years, even decades, even centuries, even millennia, we thank You that Your eternal purposes shall no longer be held back, in Jesus name.
Anna
Talking of the third painting (of a Chapel filled with God's light) in a series on the wall. God has said He wants to come down and personally minister to His children and God's children need to have the opportunity to see our Heavenly Father, to touch Him, to be ministered to and spoken to directly, right here on earth. And that is what the third picture is about. That is the artist's interpretation of the Father when He comes down in all His glory within that chapel.
We just pray that He helps us prepare, ourselves, and for anything He needs in order to do this. We pray this in Jesus name.
Prophetic Words from our February 2019 Meetings
FEBRUARY 1, 2019 MEETING
A man
I pray we be found faithful Lord, at passing on the torch to the generations that are coming, may they be found faithful at picking up that torch and carrying the light through the world. We thank you and praise you for that.
Father we ask, Lord, we do declare that at this day and this hour that You would rip open the heavens and that Your fire would fall among us. That the mountains might quake at Your presence. As fire kindles the brushwood, as fire causes water to boil, to make your name known to your adversaries, that the nations may tremble at Your presence. Father we thank You and we praise You that You desire to do this far more than what it is that we desire from You Lord, do it in us and we confess Father, do the purging – send Your fire. Do the cleansing.
Victoria
Read Isaiah 55
Michaela
I just want to confirm that word, I was already staring at Isaiah 55 in my Bible, right before you began to read it. That was really cool.
Thomas
I have had these intense open visions since I sat down. I was staring out of the window and all of a sudden, the whole wall became like an open window and there was this burnt ember color in the spirit. It would come and go. I asked the Lord and He said, "I have shifted the environment, there is a vortex around this house. I will expedite things in the spirit." I saw from this place, it was like missiles being lit and sent out to the four corners of the earth. Each one was a promise and each one was a provision.
The Lord says that rivers of fire flow through this place and those rivers are covering the mountains of the Lord. God says do not be disturbed but within 90 days to one year says the Lord, you will begin to see a manifestation of the glory of God upon this mountain, that will transcend throughout the earth. And the Lord says, they will come and sit, and they will be kindled, there will be fire, they will be set on fire says God. They will receive such wisdom and revelation, they will say, "Thank you," and you will not see them again, but God says this is the place that they will receive the living waters. Hallelujah.
I see this intense angel standing above us. It is as tall as the ceiling and when we began to pray the first prayer, he brought his sword out.
A man
It is really important for us to pray for Kim Jong-un and for North Korea for grace and it is for the benefit of our country too. I felt like God said it was like Esther, she was safe in the palace but what she was interceding about, Mordecai told her, it was for her and her family too. We really need to pray for him, for godly counsel of the wise and the just to be spoken to him. Even for him to have an encounter with the Lord. For freedom and the blessing to hear God clearly. For the blessing of the knowledge of Jesus Christ for him.
A lady
A river of love will flow from here to the nations.
A man
From the time I came here, and I sat down, we talked about the glory falling on Mount Carmen, I have seen the fire of God fall on this place. When the lady prayed in Korean – that is the nations of God coming together for His fire and He is sending out His glory, on each one of the nations.
FEBRUARY 8, 2019 MEETING
A man
I saw the Lord as a dance instructor. Let us be a bride that will just follow Him in this dance. Lord let us have the heart and that mind to do that. You build what You want here.
Wayne
We sang, "Our God reigns," in a song today. Depending on how you spell it and the context, there are three types of rains. There is rain that falls from the clouds to the earth, there is a king reigning and then there are the reins of a horse. This is what the Lord is saying to this group and it is conditional. He says that if you hand Him the reins to your heart and take your hands off, you will enter His rest and His grace and His peace.
A man
I saw two angels pulling a blanket back and light coming through to Washington.
James
Heavenly Father, You have many teachers, but You do not have many Fathers. I pray there would be a revelation of fathers who know the Father. That You would release the revelation of You as a Father on spiritual fathers, whose hearts need the tenderness, the kindness, the gentleness and the unfailing ability of Your love as a Father. That they would be those forces in the market place, they would be that force Father God, amongst us to a generation that did not know what a father was. You say, "I am raising up fathers, I am giving spiritual fathers a new place, a new definition, a new clarity into what they are given to do in their sphere of influence."
Father we pray and ask that as you give spiritual fathers their territories, their place of influence. Let us as spiritual fathers take the position with boldness before Your throne of grace, so that the mercies that are new every morning, that power of Your mercy will so settle on these fathers that know the revelation of You as a Father and be released with much clarity. That You would grant us, as spiritual fathers how to communicate, with Your unfailing love.
FEBRUARY 15, 2019 MEETING
Note:
[The worship leaders played and sang a new song of ascent that one of them had seen and heard in a dream. In the dream, angels simply dressed were walking up the road to the top of a mountain.]
Stephen
Fire is falling. (The elecritity went off and the fire alarm went off.)
James
The Lord was talking to me about going up and the ascent, so I knew what the power cut and resulting fire alarm were. I got Song of Solomon 2:10 about my Beloved spoke and said, "Come away," and I knew the Lord was calling us. Every step there will be signs as you start going up. Song of Solomon 2:14 speaks of steps:
Solomon 2:14 "O my dove, that art in the clefts of the rock, in the secret places of the stairs," (KJV).
In the ascent, the Lord is there in the stairs. Remember Exodus 24 when God called Moses to the top of the mountain, but they stopped part of the way up and the Lord appeared, and they had an experience with the Lord? You see, the Lord calls us up and that is the important thing – we are going up to the top of the mountain with Him, but every step along the way, He reveals Himself and that is what He did this morning. It was like we got to a first step and of course Wayne said there are four more and I believe that, but every step, the Lord reveals Himself in the ascent as we are ascending.
Wayne
A few months ago I gave the worship leaders a word that the Lord had given them songs but not for that time and then I said, enquire of the Lord, when would be the right time and today was the right time.
Yesterday my wife and I met with some friends and we had fellowship and this morning he texted me and, in the text, I guess the word is emojis – he sent five flames of fire. Today was the first fire, that was the song of ascents. We are going to have four more and then it is going to take off.
The chapel is going to get built. We sang a song of ascent. You don't sing songs of ascent unless you are going up to some place. The songs of ascent were going to the temple. Now I am not calling the Chapel a temple, but I am going to say that it is the Lord's house and that was the first song of ascent. Four more and then it is going to take off.
Stephen
When we started to pray my chest just started to be on fire. So, there is (spiritual) fire all over me, even as we speak. But to confirm what Wayne says, because one of the things that I have been hearing in the past couple of weeks before coming up here is we are ascending the mountain, both in the natural and the supernatural, we are ascending. We are gathered in an upper room. There will be a mighty rushing wind, it goes with the fire.
Battered and bruised are the people of God, battered and bruised and crushed we have been, but God is pouring out fresh oil upon all of you. He has seen the brokenness, He has seen the abandonment, the betrayal, and you say, "Where did I miss the mark?" And He is saying, "You didn't miss the mark. I have been there with you all through this. It is just the process; you are being crushed." Out of great pressure comes great diamonds and there are mantles of diamonds that are descending from Heaven. Two weeks before I got here, I saw them and I said, "What is that about, Lord?" Recently, I walked into my guest bedroom and I stepped on something sharp. I swiped my heel and it was a diamond – it was a confirmation of what I was seeing about these mantles of diamonds falling, just to encourage you. I have seen miracles but out of great pressure, comes diamonds. Many of us have been through great pressure and these mantles are falling upon us and it is giving us new authority. New grace to hold our heads up high, not to be crumbled any more, not to be looked over. Step into it, step into what He has called us to be and do; it is great and mighty.
The wells are bubbling. It is not going to be like we have seen it, it is very different. Don't get stuck on the manifestations, keep your eyes on Jesus. It is going to turn things topsy turvy.
Barry
When we were worshipping and our voices were lifted up, I felt like the Lord was saying to me that everyone, in your worship, your voice is like a trumpet. Lift your voice to the Lord, lift it up. I felt like there was this swell of voices, sounding to God, that He loved to hear. It was a very powerful thing that your voice is like a trumpet raising up to God when you worship and when you pray.
Matthew
What I was hearing so clearly, it was like the Lord was saying, "I am removing obstacles. I am tearing down high places." He said, "I am threshing the mountains and beating them small." Then He said this, He said, "I am laying claim to what belongs to Me." This was here in worship and I sensed this was for us as a people but also for the land here. My prayer in that was, Lord, You take what is rightfully Yours, You take Your place.
This was a waring thing with Him, it was not like Him coming as a Lamb, it was Him coming as a Warrior. I think the trumpets, you know the trumpets at times when they were blown, it was the sound of war. What the Lord is saying is that now is the time – He is laying claim to what belongs to Him – that is us. My prayer is, fully possess us.
The other thing that I saw, that goes with the fire is I saw the shepherd's rods, you know, like Bob Jones had, but they were not like regular shepherd's rods, they were not released yet, they were being forged in the fire. So I felt like the Lord was saying, "I am preparing levels of authority that I am going to release to My people."
Wendy
There is a really special anointing here today. There is a power for corporate things to manifest but there is also something really sensitive and personal.
One of the first things I saw in worship, were angels with these beautiful silver-like ribbons, just dancing and they were celebrating and that was specific to the writing ministry that you do encouraging people and the hope that you pour out.
With that, the Lord started talking to me about the chaff and there have been so many words about the fire and He was talking to me about the consuming fire of His love that will devour the chaff in every place in our lives where we chaff. As those mantles come – because they are weighty – the chaff can cause their introduction to feel like warfare. So, there are places within us and also within the region where there is chaff that exists which might feel sharp. This sharpness might cause us to resist. But as we press "in" during this time of preparation (that is for the things that are coming), we can be free of all that is causing us to resist for it is the consuming fire of His love that is coming and will do away with all that will hinder us being able to bear the weight.
Amen Lord, we praise You that as we gather, You draw us into the fires of Your love, Lord, and it starts to consume everything that is not of You and that we shall be prepared – so that we will be ready to receive what You are pouring out. Lord we would know, as we go forward in You, that we will not buckle; but we will rejoice (as it is the manifestation of so many prayers through the generations).
Elisa – (11 years old)
I saw a vision of a white flower and Jesus' hand dripping blood onto the flower – covering it.
Wayne
Interpretation: White = Pure. Jesus covering the flower with His blood meaning – He intends to KEEP the flower pure – washed in His blood.
The flower is the group that He is calling to be part (big or small) of the building of the Father's House.
This group will not be large in number. They will be in unity: Psalm 133 and Psalm 18:3.
FEBRUARY 22, 2019 MEETING
Mary Beth
For I say to you, I have drawn you deep within my heart of love and I have drawn you into this place for this moment and this time for you are My legislative body and you are my bride and you have been awakened unto My love. And you have been awakened unto the destiny of that which I have called forth of my church.
And I say to you that you will be activated, even this day because I have called you to soar. I have called you to come up and over and yonder. I have called you to be fully awake, fully awake to the lover of your soul. Fully awake unto that which is indeed the mandate of Heaven to Earth.
For I say unto you there is a shifting, a changing and a resetting. I am resetting even you who have come into this place. For I truly have hidden you in the cleft of my rock, but I say to you I am now calling you forth to soar from the cleft of the rock.
I have called you a generation, I have called you an Abraham, an Isaac and a Jacob generation. I have called you to be one in Me and one with one another. I have called you to see, I have called you to hear, I have called you to speak, I have called you to write and I have called you to be the expression of My goodness. You are My light, you are My fire, you are My rainbow of Heaven.
You are the scrolls that I am unsealing even in this day. You have strategy from Heaven. You have blueprints for this moment and this time. For you come into a Kingdom, unashamed and ready to receive a full inheritance. For the blood of My son was never in vain and it will get its just reward. Rise up, for the blood cleansed you and washed you. For I say unto you, "Not guilty." Live out of a place of, not guilty. Live! I say to you even in this room, "Live! Live abundantly."
For my eyes are on this nation and my eyes are on the remnant.
Dianna
The Lord gave me a vision about three weeks ago, I live in New Mexico and it has to do with the now. I was praying with a friend called Joyce and I saw the vision a couple of times and He said, "Tell Joyce what you are seeing." I told her, I saw myself swallow a golden nugget and it dropped into living water in my belly and it was boiling living water. I opened it up, like a fortune cookie and it was blank. As we began to pray, Joyce heard, "Moravian Falls," and instantly it was written on the little piece of paper in my vision.
I began to pray about it and I saw two different numbers, one was 222 which is today. The other was 922 which is the birthing, as 9 is the birthing of a new thing and yet it is the living word of God, it is His light, it is His love, it is all that He is.
The ingathering begins at Moravian Falls – the gathering of His people here. The only assignment I was given, was 222 – sometimes when He sends me out, He only gives me a little.
Anna
There is something in 222, it is a very significant number to me, I have felt that for years, what is this, what is this 222?
Jackie
I just want to bear witness that this morning, as I wrote the date and noticed that it was 2:22 (February 22nd), I thought, wow, God is releasing something today. Double portion on a triple level, yes Lord, we receive it.
Dianna
There is a little more:
Isaiah 11:11- Then it will happen on that day that the Lord
Will again recover the second time with His hand
The remnant of His people, who will remain.
Isaiah 22:22 also applies, it is the key of David and is right with it – "Then I will set the key of the house of David on his shoulder,
When he opens no one will shut,
When he shuts no one will open.
It is not about how long will we say, "You are going to do something."
How long are we going to be "becoming"? Until you believe it is here, you are going to keep on becoming what you already are. I kept hearing, "It is time to begin to speak," and this is not name it and claim it, it is rhema and you people are full of rhema.
(Romans 4:17 – God, who gives life to the dead and calls into being that which does not exist.)
As the Holy Spirit leads, speak it as if it is done. The Kingdom is already here, He is just waking us up, because the King is already here.
I saw a vision of ancient blue suitcases in this place, already here. They had something to do with Bob Jones. The Lord had me pick one up and put it in my belly. God has imparted, it is the word, it is the ancient faith word of who He is, that He wants to become substance today in us. Each one of you has a suitcase, I knew that.
So, I thank You for this, all over the globe and it is taking place right now, thank you for the fire of Your glory that is being released from this little room right now, into our nation and it will devour everything in people and in the land and the systems that are existing of Babylon, it will devour everything that is not of You, Lord.
For the Lord says, "I am off the tracks. My train, who I am, does not ride on the track and I will destroy everything that has been made as a track for Me. For I am coming as a wild fire, to show you My love in Yeshua's name."
Anna
We have a train here (pointing to an iron train that releases steam when heated on a wood stove). "Old Promises" is bringing the promises on 2.22, praise God. February 22nd on the calendar. Be sure to pick up your blue suitcases when you go.
Prophetic Words from our January Meetings
JANUARY 4, 2019 MEETING
Cindy
During Worship I closed my eyes and saw angels in a line dancing slowly.
James
On New Year's Eve I quietly prayed and one thing after another, the Lord went after mixture in me. I believe that if I have a word for 2019, it is that the Lord is going after mixture – He wants us to go after the mixture with the same zeal He has. Jesus had the zeal of the Father when He cleansed the Father's house. I believe He really wants to go after the mixture in us. The consequences of this will be eternal. Talk about submitting to something that pleases the Father. If I could, I would just encourage everybody to test what I am saying. If we want the pure spiritual word, we don't want to live in a soulish realm or a worldly realm.
I believe there is a real simple thing that would help us to go after mixture in our lives. If you don't practice this, I am just asking you to test it. If you will make a practice of going before God with absolutely no agenda of your own or problems of your own, and just saying, "I am here for you. I am here because I am Yours." Then wait on Him in that posture and stay there. In Exodus 24 God said come up to Me and be there and then I will show you this, that and the other, but He said come up to Me at the top. Moses sat for 6 days without saying a word and then the Lord spoke. I just think there is a real protocol, a heavenly protocol for living a spiritual life. Just test what I am saying, just see the remarkable fellowship and communion you can have before the Lord if you go before Him without an agenda. Be prepared to stay there and let Him know He is the focus and He is the reason you are here and see what happens in your life.
The church in the United States and Israel will not get what we deserve – we are getting Your great grace Lord. For Your glory, so You can have the desire of Your heart, Lord, so You can have what You want. You have "trumped" the enemy . . . he has claimed us because of our idolatry, because of the way we have turned to ourselves and away from You. Thank You for turning our hearts towards You. Apart from You we can do nothing, we ask for great grace. Lord help us to put our house in order, we are here for You. Thank You, Lord, for great grace, the connection to the vine. Move on Your people to turn to You with all of our hearts, away from the world, away from ourselves, from ministry preoccupations and other religious preoccupations.
All the rain we have been getting lately I feel is a prophetic sign of a coming move of God and the outpouring of His Spirit. Rain is a blessing but if you cannot handle the rain, it becomes destructive. There is a great need for the people of God to get our vessels in order to be able to receive the blessing and the outpouring so it won't be wasted.
The wonderful gracious move of God can destroy lives if they are not ready for it – like Ananias and Sapphira. Lord I ask for that grace for us and the fear of God to get ourselves in order, to get our houses in order, to get our churches in order, to turn to You Lord with all our heart, so that in Your move, not one drop is wasted, every bit goes to fill a willing and prepared vessel, I ask You Lord in your great grace.
The old unfulfilled mantles will be fulfilled in these days.
Carol
God kept saying "Purity." Mixture removed. Things of the world will be removed this year.
Donald Trump is the 58th president and he started on January 20, 2017, which totals 58 (1+20+37).
Donald = Great Chief
John = God is gracious
Trump = Maker of trumpets
So, our president's name means Grace and it also translates to Noah (Noah means grace to the Hebrew).
Carol
The Lord is requiring us to change the shift of our focus. The focus is so much on what we hear and what we see going on around us. That is not the issue – that is not as important. The focus needs to agree with what He is doing. We need to connect with what He is doing in this earth. That supersedes everything else.
Anna
The word for 2019 is purity because the last Charismatic move was perfectly wonderful but the move had a lot of mixture in it. I don't think the Lord will let the next move be that way.
The Lord wants to build the Chapel on Prayer Mountain through people who are not building something for themselves or trying to build themselves up or make a name for themselves. He wants people who are dedicated to Him and living pure lives. People who are gentle and loving and want to show the heart of the Father. God is looking for how much of Christ has been formed in us, if we live fleshly lives, or if we have Christ filled souls.
Rollin
Totally refined gold is transparent.
JANUARY 11, 2019 MEETING
Wayne
When worship started, the Lord gave me this word and it is for us. During the prayer time a lot was talked about the Lion and the Lion roaring and shouting and things like that. Well the lion has two roars – one to freeze the prey and one when he is taking down the prey and he is letting the world know that he has conquered. But he also has a third voice and this is the voice that the Lord told me to tell you. When a lion has fed and is content he purrs. The Lord wanted me to let you know that He is purring over this group – He is content.
JANUARY 18, 2019 MEETING
Anna
We have not yet had the great outpouring of the Spirit that has been promised to us in the latter days, that God would pour out His Spirit on mankind. We pray for this outpouring and ask that it would be pure.
Wayne
Before worship started the Lord gave me two scriptures and the songs we sang confirmed those two scriptures. Take joy my King in what You hear, let it be a sweet, sweet sound in Your ear – the Lord said, "It was."
Oh I feel like dancing, it is foolishness I know but when the world has seen the light they will dance with joy, like we are dancing now:
Zephaniah 3:17 –
The Lord your God in your midst,
The Mighty One, will save;
He will rejoice over you with gladness,
He will quiet you with His love,
He will rejoice over you with singing." (NKJV)
Isaiah 62:5 –
And as the bridegroom rejoices over the bride,
So shall your God rejoice over you. (NKJV)
One of the attributes of God is that He can see the future. He knew what your hearts were towards Him when you sang these songs and He rejoices over each and every one of you.
A lady
I felt I was seeing that what should be established on this mountain has to do with the Father coming as His portion for America. I was seeing a double rainbow from here all the way over to the Mount of Olives in Jerusalem. It was like His will being done over here first before He steps His feet onto the Mount of Olives. There is still something in America that has to be finished.
Anna
Bob Jones said that the second most number of angels stationed in a place were right up there on the top of Prayer Mountain and the first is the Mount of Olives. They are up here for a reason and I think they are probably tired of waiting too.
JANUARY 25, 2019 MEETING
Carol
Our focus has to be on God because the nations are getting turbulent and they are going to get more turbulent and they are going to get darker but He is our light. Father I ask you and thank You that our focus turn completely on You only in these days, so we can be "a light" and steadfast in this time.
Wayne
Every time this group prayed for President Trump, this group today was Trump's valet and we were dressing him in the full armor of God. So continue to pray for him and when you do, think about being his valet and dressing him in the full armor of God.